General project description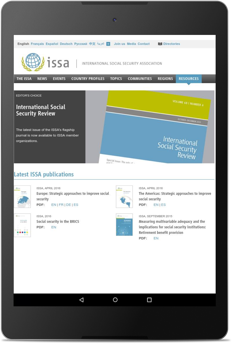 When it comes to a project for ISSA, where a social security dominates, it turns human-centered. We've faced the project based on two well-known for us systems Alfresco and Liferay. The first one played a part of the storage and served as a back office, the latter was charged for UI of the website.
The most difficult challenge was to migrate multilingual documents because Alfresco 5.0 didn't support multilingualism out-of-the-box when exporting/importing files via ACP mechanism. Migrating Alfresco repository from Alfresco Enterprise 4.1.5 to Alfresco Community 5.0.d was realized with the help of custom content migration modules.
Hence, the multilingual functionality in Alfresco Share interface was implemented via Multi-Lingual Share Add-on, which was extended with indicators for 22 different languages.
The major feature of the system is a document localization. Now any user can come to the website, find a preferable document for reading, choose a language and get to know the information in his native language. Thus, we brought value to the client and contributed to the development community by compensating the lack of out-of-the-box functionality.
Service:
Alfresco Development.
Key Features
Single data source. Liferay document portlet was integrated with Alfresco repository to create the unified environment for sourcing data for multilingual documents.
Multilingualism has been achieved by implementing multilingual functionality of the documents in the Alfresco 5.0.x version free of it.
Custom interface in the Alfresco Share became simpler and user-friendly for management of multilingual documents gladly.
Feature-rich list of documents supports multilingual attributes among which additional actions, pivot document indicator, language indicators. It is based on Alfresco Share 5.0.d Interface patched with Multi-Lingual Share Add-on.
Project resources
Team size:
1 Alfresco Developer.
Implementation period:
July 2015 — September 2015.
Project technical description
Platform:
Alfresco Enterprise 4.1.x;
Alfresco Community 5.0.x;
Liferay Portal CE 6.1.2.
Backend:
Java;
Alfresco SDK;
PostgreSQL.
Frontend:
Alfresco Surf framework;
Alfresco Share Forms;
DojoJS.