General project description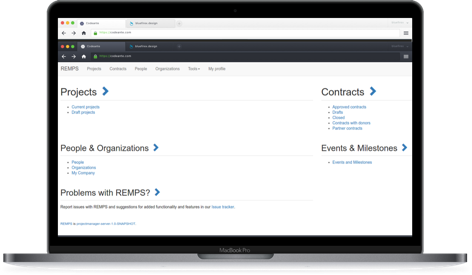 REMPS (Reliable and Effective tool for Managing Projects and Services) is a tool for managing projects and contracts and tracking the execution of the work. It also stores and manages the information about organizations that participate in projects and contracts.
There is a possibility to manage the data about business cards of the staff of each organization too. By managing the contracts the user has a possibility to set the schedule for payments and for reports. In this case, REMPS will track their states and display alerts about the expiration of their terms.
When creating a project the user has a possibility to set the required work plan and the budget for project execution as well as the staff to participate in. He also can change the status of project and contract depending on the stage of execution.
For making the search of the desired project, contract, person or organization easier there exist corresponding filters that are able to filter the data by a single attribute or by multiple attributes at the same time.
The administrator has an access to the audit system which tracks all the actions that are being performed by the users of the website. He can also view the list of all events that took place in terms of user work within the website.
Industry:
Business management.
Service:
Frontend Development;
Backend Development.
Key Features
OAuth 2 authorization;
Responsive design;
Works as a single page application based on Angular 2;
LDAP.
Project resources
Team size:
2 Frontend and Backend Developers.
Implementation period:
In progress since December 2016.
Project technical description
Backend:
MySQL;
Hibernate;
Spring Framework (Core, Data, Security, ACL, OAuth 2).
Frontend:
HTML5;
Angular 2;
TypeScript;
SCSS;
Bootstrap 3;
Gulp;
Webpack 2.