General project description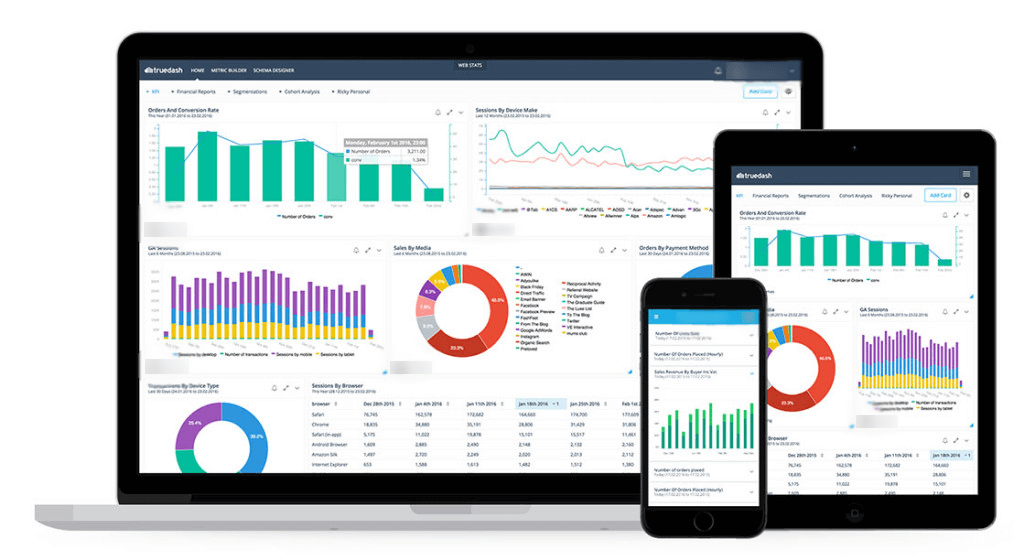 Truedash is a cloud-hosted business analytics platform that unites various data channels into a central repository for carrying out in-depth and predictive analytics. It connects systems like Magento automatically and provides prebuilt dashboards with collaboration built in. The platform loads all its users data into memory to analyse fast.
Industry:
Finance, Data Analytics.
Service:
Frontend Development;
Backend Development.
Key Features
Using Grails platform, development team have ability to implement everything for Big Data project to collect data as you want.
The application can give customer ability to monitor own data and create some metrics which can show what ever he want.
The anomaly detection module gives oportunity to monitor metrics on anomalies (too high or to low values of metric).
Email digest of your favourite dashboard everyday (Customer can choose type of export: HTML, PDF, PPT, CSV).
The smart alert system, this is a smart monitoring of metric. When a certain condition is satisfied, system sends notification thru application or email to customer.
View of dashboard with metrics for each client.
The root cause module, offers customer ability to monitor because of which metrics had anomalies.
Project resources
Team size:
4 Backend Developers;
1 Frontend Developer;
1 QA Engineer;
1 PM.
Implementation period:
In progress since September 2014.
Project technical description
Frontend:
Angular Framework;
Webpack (bundle package manager);
Pucher (real - time communication);
C3js, D3js, HighChartsJs libs for data visualization.
Backend:
MongoDB;
MySQL;
Amazon Redshift;
EXASOL;
Groovy;
Spring;
Clover;
Hadoop;
Spark.