20 Best SaaS Application Ideas for a Profitable Product in 2023
Key takeaways
Gain a clear understanding of the SaaS model and its key characteristics.
Discover the advantages that the implementation of a SaaS product offers to start-ups, including reduced upfront costs, scalability, and the ability to speed up the development process.
Explore a curated list of promising SaaS ideas for 2023 that align with current market trends and demand.
Get inspired by real-world success examples of SaaS applications that have achieved significant market adoption and a high customer satisfaction score.
With specialist start-up funds and investors taking a keen interest in SaaS business, it has become one of the most sought-after business models for start-ups. And many of them want to get into this field, but a lack of expertise and ideas can often be a barrier to developing their own SaaS solutions. In this article, we'll look at the main advantages the SaaS model offers, review SaaS ideas for projects, and give you inspiration for your own solutions. Continue reading to get important information for entrepreneurs starting out in this dynamic industry.
What is SaaS?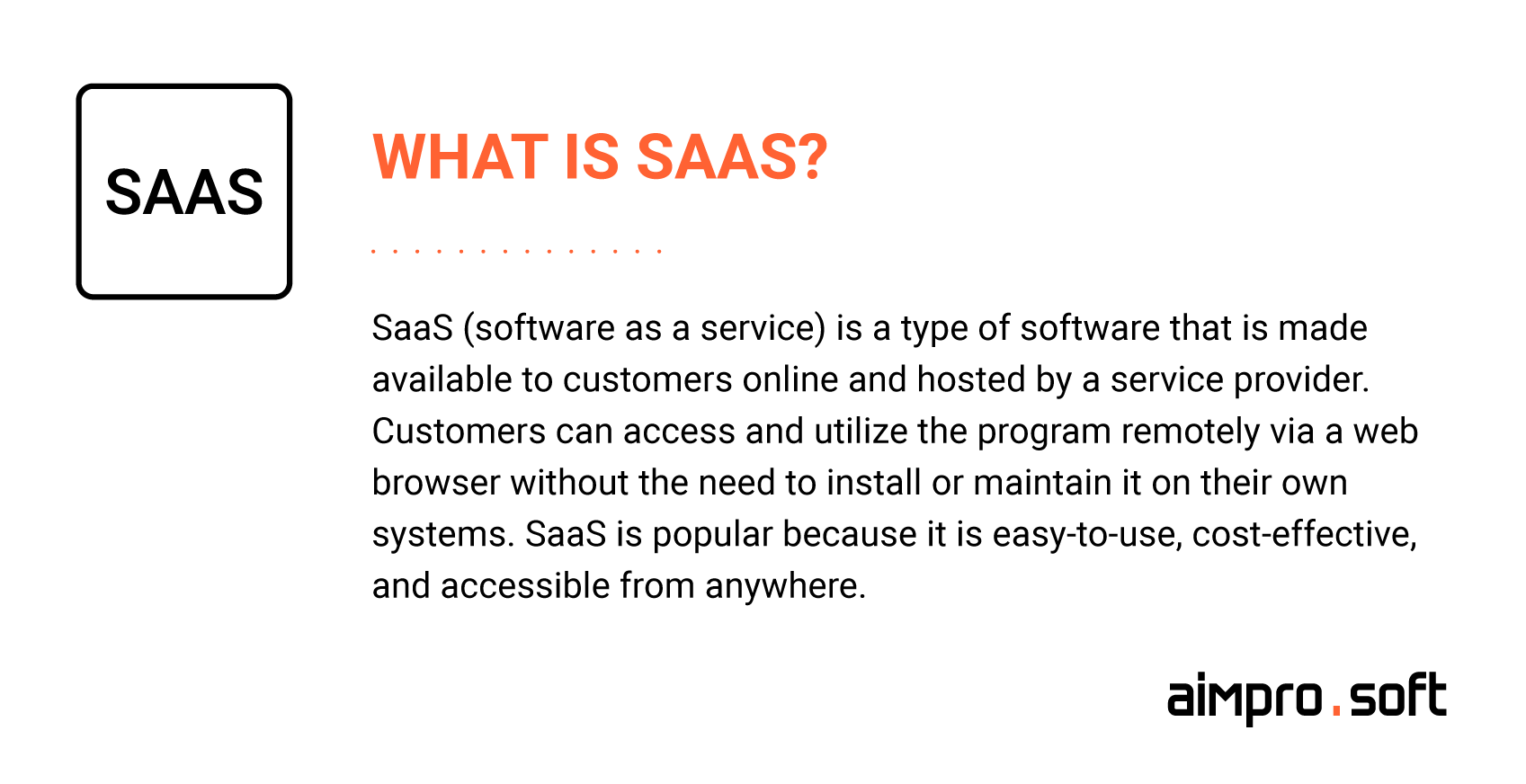 The popularity of a SaaS model is rapidly growing every year. According to Statista, the SaaS market's revenue is predicted to reach approximately $254 billion globally in 2023, and it is anticipated to reach $344 billion by the end of 2027.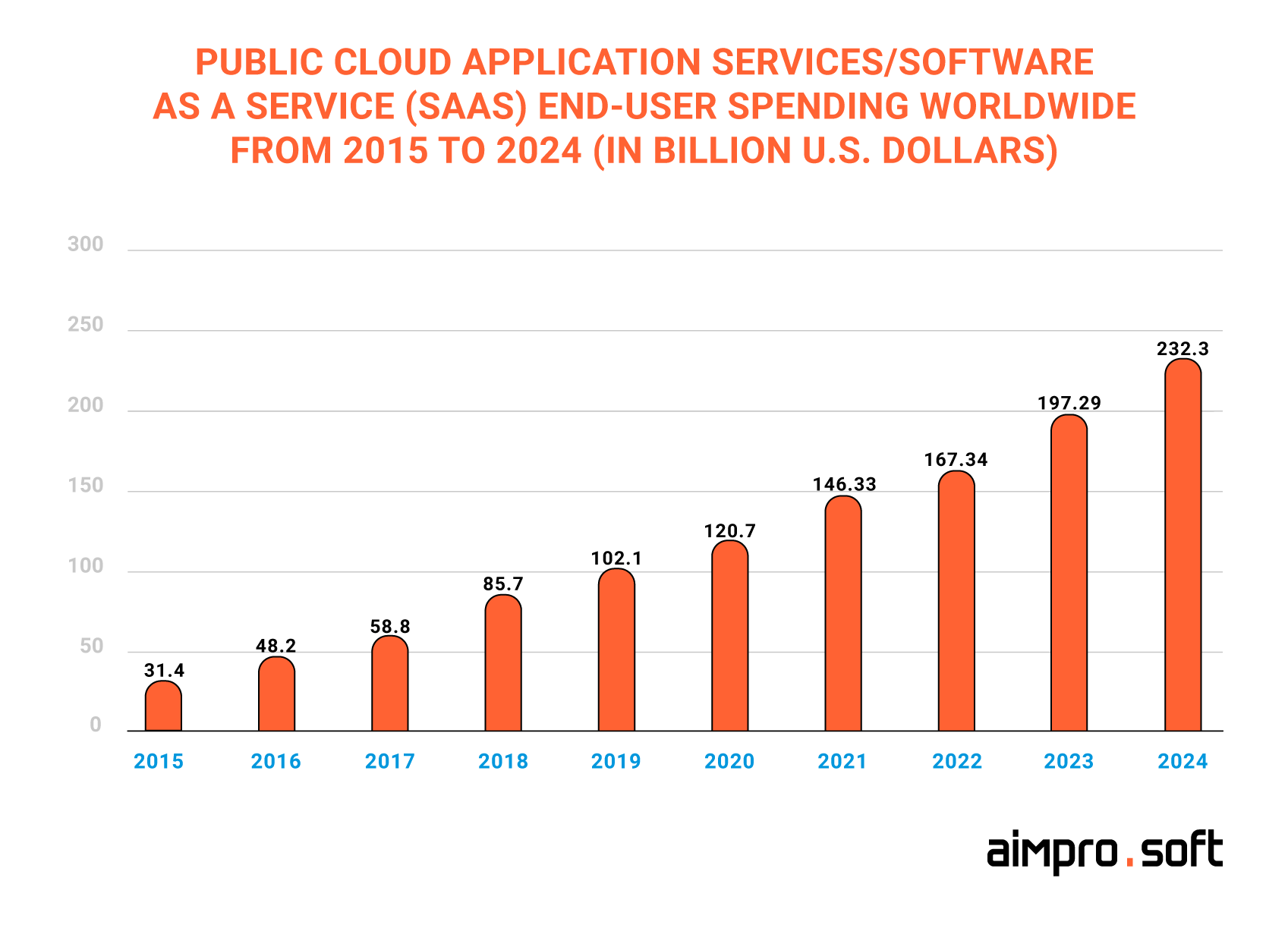 In the SaaS model, the web application is hosted remotely in the cloud by the provider, and the software provider also manages and maintains the infrastructure, including servers, databases, etc. With the SaaS cloud format, the customer doesn't need to install, configure and maintain the software. Instead, the business pays solely for the usage of the application according to the provider's fee while the provider takes care of all the product's configuration and maintenance activities. Users can typically access the software from anywhere with an Internet connection, and the supplier can easily scale resources based on the user's request.

Common examples of SaaS applications are customer relationship management (CRM) systems such as Salesforce, project management tools such as Asana, collaboration platforms such as Slack, and many others.
So? what is a SaaS startup? As you can see, SaaS is quite an advantageous product to develop for businesses, especially for startups that are looking for cost efficiency, scalability, and access to advanced tools. SaaS allows startups to optimize resources, enable growth, and compete effectively in the marketplace. Let's move on to discuss how startups can leverage the SaaS model to increase the chances of their success.
Reasons why developing SaaS is a good idea for a start-up
In today's IT market, start-ups are the creators of innovation, but they often face specific challenges and limited resources on their way to success. However, in this age of technological advancement, there is a secret tool that allows start-ups to defy difficulties. And that tool is SaaS. Imagine that start-ups could quickly scale their operations and gain access to cutting-edge tools without spending amounts of money on developing less scalable and flexible applications. Let's find out why developing a SaaS solution can be beneficial.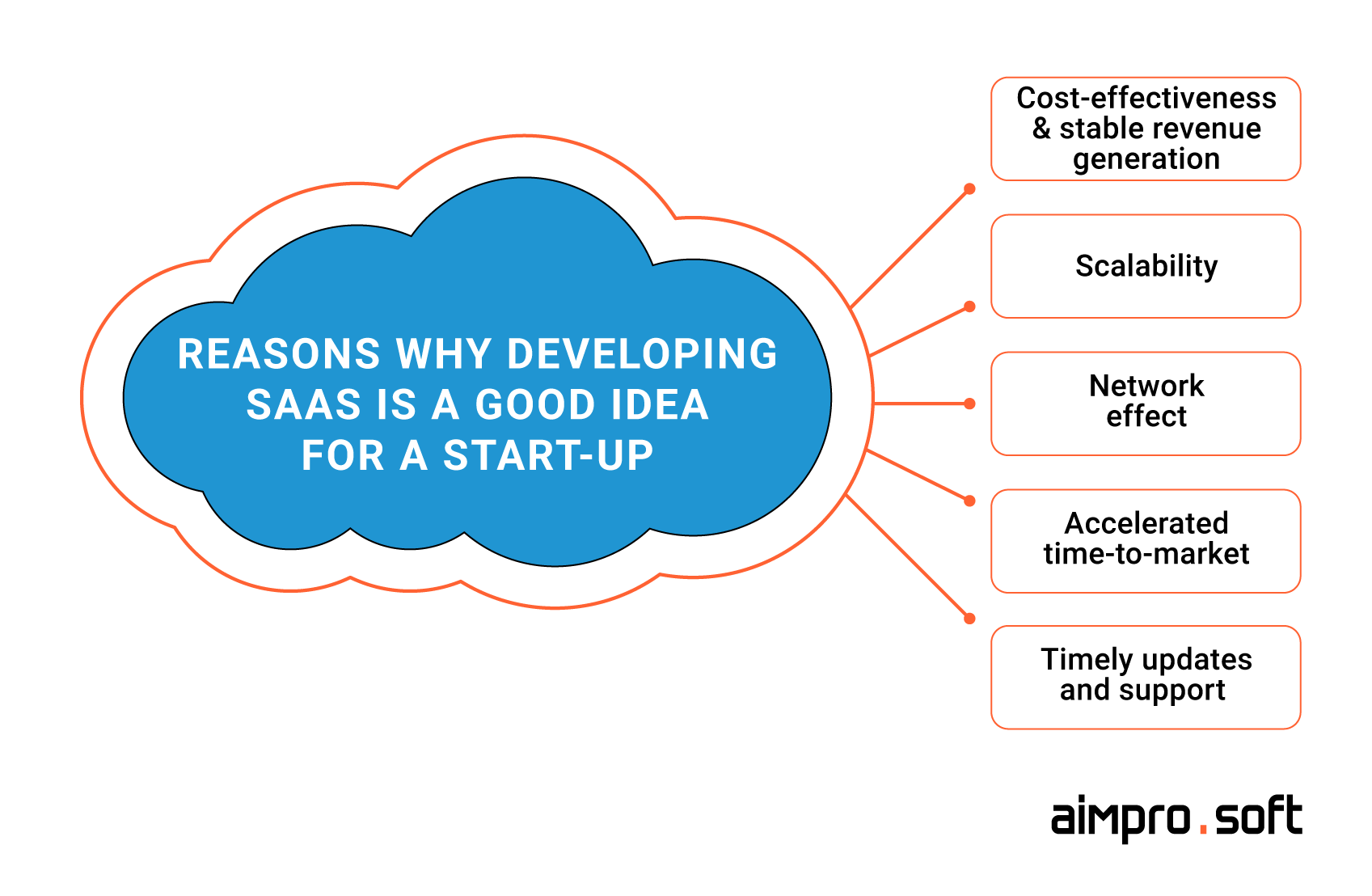 Cost-effectiveness & stable revenue generation
SaaS products offer a compelling advantage for start-ups through recurring revenue streams enabled by subscription-based pricing models. This approach ensures a stable and predictable income over time as customers consistently renew their subscriptions. By adopting this business model, start-ups can establish a steady cash flow, allowing for better financial planning and resource allocation. The recurring revenue nature of SaaS empowers companies to build a loyal customer base, foster long-term relationships, and focus on delivering continuous value to customers, ultimately contributing to sustainable growth and profitability.
Scalability
This model can help startups scale their SaaS solutions to meet the needs of the increasing number of their customers. If we look at Deloitte's statistics, scalability is the primary factor attracting 70% of CIOs to cloud-based SaaS. As startups often have limited resources, the ability to easily accommodate an increasing number of users without significant infrastructure investments is crucial. SaaS solutions provide scalability by leveraging cloud-based infrastructure and enabling automatic provisioning of resources, ensuring that startups can handle spikes in demand, expand their user base, and maintain optimal performance without incurring substantial costs or disruptions to their operations.
Accelerated time-to-market
SaaS applications that are quick to deploy due to cloud infrastructure, developers can use cloud platforms to provision and configure the necessary resources for applications, such as virtual machines, databases, and load balancers, in a short period of time. Agile development methodologies, often used in the development of SaaS platforms, also contribute to rapid deployment. These methodologies break down development into smaller, manageable increments, SaaS startup ideas can be deployed incrementally, allowing for quick feedback, updates, and continuous improvement.

Nearly half of the founders of SaaS companies who took part in the survey, according to the SOIS report, work on their startups part-time. From this fact, it can be deduced that SaaS applications require fewer resources to create and get started.
Network effect
The network effect is a beneficial characteristic for developing a SaaS solution as it leads to an increased user base, enhanced collaboration and communication, and a data network effect. As more users adopt the SaaS solution, its value increases, attracting more users and driving further development. The data generated by the growing user base provides valuable insights for ongoing improvement and innovation.
Timely updates and support
In today's rapidly evolving technology landscape, keeping up to date with customer requirements is critical to success. By leveraging cloud deployment capabilities, new updates and features can be seamlessly delivered without needing access to local devices. This ability to quickly adapt and innovate allows companies providing SaaS platforms to stay ahead of the competition. This will enable them to meet changing customer needs, stay relevant in the marketplace and build a loyal user base that values the continuous improvement and flexibility offered by SaaS platforms.
So we have discussed the main reasons why start-ups can only succeed using the SaaS method. And now, let's delve into the realm of SaaS applications, exploring a wide range of ideas and types that start-ups can consider.
Top 20 best SaaS ideas
In this section, we present you with interesting saas business ideas for your own startup solution, from productivity tools to collaboration platforms. Join us as we explore the world of SaaS software ideas and discover the potential they hold for driving growth, efficiency, and success across industries.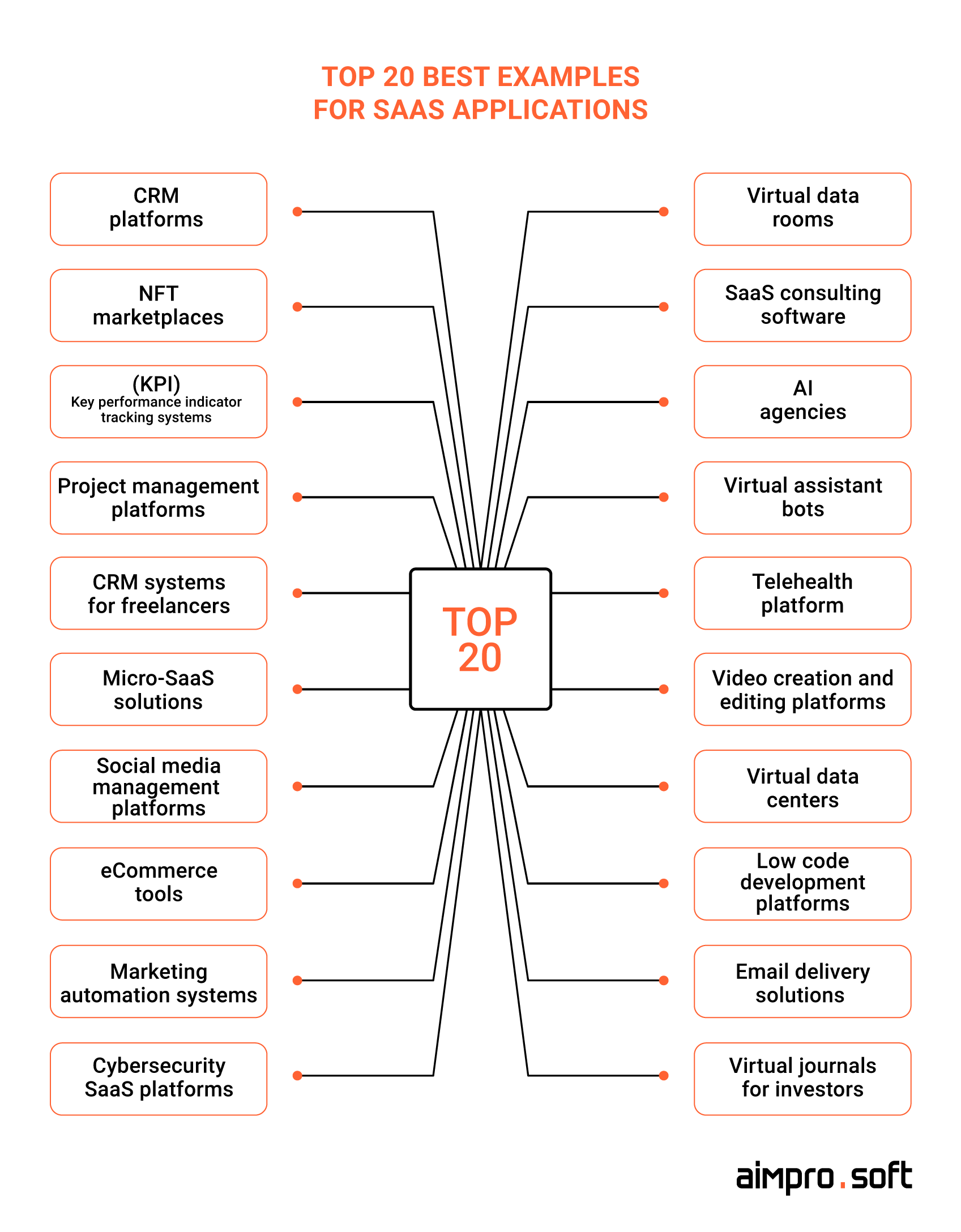 1. CRM platform
Customer relationship management (CRM) platforms are systems that help companies manage and optimize customer interactions. These platforms provide a centralized system for storing and organizing user data, tracking user interactions, and facilitating effective communication. Companies are often faced with difficulties in organizing customer data and have a lack of customer information. A CRM platform solves these problems by centralizing customer data, increasing sales efficiency, and improving customer engagement. Also, a CRM is used to manage client conversations by 91% of businesses with ten or more employees.
Pros
There is a high market demand for CRM solutions to manage customer relationships effectively;
Great revenue potential through subscription models or licensing fees;
Cons
Need for ongoing platform maintenance and updates to address evolving business needs;
Develop a compatible software that will be seamlessly integrated with existing systems and data sources.
2. NFT marketplace
An NFT Marketplace platform facilitates buying, selling, and trading unique digital assets known as NFTs. These platforms provide a marketplace for artists and creators to showcase and monetize their digital creations while offering a space for collectors and enthusiasts to discover and acquire unique digital assets. The NFT industry is large, and demand is increasing day by day, which makes the creation of an NFT marketplace a profitable solution. The market revenue for NFTs currently exceeds $22 billion.
Pros
Developing an NFT marketplace can be a profitable venture, as the platform can earn commissions from the transactions;
Access to blockchain technology for secure ownership and provenance verification;
Tap into the growing market demand for NFTs and digital collectibles.
Сons
Technical complexity in developing a secure and scalable NFT platform;
Regulatory uncertainties surrounding NFTs and intellectual property rights.
3. (KPI) Key performance indicator tracking system
KPI tracking platforms are designed to monitor and measure key performance indicators critical to business success. Enterprises often need to track KPIs due to a lack of visibility into performance metrics and difficulties in reconciling goals across teams. These platforms provide enterprises with a centralized dashboard to track and visualize performance indicators, enabling them to assess progress, identify gaps that need to be improved, and make useful data-driven decisions. KPI tracking platforms can allow enterprises to set specific goals, track their performance in real-time, and direct their efforts toward the achievement of strategic goals.
Pros
The platform can meet the needs of a wide range of customers, from small businesses to enterprise-level organizations;
A well-designed KPI platform offers flexibility to customize metrics and dashboards. By offering this customization option, companies can meet different business needs and make their KPI platform more attractive to customers.
Cons
The possibility of encountering integration complexities when working with different data sources and systems. This can be an obstacle in the development and implementation process.
4. Project management platform
Potential clients of such platforms may encounter problems in coordinating project activities, tracking project status, and communicating with team members. The project management platform is developed to facilitate and streamline the planning, execution, and tracking of organizational projects. It provides a centralized system for project managers and teams to work together, manage tasks, allocate resources, track progress, and ensure timely project completion. The demand for the development of such platforms can be seen in the statistics, which show that the project management software market will be worth $9.81 billion by 2026.
Pros
Integration potential with other tools and systems;
Competitive edge through innovative features and user-friendly interfaces;
Cons
Enterprise firms would anticipate highly feature-rich solutions with enterprise security capabilities;
Potential resistance from users in adopting new project management processes and tools.
Want to know more about why many entrepreneurs require project management platforms? Read our article on the topic for more useful information.
Read here
5. CRM for freelancers
A business platform CRM (customer relationship management) for freelancers assists in managing interactions with their current and potential customers. All of the client's data, including emails, payments, calls, and sales, is stored centrally in a CRM system. Freelancers often struggle with time-consuming administrative tasks, disorganized client information, and difficulty in maintaining client relationships. In turn, CRM platforms can solve these problems and help freelancers cope with these tasks.
Pros
More narrowly focused SaaS sphere where you can successfully introduce your project without fear of competition;
Simpler delivery to clients directly.
Cons
Not too many freelancers require a CRM system, and it may take an impressive investment to advertise and inform potential clients about the benefits of these platforms.
6. Micro-SaaS solution
The micro-SaaS solution trend is a scaled-down variation of popular SaaS product ideas. A key characteristic of micro-SaaS is the focus on delivering tailored solutions that provide a more personalized and efficient experience for users. Developing a micro-SaaS solution allows entrepreneurs to create and sell niche software products with a targeted customer base. It offers opportunities for innovation, low entry barriers, scalability, and recurring revenue streams.
Pros
Fast development and cost savings;
The potential for future scalability of the platform.
Cons
The market for micro SaaS is small, possibly facing low demand for such a solution.
7. Social media management platform
Social media management platforms provide a centralized hub where users can plan and publish posts, track engagement, analyze the effectiveness, and interact with their audiences across multiple social media channels. Without a centralized platform, potential users have to individually plan and post content to each social media channel, which can be time-consuming and inefficient. Social media management platforms help solve such problems with intuitive dashboards and intelligent automation tools, social media management platforms simplify the entire process, making it easy to create engaging content, track the effectiveness of campaigns, and stay on top of social trends.
When it comes specifically to the potential users of such platforms, it is worth noting that in 2023 there will be 4.89 billion social media users worldwide. And a large number of these users may need to manage their social media.
Pros
Relatively easy to develop;
Attract customers with clear requirements for the product.
Cons
Large congestion in the market;
API restrictions and criteria that change quickly.
8. eCommerce tools
From small independent shops to large enterprises, e-commerce platforms provide a virtual storefront where businesses can showcase their offerings, manage inventory, process payments, and fulfill orders. Using SaaS e-commerce platforms, businesses can tap into the vast online marketplace, expand their customer base and establish a strong online presence to drive sales and growth.
The sector is growing and developing, so it remains a lucrative market and will only gain momentum; for example, the ecommerce market will be worth $6.3 trillion globally by the end of 2023.
Pros
Opportunity to reach a global customer base;
Allows tailoring user experience, branding, and functions to suit specific business objectives and customer preferences.
Cons
9. Marketing automation platforms
Marketing automation platforms are powerful tools that enable businesses to automate and streamline their marketing activities. Companies may face challenges in coordinating marketing campaigns across channels, providing personalized content to target audiences, and tracking the effectiveness of marketing activities. And saas business ideas like marketing automation platforms encompass a range of features and functionalities, including email marketing automation, lead generation and nurturing, customer segmentation, campaign management, and analytics.
Since many marketing companies need process automation, it is not surprising that 96% of marketers have used a marketing automation platform for their business.
Pros
You will know exactly what your customer's pain points are;
For a successful business, even just a tiny part of this market suffices.

Cons
Price competition is nearly unattainable;
Dependency on third-party platforms and APIs.
10. Cybersecurity SaaS platform
In a world where data theft and hacking are commonplace, preventing a data breach is essential. Such platforms are a welcome solution for many companies, they provide real-time monitoring, proactive threat intelligence, and automated security measures to detect and respond to potential cyber-attacks, helping organizations mitigate risks and protect their digital infrastructure from evolving threats. Security remains an issue today, which is why 85% of SMEs aim to increase spending on cyber security by 2023.
Pros
The platform can be easily scaled to accommodate growing user demands and adapt to changing security needs;
Thanks to the SaaS model, the platform can be quickly upgraded with new security features.
Cons
Building a robust cybersecurity platform requires specialized knowledge and expertise in various security domains;
Assumes strict compliance with data protection and privacy laws.
11. Virtual data rooms
Virtual data rooms (VDRs) are secure online platforms for storing, managing, and sharing sensitive documents during business operations. Potential customers of virtual data rooms may encounter problems in managing large volumes of documents securely. They may experience difficulties with manual document management processes such as maintaining document versions, ensuring document integrity, and tracking access to documents. VDRs simplify document management, improve collaboration and ensure data security. VDRs also increase productivity and speed up transaction processes.
It's also worth noting that the virtual data room market was valued at $1.6 billion in 2021 and is forecast to grow to $3.2 billion by 2026.
Pros
Customization opportunities;
Opportunity to provide a valuable solution for secure document management;
Customization options to cater to specific industry needs.
Cons
Compliance with data protection and privacy regulations;
Competitive market with established players;
Need for continuous innovation to stay ahead of evolving security threats.
12. SaaS сonsulting software
SaaS consulting refers to the professional services provided to businesses seeking guidance and support in adopting and optimizing SaaS solutions. It involves helping organizations assess their needs, select suitable SaaS applications, and navigate the implementation and integration processes.
Pros
Consultants adapt suggestions to match particular business needs, guaranteeing effective SaaS adoption;
Consultants help businesses leverage the scalability and flexibility of SaaS solutions.
Cons
Businesses may become reliant on consultants for ongoing SaaS management and support.
13. AI Agencies
AI agencies provide AI (artificial intelligence) services and solutions to businesses. These platforms use AI technologies to help enterprises optimize operations, automate tasks and gain insights. Because developing and implementing AI solutions can be challenging and time-consuming, many organizations turn to AI agencies for help. 25% of businesses are turning to artificial intelligence to address the urgent challenge of labor shortages. AI assists businesses in streamlining operations and making up for a lack of human resources.
Pros
Large-scale data processing can be aided by AI;
Increased operational efficiency through automation;
Potential for cost savings by reducing manual labor and improving productivity.
Cons
Risk of bias in AI algorithms, requiring careful monitoring and mitigation strategies.
14. Virtual assistant bot
A Virtual Assistant Bot is an AI-powered software program designed to perform automated tasks and assist users. It uses natural language processing and machine learning algorithms to understand user queries, provide relevant information, and perform various tasks. Virtual Assistant Bots can help with customer support, answer frequently asked questions, schedule appointments, make recommendations, and perform other automated functions, reducing the need for human intervention. By 2025, the market for conversational AI is anticipated to be worth $1.3 billion, expanding at an annualized rate of 24%.
Pros
Almost no customer support is required;
Ability to receive analytical data and reports on bot interactions to help optimize and improve bot performance.
Cons
There may be difficulties with monetization;
The richness of existing services in the field.
15. Telehealth platform
Online patient consultations are made possible by telemedicine for medical professionals. This solution also allows treatment to be carried out virtually via the Internet. Doctors may face challenges in providing health services remotely, especially when face-to-face visits are impossible, as in covid situations. With the help of telehealth platforms, patients can receive doctor's appointments and diagnoses from the comfort of their own homes using video, messaging, and other technological tools.
The size of the worldwide telehealth market was estimated at $83.5 billion in 2022, and it is anticipated to increase at an annual rate of 24.0% from 2023 to 2030.
Pros
A relatively new and growing field;
High availability of investment for the development of such solutions.
Cons
Challenges in ensuring data security;
High requirements for compliance with healthcare regulations.
16. Video creation and editing platform
Video creation and editing platforms provide the tools and functionality to create, edit and process video content. Effective visuals aid businesses in informing consumers, creating viewpoints, and gaining their trust. Video marketing is used in 88% of all worldwide companies' branding and PR efforts. Professionals must equip themselves with the best tools to produce design and visual content in the best way possible because a seamless user experience is more critical than ever.
Pros
The need for high-quality visual content is only gaining in popularity;
Allows to attract an audience from different areas of business.
Cons
A large number of free platforms on the market will look more attractive to users.
17. Virtual data center
The Virtual Data Centre is an integrated platform that provides companies with a virtual space to store, manage and process data. Modern companies can face challenges in managing physical data centers, allocating resources efficiently, ensuring data security, and complying with regulatory requirements. Virtual data centers enable organizations to efficiently run their information flows while avoiding the need to own physical servers and infrastructure.
By the end of 2030, it is anticipated that data center virtualization will be worth $29.7 billion, up from an estimated $18.1 billion in 2022.
Pros
Virtual data centers can be a key competitive advantage;
The SaaS model offers virtual data centers on a subscription basis, which provides a stable and recurring revenue stream.
Cons
Dependence on a stable internet connection to access the data;
Potential for technical problems or failures in the virtual infrastructure.
18. Low сode development platform
Companies interested in software development may face challenges in hiring qualified developers, managing complex codebases and tight timeframes. A low-code development platform precisely allows organizations to create software applications with minimal coding knowledge or experience. The Low сode development platform is a toolkit that allows companies to develop applications and software with minimal coding. It provides a graphical interface and a set of pre-designed components that can be easily combined to create functional applications.
Pros
To produce great renders, a lot of time and knowledge of many settings are required;
Increased responsiveness to shifting company needs and flexibility.
Cons
The ability to integrate a low-coding platform with other systems and services may be limited.
19. Email delivery solutions
Email Delivery Solutions are specialized software applications or services that ensure the reliable and efficient delivery of emails from the sender to the recipient. One of the common problems for many companies is managing email deliverability, as factors such as IP address reputation and anti-spam compliance can affect the success of email campaigns. Email Delivery Solutions work by routing, tracking, and managing emails to help companies deliver their messages with minimal errors and problems.
Pros
High market demand;
Expands the customer base and increases brand awareness.
Cons
Developing and maintaining email delivery solutions requires technical expertise in email, networking, and security.
20. Virtual journal for investors
Investor journal is a solution that provides investors with the tools and functionality to record and track their investment portfolio as well as analyze and manage their financial assets. This application allows investors to effectively monitor and evaluate their holdings, conduct analysis and make informed decisions.
Pros
The product is relatively easy to develop;
Providing a reliable and effective investor journal solution can improve a company's reputation and lead to greater trust from clients.
Cons
If the data is not updated or contains errors, it can lead to inaccurate evaluation and analysis of the portfolio.
So we looked at 20 interesting ideas for SaaS application development, and now let's look at examples of saas products from the real world, namely existing SaaS platforms, which have won the love of the audience.
Want to develop a SaaS product but need more information on the building process? Read our article to find out the ins and outs of SaaS development
Check out
Examples of successful real-world SaaS applications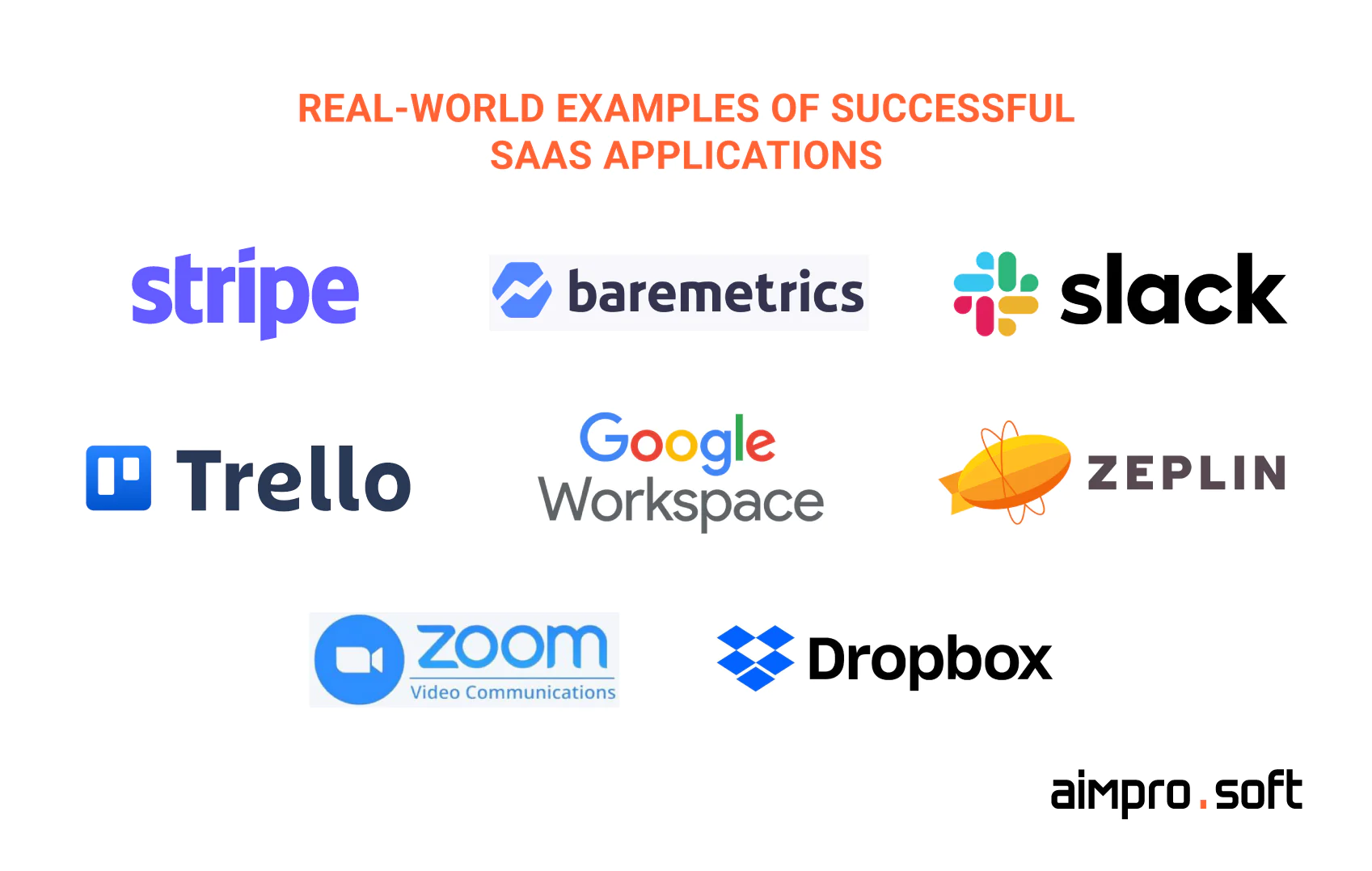 Let's take a closer look at successful SaaS application examples that have become an integral part of our everyday lives and business environments. These are real-world platforms that have proven their worth and have had a significant impact on various industries.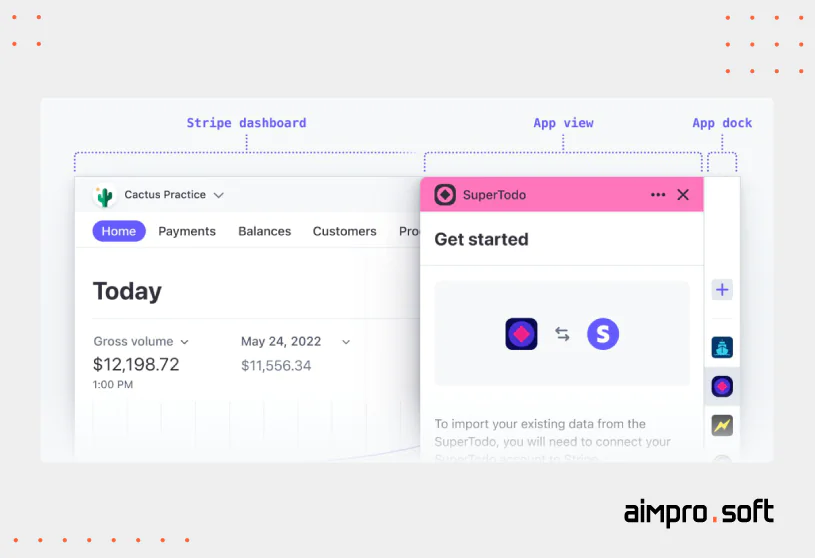 Stripe is an online payment application that allows companies to accept payments worldwide. It is also a fully integrated platform that allows companies to cut costs, increase revenues and run their business more efficiently. In order to take payments, 1,139,519 active websites of various sizes use Stripe.
Pros
Easy integration and use for processing online payments
Global presence and support for various payment methods
Cons
Certain limitations and rules for some business models
Need to pay a fee per transaction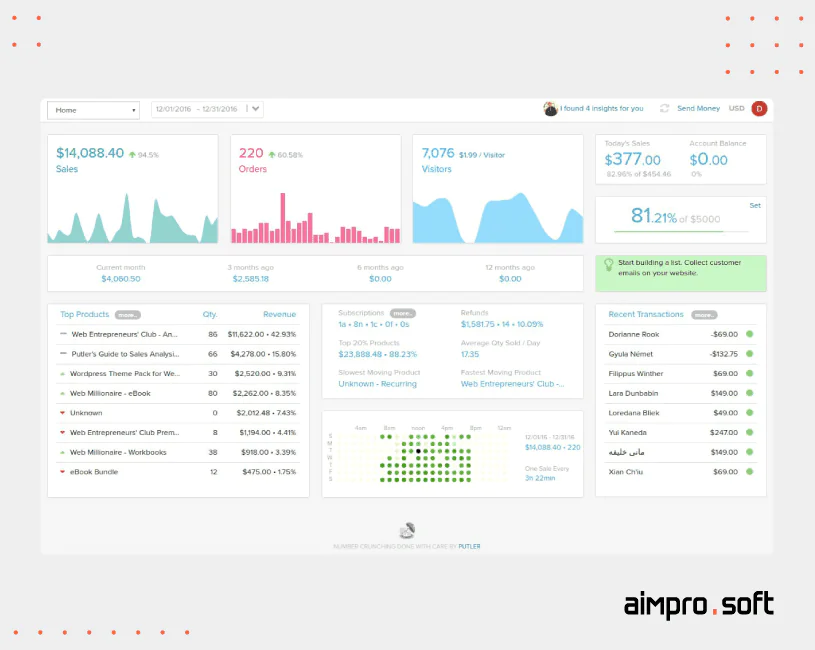 Baremetrics is an analytics platform specializing in SaaS companies. It provides metrics and reports on revenue, subscriptions, churn, and other vital metrics, helping businesses make informed decisions based on data. Baremetrics has a reasonably wide client base at the moment of 178 active sites using Baremetrics, and 6,276 sites have used Baremetrics in the past.
Pros
Detailed analytics and metrics to help make informed business decisions
Data visualization in an easy-to-use format and customizable reports
Integration with popular SaaS platforms for automated data collection
Cons
Limited functionality for non-SaaS companies
Possible limitations of available integrations and data sources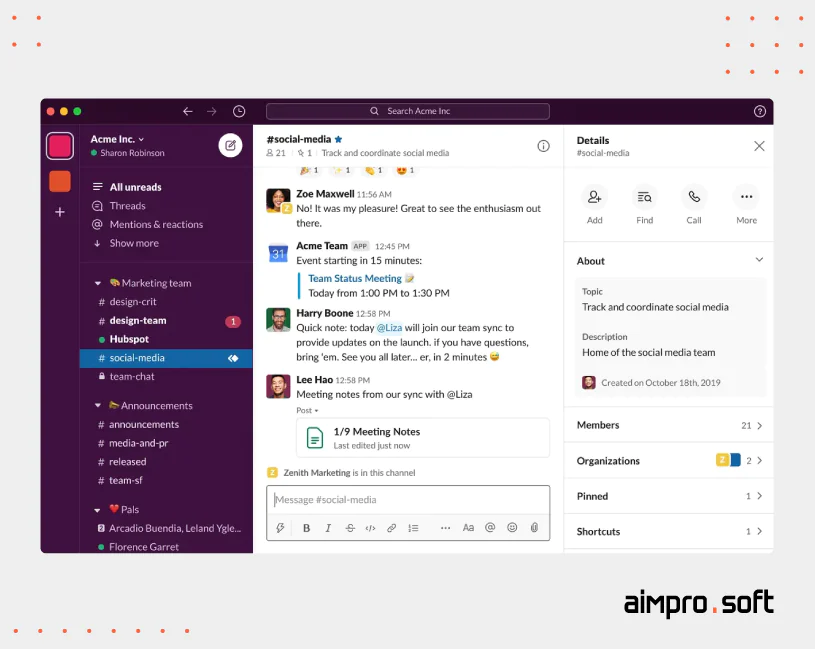 Slack one of the top businesses and a cloud-based tool for workplace communication. It is one of the top SaaS products and a game changer in today's collaborative workspace. Slack made $273.4 million in revenue in 2022. Teams may connect instantaneously, create and join channels relevant to their positions, receive team or across-the-company updates, share files via chat, and more.
Pros
Convenient and powerful real-time communication
Flexible notification settings and integration with various tools
Cons
Possible overload of notifications in the workspace
Limitations on the free plan, especially for large teams and message storage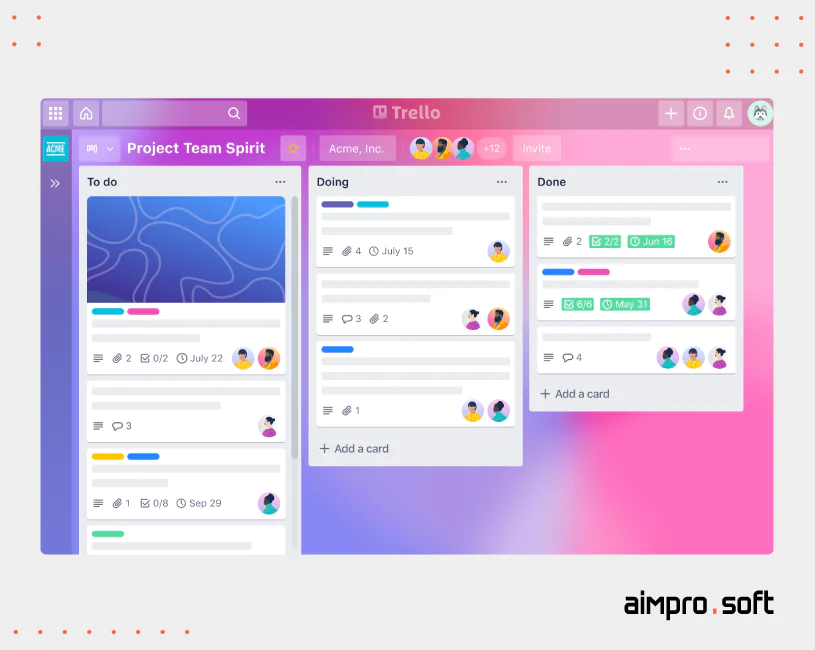 Trello is a project and task management app that helps teams organize their work. It can be used to create tasks, make lists, assign responsibilities, add comments, and track work progress. Trello's guiding principle is to unite workers, even if they are spread all over the world. Back in 2021, Trello had 50 million registered users.
Pros
Ease of use and clear interface for project management
Ability to share and collaborate on tasks in real-time
Cons
Limited functionality compared to more complex project management tools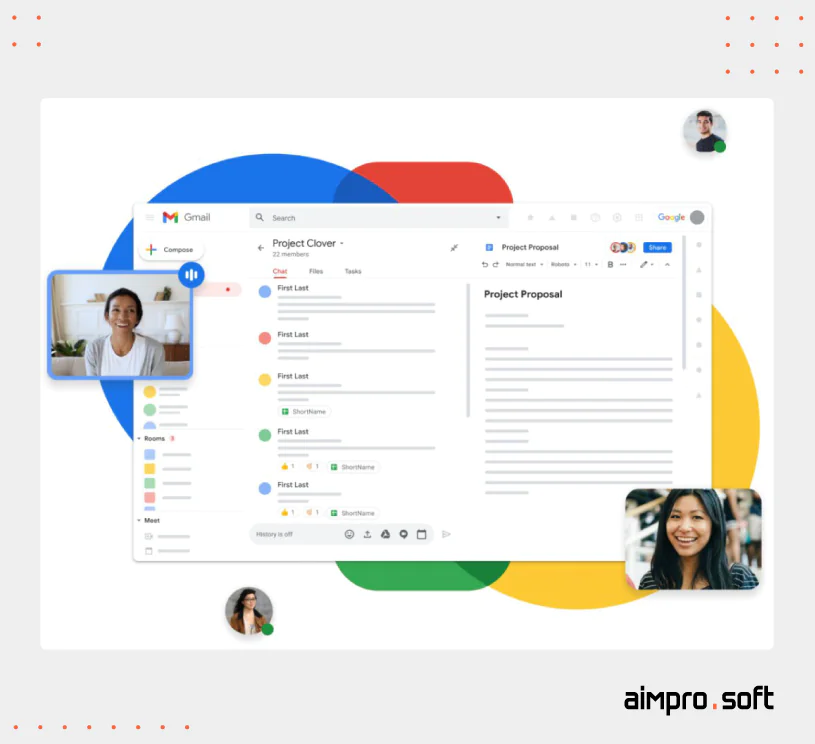 Google Workspace is an integrated set of Google products that provides tools for email, file storage, word processing, spreadsheets, presentations, calendaring, and video conferencing. It is a comprehensive toolkit for effective teamwork. Companies of all sizes around the world are using Google Workspace on a regular basis, and its popularity is only growing by the day. The global market for Google Workspace is expected to reach $11.3 billion by 2025.
Pros
Flexible notification settings and integration with various tools
Cons
Possible overload of notifications in the workspace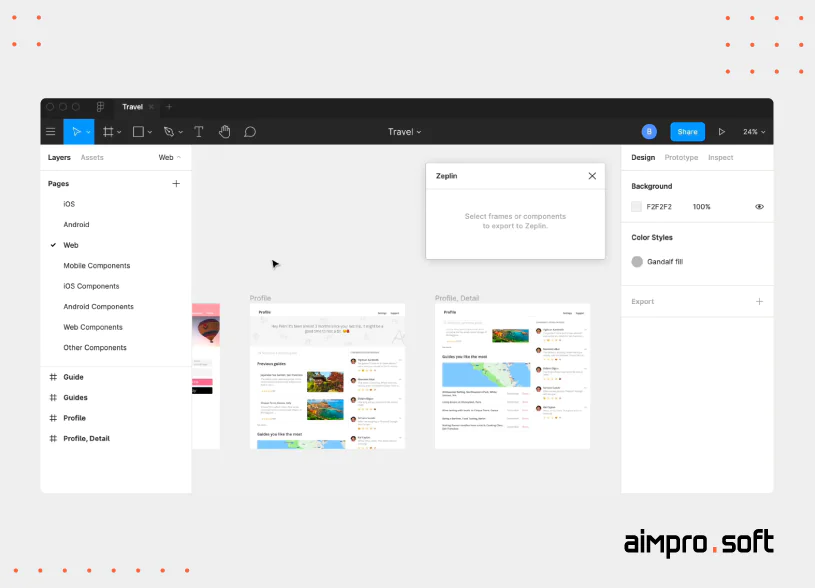 Zeplin is a communication platform for designers and developers. It allows designers to upload layouts, create specifications, and share resources with engineers, simplifying the development process and improving the accuracy of design implementation. Zeplin is a really popular platform, for example, in March 2023, Zeplin was used by 1.4 million users.
Pros
Ability to quickly and easily share layouts and design resources
Easy to export layouts for development
Cons
Limited ability to edit layouts and make changes
Paid access to some advanced features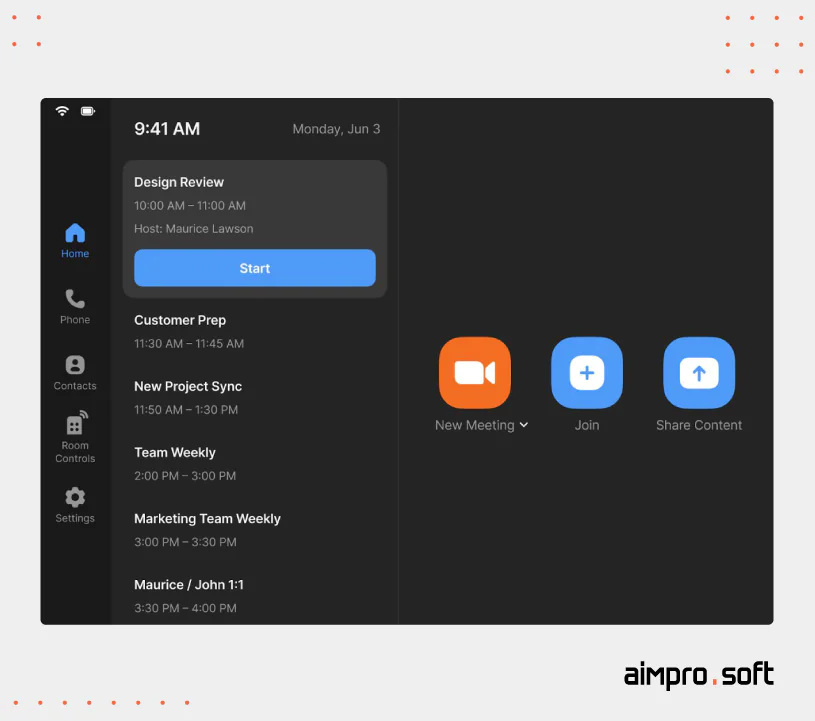 Zoom is a platform for video conferencing and online meetings. It enables video and audio communication between participants, messaging and file sharing, as well as co-working and presentation tools. Approximately 300 million engaged Zoom users per day in meetings. This entire growth has happened in less than two years.
Pros
High-quality video and audio communication
Wide range of features, including file sharing, chat, and document collaboration
Support for large numbers of participants
Cons
Limited amount of time for free sessions
Some possible privacy and data security issues
How to validate your SaaS idea?
We have explored the best SaaS business ideas and examples of SaaS products. Now you may be interested in a specific idea for your own SaaS application. However, it is essential to test your idea before you start full-scale development. In this section, we'll look at a few tips to help evaluate your SaaS startup ideas' validity and avoid getting stuck in the wrong direction. By following these steps, you can ensure that your idea is in line with market demand and has the potential to succeed.
Market research
To effectively validate your SaaS ideas for 2023, you need to conduct thorough market research. Market research helps you gain an in-depth understanding of your target audience, competition, and industry trends. This will allow you to identify customer pain points, unmet needs, and market opportunities. You may also want to consider the discovery stage. This stage involves learning more about your target market, analyzing customer behavior, and identifying valuable information. Statistics show that 42% of start-ups fail because there is no demand for their product in their market niche, which is precisely what the discovery stage can prevent because it involves in-depth market research.
Surveys and interviews with customers
Conduct surveys and interviews with potential customers to gather feedback and validate your message. Ask questions about their pain points, problems, and existing solutions they use. This valuable feedback will provide insight into your best SaaS ideas' viability and potential demand.
Proof of your concept
Develop a proof of concept or prototype to demonstrate your SaaS startup idea's core functionality and value proposition. This minimum viable product (MVP) will allow you to test the concept on a small group of users and gather their feedback. Iterations based on user feedback will help validate your idea, identify necessary improvements, and avoid the cost of a large project that may fail in the market. Because of the expenses on full-scale projects, 29% of start-ups ran out of money before they were fully formed, so it is worth developing an MVP and looking at user reaction to avoid falling into that 29%.
Landing page
Create a landing page that showcases your SaaS message and encourages potential customers to register or pre-register. This approach will help measure interest and confirm demand for your product. You can gauge market interest and build a pool of potential first-time followers by tracking the number of registrations or pre-registrations.
By following these tips for validating saas business ideas, you can gain valuable insights, increase your confidence and make informed decisions about your SaaS enterprise's viability and potential success. Take the vetting process as essential in building a solid foundation for your SaaS business and paving the way for future growth and innovation.
Why choose Aimprosoft to develop your own SaaS platform?
Aimprosoft, a leading software development company recognized by TopDevelopers, Clutch, DesignRush, and GoodFirms, is always willing to offer our expertise if you are ready to develop your own SaaS application. Being more than 18 years in the IT industry, we have successfully completed more than 600 projects and earned a reputation as a reliable software vendor. And now we would like to share some facts about our company, which will strengthen your decision to turn to us.
Our expertise spans across a diverse range of industries, with over 20 sectors covered, including healthcare, real estate, retail, telecommunications, and the Internet of Things (IoT).
We have successfully collaborated with a global clientele, having served over 200 clients from various regions worldwide, including the United States, Europe, Canada, and Asia.
A demonstration of our exceptional service is that 80% of our clients return to us for new projects.
With a team of more than 350 highly skilled IT specialists, we offer the flexibility to assemble a dedicated team tailored to your specific product requirements.
We are a full-scale development company with a huge range of different specialists that allows us to develop projects from scratch.
A striking SaaS project from our portfolio ㅡ KubKaf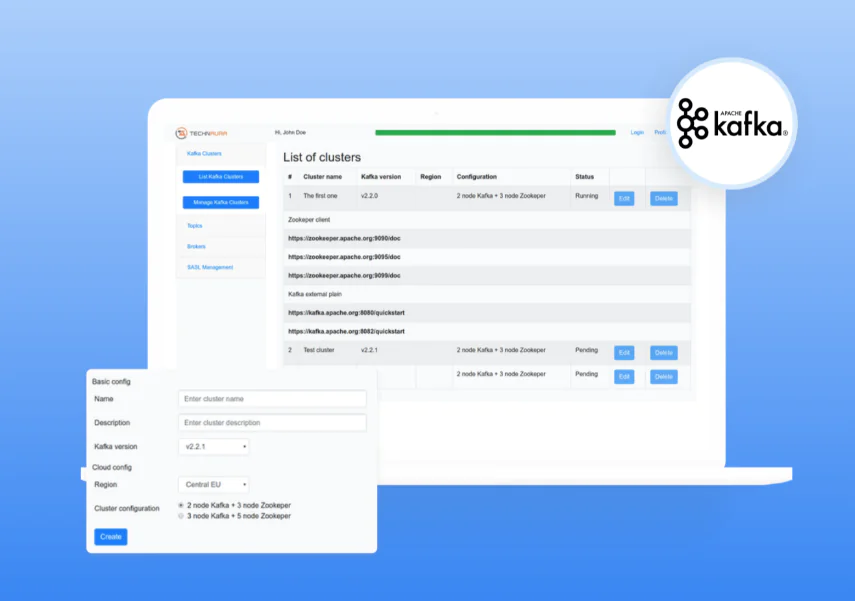 KubKaf is a revolutionary product that simplifies Kafka deployment on the cloud with a single click. Our scalable solution offers Kafka as a Service in a fault-tolerant manner, providing users with an effortless experience.
Problem: The client approached us with one idea – to build a new, cutting-edge solution from scratch, namely a SaaS platform that would assist users, independently of their tech skills, with the deployment and maintenance workflows of Kafka and provide a simplified way to build a cluster without deep customization.
Solution: Our team successfully developed a highly efficient and fault-tolerant solution to meet these requirements. Leveraging the power of Kafka as a reliable message broker and event storage, along with the capabilities of Scala technologies, we implemented a robust set of microservices. These services addressed various cluster, user, profile, and account management challenges.
Key features:
Creation of Kafka clusters
Management of Kafka clusters
Access to brokers
Configuration of brokers
Ability to check cluster metrics
Management of Kafka topics
As a result, the developed platform helps companies save money significantly because the creation of Kafka clusters no longer requires DevOps specialists. Instead, it can be easily performed by developers who don't have corresponding expertise in Kafka. The tool also accelerates cluster creation four times compared to inefficient, manual activity.
Do you want to develop a SaaS application but still have doubts?
Contact us, and we will answer all your questions
CONTACT US
Conclusion
SaaS products have become a highly sought-after solution, attracting the attention of start-ups and established companies alike. Their popularity stems from their wide range of benefits, including flexibility, scalability, and cost-effectiveness. Whether a start-up with a pioneering concept or an established company seeking to innovate, developing a SaaS product begins with an idea. By carefully assessing its feasibility, conducting market research, and validating the concept, companies can lay the foundation for a robust and in-demand SaaS solution.
If you want to join the ranks of successful SaaS platform companies and develop your projects, do not hesitate to contact us. Our experts will create the best solution based on your needs and goals.
FAQ
How to get more ideas in the SaaS industry?

To generate more SaaS ideas for 2023, start by identifying the pain points and problems businesses and individuals face. Look for areas where existing solutions may not be sufficient or effective. Stay abreast of industry trends and new technologies. Collaborate with experts, join relevant communities and forums, and attend industry events to gain new knowledge and inspiration. In addition, learning about related markets and industries often leads to innovative SaaS idea and products.
How to set up a SaaS projects?

To set up a SaaS projects, start by defining your target audience and conducting market research. Then, develop an MVP (Minimum Viable Product) to validate your idea and gather user feedback. Consider the scalability of the product. By developing a scalable architecture from the outset, you can ensure that the platform can efficiently handle more users and data as your business expands.

 

Choose a reliable technology stack and implement the scalable architecture. Ensure data security and compliance measures are in place. Develop pricing and monetization strategies, and create a marketing and sales strategy. Lastly, provide ongoing support and updates to meet customer needs and enhance the product over time.
What defines a SaaS platform?

A SaaS platform is defined by cloud-based delivery, multi-tenancy architecture, scalability, accessibility from any device with an internet connection, automatic updates, and subscription-based pricing models.
How to validate an idea for SaaS?

Consider factors such as market size, cost of customer acquisition, and potential revenue. Start by conducting thorough market research to understand the competitive landscape, target audience, and market potential. Identify your ideal customers and gather their feedback through surveys, interviews, or beta testing. Create a prototype or minimum viable product (MVP) to demonstrate the concept and collect user feedback.