Web Development Services
From the very first day of our company's existence, web product development has become one of our primary directions. For 17+ years, we've been honing our skills in the implementation of web-based products for companies of various sizes and domains. With a profound understanding of web development pitfalls and nuances, we know how to deliver high-quality web solutions that will help you gain a competitive edge and achieve set business goals.
Get started
scroll down to discover
From promising startups to well-established companies, we help businesses of any size and domain expand their capabilities by going mobile. Our mobile application development experts are skilled in the creation of solutions for commercial and non-commercial use, including apps for better employee collaboration and increased productivity, enhanced customer service, seamless online shopping, and many others.
WHAT WE DO
Web design and development services we provide
Web platform development
Apart from web page development services, we build secure and scalable platforms. Using HTML5/CSS3, Java, JavaScript, Python, Node.js, PHP, and other popular technologies and programming languages, we create platforms that can meet the needs of end users and help our customers flourish.
Corporate web solutions
Aimprosoft digital agency always helps companies streamline their business processes. We build corporate social networks, Alfresco-based systems, Liferay-powered extranets and intranets, and more. We assist with the creation of custom portals and the transformation of legacy systems, ensuring you can get tools for seamless collaboration.
Integration with 3rd party services
Our experts can help integrate various domain-specific tools. Be it integrations for improved analytics, CMS, CRM, ERP systems, payment systems, internal corporate software, etc., our specialists will assist you, accelerating the development cycle and lowering your expenditures instead of developing complex features from scratch.
Web app development (PWA)
If you need a shift to a PWA to transform the standard website browsing experience into one similar to mobile apps, we've got you covered. Faster web page load, push notifications, offline access to cached content, all these elements, and the absence of the need to download the app can help attract a significant number of new users and increase retention.
Web design
We have not only frontend and backend specialists skilled in web development, but we also provide web design as a service. We can create a high-quality design for businesses from various spheres, including eCommerce, healthcare, education, and others, helping our clients reduce bounce rate and gain a competitive advantage.
Product redesign and optimization
By hiring us as a technology partner and opting for our product modernization services, you can give a second chance to your outdated web solutions. We can evaluate the state of architectural decay, identify weak areas that require fixes, perform code refactoring, and design a solution optimization plan to ensure you can obtain the transformed product.
Our focus
Industries we work with

eCommerce
Our web design and development company builds feature-rich online stores and marketplaces that can help eCommerce businesses improve their sales, reduce churn rate, and increase website traffic.

Healthcare
Our web development team can build for medical businesses web systems for the automation of inefficient, manual processes, tools to provide patients with remote medical care and self-monitoring, and much more.

IoT
IoT-powered web systems can help companies from various domains empower their businesses with tools for efficient data collection, real-time analytics, convenient monitoring of environmental conditions, etc.

Real Estate
Property management systems, rental marketplaces, and real estate platforms created by us can help businesses provide home buyers, tenants, and realtors with tools to make all their activities effortless.

Education
We create educational platforms, LMS systems, corporate portals, and other e-learning solutions, helping digitize educational processes, increase student engagement, and simplify management activities.

Telecom
Our specialists develop corporate portals, BI solutions, self-service platforms for customers, and other products which can help telcos streamline business processes, enhance employee performance, and improve their services.
Retail
We can create solutions for store management, omnichannel retail platforms, online stores, and other feature-rich retail tools to ensure businesses can deliver a great CX, boost operational efficiency, and enhance competitiveness.

Your industry
If you haven't found your domain, don't worry. It may not be on the list, but we have all the resources to fulfill your idea since 17+ years of market presence allowed us to gain experience in more than 15 areas.

Custom web development process with Aimprosoft
We cover all steps that are a part of the web design and development solutions implementation flow to ensure this journey is seamless.
Discovery phase
We discuss the concept of your future web product, conduct consulting, perform requirements gathering, design project strategy, create a basic visual design, and plan your project development.
Business Analysis
Our specialists create a thorough requirements specification, define the project scope and primary business objectives, and create a detailed time and cost estimation.
UI/UX design
After that, our designers will conduct in-depth market and competitive research and create a modern and user-friendly product's interface considering the needs of the users.
After-launch support
Our full-service web development company assists with the maintenance of your solution after its release and provides functionality expansion services if necessary.
Deployment
Once your product is release-ready, we move the tested product to production.
Iterative app development
Throughout the entire app development process, we provide project management and quality assurance services to ensure the product can be created within the set deadline and budget.
Software architecture design
At this stage of the software development cycle, our software architect will define the most relevant architectural approach and technology stack, and our specialists will develop the application core.
Web design and web development services we provided
Explore our expertise in web solution design and development.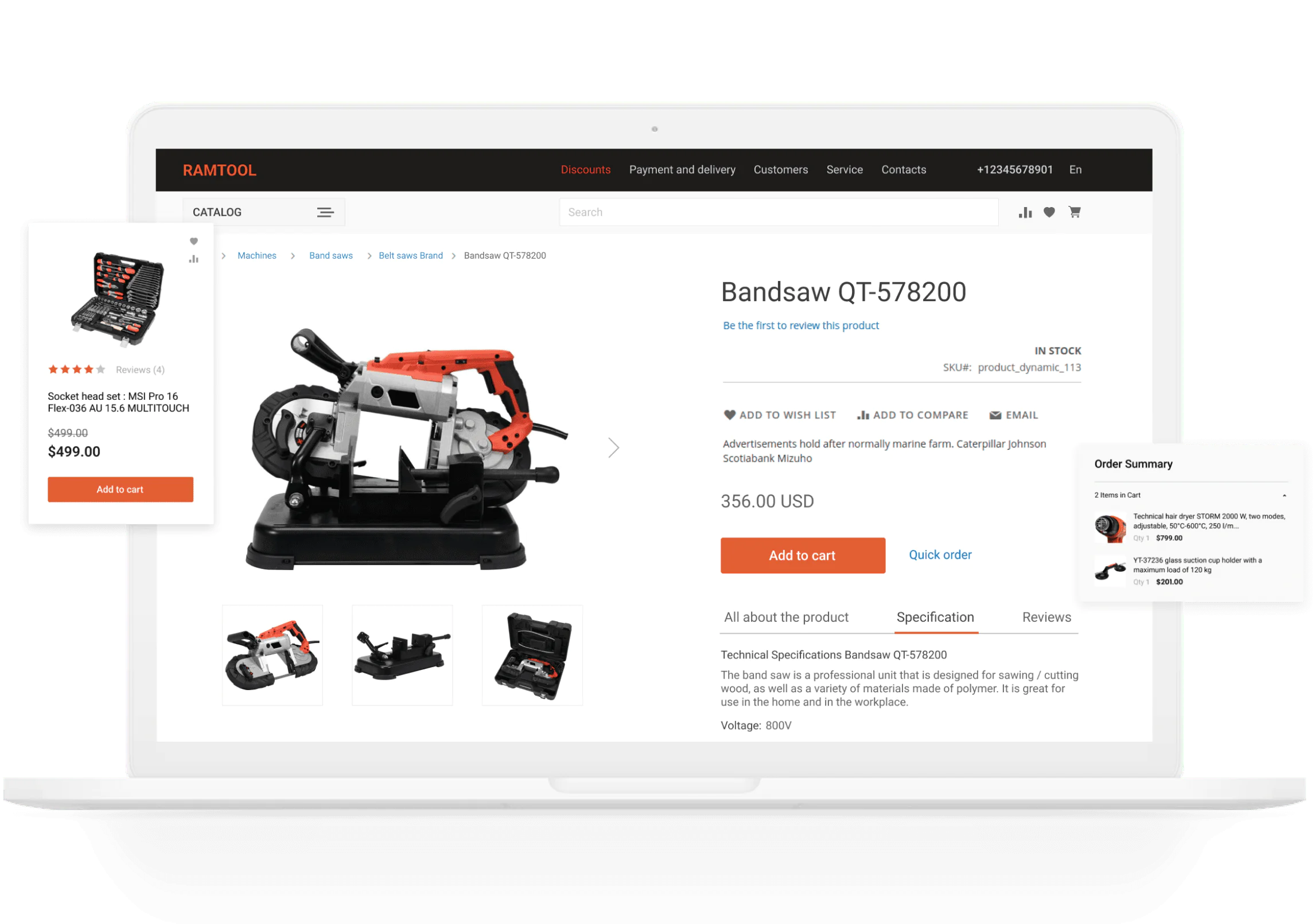 Ramtool: Magento-based website that sells construction supplies
Challenge: The client has several e-commerce websites, and they opted for our professional web development services to deploy one more В2С online store selling tools, this time Magneto-based, and make it a full-cycle sales website.
Solution: Our Magento developers implemented this B2C store from scratch and ensured the created websites had all the required functionality for a smooth shopping experience, such as product search embedded with a wide range of filters, product categories, ability to add the product to a wishlist, integration with payment system, email newsletters, etc. In addition, our team developed an admin panel for convenient user and order management. As a result, we managed to create an online store that provides seamless CX and helped our client increase revenue with the help of one more eCommerce store in the chain.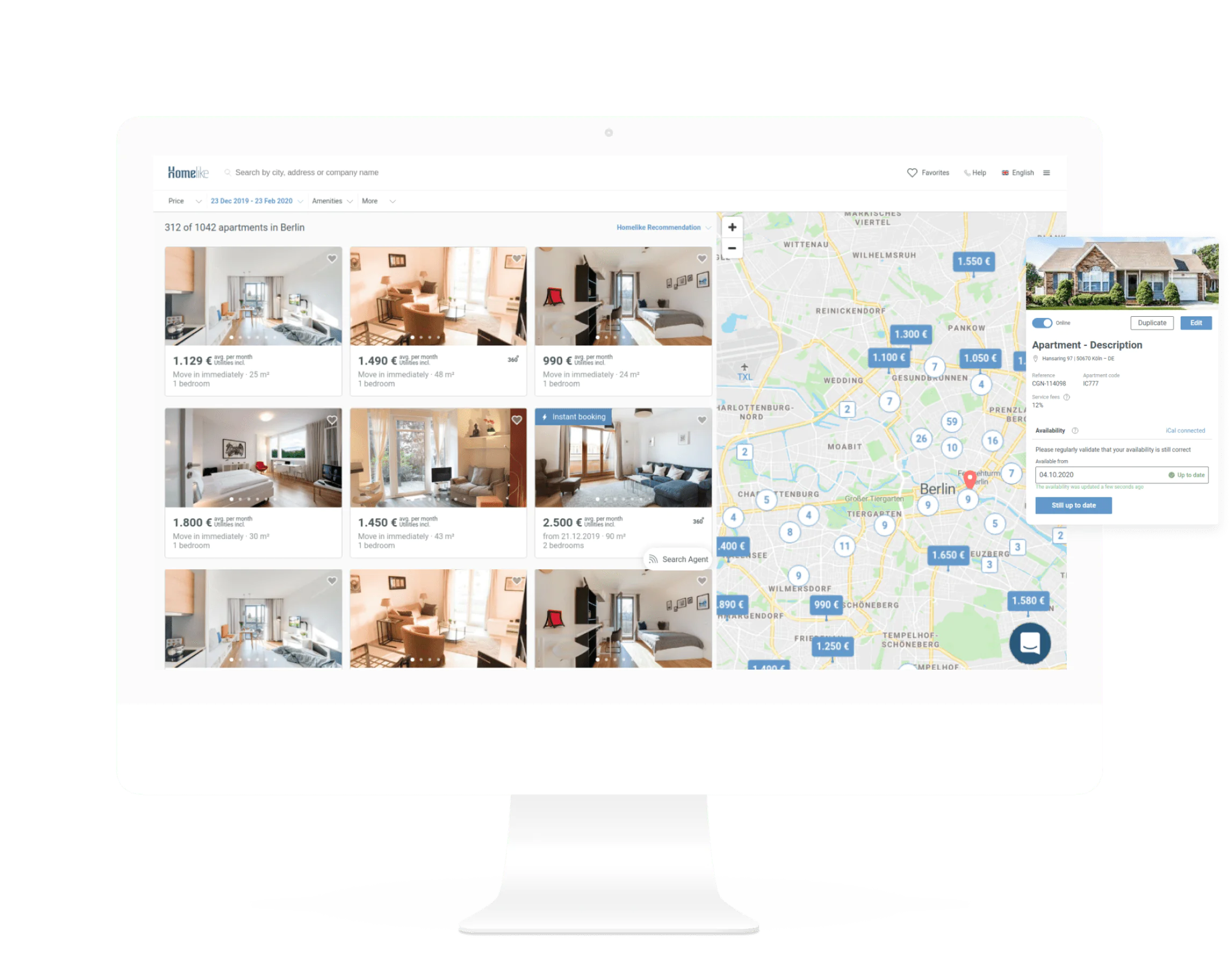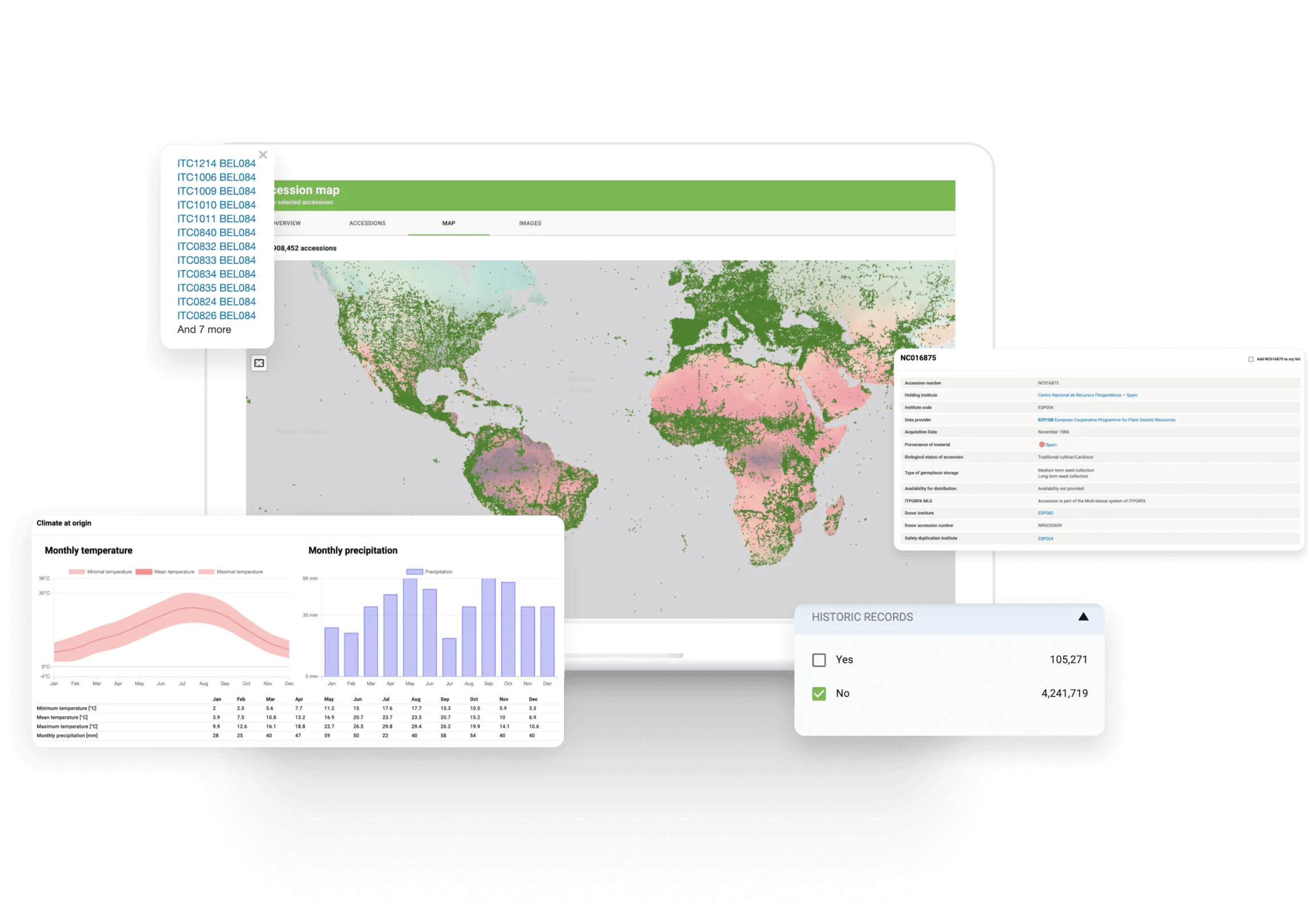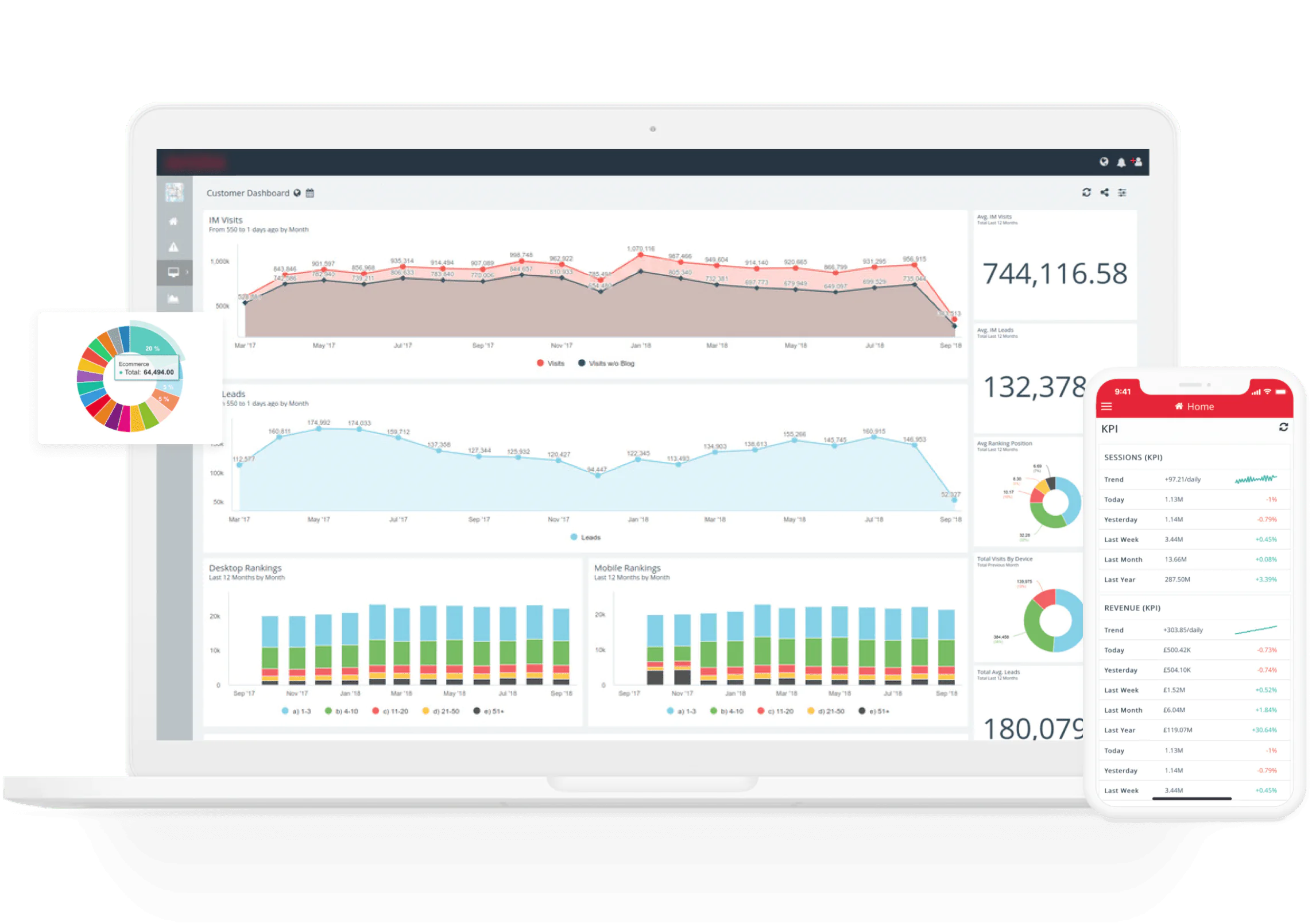 HomeLike: online booking service for long rentals
Challenge: HomeLike is a corporate housing platform that allows companies and tenants to take advantage of the functionality of real estate services fully. The client's requirement was to transform an outdated rental marketplace, redesign its business logic, and expand its feature set.
Solution: Our developers implemented various tools for landlords so that they could place their offers and manage them efficiently and created functionality for tenants to let them search for apartments and book them. They also created an admin panel for the platform's managers, developed tools for agreement signing, and enabled integration with multiple third-party services. As a result, we created a platform that is rather helpful for tenants as it takes care of all issues related to the search for apartments. Landlords, in turn, obtained a secure and reliable platform where they could safely place their options.
Genesys PGR: web platform for crop diversity exploration
Challenge: Genesys is an online platform that provides data about Plant Genetic Resources for Food and Agriculture (PGRFA) conserved in genebanks worldwide. The client turned to our IT web development company with the request to transform an outdated PHP-based website into a robust platform using Java capabilities. Our main goal was to keep the data safe and the website fully functional during the upgrade process.
Solution: With developed features, we connected two main groups of users: data providers (genebanks) and those who use the provided data (breeders, researchers, and policymakers). After the transformation, the solution became a centralized entry point through which users can access data from genebanks for different purposes. Our productive collaboration with the client resulted in the creation of a highly functional international web platform of global importance.
Avora: business performance and analytics platform
Challenge: The client came to our web development and designing company with a request to develop a web platform that connects all business data sources and reports consolidated information across the enterprise. We were also required to build a responsive hybrid mobile app for business owners so that they could control changes occurring within the business conveniently.
Solution: We developed a smart alert feature, anomaly detection, root cause analysis, and other data monitoring tools. We also facilitated the creation of a self-learning algorithm that collects a history of changes coming from analytical reports, makes estimated decisions concerning changes, and shows a degree of deviations via notifications. Together with the mobile app that allows users to use folders, dashboards, cards, and KPIs to organize viewing insights of all data sources with real-time figures, we managed to create a robust BI solution for seamless analytics.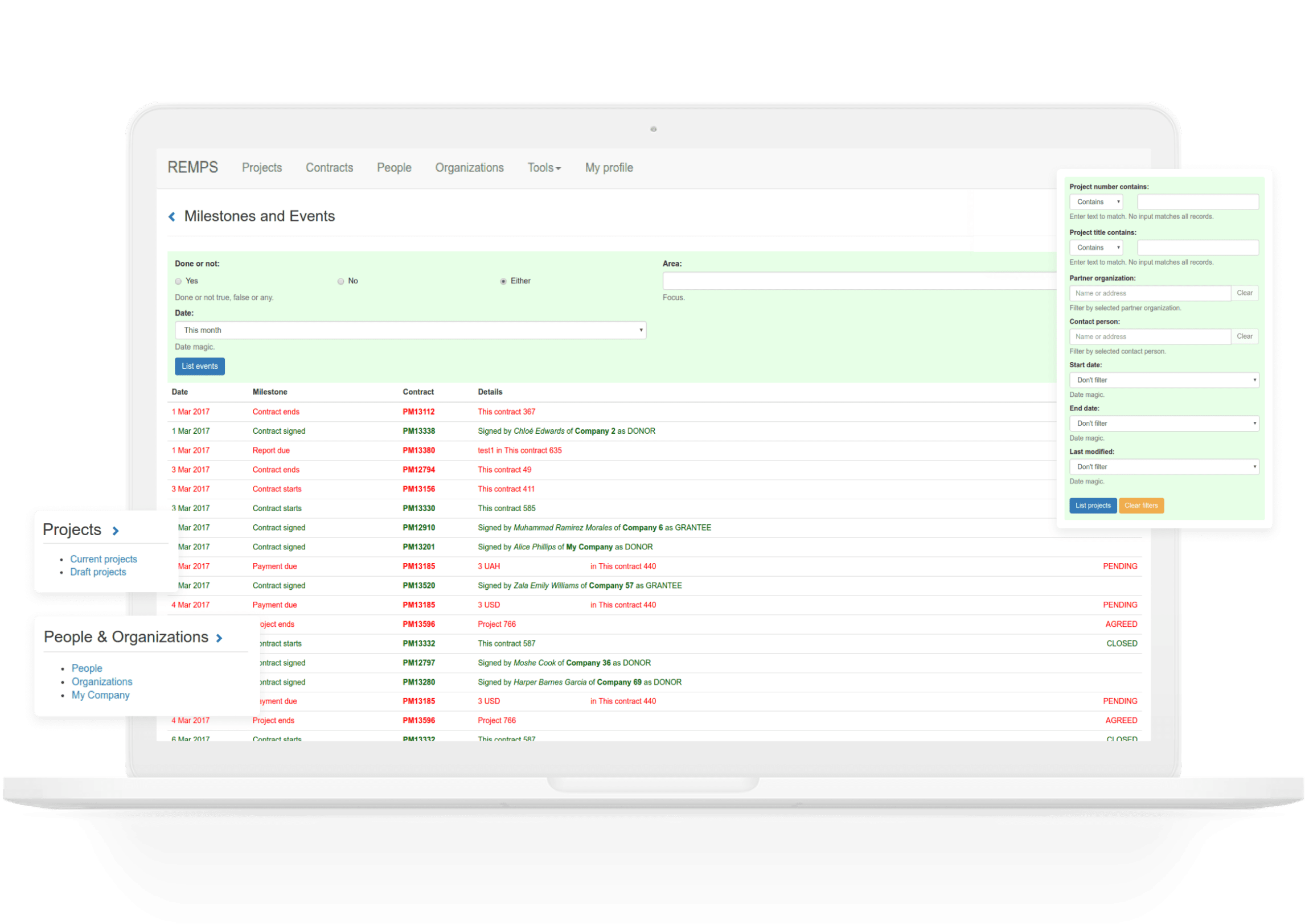 REMPS: efficient solution for projects and contracts management
Challenge: REMPS is a tool for managing projects and contracts and tracking the execution of the work. The client turned to our website development firm with a request to create a solution that stores the data about organizations that participate in projects and helps manage information about business cards of the staff of each organization.
Solution: Our specialists created a solution that allows users to set the schedule for payments and reports. It helps to track the states of payments and reports and displays alerts about the expiration of their terms. They ensured that users can change the status of the project and contract depending on the stage of execution. To make the search of the desired project, contract, person, or organization easier, our team implemented various filters that help find the necessary data by a single attribute or by multiple attributes at the same time. This corporate solution turned out to be a robust tool that makes various business processes more efficient.
Top 3 reasons to invest in a decent web solution
Increased loyalty and higher revenue
One of the main reasons why companies don't receive the desired rate of user retention and level of sales is because of outdated, underperforming, and inefficient web development solutions they have. The choice to invest in the enhancement and modernization of an existing product can help achieve the desired objectives. Our website design and web development company can apply best practices to help complete such a task in various ways, including analysis of the solution's architectural decay and creation of an optimization plan, integration with helpful and modern third-party services, an extension of existing functionality, and much more.
Optimization of internal processes
The development of efficient corporate web solutions can be a silver bullet if you want to improve various company's internal processes. Our web designers, together with web developers, help optimize various business operations, reduce manual and repetitive activities, improve employees' productivity, and much more, by creating modern corporate portals, content management systems, robust web platforms, and other types of web products that can boost the company's performance.
Proper brand representation
By investing in web development, as CEO, you gain the ability to represent your brand properly. In a world where an increasing number of businesses go through digital transformation, it's better not to waste time and go with the stream. At Aimprosoft web development studio, our designers and developers help companies tell the real story of their brands by developing modern and intuitive interfaces, scalable and fault-tolerant product architecture, and by creating web products that portray the real essence of the brand.
Testimonials
Clients about Aimprosoft
Let us help with your web project
We are here to assist with your questions. Write us a message, and we will get back to you shortly.
The form was submitted successfully. We will contact you shortly. Meanwhile, we suggest checking out what our clients say about software development with Aimprosoft.
Proceed to Clutch
Featured in