Enterprise Information Portals have gradually been turning from the fashion into an indispensable business tool with a united access hub available for employees including business processes management kit and means of information interchange.
Small or big, any merits a prosperous virtual space for sharing and collaboration.
Community Edition. Liferay Community Edition is a standard version mostly used for small enterprises non-sensitive to ongoing feature updates and typically non-critical to high performance. Starting small is a nice privilege for those who make first steps with a far-reaching vision.
Enterprise Edition. Liferay Enterprise Edition is the subscription paid-only portal with an enterprise license perfectly suitable for demanding production environments. Size doesn't matter if you are enterprise. EE works equally well for all applications.
Enterprise Edition or Community Edition: what's yours?
In The Open University of the Netherlands Open U invited us to participate in developing a student portal. Being an independent government-funded institute, it offers distance learning at the university level in Dutch and English.
It is evidently critical for the online learning educational resource like that to have a stable system with a custom developed group chat to be used internally. The licensed EЕ version with the object of handling a regular access to the university assets for students and academic staff has a day-night support in case of urgent calls. Theoretical studies, scientific papers, databases, online library, audio and video files, news, online courses, teaching materials were considered to be stored, classified and easily available on demand supporting high traffic loads.
EE works well for heavily-modified Liferay portals like a large localization agency with a dozen of offices around the world. We've made a collaboration portal with social network capabilities for such client. The cornerstone of this system is an improved stability associated with multiple offices located in different time zones. Need to work absolutely without fail raises because of continuous user load. It provides a multitude of social-networking capabilities: following/followers, quick upload of files, shared, lots of customized content, etc. It is one of those websites required up and running.
It is advantageous, at times, to integrate CE version talking about effectiveness and cost savings. In the case of Motive Retail, a company which goes in for partner networks for automotive dealers, it was profitable to use CE for several reasons. The first reason came from the necessity of a big amount of custom portlets with a small kit of functionality focused on ad-hoc search queries for reporting purposes. Portlets include data processing on items availability and condition, movement of goods, arrivals and sales, data retrieval on analysis of dealer networks activity etc. The second reason of choice was dictated by accessibility of high-skilled old-hand human resources and efficient cooperation with a provider of software solutions which would be able to ensure the whole spectrum of development and support services.
The difference in versions
EE is a paid annually version with opportune updates and technical support, availability of exclusive portlets to build mission-critical portals. In its turn, updates in CE are collected and released in one version on average once, in a quarter, the technical support is picked up only on community forums with the help of seasoned developers.
Beyond all peradventure, an engineering-grade help would be needed to connect and set up the version whether it be EE or CE. For all its simplicity of usage, however, Liferay requires interfering of developers with a proper background and experience in integration the system to ensure the end user can overtake it seamlessly.
CE version is far preferable when a project requires a lot of custom solutions to be done, for example, in virtual e-Commerce projects or customer care portals. Flexible software architecture with open source code lets fashion custom functionality enabling to stun owners with an astonishing diversity of possibilities.
Table of comparison Liferay Enterprise vs. Liferay Community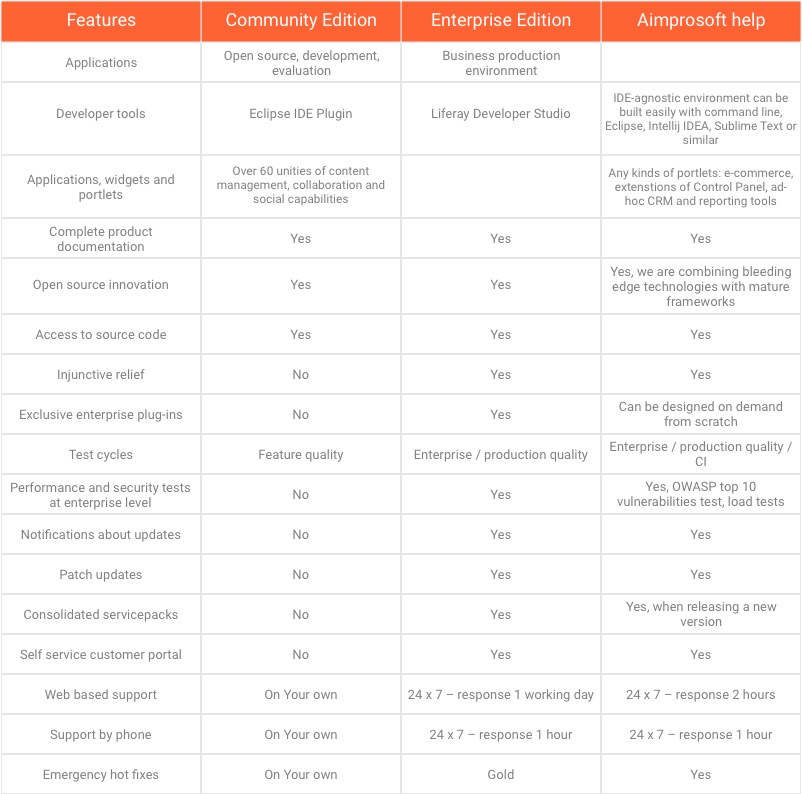 Operation nuances
End users feel no limits working with the system. Thanks to early and extraordinary bug fixing users are able to work in the system with an almost zero ratio of failure-free operation.
Liferay Enterprise Subscription allows getting technical support from in-house Liferay engineers accordingly to package kit. Professional support under CE is carried out by the dedicated development team of the chosen software provider.
Expert view
As concerns our experience of using Liferay over 11 years, we can conclude that the community version is rather stable. It was detected only one critical bug, for the first time we'd ever seen, in CE version but wasn't in EE. Herewith our company managed to make a patch by own strength during two working days. Moreover, EE version has been issued recently relatively the Liferay history.
Under other equivalent conditions, we recommend our clients CE version because it shows its worth enough stability even with corporate clients and sites where operation hours 24/7 are critical.
If some hardship happens with a website or a necessity to better something appears our development team is ready to cope with it within the shortest possible period.
The only considerable advantage of using enterprise edition is a direct technical support of Liferay Inc. and its exclusive portlets. Having regard to our longstanding experience in the Liferay solutions development, we can confirm without false modesty that our specialists know the portal as well as a Liferay software engineering staff. Don't drop that as a possibility to find an alternative to EE exclusive portlets, e.g., to order development of tailored portlets from scratch.
In any case, it is up to the client to decide. We are ready to undertake any version under agreed mutually beneficial terms. We aim to deliver the best in class solutions for the reasonable price and save client's time.