General project description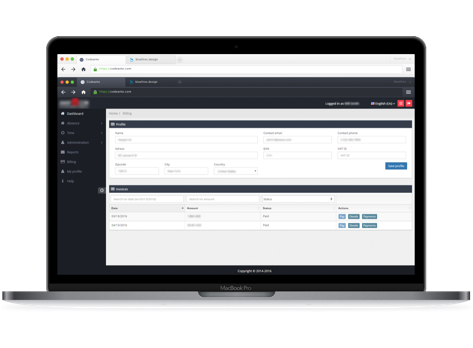 A Danish-based startup was originated by a group of enthusiasts when the world wasn't enveloped in overwhelming cloud solutions yet. Initially, it was a simple and habitual system used by over 600 companies to track working time of their employees.
Changes evoked by the dynamics of business environment toward pushed to upgrading the system with innovative solutions.
Unlimited accounts for users under one Parent account, Azure Service Fabric hosting, role hierarchy, and parameters of business logic set in Admin account. Away4 can be easily integrated with Office Online by Microsoft and Exchange Server on premises. The system is implemented using an SOA/Microservices based architecture. Each service has a separate database and the data separated and loosely coupled.
Given the Microsoft software at the company, the data of hours worked, overtime leaves, sick leaves or vacations are synchronized with the Away4 system. Requested leaves are introduced for the consideration of the person in charge or can be approved or rejected automatically as provided by the custom settings. Scheduled reports are sent with the bulk of .xls data to the admin's email.
It became possible for hundreds of active clients to get a more ultimate shape of the same system rather than change it for another one. And a number of benefits accompanied into the bargain: it resulted in considerable cost savings, reducing technical staff, remote running and accessing from everywhere.
Industry:
Human resource management.
Service:
.NET Development.
Key Features
SaaS solution;
Hosted on Azure Cloud Services;
Office 365;
Exchange server integrations;
Payment integration via Paylike;
SOA/Micro services based architecture;
SPA frontend;
REST API.
Project resources
Team size:
2 – 4 .NET Developers.
Implementation period:
In progress since March 2016.
Project technical description
Backend:
SOA;
Azure;
EF6;
MS SQL;
WCF;
SignalR;
WebAPI;
Ninject;
Automapper;
Log4net;
OWIN;
ASP.NET Identity;
AngularJS;
Gulp.

CTO
I don't have any metrics, but I can say that Aimprosoft's quality has been very high. I'm a technical person myself, and had been involved directly in the project initially. We've come to use Aimprosoft exclusively. They have a very high knowledge of best practices, and provide excellent quality. Aimprosoft provided both backend and frontend development for our company. I have worked with Aimprosoft on-and-off for other companies, over the last 10 years. I knew that they could provide high-quality work, with top-notch developers. When we came to need some resources, I approached Aimprosoft.