B2C e‑Commerce platform on Hybris
General project description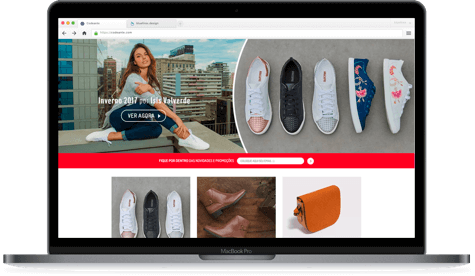 An e-Commerce platform with responsive design is made for female shoes online Brazilian store. The site is oriented on B2C accounts. It is based on Hybris 5.5.
The site provides real-time quotes for shipping and payment capabilities with Paymetric, FedEx, and CyberSource.
Also, it supports wishlist functionality. A full-text search is based on the enterprise platform Solr.
The site enables to get prices of products, create orders, check shipment tracking numbers.
Industry:
E-Commerce & Retail.
Service:
Hybris Development;
Frontend Development;
QA.
Key Features
Custom Hybris theme;
Customizing Hybris components;
Responsive design;
Payment integration via Cybersource;
Shipping integration via FedEx;
Full-text search with Solr;
TurnTo widgets integration;
Social sharing;
Animated custom select;
TurnTo plug-in;
Test artifacts: check lists, test cases, bug reports;
Type of testing: manual testing, automation testing;
Type of test methods: Black-box testing, Gray-box testing;
Levels of testing: Integration testing, System testing, Acceptance testing;
Cross browser testing.
Project resources
Team size:
5 Hybris Developers;
1 Frontend Developer;
2 QA Engineers.
Implementation period:
October 2015 — March 2016.
Project technical description
Hybris:
MySQL (Amazon RDS);
B2C accelerator;
Spring;
Spring MVC;
jQuery;
Bootstrap;
Solr.
Frontend:
Less;
Grunt;
jQuery;
JSP;
JS.
QA:
Jira;
Google Docs;
Hybris Management Console;
Hybris WCMS Cockpit;
Hybris Order Management;
Hybris Admin Console;
Hybris Customer Service Cockpit;
Firefox, Chrome, IE, EDGE, Safari developers tools;
Firebug;
Joxi;
SimpleScreenRecorder;
Virtualization Technology;
SoapUI.