General project description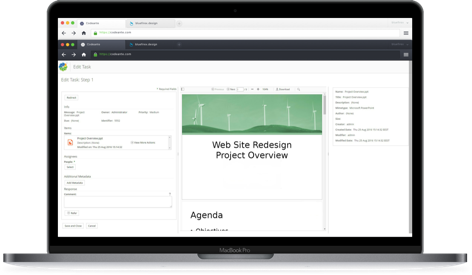 Custom workflow is specially designed for one of leading providers of regulatory compliance consulting services to financial and professional services firms.
For a company working with branch offices over the world serving over 1,500 clients in the financial services industry, it is a big challenge to manage imported files in different file extensions, use third parties for every single step of the workflow, and cast manually documents one type to another.
It was decided to develop a new set of pages for manipulating cases and projects in the scope of the company. Implementation is based on the standard Alfresco Share application. The application allows importing any kind of documents with metadata from Ephesoft. Each new document automatically triggers an approval or review workflow.
The document flow supports viewing different metadata attached to the document, and document preview itself. The user also has a way to do a complex search based on a set of metadata fields and ability to add new documents right on the search page.
Industry:
Document Management.
Service:
Alfresco Development.
Key Features
Ephesoft integration;
Workflow;
Solr based search.
Project resources
Team size:
3 Alfresco Developers.
Implementation period:
February 2016 — June 2016.
Project technical description
Backend:
Activiti;
YUI2;
CMIS;
Ephesoft;
Pdf.js;
Model;
Behaviors;
FreeMarker;
Postgres;
Rhino server-side JS;
Spring Surf.