General project description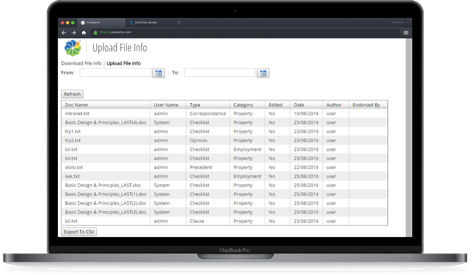 The main idea of the project is to help lawyers storing structured documentation on their clients, track working time and charge accordingly.
Deepweb is a New Zealand-based startup founded to arrange time tracking and workflow management in lawyer agencies. A big amount of manual paper work daily was typical for lawyers and accompanying staff. With the growing clients' requests, firms recognized the need for automatization excessively.
The application supports uploading documents with metadata, attaching related documents, easy filtering by nested categories, types, authors, clients, etc. It can generate several kinds of reports like most downloaded documents, most valued and much more. It tracks document versioning, calculates value and price of the document per lawyer, archives documents.
Due to a cooperative effort of Aimprosoft and Deepweb, it can save lawyers from the routine of regular time estimation. Now to calculate the cost of single documents or complex legal services became faster and more accurate.
Industry:
Legal Industry.
Service:
Alfresco Development;
Ongoing support and improvements.
Key Features
An online platform for collaboration works on the documents anytime from anywhere for lawyer firms and their employees;
A smart upload component for documents lets users upload bulk documents with meta-data files or set meta-data and organize documents while uploading manually;
An automated document categorization allows users filter and navigate through thousands of documents easily;
A redesigned UI for document collaboration workflow allows users to get required documents in a few clicks. It is improved with custom filters, archives, embedded version history, automated processing of documents based on meta-data, etc.;
An improved version history with an integrated online viewer for any version allows users to check a current stage of the document and grasp changes;
A system activity log with a simple interface allows users to find and track any changes applied to the documents;
An integrated Solr search engine and custom search functionality lets users quickly and precisely found any documents across the repository. The integrated highlight functionality in the search results allows users quickly found necessary information inside the document. Solr sensitive information filters allow discarding documents from search results to prevent an unrestricted access or data leak;
A smart permission organizer of users and groups of collaborators in the portal allows restricting access to the documents depending on meta-data and categorization, so managers wouldn't have spent time on configuring permissions for each single user or document.
Project resources
Team size:
1 PM;
2 Alfresco Developers.
Implementation period:
September 2013 – March 2014.
Project technical description
Platform:
Alfresco 4.2.x.
Frontend:
Alfresco Surf framework;
Alfresco Share Forms;
Dojo JS;
YUI2 JS.
Backend:
Java;
Alfresco SDK;
Web Script Framework;
Content Models;
PostgresSQL.