ECM solution integrated with Ephesoft
General project description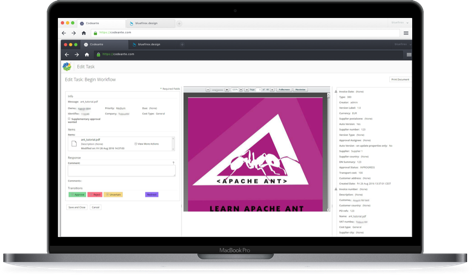 It's a company-wide workflow for reviewing approving or rejecting incoming documents.
Each document come from the Ephesoft application with a set of own metadata. The system automatically detects department and initiate workflow for department responsible user. Workflow supports several levels of rejection.
Each rejection leads to the higher level person in the department hierarchy. Special case when nobody can take final decision will be made by CEO.
Industry:
Document Management.
Service:
Alfresco Development;
Ongoing support and improvements.
Key Features
Rich set of new form controls to minimize user mistake when entreing data;
Integration with Ephesoft to automatically upload documents and metadata directly to Alfresco, automatic document categorization, automatically start approval workflow;
New workflow to approve invoices;
Email notification about the unprocessedd invoices;
Possibility to print documents;
Possibility to generate excel-file with metadata of the document.
Project resources
Team size:
3 Alfresco Developers.
Implementation period:
March 2016 – July 2016.
Project technical description
Backend:
Java;
Alfresco SDK;
Web Script Framework;
Content Models;
PostgresSQL;
Workflow API;
Apache POI.
Frontend:
Alfresco Surf framework;
Alfresco Share Forms;
YUI2 JS.