General project description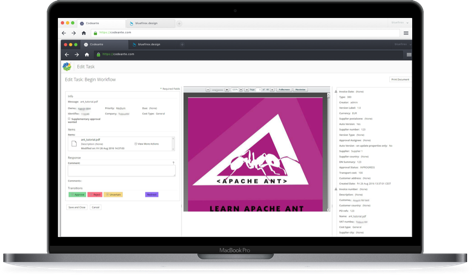 We transformed a way of digital invoice processing for one of the EU leaders of online communication and security & infrastructure solutions. The mission of the company is to provide specific software solutions for staff planning and web development.
The challenge was to integrate a solution which would accept, process, adapt, and store smartly invoices in Alfresco keeping focus on a customer-centric digital experience.
Automation of invoice processing initiated a changeover in workflow in general. Later it led to a company-wide workflow designed for reviewing, approving or rejecting incoming documents of different formats.
Every document comes from Ephesoft application with a set of own metadata. The system automatically detects department and initiates a workflow for department responsible user. The workflow supports several levels of rejection. Every rejection leads to the higher level person in the department hierarchy. The special case when nobody can take final decision will be made by CEO.
Industry:
Document Management.
Service:
Alfresco Development.
Key Features
Ephesoft integration;
Workflow;
Solr based search.
Project resources
Team size:
3 Alfresco Developers.
Implementation period:
March 2016 – July 2016.
Project technical description
Backend:
Activiti;
YUI2;
CMIS;
Ephesoft;
PDF.js;
Model;
Behaviors;
FreeMarker;
Postgres;
Rhino server-side JS;
Spring Surf.