General project description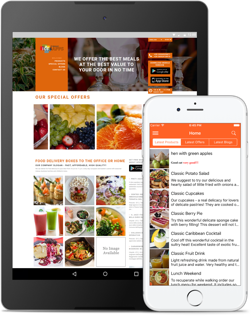 ICT4APPS E-Commerce is a system designed for quick, simple and simultaneous interaction with the clients via website (demo.ict4apps.com) and mobile applications. It allows a subscriber to demonstrate the entire range of his goods and services, quickly inform about promotions and news, take online orders, organize online selling and booking.
Free Android and iOS native mobile apps can help owners to increase the income of their business and improve customer loyalty. They allow users to make purchases. Products are grouped into categories. The navigation is realized via the sidebar.
Buyers can choose the characteristics of the product, apply coupons from discount and make an order from the shopping cart. This project uses a push notification technology. Due to this, the sellers can notify users about new products and promotions.
Industry:
E-Commerce & Retail.
Service:
Frontend and Backend Development;
Android & iOS Development;
QA.
Key Features
E-Commerce functionality;
Templates/structures for displaying products, which can be adjusted to your own judgment;
Search, adding product to the list of favorites;
Free Native Mobile Apps for Android and iOS, every client will get iOS and Android Native Mobile Apps with their own themes for free;
Responsive design, providing correct display of a site on various devices;
Easy-to-use and SEO-friendly CMS, ability to manage and create content;
Several Free Custom Liferay Themes, possibility to choose one of the most suitable themes;
Custom CSS library for theme;
Blogs, RSS Feeds, Social.
Project resources
Team size:
3 Liferay Developers;
1 Frontend Developer;
2 Android & iOS Developers;
1 QA Engineer;
1 Product Owner;
1 Project Manager.
Implementation period:
Liferay: In progress since February 2015;
Frontend: In progress since 2012;
Android & iOS Development: In progress since April 2016;
QA: Under testing since June 2015.
Project technical description
Platform:
Liferay 6.2.1 ga4.
Backend:
JSR-286 (Portlet 2.0);
Spring 3.0;
OpenSearch;
Hibernate;
OAuth 1.1/2.0;
Google Apps Script;
Braintree Payments;
Lucene;
Activiti BPM;
Test NG.
Frontend:
JSP;
Velocity;
Freemarker Java Templates;
Bootstrap;
jQuery and jQuery UI;
Backbone.js;
Scss;
CSS;
JS;
AUI.
iOS:
Apple Push Notification Service;
TestFlight;
CoreData;
SQLite;
Google Maps;
JSON;
Alamofire.
Android:
Android SDK;
Android Support Library;
Material design;
Google Play Services Auth;
Google Maps;
Google Locations;
Facebook SDK;
Google Cloud Messaging;
Crashlytics;
Retrofit;
RxJava;
RxAndroid.
QA:
Redmine;
Google Docs;
Firefox, Chrome, IE, EDGE, Safari developers tools;
Firebug;
Joxi;
SimpleScreenRecorder;
Virtualization Technology;
Java;
Serenity;
Cucumber;
JUnit;
Maven;
CI Jenkins;
Android SDK;
Appium;
Genymotion.
Simon Critchell

I would like to point out your excellent skills at managing and delivering the solutions we have been working on. We have spend a great lengths of time and you were close to me even when my energy was so low the project could of turn into turmoil. I have always received quality support and service at Aimprosoft, the team's extended help is a prime example. You know just what to do to solve my problems quickly and restore the solutions asap.