General project description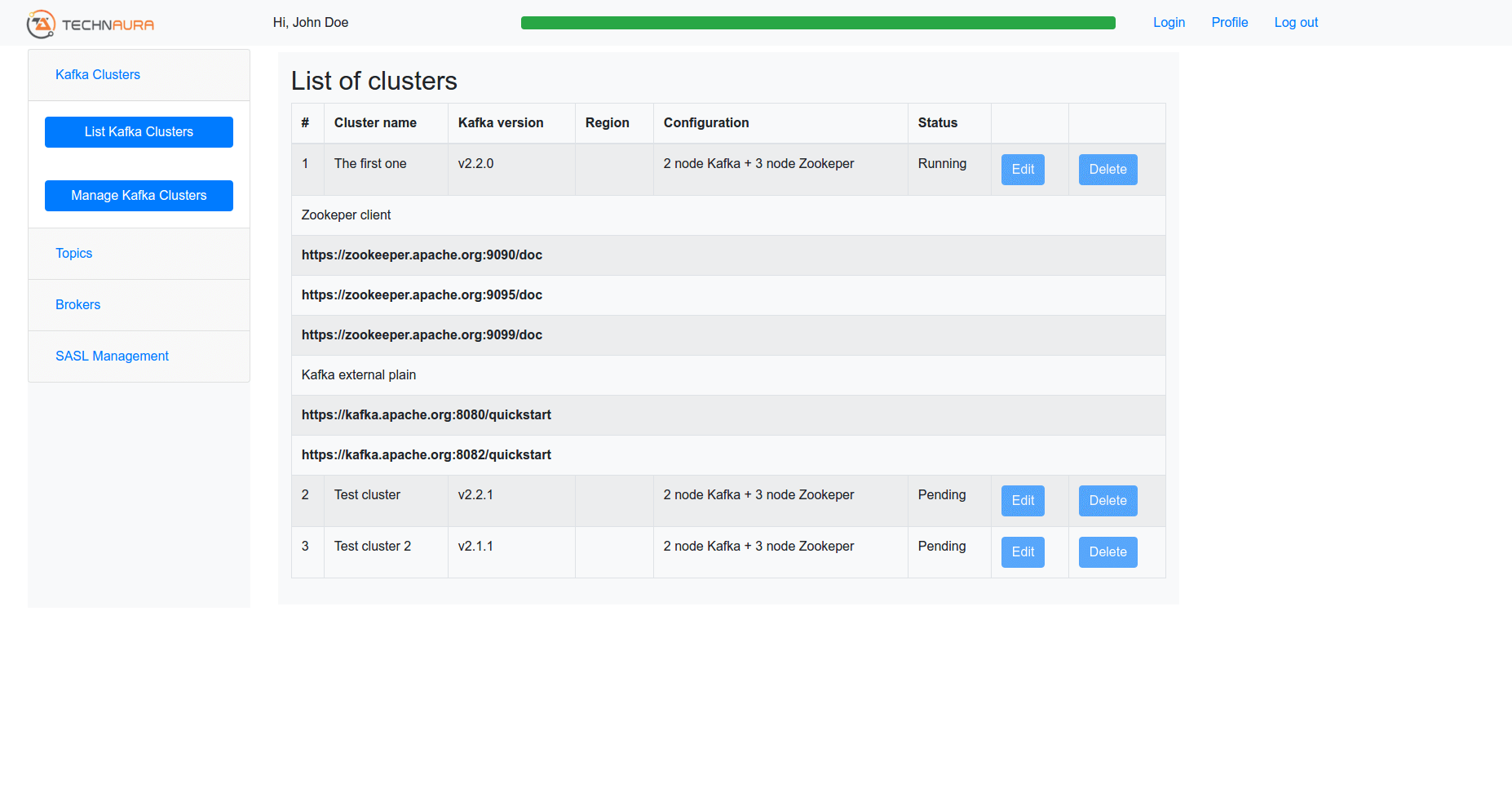 KubKaf is a product that gives the possibility to deploy Kafka on the cloud in 1 click. The capability to provide Kafka as a Service in a distributed and fault-tolerant manner is the very essence of the solution.
With KubKaf, the client intended to create a SaaS platform that would help its users with Kafka deployment and maintenance processes, and enable a simplified way of cluster creation without any deep configuration. The product turned out to be a highly-efficient fault-tolerant solution that simplifies a development process of streaming reactive and message-driven applications due to properties of Kafka as a good message broker, event/action storage.
To solve the challenge related to the creation of a user notification system regarding the creation and deletion of Kafka clusters, we applied an actor system based on Akka Actors and WebSocket technology. We also ensured that in case of the notification failure, the operations would still be completed smoothly.
The key factor that allowed creating a highly resilient product is the power of capabilities inherent to Scala technologies. With the help of them, we created a set of microservices, deployed in a cloud using docker containers, that allowed us to deploy Kafka on a cloud in a seamless way.
Industry:
IaaS (Infrastructure as a Service)
Service:
Backend;
Frontend;
DevOps;
Key Features
Possibility to create a new user;
Possibility to edit a user's profile;
Possibility to create and delete Kafka clusters in a cloud;
Possibility to maintain Kafka clusters in a cloud;
Possibility to configure the cluster's version, cloud configuration;
Possibility to access brokers using Kafka PLAIN endpoints;
Possibility to configure brokers (only a few options);
Possibility to check cluster metrics;
Possibility to access Zookeeper;
Possibility to create and delete Kafka topics;
Possibility to maintain Kafka topics;
Project resources
Team size:
1 Scala developer;
1 Fullstack JS developer.
Implementation period:
May 2019 — September 2019
Project technical description
Frontend:
React.js;
Node.js;
Hapi.js
Sequilize;
Boom;
Lodash;
Bell;
React Router DOM
React Redux;
Webpack;
Axios;
Backend:
Docker;
Akka;
Apache Kafka;
Apache Zookeeper;
Kubernetes;
Yahoo Kafka Manager;
JSON Web Token (JWT);
Play framework;
Apache Kafka PLAIN;
Play Framework on Akka;
Functional Relational Mapping library Slick;
Azure Java library;
ScalaTest;
Logback;
Sbt;
DevOps:
CI/CD;
Cloud management;
Creation of Docker containers.