General project description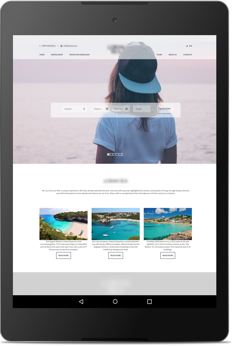 Loran's Yachts Rental is an opportunity to experience a journey one's never had due to the online rental booking of yachts.
Impelled by the adoration of his occupation, our client asked Aimprosoft to allow his business go beyond the shore. A goal of the project was to build a public website where real connoisseurs could check yachts, select the perfect one, book any for a preferable period, and make payments online.
We have designed an easy-to-use platform to let meeting true yachting enthusiasts and the sea. For the convenience of the preferential audience, the website is localized in the Italian, English, and Spanish languages. The system is designed from scratch and equipped with faceted and advanced searches for thorough selection.
A backend part is charged with all aspects related to the availability of yachts, prices, additional services, and processing orders. Operational reports are downloaded on demand in XLS files containing data about booking and tour ordering, billing and payment details. Bills are generated automatically from the user-friendly back office and are sent to the users' emails. Bulk operations are used for downloading information about tours, additional services, and SEO data.
The whole assortment of features saved plenty of time for monitoring of booking and scheduling, designated the way of communication with clients, regulated billing and rental procedures of Loran's Yachts Rental.
Industry:
E-Commerce & Retail.
Key Features
SOA;
Multilingual SEO;
Responsive Design;
REST API;
Test artifacts: check lists, test cases, bug reports;
Type of testing: manual testing, automation testing;
Type of test methods: Black-box testing, Gray-box testing;
Levels of testing: Integration testing, System testing, Acceptance testing;
Cross browser testing.
Project resources
Team size:
1 – 3 .NET Developers;
2 QA Engineers.
Implementation period:
.NET: March 2016 — June 2016;
QA: February 2016 — July 2016.
Project technical description
Backend:
Web API;
ASP.NET MVC;
Windows Services;
MySQL;
EF 6;
jQuery.
QA:
Redmine;
Trac;
Google Docs;
Firefox, Chrome, IE, EDGE, Safari developers tools;
Firebug;
Joxi;
SimpleScreenRecorder;
Virtualization Technology;
Java;
Serenity;
Cucumber;
Junit;
Maven;
CI Jenkins.