Mobile app for telecom provider
General project description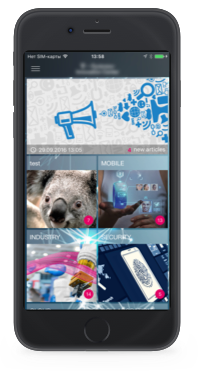 This project is a news app based on Liferay and a business card of the company. It complements the enterprise portal with its informational mobile version.
Read also: Our Vision for Enterprise Portal Development
Being large with a range of services and branches within Germany and beyond, a management of telecom provider required the mobile app to consider specific of news publication regionally, groups of clients, priorities of message sending, etc.
Having as its object to inform clients simply, quickly, and neatly the mobile app is able to keep updated new customers about the services offered by the company, to receive questions and support on innovations. Existing customers are able to keep track of new solutions, services, and shares of the company.
Users get the information of current importance locally where they need it via Push Notifications. The app is able to detect iBeacons and display linked news. Installation on Smart Watches for instant access to the updates on the go is available as well. The last 10 published articles are on high for reading.
Service:
Android Development;
iOS Development;
Liferay Development;
Frontend Development;
Backend Development.
Key Features
View articles and images;
Watch video;
Show push notifications;
Add article to the list of favorites;
Detect iBeacons;
View article on the watch;
Security, ACL, Permission system;
Categories list;
Category creation form;
Ability to attach image to category;
Store images in Documents and Media and assign specific permissions for saved files;
Articles list;
Article creation form;
Ability to add almost any type of documents to an article: archives, text docs, images, videos, etc.;
All files can be saved to specific Documents and Media with specific permission;
Beacons list;
Beacon creation form;
Android/iOS app background configuration via settings page;
Tracking each user action related to categories, articles, beacons to DB;
Push notifications to iOS using APN server and to Android using GCM server;
Implemented REST for categories, articles, beacons, settings, user actions, device registration;
Ability to subscribe on any category and receive push notifications.
Project resources
Team size:
2 Android & iOS Developers;
1 Liferay, Frontend and Backend Developer.
Implementation period:
Android & iOS development: February 2016 — May 2016;
Liferay, Frontend and Backend: In progress since November 2015.
Project technical description
Platform:
Liferay 6.2 ga4.
Android:
Android SDK;
Android Support Library;
Google Cloud Messaging;
Google Wear;
iBeacon;
Crashlytics;
Material Design;
SQLite.
iOS:
Apple Push Notification Service;
TestFlight;
iBeacon;
CoreData;
SQLite;
JSON;
Alamofire.
Frontend:
Bower;
AngularJS;
Bootstrap;
Lo-dash, TinyMCE, jQuery, smart-table.
Backend:
Liferay 6.2 ga4;
Java 8;
Spring 3;
Apache Tika;
Hibernate 3.6;
Google guava.