General project description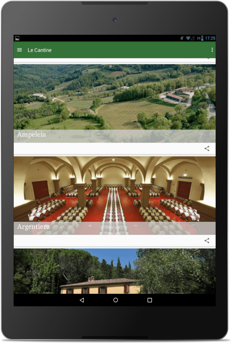 Strada del Vino is a guide through all the wine cellars and estates, restaurants, farms that are parts of The Road of Wine and Oil of Tuscany Coast. A user can view photos, check the location or contact details.
Also, it is possible to create a track which contains a few points of interest and save it. Later user could follow this track on his tour.
The user is able to search point by category, cellar or some keyword.
Industry:
Travel & Local.
Service:
Android Development;
iOS Development.
Key Features
Add to favourite;
Show on map;
Search by category;
Search on map;
Search by keyword;
Create track.
Project resources
Team size:
2 Android and iOS Developers.
Implementation period:
December 2014 – June 2015.
Project technical description
Android:
Material Design;
Google Maps;
Google Locations;
Google Directions.