General project description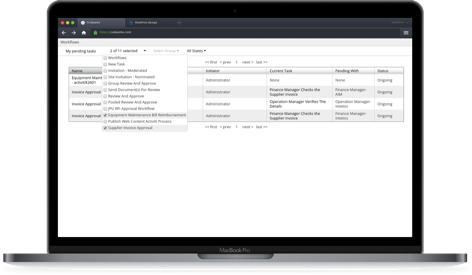 Workflow Dashlet shows all main information connected with workflows in the most convenient way. This Alfresco Project aims at linking Packing Slips with Vendor Invoices continued with an Invoice Approval workflow.
The problem was in multiple web pages used to monitor actions of one workflow. Earlier the user could see the information related to one selected client or invoice, was unable to filter and compare data. It took a lot of time to copy and insert data manually into one .xls file on the desktop.
Now the user can log in and see the whole information aggregated in one plugin on one web page. Alfresco tools allowed us to meet customer requirements wholly. All currently active tasks are displayed on one web page. The dashlet shows names, start dates, initiators, currently active tasks, assignees, statuses in the table view with pagination. Advanced filters are applied to a workflow name, user group, state — the most frequently used criteria for selection.
A quick navigation to Workflow Details page and to Task Details page (for currently active tasks) is available. According to the customer requirements, the dashlet was made to show workflows in which a current user takes part, took part or even will take part in the future.
Industry:
Document Management.
Service:
Alfresco Development.
Key Features
The Dashlet has two parts:
Header with a link "My pending task" and workflow filters which can classify issues by workflow name, group, state. After clicking the link "My pending task", the dashlet loads user active tasks. Also, there are three available filters at the header.
Table with pagination where a list of all found workflows is shown. It displays an information about workflows, has pagination and 6 columns.
Project resources
Team size:
3 Alfresco Developers.
Implementation period:
September 2015.
Project technical description
Platform:
Alfresco versions 4.x – 5.x.
Backend:
Spring Surf;
JavaScript frameworks jQuery, YUI 2.9.0;
FreeMarker Template Language.