Blog tabs list item
02 July, 2023
Roadshow in the Netherlands: A journey of connections and opportunities
Amsterdam, the Hague, and Rotterdam – three amazing, business-breathing cities in the Netherlands, where our team had a chance to visit to talk to people in their usual work environment and had an opportunity to live the sustainability concept of Dutch mentality.
In June 2023, Aimprosoft embarked on an exciting roadshow and attended three top conferences in Amsterdam. The aim was to showcase our expertise and services to diverse audiences, network with industry leaders, and explore potential business partnerships. The roadshow is over, and it's time to look back and take stock.
Representing Aimprosoft at the event were Maria Pliushko, Head of Marketing, Julia Kurganova, Head of Sales, and Iryna Boldyrieva, Head of Partnership.
Money20/20: "Hot" in fintech hasn't changed
From global leaders to new challengers, from tech giants to the fastest-growing startups, the world's leading finance and payments industry event, Money20/20, with over 8000 attendees and 2300+ companies, brought together everyone who matters in money.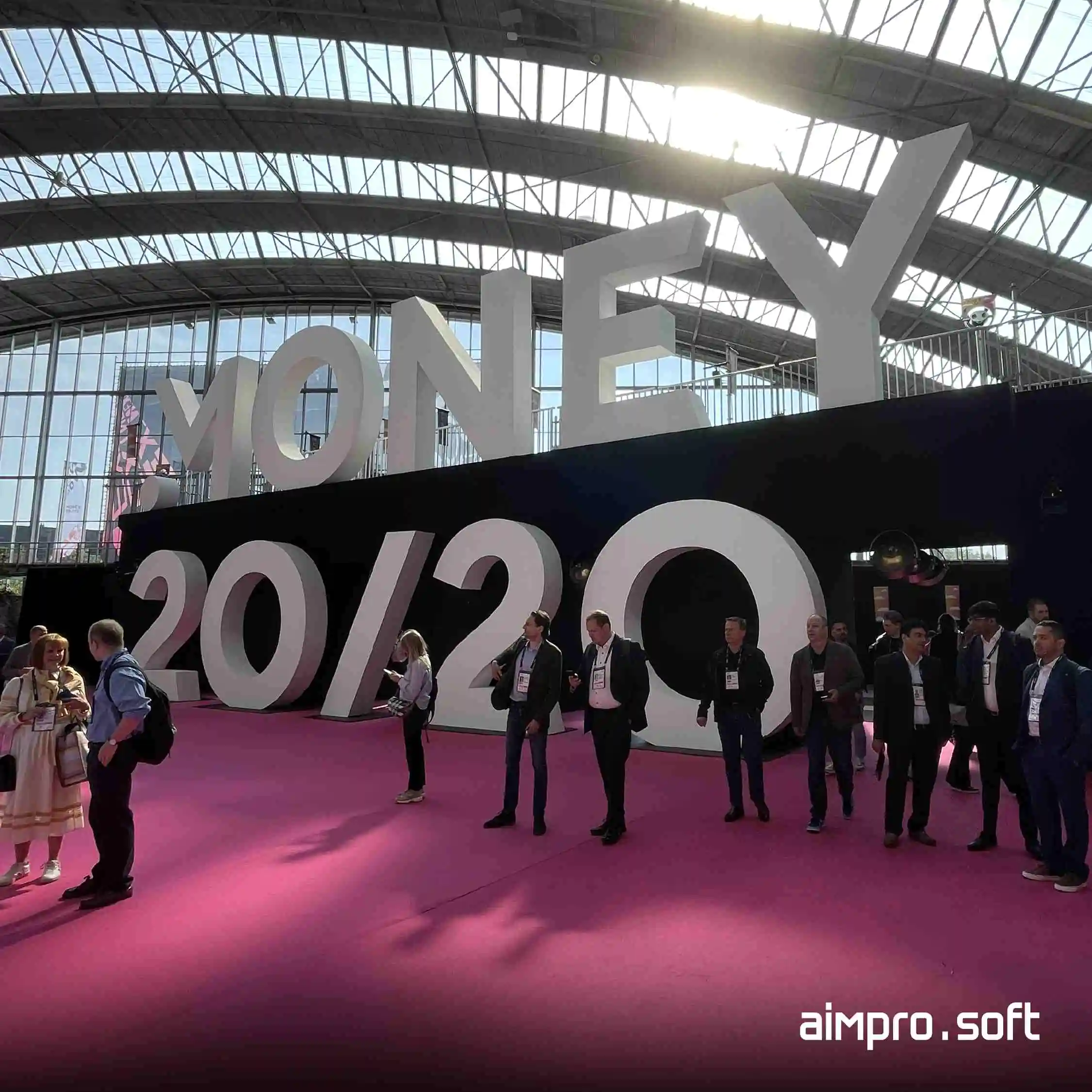 This conference provided an excellent platform for Aimprosoft to engage with fintech professionals and showcase our domain expertise in open banking, payments, crypto, insurance, and payment provider integrations.
"The event brought together brilliant minds and innovative companies from the fintech world, and I had the privilege of networking with some of the brightest stars in the industry. The insightful discussions and thought-provoking panes left me inspired and opened new opportunities in the fintech sector for Aimprosoft." Maria Pliushko, Head of Marketing
We would like to point out that B2B is still thriving. Having held several meetings with potential customers, we can note that fintechs are willing to outsource development to focus on core product development.
B2B fintech startups (digital financial products for business), SaaS, and embedded finance (integration of third-party financial services) remain trends in the field.
Our presence on the show floor allowed us to establish connections, engage in insightful discussions, and create meaningful collaborations. Aimprosoft's extensive experience in serving the fintech sector positioned us as a valuable partner for businesses looking to leverage custom software development.
Emerce E-commerce Live!: Embracing the Future of Digital Commerce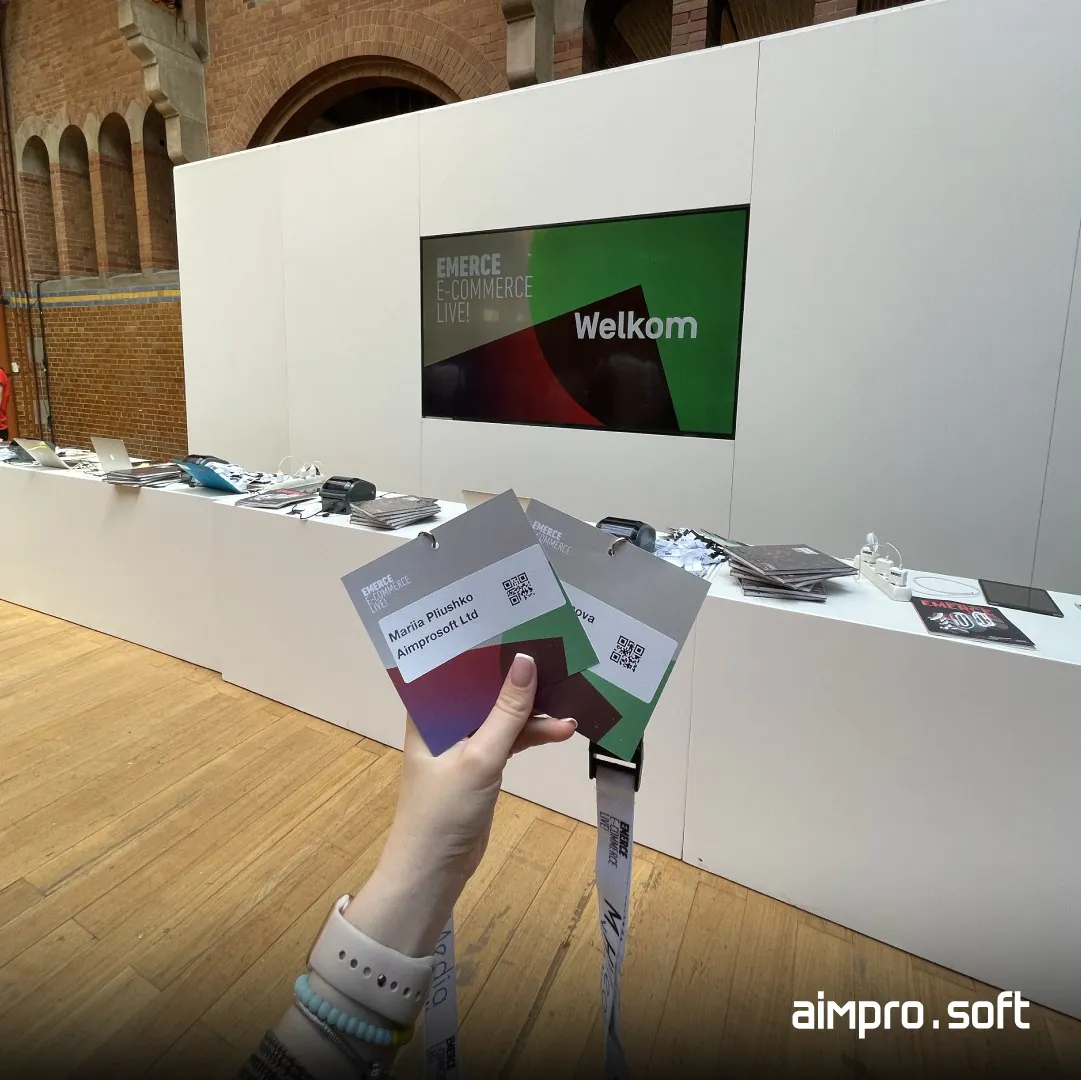 A major e-commerce event in the Netherlands brought together over 2,000 marketing, e-commerce, and business experts, providing an ideal opportunity for Aimprosoft to showcase its software solutions tailored for the e-commerce industry. Emerce E-commerce Live conference is a small, niche event focused on strong expertise in specific topics.
This event was of interest to us as a target platform for establishing partnerships with representatives of the Ecommerce business. With a decade-long experience in delivering e-commerce solutions and being an SAP Silver Partner, Aimprosoft showcased to prospects cutting-edge solutions in digital commerce and SAP-validated expertise.
TNW Conference: Reclaiming the future with technology
The culminating event of the roadshow was the TNW Conference. Aimprosoft, eager to embrace the future and the potential of emerging technologies, joined 10,000 passionate individuals from over 120 countries in this premier tech event.
The conference provided a unique opportunity to connect with entrepreneurs and thought leaders, fostering conversations on the latest trends and ideas in technology and business. A friendly and relaxed atmosphere contributed to the easy and natural networking.
"TNW has such a friendly and relaxed atmosphere that networking here is easy and natural. People who arrive at the event are focused on their goals but easily share insights for the market, and all try to help each other. We enjoyed the pre-party and band during the event." Julia Kurganova, Head of Sales
Wrapping up
Aimprosoft's roadshow at leading conferences in June 2023 was a resounding success and yielded several notable accomplishments. By actively engaging with attendees, Aimprosoft made valuable connections, exchanged ideas, and explored potential partnerships with like-minded individuals and companies.
The roadshow showcased Aimprosoft's expertise and reinforced its reputation as a reliable software development company. What's more, Aimprosoft's desire to have face-to-face meetings with existing clients and potential partners was realized, which is a more natural way for the company to do business.
As we wrap up a successful roadshow, we aim to leverage the connections and opportunities opened up during the conferences. We felt the support of Ukraine from the tech community and the willingness of customers in Europe to cooperate with Ukrainian IT providers. The main motivating factors are still a balance of price and quality, availability of enough technical talents, and flexible forms of cooperation.