General project description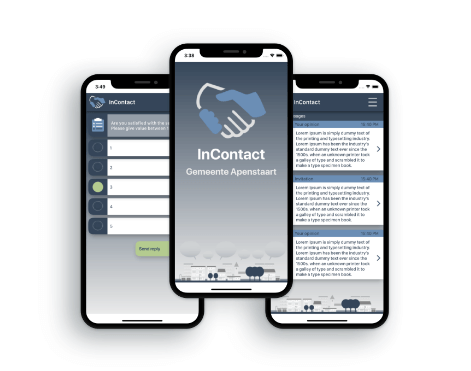 InContact is a new media channel for communication between municipalities of the Netherlands with younger inhabitants of the city in order to support the involvement of youth in the local community and expand the reach of communication.
A mobile app (iOS, Android) provides survey templates (multiple choice, scale (from 1 – 10), option for comments) to interview a user with a couple of questions. As the project was developed for use by several municipalities, it has an opportunity to send out surveys only to specific ZIP Code ranges and also define a range of year and family members count. It supports push notifications to involve local youth in the participation of a panel or attend events. Each municipality can set logo and colors, to websites with the latest news, services or any.
The design consideration of both the portal and app is based on minimal registration of the user (name, age, date of birth, city). The app server stores ZIP codes and other demographic information to analyze results. A news feed keeps 15 last messages for a quick view of users.
Service:
Android Development;
iOS Development.
Key Features
Survey templates;
Results export;
Data analysis.
Project resources
Team size:
1 PM;
1 Android Developer;
1 iOS Developer.
Implementation period:
In progress since April 2018.
Project technical description
Android & iOS Development:
Android support library;
Android architecture components;
Dagger 2.11;
Retrofit;
SQLite;
Firebase;
ObjectMapper;
Alamofire;
CoreData.