General project description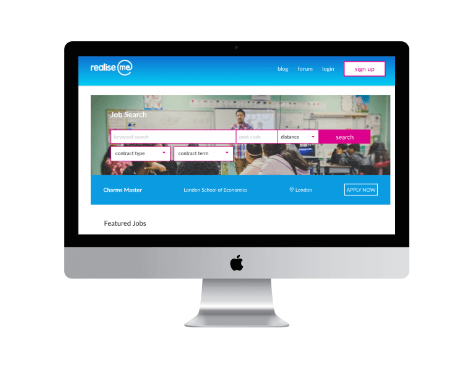 RealiseMe is a web-based recruiting platform that allows schools and teachers of Great Britain to find matches for their positions. It aims to enable supply teachers to be invited for supply booking skipping recruiting agencies.
Schools can post their job adverts with all necessary details, attach files, and request video interview. Teachers, in turn, can search for a fitting position in the specified area. Also, they can upload their documents to reuse in future applications. Anonymization allows making an unbiased choice of candidates hiding personal data except for working experience. With a matching survey, hiring becomes more accurate. Communication between teachers and schools is achieved via Inter-platform messaging.
The platform also provides open API for schools that use LogicMelon to post job adverts without visiting the site itself. Schools can send out jobs to several job posting websites at once and hire teachers for part-time to close an opening in the schedule. Teachers can submit working hours with Timesheet directly on the RealiseMe website. A board with new teachers registered in a county recently is available on the homepage of the school account. SMS and email notifications, reminders inform about new jobs, applications, etc.
Service:
Frontend Development;
Backend Development;
QA;
Project Management.
Key Features
Job Board with Job Search;
Anonymization;
Matching;
Timesheet;
New teachers in your country;
Supply booking and application management.
Project resources
Team size:
2 Frontend Developers;
2 Full Stack Developers;
1 Manual QA Engineer;
1 Project Manager.
Implementation period:
In progress since February 2018.
Project technical description
Front and Back Development:
GraphQL;
Vue.js;
Amazon AWS;
Elastic Search.
3rd Party Integrations:
Logic Melon API Integration;
AuthO;
Twilio;
Odro;
Pusher;
ChatKit;
SendGrid;
getAddress.io.