General project description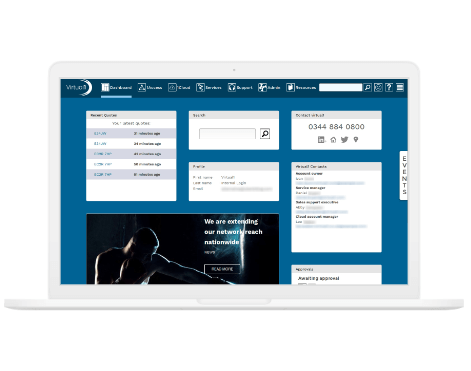 Virtual1 is a web portal for wholesaling telecommunication services. This online hub is designed for large providers of Internet services with the further dealing them to end users.
We made several software solutions for user accounts and back office including a custom order workflow, setting module for service packages, software kit for partner account settings (access, management, end users brief, etc.).
There are different categories of staff grouped in accordance with their responsibilities to manage the process. Order monitoring is available for personnel over all stages from quoting to final device setup. Each page has a set of modules which displays a proper information for hierarchically dependent employees.
The killer feature is an online availability for partners to order products and associated hardware devices, compare prices of carriers, perform e-signs. Besides Salesforce is deeply integrated into the Virtual1 web portal via API thanks to it a company dealer can work with Salesforce data within the Virtual1 account.
Service:
Frontend Development;
Backend Development;
QA.
Key Features
B2B;
Internet supplier;
Solution wizard;
Orders;
Network monitoring via PRTG;
Web Services;
Jasper reports;
Salesforce integration;
PRTG integration;
Tasks;
Test artifacts: check lists, test cases, bug reports;
Type of testing: manual testing, automation testing;
Type of test methods: Black-box testing, Gray-box testing;
Levels of testing: Integration testing, System testing, Acceptance testing;
Cross browser testing.
Project resources
Team size:
8 – 10 Liferay, Frontend and Backend Developers;
2 QA Engineers.
Implementation period:
Liferay, Frontend and Backend: September 2010 — March 2011;
QA: Under testing since March 2015.
Project technical description
Platform:
Liferay 6.0.5 → 6.2.2.
Frontend:
Liferay themes;
Sass;
CSS;
jQuery;
AngularJS;
Bootstrap.
Backend:
Liferay;
Spring;
Hibernate;
Spring Boot;
Workflow/Activity;
Salesforce integration;
PRTG integration;
Tomcat;
Elasticsearch;
Velocity.
Version control:
SVN → GIT.
Build automation:
Jenkins;
Maven;
Gulp;
Ant.
QA:
Google Docs;
Firefox, Chrome, IE, EDGE, Safari developers tools;
Firebug;
Joxi;
SimpleScreenRecorder;
Virtualization Technology;
Java;
Webdriver;
Junit;
Ant;
CI Jenkins;
Selenium.

Head of Software Development
We have a very good working relationship with Aimprosoft. Aimprosoft is a very reliable group. Aimprosoft has provided backend web development for our portal, as well as development for APIs used for our interactions with suppliers. Aimprosoft was also used for CRM work. We have an ongoing relationship with Aimprosoft. Our portal was developed 5-6 years ago. I can come to my job every day with full confidence knowing that they will be there.