Liferay Application Development Services
Aimprosoft has been implementing Liferay's offering since 2005 in their set of Liferay development services for B2B, B2C, and B2E use cases.
Supporting trends towards automation, we help our clients gain competitiveness by bringing data together for personalized communication. Consequently, SMBs and enterprises of different domains get a single entry point to information, bettering their workforce with corporate extranets and intranets.
Get started
scroll down to discover
When to hire
When you need to hire Liferay specialists
You're planning to create a corporate solution cost-efficiently

You need a solution with diverse functionality for seamless collaboration

There is a need to build an intranet or extranet

You want to develop a customizable enterprise-grade solution

There is a need to create a portal with a smooth digital experience

You're looking for a platform with powerful CMS capabilities
Aimprosoft has been implementing Liferay's offering since 2005 in their set of Liferay development services for B2B, B2C, and B2E use cases.
Supporting trends towards automation, we help our clients gain competitiveness by bringing data together for personalized communication. Сonsequently, SMB and enterprises of different domains get a single entry point to information bettering their workforce with corporate extranets and intranets.
Liferay app & portal development services we provide
Liferay portal development
We bring our clients Liferay portal development services so they can take advantage of a cohesive workforce and customer connection with a Digital Experience Platform in a world where online interaction is of utter importance.
Liferay migration and version upgrade
Clients want to have transformed legacy portals, CMSs, and content-focused websites into agile digital experience platforms. We assist with a DXP version upgrade and help with migration from other platforms to Liferay DXP, including database migration, portlets migration, theme migration, etc.
Integration of
third-party

solutions

A fusion of solutions can strengthen people's interplay through additional applications. We open new opportunities for our clients by integrating Liferay with any enterprise software or technologies to enhance the operation and streamline collaboration.
Theme and portlet development
Customizable themes, pages, layouts, and apps are a hallmark of brands that drive change. We do Liferay website development, personalizing customer experience with complete branding control across the enterprise communication channels.
Liferay Commerce
Besides web content management and portal capabilities, our clients can get a complemented full-fledged storefront. Enterprises can leverage B2B-focused web development of account management and purchasing workflow based on Liferay core.
Liferay DXP Cloud and Analytics Cloud
We help launch Liferay DXP and Analytics in the cloud for those who expect accelerating milestones of time to market, development productivity, and operation. Businesses can step to a new level with scalable infrastructure and boosted performance.
Content & experience management
We know how important it is to have a visually appealing yet convenient product design that can be created and managed easily. Our specialists use modern Liferay 7.x features, i.e., fragments, master templates, style books, etc., that help standardize site appearance, set visual rules, and provide consistency across all pages.
Consulting
Consulting on Liferay web application development, strategy implementation, expected deliverables, version selection, functionality, and customizations, and more is available from Aimprosoft for both practitioners and first adopters of the software.
Testing and support
As a Liferay development company, we provide quality testing and after-launch support activities to ensure sustainable continuous operations and a high level of consistency for delivered digital systems, giving positive results in reflection of long-term goals.
Our team
Hire Liferay developers
The rightly chosen software development workforce is access to opportunities to perform change impact. At Aimprosoft, you can hire Liferay developers who ally their software background with proactive behavior in contributing toward the success of your technology initiatives.
We can connect your functioning software with a leading provider of portal solutions so that Liferay Community or Enterprise Editions matches any company infrastructure. Coming to hire Liferay developers, our clients extend their in-house matches any company infrastructure. Coming to hire Liferay developers, our clients extend their in-house team or get a core one remotely that produces a resilient enterprise product that solves challenges.
Liferay advantages for corporate business
Aimprosoft clients note a 35% employee productivity increase with the Liferay Digital Experience Platform.
Single entry point
All digital business communication is under the umbrella of the unified digital platform for stay-in-touch experiences between customers and businesses.
Feature-rich
It is a ready-made solution with a variety of out-of-the-box features covering the most required web portal needs and is easily customizable by web developers for specific business cases.
Compatible
Businesses favor Liferay for the capability to run your existing applications on its base the same way it runs Liferay-native apps.
Affordable ownership
Liferay Community Edition is an open-source viable long-term offering enabling any business to try its capabilities before moving to a commercial license for higher business needs.
Modularity
A drag-and-drop portlet arrangement and management combined with an impressive ease-of-use suits businesses, users, and application developers.
Collaboration portals
One presentation layer for different needs: customer support (Self-Service), info hub for employees (Internal Service), intranets (Social Collaboration), and pruned content site (Partner).
E-commerce websites
Entrepreneurs can scale with commerce capabilities using a Liferay-based B2B digital commerce solution that is seamlessly integrated with a Liferay solution suite.
Focused on personalization
Define the audience, personalize information through content pages, segments, and content sets (collections), and showcase it by the roles and permissions to better content performance and user experience.
Security confidence
Following OWASP and CWE/SANS lists, industry standards, government-grade encryption technologies, and various security layers are here to keep sensitive information properly protected.
Flagship vendor
For the 7th year in a row, Gartner put Liferay on top as the best Horizontal portal and 9th in DXPs. It has no software or hardware agenda to let clients use the IT stack they want.
Our Liferay development process
For more than fifteen years, we have been mastering our capabilities and skill set in Liferay development. The collected knowledge helped us establish an efficient development process will all the necessary steps to deliver robust products.
Discovery phase
We start with the discussion of your request, gather information, analyze and verify whether Liferay suits your requirements, and plan your project implementation.
Business analysis
After that, we'll design an SRS, check whether Liferay OOTB functionality meets your requirements, figure out which custom development, configuration, and 3rd-party integrations are required, and create time and cost estimation.
UI/UX design
We conduct market research, implement a style guide, design fragments or widgets, and create user-friendly product interfaces considering users' needs.
Deployment and after-launch support
We'll go through product deployment to production, its configuration, and content setup or migration. As a Liferay portal development company, we can assist with post-production support.
Configuration & integration
Our team will proceed to custom widgets and fragments development, Liferay configuration according to the set business requirements, and integration of 3rd-party services if needed. They'll also configure master pages and page templates and set up pages and content.
Theme and style book creation
At this stage, we'll develop a Liferay theme and the style book according to the created style guide.
Software architecture design
At this point, our architect will define the relevant tech stack, create the system's architecture or component diagram, design the database schema, and create tech documentation.
Our case studies
Explore our expertise in Liferay product development.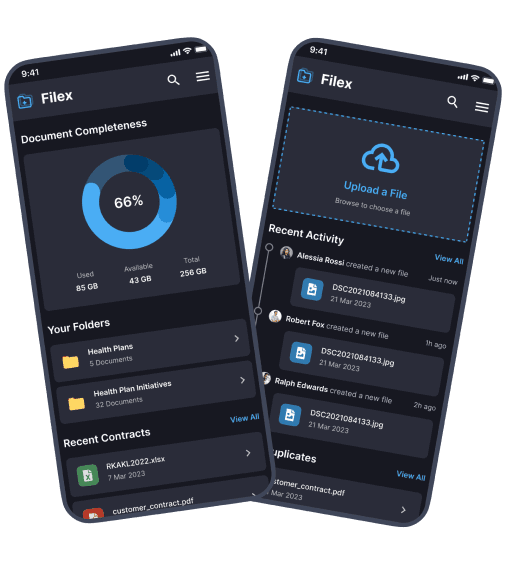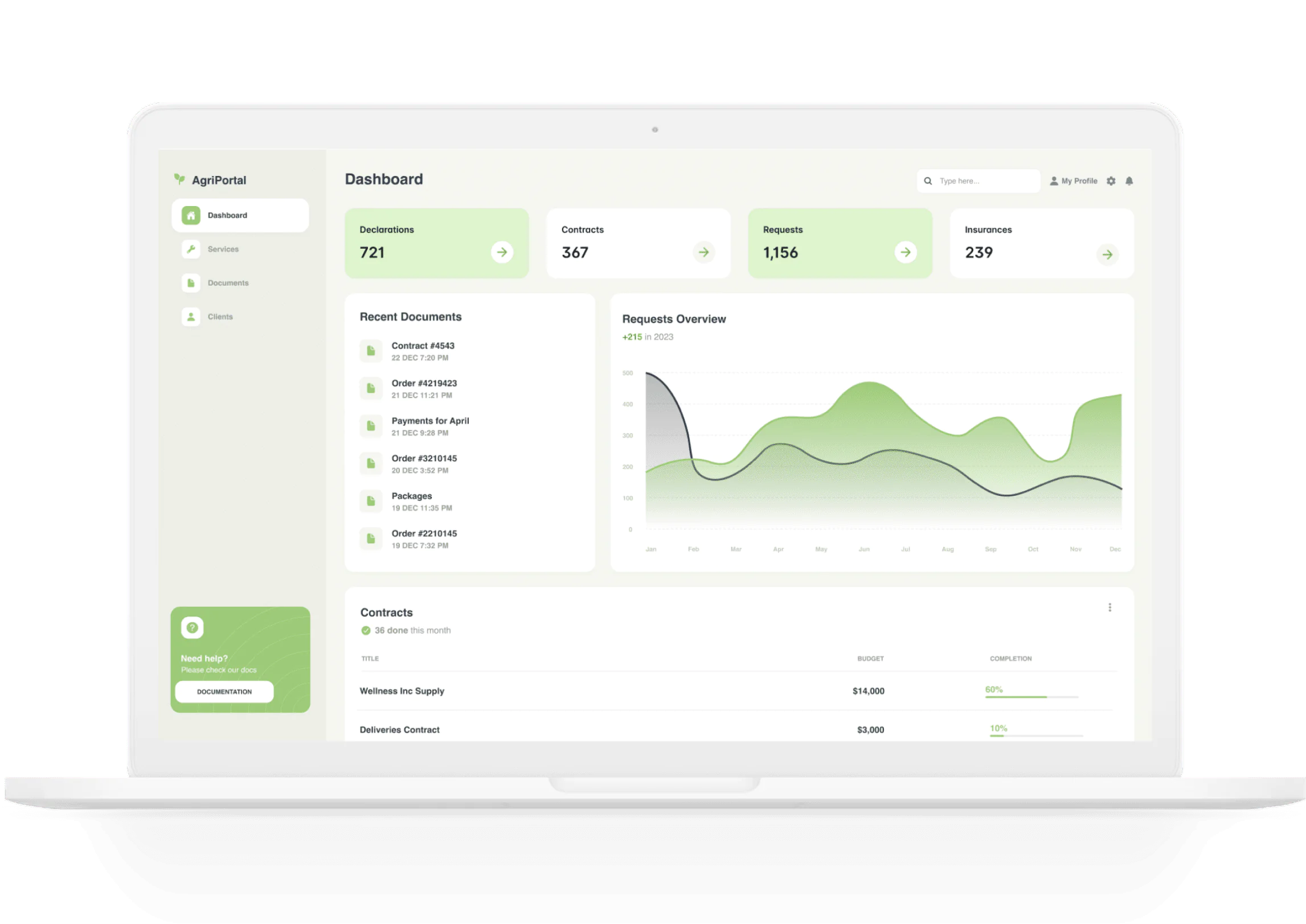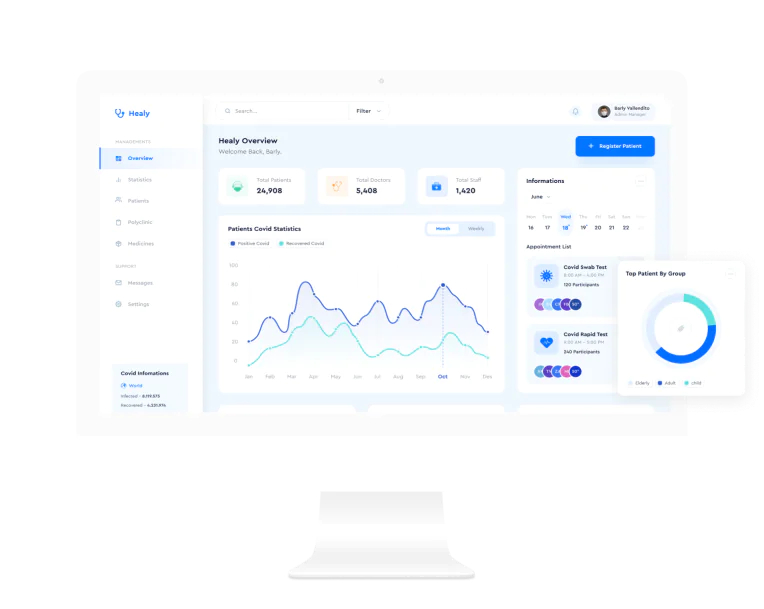 Portal for medical document management
Challenge: The product is a web-based medical portal designed to streamline document management for medical personnel. The client turned to Aimprosoft services to obtain a correctly working website functionality after the migration to a new Liferay version.
Solution: Our developers migrated the already existing Liferay-based website from version 6.2 to 7.1. Besides, the team migrated the initial customization, custom portlets, database, and theme. However, they faced a problem related to a new API as it changed to the latest version. To solve such an obstacle, our developers transformed the implementation of modules that are responsible for customization. With the Liferay platform's flexibility, we managed to successfully migrate the healthcare platform and optimize and simplify the workflow for doctors.
Portal for workers in the agricultural sector
Challenge: The product is a portal created for professionals from the agricultural sector. The client came to us with well-defined requirements regarding the functionality implementation and intention to use, particularly the capabilities of the Liferay platform to build the portal for employees from scratch.
Solution: Our team made sure that employees can fill out various forms on the portal and provide data about different aspects of life: marriage or divorce, the birth of a child, accident, salary declaration, etc. Special PDF reports are generated based on the filled data, and the requests are sent to a defined email address and also available for download. Portal is implemented on the latest Liferay 7.4 version, using modern Liferay features (i.e., master pages, fragments, and stylebooks), as well as Liferay forms and the Site Initializer framework for the portal data setup. As a result, we developed a portal that helped significantly automate routine activity for the employees, making it more time-efficient and convenient.
Healthcare provider portal
Challenge: The product is a healthcare portal created both for patients and doctors so that the former can find the necessary specialists and the latter conveniently sign the contracts with the patients that submit their requests. Our client's idea was to develop such a portal from scratch, which would offer convenient tools for both parties.
Solution: Following the initial requirements, our team created a dynamic interface with a special role and permission management system that changes its content depending on whether it's a patient or a doctor. The portal provides patients with an advanced search tool that helps them find the required doctors easily. Once the patient finds the necessary specialist, the portal requires both parties to sign the contract. To implement this feature, our team created a dynamic form builder that gathers data about doctors and patients and converts it into contracts in PDF. Also, the developers implemented the e-signature feature to ensure that doctors and patients can conveniently sign these contracts. Overall, the capabilities of the Liferay platform and the customer's intention to help patients easily find qualified doctors transformed into a robust healthcare portal.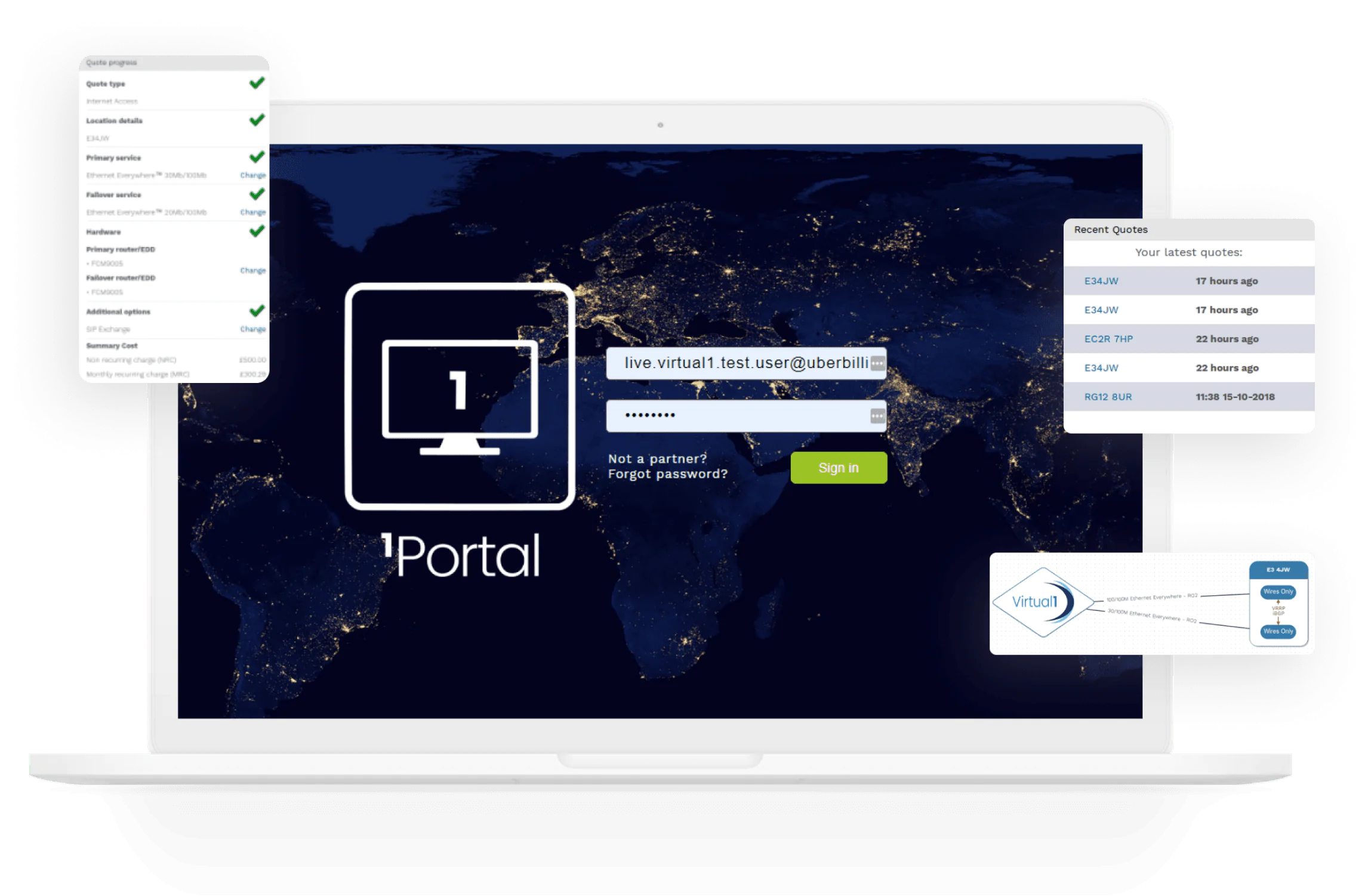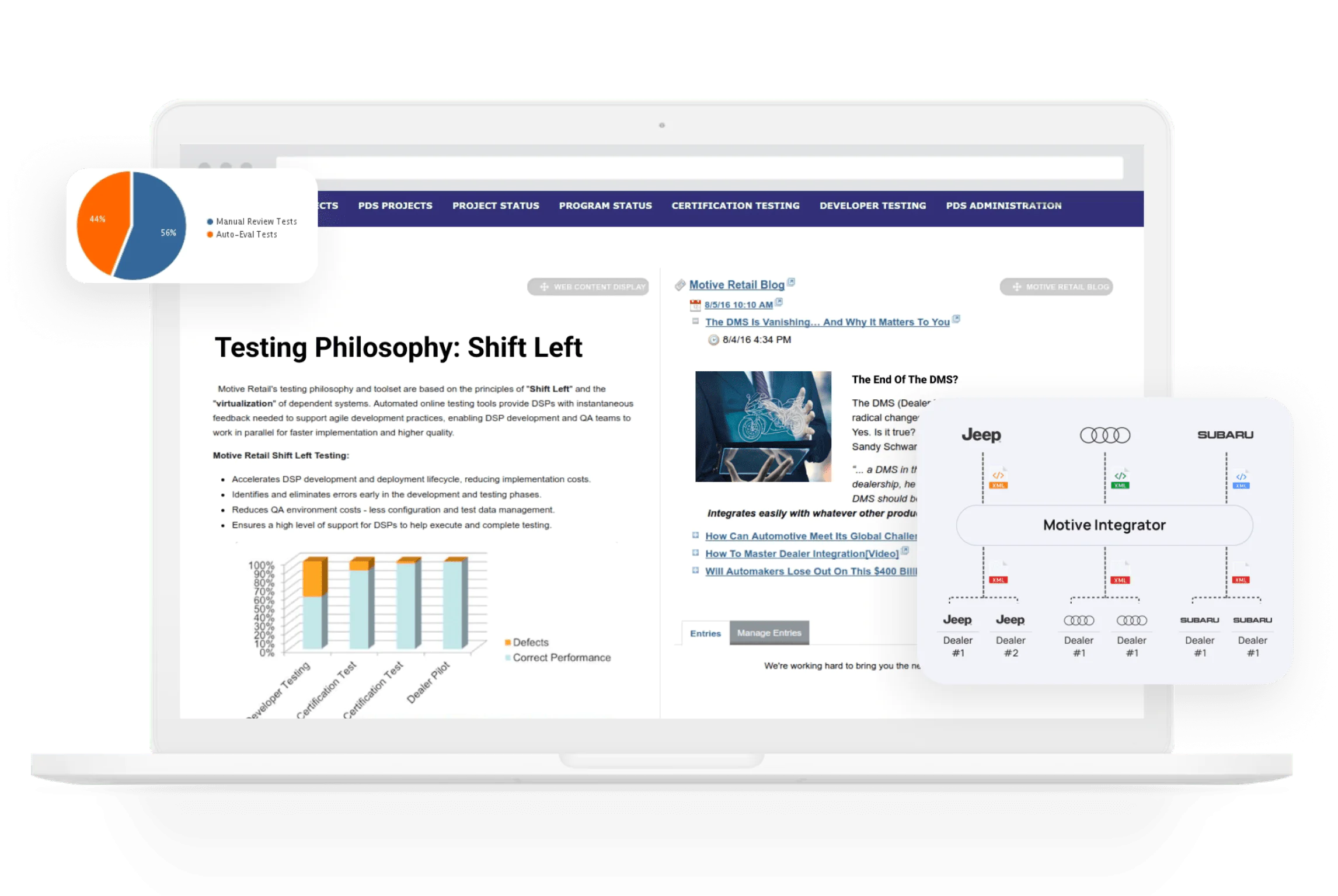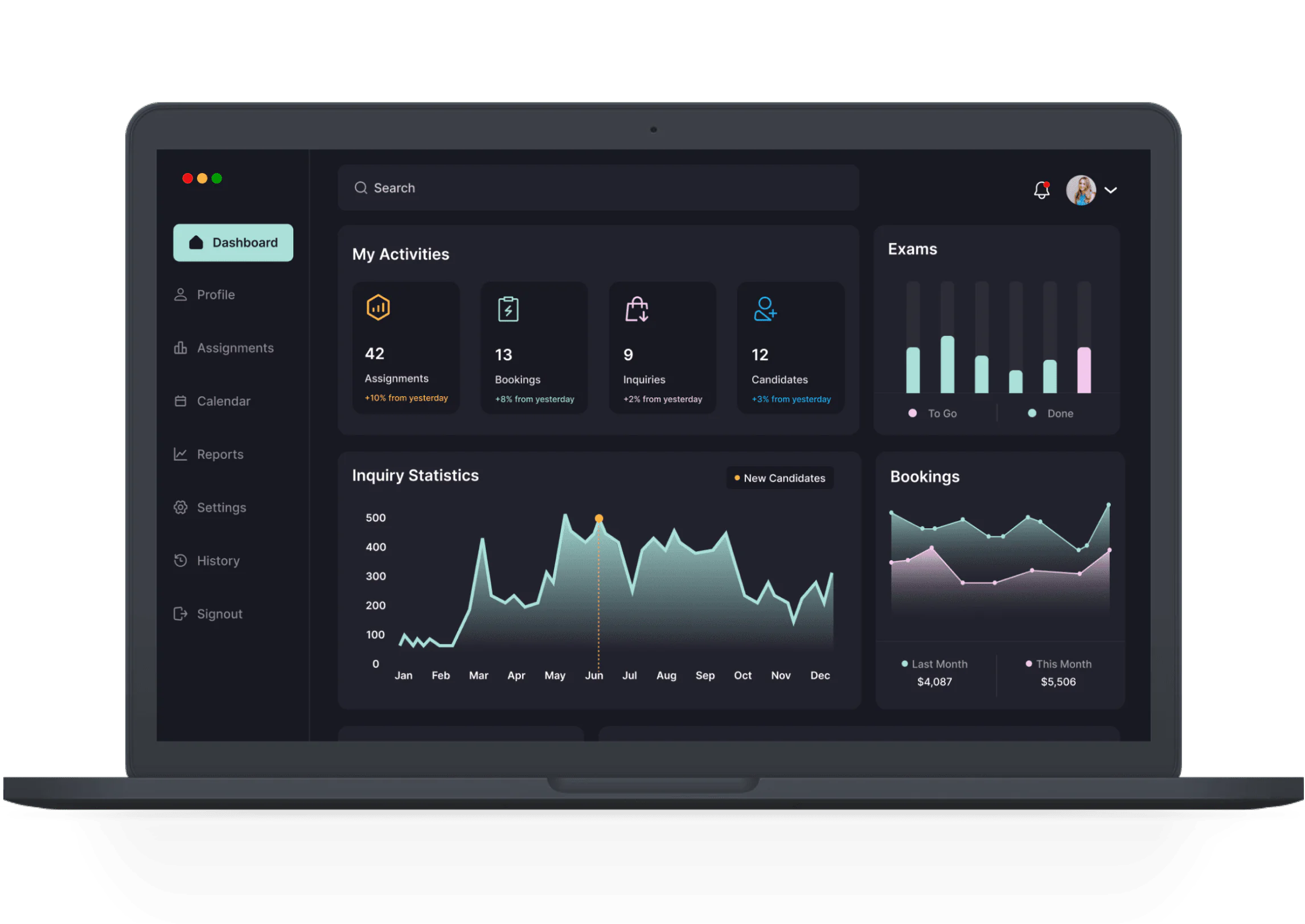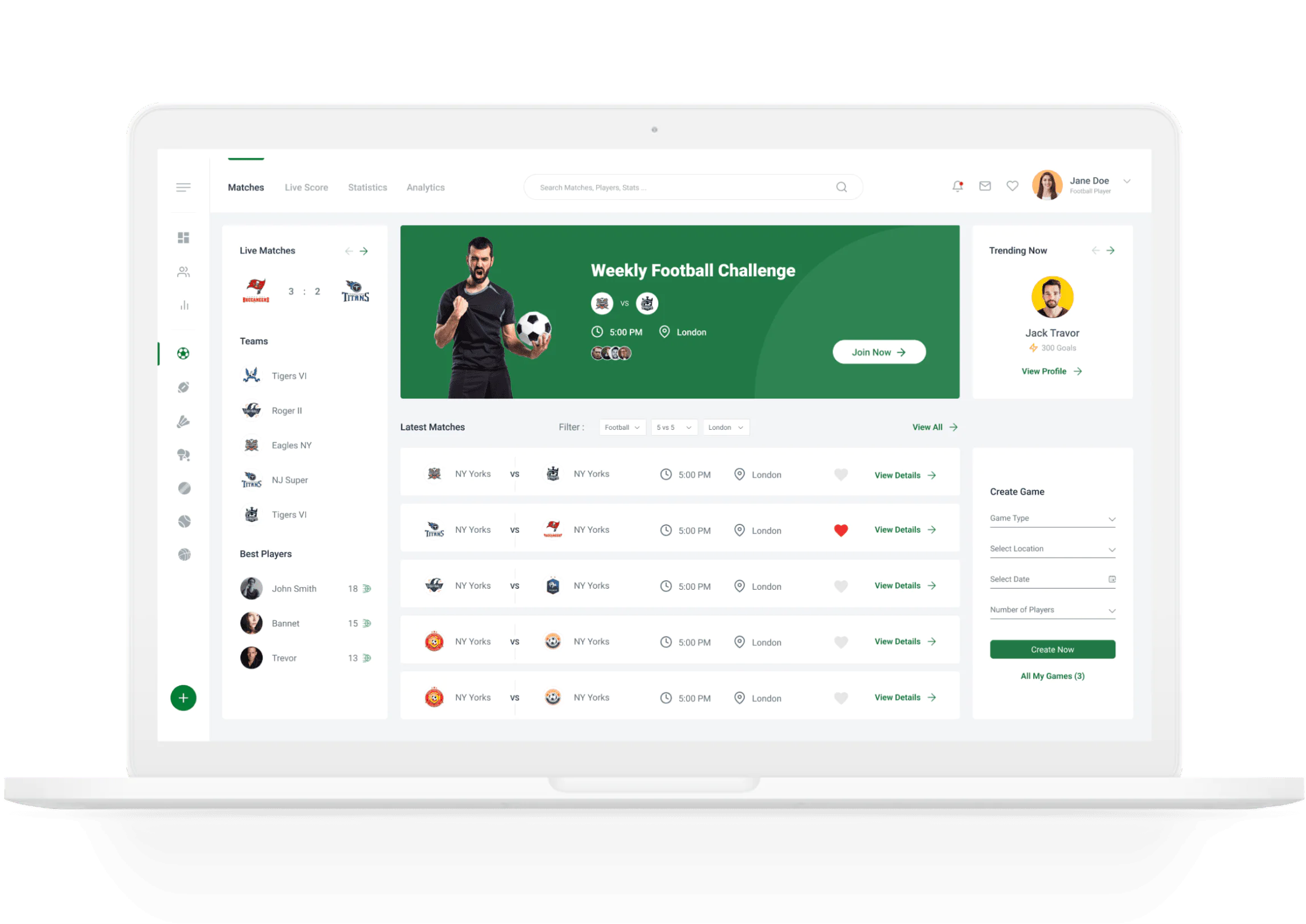 Virtual1: web portal for a UK's
Challenge: Virtual1 is the UK's leading telecom provider. The client opted for our Liferay development company to create a centralized portal that would serve as a single point of connection for wholesale digital providers and facilitate their commercial growth.
Solution: The most suitable option to meet the set requirements was to use Liferay OOTB. During the portal development, our team made several software solutions for user accounts and back-office, including a custom order workflow, setting module for service packages, software kit for partner account settings. We also implemented a killer feature that is an online opportunity for partners to order products and associated hardware devices, compare prices of carriers, and perform e-signs. Thanks to the efficiently developed functionality, Virtual1 rapidly increased its partner network and eventually became a leader in the UK's digital service market.
Motive Retail: auto dealer integration platform
Challenge: Motive Retail provides system integration solutions to the representatives of the automotive industry. The client came to us for a Liferay portal development to create a product that would enable seamless communication between car manufacturers and dealerships worldwide and streamline documentation exchange between both parties.
Solution: To overcome the major challenge related to the absence of a single collaboration platform, we chose the Liferay platform. We created a Liferay-based portal with a structured system of roles and permissions that was designed to store content, manage internal processes, and arrange communication between dealers and manufacturers. To solve the obstacle related to an inefficient process of heterogeneous documentation exchange,we built the Motive Integrator and integrated it with the Liferay portal. We created a robust solution that filled the gap in the lack of an integrated system for seamless collaboration and eliminated time-consuming manual efforts to work with different types of documents.
Certification platform
Challenge: The developed web solution is a portal that connects together certification centers, examination providers, and customers. The client came to us with a ready-made solution and requested to provide Liferay consulting services first. After the conducted consultation, the client hired us to assist with the product's migration since the attempt to conduct it with the previous vendor failed. To conduct the migration successfully, it was necessary to rebuild the product from scratch.
Solution: Candidates can book a particular certification/exam in a specific center on a given date. Once they come to the test center, they get registered for the exam with a help of the center's invigilator. Afterward, he can pass the exam in the examination provider's system (integration with such systems is implemented on the portal). The portal had been upgraded from 6.2 to the latest 7.4 version. Code was upgraded and refactored, considering best practices and new Liferay features. Styling updates and Liferay customization was implemented according to new requirements. Also, the approach for 3rd-party systems integration had been changed considering new technologies. As a result, we assisted with the successful Liferay migration helping the client meet the set business objectives.
Sports portal
Challenge: The product is a sports portal for players, clubs, trainers, and fans. It contains information about tournaments, players' ratings, club members, news, etc. The client came opted for our Liferay application development services to expand the existing Liferay team and assist with the migration of the solution from the 6.2 version.
Solution: In the course of the development, the portal has been migrated from Liferay 6.2 to the latest 7.4. A lot of JSF widgets were replaced with fragments. A new theme had been developed according to the brand new style and used modern front-end technologies for Liferay development, such as fragments, style books, page templates, and master pages. Integration with a remote Oracle database was implemented using the MyBatis framework. As a result, the expansion of the team with our Liferay specialists helped the client significantly accelerate the development and migrate the product seamlessly.
Liferay technologies we practice
Programming core
We can integrate or customize any application to Java-based Liferay DXP written in the programming languages supported by the JVM.
Frameworks
Combo of OSGi, Spring, and Hibernate allows us to develop enterprise applications of higher complexity easier, considerably reducing time to market.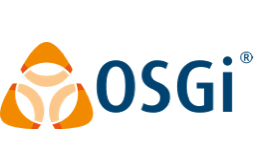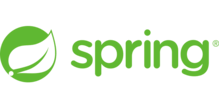 Frontend
Aimprosoft's software engineers use the trending React and AUI to create stunning and workable UI for the Liferay DXP.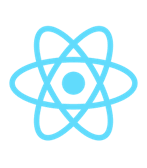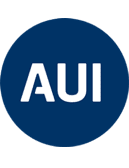 Web servers
Tomcat is available for developers to create portable and scalable enterprise applications. Our clients often favor Tomcat.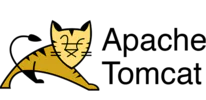 Search engines
Content-centric web applications impose special requirements on the search within the portal that ElasticSearch successfully meets.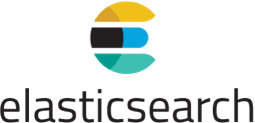 Tools
We develop Liferay web apps, saving time and costs with native tools such as Liferay Workspace, Blade CLI, Felix Gogo Shell (console for OSGi modules), etc.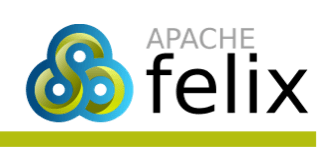 Key reasons to choose Aimprosoft
for Liferay app development
Diverse portfolio

Using Liferay capabilities, we have enhanced business from 20+ domains. Healthcare, e-Commerce, real estate, e-learning, telecom, and automotive are just a few examples of many other domains we are experienced in delivering solutions.

Skilled Liferay developers

We have certified Liferay software engineers on board. Our talent pool encompasses primarily specialists of senior and architect level. They are skilled in the completion of tasks of different scales, e.g., Liferay layout development, Liferay mobile app development, enterprise-grade product creation, and much more.

Profound knowledge

We've been working with Liferay for more than 15 years, starting from version 4.x and now working with the latest versions of 7.4. We know all the nuances and limitations of the platform to create Liferay-based products in a problem-free way.

Variety of services we provide

We provide various Liferay development services, which help us complete requests of different types and complexity. Moreover, the fact that there are 350+ different specialists on board allows us to provide a wide array of other IT services.

Contribution to Liferay growth

We contribute to the development of the Liferay community by attending Liferay events like DevCon and /dev/24, sharing our insights via tech articles, and participating as speakers in Liferay sessions.

Trustworthiness

By choosing our Liferay app development services, you obtain stability and security. We are able to remain afloat during the most difficult times. The facts speak for themselves: we managed to maintain 100% client retention in turbulent 2022.
Engagement models we offer
One of the key factors that can ensure the project's successful implementation is the correctly chosen cooperation model with the software vendor. We practice different types of engagement models and help our clients select the best-fit one based on your budget, goals, and project type.
The dedicated team approach means that the dev team iteratively performs the main development activities as planned, regularly reporting on the progress. They are assigned to the project on a full-time basis until it's completed. We allocate a skilled team of specialists to undertake all the changes, fixes, updates, and solution implementation in a product development process for the specified period and at a cost-efficient rate. The benefit of this model is that it gives full control over the project and ensures flexibility and transparency of all development processes, and gives you access to a great talent pool.
When to choose this cooperation model
Long-term and complex projects

Changing requirements

Need in simple team scaling

Lack of local or in-house resources
Aimprosoft proposes to apply a time & materials engagement model to gain from the defining characteristics of this approach: fast and easy implementation, reduced scope of work, no operating expenses, and a predictable budget. The model gives you financial transparency, adjustable workflow, no limits in terms of deadline, and control over the project scope.
When to choose this cooperation model
Ambiguous specifications

Scope is not entirely defined

Lengthy and complex projects

Fast development start needed
This assumes that the team strictly follows the plan generated in advance and provides regular updates on the progress. The payment is aligned with the project plan schedule. Fees for services are billed on a flat-fee basis in accordance with the payment schedule. The main benefit of the fixed price model is that the budget is fixed, Aimprosoft is fully responsible for meeting the deadlines and achieving the expected development results, and there is a high level of predictability.
When to choose this cooperation model
Projects with detailed specifications

No need for significant agility

Small and short-term projects

You need to build an MVP
In certain cases, it's desirable to use a hybrid cooperation approach, leveraging the benefits of several models. It's applicable in those cases when none of the particular approaches meets business requirements. It enables saving time and reducing expenses on research and analysis while ensuring faster time-to-market delivery. It offers significant financial advantages and opportunities to reduce development risks.
When to choose this cooperation model
Projects with an extensive scope of work

Projects with ever-evolving functionality

Vague project specifications

Perfect for medium or large projects
Testimonials
Clients about Aimprosoft
FAQ
Frequently Asked Questions
Do I need to be a tech-savvy person to create a web product on Liferay?

No, you don't. With modern Liferay features and inline content editing, you can create wonderful and visually appealing websites without any technical knowledge. You can master basic Liferay website development, create pages, drag and drop fragments, change images and text, modify styling configuration (fonts/colors/etc.), and create your own style books with brand styles. For Liferay application development, you may need a bit of HTML/CSS knowledge to create your own fragments. However, for complex solutions, it's better to hire professional Liferay developers such as the ones from Aimprosoft.

Should I update my portal to the latest version?

In most cases — yes. If you're still on the 6.x or lower version and planning some updates on the portal, you definitely need to consider an option for migration. With the new Liferay 7.4 features, a lot of functionality you need will become available out-of-the-box, and you'll get a much better interface and capabilities for content editing, configuration, analytics, and integrations. If you're already on 7.x, you need to check what features from the latest version might be useful in your particular case and come up with a decision based on that analysis.

How often Liferay releases a new version?

Should I use a Community or DXP, or Enterprise edition?

There are not that many differences between DXP and Community editions. DXP has some specific "enterprise-only" features that are related to search configuration, workflow builder, audit, etc. If you're not interested in them, you can proceed with a Community edition. DXP license also enables Liferay support. But support services can also be provided by a Liferay development company like Aimprosoft.
Let us help with your Liferay project
We are here to assist with your questions. Write us a message, and we will get back to you shortly.
The form was submitted successfully. We will contact you shortly. Meanwhile, we suggest checking out what our clients say about software development with Aimprosoft.
Proceed to Clutch
Featured in