Aimprosoft to Embark on a Roadshow to Top Conferences in June 2023

Aimprosoft, a leading software development company recognized by Clutch, The Manifest, DesignRush, GoodFirms, Techreviewer, and others, is proud to announce its roadshow to top conferences in June 2023 in Amsterdam. The company will attend three major conferences, including Money20/20, Emerce e-commerce Live!, and TNW Conference.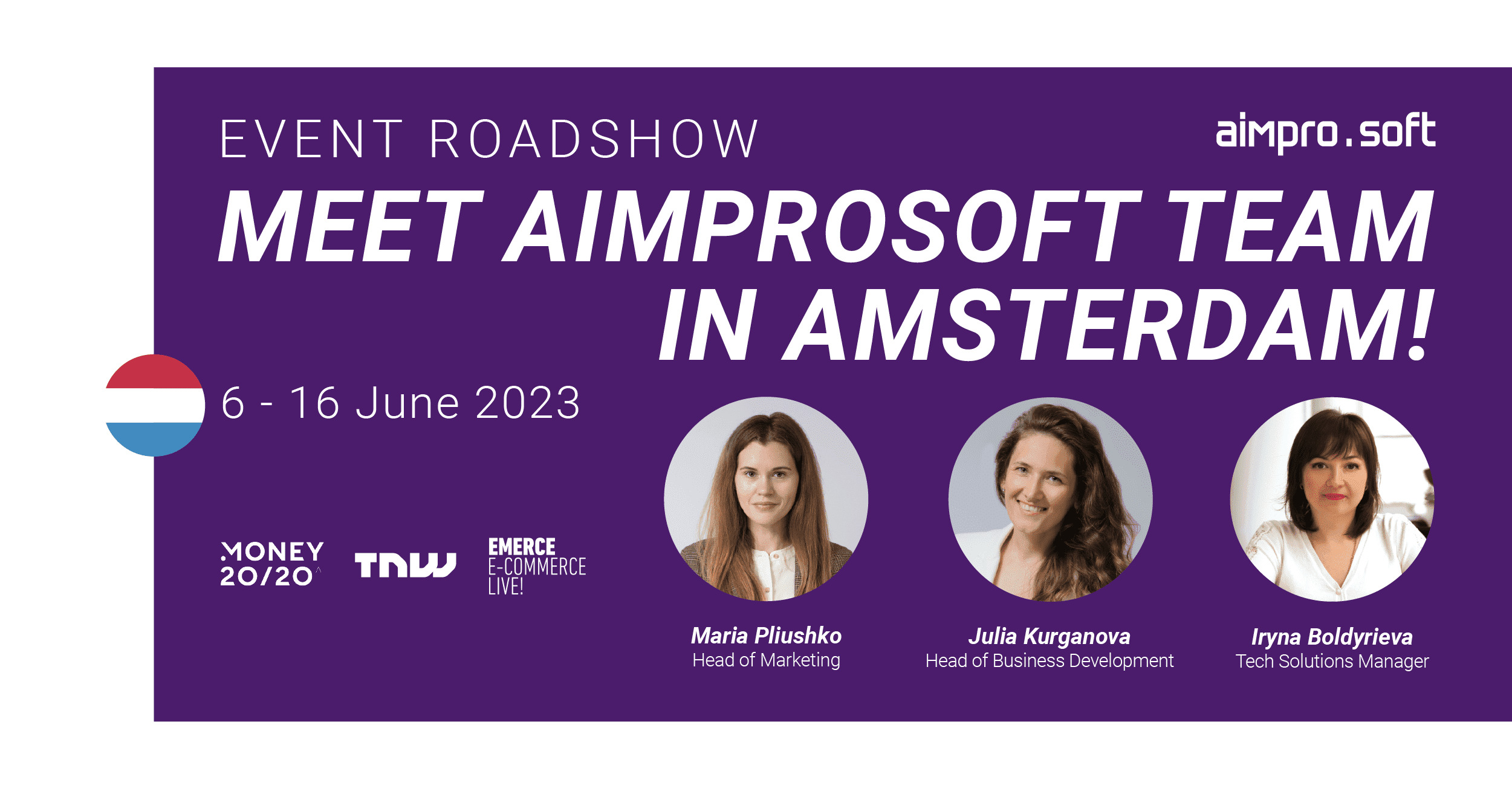 The roadshow presents a unique opportunity for Aimprosoft to showcase its expertise and services to diverse audiences, including startup founders, business owners, e-commerce professionals, innovators in the finance and payments industry, and tech entrepreneurs. Attendees will have the chance to meet with Aimprosoft's team of experts, learn about the company's solutions, and discover how Aimprosoft can help businesses achieve their goals through custom software development.
This year's Amsterdam roadshow provides a chance to present our offering in the atmosphere we love best of all – in person. We have already scheduled a number of meetings with our customers, and we will also be happy to meet potential business partners.
"We're excited to be participating in these top conferences," said Maria Pliushko, Head of Marketing at Aimprosoft. "We believe our expertise and solutions will be of great value to businesses in times of uncertainty, and we look forward to engaging with industry leaders and innovators at these events."
In spite of the widespread concerns in the business community about working with Ukrainian companies, Aimprosoft experiences continuing demand for services from Ukrainian developers though. Actively working in retail, ecommerce, and fintech domains, we are ready to respond to demand from partners from the USA, Europe, and other demand-intensive markets.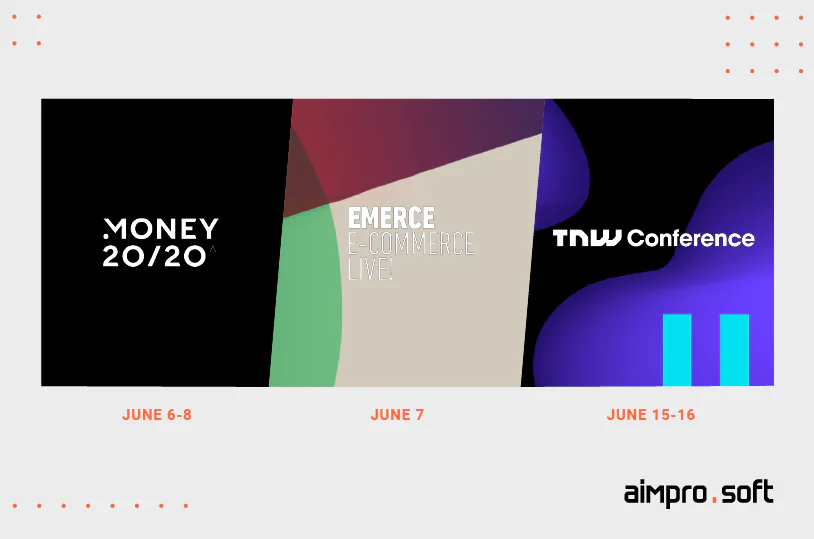 June 6-8: Money20/20
Money20/20 is the world's leading finance and payments industry event, featuring keynotes from industry leaders and networking opportunities for fintech professionals. We are excited to announce that our team will be attending Money20/20 Europe, the premier show on the industry calendar for the future of money.
Aimprosoft will join the community with an epic agenda with sessions covering everything from banking to payments, crypto to insurance, and more. The show floor is set to be a world of wonder, excitement, and mind-bending collisions that will leave attendees breathless.
This conference is where the magic happens: chance encounters, boundary-pushing insights, and unexpected connections waiting around every turn. Global leaders, tech behemoths, startups, and fresh challengers are brought together by Money20/20 to accelerate change through the collision of minds, ideologies, and business models.
Serving fintech for years, Aimprosoft is going to showcase its domain expertise in personal meetings with prospective partners. We can't wait to join the industry's greatest minds and prepare for what's coming next in the money ecosystem.
June 7: Emerce E-commerce Live!
Emerce E-commerce Live! is a major e-commerce event in the Netherlands, showcasing the latest trends and technologies in the industry. This annual event is the go-to destination for professionals in the digital commerce industry, where over 2,000 marketing, e-commerce, and business experts come together for informative sessions, round tables, and live demos from over 150 leading brands.
This event attracts larger retailers, direct sellers, manufacturers, distributors, and brands, making it the perfect place to network and connect with key players in the e-commerce industry. This is a fantastic opportunity to stay on top of the latest trends and best cases in e-commerce for Aimprosoft, which has been delivering software solutions for the e-commerce industry for over a decade.
Being an SAP Silver Partner, we've developed a broad scope of solutions for SAP Commerce Cloud, including B2B/B2C e-store deployment, SAP ECC integration, Data Hub integration, payment provider module integration, etc.
With 87% of visitors recommending this event, we're confident our team will gain valuable insights and connections at Emerce E-commerce Live! that will help drive our business forward.
June 15-16: TNW Conference
TNW Conference, one of the premier tech events in Europe, is taking place on June 15-16 in Amsterdam. This year's theme is "Reclaim the Future," where 10,000 passionate individuals from over 120+ countries are going to gather to create, invest in, or utilize technology for a better future to come together in an inclusive, engaging, and enjoyable space.
The event brings together entrepreneurs, investors, and thought leaders to discuss the latest trends and ideas in technology and business. TNW Conference is one of the largest tech events in Europe, and it is rightfully called "the most intimate technology festival on the planet."
The event will feature inspiring talks, insightful discussions, and a shared responsibility to care for what's now and what's next. With decision-makers and C-level executives from 6,000+ companies and 1,500+ startups, TNW Conference 2023 promises to be the most intimate technology festival on the planet.
This event is new for us. However, it totally responds to our nature of future-drivenness with technologies. Take advantage of this opportunity to rediscover the excitement and promise that technology holds and shapes a brighter tomorrow together.
Aimprosoft's team of experts will be on hand at each conference to discuss the company's services, including web development, mobile app development, enterprise software development, and e-commerce solutions. Attendees can expect to gain valuable insights into the latest trends and technologies in custom software development and learn how Aimprosoft can help their businesses thrive.
To learn more about Aimprosoft's roadshow to top conferences in June 2023, visit the company's website or follow Aimprosoft on social media for updates and announcements.