How Aimprosoft Delivers During Wartime: Commitments, Support, Believes

When we fixed a server in the middle of the night, it seemed that we were heroes. But when we managed to master our fear and curbed the panic so that we could be concentrated every single moment on making critical decisions regarding the safety of ourselves and our families, obligations to clients, the duty to the country, we realized that we are ordinary people who do what we have to do at the place we are.
We had to mobilize to make the most difficult decisions of our lives now.
It's been passed a month since Russia's invasion of Ukraine.
We've been standing against it and it has made us stronger. Now Ukrainians are perceived by the world community as brave and persistent people thanks in large part to the indomitable spirit that is in our genome.
We continue to live and work.
The world is deeply concerned about us and we thank all of you.
Now, we address our message to our clients who also didn't stand aside during these heavy times. Let's go through the measures from our business continuity plan that mitigate risks for our partners and clients and the reasons why Ukrainian IT experts are still the best choice for your new or ongoing projects.
Things that helped Aimprosoft go on working at full during the war
War clauses are a subset of force majeure in any official agreement signed between partners. This implies having a business contingency plan for every company. Like many Ukrainian IT companies, Aimprosoft has an updated course of action in case of force majeure conditions.
How we mitigate risks for our clients
We have implemented additional measures to guarantee secure and effective functioning of all development-related activities during the remote mode of staff operation:
Datacenter: our entire IT infrastructure is cloud-based and located in Germany;
Hardware: all devices with sensitive data are protected by our internal security compliance policy; there was a system that controls the state of OS, installed software, antivirus, available patches, etc.
Software: we use hard drive encryption, strong passwords, VPN for external users, network segmentation, latest security patches, intrusion detection and prevention systems, and malicious applications detection systems that are configured for critical infrastructure nodes.
Being cautious got us through well in the emergent situation. An activated business continuity plan timely helped us wisely maintain all our working processes during difficulties.
The experience got during the Covid-19 pandemic
Spring of 2020 taught us that we could work remotely not seeing each other in person, shaking hands, and having a cup of coffee during breaks.
Thanks to COVID-19, it may sound ridiculous, we adapted to work remotely and continue to deliver whatever happens. Now conditions are a bit difficult but are more adaptable. All these events taught us to be resilient to the changing environment no matter what and made us reorganize everything according to the principles of workplace flexibility.
Doing business over 16 years
Working remotely with our clients from all over the world since 2005, we mastered collaboration principles: we ensure seamless communication and project management success with a wide variety of tools by implementing the best practices of distributed development teams.
Updated contingency plan
Having a very tense relationship with Russia since 2014 after an invasion of Crimea and Eastern regions, Donetsk and Lugansk, we've been keeping ourselves abreast of the situation. In February 2022 we put it out to apply, which seemed unbelievable.
A roadmap created by management contained the following:
steps ensuring the safety of lives of employees and their families;
preventive measures towards keeping commitments to the clients;
operation backup plan – relocation of the office to western Ukraine.
The way Aimprosoft adjusted its operation to the new reality
The Aimprosoft team has taken the economic frontier. More than 90% of our employees have returned to work at full capacity. We continue to provide qualitative services to customers to support the Ukrainian economy and fulfill commitments before our clients.
The first several days since Feb. 24 were devoted to adjusting to the new reality. Less than in a week 60% of our employees continued providing our services in a trouble-free way and in a month the figure is over 90%.
Staff location during the war
The company rented an office in Ivano-Frankivsk as a backup place for relocating in case of escalation of the situation. We hoped to have it as an affiliate office of Aimprosoft in the future. Before the war started, the office had been ready for operation mode being equipped with all necessary stuff. That allowed most of us in a matter of days to restart our work full.
Where we are located now:
Western Ukraine – 32,4%
Central parts – 28,5%
Eastern Ukraine – 26,7%
Abroad – 7,3% (by their personal initiative taken in advance or during the general evacuation)
4,1% – are on the way to safe areas
Hostel and accommodation
Together with local activists and volunteers, the company set up a temporary hostel in Ivano-Frankivsk. The shelter is equipped with everything necessary for the accommodation and stay of people. At the company's expense, a shower, microwave, washing machine, mats, and kettles were purchased and installed. The hostel is coordinated by volunteers from the local community of Ivano-Frankivsk, who move and accommodate people.
The idea of ​​the hostel appeared as part of a business continuity plan in case of an emergency. It can accommodate staff, their families, family, and pets until people find permanent housing. The shelter is going to function as long as it is needed.
How the people of Aimprosoft cope with things during the war
Our daily routine has been replenished with new areas in which most of our employees are involved. These actions give us a base to withstand. "Morning routine + Work + Donating + Volunteering + Time with family + Rest" is a daily routine for many of us now.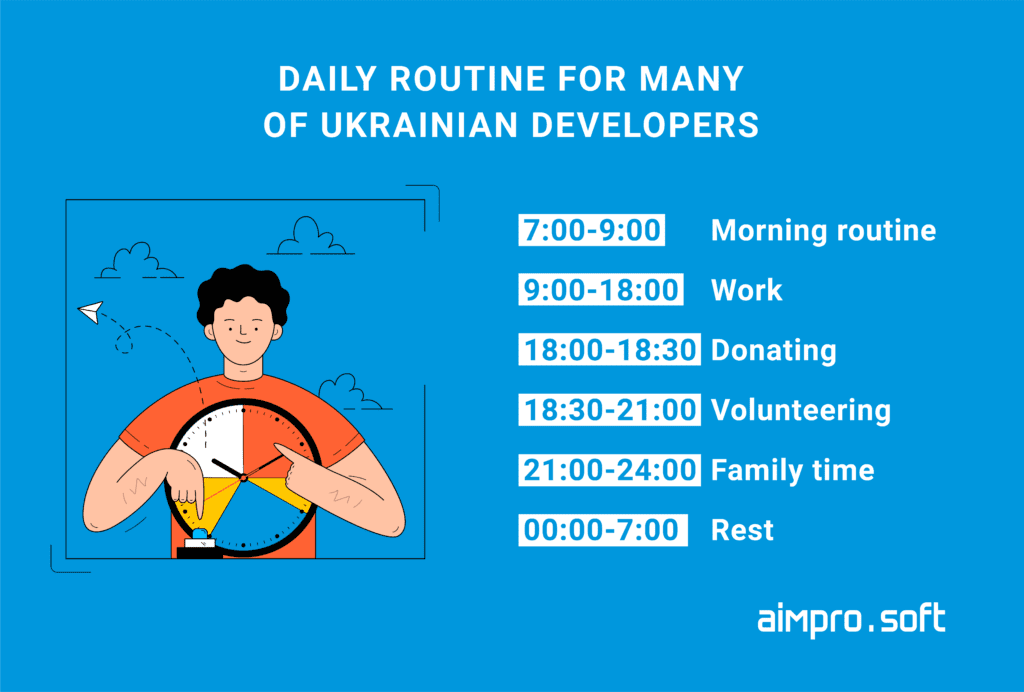 The talents of Aimprosoft operate on different fronts:
support the economy by continuing to work and paying taxes;
provide financial assistance to the indomitable Ukrainian Army; guys, you're die-hard and the best in the world!
some of us joined the Armed Forces and the Defense Forces to prevent the occupation of our lands;
by volunteering, we sponsor volunteers and local activists for current needs upon their request, help with transportation and communication;
since the beginning of the war, we have transferred more than 1 million UAH to the Army, purchasing bulletproof vests and protective equipment for the territorial defense units;
provide humanitarian aid for population in hotspots: food and medicine needs of senior people in Kharkiv, meet needs of local Defense Forces;
donate blood for the wounded;
fight on the info front.
Why it is still beneficial to hire Ukrainian IT talents
It might sound a little bit strange, but Ukrainians are still the most demanded tech talents in the world. Some prefer to hire software developers from Ukraine in order to support them giving them the opportunity to make a living.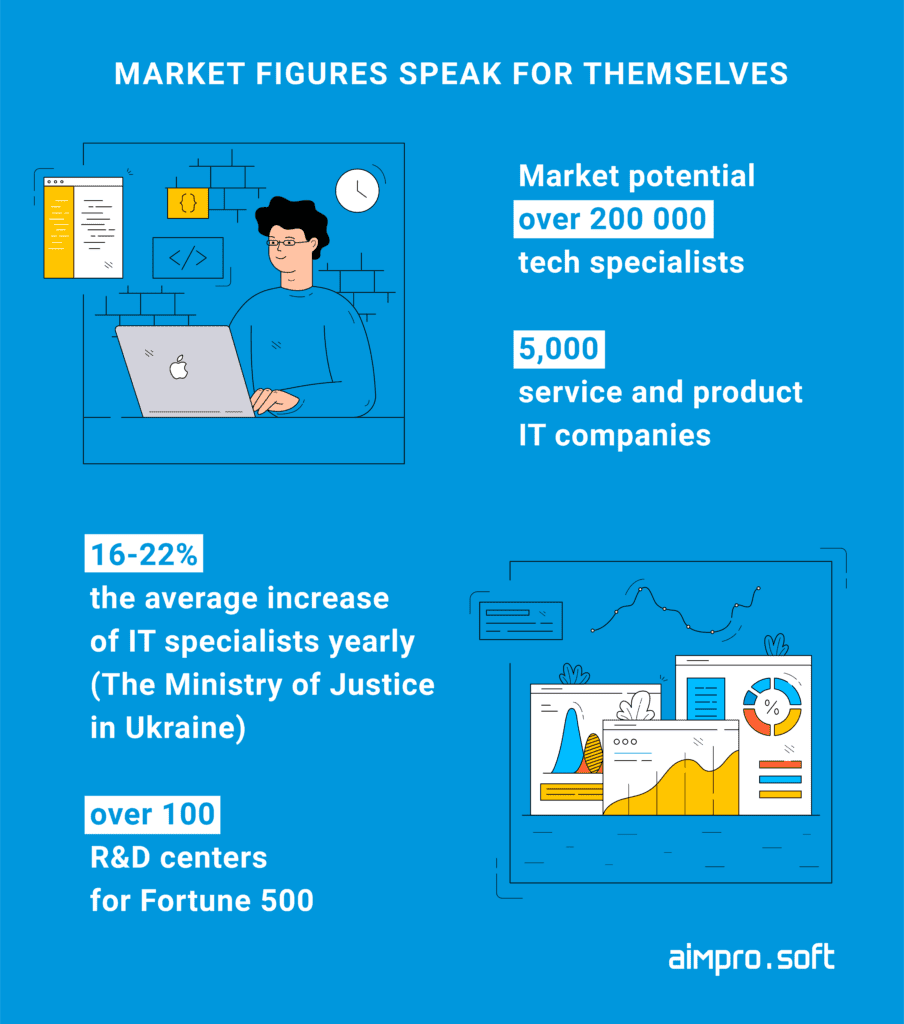 International companies that continue outsourcing to Ukraine in 2022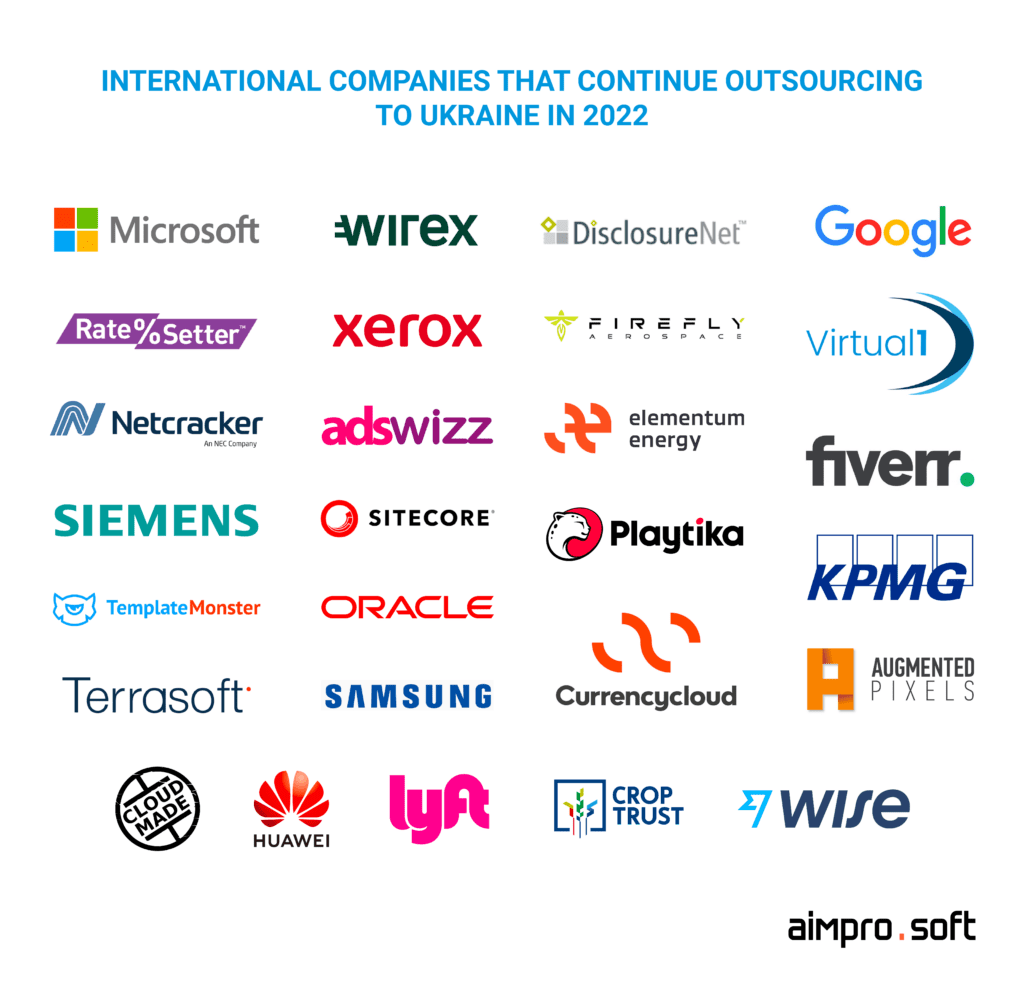 Ukraine's government initiatives
Ukraine has one of the largest fast-growing IT markets in Europe. Our government understands that the IT sector is almost the only industry that can support our economy during wartime.
Even before the full-scale military invasion by Russia, the Ministry of Digital Transformation of Ukraine took the course for the IT sector to reach 10% of the country's gross domestic product from the current 4%. The initiative supposes creating one of the world's favorable tax systems under which a special legal and tax regime for creative economy representatives under Diia Cityis provided since Feb. 8, 2022. That means both domestic and foreign tech companies are able to run businesses in the territory of Ukraine under simplified procedures (with distributed 10% tax) according to English Law.
Telecommunications has a good supplement
Despite the fighting in some regions and Russian invaders trying to destroy the communications infrastructure supporting telecoms work, the Ukrainian government has stepped up efforts to keep people connected to the Internet. The Ukrainian army maintains control over civilian communications infrastructure.
National telecom providers are all set to keep internet connection up. Moreover, some telcos initiated Internet equipment in bomb shelters across the country so people can contact relatives, monitor the current situation, green corridors, and work being relatively saved.
In addition, Mykhailo Fedorov, a Minister of Digital Transformation in Ukraine, turned to Elon Musk with a request to provide Ukraine with a satellite internet that can be a backup if national infrastructure goes out.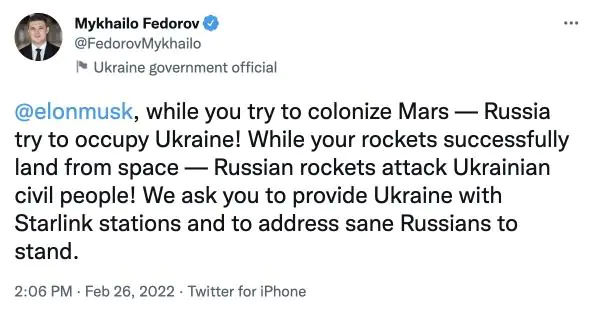 Two trucks of Starlink kits have already been delivered to Ukraine to operate, first of all, critical infrastructure in wartime with gradual widespread among civilians (unprecedented downloads in App Store and Google Play by 100 000 Ukrainian users). PrivatBank, the largest commercial bank in Ukraine, started using Starlink to ensure continuous operation. Some IT companies are actively using the Musk's network as well, and the chances are that the number of such companies will only increase day by day.
The Ukrainian banking and financial system remained resilient
The banking system remains liquid, despite initial fears. had been boosted by international financial support reaching almost $15 billion as reported by Kyrylo Shevchenko, Ukraine's central bank governor.
Since the beginning of Russia's armed aggression, the National Bank of Ukraine has been creating conditions for the proper operation of banks in extremely difficult conditions by implementing a number of effective anti-crisis solutions.
The National Bank of Ukraine has enabled banks to provide banking services through cloud services with equipment located in the European Union, the United Kingdom, the United States, and Canada. This step expands the possibilities of ensuring the stable functioning of the banking system of Ukraine during martial law and for two years after its abolition.
Ukrainians can fill the tech gap caused by rejection from the Russian and Belarussian developers
Now because of this situation, it is expected that international companies are reducing activities in the Russian Federation and Belarus, which will lead to a huge tech gap with 1.7 mln and 100k relatively in their project teams needing to be filled with someone. And Ukrainians are here to be the right experts who are highly motivated to work to support their families and country.
Choosing us as your partner, you support world-recognized democracy in the person of brave Ukrainian people.
We express great gratitude
To our defenders
The army is not just about headquarters, warehouses, equipment, and crews. These are ordinary soldiers who do the most complicated and honorable work. We are deeply grateful to our soldiers. We support them in all manifestations: money, food, prayer, and faith. We expect that they will return alive and fall into their relatives' arms under the peaceful sky of their mother, Ukraine.
We thank you for your courage, bravery, and resilience. We bow our heads in respect to each of you.
To our people
Patriotism and motivation of Ukrainians are off the scale. We are not barbarians, we are on our own lands and show the example of dignity for the rest of the world.
To our clients
We appreciate our clients for their support and for staying with us. All of them expressed understanding and were deeply concerned about our safety first of all. They took us time to rearrange our life, take our families to safe areas.
We get enormous support from our clients who expressed their understanding of temporary drops off in work and moreover retained paying for time developers were off for war reasons. There are cases of donations from clients and their families in support of Ukraine during the Russian invasion who as Ukrainians believe in our victory.
If you want to #StandWithUkraine
The Ukrainian defenders are bravely fighting for our Motherland. As well, civilian people affected by the war need help. A sure way you can support them is to transfer funds to the proven accounts of specialized funds and organizations.
Donate to support the Ukrainian Army
Account information of the National Bank of Ukraine
For UAH remittances

BENEFICIARY: National Bank of Ukraine

BENEFICIARY BIC: NBUA UA UX

BENEFICIARY ADDRESS: 9 Instytutska St, Kyiv, 01601, Ukraine

ACCOUNT NUMBER: 400807238

BENEFICIARY BANK NAME: JP MORGAN CHASE BANK, New York

BENEFICIARY BANK BIC: CHASUS33

ABA 0210 0002 1

BENEFICIARY BANK ADDRESS: 383 Madison Avenue, New York, NY 10017, USA

PURPOSE OF PAYMENT: for crediting account 47330992708
For USD remittances

BENEFICIARY: National Bank of Ukraine

BENEFICIARY BIC: NBUA UA UX

BENEFICIARY ADDRESS: 9 Instytutska St, Kyiv, 01601, Ukraine

ACCOUNT NUMBER: 400807238

BENEFICIARY BANK NAME: JP MORGAN CHASE BANK, New York

BENEFICIARY BANK BIC: CHASUS33

ABA 0210 0002 1

BENEFICIARY BANK ADDRESS:383 Madison Avenue, New York, NY 10017, USA

PURPOSE OF PAYMENT: for crediting account 47330992708
For EUR remittances

BENEFICIARY: National Bank of Ukraine

BENEFICIARY BIC: NBUAUAUXXXX

IBAN: DE05504000005040040066

PURPOSE OF PAYMENT: for crediting account 47330992708

BENEFICIARY BANK NAME: DEUTSCHE BUNDESBANK, Frankfurt

BENEFICIARY BANK BIC: MARKDEFF

BENEFICIARY BANK ADDRESS: Wilhelm-Epstein-Strasse 14, 60431 Frankfurt Am Main, Germany
The full list of remittances is available on the official website of the National Bank of Ukraine.
Charity Foundation 'Come Back Alive'
Come Back Alive is the biggest organization with open financial statements providing support to the Armed Forces of Ukraine since 2014.
Donate with your card

Payment provider Fondy.eu for donations with the highest security rating (PCI DSS Level 1).
SWIFT

Company Name: CO "INTERNATIONAL CHARITABLE FOUNDATION "COME BACK ALIVE"

Office address: 32, Bohdana Hmelnytskoho St., office 41, Kyiv

IBAN Code (Euro): UA093052990000026004025029786

IBAN Code (US Dollar): UA173052990000026009035028620

IBAN Code (SEK): UA473052990000026009035019253

IBAN Code (PLN): UA933052990000026001045027448

IBAN Code (NOK): UA173052990000026001005022621

IBAN Code (GBP): UA043052990000026002035022690

IBAN Code (CZK): UA503052990000026007015024657

IBAN Code (CHF): UA143052990000026009005017456

Name of the bank: JSC CB "PRIVATBANK", 1D HRUSHEVSKOHO STR., KYIV, 01001, UKRAINE

Bank SWIFT Code: PBANUA2XXXX

Purpose of payment: Charitable donation
Donate in crypto

BITCOIN WALLET

Number: bc1qkd5az2ml7dk5j5h672yhxmhmxe9tuf97j39fm

ETHEREUM (eth, usdt, usdc)

Wallet address: 0xa1b1bbB8070Df2450810b8eB2425D543cfCeF79b

0x93Bda139023d582C19D70F55561f232D3CA6a54c

TRC20 (tether)

Wallet address: TX9aNri16bSxVYi6oMnKDj5RMKAMBXWzon

Solana (sol)

Wallet address: 8icxpGYCoR8SRKqLYsSarcAjBjBPuXAuHkeJjJx5ju7a
Humanitarian Assistance
Fundraising Account by the National Bank of Ukraine
For UAH remittances

Bank: National Bank of Ukraine

MFO 300001

Account No. UA823000010000032302338301027

EDRPOU Code 37567866

Payee: Ministry of Social Policy of Ukraine For EUR remittances:

BENEFICIARY: Ministry of Social Policy of Ukraine

IBAN DE85500000000050002137

PURPOSE OF PAYMENT: for ac 32302338301027

BENEFICIARY BANK NAME: DEUTSCHE BUNDESBANK, Frankfurt

BENEFICIARY BANK BIC: MARKDEFF

BENEFICIARY BANK ADDRESS: Wilhelm-Epstein-Strasse 14, 60431 Frankfurt Am Main, Germany
For USD remittances

BENEFICIARY: Ministry of Social Policy of Ukraine

BENEFICIARY BIC: NBUA UA UX

BENEFICIARY ADDRESS: 9 Instytutska St., Kyiv, 01601, Ukraine

ACCOUNT NUMBER: 400807238

BENEFICIARY BANK NAME: JP MORGAN CHASE BANK, New York

BENEFICIARY BANK BIC: CHASUS33

ABA 0210 0002 1

BENEFICIARY BANK ADDRESS: 383 Madison Avenue, New York, NY 10017, USA

PURPOSE OF PAYMENT: for ac 32302338301027
For GBP remittances

BENEFICIARY/RECIPIENT NAME: Ministry of Social Policy of Ukraine

ACCOUNT NUMBER: 80033041

IBAN GB52CHAS60924280033041

BENEFICIARY ADDRESS: 9 Instytutska St, Kyiv, 01601, Ukraine

BENEFICIARY BANK NAME: JP MORGAN CHASE BANK NA, London

BENEFICIARY BANK BIC: CHASGB2L

SORT CODE: 60-92-42

BENEFICIARY BANK ADDRESS: 125 London Wall, London EC2Y 5AJ, UK

REFERENCE FOR CREDITING ACCOUNT: 32302338301027
For JPY remittances

BENEFICIARY: Ministry of Social Policy of Ukraine

BENEFICIARY BIC: NBUA UA UX

BENEFICIARY ADDRESS: 9 Instytutska St, Kyiv, 01601, Ukraine

ACCOUNT NUMBER: 653-0430048

BENEFICIARY BANK NAME: MUFG BANK LTD, Tokyo

BENEFICIARY BANK BIC: BOTK JP JT

BENEFICIARY BANK ADDRESS: 1-2-3, Nihombashi HONGOKU-CHO, Chuo-ku, Tokyo 1003 -0021 Japan

PURPOSE OF PAYMENT: for ac 32302338301027