How to Find and Manage Remote Development Teams
2020 was a great one. It clearly showed those who thought remote work was impossible that it could be done differently. Of course, this immediately expanded the opportunities for those businesses that had not previously risked outsourcing some of their tasks.
Why is it so attractive to hire remote software developers? Choice no longer limits you – and a team from anywhere in the world will be as comfortable as a local one simply because your local developers speak to you in the same way on Zoom.
Isn't it great to serve your local customers with the best people in the world? Learn the secrets of the right and reliable outsourcing of your development services in our article.
Why hire remote developers?
Dell, Gitlab, Buffer, Zapier, InVision, and other tech companies were built with remote employees. For these companies, they have become both a complement part and a core of the technology team assembled around the world. Moreover, Mark Zuckerberg took the course for a work-from-home (WFH) shift within the next 10 years for half of the Facebook employees globally.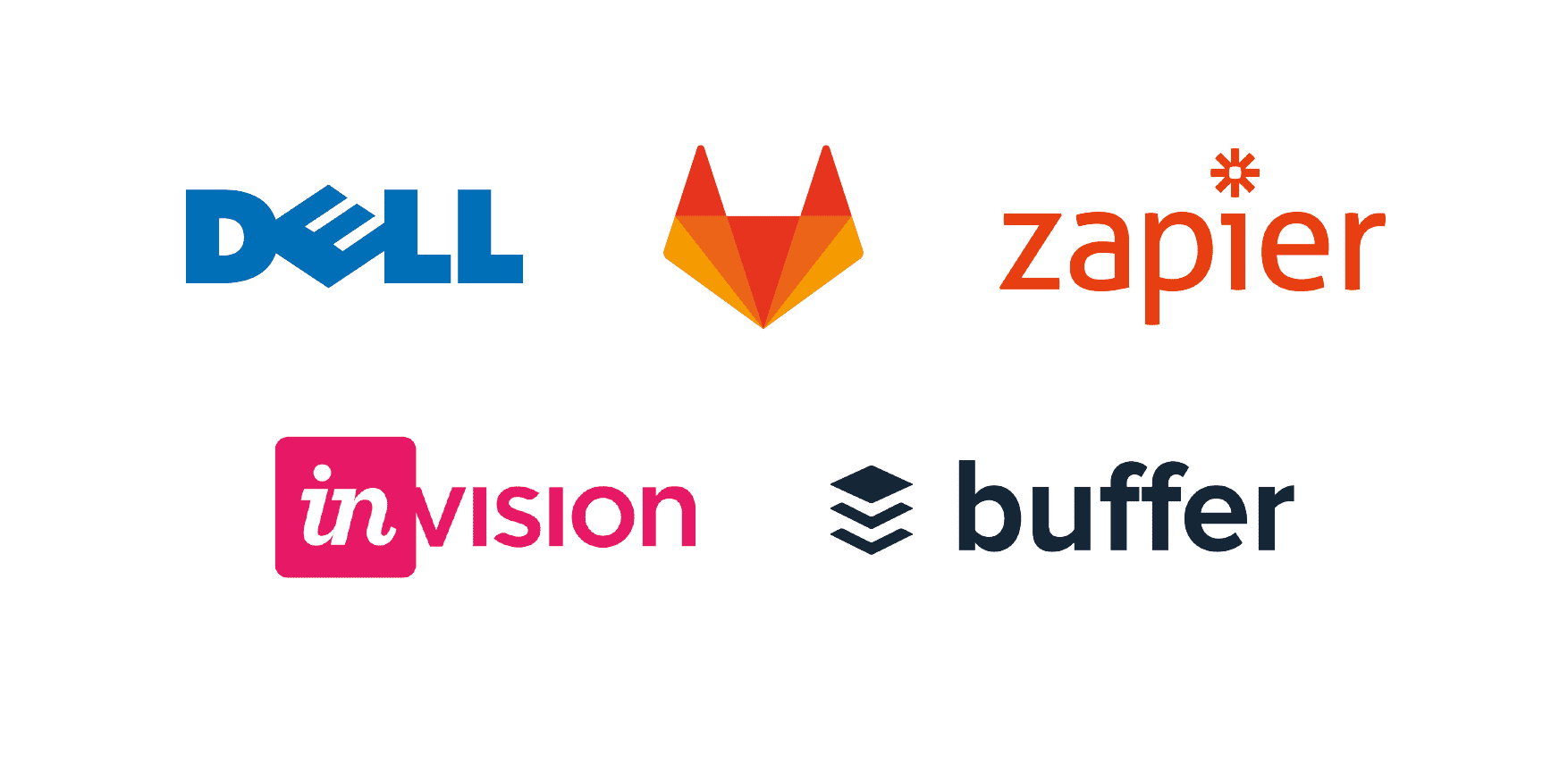 A lot of companies are forced to suspend their operations or significantly cut operating costs, while others are ramping up and trying to meet the industry's rapidly growing demand. Remote developers for hire are the workforce expected to be in high demand for the foreseeable future for this reason.
What forces more and more companies to take advantage of remote work, and why are some still thinking?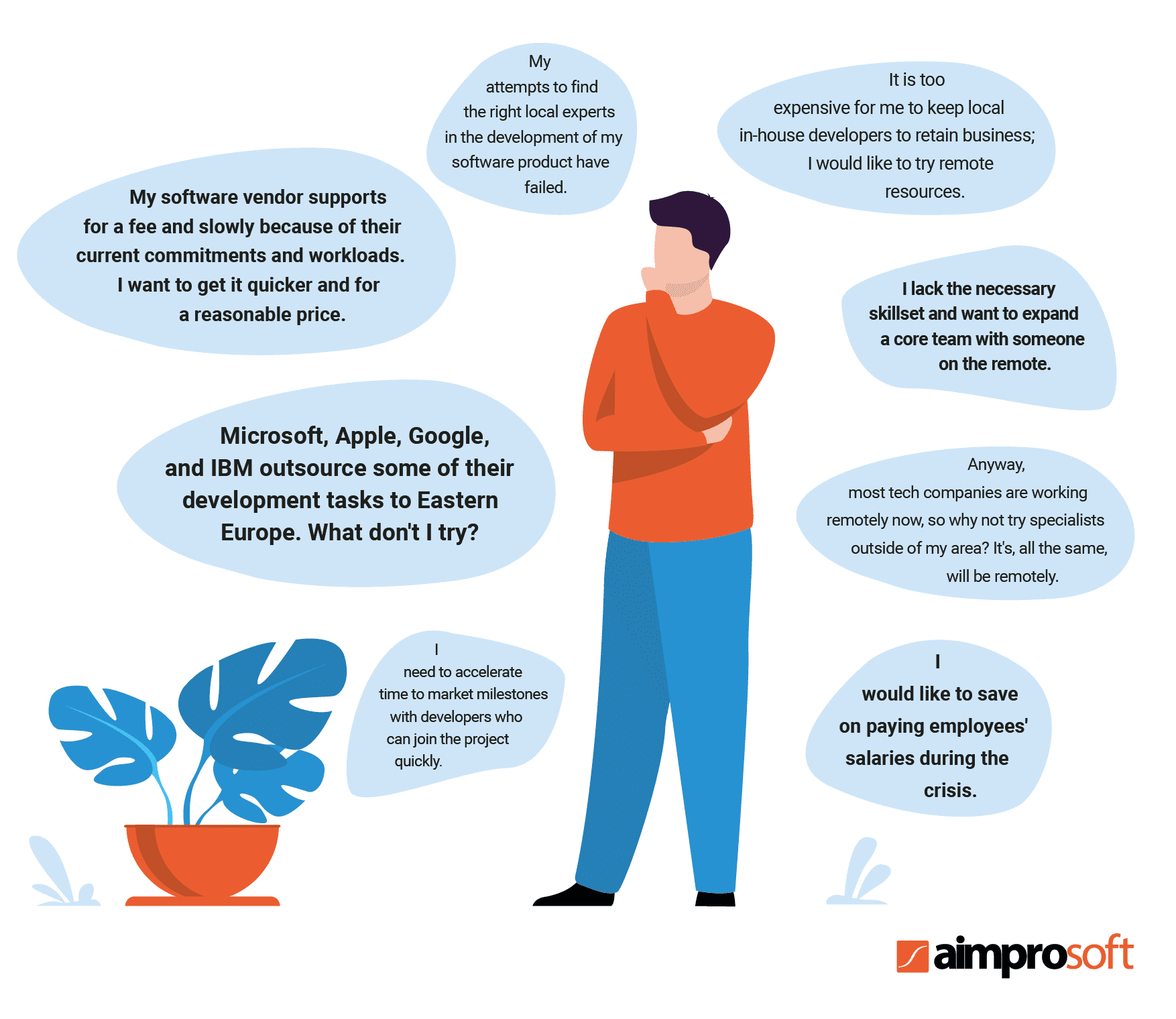 Sounds relatable?
The pandemic has significantly accelerated all digital transformation processes, and a situation may soon change when you become upset because of a lack of qualified resources. Indeed fixed a 35% increase in tech job interest this year compared to 2019. You may catch the moment to start cooperation with the right vendor before competitors do it first.
Benefits and challenges of remote development teams
The percentage of companies worldwide that favor outsourcing their development tasks is expected to rise in 2021 as the gig economy flourish. Deloitte revealed that scaling companies become more open to global business services prevalence in their strategies. What are the benefits over fears that may allow you to take a plunge?
Benefits of remote development teams
To operate sustainably and to withstand the crisis, business owners think about working smarter. So, keep reading why sourcing strategies of remote talents are so attractive.
Established working process
Quarantine caught those like you unawares with the remote work without proper experience in managing a remote team.
Practitioners who have been integrating this way of working for a long time before the pandemic hit have an advantage over those who moved toward fully remote in 2020.

They have established the processes, retain exceptional development teammates, juggle masterly with management and communication tools, etc. In contrast, local developers are just getting used to working remotely.
Everybody meets in Zoom
Watching a whopping take-off of the work-from-home trend among above all technology companies in 2020, we may conclude there is no difference between developers. You both meet in Zoom, track time in Jira, and message in Slack.
Global talent pool
Statista estimated the reach of the software developers within a wide array of specialties up to 28.7 million people by 2024 globally. So why not add the best people from around the world to your team at a lower hourly rate?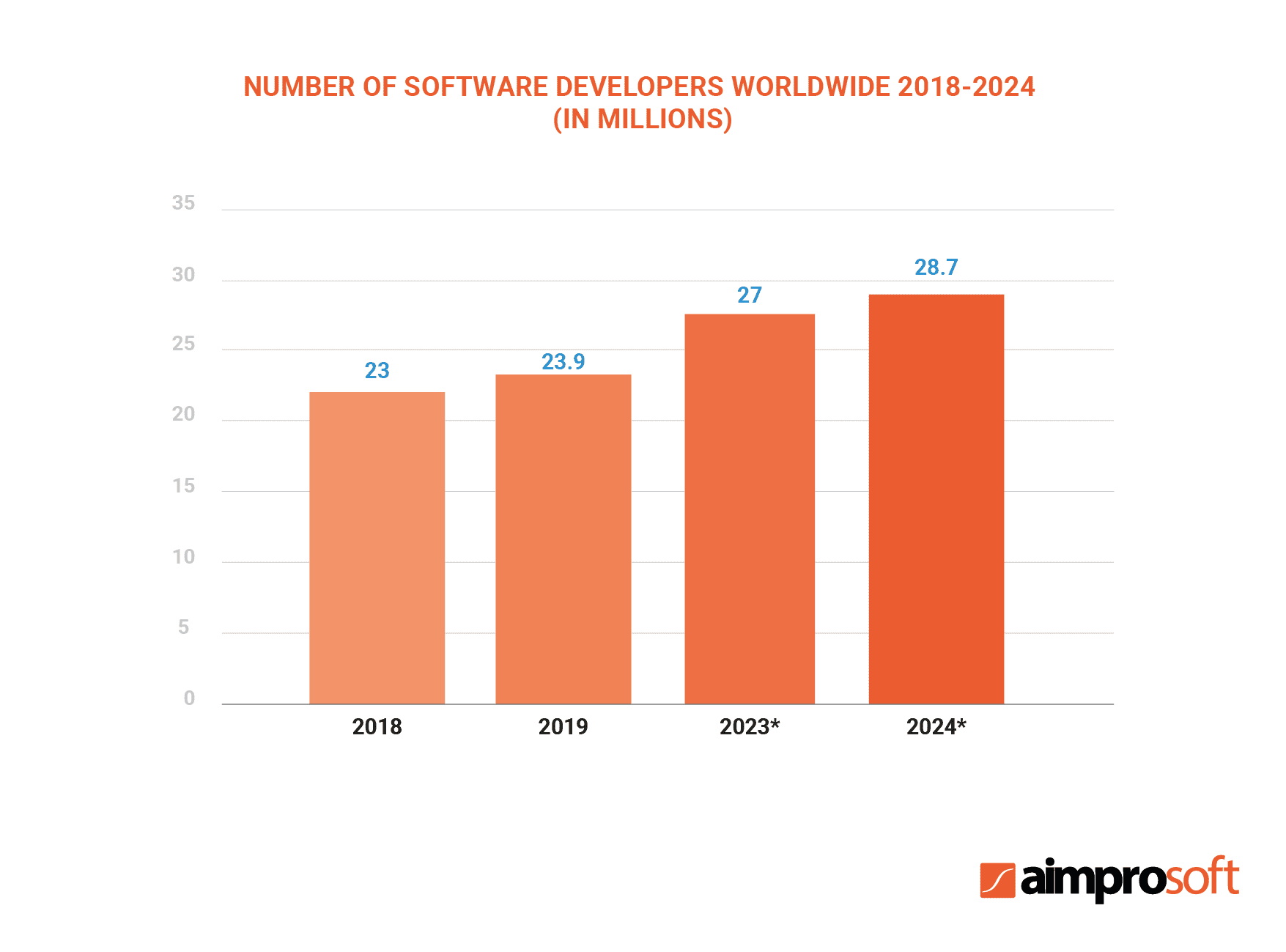 Fast team scale up and down
Working with remote development teams has an advantage over hiring onsite, allowing you to change the staff on each stage of the project more flexibly if you need to set up a team quickly or complement it with one or more members. It may take 2 days for a quick project team extension compared to 40 days on average in the United States .
Cut down on costs
For one thing, considering hiring remote developers shows that you are selective about the investments you make as do 59% of company leaders.

Hire a remote development team for a more reasonable cost because their standard of living is cheaper. Save on a workplace, compensation package, and taxes paying for the service delivered by the person instead of paying for the person.
Round-the-clock business
You can embrace remote coders and discover the magic of the time difference. While you are closed, your project is running and developed. You get your tasks delivered the next morning. You actually have an indisputable advantage over your competitors, who depend on the local employees only.
Challenges of remote development teams
Sudden adaptation to new work conditions has shown that managing remote development teams can be quite challenging for the unprepared. Willing to do business as usual, managers may not expect some pitfalls that we want to discuss along with solutions to help overcome them.
Trust to people you've never met
If you've never looked a person in the eye, reaching the same level of trust with a person is not an easy thing. Check portfolio, testimonials, inquire information from clients that got services from remote workers you want to hire. You may ask to sign an NDA clarifying all requirements and expectations to share business details safely.
Communication barriers
To someone who has never practiced work with remote developers distance communication might feel like a lack of control and transparency. Communication barriers are time zone differences, language, and culture as common.
To cope with the differences in time zones, for example, helps schedule calls in advance, focusing on main tasks during the meeting, and establishing the right workflow. You can discuss urgent topics during a few hours when both sides are still at work. Moreover, remote teams tend to adapt their working hours to the client, which eases the case considerably.
Business got the look of multinational. Language is not the case anymore talking about software development. As expected, the teams you are seeking to hire speak universal language English. In 2019 there were counted around 1.27 billion English-speaking people in the world.
Cultural compatibility between you and the remote team is essential. However, preferring necessary expertise over skillset can be of more priority. You can overcome the cultural gap with proper management methodologies that are warmly accepted by the USA, Western Europe, and Eastern Europe areas, making them a perfect business match.
Face to face meeting
The COVID-19 lockdown discourages face to face meetings. In contrast, virtual meetings are easy to pull off well; software companies have tried them with success in the remote mode long before. If you decide to go through it, you will join the 70% of those who benefited from digital technology in collaboration and increase productivity up to 30% in digital workplaces in addition.
Freelancers vs. Full-time employees vs. Development company
Since the rise of a remote working style becomes a win-win for both sides, employer and contractor, a fairly common question of whom to hire is up for consideration.
Many experience freelance for a quick, affordable start. Others prefer full-time relationships with in-house developers building a corporate spirit and engaging to follow the shared mission. Some rely on testimonials, industry expertise, and multi-staff access in one place, which offers a software development company. Keep on reading to explore the pros and cons of each option.
Freelancers: pros and cons
Freelance software developers are self-employed independent specialists who offer short-term services in their field of knowledge on a per-job basis. They are often paid hourly or daily rates being subcontracted by several businesses at one time.
Pros
The attractive pros of hiring freelancers are low cost for their services, fast access via online platforms, and readiness to take the job. They are the most flexible among other types of employees available to cope with urgent tasks during off-hours.
Cons
At the same time, freelance developers are less reliable being subcontracted with several clients. You shouldn't expect from them due care and attitude to your company and reputation. The specificity of a part-time job means no post-development services to come when the project is delivered.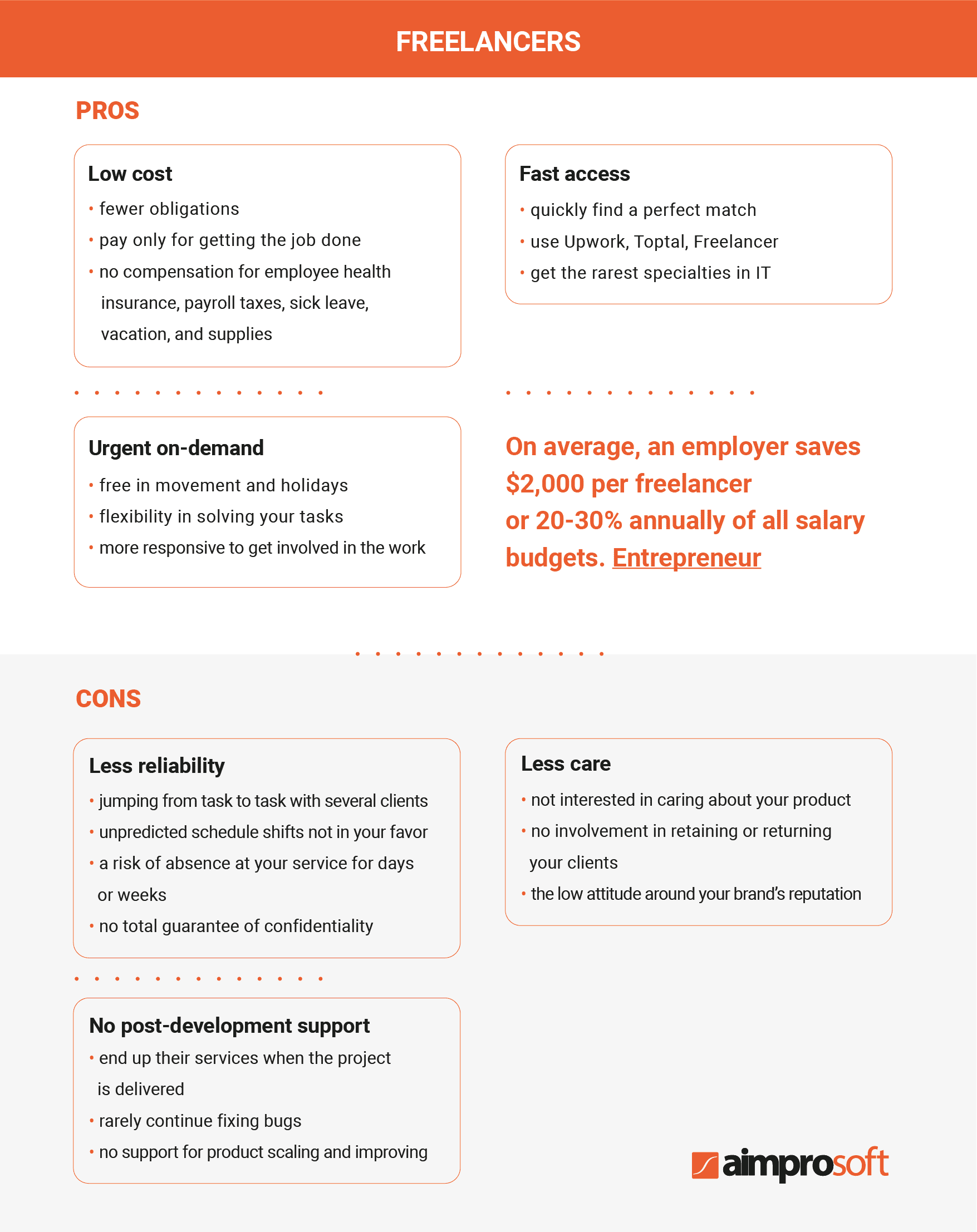 Full-time developers: pros and cons
Full-time developers are employees staffed in-house and paid a monthly salary under the agreed contract terms. They are committed to being fully involved in the obligations of an employer imposed for them. Typically they are engaged in one development project.
Pros
Full-time employees are in-house adherers of the company, preferring a stable staff position. An employer has more control over them to maneuver for giving responsibilities and involving to follow a common mission with a team spirit. Рhaving at your disposal in-house specialists, you can shift them between projects within your business.
Cons
The issue here is constraints related to the local talent pool access only, dependency on legal obligations to in-house developers, and employees benefit coverage. Add here efficiency distractors such as chatting about non-work-related topics while smoking and coffee breaks, and you will get essential collaboration loss.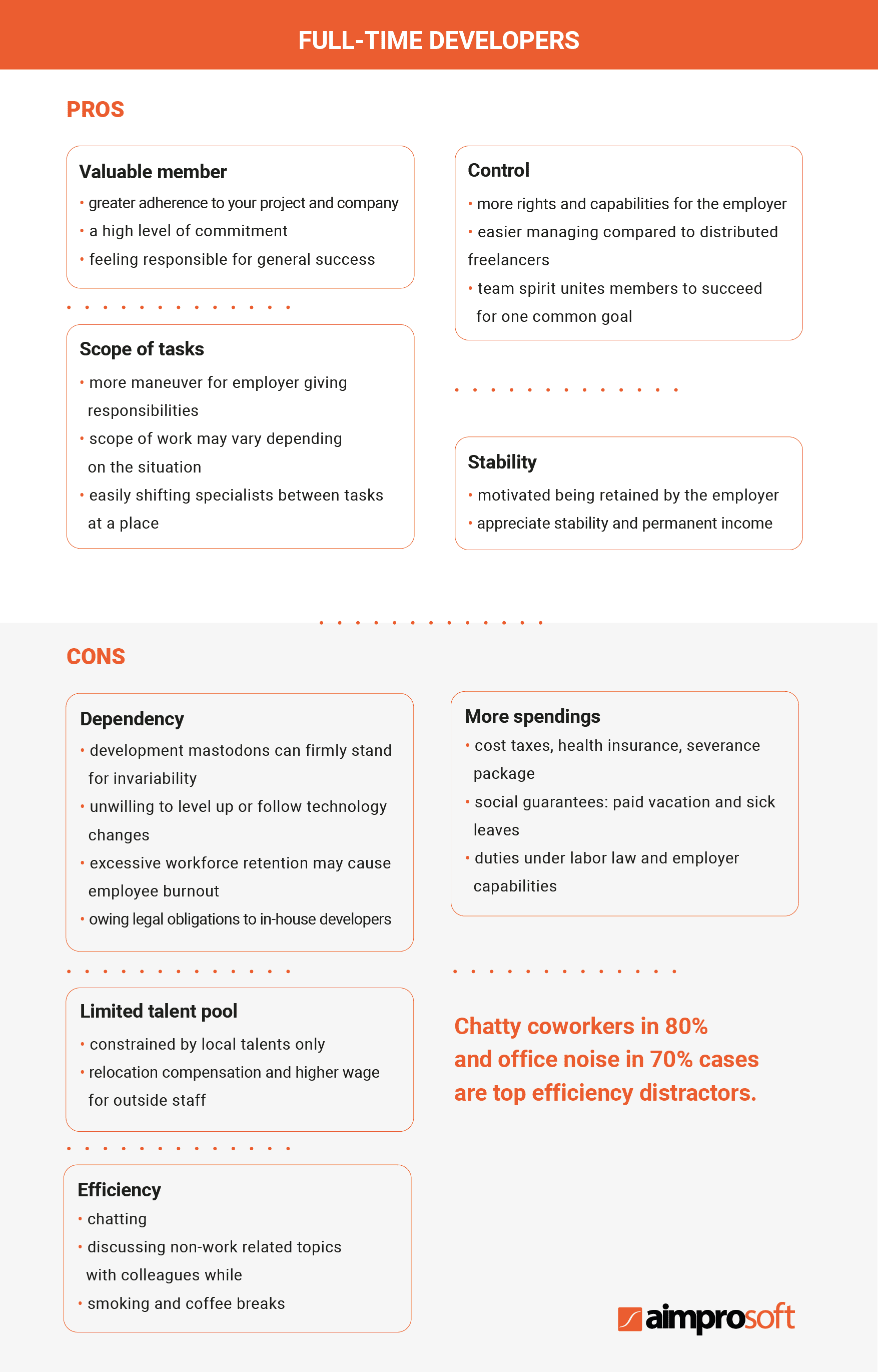 Software development companies: pros and cons
A software development company is a service provider in the field of software application development of a particular domain. As a rule, it offers full-cycle development services for global clients remotely by efforts of a multi-expertise team of professionals (developers, business analysts, UI/UX designers, PMs, QAs, etc.).
A remote software development company often becomes a reliable partner for years. Professional approach, quality end deliverables, and security are foundational for bonding relationships.
Pros
A major advantage of partnering with software development companies is a full-service package. Companies have a comprehensive portfolio in several domains, are tech-savvy, and up-to-date with the industry trends. The partnership is the most legal and result-driven there, with a high understanding of the B2B style. They demonstrate the highest level of responsibility compared to others, are available at different payment models for a reasonable price.
Cons
One may feel uncomfortable sharing their idea and data with someone they have never faced before. There may not always be a perfect culture match between you and a dedicated team during the entry period that is quite sensitive and expected. Long-term projects are more attractive for software development companies than small tasks. Finding a partner that fits you may be a little challenging because of the diversity of vendors.
Where to hire a remote development team?
The USA lacks a shortage of technology specialists.
IT professionals in the UK are in short supply.
Nordic countries mark in-demand software development roles.
Not everyone succeeds in hiring the best talents locally. That's why many companies outsource software development partially or on a full basis to the abroad development team. For example, the average wage of software developers in the United States is close to $110,000 while the area lacks local resources because of high demand.
Asia, Latin America, and Eastern Europe have been the preferable IT outsourcing destinations for the last 10 years. However, India dropped during the crisis. Among all respondents, 85% of United States-based companies outsource only non-core business processes to India.
Meanwhile, countries of the Eastern Europe region accept a flow of orders for IT services higher than before, with Ukraine (CAGR of 8.2%) as one of the fastest-growing outsourcing hubs.
It has a higher density of talented software engineers to cover rapidly rising demand in regions of low supply.
How to find remote developers?
Online search opened a new window to access the best. We shortlisted the most in-demand platforms with various selection algorithms to connect IT service seekers and reliable service providers based on different criteria.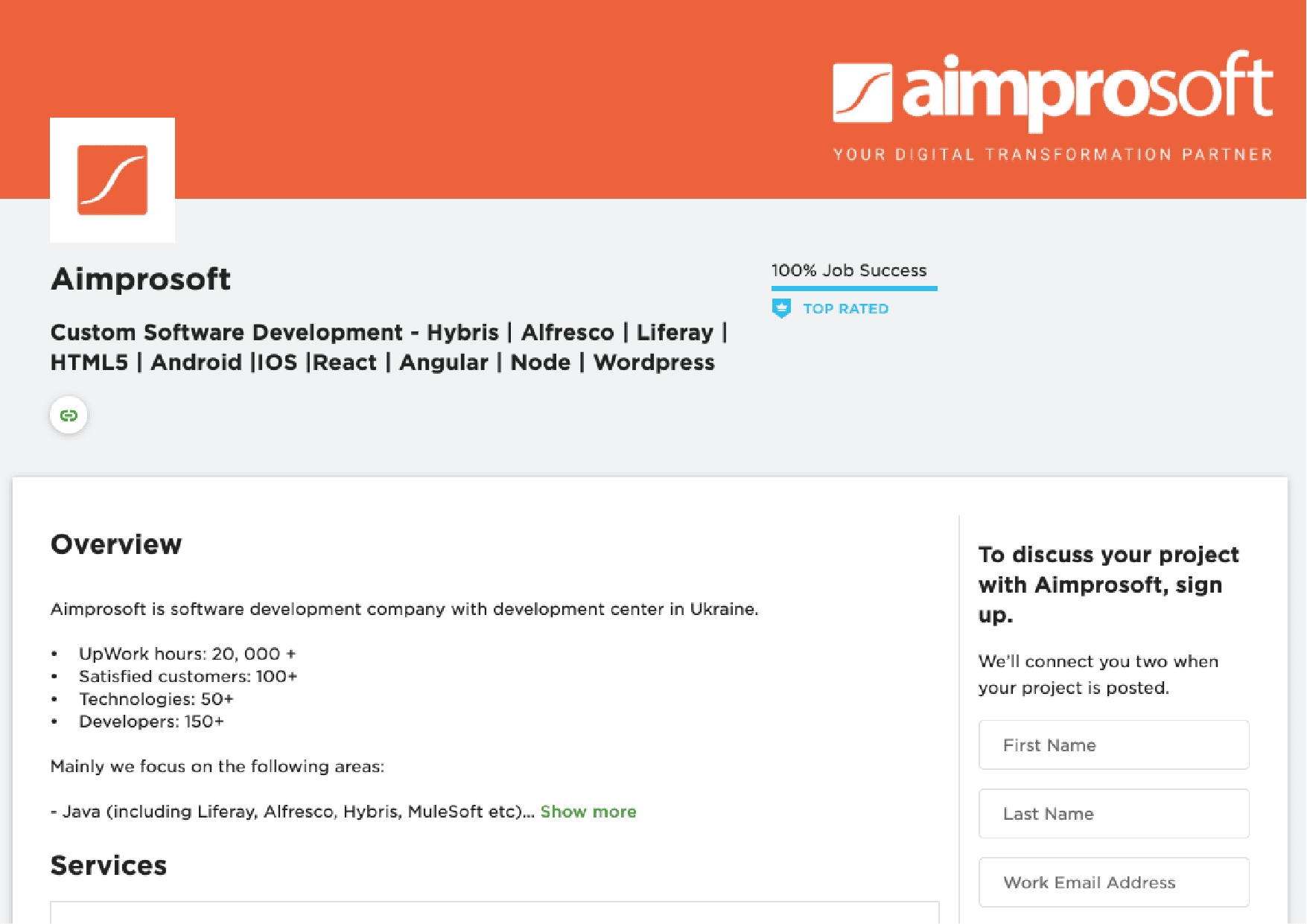 Upwork covers multiple market segments, among which software development is one of the largest. The platform connects businesses around the world with freelancers and agencies helping shortlist candidates with onTop Rated and Rising Talent features.
Clutch is a data-driven listing platform of 150,000 IT service providers for hiring with 36,000 verified B2B client reviews.
YouTeam is a marketplace with a pool of 20,000 software experts from Eastern Europe and Latin America, helping hire remote developers in a short time.
GoodFirms is a research-based categorized list of IT service providers, to help find you a perfect business associate based on B2B reviews, findings, company details, and rates across the globe.
LinkedIn is a social recruiting platform with over 675 million members globally; it allows you to find companies based on a thorough search for diverse needs.
How much does it cost to hire remote developers?
Eastern Europe appeals to Western European countries due to the nearshore location; the US customers choose it for proven experience by IBM, Microsoft, Apple, Google, and others. Both opt for the destination for the exceptional quality of service at a reasonable cost.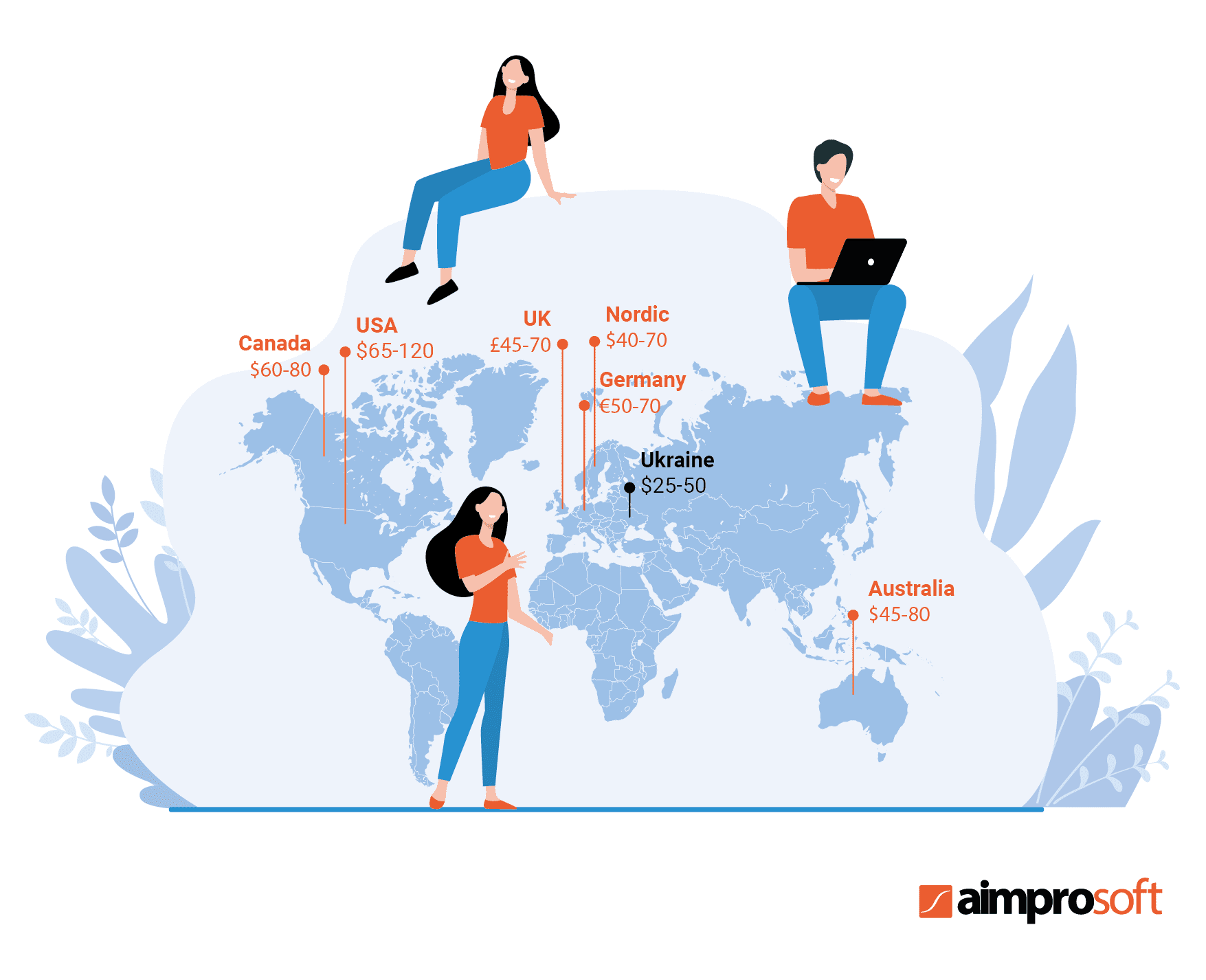 Look through the comparison of global rates for IT services to see the approximate yearly savings on one employee if you hire dedicated remote developers from Ukraine.
| Country | Local hourly rate, avg | Remote hourly rate (Ukraine), avg | Savings per hour | Yearly savings |
| --- | --- | --- | --- | --- |
| USA | $80 | $35 | $45 | $86 400 |
| Australia | $50 | $35 | $15 | $28 800 |
| Canada | $45 | $35 | $10 | $19 200 |
| Germany | €60 | €30 | €30 | €57 600 |
| UK | £55 | £25 | £30 | £57 600 |
The table shows the average software developer rates according to the region.
The average hourly rate of software development services ranges from $20 to $50/hour. $35 per hour is an average rate across the region. Poland, Check Republic have to charge more because of the higher standard of living apart from Ukraine by the same quality level.
Information technologies are the third largest industry in Ukraine. Employers staff in-demand developers quickly from this Eastern European technological hub to save impressive sums while not compromising operational efficiency.
How to choose a remote development team?
Addressing online platforms, you can explore most of the company information. The rest decision-making aspects are highlighted below.
Your needs
List a project technology stack and core competencies of fitting remote developers. Write down an output you expect to attain working remotely with a team.
Portfolio check
A good record of successfully delivered projects in your domain ensures the credibility of the outsourcing company. The availability of testimonials allows you to get independent feedback from clients making a choice.
Skills evaluation
Evaluate shortlisted software providers during an interview paying attention to their employer brand, methodologies, and BPM approach. To see what they're capable of, you can ask them to complete a time-delayed test task or perform one in real-time.
Cooperation models
The choice depends on your readiness to take risks and responsibilities (team extension) for product development and delivery or share them with the software partner (distributed teams).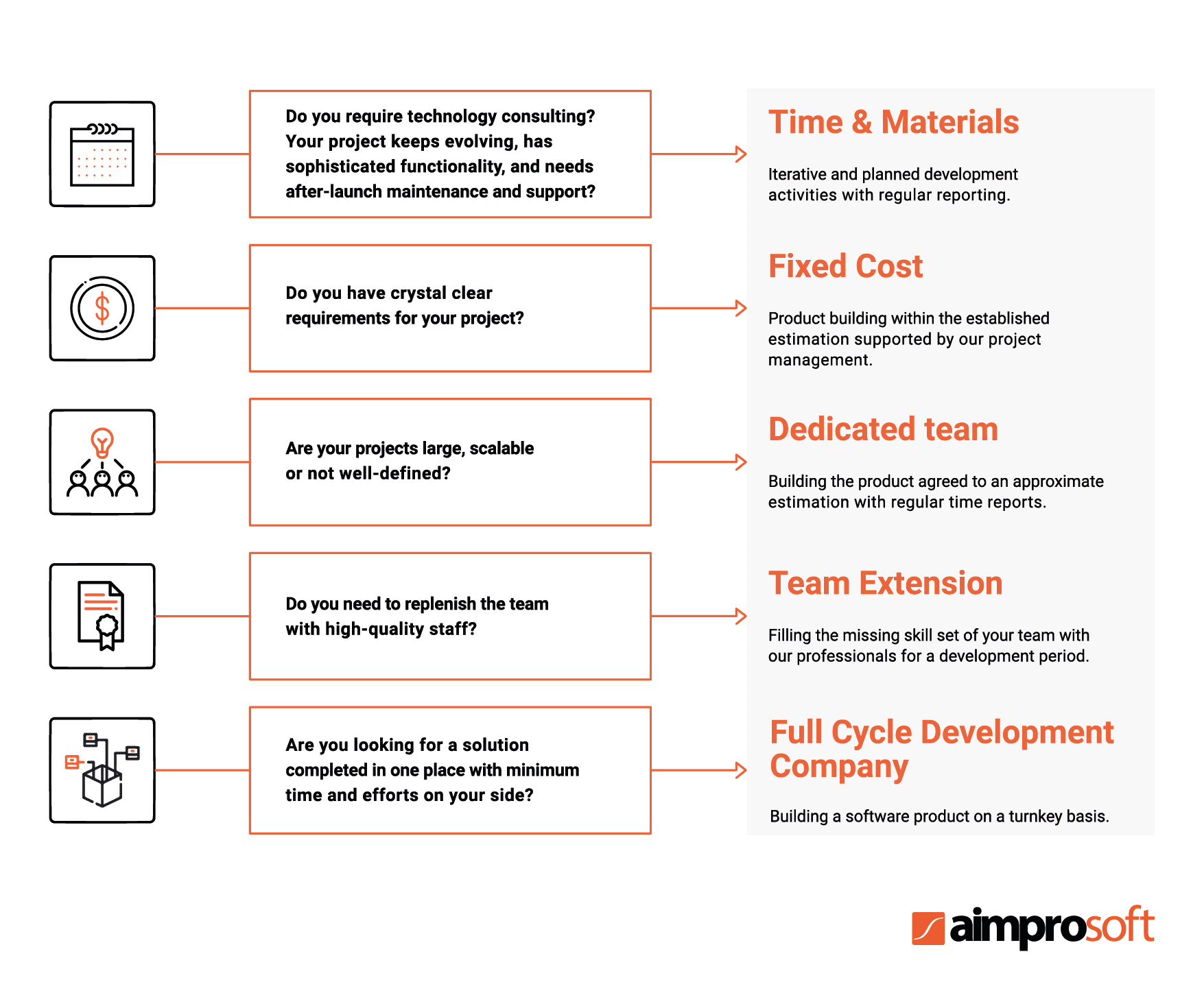 Partnership and recognition
It plays a pivotal role in setting up a remote team for core processes with a company labeled as a partner of the software vendor you use. For example, Aimprosoft participates in Alfresco Dev Con as a Silver Partner and is recognized as an SAP Silver Partner.
Security policy
Ensure your team complies with international security standards (e.g., GDPR, ISO, PCI, HIPAA) to keep your confidential data safe and secured.
Legal aspects
Sign an NDA before telling details of the idea, add liability and warranty clauses, payment conditions, deadlines, data protection issues, and client's code ownership.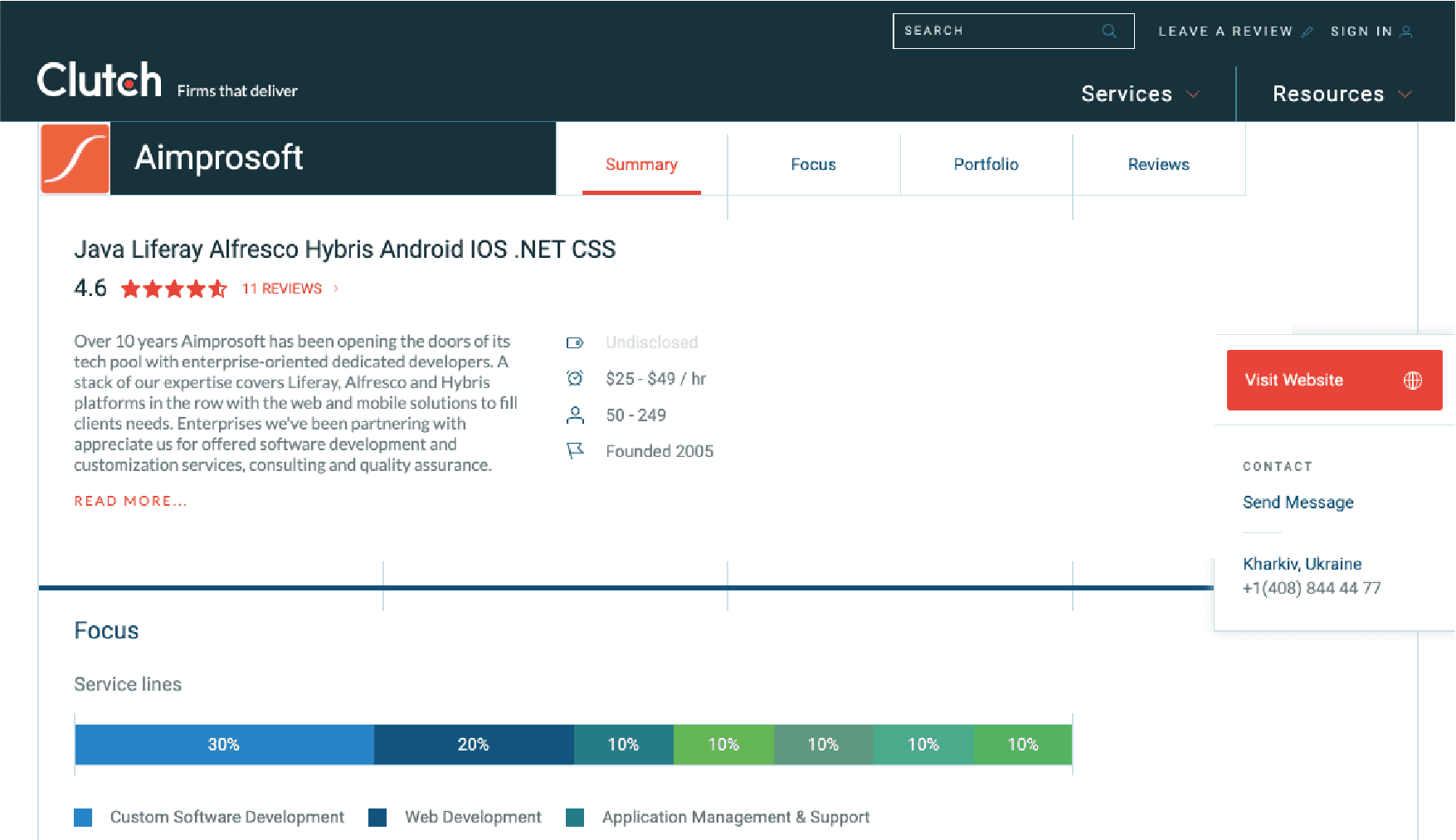 Remember, choosing a remote team of developers, you choose if your idea is realized.
How to manage a remote development team?
Working remotely with our clients for over 15 years, we want to share with you the main principles of effective management and completion of projects.
Care about communication
The only way to translate your intention into success is to communicate it effectively.
Define your response time and the people in charge of particular areas of responsibility. Being open to communicate on-demand as you would like will positively influence managing remote developers.
Strict scheduling of yours and a team would help you arrange time slots for online meetings, planning, single and collaborative tasks.
Prioritizing, you invest in a certain output you expect. Focus on backlog tasks with higher priority for a longer duration.
Choose the right collaboration tools to handle communication easier.
Project management success
The proven step in organizing the development process is a smart approach.
Use a collaborative resource for project and product documentation as a singular source of truth.
Workflow management tools will impact positively on process-centric issues.
Allow your remote team to deliver results based on your clear requirements with less micromanagement.
Informal communication works well for team building, especially when you share your business values.
Encourage productivity
What really matters is effectiveness on the way to success.
Set a cadence of collaboration with daily check-in stand-ups, weekly and monthly sync-ups, reporting, and problem discussion.
Clarify your goals to the tiniest details and set up evaluation metrics.
Track performance with time trackers, review, feedback, and recognize team members for their effort.
Manage a remote development team and keep it fun and personal. Close to your employees more via informal chatting. Openness encourages their productivity.
Top 9 сollaboration tools
In April 2020, 67% of organizations admitted an increased usage of web conferencing software.
The remote work will be trending beyond the pandemic times. Thus, reliable collaboration tools are getting popular to sustain transparency leading remote development teams. Below, there are a few examples of common ones:
| Purpose | Tools |
| --- | --- |
| Project management | Trello, Jira, Redmine |
| Productivity | ProofHub, nTask |
| Time trackers | 7pace, Tempo Timesheets, Timely |
| Knowledge base | Confluence, Dropbox, Google Drive |
| Instant messaging | Slack, HipChat, Microsoft Teams, Basecamp |
| Video сonferencing | Zoom, Skype, Webex, Discord |
| Whiteboards | Stormboard, Miro, InVision Freehand |
| Design and prototyping | InVision, Zeplin, Avocode |
There are top 9 collaboration tools we at Aimprosoft usually leverage to manage the development process.
Jira and Redmine manage project performance, task tracking, backlog prioritization. Confluence is useful for keeping a knowledge base shared. Our clients prefer Zoom, Skype, and Webex for audio and video conferencing. Google Hangouts, Slack, and email are best for asynchronous communication there. Zeplin helps collaborate with clients on prototyping building a bridge between team members.
We are not restricted to typical solutions and open to trying others upon the client's request to manage remote developers on your team.
How to hire an Aimprosoft development team?
Aimprosoft has been making a digital transformation for enterprises for over 15 years. The company is recognized as a leading technology provider by Clutch in "Top Ukrainian Leaders in Software Development for 2020".
90% of Aimprosoft employees have a Master's degree and are certified by Alfresco, SAP Commerce Cloud, Mulesoft, and other credible organizations.
We delivered over 500 projects using over 50 technologies for clients in thirst for resources to cover technological shortages worldwide.
Our agency is top-rated with 100% delivery satisfaction of IT services for clients according to the Upwork Agency Job Success Score.
Aimprosoft is internationally recognized SAP Silver Partner, which came due to the clients' trust and respect.
Apart from helping businesses accelerate with innovations, our developers contribute their efforts to the technological community. 2020 has been marked by the release of Cloud Backup and Migration for SAP® Commerce Module that saves developers' efforts and money for business due to the right data backup and migration.
If you feel us as your associate, contact us to start a big thing.

Frequently Asked Questions
How to build and support a working culture with a remote team?

The right work-life balance is achieved due to flexibility in the schedule, along with the obligation. Define expectations and time you want developers to deliver them. Try to encourage a productive pace of working, avoiding overtime and undue pressure on people, which may cause burnout and failures. Unite your remote team while sharing your business values, invite them to give an opinion on critical decisions, use informal chats to become closer.
How can I avoid breakdowns and productivity loss with remote developers?

Working with remote developers can be challenging if you choose freelancers. Software companies always care about employees. We at Aimprosoft organized competitions, quizzes, interactive chat rooms, and zoom parties to encourage people to be close and support team spirit remotely during the lockdown. Well established working processes helped to manage work out of office and deliver in time.
Which of the project management methodologies is the best for remote developers?

We promote Agile as the best tool in project management, managing remote software developers. You can:

evaluate requirements, plans, and results continuously in a natural way to respond to changes quickly;
get value faster and with less loss;
keep precise notes;
overview and clarify the backlog regular refinement sessions;
embrace changes with shorter planning cycles;
get tangible results faster with iterations;
be as close as you want with the project team due to retrospectives.