Aimprosoft Product Release: Cloud Backup and Migration Module v.1.0 for SAP® Commerce
Since we have been closely working with the e-commerce industry for almost 10 years, we became well aware of the majority of the pitfalls and obstacles that e-commerce websites may face. However, the one that has drawn our attention recently is related to the inefficient backup management that causes the problem for those whose websites are built with the help of SAP Commerce Software.
This inspired us to develop our own solution that we called Cloud Backup and Migration for SAP® Commerce or simply CBM. With our CBM module v.1.0, we intend to solve the problem of managing backups and expand the SAP Commerce Software platform's functionality.
The described module turned out to be intuitively understandable in usage. It was achieved with the help of a user-friendly interface that was designed to make the whole process of backup management as smooth as possible. Despite having a simplified design, the functionality of our module is rather multi-dimensional:
Seamless creation and management of backups.

The developed module allows instant creation of sites, catalogs, and files (ImpEx, CSV, media files) backups. Such a "one-click" procedure significantly decreased the time required for manual creation of data backups and automated this process in turn. Apart from being a highly-functional tool for backup creation, the module also provides simplified management of the existing backups.

Any number of connections to Amazon S3 and Dropbox cloud storages.

Besides local storage, the module's functionality allows using 2 third-party cloud storages, namely Amazon S3 and Dropbox. Hence, with SAP Commerce CBM module v.1.0, users are enabled to connect to any number of previously created on these storages accounts. In order to do so, the users should press the 'add' button, insert the credentials of their account, and save them in our perspective. What makes the module such a great solution is that there is no limit to the number of saved and active connections with these 3rd-party storages.

A new perspective for the backoffice.

To enhance the capability of our module, we also created a new perspective for the backoffice. We configured our own UI for the work with the module, hence, provided easy access to the functionality that allows users to operate with backups.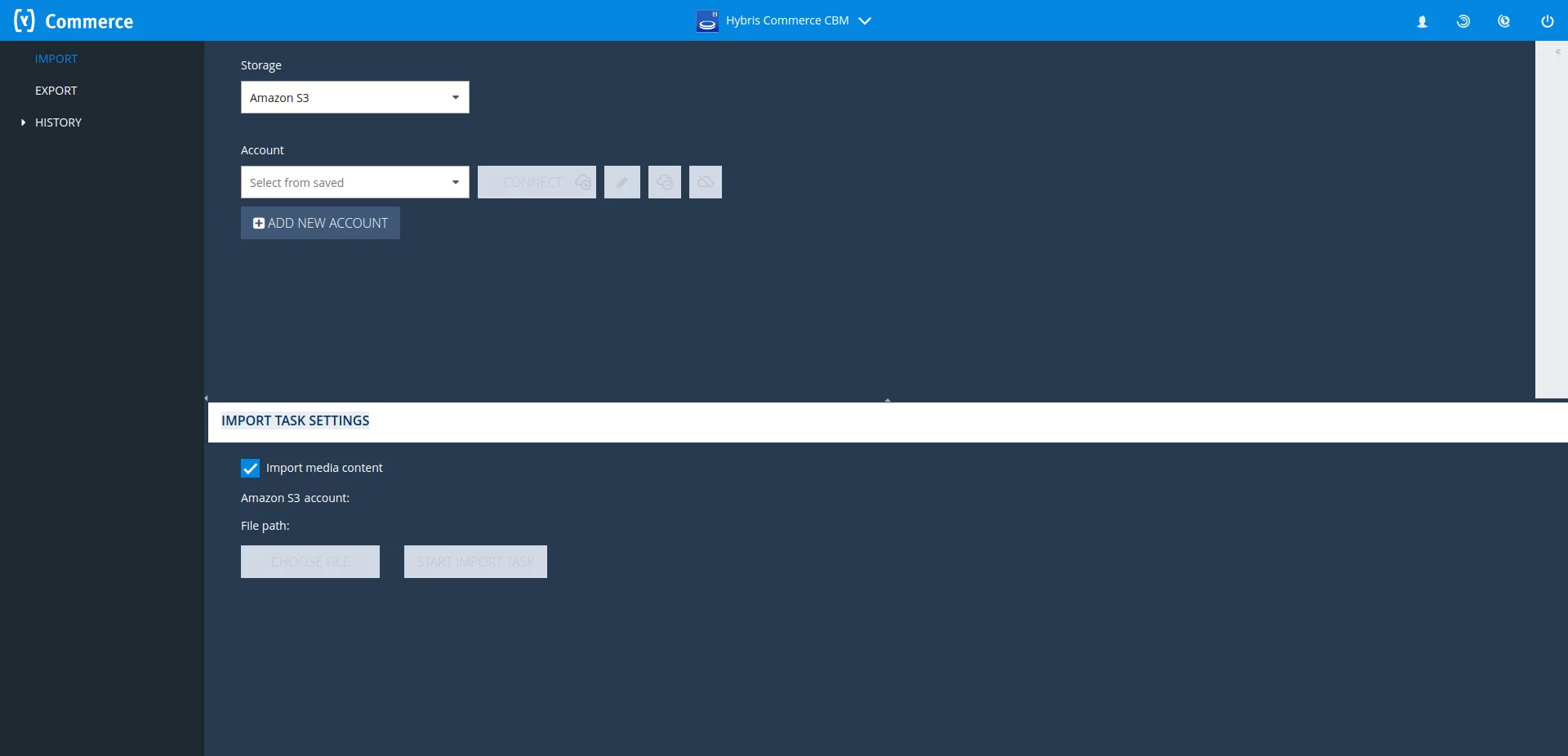 Overall, we released a full-fledged free of charge module that drastically simplifies and increases the speed of backup creation and management compared to the standard OOTB approach, saving approximately 24 hours of manual work for a project. Data import and export became more convenient among user's remote storages and the local one.
Thus, if your project uses SAP Commerce 1808/1811, but the backup management isn`t efficient as you want it to be, you can easily download it and streamline your e-commerce business. If you have any ideas on how we can enhance the e-commerce development process even more, would like to create a similar product, or have any other related questions, contact us, and our developers will assist in your endeavor.