Dedicated Software Development Team
We assemble dedicated software development teams to help clients implement their projects with a team perfectly tailored to their needs. By providing a dedicated team of our specialists, we help save time spent on recruiting, interviewing, and onboarding specialists, obtain flexibility of development processes, benefit from transparency of pricing system, and much more.
Get started
scroll down to discover
From promising startups to well-established companies, we help businesses of any size and domain expand their capabilities by going mobile. Our mobile application development experts are skilled in the creation of solutions for commercial and non-commercial use, including apps for better employee collaboration and increased productivity, enhanced customer service, seamless online shopping, and many others.
WHAT WE DO
Dedicated software development services we provide
Business Analysis
Our business analysts will analyze the feasibility of your idea, examine business needs, document requirements, and create functional specifications to help shape your ideas into a structured format and ensure that your product will be created just the way you intend.
UI/UX design services
By choosing to have our UI/UX designers in your dedicated team, you will obtain an easy-to-use, modern, and convenient interface for your product that will help you win customer loyalty and increase sales.
Software engineering
We can set up a team that will consist of top-notch experts who will work on your project on a long-term basis. Since we leverage more than 50 technologies and cover more than 15 domains, we can provide a dedicated team to complete the request of any complexity.
Project Management
Our project manager will coordinate all development-related processes, increase the overall productivity of the team, keep you regularly updated regarding the progress, and ensure that everything runs like clockwork.
Quality Assurance
Aimprosoft's talent pool encompasses quality assurance specialists that can be hired as a part of the dedicated team to work synergistically with our developers and make sure that the product is bug-free and meets set requirements.
DevOps
Our experienced DevOps specialists will ensure automation of processes, control all risks, make sure the development process is seamless, and reduce time-to-market for your product.
Our focus
Industries we work with

eCommerce
The assembled team can help eCommerce businesses develop digital products that would increase their revenue, boost retention rate, build clients' loyalty, and increase brand recognition.

Healthcare
We have expertise in the creation of various healthcare solutions that can automate tasks, help provide seamless medical care, and reduce operational expenditures, including medical apps, DMS, patient portals, and much more.

IoT
Our dedicated software developers can build IoT products for various industries that can enhance the businesses with tools for efficient data collection, real-time analytics, convenient control of environmental conditions, etc.

Real Estate
Our dedicated software development team can be assembled for the creation of software that can provide home buyers, tenants, real estate owners, and realtors with tools to complete property-related transactions simply.

Education
We can compose a dedicated team to develop an e-learning product, such as an educational app, LMS, learning portal, etc., that can help digitize internal processes, increase student engagement, and simplify management activities.

Telecom
Our dedicated team can implement robust software that will enable automation of business processes, enhancement of employee performance, and improvement of the provided services.

Retail
Our dedicated developers know how to build software for retail businesses from scratch that can help deliver a great CX, boost operational efficiency, implement an omnichannel strategy, and enhance competitiveness.

Your industry
If you haven't found your industry, don't worry. We have all the resources to fulfill your idea since 17+ years of market presence allowed us to obtain expertise in more than 15 areas.

Dedicated development team setup process
This is an overview of what hiring an Aimprosoft dedicated software development team looks like.
First touch
We discuss your product idea, conduct requirements elicitation, answer all your questions, and plan our further cooperation.
Team composition
We will accurately assemble the team based on the project requirements and provide you with a flat rate for the team, which is formed according to the quantity and ranking of the specialists.
Let's get it started
Everything is set and ready for the iterative product development process. The time comes to start our software development journey.
Getting ready
We will manage all organizational and administrative activities preceding the start of the development.
Hiring process
Once the team is assembled, you can review its composition and hire the team if it meets your requirements perfectly.
Products that were developed with this model
Explore the products implemented by Aimprosoft dedicated application development teams.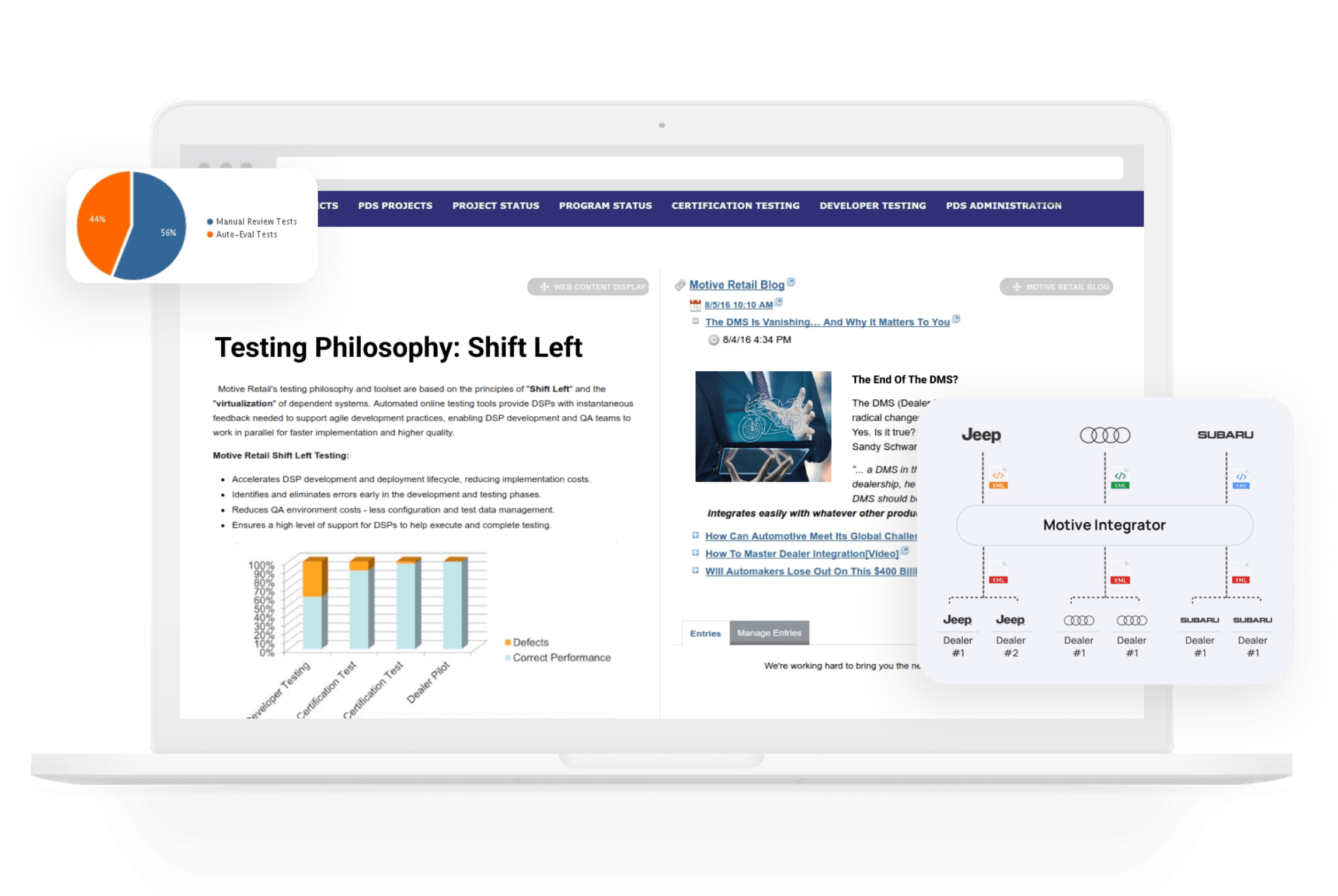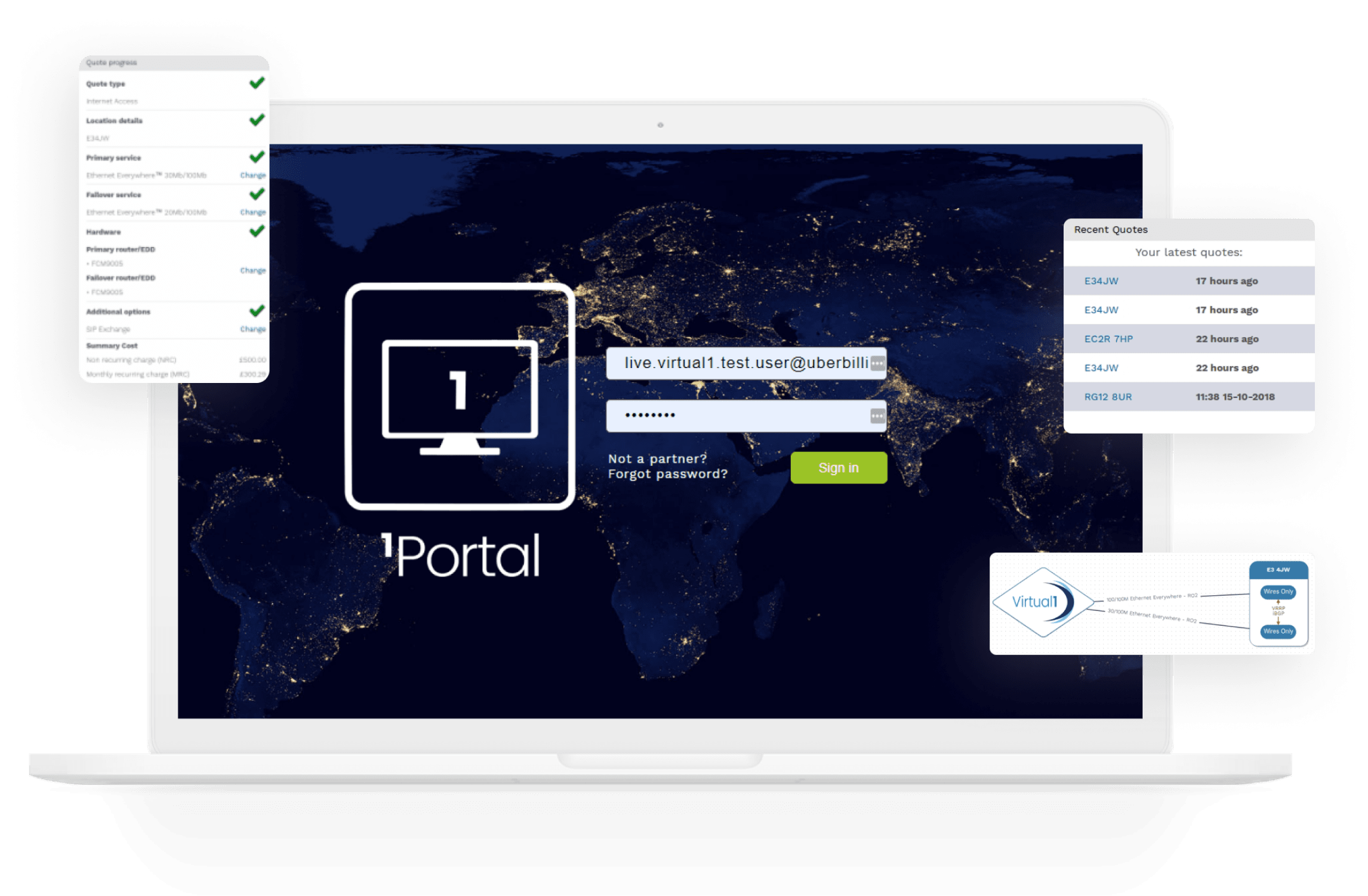 Motive Retail: auto dealer integration portal
Challenge: The client decided to hire dedicated software developers from Aimprosoft to develop a portal that would ensure communication between car manufacturers and dealerships across the globe and simplify documentation exchange between them.
Solution: We created a Liferay-based portal with a structured system of roles and permissions. The time-consuming process of heterogeneous documentation exchange was improved by creating the Motive Integrator and integrating it with the Liferay portal. As a result, we developed a robust solution that decreased the time-consuming labor intensity thirty times and helped to fill the gap in the lack of an integrated system for seamless collaboration between manufacturers on one side, car dealers, spare parts suppliers, and insurance companies on the other.
Virtual1: web portal for a UK's leading telecom service provider
Challenge: The task was to develop a solution that would function as a centralized partner portal to control the wholesaling telecom services directly and facilitate the commercial growth of potential partners.
Solution: We opted for the capabilities of the Liferay platform that allowed uniting all corporate content under one umbrella and sharing it with partners under strict permissions. Our development team members also made several solutions for user accounts and back office, including custom order workflow and a setting module for service packages. Other implemented features include location-based real-time quoting, online order monitoring and price comparison, Salesforce integration, and others. As a result of our fruitful cooperation, the number of requests increased 100 times, and the company managed to strengthen the position of one of the most influential telecommunications providers in the UK.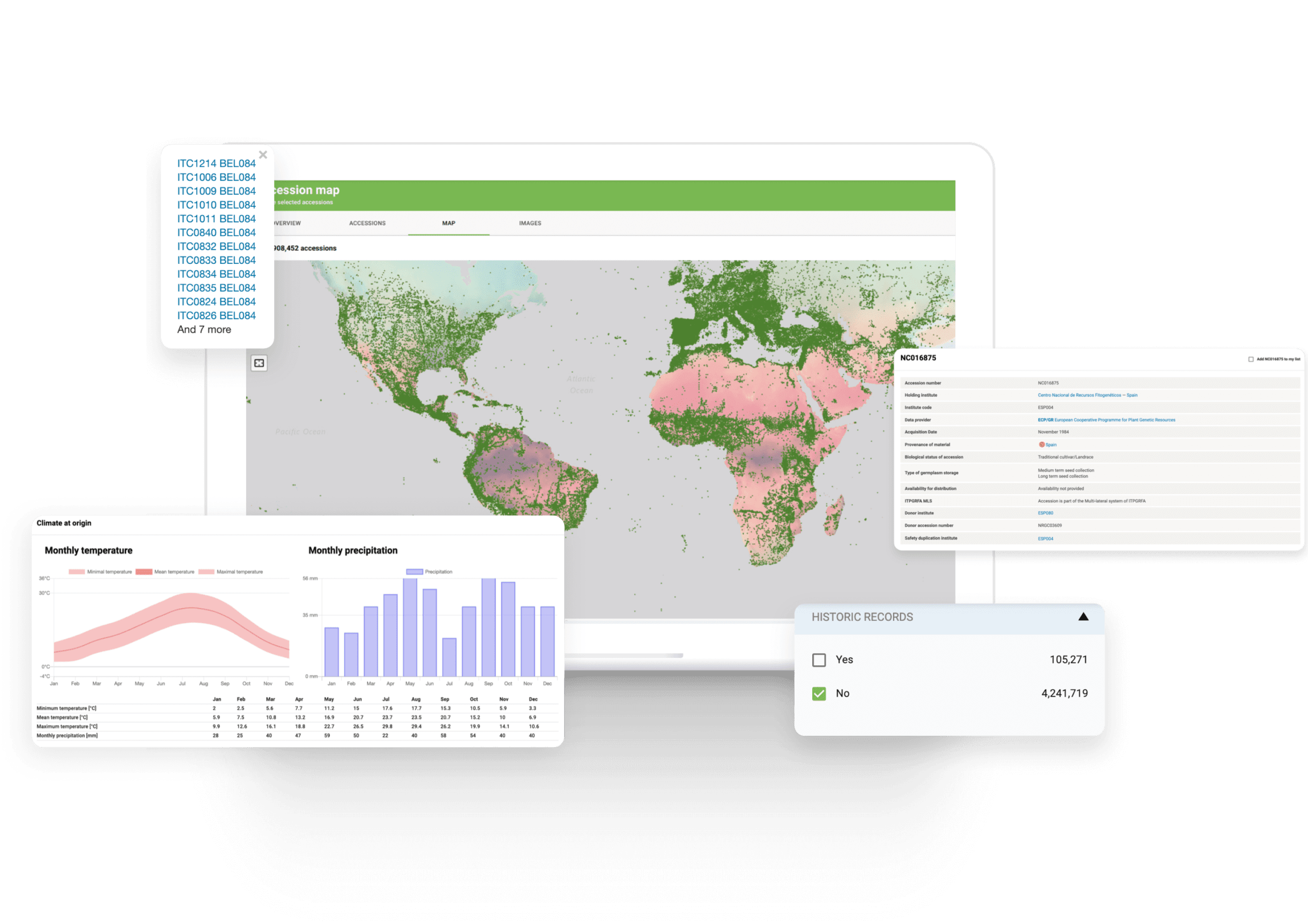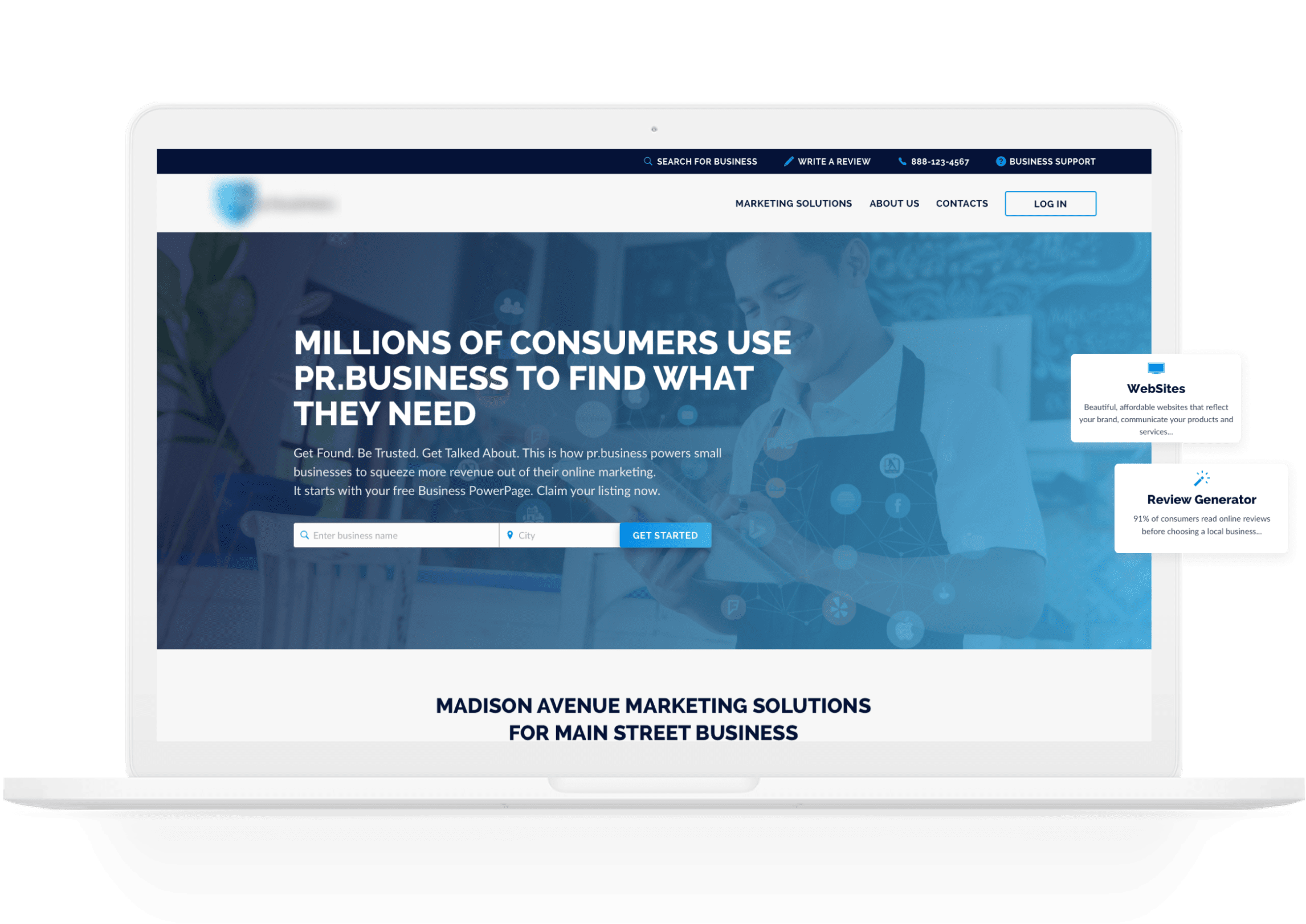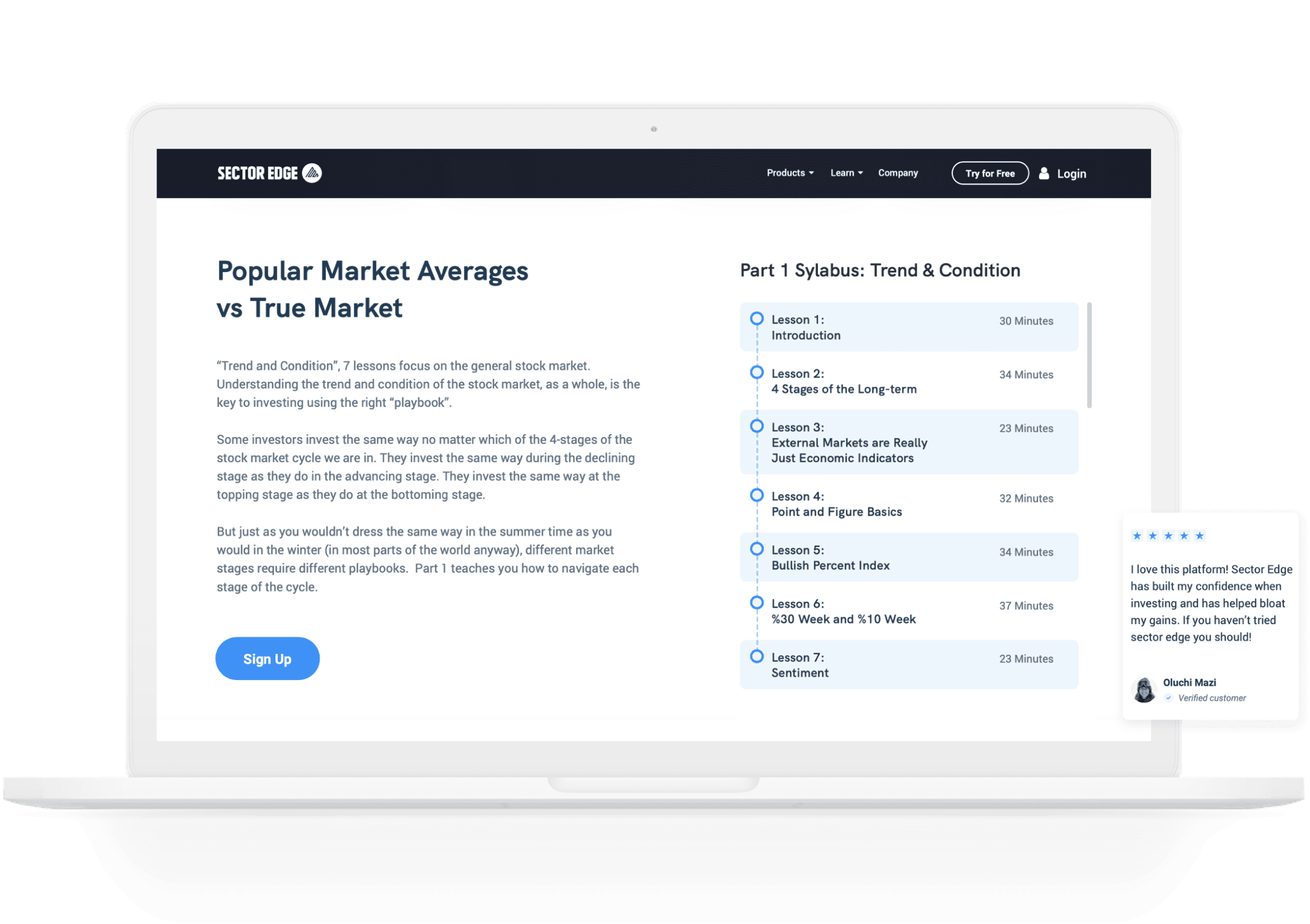 Genesys PGR: web platform for crop diversity exploration
Challenge: The request was to transform an outdated PHP-based website using Java capabilities. Our main goal was to keep the data safe and the website fully functional during the upgrade process.
Solution: We connected two main groups of users: data providers (national, regional, and international genebanks) and those who use the provided data. Our software engineers ensured that the platform provides a toolset for genebanks to share their data about crop collections and easily update their databases. In turn, researchers and breeders can use interactive maps created for visual perception of dry data, save filtered content, request samples of cultivars, etc. As the result of collaboration with the Crop Trust, Aimprosoft significantly contributed to a platform of global importance which now provides access to data of over 4M plant samples.
Pr.business: local business directory
Challenge: The request was to create a local-search directory that would be capable of aggregating information about local small and mid-sized businesses and managing digital listings from Foursquare, Yelp, Google My Business, and others.
Solution: The developed platform receives status reports and updates from a net of search engines and social networks in one place, provides users with tools to control data on listings, and helps businesses prevent changing business information with the pr.business matching algorithm. The team also developed a convenient dashboard for business awareness management and a promotion toolbox that allows promoting a business on external sources. Overall, the product turned out to be a robust platform that provides business owners with tools to control information about their business spread online and helps them boost brand awareness in a cost-saving way.
Sector Edge: analytics platform for the do-it-yourself investors
Challenge: The platform is designed for do-it-yourself investors. It allows users to monitor stock market changes and insights and spot trading and investment opportunities. The main requirement was to rebuild and redesign the existing platform for internal users and transform an informational website for external users.
Solution: The assembled team implemented a robust mechanism for retrieval of raw financial data, containing millions of records for the past decades, from third-party data providers, its processing, and uploading to the database, and configured its continuous update. We helped turn a poorly performing solution into a feature-rich product that allows its users to manage investments conveniently, keep up with industry news, watch webinars and enroll in courses, manage personal events, and much more.
Top 3 reasons why you should hire a dedicated team
Ability to overcome the lack of local resources
The recruitment of a dedicated offshore team is a great choice for those businesses that experience hardships to assemble the team due to the lack of local resources or absence of specialists in the in-house team with necessary tech skills or expertise in the field. Thus, if your project meets the following criteria, such a staff augmentation model is what you should opt for to develop the product smoothly.
Monitoring of all development processes with ease
The entire idea behind this cooperation model is to ensure transparency and make monitoring and management of the development-related processes seamless. If you want to concentrate on high-level business activities instead of technical and administrative ones, this outsourcing model is right for you since the entire team works as a single unit, is located in one place, and is managed on the vendor's side.
Flexibility
Change of the requirements in the course of the development is a common case when it comes to any complex project. If you know that the specifications might change over time, the decision to hire a dedicated software development team can offer such flexibility. Moreover, the dedicated team model works best for long-term projects without clear deadlines, the scope of work, and the exact idea for the product implementation.
Testimonials
Clients about Aimprosoft
Let our dedicated team help with your project
We are here to assist with your questions. Write us a message, and we will get back to you shortly.
The form was submitted successfully. We will contact you shortly. Meanwhile, we suggest checking out what our clients say about software development with Aimprosoft.
Proceed to Clutch