IT Outsourcing Company
Outsourcing product development is what the growing number of companies choose to make their business goals achievable. Struggle with lack of local resources, don't have enough experience in product development, want to delegate tech processes? Then go for product outsourcing with Aimprosoft to unleash your true business potential and overcome challenges related to in-house development.
Get started
scroll down to discover
Outsourcing product development is what the growing number of companies choose to make their business goals achievable. Struggle with lack of local resources, don't have enough experience in product development, want to delegate tech processes? Then go for product outsourcing with Aimprosoft to unleash your true business potential and overcome challenges related to in-house development.
When to hire
When you need to outsource your project
Lack of in-house/local resources

You need to focus solely on business objectives

There are tight deadlines that you need to meet

You don't have tech expertise in product development

You want to mitigate risks related to project failure

You look for a cost-effective option
WHAT WE DO
IT outsourcing services we provide
Product modernization & functionality expansion
Your software may eventually cease to fulfill current needs, but you can outsource the renewal of your product to restore its proper functioning. We help modernize your solution by performing system audits, identifying faults, and developing an optimization strategy. We also provide a feature set expansion to enhance your product and meet the needs of modern users.
Development from scratch
Software creation from scratch is one of our most common outsourcing cases for us. Businesses collaborate with us because of our demonstrated competence, diverse talent pool, and multifaceted portfolio. We assist in validating project viability, doing market research, consulting on the technology stack, and completing other critical steps towards the delivery of a viable product.
Native & cross-platform mobile development
We specialize in providing high-quality mobile app development services to our clients. By outsourcing your mobile app creation to us, you can save significant time and resources and focus on your core business activities. We have a team of skilled native and cross-platform mobile developers who have expertise in creating customized mobile apps that meet your unique business requirements.
Web development
We've been offering web development services for over 18 years. Our experts can create scalable B2B & B2C e-commerce solutions, healthcare platforms, corporate portals, and many others, meeting the standards of your domain specifics. Whether you choose development from scratch or to use the capabilities of top platforms like SAP, Alfresco, or Liferay, we'll help bring new visitors, boost sales, and automate processes.
Outsourced IT support
We understand the importance of having reliable IT support to ensure your business continues running smoothly. By outsourcing your existing solution to us, you can focus on your other core activities while we take care of the technical part. We offer a wide range of IT support services to ensure that your IT infrastructure is always up-to-date and functioning at its best.
Business Analysis
Our BA services include consultancy and evaluation of the potential of the future product that can simplify market entrance and help you achieve the desired outcome. We help you mitigate possible risks during software development, obtain the necessary documentation to start the SDLC, and save the budget by avoiding inefficient decisions.
UI/UX design services
Our design team can create an appealing UI and a remarkably intuitive UX for products of varying complexity, such as web platforms, mobile apps, or corporate systems. To create a competitive product with a stunning design, we examine competitors, user needs, and the specifics of your industry, build high-fidelity mockups, and much more.
Quality Assurance
By choosing to outsource quality assurance tasks to us, you obtain an error-free and seamlessly functioning product. We design a thoroughly drawn-up testing plan and testing cases that are adjusted to the requirements of your product. To eliminate risks and ensure that the software is release-ready, our QA team applies the right mixture of functional and non-functional testing approaches.
DevOps
We specialize in offering DevOps services to help you optimize your development process and ensure your product is deployed timely and safely. Our team can handle everything from infrastructure management to automation, continuous integration, and delivery. By choosing DevOps as a managed service, you can lower your development costs with our assistance while also embracing just the right degree of automation.
Project Management
When outsourcing your product development, it's crucial to engage a skilled PM to ensure timely project delivery and avoid incorrect resource allocation. We use proven project management approaches to manage risks, track progress, and communicate with stakeholders. From early planning to the product release, our team is available to offer end-to-end project management services.
Our focus
Industries we work with

eCommerce
We are experienced in developing corporate portals, marketplaces, online stores, e-catalogs, and other eCommerce solutions that help businesses increase their revenue, lower customer churn, and boost website traffic.

Healthcare
You can outsource the creation of medical web products to automate routine, manual operations, configure seamless documentation flow, build tools to provide patients with remote medical care, and much more.

IoT
Outsourcing the creation of an IoT-powered solution to an experienced vendor can streamline your company in a number of ways. Develop tools for efficient data collection, real-time analytics, convenient environmental condition monitoring, and other tasks.

Real Estate
Any kind of complex real estate software can be built with our assistance. We help create solutions for tenants and landlords that make all their operations simple, including property management systems, rental marketplaces, real estate DMS systems, etc.

Education
We can design learning management systems, corporate portals, recruiting platforms, and other solutions using time-proven technologies. We offer outsourcing services to help with process modernization, boost of student engagement, and automation of daily tasks.

Telecom
Our specialists have experience developing corporate portals, business intelligence (BI) solutions, client self-service platforms, and other types of software, aiding telcos in streamlining their operations, enhancing employee productivity, and more.
Retail
Delegate your product development to us to build any type of retail solution. Whether it's inventory management software, ERP, online store, etc., we'll help you improve operational effectiveness, deliver a terrific CX, and establish a competitive advantage.

Your industry
If you couldn't find your domain on this list, don't worry, we have all the resources to implement your project from a mere idea. Our presence in the IT market for more than 18 years has helped us gain knowledge and expertise in 16+ areas.

Why outsource your product development
With the help of Aimprosoft, you may outsource software development and scale up your company to meet your goals. Utilize lacking external resources to use your internal ones effectively.
1-3 weeks

is required to assemble the team for your project.
100% dedication

you will get from our specialists.
We have vast expertise thanks to

600+ completed projects.
80% of clients choose

us for another project development.
You can assemble a skilled team, having access

to our 350+ specialists.
We provide

several outsourcing options,

adapting to your needs.
You can

cut costs significantly

by saving on operating expenditures.
Easily focus

on business objectives

while we deal with the rest.
There are more than

50+ technologies

in our arsenal.
92% of G2000 companies

use IT outsourcing.
Our outsourcing software development process
This is an outline of the product development outsourcing process at Aimprosoft. We always make the entire software journey simple and challenge-free.
First touch
When you collaborate with us to outsource your solution development, we start by discussing your product's concept, gathering requirements, conducting the discovery stage upon request, and planning our further steps.
Choosing an outsourcing model
There are various outsourcing options, even though the most common model is a project-based one that assumes our full responsibility for product execution and delivery. We'll assist you in selecting the option that best matches your requirements and resources.
Team composition
We will carefully put together the team in accordance with the project requirements and provide you with a flat fee for the team, which is determined by the number and type of specialists.
Let's get it started
The iterative product development process can start now since everything is settled. We are ready to begin our adventure into your product implementation at this point.
Getting ready
Prior to the start of development, we will handle and manage all organizational and administrative processes, ensuring that you have a secure, efficient, and problem-free SDLC.
Hiring process
Once the team has been assembled, you can look over its composition and decide whether to hire it if it perfectly matches your requirements. In some instances, our clients decide to interview our experts, and we always encourage it so that everyone is on the same page.
Our best outsourced cases
Explore top projects outsourced to Aimprosoft.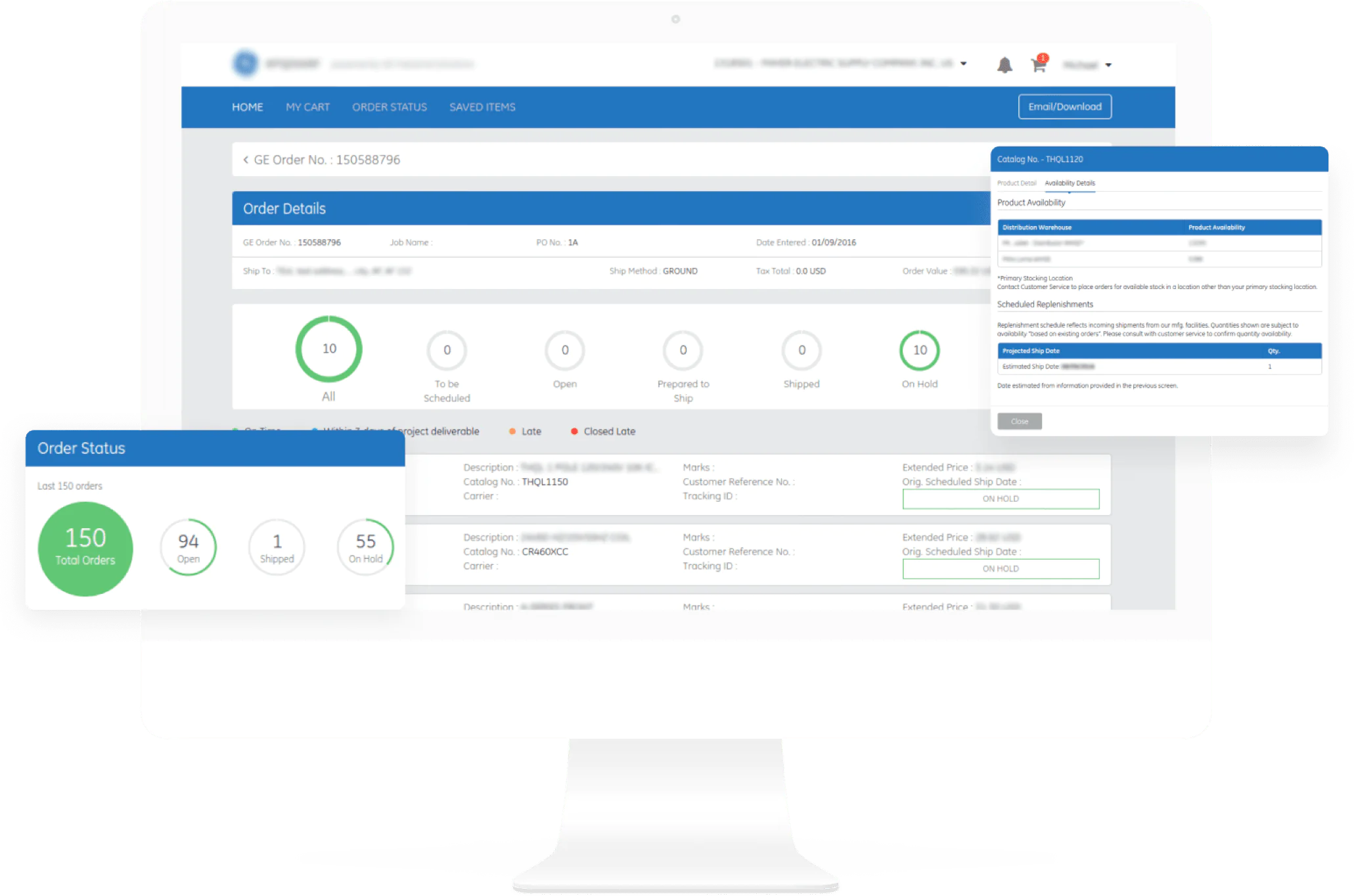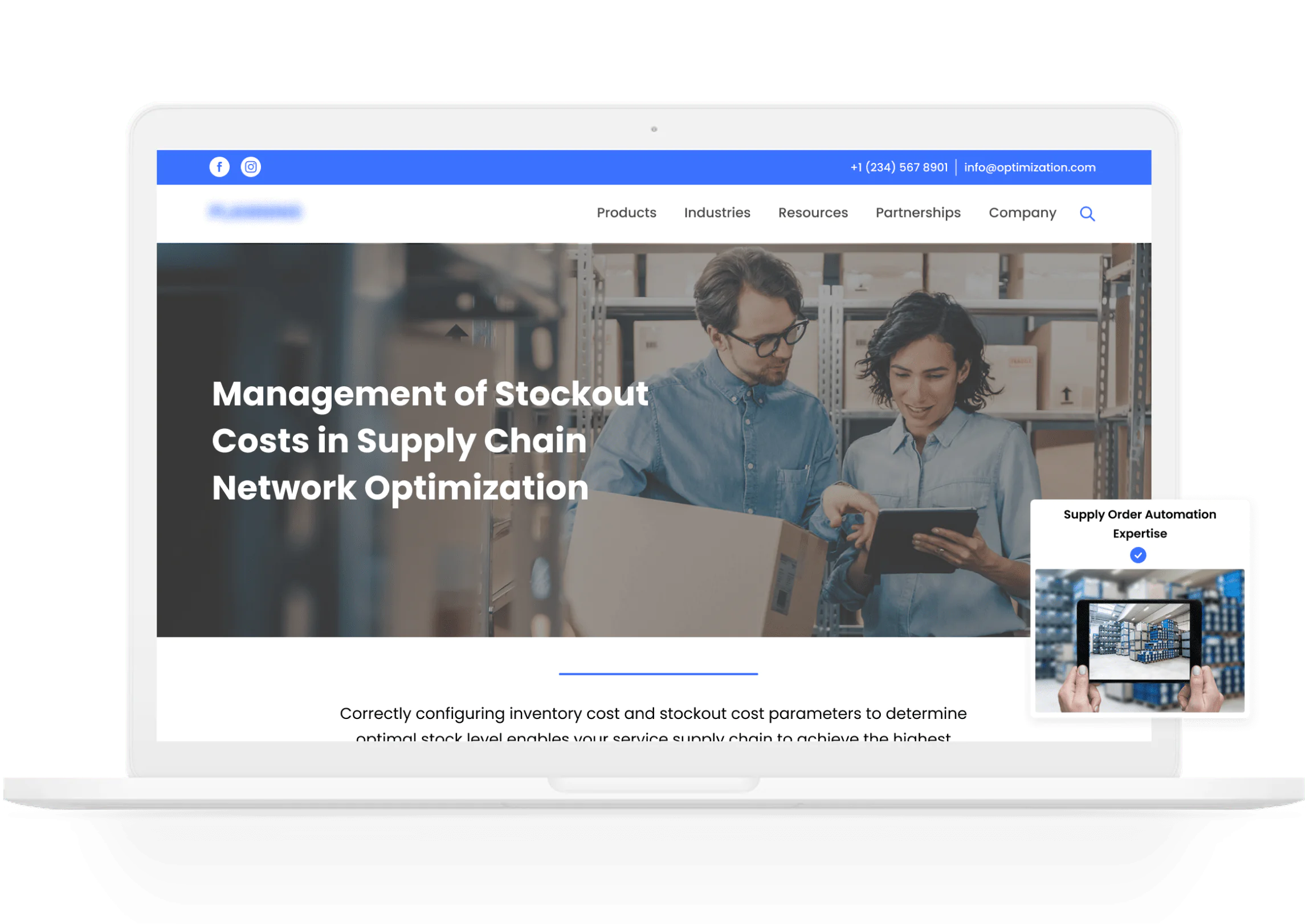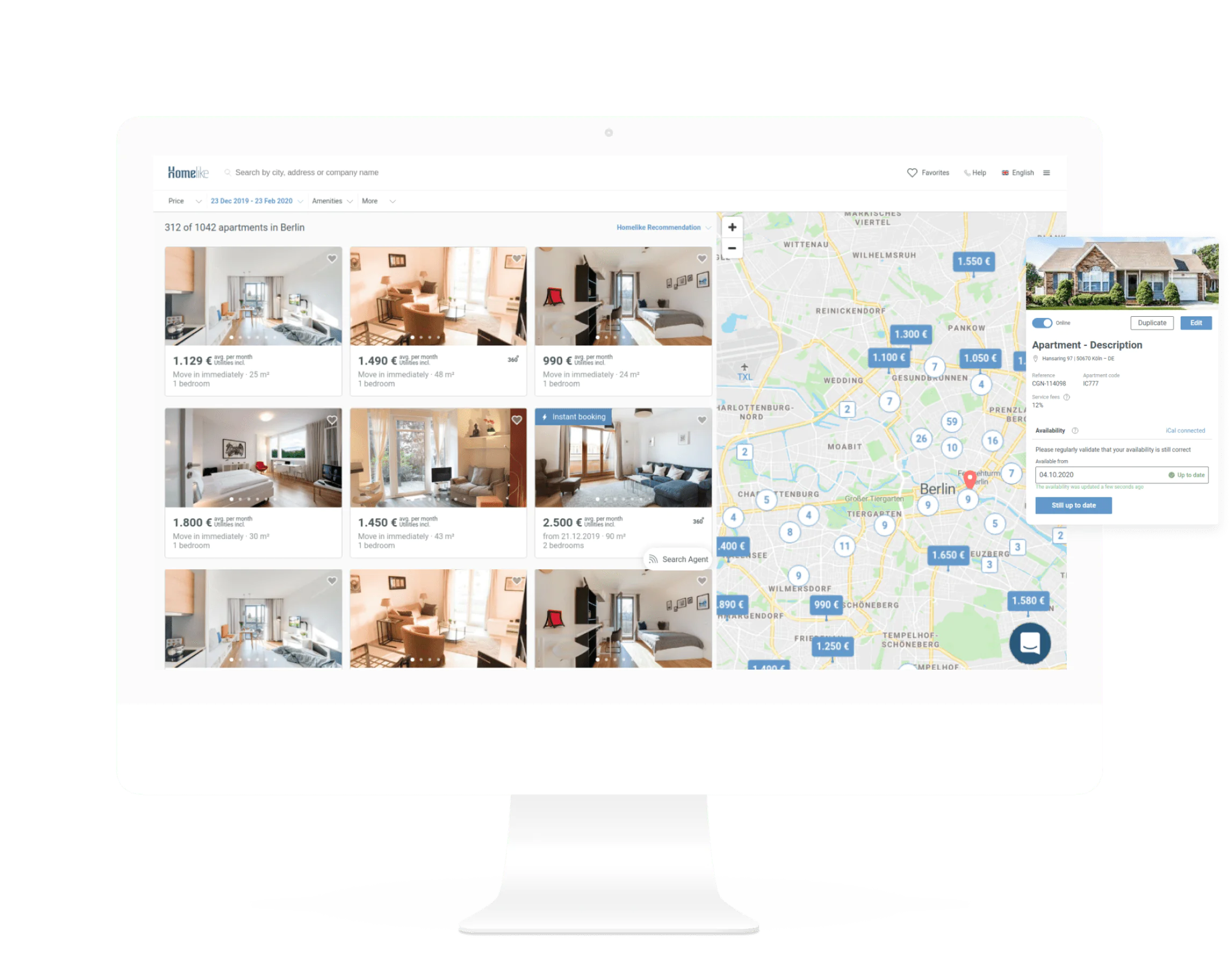 B2B E-commerce platform
Challenge: When the client requests a complete redesign of the e-Commerce website's internal and external structures as well as a move to a more effective and personalized solution, we handle such work with the SAP Commerce Cloud (Hybris) business suite. It was our responsibility to move the current B2B website, which provides users with automation, electrification, digital solutions, control technologies, and a variety of additional services, to the SAP platform.
Solution: At first, our team enabled the search for stock items by important technical requirements. The programmers also provided users with the ability to place orders, track shipments, get proposals with their logos on them, etc. In addition, they offered successful connectivity with the SAP ERP business suite to increase the website's efficiency and make internal workflow configuration simpler. Additionally, our developers customized checkout and HMC. After much effort and involvement, our customer's B2B platform finally reached the pinnacle of excellent digital customer experience, satisfying the needs of more than 150,000 customers. In turn, IT outsourcing services allowed our client to hire the full team at once and gain access to a large pool of SAP specialists.
SaaS solution for service inventory planning
Challenge: Our client came to us with outdated software that required updating, functionally expanding, and ongoing maintenance. The solution is a SaaS B2B platform that offers a variety of capabilities, like service inventory planning and optimization solutions, to enhance service supply chain operations.
Solution: Our engineers created tools to help businesses estimate demand and achieve ideal stock levels. We improved the product's performance, added new features that did not conflict with the existing ones, and kept up with maintenance so that companies could utilize a dependable solution. As part of our dev team, our DevOps engineers contributed to the advancement of cloud adoption. Thanks to outsourcing, our customer was able to put more of their attention toward accomplishing business objectives while we dealt with the technical ones. The client's product is currently used by more than 2,500 companies from over 120 countries, successfully dealing with industry competition.
Homelike: online booking service for long rentals
Challenge: The customer contacted us to revamp the outdated product, which was unable to satisfy the client's initial business needs and draw in new users. The solution is a rental marketplace that allows companies and tenants to take advantage of the functionality of real estate services fully.
Solution: Node.js was selected as a core backend technology due to its features, including scalability and capacity to manage heavy loads and a huge number of requests. We transformed the solution throughout its upgrade into a rental platform that offers various tools for landlords to manage offers effectively and tools for tenants to look for flats and reserve them easily. We managed to develop a solid solution that satisfies the requirements of both user groups. In particular, the platform is quite useful for tenants as it handles all matters pertaining to the look for suitable apartments during work travels and migration. In turn, landlords can safely place their options. Overall, we succeeded in delivering a high-level product with strong architecture that takes care of all issues related to the search and booking of apartments during business trips and has raised $18.8 million as of today.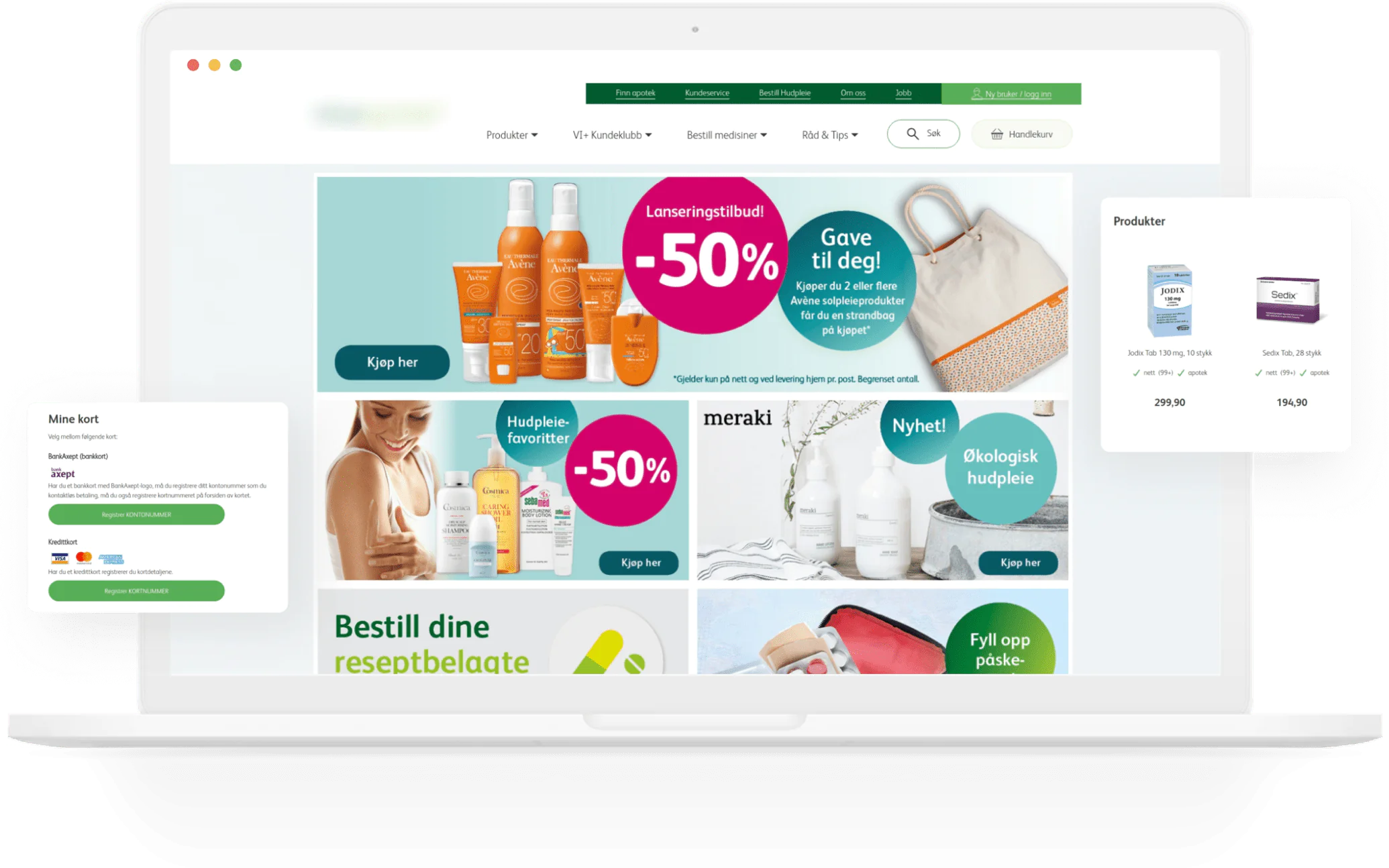 Large-scale pharmaceutical website
Challenge: We obtained a request to create a full-fledged B2C solution, namely a highly customized store, for one of the largest pharmacy chains in Europe. Apart from migrating the website into the SAP Commerce Cloud platform and upgrading the version from 6.3 to 1808, our developers had to integrate multiple third-party services.
Solution: Having created a loyalty system, our team managed to integrate it with SAP Hybris Loyalty and SAP Hybris Marketing to provide an increased conversion rate. We also enabled the synchronization of users' data between the loyalty system and Bisnode third-party application for data analytics and the opportunity for further improvements based on gathered results. The effort of our SAP engineers contributed to the creation of a highly-functional website with a drastic boost in sales. Currently, the website attracts more than 50,000 monthly customers thanks to its user-friendliness and seamless user experience that it offers.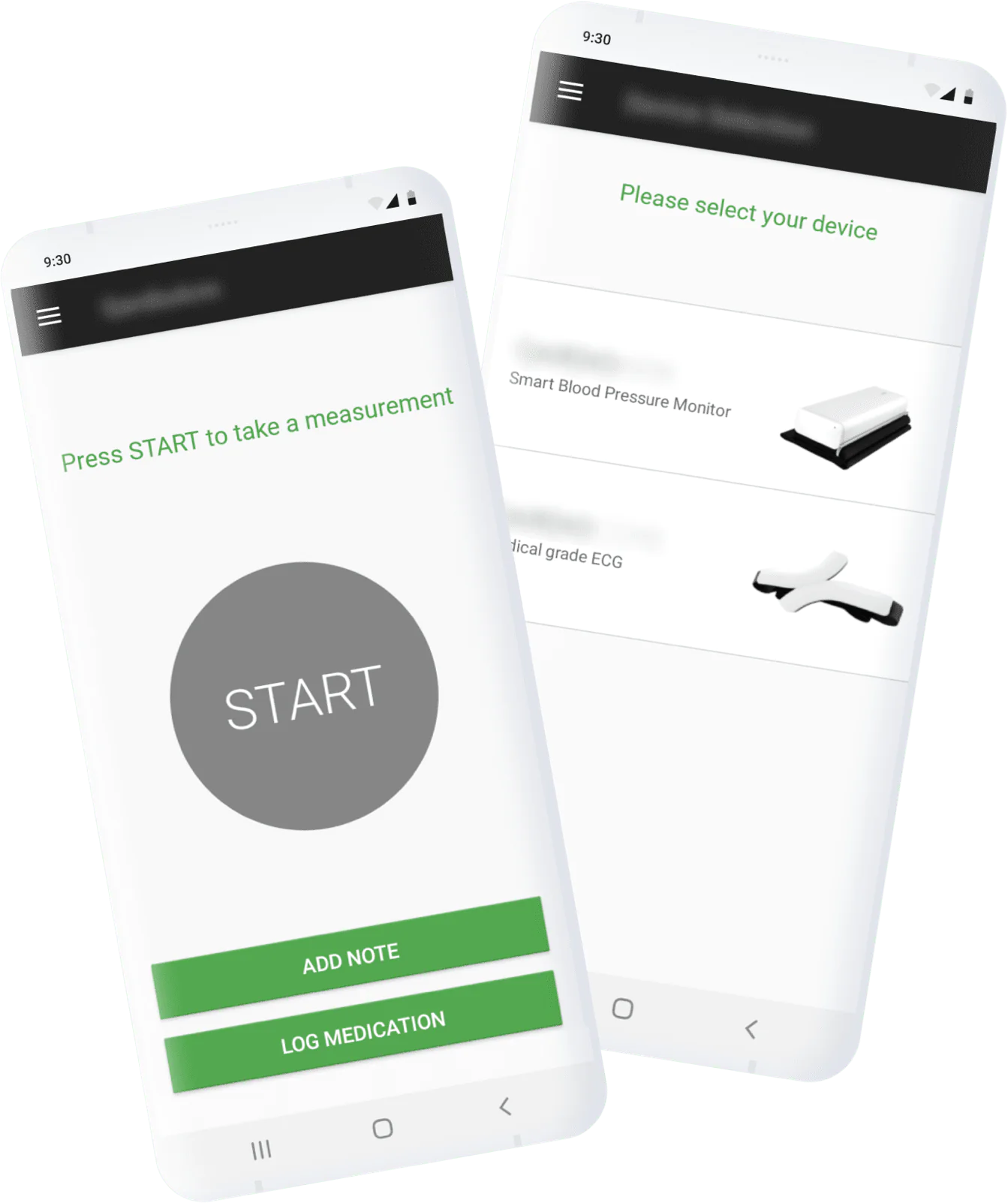 IoT-powered solution for health monitoring
Challenge: The client approached us with the goal to develop a medical mobile application that could compete on the market and draw people in with its cutting-edge functionality at the time. The goal was to create an application that would enable users to keep track of their vital signs, including ECG, weight, and blood pressure. Java was selected as the ideal platform for the development of a robust Android-based app.
Solution: We developed a solution that integrates with various wearables and gathers, processes, displays, and stores all incoming health-related data. For instance, the program's connection to a blood pressure monitor enables users to measure, record, and share their health data precisely. The app is connected with a number of health platforms in addition to providing personal health monitoring. Our efforts and successful cooperation with the clients brought much above what we had anticipated. Over time, the software was able to accumulate 100,000+ downloads and a user satisfaction rating of 4.6. Additionally, by opting for IT outsourcing services from Aimprosoft, the client gained significant flexibility in team expansion and the composition of experts whose specialization was required for a given product, which led to our long-term relationship.
Frontend development
JavaScript
TypeScript
React.js
Angular
Vue.js
HTML 5/CSS 3
Backend development
Java
Python
.NET
Node.js
Scala
PHP
Databases
Microsoft SQL Server
Oracle
MySQL
MongoDB
PostgreSQL
Native mobile development (iOS)
Swift
Xcode
UIkit
Cocoa Touch
Alamofire
RxSwift
Native mobile development (Android)
Java
Kotlin
Android Studio
Android SDK
Android JetPack
Cross-platform & hybrid development
React Native
Ionic
Flutter
DevOps
AWS services
Docker
Jenkins
Bitbucket
Ansible
Chef
CloudFormation
Bash
Quality assurance & testing
Jenkins
Postman
App Tester
Apache JMeter
Selenium
Selenide
Cucumber
TestNG/Junit
Allure Report
Project management
Slack
Jira
Microsoft Office
Redmine
Trello
Gitlab
UI/UX & graphic design
Adobe Illustrator
Adobe Photoshop
After Effects
Corel Draw
Figma
Sketch
Miro
Adobe XD
Abstract
Zeplin
Engagement models we offer
You can get a lot closer to success by choosing the ideal outsourcing approach. We place a high priority on flexibility, and we can help you choose a collaborative strategy based on your requirements, objectives, and needs.
According to the approach, the development team established at Aimprosoft IT outsourcing provider exclusively works on your project and closely interacts with your team. The scheduled completion dates for all of the planned tasks are met, and ongoing updates are given. Companies who choose the dedicated team model have complete control over the team, including the ability to hire and manage team members as well as change the project's requirements and scope as necessary. In order to achieve faster delivery times and better product quality, this approach offers you a high level of collaboration, access to a large pool of experts, and transparency throughout the whole SDLC.
When to choose this cooperation model
Long-term and complex projects

Solutions that presuppose changing requirements

You need flexible team scaling

You're not planning to maintain an in-house team
It's a flexible outsourcing strategy where the cost of the development is determined by the resources used to create your project. This methodology allows for greater transparency and control over the project's scope, budget, and timeline while outsourcing product development services. With the time & materials outsourcing model, you can modify the project's specifications and assign tasks a higher priority in accordance with shifting business demands. With this strategy, you can simply scale the project up or down as needed, avoid making large upfront commitments, and only pay for the resources you really use. This approach to outsourcing of IT services has the advantage of ensuring significant flexibility.
When to choose this cooperation model
Lack of clear project specifications

Scope of work may potentially change

The project is planned to be long-term

You require a fast SDLC start
According to this model, our team adheres to the defined development plan and gives regular updates on task completion. Based on the specifics of this approach, you have to pay a pre-agreed price for a specific set of deliverables. This strategy of IT services outsourcing offers great control over the project's expenses and timing, making it ideal for clients who are ready to pay upfront. As you only pay for the agreed-upon outcomes, regardless of the actual resources and time used, this strategy also helps to reduce risks.
When to choose this cooperation model
There are defined project specifications

You don't require high agility of processes

Small and short-term projects

You're planning to create an MVP first
While many outsourcing models may have benefits, there are instances when a hybrid collaboration strategy with an outsourcing IT company is preferable, particularly when no other solution is adequate to fulfill your requirements. This kind of model of IT outsourcing solutions allows for quicker market entry as well as time and cost savings for market research and analysis. Additionally, it provides opportunities to reduce development risks while maintaining significant financial benefits.
When to choose this cooperation model
Projects with substantial scope

There is a possibility of feature set changes

Lack of clearly outlined specifications

Project is either a medium or large-scale
Key reasons to choose Aimprosoft
for IT outsourcing services
Security and reliability

Our clients regard us as a trustworthy vendor since we always adhere to compliance criteria and deliver projects within the set deadline and budget. We also apply a comprehensive security approach to reinforce the security of your software. Such a collaboration approach allowed us to conquer the loyalty of our first-time clients, 80% of which decided to build other solutions with us.

Large pool of specialists

Outsourcing your product development to Aimprosoft allows you to unlock access to more than 350 specialists. It frees you from a tiresome search of several software vendors to pick different specialists from and instead gives you an opportunity to assemble a dedicated team in a centralized place, improve team productivity, mitigate risks, and avoid miscommunication.

Full-cycle development

We provide full-cycle development services covering all parts of the SDLC cycle. We help check the feasibility of your concept and build the product from scratch, conduct the discovery stage to mitigate development risks, transform legacy software, and guarantee that the outcome will exceed your expectations.

Flexibility in everything we do

We design a unique approach to product development for each individual case, tailoring our processes to our clients' time zones, assembling the best-fit team, and creating a strategy that meets the needs of each project. We know how to develop solutions from scratch both for startups and established companies, adjusting the way we build our workflow.
Testimonials
Clients about Aimprosoft
FAQ
Frequently Asked Questions
How to outsource IT services?

Prior to outsourcing IT services, it's critical to establish your objectives and set a budget. You can start looking into potential vendors once you are certain of your goals and your financial limitations. Search for vendors who have a track record of success, have experience in your business, and have received good feedback from past clients. Consider each vendor's experience, knowledge, and cost while making your decision. Finally, set the acceptance criteria for your vendor to avoid a mismatch between expectations and outcome.

When to use IT outsourcing services?

When a company lacks the resources or knowledge to finish a project internally or needs to cut expenses, it may decide to outsource IT services. Also, when a business wants to finish a project fast or when they want to access particular expertise that is not accessible in-house, outsourcing IT services might be a smart alternative. By taking advantage of the skills and resources of outside IT vendors, outsourcing can enable businesses to concentrate on their core business operations. Before making a choice, it's crucial to carefully weigh the potential risks and advantages of outsourcing.

What types of projects can I outsource?

Software development, web development, mobile app development, quality assurance and testing, support and maintenance, and other IT initiatives can all be outsourced. IT services outsourcing can be used for any project that does not require physical presence or specialized on-site hardware. The specific types of software projects that can be outsourced will depend on your company's objectives and goals, as well as the skills and services provided by the outsourcing provider.

Can I still choose an outsourcing model in case my company's or my clients' data is private?

Yes, even if your company or customer data is private, you can still turn to an IT outsourcing services company. However, it is critical to select an outsourcing provider with strong security protocols in place to ensure your data's confidentiality and integrity. It is critical to undertake due diligence on potential outsourcing providers before outsourcing any sensitive data to ensure that they meet your security and privacy needs. Clear and detailed contracts that outline the specific security measures that the outsourcing provider will implement to protect your data are required.

How much can development costs be reduced by using the services of an IT outsourcing company?

The amount of cost savings that can be obtained by using the services of an IT outsourcing company is determined by various factors, including the size and complexity of the project, the location and skill level of the outsourcing provider, and your specific demands. Businesses that outsource IT services might avoid investing in costly infrastructure, equipment, and personnel training while simultaneously benefiting from the outsourcing provider's expertise.

How to price outsourcing services?

Pricing outsourcing services can be a difficult procedure that requires careful consideration of numerous elements. The amount of expertise necessary for the service, the cost of labor and materials, the project's predicted length and complexity, the IT outsourcing services company's location are all important aspects to consider when pricing outsourcing services. It is also critical to consider the client's individual needs and budget, as well as any continuing maintenance and support expenditures.
Let us help with your project
Our specialists are here to help with your questions. Write us a message, and we will get back to you shortly.
The form was submitted successfully. We will contact you shortly. Meanwhile, we suggest checking out what our clients say about software development with Aimprosoft.
Proceed to Clutch
Featured in