Python Development Outsourcing Company
Outsourcing Python development is a beneficial option for businesses that need to cover the entire cycle of product development, from planning up to a successful release of the product. Years of experience both in the implementation of Python-based solutions and handling outsourcing projects gave us all the necessary knowledge to help you go through the outsourcing journey in a secure and challenge-free way.
Get started
scroll down to discover
Outsourcing Python development is a beneficial option for businesses that need to cover the entire cycle of product development, from planning up to a successful release of the product. Years of experience both in the implementation of Python-based solutions and handling outsourcing projects gave us all the necessary knowledge to help you go through the outsourcing journey in a secure and challenge-free way.
When to hire
When you need to outsource your Python project
You don't have enough in-house specialists

You want to delegate the tech part to focus on business one

There are strict deadlines that you want to meet

You lack tech expertise in managing product development

You want to avoid risks related to failed project release

You need to cut costs related to in-house development
WHAT WE DO
Python outsourcing development services we offer
Python serverless applications
Serverless development has emerged as a popular strategy embraced by numerous companies. By outsourcing Python development to our specialists, you can rapidly deploy cost-effective, data-driven services, gaining a competitive edge in the market. With a serverless app, you'll be able to optimize your resources efficiently.
ML-powered solutions
We help our clients undertake business optimization with ML. To create intelligent models, software algorithms that identify the best possible solution to the issue are used. On its basis, we apply machine learning closely connected to business metrics and prioritization of business objectives.
Data science solutions
The three most common uses of Python for large data analysis are searching, processing, and modeling. By harnessing Python's capabilities, we help get accurate predictive models that fuel industry-specific solutions, driving growth and success.
IoT solutions
Python can assist organizations in fusing established business models with innovations for larger gains in a number of areas. We build a wide range of Python-based IoT solutions that assist companies in enhancing analytics, obtaining more precise monitoring, and increasing production while minimizing time spent on labor-intensive operations.
Product modernization & functionality expansion
If your Python-based product no longer meets your business needs, outsourcing its renewal to get it back on track is the best solution to go for. We assist with software modernization by performing audits, identifying faults, and developing an optimization strategy. We also offer a feature set expansion to ensure your product can meet contemporary users' needs.
Development from scratch
The development from a mere idea is one of our most popular outsourcing cases. Businesses pick us because of our expetise, vast talent pool, and diverse Python portfolio. We assist with a project feasibility check, architecture and interface design, thorough testing, and other key activities to deliver a release-ready product.
Python dedicated teams
We help you assemble a team of our knowledgeable Python experts who will concentrate solely on your project, building the product that meets your vision and requirements. You can cut expenses for internal staffing and infrastructure by employing Aimprosoft specialized professionals.
Migration to Python
We help you migrate existing applications that are built using any programming language to Python-based apps while preserving the integrity of the business logic. Aimprosoft assists your company in applying advantageous Python features, designing a migration strategy, and successfully migrating your current software in a secure and challenge-free way.
Our focus
Industries we work with

eCommerce
We know how to use Python capabilities to build custom eCommerce solutions that help companies obtain the required agility and fast performance, streamline sales, win buyers' loyalty, and handle large streams of customers under a high load.

Healthcare
Outsource the development of your medical solution and leverage Python benefits to streamline hospital operations management, improve prognosis, eliminate medical error, develop tools for remote medical care, and much more.

IoT
Delegate the development of your solution to enhance your business operations. Using Python as one of the top technologies for IoT products, we build software for the analysis of large streams of data, real-time analytics, and others.

Real Estate
With our support, any kind of real estate software can be created. We assist in developing tools for tenants and landlords that streamline their tasks, such as property management systems, listing websites, analytics solutions, etc.

Education
Using Python, we can design LMSs, corporate portals, large-scale educational platforms, and other solutions. We provide outsourcing services to help businesses obtain data-driven insights, improve request handling, and embrace scalability.

Telecom
You can outsource to us building Python-based management tools, network systems, etc., boosting your market relevance, improving your ability to meet customers' needs, optimizing employee performance, and much more.
Retail
Empower your retail activities by creating software with Python. Whether it's inventory management software, PoS system, etc., we'll help you improve operational effectiveness, provide great CX, and create a 360-degree view of your service.

Your industry
The list of industries we have expertise in isn't limited to the mentioned ones. More than 18 years of providing outsourcing services have helped us gain knowledge in 16+ domains to be able to build your product from a mere concept.

Why outsource Python product development
You can choose Python software outsourcing to Aimprosoft and grow your business to achieve your objectives. To make the most of your internal resources, employ the external ones that you lack.
We need, at most,

1-3 weeks

to assemble the team for your project.
Outsourcing to Aimprosoft means you get

100% dedication.
We apply our vast expertise gained thanks to

600+ completed projects.
80% of clients

start a

long-term collaboration

with us.
You get

access to 350+ Aimprosoft specialists

to assemble a perfect team.
We provide

several outsourcing options

and are agile to adapt to your request.
You get the opportunity to

cut costs

since you save on operating expenditures.
We help you

concentrate on business goals

while we take care of the rest.
Empower your product by choosing out of

50+ technologies

in our arsenal.
Enhance your productivity

, following 57% of companies that already did it.
Our Python outsourcing software development process
This is an overview of our software creation process when you decide to outsource Python development services to us. We consistently improve our collaboration flow to keep the software journey seamless and challenge-free for you.
First touch
We always start our outsourcing journey with the examination of your concept, conducting the discovery stage upon request, creating requirements specifications, and designing the plan for our further cooperation.
Choosing an outsourcing model
There are several types of software outsourcing Python models, apart from the most popular project-based approach in which we take full responsibility for product creation and release. Based on your needs and resources, we'll help you select the best choice for your request.
Team composition
We will carefully assemble the team in accordance with the project specifications and charge you a fixed rate for the team, which is decided by the number and type of the specialist.
Let's get it started
The iterative software development process can start now since everything is settled. We are ready to begin our adventure into the implementation of your Python-based product at this point.
Getting ready
We will manage all organizational and administrative activities prior to the start of development, guaranteeing that you have a secure, efficient, and problem-free SDLC.
Hiring process
Once the team has been established, you can review its composition and evaluate whether it meets your needs precisely. Some of our clients choose to interview our specialists, which we always encourage so that everyone is on the same page.
Our best Python cases
Explore top Python projects outsourced to Aimprosoft.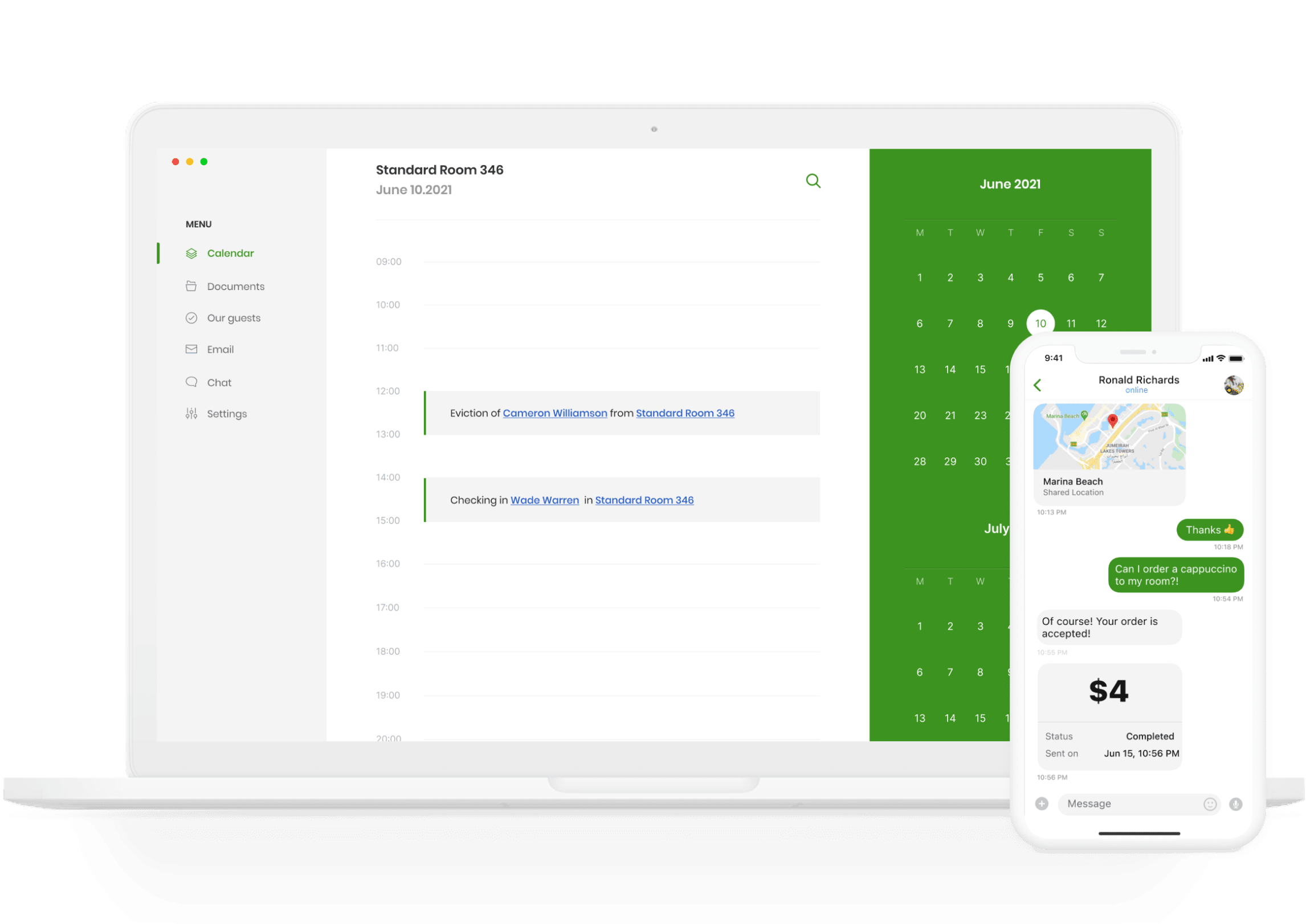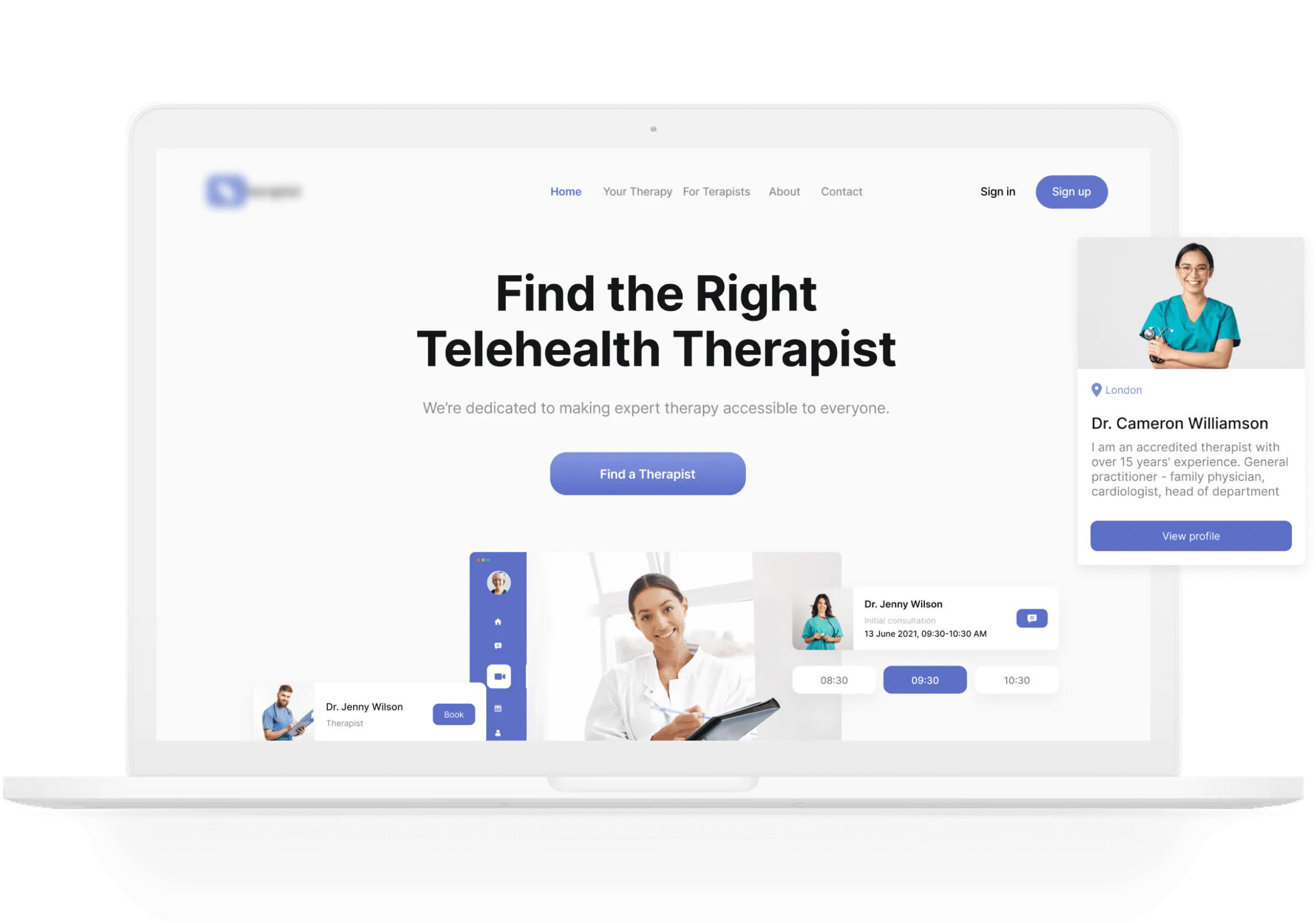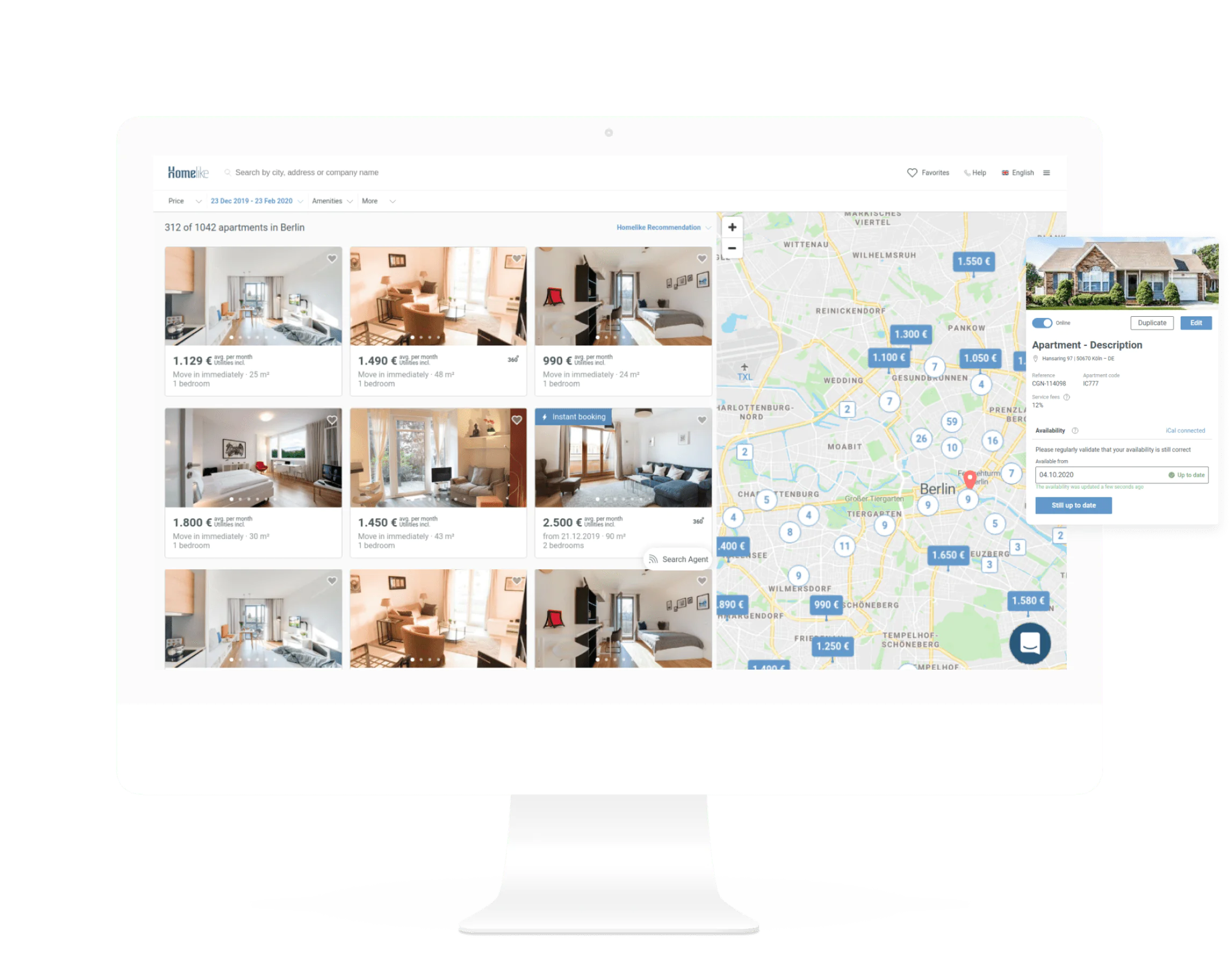 Platform for hotel and apartment complex management
Challenge: Our client decided to create a platform for communication between property managers and hotel guests via a website and mobile app. The idea was to create a feature-rich product that could easily beat the competition in the corresponding market niche and deliver a seamless CX to attract users. Our team had to implement the system from scratch, ensuring that managers had robust functionality to complete their tasks, such as tools for user, permissions and event management, real-time chat, smart alerts, and many others.
Solution: Apart from implementing core features, our team made numerous integrations with 3rd-party services to enhance the capabilities of the system. The server side of the product was written in Python to enable robust data processing. The design of event-driven microservices architecture improved the pace and cost of development. As a result, we created a prosperous real estate platform that received a high user satisfaction score. Also, by choosing Python development services outsourcing, the client gained great agility in terms of team scaling, which was highly required in the course of our long-term cooperation.
Modern web platform for patients and therapists
Challenge: The client went for our Python developers outsourcing to modify an obsolete PHP online platform designed to help users identify skilled therapists and ensure that medical specialists have tools they need to perform therapeutic services seamlessly. The main reason our customer opted to replace the tech stack was that the technologies that were initially used could no longer match the client's objectives due to technological constraints.
Solution: Python was chosen as the programming language, and the Django framework was chosen because it offers a variety of OOTB features, streamlining the development processes. Advanced therapist search, profile building and editing, consultation scheduling, and many other features were built by our team. Overall, the client was able to gain a sizable number of new users and increase the retention rate thanks to a new tech stack, which also enabled us to develop a cutting-edge solution. Moreover, by choosing to outsource, our client was able to hire the entire tech team from the very start of the product development and access a pool of skilled experts, saving both time and budget on recruiting activities.
HomeLike: online booking service for long rentals
Challenge: The client decided to outsource Python development to us in order to transform the out-of-date product because it was unable to meet the client's initial business requirements and attract new consumers. The ultimate client's objective was to ensure that HomeLike, a rental marketplace, can enable businesses and tenants to utilize the capabilities of a high-quality real estate service fully.
Solution: We developed tools for landlords to place their real estate options and manage them and functionality for tenants to book apartments. We also developed an admin panel, tools for agreement signing, and integrated the product with 3rd-party services and other booking platforms. Our developers built effectiveness evaluation models in Python to assess the performance of integrated advertising services. We managed to build a strong architecture that takes care of all issues related to the search and booking of apartments during business trips. Overall, we were successful in delivering a high-level product with a rich feature set that provides tools both for tenants and landlords. The service has raised $18.8 million as of today.
View project in portfolio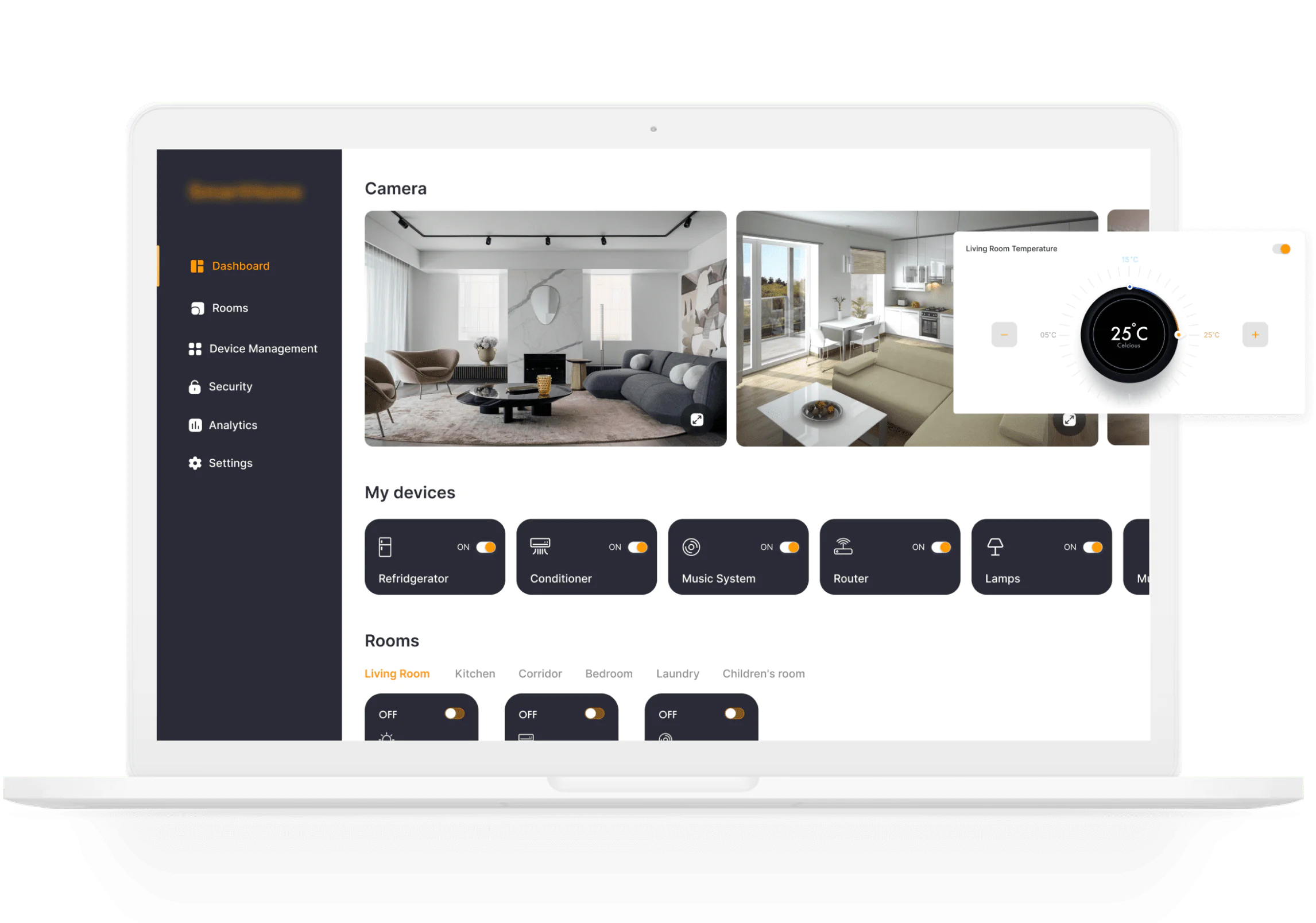 A complex IoT-powered smart home solution
Challenge: The client came to us for Python development outsourcing with the mere idea to develop a web platform that would consist of embedded software and cloud architecture for the client's in-house manufactured device, a web solution for users, and an admin panel. The client's goal was to create a solution that could respond to the demand for electricity consumption reduction by helping users manage their smart devices. Our team was tasked with creating a solution to integrate and manage IoT devices with smart meters, allowing customers to optimize energy consumption in their homes.
Solution: We used Python to create a centralized ecosystem of integrated IoT devices. It proved to be a wise investment for the future in terms of ML models for smart utility use and device control. We ensured that the developed platform connected user smart devices via 3rd-party APIs into one ecosystem and covered various tools so that users could view in the form of graphics, manage their devices, monitor changes, etc. As a result, our client received a complex solution that, thanks to its cutting-edge design, high performance, and user-friendliness, stands out in the market and facilitates the efficient management of smart home equipment.
Web frameworks
Tornado
Flask
Django
AsyncIO
Chalice
Serverless
AWS Appsync
AWS Lambda
FastAPI
Big Data tools
Pandas
Numpy
Spark
Scrapy
Message queues
RabbitMQ
Mosquitto
AWS SQS
SQL databases
MSSQL
MySQL
PostgreSQL
Redshift
NoSQL databases
MongoDB
DynamoDB
AWS Timestream
Redis
Amazon cloud services
Lambda
SES
SNS
ECR
ECS
IAM
Route53
ACM
SSM
EC2
CodePipeline
S3
RDS
Elastic Beanstalk
SAM
CloudFront
VPC
API Gateway
CloudWatch
CloudTrail
KMS
IoT
Cognito
Alexa
DMS
Cloud architecture languages
Cloudformation
Terraform
Terragrunt
AWS CDK
Amplify
Video streaming tools
AWS interactive video
MediaLive
Analytics tools
Grafana
IoT Analytics
Bugsnag
Mixpanel
Engagement models we offer
By selecting the best outsourcing strategy, you may go a lot closer to success. We value flexibility and can assist you in choosing a collaborative strategy based on your requirements, objectives, and needs.
The development team composed at Aimprosoft exclusively works on your project and closely engages with your team. All of the intended tasks are completed by the dates specified, and regular updates are provided. Businesses that choose the dedicated team model have total control over the team, can select and supervise team members as well as adjust the project's specifications and scope as necessary. This method provides you with access to a big pool of expertise, more control over the development process, and transparency throughout the whole SDLC in order to achieve quicker delivery times and better product quality.
When to choose this cooperation model
The project is considered long-term

You're looking for cost-effectiveness

You need flexible team scaling

The requirements may be evolving
It's a flexible outsourcing method in which the resources employed to build your project influence the cost of the development. While outsourcing product development services, this process enables greater transparency and control over the project's scope, budget, and timetable. The time & materials outsourcing model allows you to alter the project's requirements and give some tasks a greater priority in response to changing business needs. This approach allows you to easily scale the project up or down as necessary, avoid making significant upfront commitments, and only pay for the resources you really utilize. The benefit of this method is that it guarantees a lot of flexibility.
When to choose this cooperation model
Unclear or changing requirements

You expect variable project workloads

Project timeframe is unclear or long-term

You need a rapid SDLC start
This model presupposes that our team follows the specified development strategy and provides regular updates on task completion. You pay only a defined amount for a certain set of deliverables you obtain as a result. The approach is perfect for clients who are willing to pay in full because it gives excellent control over the project's costs and timeline. This cooperation model also helps to lower risks because you only pay for the agreed-upon results, regardless of the actual resources and time employed.
When to choose this cooperation model
Project requirements are defined

The project is small or medium-sized

Minimal client involvement required

There are strict budget constraints
While each outsourcing model has its advantages, there are times when a hybrid cooperation strategy with an outsourcing IT provider is desirable, especially when no other option will suffice to meet your needs. With this form of software outsourcing, market research, and analysis may be completed more quickly and at a lower cost. Additionally, it offers chances to lower development risks associated with evolving requirements, uncertain project elements, or unknown technological challenges.
When to choose this cooperation model
Projects with changing requirements

Variable workloads are expected

Lack of defined specifications

You need efficient risk control
Key reasons to choose Aimprosoft
for outsourcing Python development
Security and reliability

Our developers always follow a security and compliance-first approach when dealing with Python-based software development. To ensure that the developed solutions are strictly compliant with security standards and regulations, our developers go through training and compliance testing that proves their knowledge of the subject.

Timely project delivery

More than 600 completed projects allowed us to establish an ideal formula for timely product delivery. Since we know all development-related pitfalls inside out, we always take efficient preventive measures that help mitigate the risks of possible delays. Also, with our project management approach, we can provide our clients with a proper allocation of resources and completion of set tasks within a set deadline.

Full-cycle development

Thanks to a variety of skilled professionals, we can help not only revamp your underperforming or outdated solution but also breathe life into the mere concept. In the case of a full-cycle development, we can provide the entire set of services that are necessary for a successful product delivery, including business analysis, UX research, DevOps set-up, testing, and after-launch support.

Expertise that can empower your Python product

While we excel in providing Python development services, we can also go beyond them, enhancing your product. Our expertise extends to IoT, machine learning, and data science, offering you a diverse range of skills for your Python-based project. Whether you need software for smart IoT devices, ML-powered products, or solutions that provide valuable data insights, our comprehensive skill set helps us build modern solutions tailored to your needs.
Testimonials
Clients about Aimprosoft
FAQ
Frequently Asked Questions
What methods do you use to track the progress of a Python outsourcing project?

To track the progress of a Python outsourcing project, a combination of agile methodologies, project management tools, milestones, regular communication, version control systems, key performance indicators (KPIs), and CI/CD practices can be employed on our part. Milestones and deliverables ensure clear goals and checkpoints. Together, these methods and practices ensure effective progress tracking throughout the Python outsourcing project, ensuring seamless project monitoring, clear goal setting, prompt issues addressing, and risk mitigation.

What is the structure of a Python outsourced team?

Although there is no such thing as a standard team structure since all projects vary in terms of types, requirements, and complexity, there are certain specialists that our senior developer who leads our Python dev department considers an integral part of an efficient team. Firstly, based on his experience, it's vital to have a tech leader who is responsible for all tech decisions during development. Secondly, it's a must to have a software architect at the initial stages of product creation to design the system correctly. Apart from several experienced Python developers, you also need a PM who oversees the entire development process, communicates with the client, and ensures project success. Finally, the presence of a skilled team leader will ensure the great performance of the entire team so that everyone works as a unified mechanism.

What is the cost of outsourced Python development services?

A number of variables can affect how much Python programming services cost. These variables include the project's complexity, the expertise needed, the size of the development team, and the outsourcing company's location. Rates might range from fixed project-based expenses to hourly rates for individual developers. Compared to onshore possibilities, offshore vendors typically provide more affordable prices if you outsource Python development to them. To receive accurate cost estimates and achieve a balance between cost and quality, it's crucial to analyze the requirements and budget of your project thoroughly.

What are the primary advantages of outsourcing Python development?

Outsourcing Python development offers several primary advantages. Firstly, it provides access to a vast pool of skilled Python developers with expertise in various domains and technologies since they work on different types of projects on a constant basis. Secondly, outsourcing Python development often offers cost savings, as companies can leverage lower labor costs in offshore destinations. Lastly, outsourcing provides scalability, allowing businesses to easily scale up or down their development resources as needed, providing flexibility and adaptability to changing project requirements.

What kinds of applications can be developed with the help of an outsourced Python team?

An outsourced Python team can develop a wide range of applications across various industries. Python's versatility and extensive libraries make it suitable for developing web and mobile applications, including IoT systems, BI solutions, content management systems, etс. Python's capabilities in data science and machine learning enable the development of applications for data analysis, predictive analytics, and recommendation systems. The flexibility and robustness of Python make it a powerful tool for developing diverse applications that cater to specific business needs.

Is there a high demand for Python development in 2023-2025?

Yes, there is a high demand for Python development that continues to grow. Python has consistently gained popularity among developers and businesses due to its simplicity, versatility, and extensive ecosystem of libraries and frameworks. Its applications range from web development and data analysis to machine learning and artificial intelligence. With the increasing adoption of these technologies across industries such as finance, healthcare, and e-commerce, the demand for Python developers is expected to remain strong. Additionally, the growing emphasis on automation, data-driven decision-making, and digital transformation further fuels the need for Python development.

Why should I consider outsourcing Python development services to Aimprosoft?

Apart from vast expertise in software development, a large talent pool, and a flexible cooperation approach, one of the main reasons to outsource Python development to us is the fact that our Python developers always aim to deliver high-quality code considering all the best practices to achieve this goal. They have multi-faceted expertise in Python product implementation thanks to a wide range of developed products, a vast tech arsenal, and experience working on outsourced projects from a mere idea.
Let us help with your Python project
Our developers are here to help with your questions. Write us a message, and we will get back to you shortly.
The form was submitted successfully. We will contact you shortly. Meanwhile, we suggest checking out what our clients say about software development with Aimprosoft.
Proceed to Clutch
Featured in