Web Development company in San Antonio
We've been developing a wide range of web-based products for more than 18 years. Having acquired vast expertise in Web Development, we have all the required resources and knowledge to implement a web solution of any complexity and for any domain. Having a profound understanding of web development best practices, we can dynamic web solutions that will help businesses from San Antonio achieve the desired business objectives and meet their needs.
Get started
scroll down to discover
We've been developing a wide range of web-based solutions for more than 18 years. Having acquired vast expertise in Web Development, we have all the required resources and knowledge to implement a web solution of any complexity and for any domain. Having a profound understanding of web development best practices, we can create dynamic web solutions that will help businesses from San Antonio achieve the desired business objectives and meet their needs.
WHAT WE DO
Web Development services we provide in San Antonio
Web platform creation
In addition to web pages, we also develop reliable web platforms. Using popular technologies and programming languages such as HTML5/CSS3, Java, JavaScript, Python, Node.js, PHP, and others, we build solutions according to a confirmed strategy and best practices that ultimately help our customers thrive and enable their business development.
Internal web solutions
As a web company, we strive to assist businesses in San Antonio streamline their operations. We build corporate portals, Alfresco solutions, Liferay extranets and intranets, and many others. We fully cover the development of custom portals and the upgrade of outdated software so that you can obtain tools for efficient communication.
Integration with third-party services
Aimprosoft software engineers can help businesses from San Antonio incorporate a wide range services to boost their operations. Whether the integration is enhanced analytics, gathering of valuable insights, payment gateways, etc., the tools integrated by us will help you decrease your spending instead of creating sophisticated functionality from the ground up.
PWA implementation
If case you want to transform the standard website browsing experience, PWA development is the right choice to consider. Streamlined web page load, push notifications, offline access, all these beneficial features, and the lack of necessity to download the application can help companies from San Antonio to decrease user churn and easily meet the needs of current customers.
Web design
Our IT firm isn't limited solely to Web Development services. We also provide web design as a service to companies from San Antonio. By developing a top-notch design for a wide range of domains, such as real estate, telecom, healthcare, e-learning, etc., helping companies build challenging products and find their true potential.
Product audit & modernization
As a Web Development agency, we offer solution modernization services to transform obsolete web solutions. We help companies from San Antonio analyze the state of software decay, spot gaps that require improvements, complete code refactoring, and create an in-depth optimization plan to ensure they can obtain the fixed solution.
Our focus
Industries we work with

eCommerce
Our Web Development company designs multifaceted online stores, B2B platforms, and marketplaces that provide businesses in San Antonio the opportunity to improve their sales, improve retention, and attract potential customers.

Healthcare
Our Web Development specialists help healthcare companies in San Antonio create tools for the digitization of disorganized, time-consuming activities, software for efficient remote medical care , self-monitoring apps, and much more.

IoT
We build IoT platforms for businesses from various sectors so that they could get tools for streamlined data collection, insight gathering, operations automation, etc.

Real Estate
At our Web Development firm, we build property management systems, rental marketplaces, and real estate platforms for businesses from San Antonio to help them provide tenants and landlords with tools for challenge-free activity completion.

Education
By implementing educational platforms, tutor apps, corporate portals, and other e-learning products, we guarantee the transformation of educational activities and help simplify their management.

Telecom
We build corporate portals, BI solutions, customer self-service platforms, and other systems that can help telcos revamp internal processes and upgrade the quality of services they provide.
Retail
As a Web Development in San Antonio, we create solutions for store management, omnichannel retail platforms, document management systems, and other retail applications to ensure businesses can provide high-quality customer experience, automate manual processes, and enhance competitive advantage.

Your industry
If your industry isn't on the list, we still got you covered. We have all the resources to realize your idea since 18+ years of market presence allowed us to gain expertise in more than 16 niches .

Top 3 reasons to invest in Web Development
Increased revenue
Because of their antiquated, ineffective, and underperforming web solutions, businesses frequently fail to achieve the intended level of user retention and sales. The decision to modernize an existing product can assist in achieving the envisioned results. We use best services_type practices to assist businesses from geo, including analysis of the product's gaps and underperforming areas, the development of the corresponding optimization plan, integration with cutting-edge third-party services, an extension of existing functionality.
Improvement of internal operations
If you wish to exceed the state of the current internal operations of your firm, the creation of an effective corporate web solution is the right option to deliberate. Our web designers and web developers create cutting-edge corporate portals, content management systems, feature-rich web platforms, and other kinds of web products that can computerize key activities of your agency. The developed solution will help you optimize various business operations, reduce manual and repetitive tasks, increase employee productivity, and much more.
Proper brand representation
You may effectively represent your brand by investing in services_type. Its best to avoid wasting time and follow the crowd in a world where a rising number of organizations from geo are undergoing a digitization journey to uncover their real capacity. At Aimprosoft services_type firm, our web designers and developers work with businesses to produce scalable, fault-tolerant product architectures, modern, intuitive UIs, and web products that accurately represent the true essence of the brand.
Web Development process with Aimprosoft
At Aimprosoft Web Development form, we can complete all stages that form the entire SDLC to ensure this journey is risk-free for businesses from San Antonio.
Discovery phase
We examine the idea of your web solution , conduct consulting , perform requirements gathering , design project strategy, create a basic visual design, and plan your project development.
Business analysis
After that, our specialists will design a detailed requirements specification , identify the scope and main business objectives, and create a detailed time and cost estimation.
UI/UX design
As soon as the previous step is completed, our UI/UX team will complete in-depth research and create a contemporary and user-friendly product's UI considering the needs of the users.
After-launch support
Our Web Development company can also assist with the maintenance of your solution once it's released and provides functionality expansion services if necessary .
Deployment
At this stage, we move the tested solution to production once your product is ready for release.
Iterative app development
Throughout the SDLC, our PM and testers will ensure that the product is designed without going beyond the set deadline and budget .
Software architecture design
Our software architect will choose the most suitable architectural approach and tech stack, and our web developers will build the product's core.
Web solutions we developed
Check out our expertise in web solution design and development.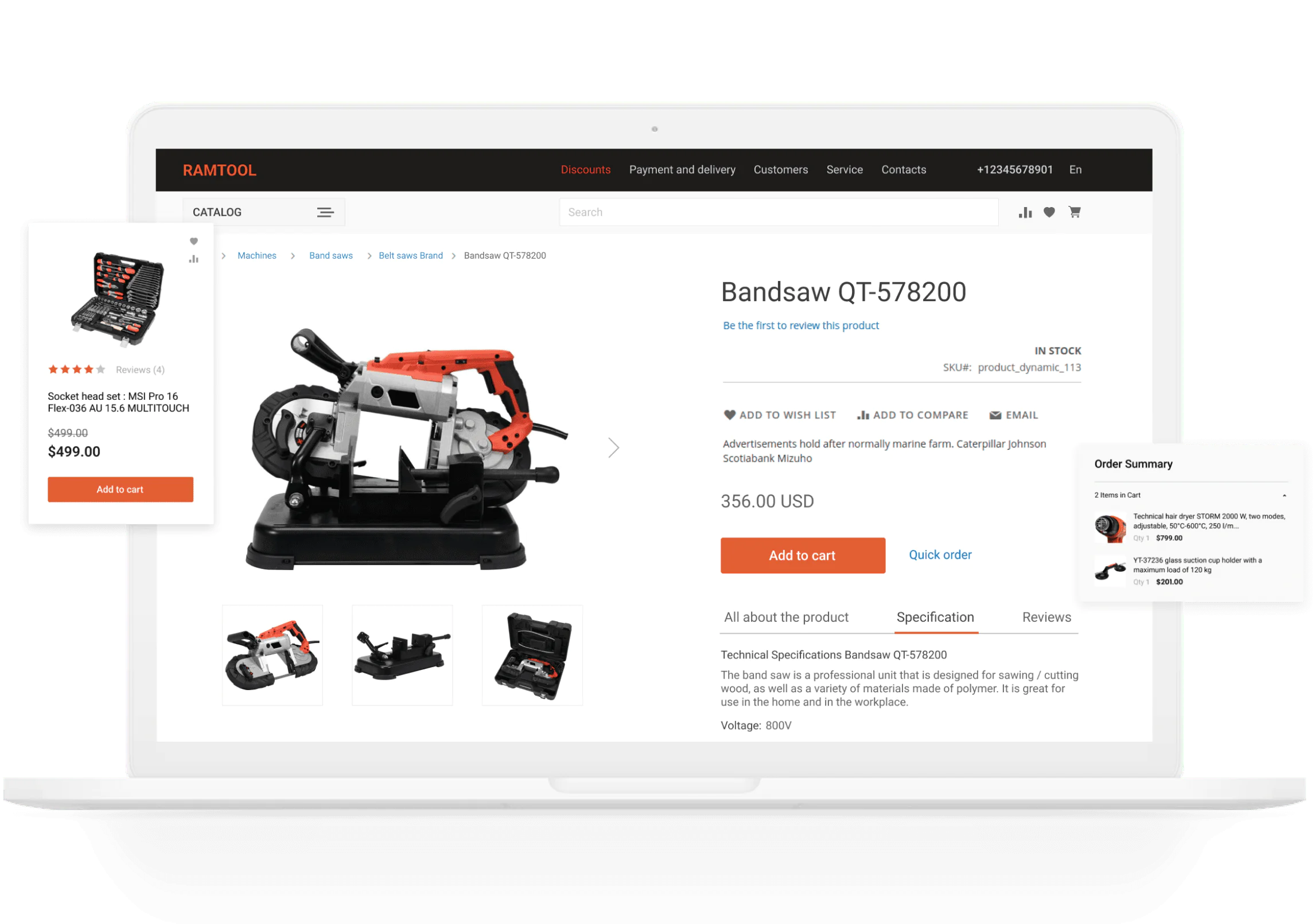 Ramtool: Magento-based website that sells construction supplies
Challenge: The client has several e-commerce websites. They opted for our Web Development services to deploy one more В2С online store that sells tools, this time Magneto-based, and make it a full-cycle sales website.
Solution: Our Magento developers implemented a B2C store from scratch and ensured the created website had all the required tool set for a streamlined CX, such as product search embedded with a wide range of filters, product categories, ability to add the product to a wishlist, integration with the payment system, email newsletters, etc. Moreover, our team developed an admin panel for convenient user and order management. As a result, we created an online store that provides a seamless buyer experience and helped our client increase revenue with the help of one more eCommerce store in the chain.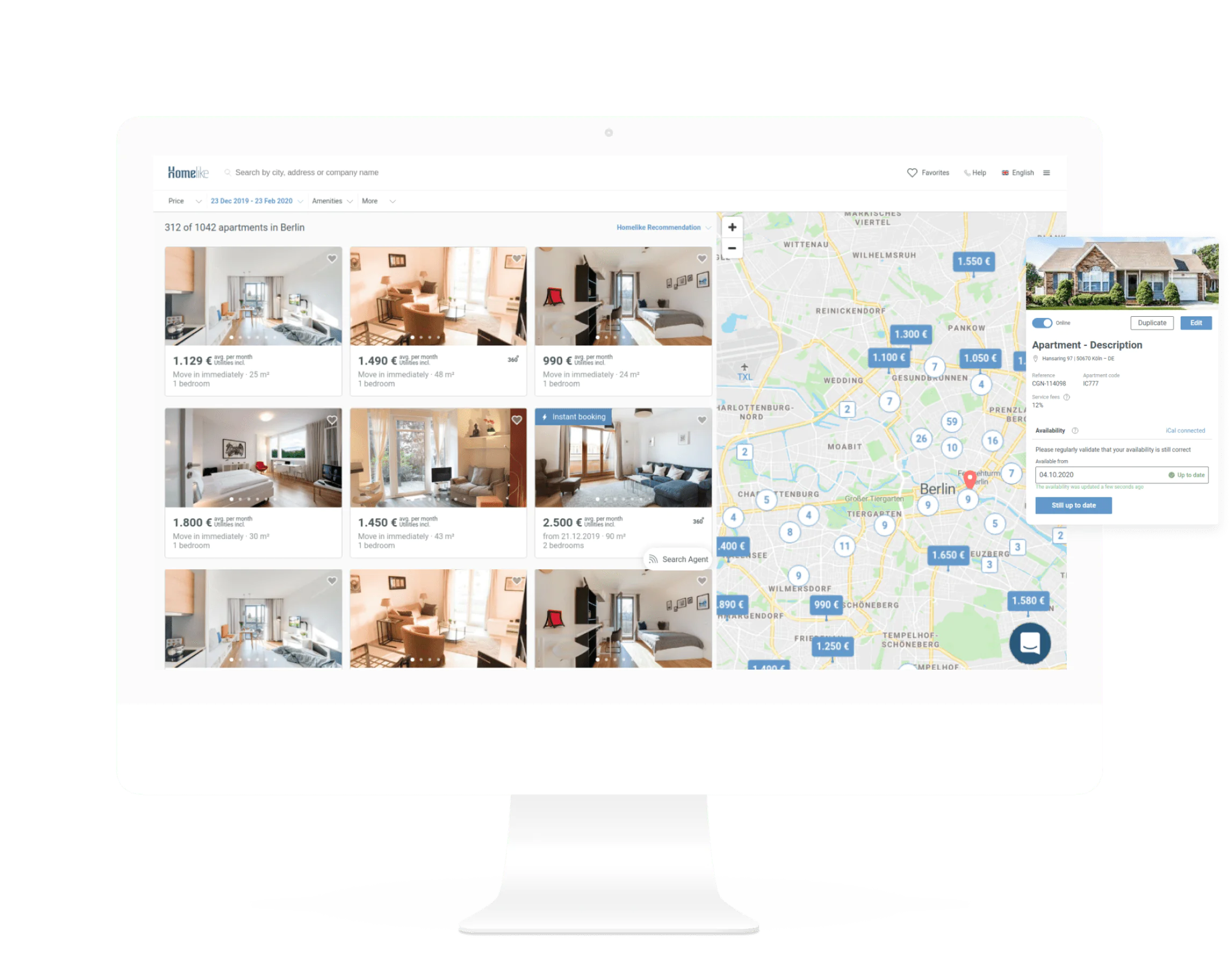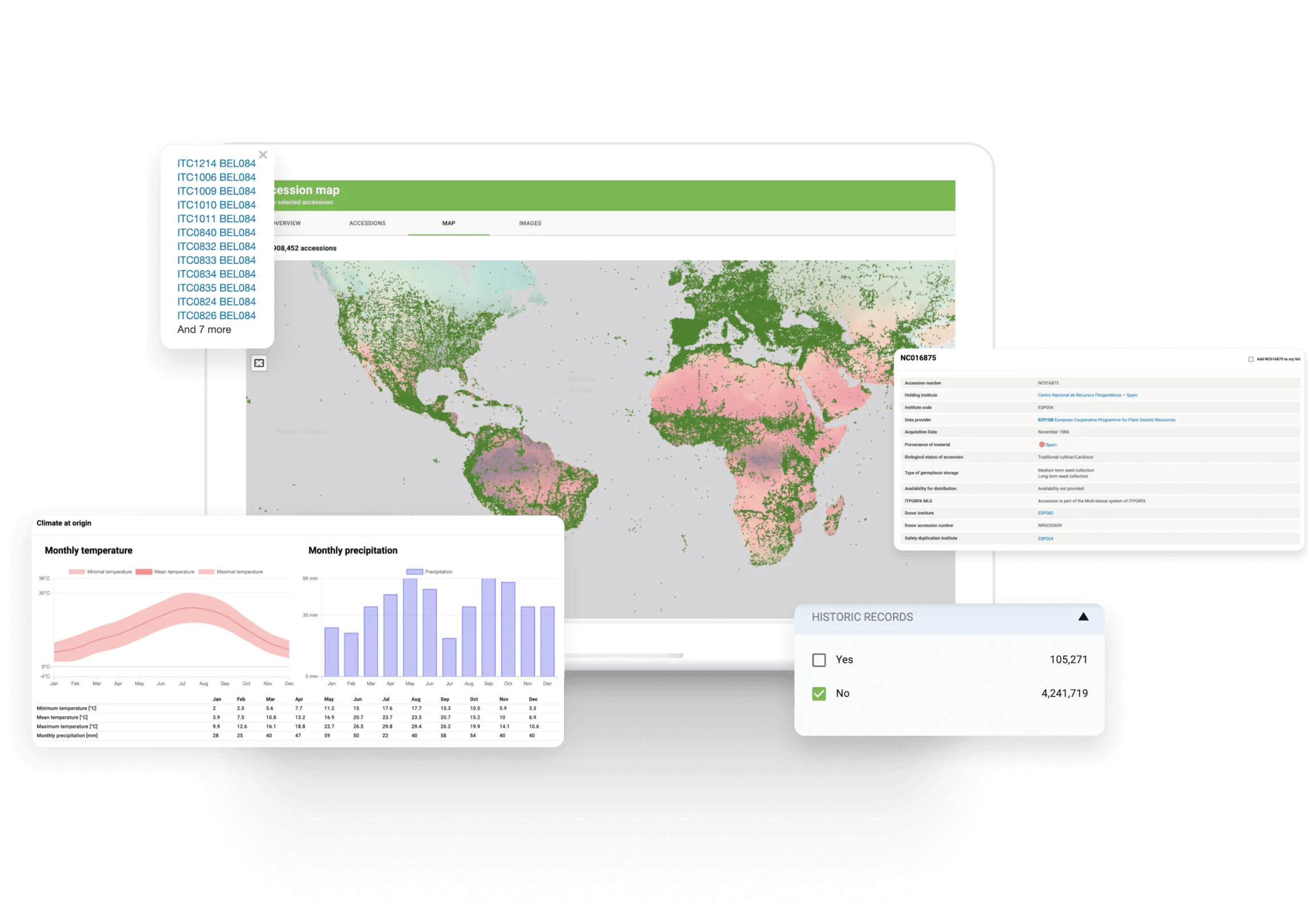 HomeLike: online booking service for long rentals
Challenge: The platform is a corporate rental platform that allows companies and tenants to take advantage of the functionality of real estate services fully . The client's requirement was to transform an outdated rental marketplace, redesign its business logic, and expand its feature set.
Solution: Our web developers built various tools for landlords so that they could place their offers and manage them conveniently and created functionality for tenants to let them search for apartments and book them. They also created an admin panel for the platform's managers, developed tools for agreement signing, and enabled integration with multiple third-party services. As a result, we created a platform that is rather helpful for tenants as it takes care of all challenges related to the search for apartments. Landlords, in turn, obtained a secure and reliable platform where they could safely place their options .
Genesys PGR: web platform for crop diversity exploration
Challenge: Genesys is an online platform that provides data about Plant Genetic Resources for Food and Agriculture (PGRFA) conserved in genebanks worldwide . The client turned to our Web Development company with the request to transform an outdated PHP-based website into a robust platform using Java capabilities . Our main objective was to keep the data safe and the website fully functional during the upgrade process.
Solution: With the developed functionality , we connected two main groups of users: data providers (genebanks) and those who exploit the provided data (breeders, researchers, and policymakers). After the product modernization , the solution became a centralized entry point through which users can access data from genebanks for a variety of purposes. Our productive collaboration with the client resulted in the creation of a highly functional international web platform of global importance.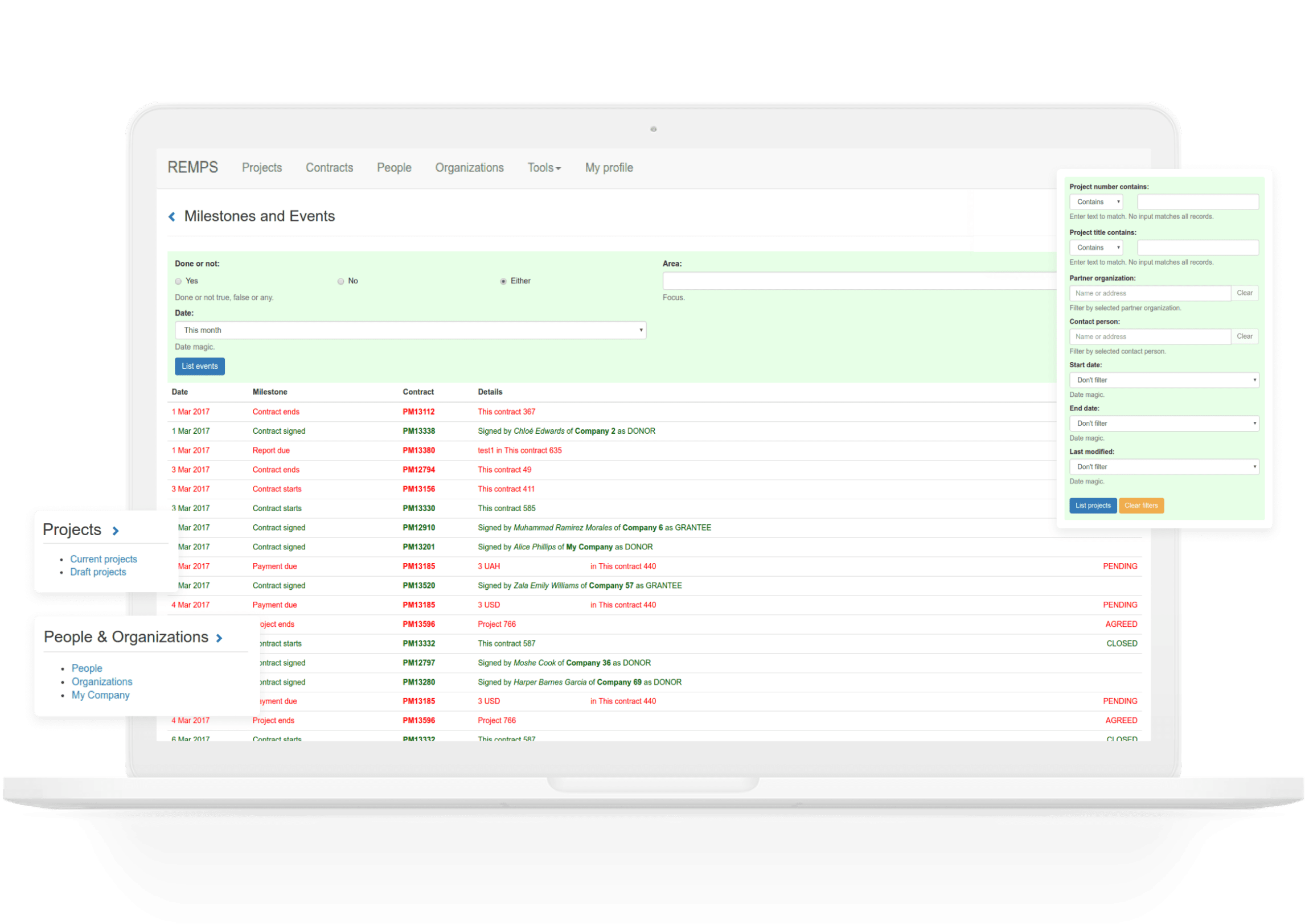 REMPS: efficient solution for projects and contracts management
Challenge: The project is a corporate system for managing projects and contracts and tracking the execution of the work. The client turned to our Web Development firm with a request to create a solution that stores the data about companies that engage in projects and helps manage information about business cards of the staff of each organization.
Solution: Our web developers created a solution that allows users to set the schedule for payments and reports. It helps monitor the status of payments and reports and sends alerts about the expiration of their terms. They ensured that users could change the status of the project and contract depending on the stage of execution. To make the search for the necessary project, contract, person, or organization more simple , our team implemented different filters that help find the necessary data by a single attribute or by multiple attributes at the same time . The system turned out to be a reliable tool that helps benefit from automated and easily executed business activities . It helped our client significantly improve employee productivity since contract and project management accelerated by at least three times.
Programming languages
PHP
Java
Python
JavaScript
Frontend frameworks & libraries
React.js
Angular
Vue
Ember.js
Java Portlets
Native.js
jQuery
Backend platforms, frameworks & libraries
Node.js
Laravel
Express
Tornado
Flask
Django
Spring
Nest
Styling
CSS
Sass
SCSS
Bootstrap
Materialize
Databases
Microsoft SQL Server
Oracle
MySQL
MongoDB
PostgreSQL
Search engines
ElasticSearch
Apache Solr
Amazon cloud services
Lambda
SES
SNS
ECR
ECS
IAM
Route53
ACM
SSM
EC2
CodePipeline
S3
RDS
Elastic Beanstalk
SAM
CloudFront
VPC
API Gateway
CloudWatch
CloudTrail
Deployment tools
GitLab CI/CD
Docker
Jenkins
Kubernetes
Analytics tools
Grafana
IoT Analytics
Bugsnag
Mixpanel
Unit testing tools
JUnit
Spring Tests
Mockito
Jest
Jasmine
Mocha
Karma
Chai
Engagement models we offer
You can get a lot closer to success by choosing the ideal engagement approach. We place a high priority on flexibility and can help you choose a collaborative strategy based on your requirements, objectives, and needs.
According to the approach, the Web Development team established at Aimprosoft exclusively works on your project and closely collaborates with your team. The set completion dates for all of the planned tasks are met, and constant updates are given. Firms from San Antonio who choose the dedicated team stretagy have complete control over the team, including the ability to hire and manage team members as well as change the project's requirements and scope as necessary. In order to achieve faster delivery times and better product quality, this approach offers you a high level of collaboration , access to a large pool of experts, and transparency throughout the whole SDLC .
When to choose this cooperation model
Long-term and complex projects

Solutions with altering requirements

You need flexible team scaling

There is no plan to sustain an in-house team
It's a flexible strategy where the cost of the web development is determined by the resources used to create your project. This methodology allows for greater transparency and control over the project's scope, budget , and timeline while outsourcing Web Development services. With the time & materials model, you can adjust the project's specifications and assign tasks a higher priority in accordance with shifting business demands. With this strategy , you can easily scale the project up or down as needed, avoid making large upfront commitments, and only pay for the resources you really need . This approach to outsourcing Web Development services has the advantage of ensuring significant flexibility.
When to choose this cooperation model
Project scope may potentially change

Clear project specifications are lacking

Project is planned to be long-term

You require rapid SDLC start
According to this approach , our team adheres to the defined development plan and gives regular updates on task completion. Based on the specifics of this approach, you have to pay a pre-agreed price for a particular set of deliverables . This strategy of Web Development services outsourcing provides great control over the project's expenditures and timing, making it ideal for customers from San Antonio who are ready to pay upfront. This strategy also can help reduce risks.
When to choose this cooperation model
Project specifications are clearly defined

You don't need high agility of processes

Small and short-term projects

You're planning to design an MVP
While many Web Development outsourcing models have particular advantages , there are instances when a hybrid collaboration strategy with an IT company is preferable, particularly when no other solution is adequate to fulfill your requirements. This kind of model allows for quicker market entry as well as time and cost savings for market research and analysis. On top of that , it provides opportunities to lower development risks while providing significant financial benefits.
When to choose this cooperation model
Projects with substantial scope

Feature set will most likely change

Lack of clearly determined specifications

Project is either a medium or large-scale
Key reasons to choose Aimprosoft
for Web Development in San Antonio
We advocate a proactive approach

We provide timely updates to our clients from San Antonio by anticipating possible difficulties before they appear, significantly lowering waiting time, and enhancing productivity. Our proactive approach helps us keep ahead of developing trends and provide our clients with modern solutions. By deciding to partner with us, you can be confident that you will be working with professionals that are committed to providing outstanding services and support during our entire cooperation.

Timely project delivery

With over 600 projects designed, we managed to form a proven formula for fast product delivery. We always take efficient preventive actions that help limit the risks of potential delays because we are well-versed in all development-related problems. Also, with our project management strategy, we can provide our clients with transparent resource allocation and fulfillment of set tasks within a set timeframe.

Ability to cover all your needs with full-cycle development

We can help not only revamp your underperforming or legacy solution but also build the product from scratch, thanks to 350+ skilled professionals on board. We can provide the full range of services necessary for a successful product delivery if you choose full-cycle development that encompass business analysis, UX research, creation of catchy UI, DevOps set-up, exhaustive testing, development using modern best practices, and after-launch support.

Stability is our key priority

As a Web Development company, we guarantee our clients the seamless and reliable cooperation they expect from us when opting for our web services. On top of that, you obtain stability and data security by partering with us. Furthermore, we can keep afloat even in the most difficult conditions. The figures speak for themselves: we kept 100% of our clients in challenging 2022.
Testimonials
Clients about Aimprosoft
FAQ
Frequently Asked Questions About Web Development in San Antonio
Why should I choose Aimprosoft as my Web Development development company in San Antonio?

Aimprosoft is the right software vendor when it comes to Web Development services since we have more than 18 years of experience in providing them. On top of that , more than 350 of our professionals on board gives you access to different types of tech specialists, which means you can assemble the entire dev team to cover all steps of software development . Finally, a 4.7 client satisfaction score makes us a trusted and reliable vendor that has an established approach to software development in a time and cost-efficient way.

How to hire a Web Development developers in San Antonio?

There are several key aspects to consider: the presence of a portfolio with cases similar to your product , level of expertise with necessary web technologies, testing tools, and relevant to your project skills, and a problem-solving approach. During the tech part of the interview, the developer should clearly answer what the benefits of your project's key technology over other similar technologies are and when it should be used, as well as explain what the pros of this key technology are, particularly for this developer. Finally, test the capabilities of the specialist in practice by assigning a small test task that will show how the developer approaches task completion, the way they aim to solve the issue, etc.

What is required to start a Web Development project?

To start the web project successfully, it's essential to begin by clarifying your project's objectives , target audience , and anticipated outcomes . Comprehensive market research will help you understand your industry, competitors, and user needs, enabling you to design a compelling strategy. Define the scope, features, and content of your project, aligning them with your budget . Decide on your development approach — whether it's an in-house team, a Web Development agency, or a hybrid model, and select a suitable technology stack.

Do we sign an NDA document for my project?

Yes, we sign non-disclosure agreements (NDAs) with our clients from San Antonio to safeguard their confidential information and intellectual property. We realize the importance of protecting the confidentiality and security of our client's data, and we take this responsibility very seriously. We are committed to delivering a secure environment for our clients' projects.

How much does Web Development cost in San Antonio?

The cost of web development can vary significantly based on several factors, such as the complexity and scope of the project, the employment approach, the level of expertise required from the web specialists , and the specific services requested. Outsourcing to offshore countries with lower rates may generally result in lower overall project costs. Moreover , different pricing models can be employed, such as fixed-price contracts, time and materials rates, or milestone-based payments.

How can I track the progress of a project?

To track the progress of your Web Development project, a combination of agile methodologies, project management tools, milestones, constant communication, version control systems, key performance indicators (KPIs), and CI/CD practices can be employed on our part. Milestones and deliverables ensure clear goals and checkpoints. Together, these methods and practices ensure effective progress tracking throughout the development of your web project, providing seamless project monitoring, clear goal setting, prompt issues addressing, and risk mitigation.

What types of companies do you work with in San Antonio?

Almost two decades of IT market presence allowed us to gain profound expertise in completing projects for organizations of different sizes, specifics, and related to a wide range of domains. We can help startups create projects from a mere idea by starting with the discovery stage and MVP creation, as well as SMBs with the project functionality expansion or transformation of underperforming or legacy systems. Moreover , we have experience in collaborating with enterprise-grade companies by expanding their sophisticated systems, integrating lacking components, building additional modules, etc.

How to choose the right company for Web Development in San Antonio?

Choosing the right Web Development partner requires thoughtful consideration. Start by evaluating their expertise in web development, specifically in the technologies and frameworks relevant to your product . Review their portfolio and client testimonials to assess the quality of their work and their ability to deliver projects successfully. Smooth and constant communication is crucial , so ensure the outsourcing partner has effective communication channels and a responsive team. Finally, engage in detailed discussions and conduct interviews to evaluate their understanding of your project and their ability to meet your objectives and deadlines.
Let us help with your web project
We are here to assist with your questions. Write us a message, and we will get back to you shortly.
The form was submitted successfully. We will contact you shortly. Meanwhile, we suggest checking out what our clients say about software development with Aimprosoft.
Proceed to Clutch
Featured in