Front-end Development Company
If you're looking for a team that will build a stunning layout for your product and ensure that it provides an engaging user experience, then we've got you covered. By leveraging the capabilities of modern frontend technologies, including JavaScript, Angular, Vue, React.js, and others, selected depending on your project specifics, we'll develop the client side of your product, making sure you get a competitive solution that can meet the needs of the most demanding audience.
Get started
scroll down to discover
If you're looking for a team that will build a stunning layout for your product and ensure that it provides an engaging user experience, then we've got you covered. By leveraging the capabilities of modern frontend technologies, including JavaScript, Angular, Vue, React.js, and others, selected depending on your project specifics, we'll develop the client side of your product, making sure you get a competitive solution that can meet the needs of the most demanding audience.
When to hire
When you need to collaborate with a front-end development company
You lack the necessary in-house front-end developers

You want to delegate the design of the client side to focus on the business side

You want to be able to scale up and down your team easily

You lack expertise in product development

You need a guarantee of a successful project release on time

There is a need to lower costs associated with internal development
WHAT WE DO
Front-end development services we provide
Web platform development
Apart from frontend website development and creation of landing pages for promotional goals, we also build feature-rich and scalable web systems. Using Angular, Vue.js, React.js, Next.js, and other technologies pertinent to building contemporary web platforms, we create catchy user interfaces that can offer a positive UX and bring you closer to the set business objectives.
Corporate web solutions
We assist in enriching your product with an easy-to-use and convenient interface. We create internal solutions both from scratch and using the OOTB capabilities of Alfresco and Liferay platforms which are best-fit choices for corporate systems. We ensure optimized performance and high interactiveness that will help engage users, enhance productivity, and adapt to future growth.
Progressive web app (PWA) creation
With our expertise and ability to leverage the latest frontend technologies, we can assist you in the creation of a PWA that can offer seamless experiences across devices. By providing offline access, push notifications, and app-like interactions, our PWAs ensure enhanced user engagement and increased conversion rates.
Single-page app (SPA) development
Our frontend developers are there for you if you need to create a dynamic web application that will provide quick page content updates without refreshing the full page. With this frontend development service, we assist in the development of SPAs utilizing cutting-edge technologies so that you can captivate your audience with incredibly seamless interaction.
Migration services
We can assist you in advancing your product via a migration process. Our teams can migrate your product from out-of-date libraries, like jQuery, negating the need to develop the solutions from the ground up. We conduct migrations from Angular.js to the most recent version of Angular, as well as transitions to cutting-edge frameworks like React and Vue.
Product modernization & functionality expansion
By entrusting our team with the product's upgrade, you can give your out-of-date solution another chance. We can evaluate the structural decay of your product, find any weak points in its interface, and create an optimization strategy to change its outer side. Additionally, we can expand its functionality to enhance the solution's potential.
Development from scratch
The creation of a product from the mere concept is one of our most common frontend development cases. Businesses pick us because of our extensive experience, vast talent pool, and varied frontend portfolio. To provide a release-ready solution, we assist with a project viability check, tech stack consulting, interface design, thorough testing, etc.
Consulting & code audit
Not sure which frontend stack is the best option for your product? By completing an in-depth request evaluation and choosing the appropriate tech stack based on the results, our tech experts can assist you. Also, if you are having problems with your current application's performance, page load time, or other issues, you can opt for our code audit services.
Real-time app development
We provide real-time front-end development services, creating responsive apps that offer quick data updates and flawless user interfaces. With our expertise, your app will be dynamic, engaging, and enriched with features like live chat, notifications, and real-time messaging. In case you want to empower your product with ML, our team can assist with it as well.
UX/UI design services
In addition to our proficiency in frontend programming, we also provide web design services. For companies in a range of industries, including eCommerce, healthcare, education, real estate, and others, we design appealing user interfaces and practical user experiences that cater to the demands of your TA.
Cross-browser development
We strongly believe that any website needs to be easily accessible regardless of which browser your users are leveraging. With our expertise, we ensure that your web product functions seamlessly across various browsers and devices and provides exceptional UX to all website visitors without causing any compatibility issues.
Our focus
Industries we work with

eCommerce
Our extensive experience as a frontend software development company allows us to build interfaces of online stores and marketplaces that can help businesses grow their revenue, attract new customers, and increase retention.

Healthcare
Our front-end developers help medical businesses go digital by creating solutions for patients to conduct self-monitoring, platforms for medical organizations to automate their routine tasks, vivid promotional websites, and many others.

IoT
We help build convenient interfaces for IoT-powered web platforms that can assist business owners in a variety of industries in effective data gathering and processing, real-time analytics, convenient monitoring of environmental conditions, and so on.

Real Estate
We build the client-side part of real estate solutions that automate tasks of property managers, tenants, and landlords, including property management systems, rental marketplaces, real estate platforms, and other types of real estate solutions.

Education
We develop the front side of educational platforms, LMS systems, corporate portals, and other e-learning solutions, helping digitize educational processes, automate time-consuming tasks, and make educational resources available from anywhere.

Telecom
Our front-end developers use modern technologies to build the interfaces of corporate portals, BI solutions, DMS systems, etc., that can help telecom companies increase the efficiency of their operations, revamp workflows, and improve the provided services.
Retail
We can create retail platforms, store management solutions, and other modern retail digital solutions that help deliver superior consumer experiences, boost operational efficiency, and stand out in a competitive environment easily.

Your industry
If your domain isn't on the list, we still got you covered. Since we have been offering frontend development services for almost 2 decades, we have gained expertise in more than 16 different fields and have tools to build a convenient interface for your product.

Why invest in frontend development
Maximize your internal resources and meet your company's goals by opting to collaborate with Aimprosoft web frontend development company. By utilizing our external resources, you can fill any existing gaps and expand your capabilities.
By investing in proper front-end development with us, you can enhance UX,

increasing the conversion rate

significantly.
You get

access to 135+ Aimprosoft frontend developers

to assemble the right team.
We help you build a catchy interface and attract more TA considering

94% of first impressions of websites are design-related.
We can apply our vast expertise gained thanks to

600+ completed projects.
We have

90 full-stack specialists,

which means you can cut costs and develop both the client and server side of your product.
With a trusted front-end vendor like Aimprosoft, you can

reduce risks and speed up development.
Empower your product by choosing out of

50+ technologies

in our arsenal.
A correctly designed frontend helps

increase ROI

by delivering a positive experience to your audience.
You can

improve your brand perception

by delegating the development of a high-quality interface.
We need

from 1 to 3 weeks

to assemble a team of dedicated front-end developers to work on your project.
Our frontend development process
This is how our collaboration will proceed if you decide to outsource front-end web development services to us. In case you decide to choose another cooperation strategy like outstaffing, the SDLC will be adjusted accordingly to provide you with a seamless software creation experience.
Discovery phase
Before the start of frontend application development, we begin by examining the specifics of your request. Next, we conduct consulting, compile requirements, define a project strategy, and schedule further steps of our collaboration.
Business analysis
Our BA then creates a comprehensive requirements specification, evaluates the project's scope, establishes key business objectives, identifies risks, and makes a time and cost estimation.
UI/UX design
Then, based on the requirements of your potential target audience, our design team will perform extensive research and develop a contemporary and user-friendly app's UI and convert it into a convenient format for our front-end developers.
Deployment and after-launch support
We move the tested solution to production as soon as your software is prepared for release. We can also assist further with feature set expansion and post-production support if necessary.
Iterative development
We offer project management and QA services throughout the full product development process to guarantee that the solution is built within the designated timeline and budget. We use Agile methodologies, according to which you can see results every fixed period of time and give feedback.
Software architecture design
Our software architect will now specify and recommend the best frontend technology stack and architectural approach, determine whether the selected option fits your case best, and our engineers will create the app's core.
Our top cases with efficiently implemented front-end
Explore best Aimprosoft solutions with a robust client side of the product.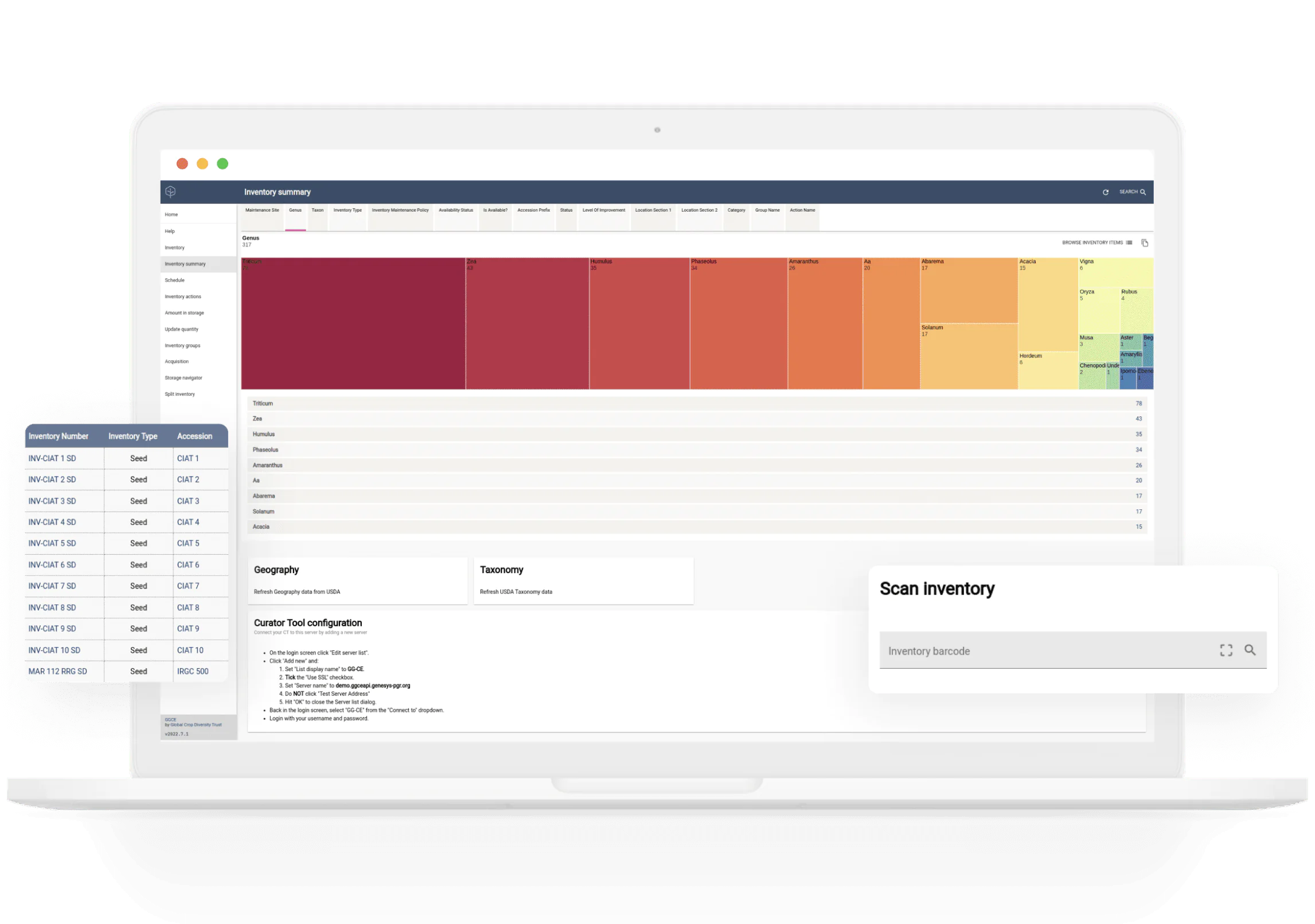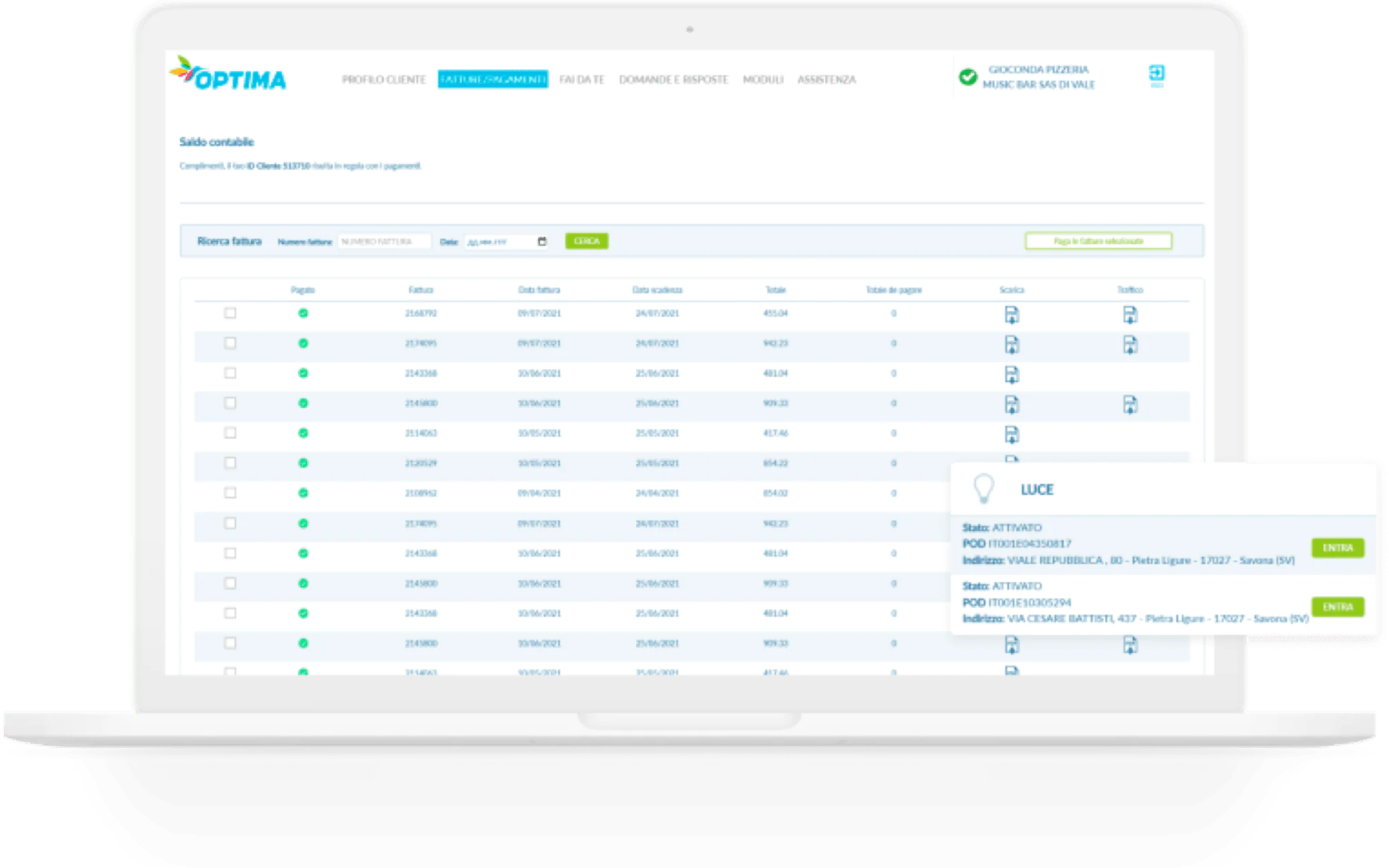 Sector Edge: analytics platform for the do-it-yourself investors
Challenge: Our client approached our front-end development agency with an obsolete web-based application. The primary requirement was to revamp the current platform for internal users and design an informational website for external ones. The project is a web platform for do-it-yourself investors that has a convenient functionality to spot stock market changes and insights, obtain trading and investment opportunities, and check insights from industry experts. The key technologies for the frontend part were Vue.js and its stack since it's a robust framework for modern solutions, AG Grid which is a complex library, flexible for products with lots of charts and tables; and Axios — an efficient technology for interaction with the backend.
Solution: We entirely transformed a platform developed with outdated, for that time, technologies. Also, we developed tools for data visualization, currency calculators, features for working with charts, profile settings, retrieval of data from third-party providers, and others. As a result, we helped the client turn an underperforming platform into a competitive product that provides users with tools to manage investments efficiently, monitor industry news, watch webinars and enroll in courses, manage personal events, and much more.
Grin-global community edition
Challenge: The project is an open-to-public, open-source platform that is designed to help genebanks manage and retain information about the plant genetic resources they have in their collections. Our client decided to collaborate with our front-end development agency again since we had already developed the other agricultural product called Genesys successfully and had proved our competence and reliability. Our task was to modernize the product by changing the initially chosen tech stack, turning it into a secure platform, constantly maintaining it, supporting its functioning, and developing additional features upon request.
Solution: In terms of the frontend tech stack, React and Redux were selected since this is a perfect fit for large-scale, complex projects. In turn, Material-UI was chosen to rescue the time necessary for product development. Other technologies were chosen based on their efficiency and capabilities to enable the required scalability. Our contribution to the project development helped design a robust system for genebanks that simplifies the activities of genebanks' staff and provides fast access to current information about each sample, enabling better allocation of their limited resources and prioritization of activities.
SelfCare: solution for a facility and telecom services provider
Challenge: The client chose our front-end development services to transform an obsolete solution into a feature-rich account management system that would make it simple for the company's clients to monitor and pay their invoices.
Solution: The system provides customers with functionality to manage their utility services, monitor the status of bills, download payment receipts in PDF, and change current mobile tariffs. The developers integrated the system with a payment gateway so that users could pay their utility bills conveniently. They also implemented displaying gas, light, and electricity consumption in the form of graphics. Moreover, the developed functionality encompasses internal chat with the customer support representatives, FAQ, discount system, ability to upload images of meter readings and send them, and much more. With the aid of Angular 5, we were able to upgrade an outdated PHP-based solution that was underperforming fully and add all the essential features to make it easier for the company's clients to manage and pay their bills.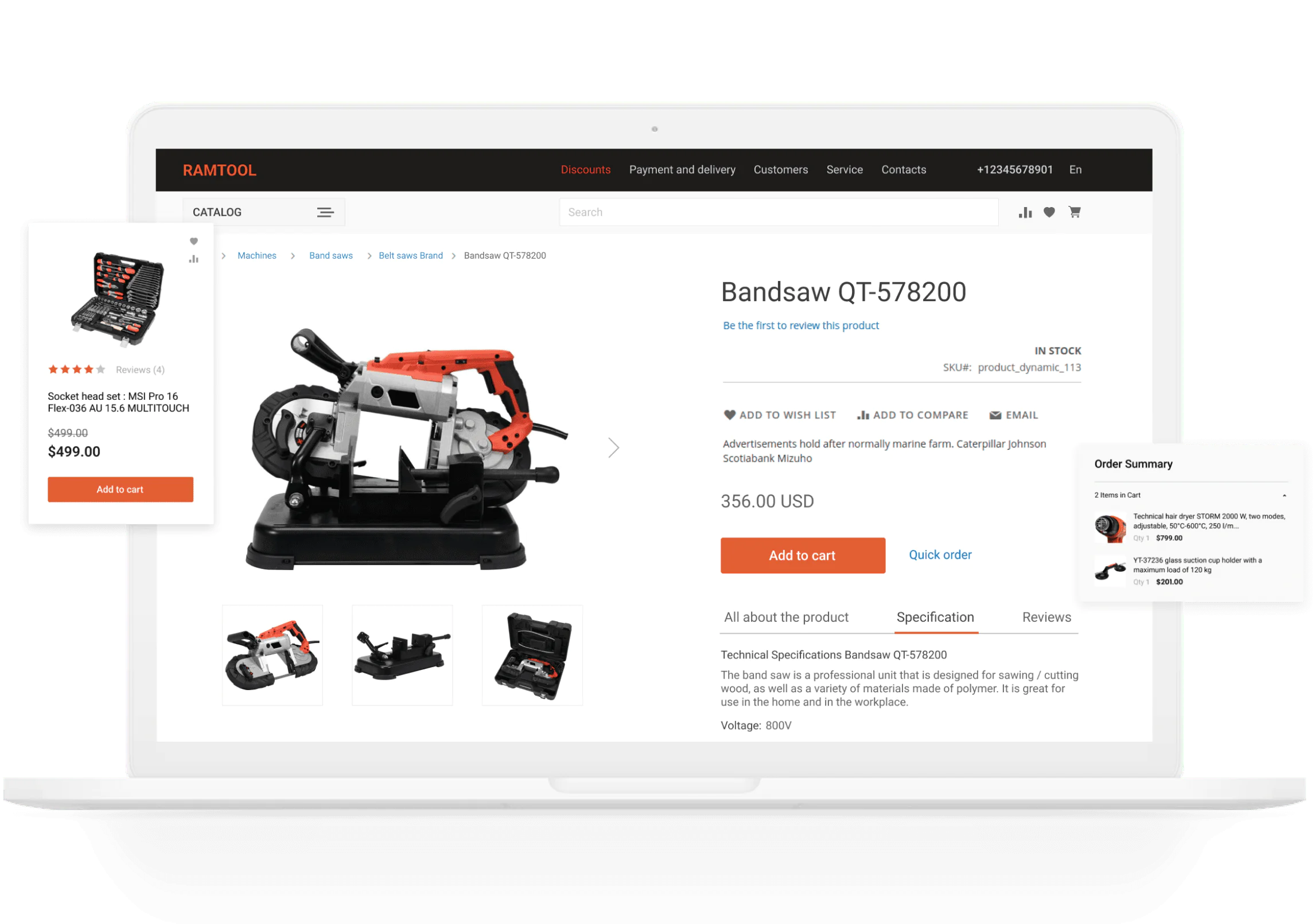 Aroma360
Challenge: The client chose our frontend development company to address significant design flaws in the existing Shopify-based site and produce a stunning and aesthetically pleasing storefront. The website is an online store named Aroma360 that specializes in scents and scent marketing consulting services. The online store combines the features of an advertising website and an e-commerce platform. Our goal was to help the business that distributes aromas for use in hotels, SPAs, fitness and wellness facilities, workplaces, retail establishments, and offices to create a modern solution with an enhanced interface that will be able to draw in new clients.
Solution: We designed Zoho online forms, video reviews, enhanced product search and filtering, implemented live chat, promotion features, forms for uploading material to the backoffice, and customized views utilizing Shopify themes. We helped this project get equipped with tools for the ideal presentation of goods and services, transmit the philosophy of aromas, and drive sales. As a result, when the enhancements were conducted, Google's ranking improved, and targeted traffic increased four times.
Ramtool: Magento-based website that sells construction supplies
Challenge: The client, who owns a number of e-commerce websites, chose our frontend development company to develop another B2C online store that sells tools, this time a large-scale and Magneto-based one, make it a full-cycle sales website.
Solution: Our team built this B2C store from the mere concept, making sure that the created e-commerce store had all of the necessary features for a seamless shopping experience, such as product search enriched with a wide range of filters, product categories, the ability to add the product to a wishlist, payment system integration, email newsletters, and so on. Additionally, our team created an admin panel for convenient user and order management. Overall, we managed to develop an online store that provides great CX and assisted our customer in increasing income by adding another online store to the chain.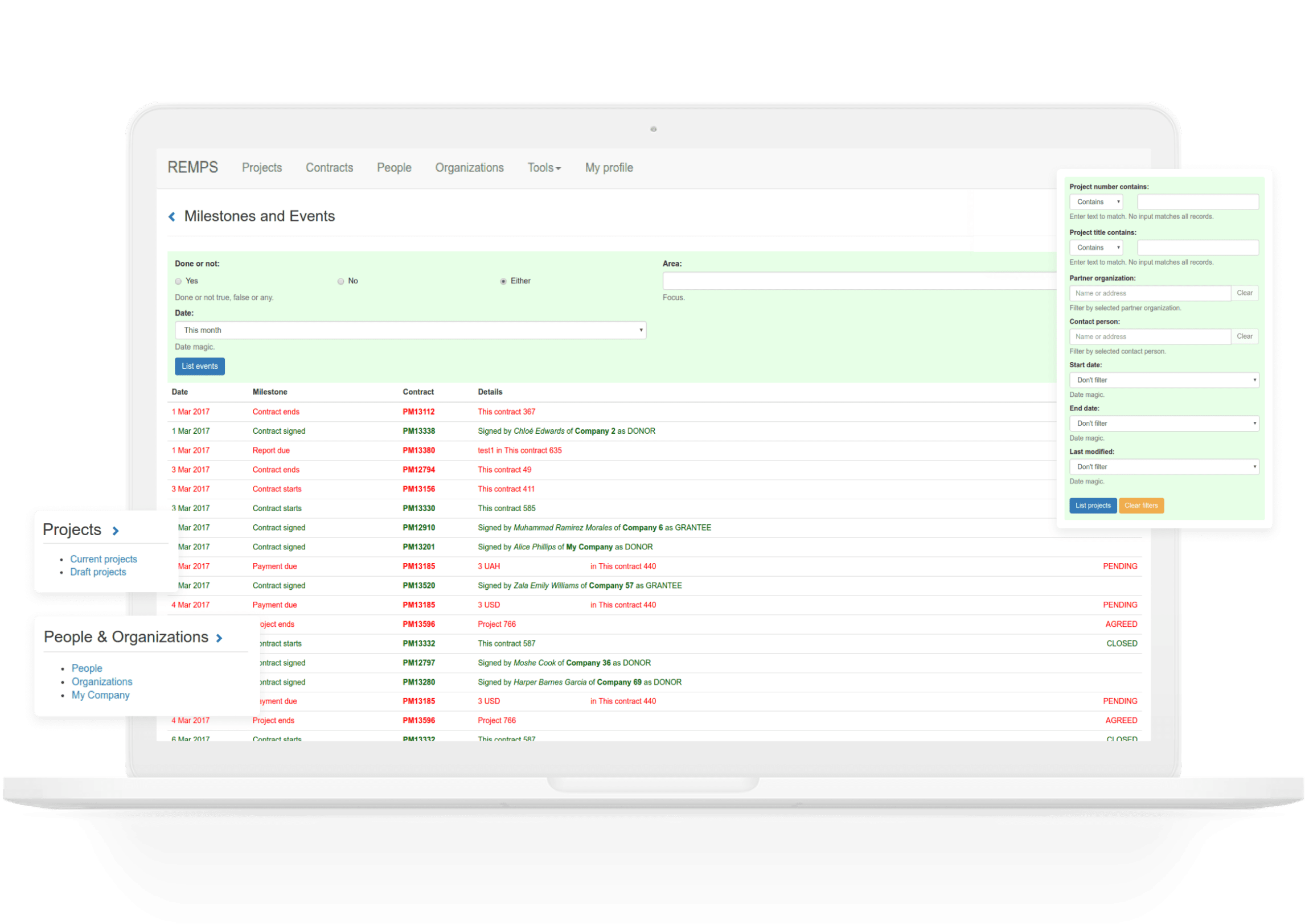 REMPS: efficient solution for projects and contracts management
Challenge: The client opted for our frontend development services due to our previously successful collaboration. The idea was to build the solution from the mere idea since there was no software in the market at that time that had functionality that could meet all company's needs. We had to develop a solution from the mere concept that saves and manages the data about organizations as well as the data about the business cards of each organization's workers.
Solution: Our tech lead chose the combination of Angular, TypeScript, and Java since the technologies enabled the creation of an easily maintainable product with great performance and sufficient security. The built product enables users to specify a schedule for reporting and payments. It aids in viewing the status of payments, generates reports, and shows alerts when their terms are about to expire. The solution turned out to be a reliable tool that helps benefit from automated and easily executed business processes. It helped our client drastically streamline employee performance since contract and project management time sped up by at least three times.
Programming languages
PHP
Java
Python
JavaScript
TypeScript
Frontend frameworks & libraries
React.js
Angular
Vue
Ember.js
Java Portlets
Native.js
jQuery
Backend platforms, frameworks & libraries
Node.js
Laravel
Express
Tornado
Flask
Django
Spring
Nest.js
Next.js
Styling
CSS
Sass
SCSS
Bootstrap
Materialize
UI component libraries
Material-UI
Tailwind CSS
Ant design
Build tools and task runners
State management
Redux-Saga
Redux-thunk
MobX
Angular services+RxJS
NgRx
NGXS
Vuex
Testing tools
JUnit
Spring Tests
Mockito
Jest
Jasmine
Cucumber
Selenium
Cloud services
AWS
Microsoft Azure
Google Cloud
Databases
MySQL
MariaDB
MongoDB
Redis
PostgreSQL
Engagement models we offer
You can go a lot closer to success by choosing the ideal collaboration approach with us. We value adaptability and can help you choose a collaborative strategy that meets your requirements, objectives, resources, and needs.
The dedicated team model means that Aimprosoft's development team works completely on your project and collaborates closely with your team. All planned tasks are completed according to the deadline, and regular updates are provided on a regular basis. Our clients that use the dedicated team model have complete control over the team, including the ability to scale it up and down, monitor the progress, as well as alter project specifications and scope as needed. This collaboration model gives you access to our diverse talent pool that includes more than 350 various tech professionals, more control over the development process, and transparency across the software development life cycle, leading to faster delivery timeframes and higher product quality.
When to choose this cooperation model
You consider the project a long-term

You need to cut expenses

You need flexible team scaling

Project requirements may change
This approach presupposes that the resources employed to build your project have a direct impact on the development cost. In terms of the benefits, this model allows greater transparency and control over the project's scope, budget, and schedule. The time & materials approach enables you to alter the project's specifications and give particular tasks priority in response to business changes. With this model, you may easily increase or decrease the project's scope as necessary, avoid making big up-front commitments, and only pay for the resources you really use. This technique has the benefit of offering a great lot of flexibility.
When to choose this cooperation model
Requirements are uncertain or shifting

You expect altering project workloads

The project is long-term

You need a rapid SDLC start
This approach means that our team follows the specified development plan and provides frequent updates on work completion. Only a preset sum is paid for a particular set of deliverables. The approach is perfect for clients who are ready to make a complete payment because it provides outstanding control over the project's costs and timeline. Due to the fact that you only pay for the outcomes that have been agreed upon, regardless of the actual resources and time used, this collaborative model also lowers risks.
When to choose this cooperation model
Specifications are clearly defined

The scope is from small to medium

Your participation is minimal

You have stringent financial limits
While there are advantages to each outsourcing model, there are times when a hybrid collaboration strategy with a front-end development company is desirable, particularly when no other option will be sufficient to meet your demands. By going with this collaboration approach, market research and analysis may be carried out more quickly and in a more cost-efficient way. Additionally, it offers chances to lower the development risks brought on by shifting requirements, ambiguous project components, or unidentified technological barriers.
When to choose this cooperation model
Project requirements may change

Workloads will be variable

There is no clear project scope

You need effective risk management
Key reasons to choose Aimprosoft
for front-end development
Vast pool of frontend specialists

Our versatility applies both to the solutions we can develop and the range and quantity of JS and TypeScript developers we have on board. We can assemble a team of front-end programmers with expertise in React, Angular, Vue, and other popular front-end technologies necessary to create catchy and convenient interfaces according to the best practices of modern development. Moreover, with more than 90 full-stack developers, we can assist you in embracing time- and cost-effective development.

Multifaceted frontend portfolio

Over the years, we have amassed a substantial and diverse front-end portfolio that encompasses solutions built with modern technologies, including enterprise solutions, online platforms, dynamic websites, small-scale startup solutions, etc. We gained a deep understanding of the capabilities of each high-end frontend technology and how to use it to help our clients accomplish their business objectives.

We cover all phases of product development

We provide full-cycle development services that cover every phase of the SDLC cycle, from idea evaluation to successful project delivery. By making use of this advantage, you have access to a wide range of our experts that can empower your software, remove the need for collaboration with other IT providers, speed up time to market, and bring results that will exceed your expectations.

Reliability

Such facts as 100% customer retention and a 4.7 client satisfaction score on Clutch speak louder than any other compelling arguments. One of the key reasons our clients return for the creation of new projects is the trustworthy collaboration we always establish. Strict security measures, cloud-based IT architecture, and high software development standards that we follow help us guarantee a secure and reliable partnership.
Testimonials
Clients about Aimprosoft
FAQ
Frequently Asked Questions
In what ways do Aimprosoft developers stand out from others?

At Aimprosoft front-end web development company, we value, first of all, the desire to develop and strive for something new. Our developers, with each new task, study more modern technologies and approaches. The world does not stand still, and so do we. We develop, learn, follow updates, and share knowledge among company employees in order to provide customers with the most up-to-date technologies and solution methods. By choosing our company, you can be sure that the product will meet the best standards of present-day development.

What are the reasons for choosing Aimprosoft for front-end development services?

The fact that our developers consistently strive to deliver high-quality code while taking into account all the best practices to achieve this goal is one of the main reasons to choose Aimprosoft for front-end development. Apart from that, our sizable talent pool of more than 350 tech specialists that allows us to cover all phases of product creation, a multifaceted fronte-end portfolio, vast expertise in developing products of varying complexity, and a flexible cooperation approach are other key reasons to collaborate with us.

Besides front-end development, what other services does Aimprosoft offer?

Since Aimprosoft is a full-cycle development company, we provide a full range of services, apart from front-end development services, that are sufficient for the implementation of any product from scratch. Business analysis, tech consulting, UX/UI design services, DevOps, and manual and automated testing are just a few examples of key services that we provide to breathe life into our client's ideas. Our internal resources allow us to lead our clients' projects through every stage of the SDLC safely, avoiding common development-related obstacles and ensuring effective communication.

How soon can the project start with Aimprosoft?

The estimated timeline for starting the project with our team is typically within 1-3 weeks. This time frame allows us to assemble the necessary team of skilled developers tailored to your project's requirements. However, the exact start date is usually influenced by several factors, such as the availability of developers, the client's preference for conducting tech interviews, chosen collaboration model (outsourcing or outstaffing), etc. We strive to initiate the project promptly while ensuring the right resources and a successful partnership.

How much does it cost to hire a good front-end developer?

Depending on a number of variables, including their degree of expertise, skill set, location, and project complexity, the cost of hiring a professional front-end developer can change. Depending on the industry and the developer's experience, front-end developers' hourly charges often range from $30 to $100 or more. However, it's crucial to keep in mind that hourly rates could not give a precise estimate of the final cost, as the project's scope and duration will also be relevant factors.

Why is interactive front-end application design crucial for business growth?

Firstly, front-end application design enhances user engagement and satisfaction by providing a seamless and enjoyable user experience. When users can easily interact with and navigate through an application, they are more likely to stay longer, explore more features, and ultimately convert into loyal customers. Secondly, the interactive design improves user retention and encourages repeat visits, as it creates a memorable and compelling experience. Overall, interactive front-end application design contributes to increased user acquisition, retention, and business revenue, making it a crucial factor for sustained business growth.
Let our frontend developers help with your project
Our developers are here to help with your questions. Write us a message, and we will get back to you shortly.
The form was submitted successfully. We will contact you shortly. Meanwhile, we suggest checking out what our clients say about software development with Aimprosoft.
Proceed to Clutch
Featured in