QA & Software Testing Services
We've always been believing in one important rule: poorly tested software is always doomed to failure. Thus, our goal is to help all types of businesses from different industries who are going through a digital transformation journey test their solutions, help them withstand competition, and make them release-ready in the short term. Our specialists know how to use the best practices to ensure that the developed product is bug-free and meets the market standards.
Get started
scroll down to discover
From promising startups to well-established companies, we help businesses of any size and domain expand their capabilities by going mobile. Our mobile application development experts are skilled in the creation of solutions for commercial and non-commercial use, including apps for better employee collaboration and increased productivity, enhanced customer service, seamless online shopping, and many others.
WHAT WE DO
QA testing services we provide
Functional testing
We are skilled in functional testing, helping businesses validate whether their products meet the set requirements specifications. By conducting different types of functional testing, including unit, regression, smoke testing, and others, we can help you minimize re-works, avoid poor user experience, find gaps in the system, and boost the quality of the product.
Non-functional testing
At our software testing company, we can conduct this type of testing, checking various non-functional aspects of your product, including performance, security, scalability, etc., helping release high-quality software. By testing these aspects, we can ensure that the developed solutions can satisfy the end users' requirements and meet your business needs.
Manual and automated testing
Our professionals can conduct both automated and manual testing. They can execute test cases and check features and the product's usability without automation testing tools. If it's necessary to go beyond the limitations of manual testing, our testers use automation tools and perform regression, load, performance, security testing, etc.
Web, mobile, and desktop testing
The members of our QA team have profound experience in testing all types of software solutions. Corporate portals, content management systems, feature-rich mobile apps, both native and cross-platform, IoT-powered solutions, and many others, can be efficiently tested by our team.
QA consulting & audit
Before testing your product, we can conduct the evaluation of the existing solution that doesn't meet the requirements, find weaknesses, and design an optimization plan. For the products that are only planned to be developed, the hired QA engineers can create the test strategy and apply those best practices that are specific to your domain and product type.
Our focus
Industries we work with

eCommerce
Our QA IT services cover testing of a wide range of eCommerce solutions, including marketplaces, B2C online stores, B2B eCommerce platforms, corporate platforms, and many others, making sure the product meets your customers' expectations and your needs.

Healthcare
We are skilled in testing a variety of medical products that can automate tedious activities, help organizations provide efficient treatment, etc., including healthcare apps, content management systems, patient portals, and many others.

IoT
Apart from IoT software development, you can hire our specialists to test your IoT-powered product and streamline your businesses with a high-quality solution for efficient data collection, real-time analytics, control of environmental conditions, or for any other purpose.

Real Estate
At our QA testing company, you can hire engineers to test all types of real estate products that can give home buyers, tenants, real estate owners, and realtors all useful tools to complete all property-related activities effortlessly.

Education
We can conduct testing of e-learning products, such as educational apps, LMS, learning portals, etc., that can digitize educational processes, increase engagement, and simplify management activities.

Telecom
With our quality assurance and testing services, telcos can check their software, fix gaps, boost their business processes, streamline employee performance, and improve the quality of the services.
Retail
We can assist with testing solutions of retail businesses to ensure that such products can deliver a great customer experience, increase operational efficiency, and enhance competitive advantage.

Your industry
If you haven't found your domain, Aimprosoft QA and testing company got you covered. We can test any type of product since more than a decade of market presence helped us obtain expertise in 15+ areas.

QA & testing process with Aimprosoft
This is an overview of major steps that are part of our testing cycle.
Discovery stage
We discuss your product idea, conduct requirements elicitation, answer all your questions regarding QA & testing of your product, and plan our further cooperation.
Test planning
Our team conducts test planning that involves activities that define the testing objectives and the approach for meeting them within constraints imposed by the context (e.g., specifying test techniques and tasks and formulating a test schedule for meeting a deadline).
Test analysis
In the course of this test analysis, the test basis is analyzed to identify testable features and define associated test conditions. In other words, test analysis determines "what to test" in terms of measurable coverage criteria.
Test completion
This stage includes the collection of data from completed test activities to consolidate experience, testware, and other relevant information. Test completion activities occur at key project milestones, such as when the product is released, a test project is completed, etc.
Test monitoring and control
After that, test monitoring that involves the ongoing comparison of actual progress against planned progress using test monitoring metrics defined in the test plan is performed. Test control involves taking actions necessary to meet the set objectives.
Test implementation
During test implementation, the testware necessary for test execution is created and completed, including sequencing the test cases into test procedures.
Test design
During test design, the test conditions are elaborated into high-level test cases, sets of high-level test cases, and other testware. Test design includes the design and prioritization of test cases and sets of test cases, identification of necessary test data to support test conditions and test cases, design of the test environment, etc.
Software products that we tested
Explore the way the products of our clients were tested by Aimprosoft QA specialists.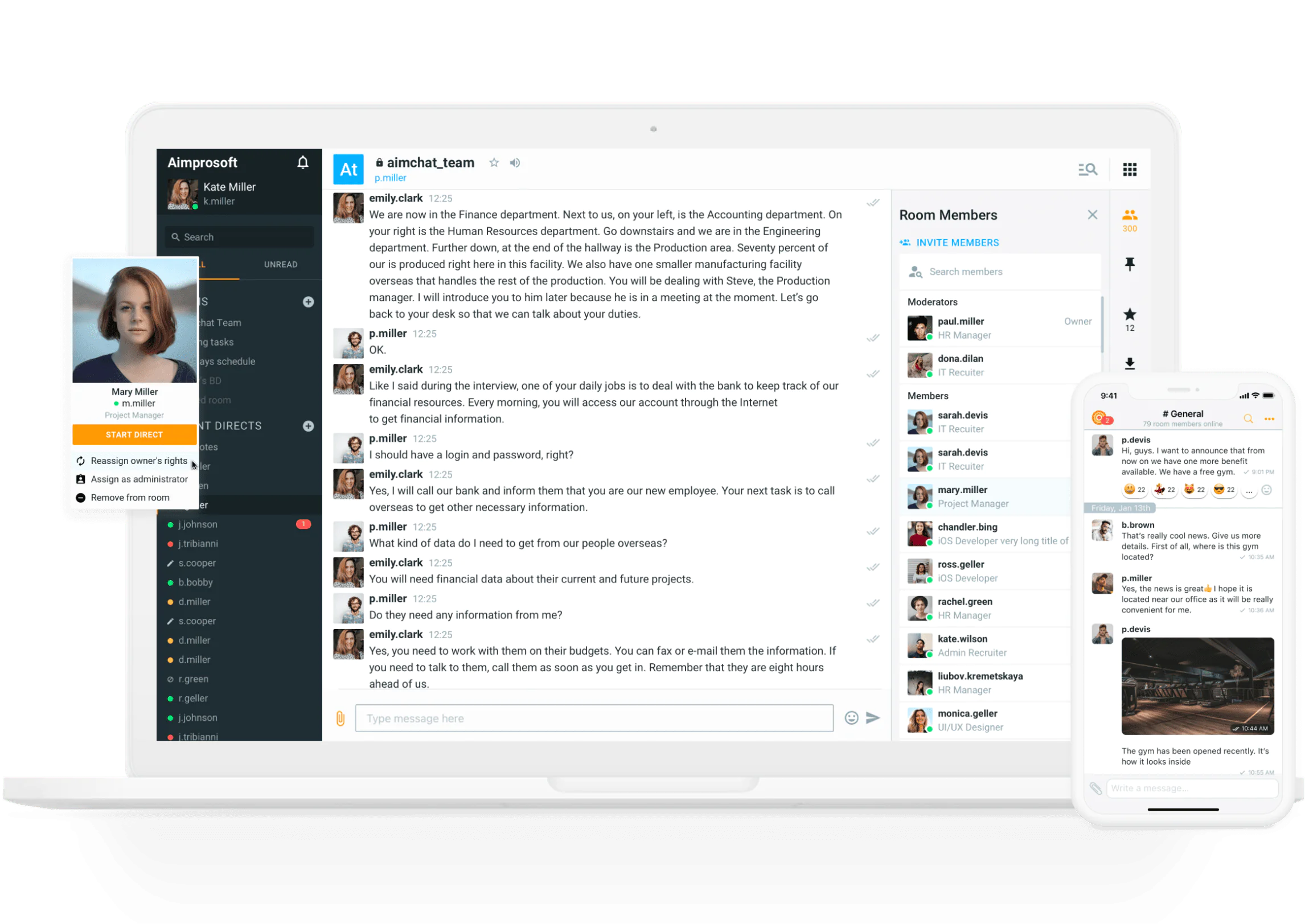 Aimchat: corporate messenger for businesses of all sizes
Challenge: This corporate messenger is an in-house developed product of our full-cycle IT agency. The idea was to create a convenient centralized place where employees could receive immediate updates regarding the company's state of affairs, communicate with each other and within teams, and share media files easily. The task of our QA team was to ensure seamless functioning of the product, identify weak areas both in web, desktop, and mobile versions, and provide exhaustive information regarding the quality of the product throughout the development cycle.
Solution: Our QA engineers and testers used both manual and automated testing approaches. The main activities of the team included the creation and execution of testing scenarios, execution of ad-hoc, smoke, regression, and compatibility testing, testing of API, and creation and execution of automated tests. Our QA team significantly contributed to the creation of a high-quality product that is convenient to the users both in terms of functionality and design.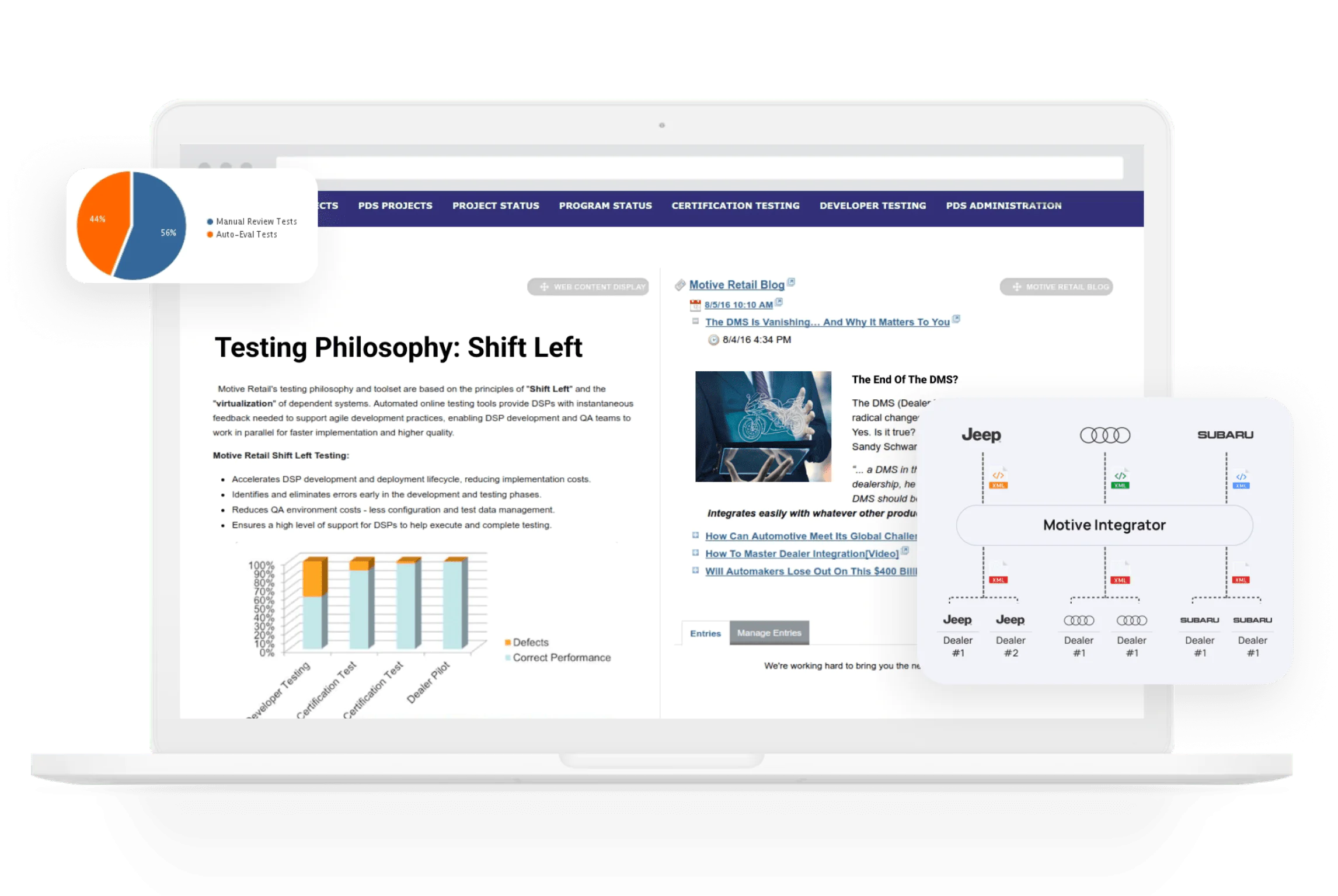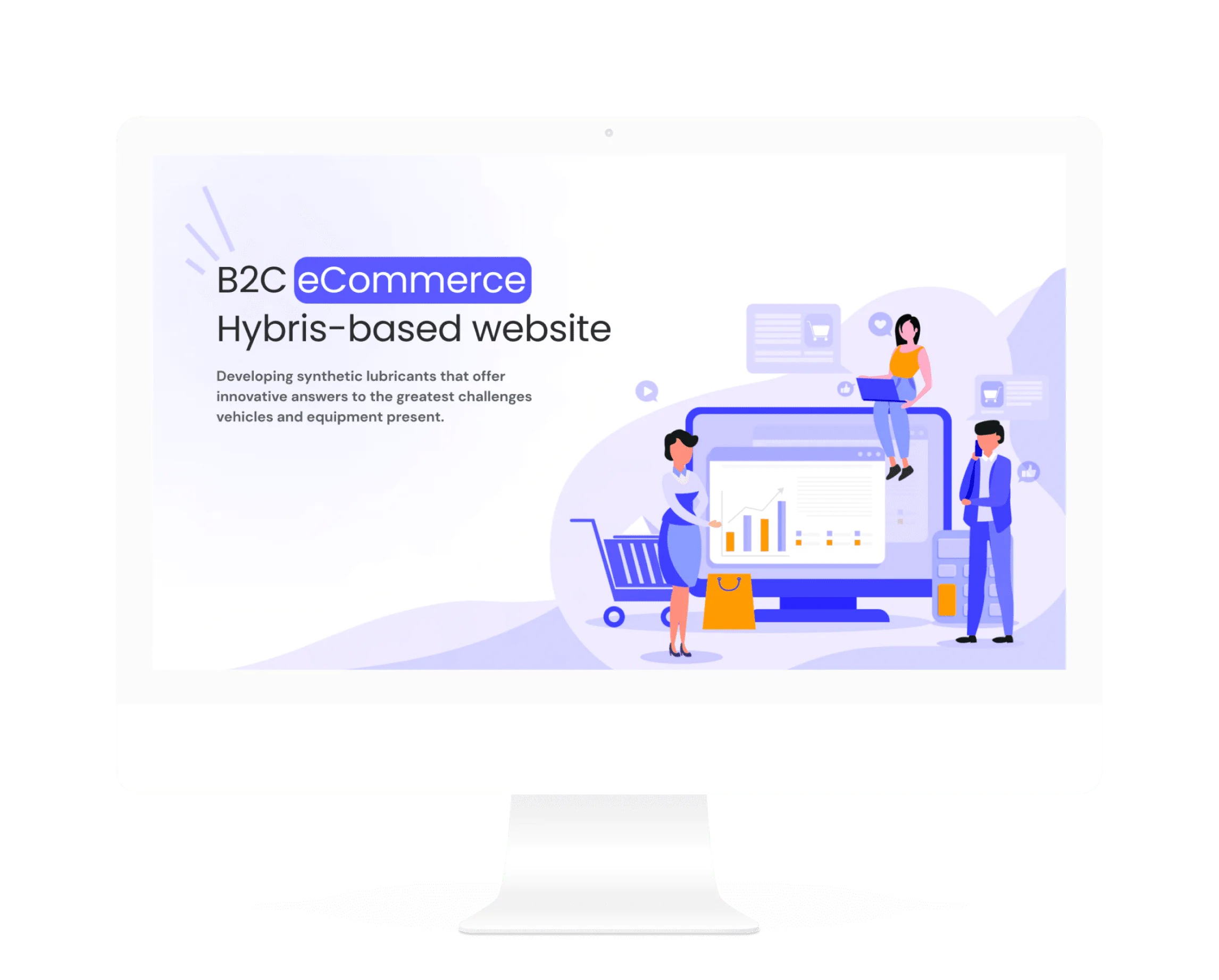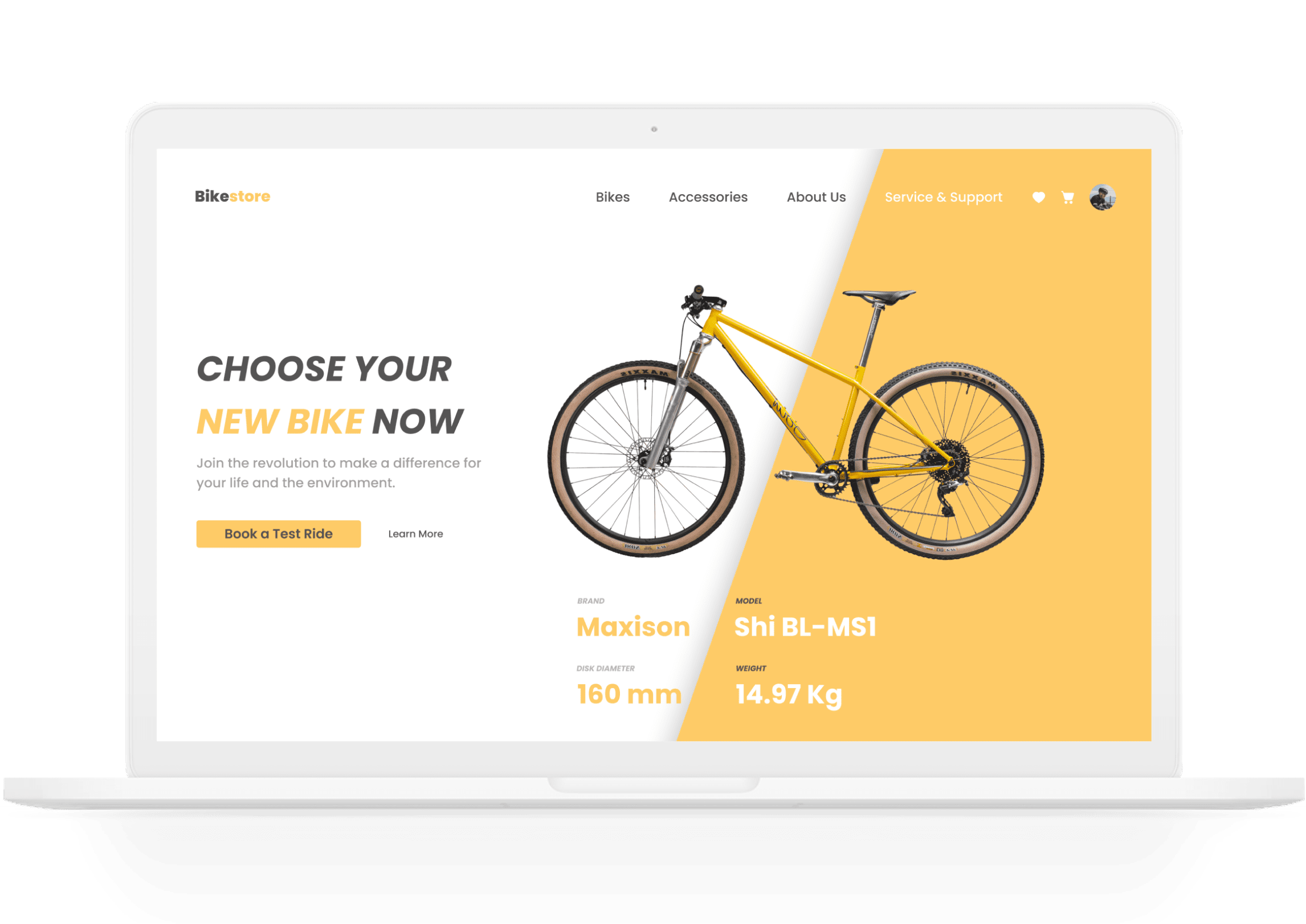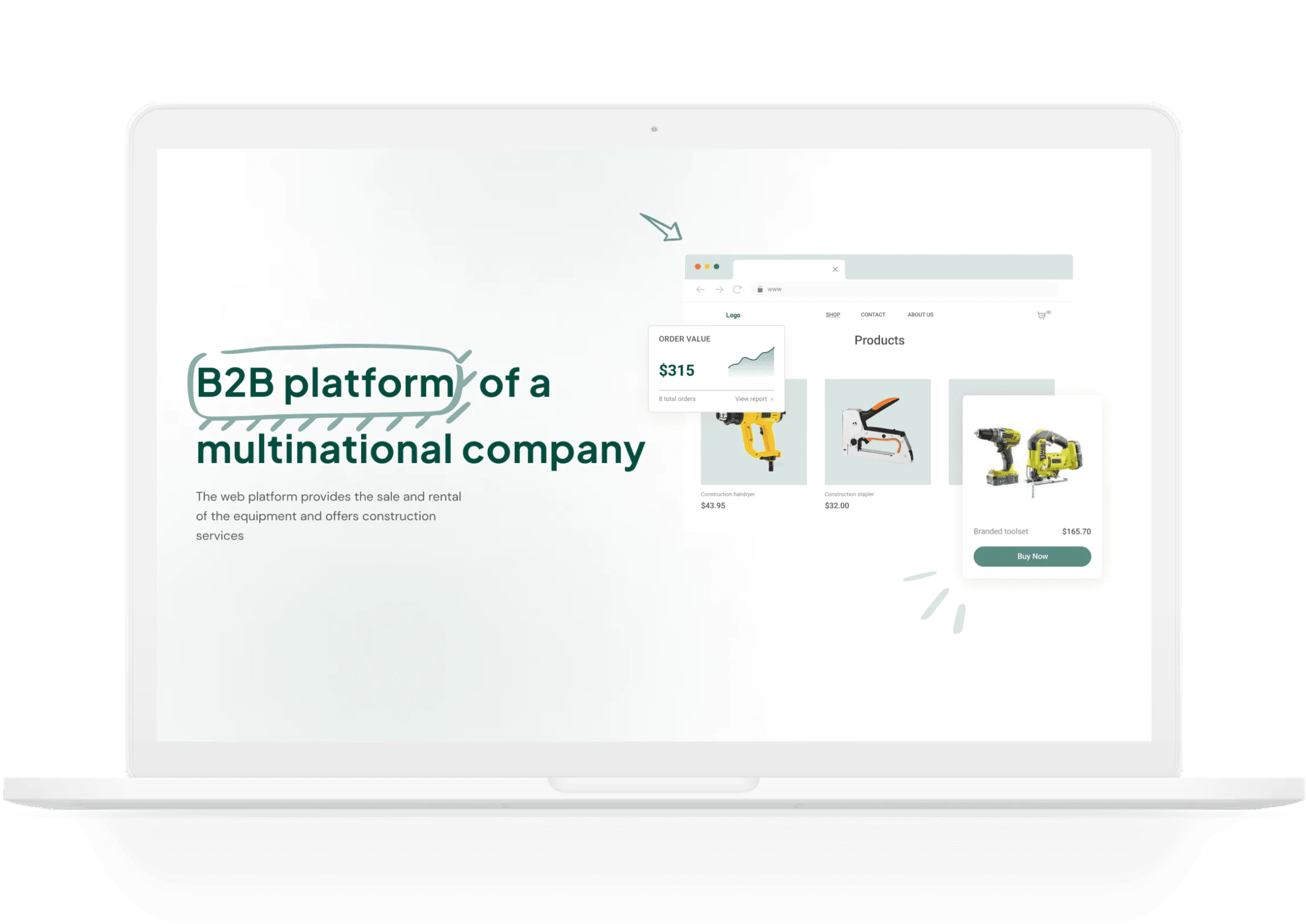 Motive Integrator Activate: tool to manage partner API authorization
Challenge: Motive Integrator Activate is a part of a big project that we have been working on for several years. The tool easily handles the comprehensive spectrum of partner API authorization. It is also integrated with the Motive Retail portal, the other client's product, and helps realize information exchange seamlessly between companies. Our QA team had to ensure that this solution was efficient enough to manage a huge flow of data across partner systems.
Solution: During the product's testing cycle, our specialists created a testing strategy and test scenarios, executed both manual and automated approaches of testing, and were systematically providing bug reports. Additionally, they provided an estimation of tickets and participated in all Agile meetings, including planning, demo, retrospective, and improvement. Thanks to a productive collaboration with other members of the team and constant checking whether the developed features meet the set requirements, we managed to provide our client with an efficient tool that empowered the Motive Retail portal.
Sector Edge: analytics platform for the do-it-yourself investors
Challenge: The client came to our software testing services company to redesign a web platform for do-it-yourself investors. The requirement was to create a solution that would meet the needs of the users and would be able to handle the competition. Aimprosoft QA specialists were engaged in the product development process to help transform the outdated software.
Solution: The activities performed by our QA team included the execution of manual functional and cross-browser testing, integration testing, regression testing, and API testing. As a part of the testing process, our QA team also created and executed test cases, tracked and reported defects, and worked closely with our business analyst. The conducted QA and testing helped significantly contribute to a transition of a poorly performing solution into a feature-rich product that allows its users to manage investments, keep up with industry news, watch webinars, enroll in courses, and much more.
B2C eCommerce Hybris-based website
Challenge: The client chose our software quality assurance testing services to finish the project, which was started by the previous IT firm and wasn't finished in time. We had to build an MVP of an eCommerce Hybris-based project in the short term, taking into account already developed code and that there wasn't any software product testing performed at all.
Solution: Our specialists started with making a general plan of their QA activities, where they described testing strategies, risks, estimations, exit parameters, etc. With each sprint iteration, they covered new features with the test cases, using a requirement traceability matrix. Every two sprints, they performed regression testing manually and by executing automated tests. Before going live, 98% of the functionality was covered by test cases and fully tested. The strict QA process allowed us to go live on time with the MVP version and meet the client's requirements precisely.
Robust eCommerce website for B2C-oriented business
Challenge: The client, a huge international B2C company, turned to our IT quality assurance services with a ready-made solution that required functionality expansion and testing of the already existing and additionally developed functionality. The main requirement was to make sure that the product is stable, meets requirements in terms of quality, and can satisfy the needs of both buyers and retailers.
Solution: Our QA specialists executed regression testing, tested the solution's performance to ensure that it could handle the large stream of users, and conducted UI testing. Moreover, our QA team participated in documentation and user story review, which significantly contributed to the early stages of the development. The efforts of our QA engineers significantly helped improve the overall quality of the product, and they still continue enhancing it while the development continues.
B2B platform of a multinational company
Challenge: The product is a B2B platform with multiple self-service processes supporting 64 countries for customer service. The web platform provides the sale and rental of the equipment and offers construction services. Our involvement in the project included analysis, creation, and running of test scripts with debugging and execution of large regression test scripts.
Solution: Our QA specialist has already completed a wide range of tasks since the start of the project, namely, analysis of test scripts that have been identified for test automation, analysis of acceptance criteria of the task identified for test automation, debugging the scripts in stand-alone mode, inserting verification and validation steps for the automation scripts, creating of automation scripts against the associated user stories, and many others. As a result of software quality testing, our specialist has greatly facilitated the improvement of the product's efficient functioning.
Top 3 reasons why you should engage QA specialists in your project
Increased chances of project success
The absence of proper testing is one of the major factors in the product's failure. Thus, if you decide to engage Aimprosoft QA services provider specialists in your project, you will definitely obtain the guarantee that the quality of the product will be high, critical bugs will be identified and fixed, the solution's performance will meet a satisfactory level, which eventually will ensure the product's successful release and help establish a firm position on the market.
Higher competitive advantage
The intention to eliminate software testing and quality assurance from the product development cycle can be rather beneficial to your competitors. Since negative feedback from end users and poor quality of your product can weaken your competitiveness. By opting for Aimprosoft quality assurance software testing services, you obtain carefully tested software that can protect your brand reputation, help you gain a competitive advantage, and won't jeopardize your credibility.
Saved time and money
If QA engineers and testers are engaged in the software development cycle, you obtain the possibility to reduce the number of spendings and save valuable time. How so? Fixing mistakes in the final stages of solution development can be extremely resource-intense. Thus, with a well-thought-out QA strategy and its execution, such specialists can help identify errors and bugs even in the earliest stages of product implementation, prevent major losses that may happen, and speed up the time to market.
Testimonials
Clients about Aimprosoft
Let our QA team help with your project
We are here to assist with your questions. Write us a message, and we will get back to you shortly.
The form was submitted successfully. We will contact you shortly. Meanwhile, we suggest checking out what our clients say about software development with Aimprosoft.
Proceed to Clutch
Featured in