UI/UX Design Services Company
No matter how great the product functionality is, without an accessible, modern, and easy-to-navigate interface, it may be doomed to failure. At Aimprosoft, we help companies create a well-thought-out and usable design of software products that can help businesses increase customer acquisition, reduce churn rate, improve employee productivity, and much more.
Get started
scroll down to discover
From promising startups to well-established companies, we help businesses of any size and domain expand their capabilities by going mobile. Our mobile application development experts are skilled in the creation of solutions for commercial and non-commercial use, including apps for better employee collaboration and increased productivity, enhanced customer service, seamless online shopping, and many others.
WHAT WE DO
UI/UX design services we provide
UI/UX mobile app design
Our UI/UX designers have vast expertise in the creation of intuitive interfaces for native and cross-platform apps. Guided by a user-centered design approach, we create for our clients a top-notch product design with a smooth UX that can help increase sales, gain competitive advantage, and achieve high user retention.
Web design
We create a convenient and visually appealing design of web products for various businesses, including eCommerce, healthcare, education, etc. Our designers ensure that users obtain simple navigation and an eye-catching interface, and our clients obtain the ability to reduce bounce rate and improve ranking.
UI/UX audit & consulting
With UI/UX audits, we help evaluate the design of existing products, their weak areas, and difficulties that appear while interacting with the product. During the consulting, we provide suggestions regarding the enhancements that can help eliminate problems found in the course of the audit.
Graphic design
Our UI/UX design services include the creation of various graphic design products, including illustrations, logos, infographics, brochures, product packaging, etc. We create a stunning visual design that can help stand out among competitors and build a thoughtful visual identity.
UX research
We design products with a seamless CX by conducting in-depth UX research, during which we analyze the product's domain, TA, competitors, conduct online surveys to learn more about the users, etc. As a result, we provide a detailed report based on the obtained data with actionable recommendations.
Brand identity design
At our UI/UX design services company, we help tell the real story of your brand by developing a brand design identity that presupposes the analysis of your company's values, needs, audit of existing design materials, market and competitive research, creation of brand style guide, etc.
Software redesign services
Our designers advocate the motto that there is nothing irreparable in a product's design in case it's outdated or not well-thought-out. They help businesses redesign digital solutions on any stage of the product design decay, transforming the software into modern and user-friendly solutions.
Wireframing & prototyping
When creating the product's design, our team uses all tools in their arsenal before delivering the polished version. They create wireframes and interactive prototypes that help outline the structure of the product, test the idea feasibility, and save time and costs on multiple reworks during product development.
Our focus
Industries we work with

eCommerce
We provide UX/UI design services to create a proper design for online stores, catalogs, marketplaces, and other eCommerece products. Our designers make sure users can have a pleasant buying journey, and as a result, convert into loyal customers.

Healthcare
Our user interface and user experience design services include the creation of design for healthcare mobile apps for self-monitoring, patient portals, medical DMS, etc., that can help deliver better patient care, atomate internal processes, simplify completion of daily tasks, etc.

IoT
Our UX/UI designers can create modern interfaces of IoT products for various industries that can help enhance businesses with easy-to-use tools for efficient data collection, real-time analytics, convenient control of environmental conditions, etc.

Real Estate
We provide interface design services, helping with the creation of the convenient design for various digital solutions that can provide home buyers, tenants, real estate owners, and realtors with tools to make all property-related transactions effortless.

Education
We create design for e-learning products, such as educational apps, LMS, and learning portals, that can help increase retention rate, simplify management activities, etc.

Telecom
Our user interface design services cover the design creation for BI tools, corporate portals, mobile apps, etc., ensuring telcos can boost employee performance, automate business processes, and much more.
Retail
We provide UI and UX design services, creating retail software that can help businesses deliver a great CX, boost operational efficiency, and gain a competitive advantage.

Your industry
Your domain may not be on the list, but we have all the resources to fulfill your idea since we gained expertise in more than 15 areas.

The design process with Aimprosoft
We cover all stages of product design creation, helping you avoid all possible inconveniences during this journey.
Client briefing
We provide our clients with a thoroughly designed document with questions so that we can gather all requirements regarding the project, client's goals, expectations, and other key aspects.
Discovery phase
At this point, we conduct in-depth market and user research, perform competitive analysis, create UX strategy, identify problems that need to be solved, etc., which will help us set clear objectives regarding further actions.
Information architecture
Our designers will create a schematic representation of the product's structure that includes key components, such as features, navigation, hierarchy, etc., to identify how the product will work and how to make everything easy to use.
Testing, validation, and design delivery
Both wireframing and prototyping stages presuppose usability testing. Before the design delivery, we conduct a final and most thorough testing. After that, we will provide a design of your product, guidelines, UI kit, etc., that can be passed over to developers.
Design presentation
Once all screens are ready, our dedicated designers will present you with the outcome and an explanation of our vision and design decisions, and receive your feedback that will be used for further amendments.
Interactive prototypes
Our design experts will create a detailed dynamic version of the future product in the form of prototypes that can help identify areas that should be optimized, test user scenarios, and analyze overall usability.
Wireframes & mockups
We'll start with wireframes that demonstrate the product's layout, help identify weak areas, minimize the possibility of redesigns, saving both time and money. Once the product's structure is ready, we'll create mockups, the visual constituent of the solution's interface.
Design services we provided
Explore our expertise in product design creation.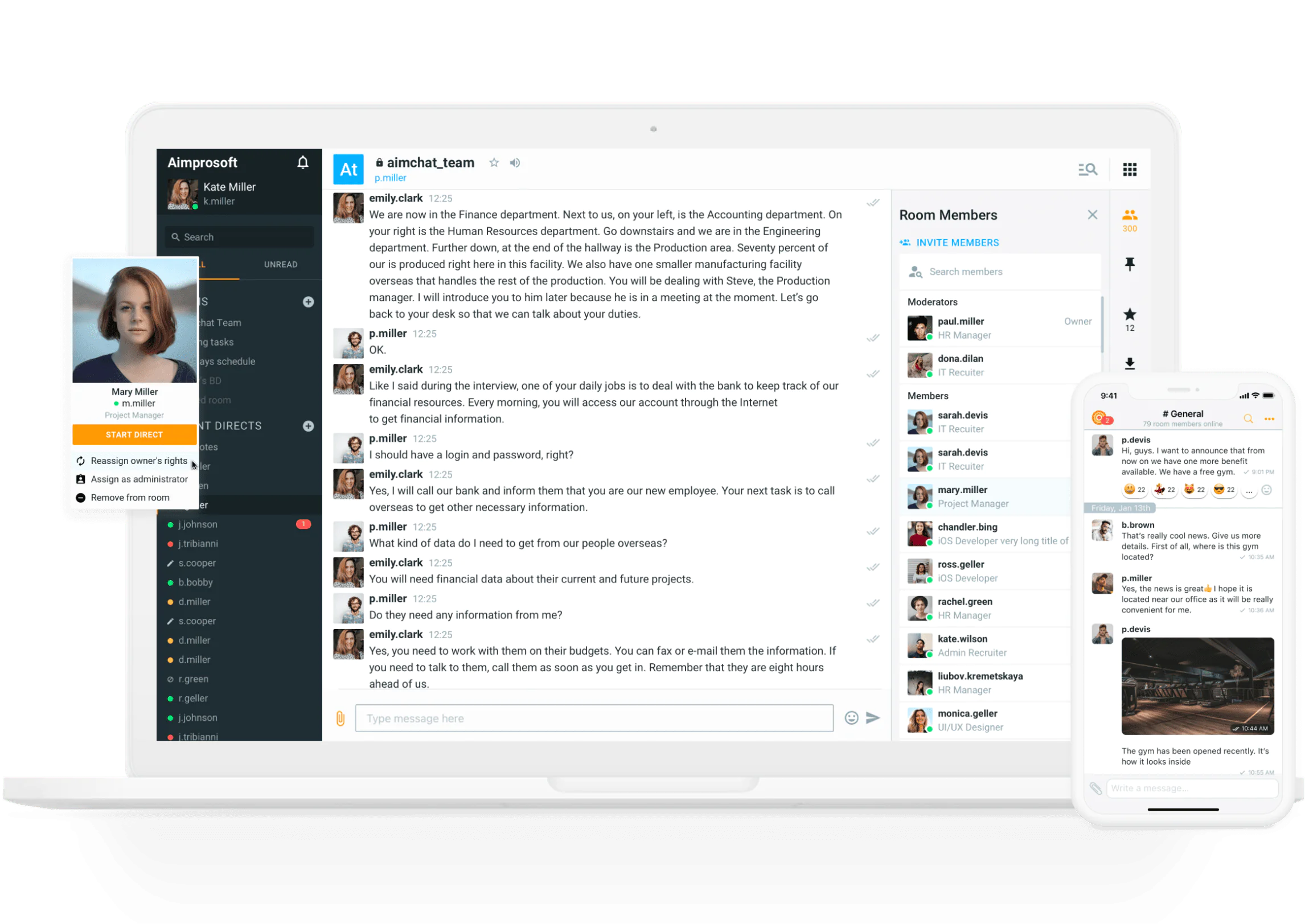 Aimchat: a corporate messenger for businesses of all sizes
Challenge: This is our in-house developed solution. The task was to transform the outdated design and create a convenient corporate messenger that could be potentially used not only by us but also by other businesses.
Solution: During the UX stage, we performed an audit, conducted competitive analysis, interviewed 20 respondents, designed information architecture, and created personas. The UI stage included the creation of mockups and prototypes that went through usability testing. It ensured that the product's functionality, such as tools to create groups, message any person directly or within a group, share media files, etc., are highly intuitive. Our team created the design for several platforms, namely, iOS, Android, desktop, and web, ensuring the product's interface is user-friendly enough to help speed up employees' communication.
Talent acquisition platform
Challenge: The client opted for our UI/UX services to create a design of a web platform that aims to simplify various recruiting activities.
Solution: In the course of the UX research stage, they analyzed the target audience, created an empathy map, and wrote user stories. During the UX design process, they created an information architecture and visual representation of the product's structure. Finally, the deliverables of the UI phase were a UI style guide and mockups with a minimalistic yet modern interface. As a result, our team created a platform with a convenient analytical dashboard, making sure recruiters, HR managers, and other related specialists can complete the recruiting process seamlessly.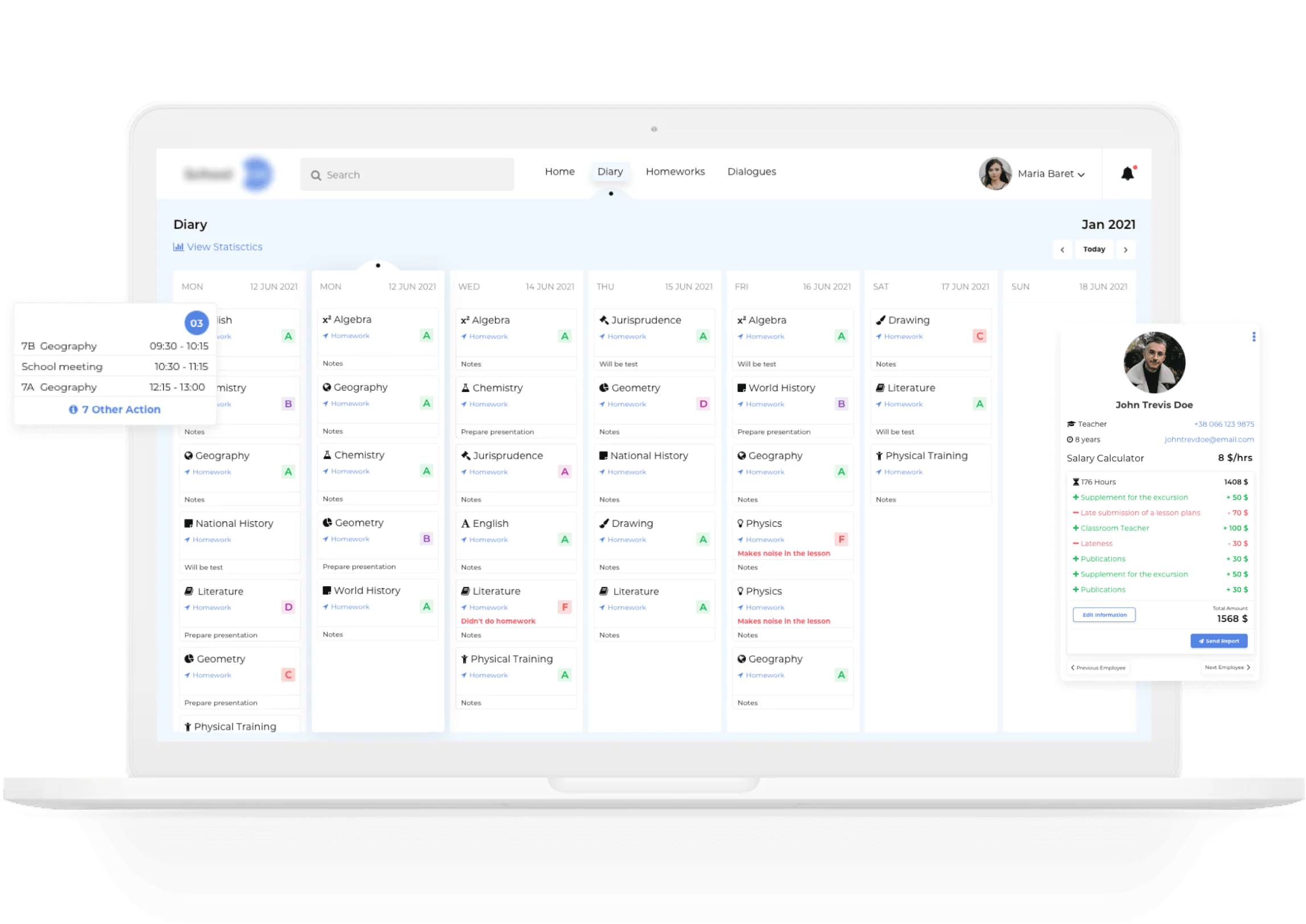 School management system
Challenge: The client chose our UI/UX design firm to develop a design for an integrated school management system that would provide teachers, learners, and parents with a convenient interface for the management of their activities.
Solution: Our designers conducted market research, having identified that there isn't such a solution that would meet all needs of three groups of users. This helped our team during the analysis of user segmentation and the creation of the product's information architecture. With user surveys, they identified valuable data about users: their experience with similar solutions, main school-related activities, etc. The gathered data suggested that minimalism, structure, and convenience are what the product should be about. As a result, we created a robust system with functionality that changes depending on the user role, providing teachers, learners, and parents with tools for seamless completion of daily tasks.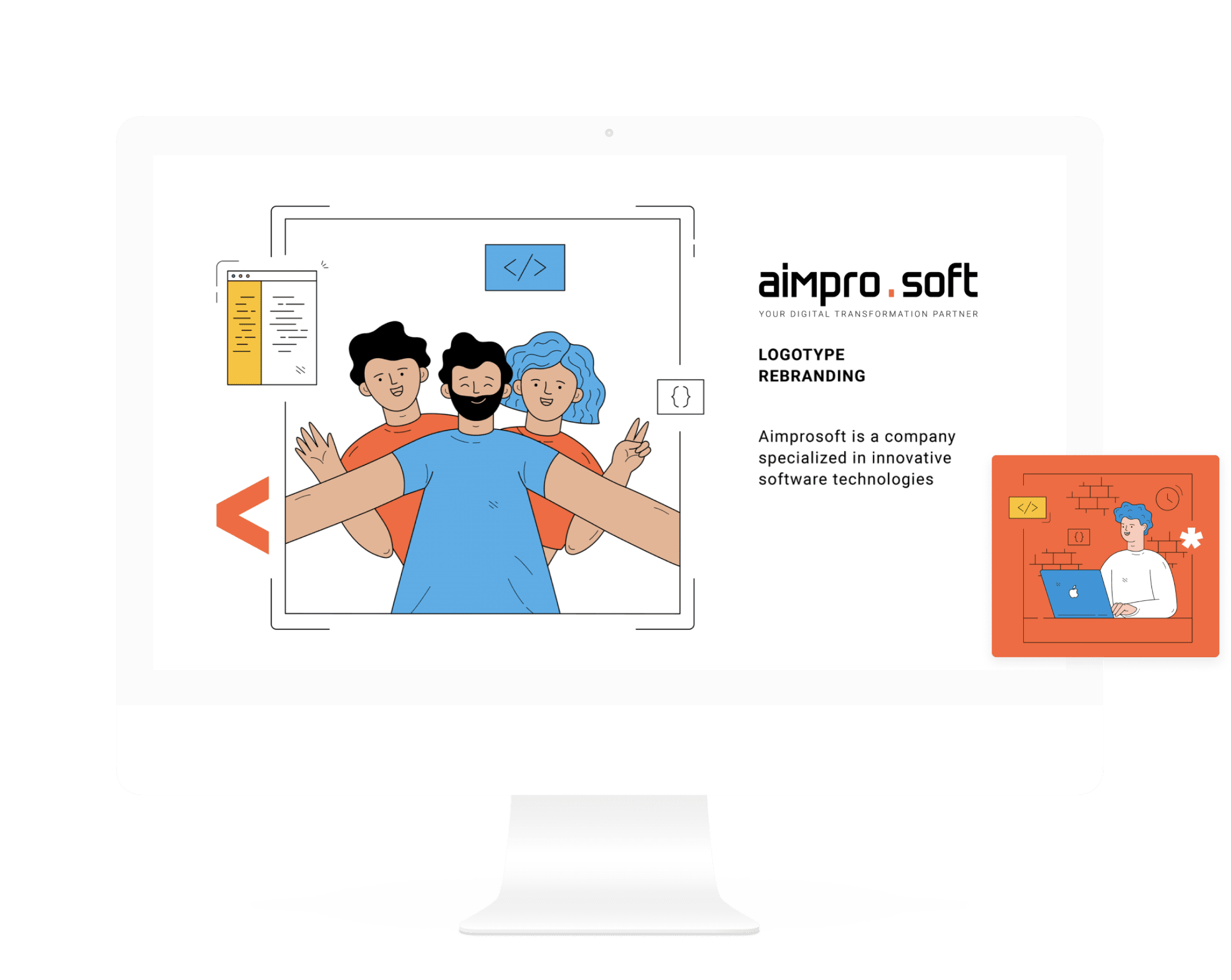 Rebranding of the Aimprosoft company style
Challenge: The requirement was to analyze the current company's style and transform it in order to create a modern and strong visual brand identity.
Solution: Our designers successfully conducted the audit of the existing brand style and identified areas that required optimization. They chose a minimalistic yet modern approach to transform the existing design and added supplementary colors to complement and dilute visual brand components. Guided by modern design trends, the team managed to refresh the entire company's style, having highlighted the company's uniqueness and progressiveness.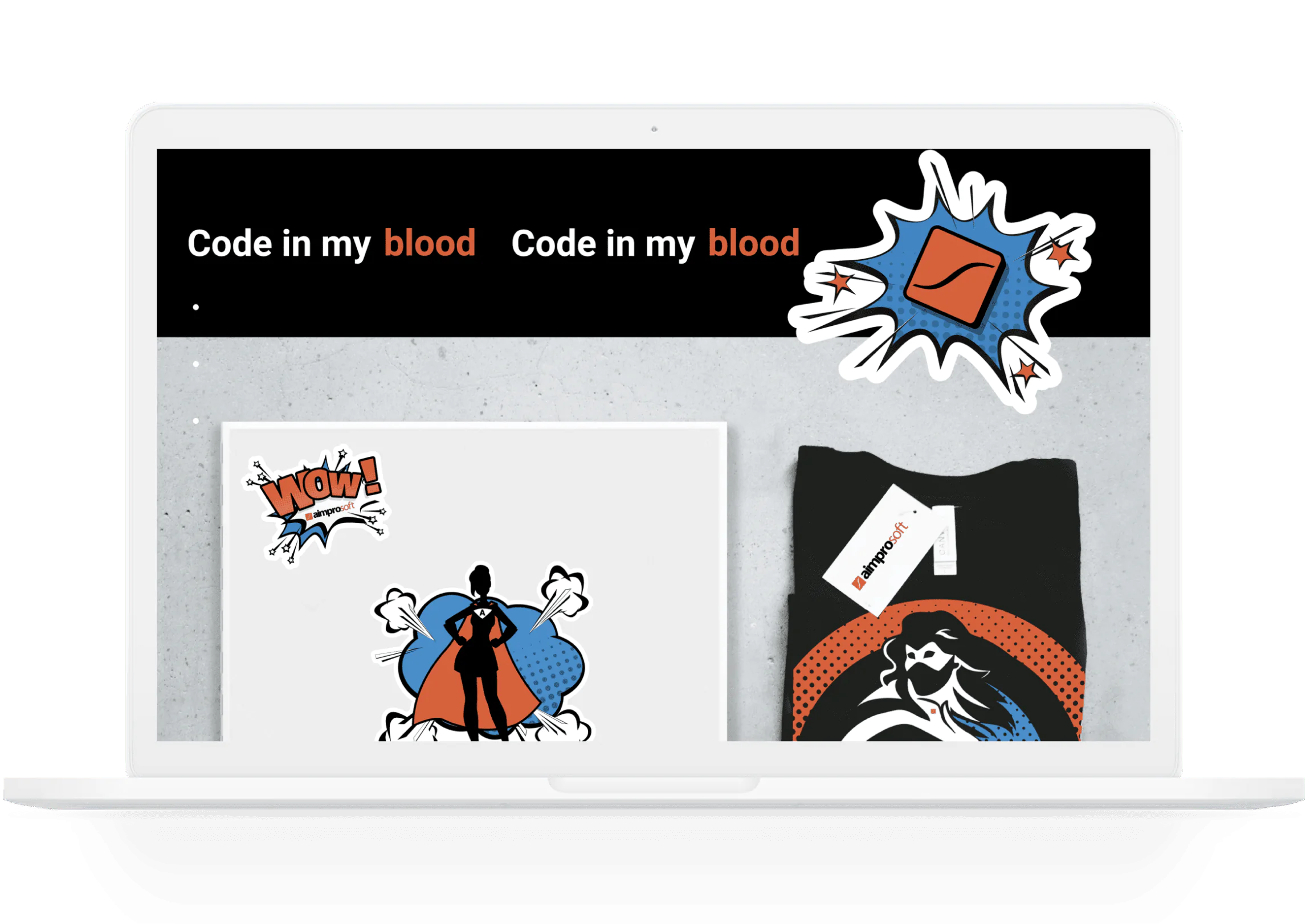 Product packaging for the company's 15th birthday
Challenge: The task was to create a vivid and meaningful visual constituent of the packaging for the corporate gift boxes.
Solution: Our specialists approached the design of the packaging with the intention to create something not only appealing but also to transmit an important message. The goal was to highlight the uniqueness, strength, and value of each employee. They used a superhero theme to show that every employee is a superhero that always chooses the good side, is adaptive to changes, and can battle challenges no matter what. A combination of a vivid color palette and a chosen theme successfully transmitted the intended message, and, as a result, packaging was happily accepted by employees.
2D animation for a promotional video
Challenge: The requirement was to create a promotional video for our in-house developed SAP module and highlight its main benefits for SAP Commerce Cloud projects.
Solution: The key goal was to show the essence, main features, and benefits of the product in a concise yet engaging way. The designers chose to go for a cold color palette with highlighters. They also added a vibrant tone of orange in certain animated elements in order to refer to the main brand color to balance the composition. The animation was created using modern techniques to get the visual characters and the main idea displayed in a compelling way. The developed video turned out to be a rather efficient promotional tool that emphasized the true value of the product.
Top 3 reasons why you should engage designers in your project
Ability to prevent risks
When you invest in the creation of the well-thought-out design of your product, you especially invest in the minimization of potential reworks that will take time and additional expenses in the course of the development and after the solution's launch. By engaging Aimprosoft designers in your project, you will obtain a structured interface architecture, seamless user experience, and user-friendly interface of your software solution.
Increase in sales
One of the main reasons why numerous companies lose revenue and don't achieve the set business goals in terms of their sales is the poor usability of their software products. Thus, the decision to opt for an experienced UI/UX design agency and invest in the properly created design can help you attract more customers, offer them a smooth buying experience, conquer their trust, and make them want to purchase the services or products you sell.
Customer loyalty
By not neglecting a properly conducted design stage, you can obtain one of the most valuable bonuses in the long run, namely, your customers' loyalty. Our designers can help you conquer the trust of your audience in various ways, for instance, by implementing a great CX, creating a recognizable brand identity, applying the client-centered approach to the product's design, conducting usability testing to ensure an error-free design, and much more.
Testimonials
Clients about Aimprosoft
Let our design team help with your project
We are here to assist with your questions. Write us a message, and we will get back to you shortly.
The form was submitted successfully. We will contact you shortly. Meanwhile, we suggest checking out what our clients say about software development with Aimprosoft.
Proceed to Clutch
Featured in