Hire Full Stack Developers
Resource-saving, a more comprehensive approach to software development, and faster time-to-market are the key benefits that full-stack development can bring to the business table. With more than 50% of our software engineers being full-stack developers who are skilled in client and server-side development, database management, API creation, and much more, we know how to integrate such specialists into your project to speed up its completion and boost efficiency.
Get started
scroll down to discover
Resource-saving, a more comprehensive approach to software development, and faster time-to-market are the key benefits that full-stack development can bring to the business table. With more than 50% of our software engineers being full-stack developers who are skilled in client and server-side development, database management, API creation, and much more, we know how to integrate such specialists into your project to speed up its completion and boost efficiency.
When to hire
When you need to hire dedicated full-stack developers
When you need to build a complex project

You have limited resources that constrain hiring separate specialists

Your project has short timelines

There is a need to launch MVP or prototype rapidly

You want to expand your existing team cost-efficiently

Your startup needs to be scaled swiftly
WHAT WE DO
Technical expertise of our full-stack developers
Web platform development
Our full-stack developers are experts at creating web platforms for a wide range of industries that are enriched with easy-to-use functionality and are simple to scale. We make use of Java, JavaScript, Python, Node.js, PHP, and other cutting-edge technologies to create platforms that can help you meet the needs of your business and customers efficiently.
Corporate web solutions
We create corporate portals that can easily help optimize internal operations. We can design Alfresco-based systems and Liferay-powered extranets and intranets that are completely customized for your unique requirements. Our full-stack developers are also skilled in building systems for improved document management, BI solutions for better decision-making processes, LMS systems, and others.
Product modernization & functionality expansion
If your product no longer meets your requirements, we can still revive it. We assess its decay, identify areas that need fixes, and provide an optimization plan to upgrade both internal and external parts of your product. Additionally, we can boost the app's efficiency through functionality expansion to assist you in standing out from competitors and satisfying consumer needs.
Custom product development
One of the most common cases clients come to us with is software development from scratch that covers idea validation up to the product's deployment. To deliver a flawless product, we carry out a project feasibility analysis, design the product's architecture, develop user-friendly interfaces, perform rigorous testing, and cover all other SDLC phases.
Development consulting & audit
Apart from development services, our full-stack developers are experts in determining the best tech stack by thoroughly examining your unique project requirements, business industry, and prospective growth opportunities. Additionally, we offer software audits during which we detect weaknesses in the current product and propose fixes to address them efficiently.
Software migration
You may reduce costs, enhance application performance, and improve its scalability by choosing our migration services. Software applications created using obsolete technologies, including jQuery, Angular.js, old PHP versions, and others that no longer match your needs, can be migrated by us. We guarantee the moved applications' security, business logic integrity, and optimal performance during the migration.
Enterprise product development
Our specialists contribute to the creation of complex solutions that can improve internal and external business operations. We use modern technologies to create front-end and back-end components that enhance the reliability and performance of enterprise apps. We strive to equip businesses with cutting-edge solutions so that they can stay competitive and easily adapt to market changes.
API development & integration
In order to provide safe interaction between diverse software components and systems, we may help with API creation and integration. By choosing our API development and integration services, you can increase the functionality of your solution, optimize business processes, and realize the full potential of your existing software.
Our focus
Industries we work with

eCommerce
Our full-stack developers design modern online shops, feature-rich B2B and B2C web platforms, marketplaces, and many other eCommerce solutions that aid companies in increasing revenues and attracting new customers.

Healthcare
By developing robust medical online solutions, we aim to facilitate the digitization of the medical industry. We build platforms that can simplify manual tasks, provide tools for self-monitoring and remote medical treatment, automate facility processes, and others.

IoT
We create IoT-powered web platforms that provide functionality for effective data collection, environment monitoring, real-time analytics, and activity optimization to organizations across diverse industries.

Real Estate
At Aimprosoft, you can hire a full stack developer to develop property management systems, rental marketplaces, listing websites, CRM systems, and other solutions that provide property managers, tenants, and landlords with convenience and task automation.

Education
We craft a wide range of eLearning solutions, such as educational platforms, learning management systems (LMS), course marketplaces, gamification tools, and others that help digitize educational processes and offer accessible learning processes.

Telecom
Our programmers have experience creating business intelligence (BI) systems, client self-service solutions, and internal portals that can improve employee efficiency, streamline task completion, and provide customers with a first-rate experience.
Retail
We strive to support businesses in improving CX, enhancing operational performance, and boosting competitiveness by developing staff and store management systems, omnichannel retail platforms, retail analytics software, and other modern solutions.

Your industry
Don't worry if your domain is not included in the list. With nearly two decades of full-stack product development experience spanning more than 16 different industries, we have all the necessary tools, specialists, and other resources to realize your idea.

Our hiring process
Learn about Aimprosoft's full-stack developer hiring flow. We'll walk you through how we choose and onboard the professionals who will handle your product implementation with ease.
Starting point
Our journey begins by analyzing your needs, goals, and specific requirements. This entails evaluating the project's scope, the skill sets you want developers to have, and other crucial aspects. It improves our understanding of your demands and locating full-stack specialists who closely match them.
Choosing the collaboration approach
We will help you choose the most relevant collaboration strategy based on your needs and available resources. The options we offer include dedicated development teams, staff augmentation, and outsourcing.
Shortlisting the most relevant candidates
Following the completion of the preceding stages, we move on to selecting the best developers from our talent pool. We identify the experts who can handle your project implementation by doing a thorough examination of their skill sets and capabilities.
Development process
Once we agree upon all the details, we can proceed to the development stage. We will maintain constant touch with you throughout the project creation process, providing status updates, addressing any queries promptly, and making changes in response to your feedback.
Contract signing
We move forward with the contract signing procedure as soon as we come to an agreement regarding the team's compositions. This process covers agreements for terms, deliverables, deadlines, payment, intellectual property rights, and other key aspects.
CV review and interviews
After we have created a list of the best-fit specialists, we will send you each one's CV for review. This enables you to assess their knowledge and skills accurately. Before you decide to hire a full stack developer, you also have the opportunity to conduct interviews for both soft and hard skills evaluation.
Our best cases
Explore top solutions developed by Aimprosoft full-stack developers.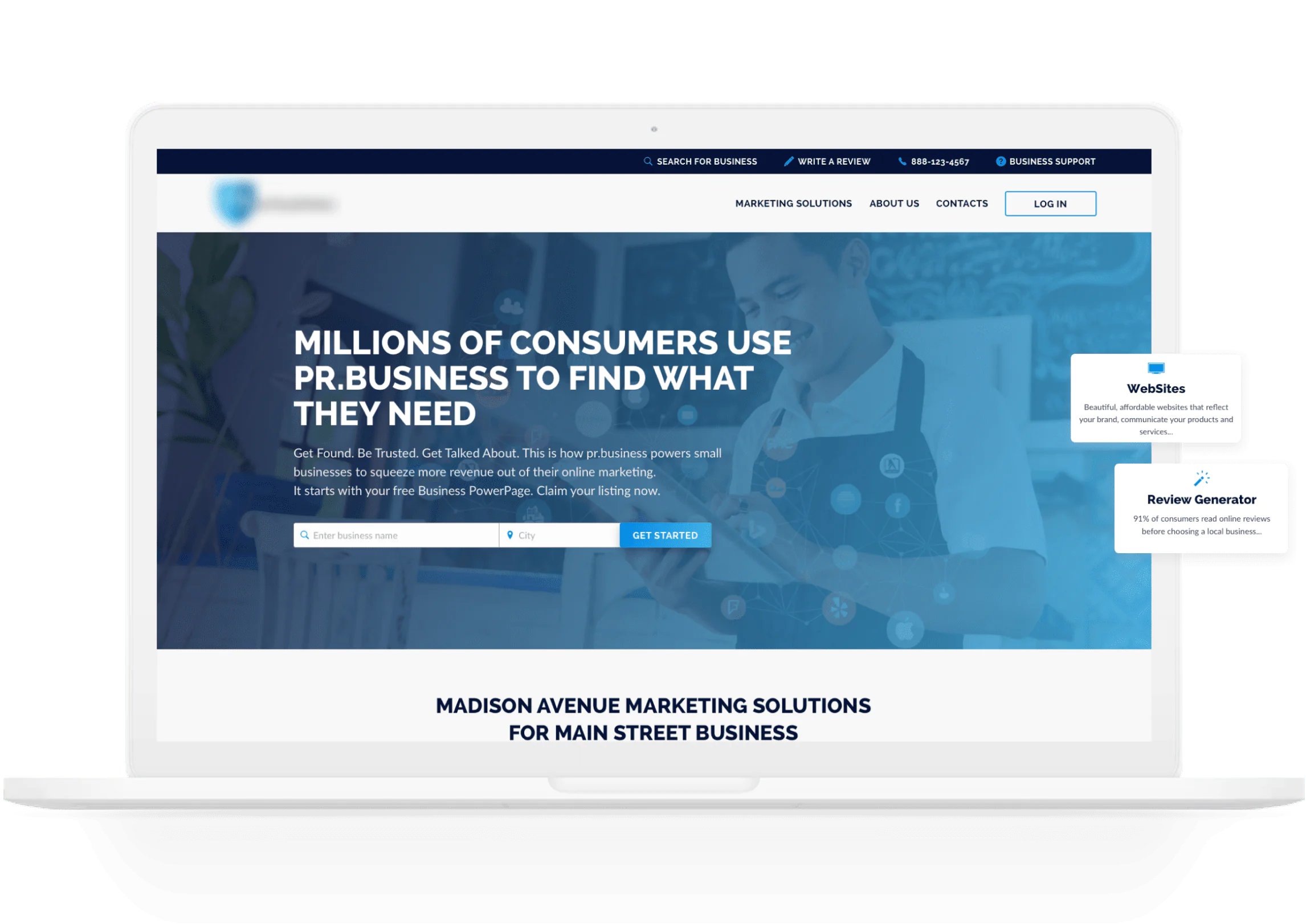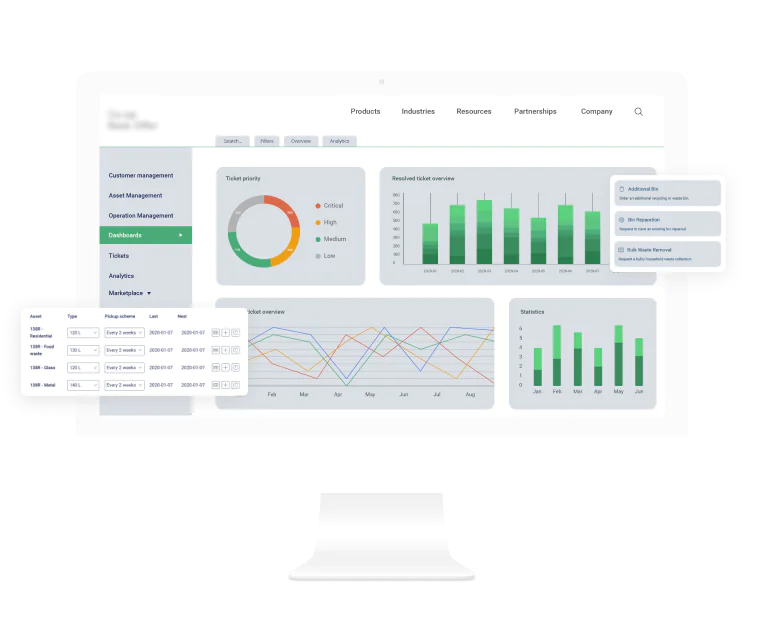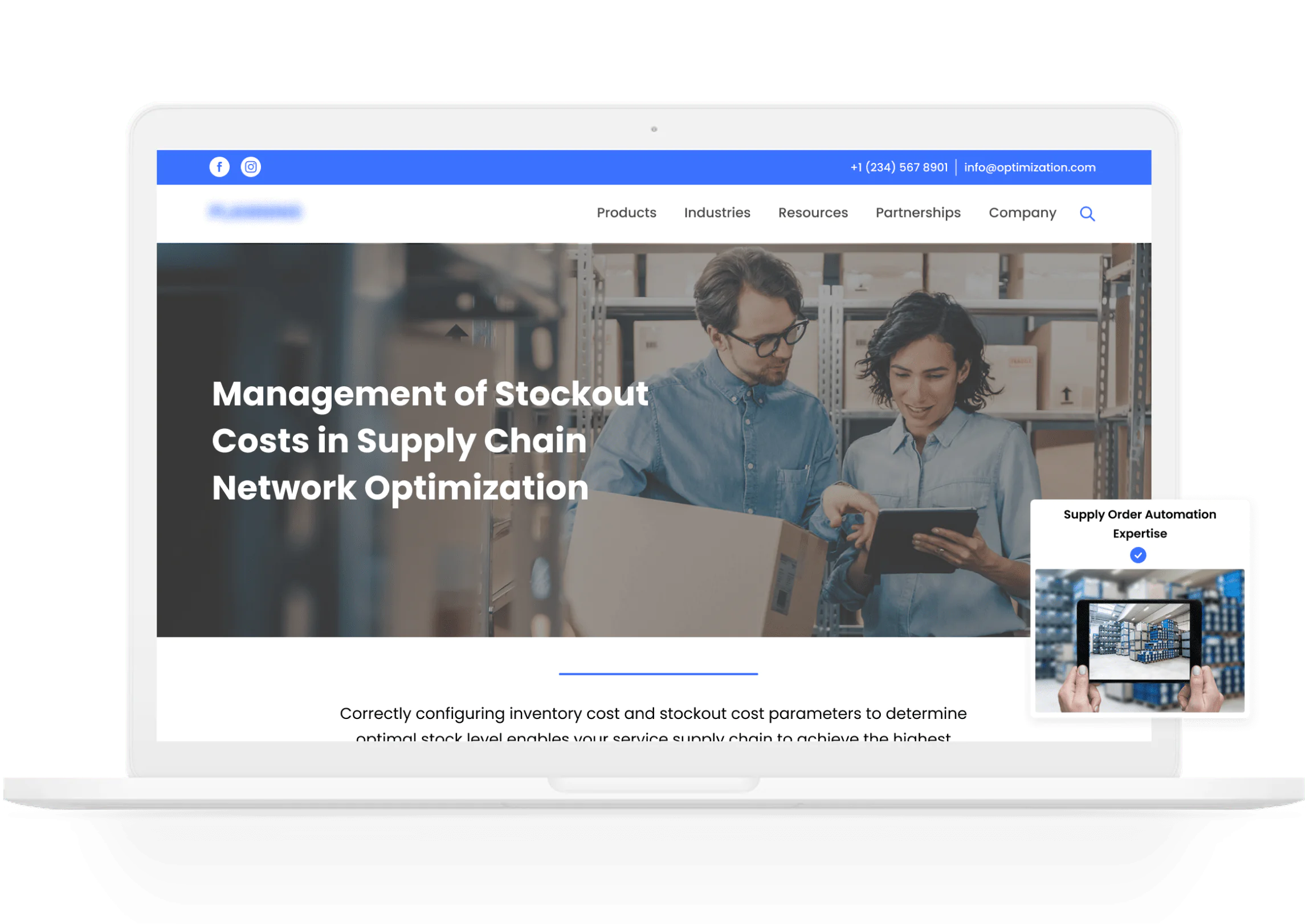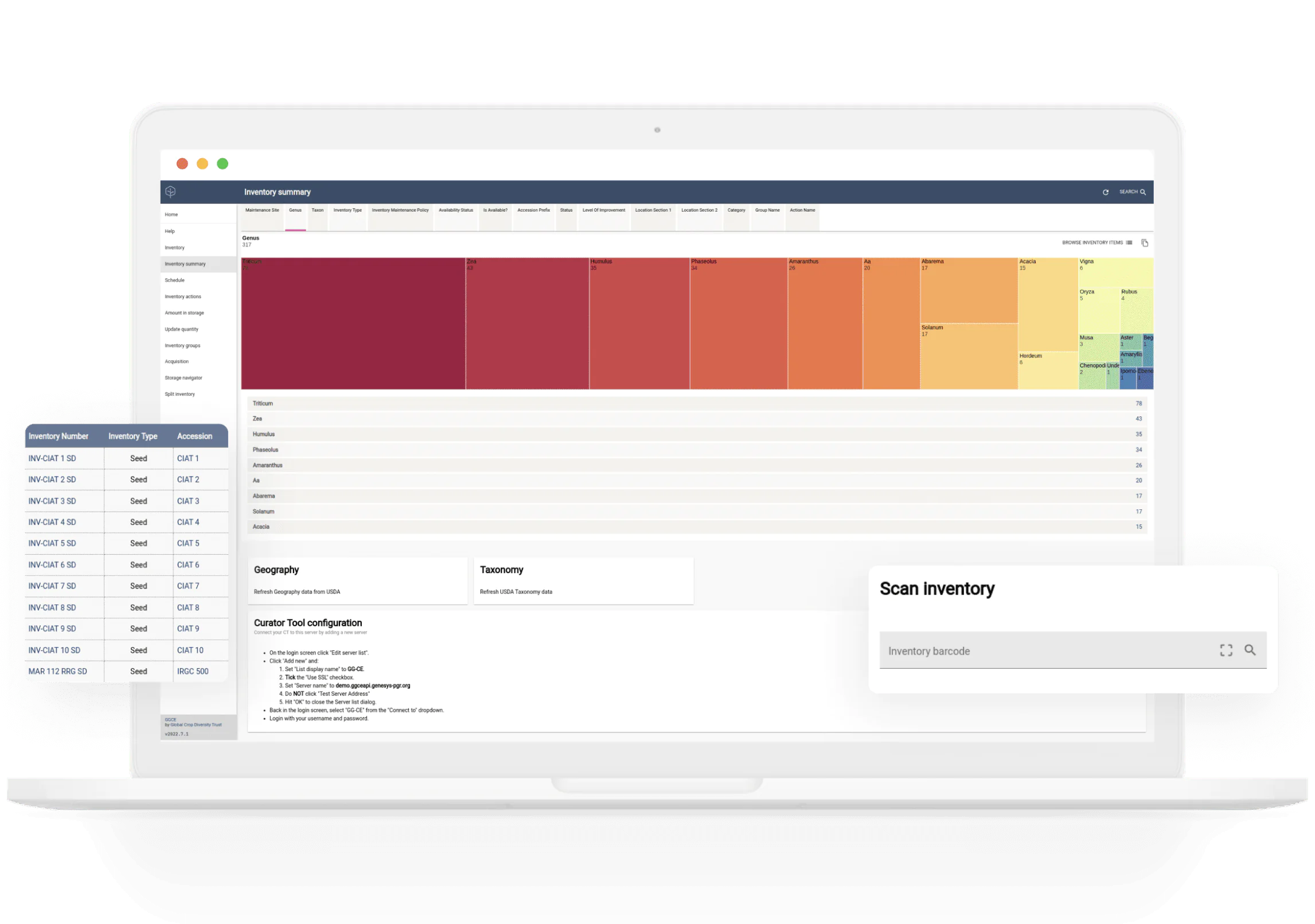 pr.business
Challenge: The product is designed for PR and marketing firms with a focus on the B2B market. Its objective is to offer small and medium-sized enterprises digital marketing solutions with an emphasis on local listing and review management. The customer approached us with the request to build a local search directory from the ground up that could gather data on small and medium-sized businesses in the area and manage their online listings on sites like Foursquare, Yelp, Google My Business, and others.
Solution: Our developers ensured that the platform has a wide range of features, including tools to gather reviews, receive status updates and reports from a net of social networks and search engines in one location, give users tools to manage data on listings, assist businesses in preventing information changes using the pr.business matching algorithm, and much more. In addition, our team created a toolset for marketing a business on external sources and a practical dashboard for managing business awareness. The outcome was a feature-rich platform that offered business owners tools to manage information about their companies and assisted them in increasing brand recognition in a cost-saving yet effective manner.
Waste collection B2B platform
Challenge: Our client chose to hire our full-stack specialists to convert a bare concept into a B2B platform designed for two types of businesses: those that look for waste collection services either on a one-off basis or a constant basis and those that provide this type of services.
Solution: JS was used both for the creation of the frontend and backend parts, while Node.js was selected for the server side due to its asynchronous nature and fast code execution, which helps to accelerate user request processing. The usage of the same technology, both for frontend and backend, allowed us to speed up the development process while reusing existing code. Our team managed to build easy-to-use tools for businesses that require waste disposal services that included the ability to place the offer on garbage disposal with necessary details such as time, bid, etc., monitor request completion, and much more. Tools that were built for the businesses that provide such services include the ability to send the bid on the completion of the offer, suggest beneficial rates, sign the contract, etc. Overall, we helped the client build a full-fledged solution, turning the concept into a fully competitive, modern product.
SaaS solution for service inventory planning
Challenge: The solution is a B2B platform for enterprises designed to help businesses improve service supply chain operations. The client was looking for full stack developers for hire to upgrade a legacy system and expand its functionality.
Solution: In terms of the technology stack, the backend of the product was built in Java, while the frontend was built in React to ensure its scalability. Our dedicated full-stack team implemented tools to help businesses estimate demand and optimize desired stock levels. They built new features that did not conflict with existing ones and optimized the platform's performance. In addition, our DevOps engineers helped accelerate cloud adoption. The product's outsourcing allowed our client to assemble a team of competent professionals at a reasonable cost and focus on accomplishing business goals while we dealt with the tech side. Currently, over 2,500 businesses use this platform in over 120 countries.
Grin-global community edition
Challenge: This product is a publicly available, open-source web platform designed to help genebanks manage and retain information about the plant genetic resources they have in their holdings. Our client decided to hire full stack developers at Aimprosoft since we had already built another agricultural project called Genesys successfully and had proved our experience and reliability. This time, our task was to modernize the product by changing the initially chosen tech stack, transforming it into a safe platform for genebank specialists, continuously maintaining it, ensuring its seamless operation, and expanding functionality upon request.
Solution: The combination of React and Redux was selected since this is a perfect fit for such a large-scale project. Node.js was chosen due to its ability to handle high concurrency, providing scalable and efficient performance for our application. The rest of the technologies were chosen based on their efficiency and relevance. Our contribution to the platform's creation helped design a top-notch solution for genebanks that simplifies the activities of genebanks personnel and provides streamlined access to up-to-date data about each sample, enabling better allocation of their limited resources and prioritization of activities.
Programming languages
PHP
Java
Python
JavaScript
TypeScript
Scala
.NET
Frontend frameworks & libraries
React.js
Angular
Vue
Ember.js
Java Portlets
Native.js
jQuery
Backend platforms, frameworks & libraries
Node.js
Laravel
Express
Tornado
Flask
Django
Spring
Nest.js
Next.js
Spring Framework
Java EE
Serverless
Styling
CSS
Sass
SCSS
Bootstrap
Materialize
Build tools and task runners
State management
Redux-Saga
Redux-thunk
MobX
Angular services+RxJS
NgRx
NGXS
Vuex
Testing tools
JUnit
NGUnit
Mockito
NUnit
XUnit
FakeItEasy
MSTest
NSubstitute
Moq
Cloud services
AWS
Microsoft Azure
Google Cloud
Databases
MySQL
MariaDB
MongoDB
Redis
PostgreSQL
Microsoft SQL Server
Oracle Database
Containerization and deployment
App server management
Websphere
Weblogic
Glassfish
Tomcat
Wildfly
Engagement models we offer
Selecting the best engagement strategy before deciding to hire a full stack web developer can have an impact on the success of your project. At Aimprosoft, we value adaptability and are dedicated to assisting you in choosing a cooperation strategy that properly matches your objectives, available resources, and unique vision.
We provide the chance to compose a team of dedicated full-stack developers who will collaborate on your project with your current team. We make sure that the tasks are completed on schedule, and regular status updates are provided. You have total control over the team collaboration and can adjust its composition, keep track of work fulfillment, and change project requirements as necessary. This approach gives you access to our large talent pool of more than 350 specialists while facilitating effective administration of the development process and guaranteeing total transparency. Adopting this strategy can result in quicker delivery times, more agile development, and more efficient resource allocation.
When to choose this cooperation model
You're looking for ongoing project support

Seamless team scaling is a priority

Requirements will most likely change

Your product is sophisticated and long-term
By matching project resources with development expenses, the time & materials engagement model improves visibility and control over the project's scope, budget, and timetable. By altering requirements and goals, enabling scalability without significant up-front commitments, and giving a beneficial, flexible style of cooperation, its adaptability suits firms looking to recruit dedicated web developers who have changing demands. This is one of the most popular strategies of collaboration among our clients since it provides quick risk reduction and aids in seamless adaptation to changing needs.
When to choose this cooperation model
The project's scope and deadline are unclear

The product is dynamic and long-term

You want to pay only for actual work done

You're looking for a flexible development
Our staff closely adheres to the predetermined development plan under the fixed pricing model, providing regular work progress updates. When you hire a dedicated full stack developer from Aimprosoft, it presupposes paying a predetermined payment for certain deliverables, giving clients exact control over project costs and timelines. This strategy provides payment convenience, lowers risks, and ensures that payment will only be made for agreed-upon results, independent of the resources and time expended.
When to choose this cooperation model
The scope is well-defined and fixed

The project's scale is either small or medium

Requirement changes aren't expected

You want to have low involvement in a project
A hybrid engagement with an IT vendor like Aimprosoft can stand out among many collaboration models as the best option, especially when other options don't suit your demands. Smooth communication and efficient problem-solving are made possible by this collaboration approach, which presupposes the combination of the knowledge of your in-house experts with the capabilities of our full-stack specialists. It also addresses risks associated with development due to changing requirements or unclear project specifications.
When to choose this cooperation model
The project is considered complex

You need flexible collaboration

Resource optimization is required

Project requirements aren't clear
Key reasons to hire Aimprosoft
full-stack developers
Multifaceted full-stack portfolio

With almost two decades of experience in the field of full-stack software development, we have been able to create a diverse portfolio of products of various levels of complexity. We have experience in a variety of industries, including healthcare, e-commerce, e-learning, IoT, telecom, and others. It enables us to create cutting-edge digital products, helping businesses avoid common development challenges seamlessly.

Cost-quality balance

We constantly work to strike a balance between cost and quality so that we can deliver solutions to our clients without sacrificing quality for money. Our mission is to support companies in quickly achieving their goals while staying within the constraints of available resources. Instead of using obtrusive and overvalued technologies just for novelty's sake, we carefully consider their applicability to your project.

Scalable development teams

In addition to full-cycle development, we also provide a choice of staff augmentation options. We offer a dedicated team approach to give our clients total control over management processes, cost-effectiveness, and a clear understanding of the project by all team members. We also provide the expansion of in-house teams via outstaffing to spare our clients from having to conduct a time-consuming search for the necessary developer.

Customer-tailored approach

We encourage flexibility in all processes related to full-stack development to make sure that our clients can successfully complete their software journey. Whether it includes providing team augmentation services or bridging time zone and location differences, we will ensure that every request can be fulfilled without any delays or misunderstandings.
Testimonials
Clients about Aimprosoft
FAQ
Frequently Asked Questions
Why should I hire expert full-stack developers from Aimprosoft?

There are several reasons why you should hire a full stack developer at Aimprosoft, one of which is the vast pool of full-stack specialists that you can choose from. We have more than 90 full-stack specialists in various specialties, including JavaScript, PHP, .NET, Java, and others. It gives you the benefit of assembling a cost-efficient team in one place, which enhances the productivity of all team members and provides transparency. Moreover, it means that you can cover all aspects of product development, including software architecture design, database creation, client-side implementation, etc., with the help of hired Aimprosoft developers.

What are the advantages of using full-stack?

Hiring full-stack developers offers a number of significant advantages to businesses. Firstly, such developers' comprehensive skill set allows them to seamlessly implement both front-end and back-end parts in a time-efficient way. Such versatility can speed up and optimize the development process. Moreover, such developers can adapt swiftly to changing project requirements, enhancing responsiveness. Their all-encompassing understanding of the entire development cycle often leads to faster problem-solving and integration of innovative solutions. Overall, when you hire fullstack developers, you can get a streamlined SDLC, reduced team coordination efforts, and faster time to market.

How can I hire a full-stack expert?

When you're looking for a full stack developer for hire, it's always important to start by outlining your project requirements and scope clearly. After that, create a developer profile highlighting the specific technologies and skills you require. Whether you're using specialized platforms like Linkedin or freelance websites or plan to hire specialists from an IT vendor, you should screen candidates based on their previous work, projects, and problem-solving abilities. Conduct technical interviews to evaluate their proficiency in both front-end and back-end technologies. Additionally, consider their adaptability, communication skills, and ability to work within a team.

What does a full-stack developer do?

A full-stack developer is proficient in both front-end and back-end technologies, which lets such a specialist handle the project's entire development process. They create user interfaces on the front-end and ensure a seamless CX. In turn, on the back-end, they work with server-side technologies, managing databases, APIs, product architecture, server configurations, and application logic. Full-stack developers integrate all these components, making sure that the entire application functions cohesively and streamlining the project's lifecycle from the design of its core to software deployment.

What are the key skills to look for in a full-stack developer?

The key skills of a full-stack developer include proficiency in front-end technologies such as HTML, CSS, and JavaScript, coupled with frameworks like React, Angular, or Vue.js. On the server side, expertise may significantly vary. Technologies may include Node.js, Python, .NET, Java, etc., and knowledge of databases like SQL, MongoDB, MySQL, PostgreSQL, etc., is crucial. Knowledge of RESTful APIs, version control systems like Git, and web application architecture strengthens their capabilities.

How much does it cost to hire a full stack developer?

The cost to hire a full stack developer for hire varies widely based on factors like experience, location, hiring model (i.e., freelance, in-house employment, outstaffing), and project complexity. In regions like North America or Western Europe, hourly rates can range from $50 to $150, whereas developers from Eastern Europe or Latin America might charge between $30 to $80 per hour. Freelancers often charge less than developers from IT vendors. For full-time employment, salaries can significantly vary depending on expertise and location.
Related services and expertise
Let our full-stack developers help with your project
Our developers are here to help with your questions. Write us a message, and we will get back to you shortly.
The form was submitted successfully. We will contact you shortly. Meanwhile, we suggest checking out what our clients say about software development with Aimprosoft.
Proceed to Clutch
Featured in