#Business management
#Digital transformation
22 September, 2020
Pharmacy Management Software Development: Features, Steps, Costs
The pharmacy dates from ancient times. Earlier, only prosperous people could afford the medicine that was manufactured by alchemists. The first pharmacy was founded in 754 in Baghdad, where people were able to come and buy drugs. Pharmacists and doctors often were the same person. They prescribed a remedy, patients purchased and took it. And even got better.
In 2020 you can't avoid pharmacy management system development. Suppose a patient wants to get a remedy. They need to see a doctor, receive an online prescription, and send it to the pharmacy. In a few hours, medication will be delivered to the patient.
Today pharma cares about delivering the right medicines and healthcare services to the right patients at the right time. Let's see how alchemists have evolved and what cure helped them to do it.
Pharmacy management software market overview
Being one of the most extremely profitable niches in the world, the pharma sector needs facilitation in business process management no less than other industries. The total global pharmaceutical market rose to 1.25 trillion U.S. dollars in 2019. The US takes leading positions with 40% of market share and predictions to overcome $685 billion by 2023 in its growth.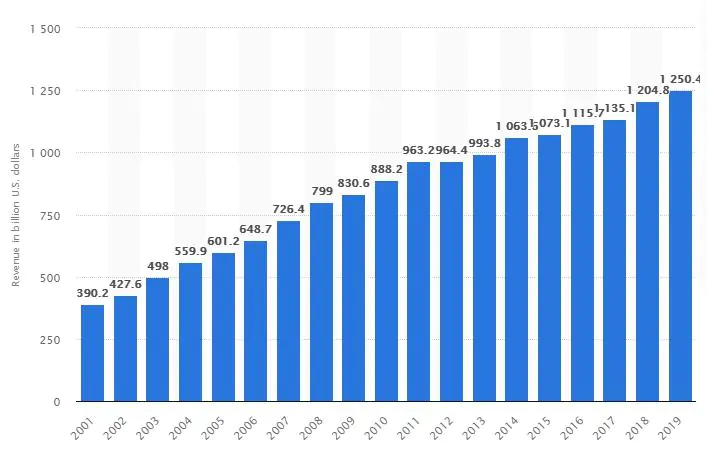 Pandemic accelerated the process of contactless access to drugs. Pharma B2C businesses in the countries with an imperfect legislative system concerning sales of medicines hitherto received relief and opportunity to reach the customer faster. Online. Under quarantine, many countries allowed distance selling of drugs to the public over the internet temporarily. However, some of them are going to continue the practice in countries shaping regulations surrounding the matter.
According to The American College of Clinical Pharmacy, prescriptions are dispensed online, and it is expected to reach 5 billion by 2021. The pharmaceutical market joins manufacturers, distributors, drug stores, logistics, warehouses, pharmaceuticals, and patients. Pharmacists will require software to automate workflow, inventory, and sales process management with those in the chain to cope with the growing demand for medicine.
The market's openings lie in demand for adaptation and extension of existing pharmacy management software to the online trade and business management in the new reality. When a distance selling model works in such countries as Ukraine, local distributors will have to compete not only among themselves but in the international market. It is a new competition level with new opportunities for business development and different requirements for the software.
However, some industry-specific limitations are related to regulations around the distance selling of medicine in different areas, which can be a severe barrier to entry to new markets. The industry-specific challenge is restrictions for distance selling of medications that are permitted and regulated by the national agencies like the Foods and Drug Administration
(FDA) in the USA, the European Medicines Agency (EMA) in the EU, the Medicines and Healthcare products Regulatory Agency (MHRA) in the UK, and similar. That means going global requires to be compliant with regulatory agencies' standards of the specific area.
Based on the above mentioned, willing to automate your pharmacy business processes, you can opt for retail-related business software tailored to the pharma industry specificity. Let's see how you can arrange your sales processes based on market offers and our software development experience for B2B and B2C clients.
What is a pharmacy management system?
A pharmacy management system is also known as the pharmacy information system. The software is designed for complex automation of routine processes related to medication use, patient care, billing, document management, relationship with suppliers, prescription processing within pharmacies and pharmacy chains trading medicines, dietary supplements, hygiene items, medical supplies, and others.
Advantages of pharmacy management system
Who needs a pharmacy management system?
First off, let's clear up 2 types of businesses in the industry striving to increase efficiency and manage workflow.
Scaling B2C pharma retailers that want to improve relationships with their customers and meet patient expectations:
independent B2C pharmacies;
B2C pharmacy chains.
Large client-base B2B companies that want to level up relationships with their partners:
pharmaceutical wholesalers (international and local);
pharmaceutical manufacturing companies;
pharmaceutical warehouses.
When do businesses need a pharmacy management system?
When you are tired of slow, error-filled operations that force your customers to hesitate, you are going to look for a remedy.
If you want to transform towers of paper into digital, manage retail sales of prescribed and over the counter drugs, control stock and dispensing, estimate demand, get a full picture of business performance with analytical insights and reporting, you will appreciate a unified automated solution that is a pharmacy management system.
Add to this finances management, real-time alerts on hot issues, sales and revenue management, and you will be able to plan pharmacy workload and manage activities effectively.
A list of obvious сhallenges that a pharmacy management software development and integration has to solve:
medication classification and selection;
pricing;
embedded ordering system from suppliers;
integration with pharmacy devices;
support and integration with POS;
open APIs and security;
loyalty programs and specials;
online pharmacy management;
online person identification for prescriptions.
What pharmacy management system does a business need?
Even more generally, though, a large pharma B2B needs a set of ERP + CRM + e-store to automate processes aiming to increase ongoing revenue. This complex is worth considering when a man-hour cost in the area is higher than software maintenance. In its turn, it is quite enough to set up a pharmacy management system of general use for a small B2C pharmacy. To the issue of the cost, we will come back later.
Now responding to the growing demand for the automation of information processing into pharmacies, we would like to delve deeply into pharmacy software development to keep up day-to-day operations.
Features of pharmacy management system
Every pharmaceutical retailer needs a particular set of features. That's why creating a pharmacy software often covers multiple needs. In any way, you have to manage supplies and relationships with customers and sell goods both offline and online. Perfect if one solution can cover your needs. In another case, a system with various feature kits and the opportunity to be honed for your pharmacy will fit you.
The pharma retailers liaise between multiple suppliers and are under an obligation to control different aspects of specific goods as medications are. It is a commercial enterprise with a complicated reporting structure. Developing features, your software vendor should take into account that pharmacy is not only a health care institution providing the population with medications while.
However, there is a standard feature set necessary to make your pharmacy performance-driven and increase operating efficiency. Here's what we picked out.
Inventory management
Pharmacy inventory management is a part of the software responsible for taking an accurate inventory automatically. You get a digital audit trail for all pharmaceutical products in your supply system that can help maximize the inventory turnover ratio.
It helps to make data-driven decisions concerning updating stock level, selecting drugs, managing supplies, timely ordering, defining due refills, identifying and recording the prescription filling and pick-up details, and the due date for the next fill, providing alerts with suggestions to get the appropriate supplies, and tracking illegal medicines.
Prescription management
Prescription management helps arrange a random multiple prescription flow and over the counter (OTC) stock to maintain optimal inventory levels. It might be pretty convenient for your pharmacy to have a scheduled prescription process with patient details automated and centralized within your pharma environment.
Draw your attention to how the software copes with the prescription refill process. The way it does will decrease incoming calls, optimize deliveries, and generate greater prescription volume.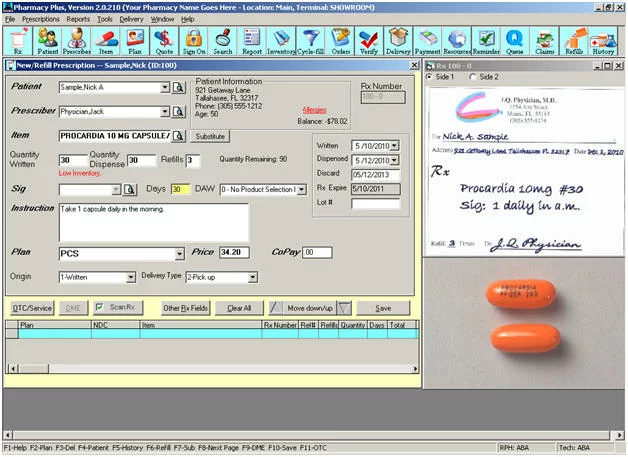 Dispensing workflow management
A typical dispensing of medication order requires to be done in an orderly manner using different features with the following actions:
Initial identification of a patient in the pharmacy CRM system.
Prescription interpretation and data entry into the system by the technician or pharmacist.
Clinical review for potential issues related to drug interactions, duplication of therapy, and appropriate dosage, etc.
Filling medications manually or by a robot, packaging followed by the handoff to the pharmacist.
Verification for accuracy of the drug information.
Issuing medications with counseling.
Technology handling workflow will allow you to keep under control this overscrupulous process neatly. Dispensing workflow is expected to be flexibly adjusted for slow days or short-staffed cases. Build a pharmacy management software implementing both an open workflow and a queue system workflow to maneuver in your pharmacy operation.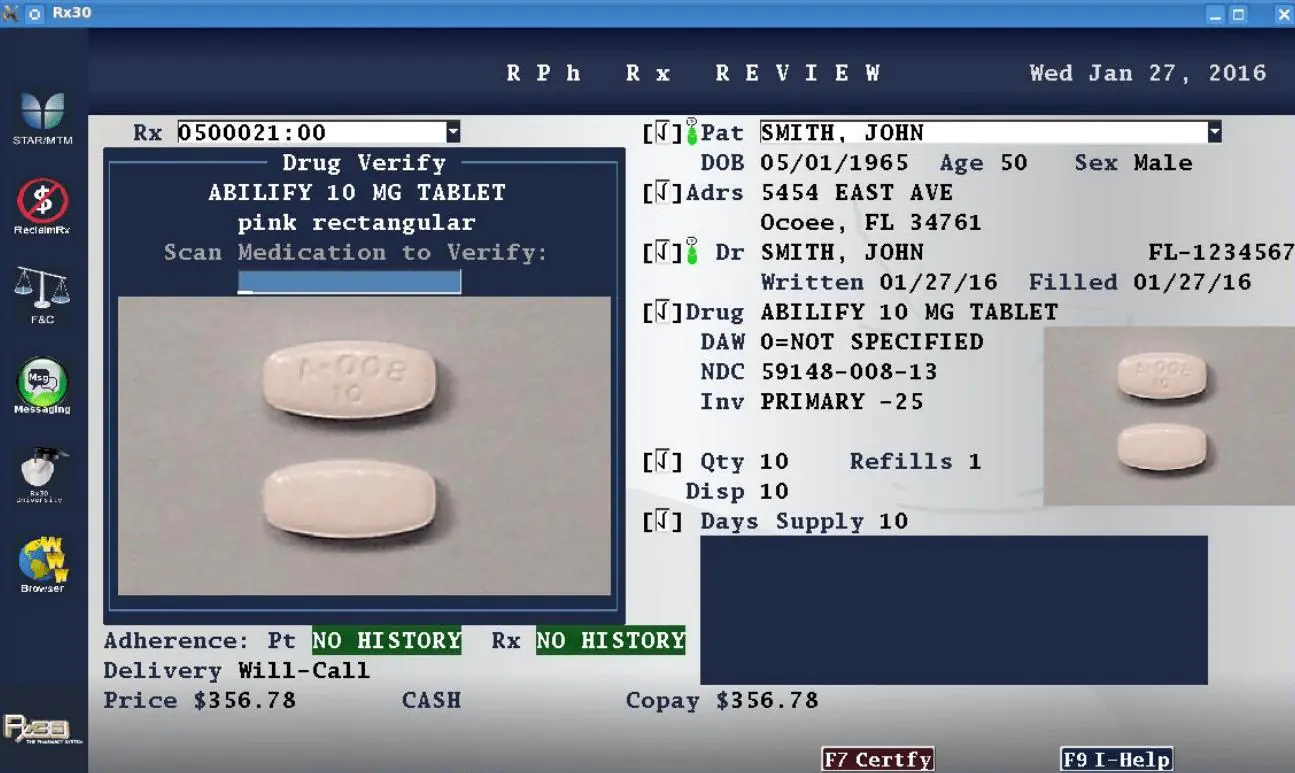 Analytics and reporting
Even a small pharmacy is a complex datahub. Privacy rules and state regulations make using this type of data with due caution. You may turn that to your advantage with analytics functionality and set up patient care strategies in the right way.
You can leverage data subsets of patient personal information, prescription transaction, insurance, supply chain, sales figures into powerful analytics. Inventory reports can prevent drug shortages. Consider an analytics feature to track prescription activity to detect at-risk cases. Regular revenue reports and gap analysis can help develop business development and be used during an audit process.
Opt for a drag-and-drop way to move objects. That can streamline the process of using software and timely respond to market and patient care demands.
Financial intelligence management
Pharmacy billing is too complicated in different countries involving three tiers: supplier – payer – consumer. It depends heavily on the variation in regulations and state laws and health or prescription coverage providers. It requires a robust system to offer competitive prices and manage revenue generation for patient care services.
Consider adding features within the automatic coordination of benefits (COB) billing module. It will help maintain day-to-day transactions, manage multiple payers, insurance reimbursements, delayed payments from patients, and identify profit losses from remuneration fees.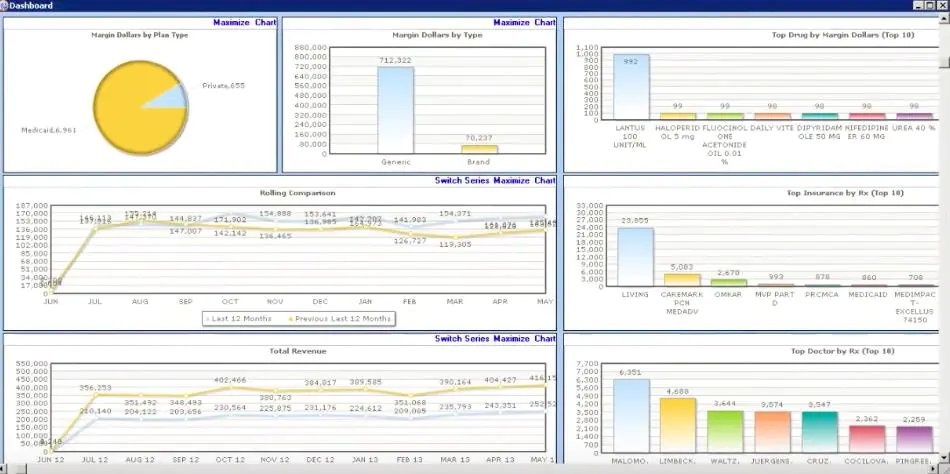 Online pharmacy
Running your pharmacy today, especially in the time of corona, requires extra efforts to survive. It is an excellent opportunity to transform the business with an online store. Consider an e-commerce module with features enabling you to arrange contactless sales online. It should have a storefront and backoffice that could be integrated into your pharmacy management software suite.
Note, before integration, check the e-commerce solution for compliance with pharma industry standards. Ask your software provider to tailor online dispensing, taking into account prescribed and over the counter items. It will come in handy to differentiate categories of goods, respectively. An option of free delivery direct to customers' doors will be a big plus.
Notifications and alerts
Regarding notifications and alerts, creating pharmacy software improves patient safety, which directly influences customer loyalty and competitiveness in the market. The relevant cases based on user-defined triggers could be:
customer care (drug contradiction and allergy alerts, prescriptions ready for pick-up or refill, refills due, medication adherence reminders);
inventory management (low product inventory alerts, run out items, slow-moving inventory, stock replenishment, supply and delivery notifications);
daily operations (inconsistencies in a patient, medication, or prescription data entry);
analytics (regular clinical and administrative performance alerts);
sales strategies (up-sale with related products, promo, and loyalty programs);
others.
Integrations
With e-Prescribing, your pharmacists will get error-free electronic prescriptions from medical providers instead of handwritten or faxed files requiring manual entry in the database. It will improve prescription management of refills, modifications, or cancels.
Point of sale (PoS) system integration helps coordinate pharmacy (or pharmacy chain) retail operations such as back-office management, sales, customer relationships, online and offline data flows on transactions, inventory updates, prescription operations automatically. signature capture capabilities
EHR/EMR integration is vital for inpatient pharmacies primarily. It provides greater efficiency and responsive care to patients based on their medical data.

Read also how to make a Hospital Management Software

Interactive voice response (IVR) reduces staff workload for patient calls on basic questions or refills, helps cope with overloads during peak periods, automates delivering messages on pharmacy schedule, special offers, etc.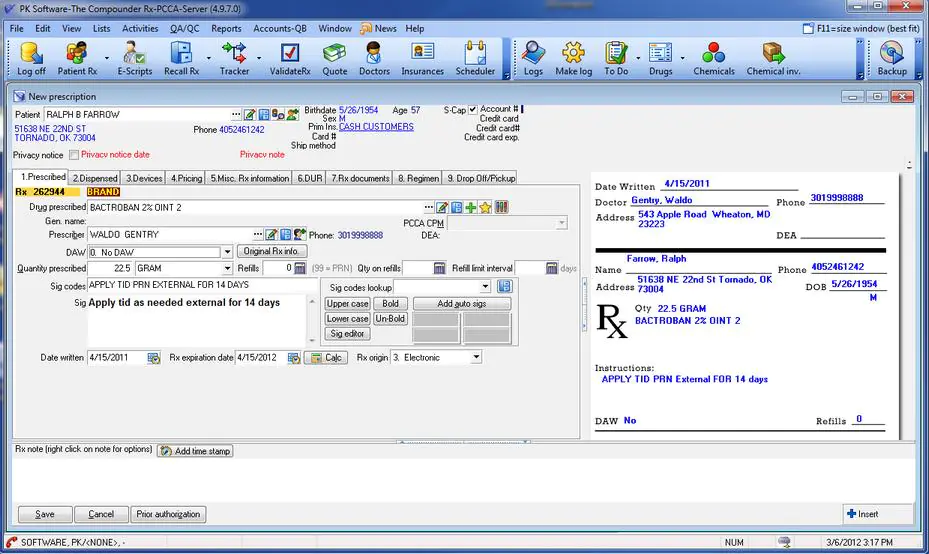 Additional functionality
Scaling and responding to market changes, you will have to intensify functionality and integrate with external software systems.
The following automatization feature sets and modules will help your business to enhance your pharmacy processes:
Database update on industry regulatory and compliance information.
Automated filling strip packaging for patients.
Digital document management system.
Scanning and file recognition.
Barcodes and labeling.
Choosing software or developing features, you should consider those able to address your business concerns.
Ready-made vs. custom solution
The off-the-shelf software is easier and faster to set up in case of the great need for outpatient pharmacy. A software vendor can offer you the cost of the version or chosen subscription plan right away. At the same time, opting for ready-made solutions, you will be involved in continuous investments in monthly or yearly license fees. It is a kind of rent of software from which it is too complicated to bail out. Particularly when you have tuned your business processes already, you will pay for a license, integration, and minor customizations.
If you want to disrupt, ready-made systems will slow you down. If you feel your potential goes beyond the early beginning, a custom solution is the one that can be honed to your needs. Designed to meet specific business requirements, it is worthwhile. You can think out a pharmacy management system design, architecture, choose development technologies, plan the development process module by module. In contrast, in a ready-made, you get predefined out-of-the-box features that can be extended by upgrading subscription plans or custom builds.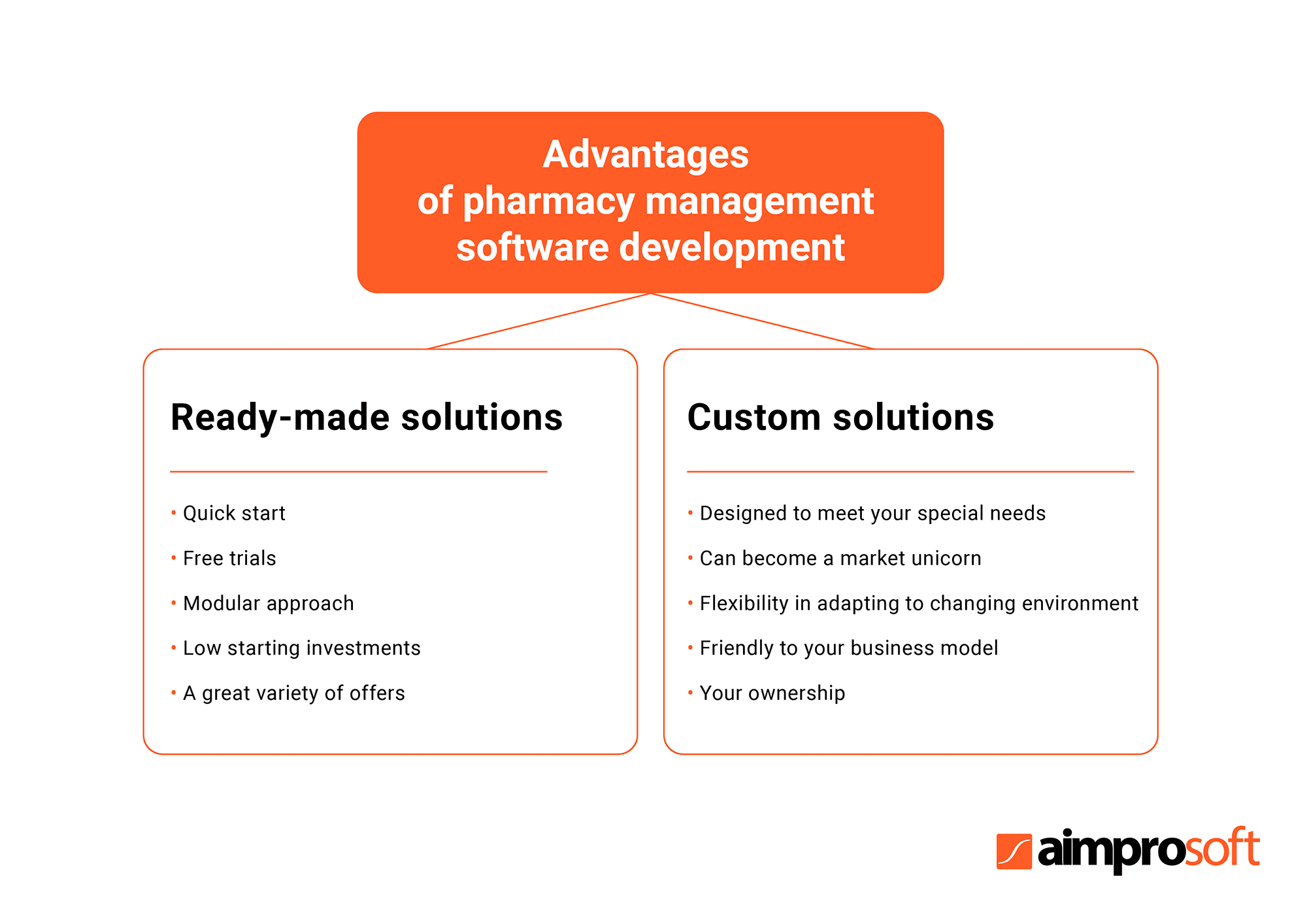 Opting for homebrew solutions in order to save, you can make a mistake. Lots of upgrades of the ready-made solutions would make your system look like a patchwork quilt, threatening data loss if you outgrew it already. It could be expensive and non-effective as a result.
We advise you to avoid technology vendors without proper expertise. Take this case seriously. Consider approaches compliant with pharma industry standards and rules your business is subject to.
With respect to the large B2B, there is a software, for example, SAP Commerce Cloud (Hybris), integrated into ERP and CRM, can realize a B2B2C sales model. That is very appealing in the conditions of the global economy reboot caused by the pandemic. You can sell not only partners but also reach end customers directly, creating an additional sales boost.
How to create a pharmacy management system
Well, while you're juggling your pharmacy routine processes such as retail, dispensing, outpatient services, we got close to the issue of how to develop a pharmacy software. There are four core steps you should follow on the way of going digital:
Define your business goals.
If you aim to track inventory at the register as your bottom line, focus on software with extensive inventory management features.
Listen to the users.
Your staff will use the software mainly, not you personally. Talking to pharmacists, technicians, and even suppliers and doctors, prescribing medications will clear up gaps and needs that could be integrated into the product as functionality as a result.
Record your insights.
Collected information is a helpful way to describe business requirements and make a Statement of Work (SoW) with the utmost ease, which will serve as the main project documentation.
Find a vendor.
Follow the same principles as we described being in a dilemma concerning ready-made or custom solutions. Your technical partner should have industry expertise, technical expertise in ready-made solutions if you favor it, and offer you a full development cycle with further support in custom.
B2B requires another approach. Considering custom pharmacy management software, you will need to make a pharmacy system design of at least three main full-fledged modules:
In a few words, to make a management system for a pharmaceutical B2B company, you need to take the following actions:
Step 1. Set up and implement ERP (but the chances are that it is done already because the B2B model has been running already).
Step 2. To improve customer relationships, set up CRM, preferably in a natural integration with ERP. For example, SAP S/4HANA and SAP CX platform.
Step 3. Attracting new customers and retention of existing necessitate integrating a storefront with a well-thought checkout, where clients can see offers going with sales pitches and submit or reject it.
This is the way you can manage your business, scale it, and grow your customer base.
How much does it cost?
Now you've got a comprehensive overview on how to create a pharmacy management system. We are on the verge right now to solve your business challenges. Let's figure out costs necessary to create a high-quality system for pharmacy management.
A comparison of popular ready-made software from the perspective of cost, purpose, features, and support below will help you to value investments for your retail business.
Price
Name
Purpose
Features
Education and support
From $150/month
PrimeRx
Independent pharmacies and chains

automatic refills barcode generation
e-Prescribing
inventory management
multi-store management
pill imaging
point of sale
prescription processing
rx image scanning
eSignature capture
pill database
forms management
eSignature
claims management

documentation
webinar
live online and in person sessions

From $300/month/user
SuiteRx
Independent pharmacies and chains

retail and long term care modules
document management
eSignature capture
point of sale
inventory management
web portal capabilities
electronic delivery tracking

–
From $1500/one-time
Winpharm
Boctors dispensaries, independent pharmacies, long-term care pharmacies, and hospitals

full built-in verification module
point of sale
find and add new drugs
hard copies of documents storing and scanning
automatic refill processing
coupon management
medication therapy management
interactive voice response (IVR)

–
From $1500/one-time
Advanced Rx
Independent pharmacies and chains

automatic refills
barcode generation
compounding
e-Prescribing
insurance processing
inventory management
multi-store management
online refills
pill imaging
point of sale
prescription processing
rx image scanning
signature capture
pill database
forms management
eSignature
claims management

documentation
webinar
live online and in person sessions
online support
business hours support
24/7 live support

From $10000/month/use
MerchantSoft
Outpatient hospitals and independent pharmacies

barcode generation
inventory management
multi-store management
point of sale (POS)
prescription processing
signature capture
pill database
forms management
eSignature
claims management

–
The pricing range of ready-mades starts from $150 and goes beyond $10 000. It depends on the vendor value on the market, desirable feature set, purpose, and other factors. Solutions are provided on the subscription base varying in a one-time payment or regular monthly fees per organization or user. All offers are available as SaaS.



Read also: How to Make a SaaS


As for custom solutions, they will come at a much higher cost for you for several reasons.
You will start choosing a technical partner.
Then set up a project team to do the entire scope of work.
You will need to design a system architecture from scratch.
It will require a complex UI/UX design to be done.
Issues on server and system infrastructure installation fall on you.
Obviously, it is more affordable for individual pharmacies to set up some ready-made solutions and address the technical vendor for customizations, probably different from those of a native software provider.
If you plan to scale your business building chain, you should think about a scalable solution. If your business is large enough and requires a complex approach, then SAP solutions plus a Hybris storefront will work pretty well.
In this article, we draw attention to independent pharmacies and chains primarily. However, while we're at it, we would like to give a piece of information for wholesalers for perspective.
The development cost for B2B companies is counted depending on the following factors. ERP and CRM are integrated on the basis of the ready-made solution. Vendors offer a fixed price for the scope of integration work plus license fee. Expect to pay extra costs for customizations tailored to your business that should be integrated besides seamlessly.
Pharmacy management software development with Aimprosoft
Let us tell you how to make a pharmacy software with Aimprosoft.
We have delivered several projects, both B2C and B2C, on automation business processes in the pharma industry for a large European pharmaceutical wholesaler operating in different countries. Our team integrated online pharmacy solutions into the existing products that are favorable trends now.
Our client wanted to accomplish three goals to develop new strategies and move away from orthodox business practices.
Goal 1. To boost sales
The out-of-the-box features were limited to the client's customer care intention. We had to develop a loyalty system module for pharmacy customers. Customers would get cashback rewards that are points accumulated on their account purchasing prescribed medications.
A team of 5 Hybris developers has been developing a four-grade discount system to encourage customers four times a year with personal offers for particular product categories. While working on the project, we accomplished two migrations from 6.3 to 6.7 and then to 18.08.
Since our client used SAP products (ERP and CRM), he expected to enhance the SAP portfolio usage. Following that, we integrated SAP Loyalty System and SAP Marketing System to manage statistics and get analytical insights. It helped to arrange loyalty management in the expanding user base.
Goal 2. Business model shift
B2B businesses can get stronger adapting to market changes. Being an entrepreneur of a far-seeing kind of mind, our client decided to improve relationships with their end-users shifting to the B2B2C model.
Frankly speaking, we love it. We are always happy to make extra to move beyond. It is completely possible to build an online sales channel for both B2B and B2C businesses. We created a single storefront with the same listings and prices but different in offers depending on whether it is a retail or wholesale customer.
It gave a valuable advantage for the client's business entering the drastic time of corona. While many companies come to a standstill with innovations, a B2B2C model implemented beforehand helped to recover faster.
Goal 3. TO improve checkout
We took the challenge to customize a pharmaceutical B2B checkout with the response to the customer's special needs. The standard checkout was based on the five steps:
Approval of goods quantity.
Address.
Delivery method.
Payment method.
Order confirmation.
He wanted to personalize checkout for each of five customer types. We made groups of customers and branching for each type. Depending on the type, orders were sorted to be processed automatically or after a human confirmation.
As a result of Aimprosoft Hybris developers' customizations, our client succeeded in their objection of market expansion and grew user base. It is one of the examples when a collaboration shifted to a reliable partnership.
What gives you a ready-made solution Hybris?
Once developing an online store based on the off-the-shelf solution Hybris, we managed to scale online stores for the client's rest B2C pharma retail businesses. A set of standard modules such as Base Commerce, Commerce B2C Accelerator, Backoffice, OMS (order management system), ASM (Assisted Service Module), Customer Service Module, Promotions was enriched with a required extension stack to every business website. We could use the first implementation of online pharmacy and customize it to the new websites and requirements.
All online pharmacies are running on the single Hybris platform, which saves operation costs on server maintenance and instances deployment. Hybris has established itself as a quality solution for pharma and other industries as well. SAP Commerce Cloud gave a major advantage for our pharma clients:
reliability;
speed;
stability;
omnichannel operation;
seamless integration;
extensibility;
cutting edge UI.
Pharmacy management systems are not just a single software; it is a complex of full-fledged systems; each of them is responsible for a particular set of tasks. They are differentiated on login and password for different groups of clients.
Conclusion
You are running a business in a highly profitable market that is hard to enter. You have an advantage, though. You're in. Why not embrace technology to straighten your business?
If you decide to advance your retail model, we will use our whole experience and develop a complete custom solution. If you make up your mind to do it with SAP Commerce Cloud (Hybris), we will avail you then.
Message us to share your business challenges. Aimprosoft is right there to help cope with that.
Frequently Asked Questions
What is a pharmacy information system?

A pharmacy information system is the same as a pharmacy management system. This software is used to manage pharmacy-related data by the power of automatic tools.1
How to increase revenue in your pharmacy?

The retail pharmacy business has a unique edge. It interacts very close to its end customers than wholesalers. You can gain the advantage of automated loyalty programs to assist your staff in cross-sell and upsell processes. Integrated loyalty modules can ultimately boost your pharmacy revenue, promoting non-prescription purchases.
What is online pharmacy software?

Online pharmacy software is a set of modules, including storefront, CRM system, and ERP solution integrated into a single system with a pharmacy management system. It is used to distribute prescribed and over the counter goods online with delivery to the door by means of postal or shipping carriers.
Does a pharmacy management system have claims management?

Usually, a quality pharmacy management system development includes a module responsible for claims and transaction management in real-time. You can set up a system to submit automatically a patient's prescription claim to multiple insurance plans. It will help you to improve your strategies towards cost-effectiveness.