Articles
22 September, 2022
Guide on The Right JavaScript Developer Outsourcing for Your IT Project Growth

Key Takeaways
Do you know that NASA provides us with pictures of space due to JavaScript? It turns out yes. Read on about the trends of JS development in 2023.
JavaScript developer outsourcing represents financial, tech, and recruitment benefits for software projects. Know more.
JavaScript programming services for web apps and mobile apps by Aimprosoft with real cases from our existing clients.
Secret saving points of successful JS outsourcing to a technological partner.
And on top of that: learn what it means to choose a partner that signs a new contract on the 24th of February 2022.
A recent lucky find tells that the James Webb Space Telescope, one of humanity's finest scientific achievements, relies on JavaScript files to take stunning cosmic pictures for NASA and humankind. Impressed, right?
JavaScript brings websites to life, being the only programming language for browsers today that defines how a website responds to users' actions. Its omnipresence dictates the demand for specialists to cover, first of all, business needs in developing appealing interfaces.
Although the whole number of developers using JS is 17.5 million, the popularity witnesses the colossal demand for technology and such specialists.
What will it take for business?
Attractive websites create a comfortable space for users and therefore retain customers, making them feel like a fish in water.
Intensive headhunting gives rise to the growth of prices and a shortage of staff. In this article, we will tell you how to successfully outsource front-end development.
JavaScript outsourcing trends for 2023
Software development outsourcing is expected to grow by 70% by 2023.
The main driving force in the issue is tech startups eager to handle talent shortages and set up productive and reliable teams. 10 years in a row, JavaScript stands as the most commonly used programming language among professional developers according to Stake Overflow.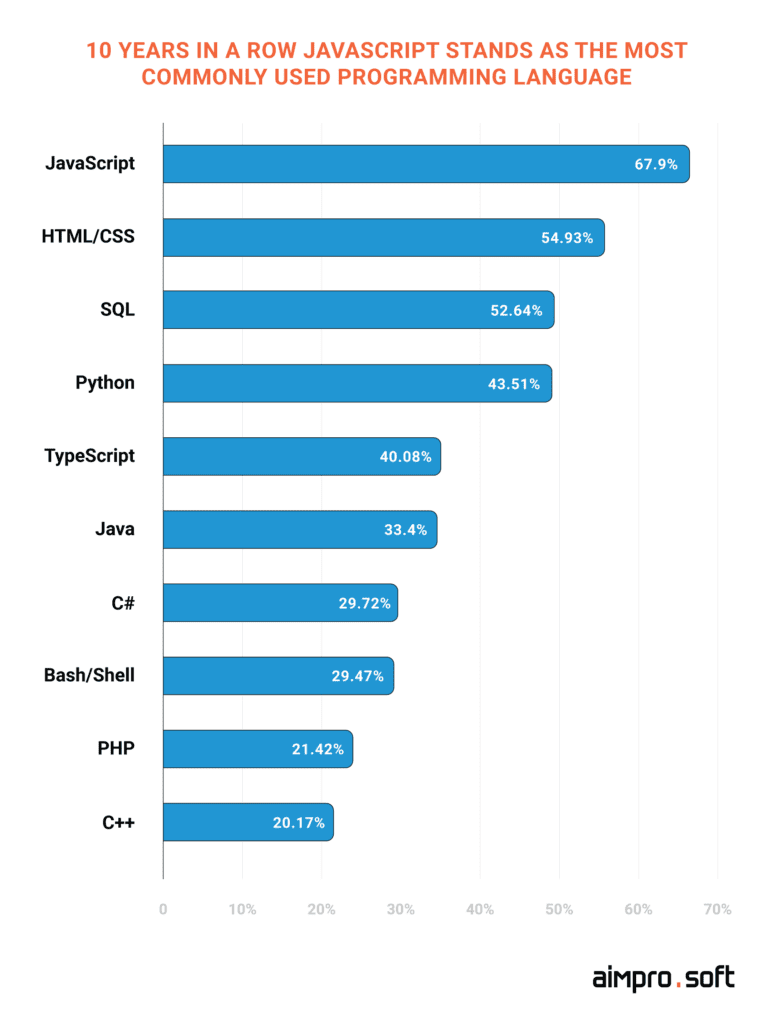 And again, PYPL (PopularitY of Programming Language) placed JavaScript third in 2022 and had every reason to hold the positions in 2023 and ahead.
According to StackShare, 14 000+ companies reportedly use JavaScript in their tech stacks. They are well-known Airbnb, Instagram, Slack, Reddit, and Discord, to name a few. With the demand for skilled programmers on the rise, these businesses are rapidly expanding their operations overseas to drive operational cost savings along with productivity.
As JavaScript is evolving, it gains more and more popularity among professionals. Its ubiquitous nature spreads into back-end development. Thus, a rising need for full-stack JS developers is observed across the technology space as well. The JS adaptability ensures the prosperity of language in the longer term making a demand-supply gap bigger.
Node.JS shows incredible performance for real-time web apps. Proven by Netflix, a $228 billion-dollar company.
Read More
Angel.io unconditionally proves the readiness for JavaScript outsourcing with several current remote positions published by startups. Forced by fundraising agony and time-to-market rush, founders, are ready for JavaScript developers outsourcing.
Along with JS proliferation, TypeScript (TS), a superset of JavaScript backed by Microsoft, does not lag behind. And over the last few years, TypeScript has become one of the top choices as a programming language. Accenture, Revolut, Medium, Asana, and Walmart are a few companies that represent the broadness of JS usage.
If we talk about frameworks, the highest splash in demand for an open-source library, React.js, is observed in the USA this year, with almost 80 000 job openings (LinkedIn). The trend for using JS library is growing, making to shift in outsourcing JS development overseas. The tech capacity of the Ukrainian IT hub, for example, is 32 000 tech specialists with React.js in their skillset (LinkedIn).
For instance, Deloitte, an industry-leading audit and consulting firm that regularly publishes analytical reports about outsourcing, by the way, relies in its tech stack on Angular, a TypeScript-based open-source web application framework.
Vue.js, a library for building interactive web interfaces, supports UIs of Glovo, HENNGE, GitLab, and other leading companies. Another growing technology with almost 6 400 openings in the USA as of Sept. 2022 and oversupply with nearly 10 000 techies in Ukraine.
The picture demonstrates technology development which heavily requires support from third-party providers. Undoubtedly, companies are looking for automation and outsourcing as a cost-effective way to operate, and the trend will continue in 2023.
Benefits of outsourcing JavaScript development
The increasing supply-demand gap for software developers, the growing gig economy, and remote work tendency generate a tech talent demand and simultaneously an opportunity to outsource JavaScript talent rapidly.

Financial and growth benefits for CEOs
CEOs see outsourcing JavaScript tasks as a smart way to invest in a project development team of experts.
Craft a budget smartly
Cost-effectiveness as a key priority comes to the fore. While in-house JS developers require additional expenses for benefits, sick days, and training, outsourcing implies you only pay for the services you need, so you get a pro of predictable budgeting.
Finally, focus on the vision
Wearing many hats and running in everybody's shoes is not the right way for a CEO. Focusing on the visions of the future, strategy, and improving leadership skills is possible when tech staff hiring and technology management is held under control by the responsible expert or a group, which a JavaScript development company is.
Get a team productivity increase
Concerns that remote team performance is subpar are all but gone. Since the pandemic shift to remote work, a whopping 90% of full-time workers are convinced that they are more than comfortable working remotely. Employees of software development companies are exactly specialists experienced with remote communication tools and agile development practices at a distance. Moreover, expected outcomes are always documented as duties and obligations of the vendor.

Win the race
By outsourcing, you can stay above the competition by having a panel of IT experts with a wide diversity of services in one place. By finding a partner once, CEOs get access to many opportunities a software partner offers. Technology solutions designed to your specific needs give your business a huge advantage in the competition race.
Be out of hiring and training
As usual, hiring new staff to augment your dev team is on the vendor's shoulders. You, as a CEO, are able periodically to check reports and deliverables after agreed milestones. Continued training (certifications, upskilling, mentoring) for the development team is also a field of responsibility for your chosen partner. To provide services in order to provide the highest quality of product, a software partner ensures staff skill development.
Tech benefits for CTOs and CIOs
Access the world pool of tech talents

Access to the vast pool of tech talents is the most determining factor for Chief Technology Officers who are carrying out their duties and are responsible for engaging the fitted specialists, product growth, and development along with proper security enablement.

Delegate recruiting
Recruitment, hiring, sourcing, and onboarding can also be delegated. There are 97 000 specialists with JavaScript skills in Ukraine as of Sept. 2022, according to LinkedIn. And only 853 job openings. That demonstrates the supply surpasses the demand 113 times that can be, by the way, closed quite quickly. Moreover, the annual 25-30% growth in the field promises 29 000 new JavaScript specialists in 2023 that can ensure your product's evolution.
Ensure quality according to your standards
CTOs and CIOs have a seat on the decision-making table today, so they understandably have to ensure the proper quality of provided services by candidates. They use the following quality control means while outsourcing:
GitHub, test tasks, a trial period prior to main development, and Proof of Concept projects – all that demonstrate the quality of JS outsourcing vendors.
As usual, outsourcing companies have accumulated technical expertise gained by working with a wide variety of clients; thus, a presentable portfolio is worth checking to get proof.
Tech talents from proven tech hubs like Eastern Europe have been giving the assurance of timely project delivery for over 25 years in a row.
Navigation of regulatory issues is easily taken under control with related procedures: security compliance policy to ensure data privacy, code ownership, and the nature of IT infrastructure (cloud-based as usual).
Finally, smart JS outsourcing can answer the question "Where do I spend my time" and free up the time for personal career planning (which is always missing, let's be fair) for tech leaders.
Recruitment benefits
Proper cost of staffing
It takes one month or more to recruit quality candidates for almost 70% of companies. That is nearly fatal to scaling the product for startups where the priority is speed: time to market is one of the determining factors.

Outsourcing is a way to quickly onboard quality developers. It brings another benefit for companies preventing them from hidden costs related to replacing employees (as a survey says, one in five new recruits are usually replaced).
Gain from better recruitment regulations
Main IT hubs attract outsourcers through more favorable legislative conditions than local opportunities. Let's see the example of Ukraine, which is out of the EU regulations operation. Hiring JavaScript talents in the region are more effortless.
Close positions faster in one place
Recruiters can narrow down several JavaScript Developers from a single talent pool of a provider in one place by inquiring via a single email instead of wasting time by pitching to multiple persons on different talent source platforms. If you have a short supply locally or their compensation is above the set budget, outsourcing and remote positions will help fill vacancies easier. You avoid the hidden costs of lengthy recruitment processes by hiring JavaScript developers from an outsourcing company.
Gain your tech, financial, and recruitment benefits with JS outsourcing.
Aimprosoft JavaScript developers will create web and mobile apps for your success.
CONTACT US
JavaScript development outsourcing services we provide
We assist businesses all around the world in producing incredible web and mobile interactions that are true to the customer-oriented UI/UX design. The JavaScript app development services provided by Aimprosoft completely meet the demands of startups and companies.
We stand our ground: technology has to work for business. Let's dove deeper into our JavaScript outsourcing services.
JavaScript web development
Interactive websites are particularly successful at user-centered design by capturing the attention of users. The more engaged users are with your interface, the more adherent they will be to your product. We help solve business challenges by means of interactive elements so that a digital interaction becomes user-friendly.
Case: SaaS solution for service inventory planning
We've been partnering with our client as an outsourcing dedicated development team, augmenting their in-house backend team with our tech expertise. Knowing the project deeply, we involved our JS specialists in completing the project.
The choice fell on TypeScript and React, a module-by-module implementation of a revamp strategy in refactoring the legacy monolith application. The delivered one-piece structure kept the integrity of the existing features and new functionality.
JavaScript server-side development
Our clients can go beyond front-end development with HTML by coming to us for server-side development. Scalability, reduced development costs, increased speed, and code quality is the main advantages any business can get with the JS-backed server side.
For example, a reduced dependency on JavaScript frameworks results in a reduced page weight, so your end-users do not need to waste time on page loading, which, by the way, may cause them to leave the website. By choosing Aimprosoft as your JavaScript development company, you can push online business performance to the limits.
A full-stack JavaScript website development for pr.business, a brand awareness platform focused on local listing and review management for small and medium businesses.
A scalable architecture became a core of the powerful fast-search web solution. We enhanced the core functionality with React and Angular tools on the frontend side to achieve higher system performance. As a result, our client got expected achievements escalated in online business scalability by responding to the emerging market calls.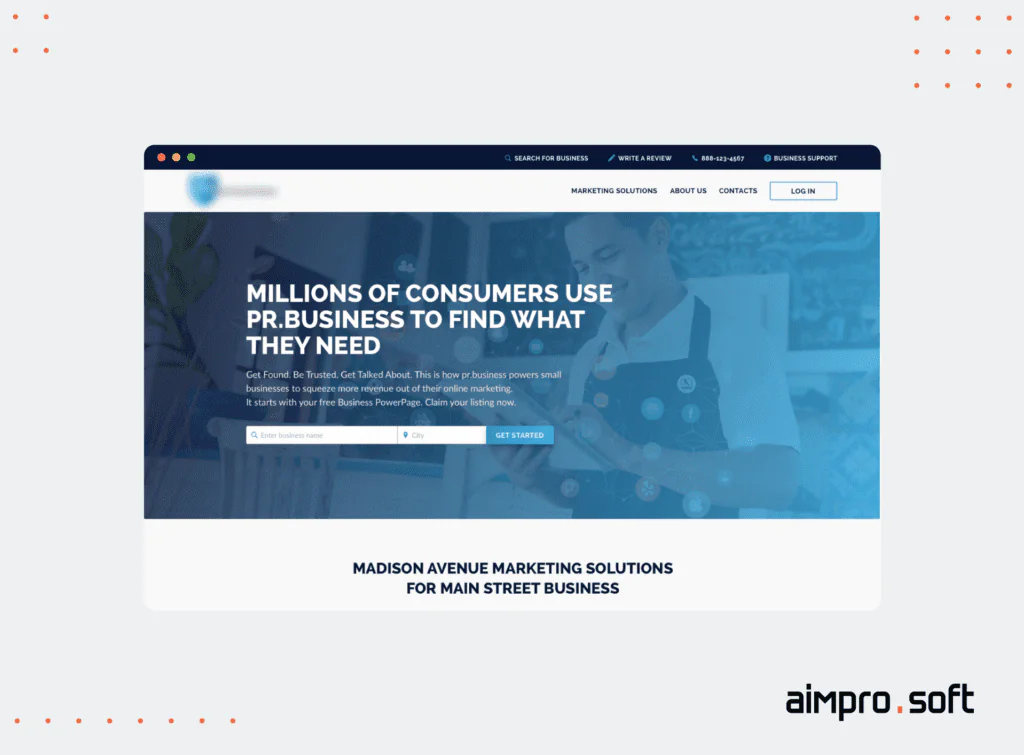 JavaScript mobile development
Users appreciate native apps for their natural style. However, when it is necessary to get an app compatible with major OSs. We offer cross-platform mobile app development based on React Native as the most demanded platform. You get full-fledged mobile apps without losing a substantial part of their capabilities. One app's code is used on different platforms so that you can save almost half a sum on development.
A UK web platform for talent acquisition on a short-supply basis designed as an alternative for job websites offering all for all.
We've been working on a web application for RealiseMe since 2008. Our client wanted to proceed with a mobile presence as the next scaling step. React Native turned out to be the most cost-effective solution. So five months after mobile development started, we delivered a mobile app for two platforms (iOS and Android) due to pre-built components being reused between platforms. Development time was accelerated twice. Thus, the founders got the app with a faster time to market, attracting their target audience to search for a job on the go.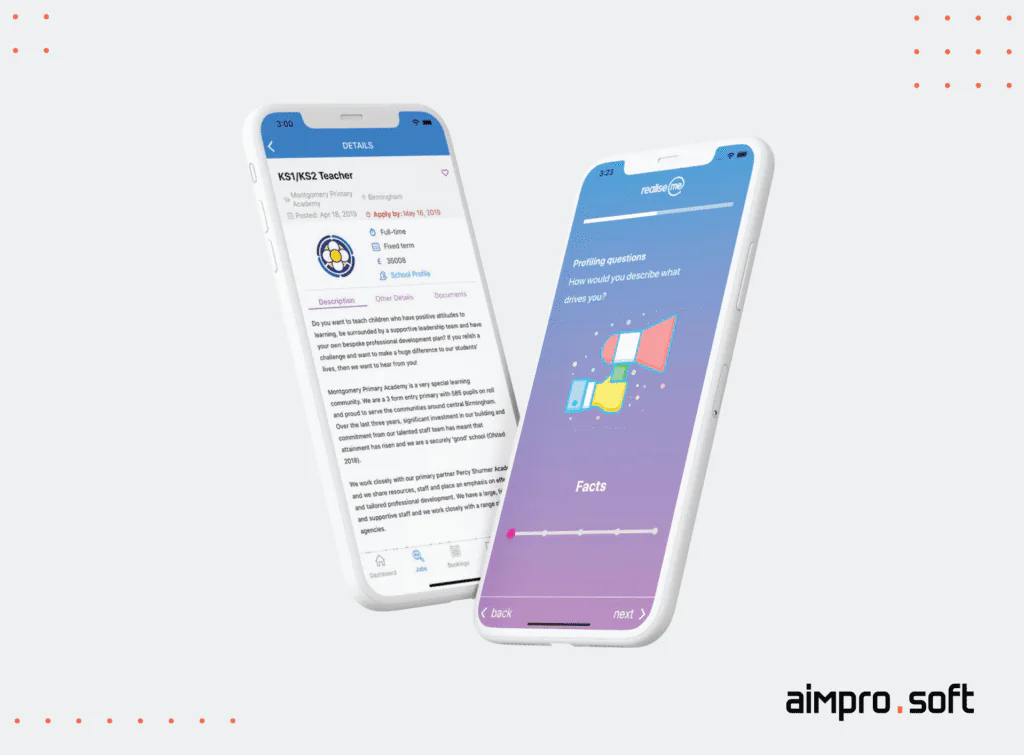 Cross-platform mobile applications based on React Native have a common code base of 95%, which helps save half a budget for development.
Know more
Migration of a server-side core to Node.js
Node.js is a better choice for startups compared to other server-side languages. However, companies often choose Node.js as their core server-side technology, striving for efficiency and scalability. It unifies the engineering specialties within the development team, helping build the app almost twice as fast with fewer people when compared with other programming languages.
Unsatisfactory current technology is not a verdict. We can migrate entire business logic to Node.js for companies that wish to move away from the antiquated or subpar performance of the app's core to satisfy better the system's requirements for low latency and high throughput.
As clients are always interested in reducing their application's launch time, Node.js development services from Aimprosoft can be handy when at stake is faster time to market.
JavaScript framework implementation and migration
One of the main reasons our clients come to us with JavaScript coding outsourcing is a will to gain faster interactive interfaces. We provide version upgrades within frameworks as well as migrations from outdated JS technologies to well-liked open-source ones such as Angular, React.js, Vue.js, and others.
Case: Management solutions for publishing suite
Aimprosoft was addressed to develop a series of modules as a part of the publishing management suite for a leading German publisher. One of the challenges was to connect with other web applications.
To keep pace with the times earlier, we employed Angular as the best option for SPAs. Our efforts resulted in the excellent dynamic capability of well-structured web content pages generated in a great volume, as expected. Our client got an opportunity to support, change, and grow a web system easier on demand.
JavaScript development for platform-based solutions
Apart from classical JS services, Aimprosoft set up full-fledged niche teams for full-cycle development of Hybris, Liferay, and Alfresco-based projects that solve specific business challenges. An abundant out-of-the-box functionality of the platform-based solutions can be enriched with customizations through JavaScript frameworks and libraries. As a result, clients get incredible UX that completely meets their user journey requirements.
JavaScript consulting services
Hesitation about technology for user interfaces is not a problem anymore. Before beginning technological improvement, you can receive evaluations and recommendations for strategic JavaScript usage at Aimprosoft. Get advice on your full-stack development team's qualifications and skill set and a comprehensive view of how to create high-quality user interfaces from conception to production.
Want to try JavaScript outsourcing?
Let's do it. Aimprosoft has rich experience in providing JS services.
CONTACT US
What makes JavaScript development outsourcing successful
Growing pains may begin as a business achieves success and evolves from a shoe-string tech startup to a scaling business. Engaging a suitable candidate and assembling a strong team to support the company's evolving ambitions is a major problem in terms of growth in jobs with a smaller labor pool. Businesses are finding it harder and harder to overcome. However, by following these proven practices of JavaScript development outsourcing, you can survive in a competitive software engineering space.
Define your JavaScript developer outsourcing needs in advance
Before beginning, it is preferable to establish clear objectives and write down expectations so that you and your partner will have a solid foundation for cooperation. Thus, you are near to getting deliverables that match your expectations.
You most likely want to devote your time to strategic goals and future vision for your business, so the priority is evident. As usual CTO or a person responsible for technological strategy in your company forms an inquiry with tech needs. Then a negotiation with vendors is possible in a more fruitful way.
Proper management is ensured by the JavaScript development company. For example, the development process at Aimprosoft is undergoing under the Project Manager's governance when all preliminary talks passed. As a result, we eliminate concerns a client may have and avoid extra involvement.
Check the shortlisted JS company on the nature of the expertise
A traditional way of selecting and engaging tech staff to the core team looks like you expect to get a PDF document outlining education, commerce project, years of relevant experience, skills and qualification, level of Engish and in some cases leadership abilities.
What is good with JavaScript coding outsourcing is that you can avoid all that micromanagement staff having negotiations with vendor management. What you really need to pay attention to is the reputation of the partner you consider. There are a lot of B2B directories with clients' feedback and company ratings, and tech stack that helps to verify them on fit so that any tiny details won't be missed. Don't be modest and ask for recommendations from existing clients in writing. Moreover, by addressing the software vendor for help with one type of work, you can get more by accessing the whole spectrum of provided services.
Business approach and compatibility
Over 17 years in a row, clients of Aimprosoft have admitted a phenomenal custom service and overall approach to business. The principles and philosophy of your partner also play a role because, in synergy, you can reach more for a shorter period by spending less.
Taking a long look at the culture of the company you're going to work with helps clear out similarities and forecast the outcome. Multiple conversations with various stakeholders may be handy there to eliminate a gap in the culture loop. It goes about the common business culture: discipline, fulfilling commitments, work-life balance, etc.
For example, Ukrainians repeatedly proved a similarity in doing business during the 25 years of working with the US and European countries. The experience gained during the period of close cooperation between companies is a reflection of well-known Ukraine-backed startups and companies such as GitLab, Ajax, Grammarly, and PetCube, to name a few.
Aimprosoft can help you make your customer-oriented frontend.
Let's talk about your project requirements.
CONTACT US
JS outsourcing cost and secret saving points for your project
The world economy continues to be plagued by a labor shortage, and wages are starting to climb for the most sought-after positions. One of the most significant skill shortages is occurring in the technology sector.
The number of job openings in the US counts nearly 67 000, based on Indeed. German demand is counted in almost 7 600 vacancies. The United Kingdom shows a figure of 6 800 JS openings. Canada is looking for 4200 JavaScript developers. Switzerland has over 1 900 jobs for JavaScript developers. Quite small but innovative Sweden goes with 476 and Finland with 287. The list can go on and on.
Affordability with third-party vendors
One thing is the number of open vacancies, another thing is the cost of development services. The USA region demonstrates the biggest demand rise that is reflected in the compensation of $178 000 per year. Canada and Switzerland follow with yearly salaries over $150 000.
Salaries of JavaScript development services in countries of high demand for tech talents
Country/Salary
USA
UK
Switzerland
Canada
Sweden
Finland
Average
$114 000
$74 000
$101 000
$125 000
$62 000
Maximum
$178 000
$112 000
$154 000
$156 000
$75 000
$94 000
Sources: Comparably, Indeed, Glassdoor, Talent, SalaryExpert.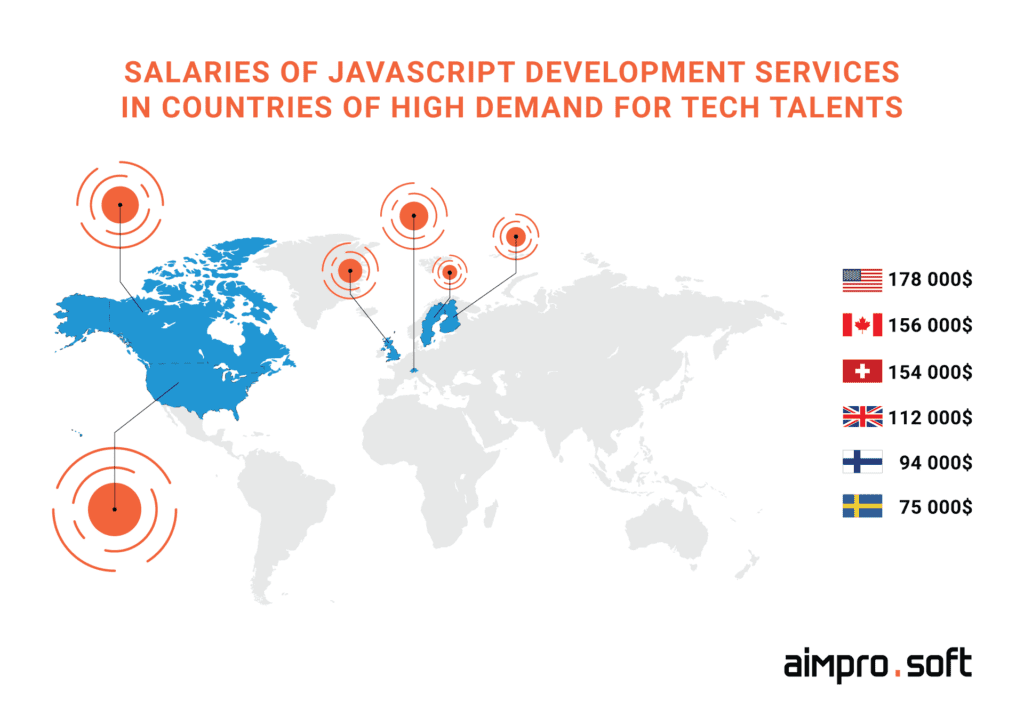 Indeed, cost-effectiveness was always the leading IT outsourcing driver. This is the reason for the staggering figures for outsourcing from technologically advanced countries. The revenue from external contracting of software development from European companies is projected to reach $126.50 bln in 2022, according to new research from Statista, while the US will go with $144.80 bln in 2022.
How can you save on JavaScript development services?
By choosing the right technology service provider from the region with a high density of affordable tech talents.
For example, Ukraine is an of 97 000 JavaScript specialists with a potential of 25-30% yearly growth. This is due to the favorable tax system compared to the European countries, the high quality of education in computer science, and the attractiveness of the IT industry, which is one of the most prestigious in the country.
The rates for JS software development services among Ukrainian outsourcing companies vary between $35-50 per hour, including taxes, benefits, perks, etc., which means $70 000 gross spending per employee yearly. On top of that, by outsourcing, you do not need to care about office place, equipment, or specialized software, to name a few necessary for setting up a dedicated development team.
But man cannot live by cost alone.
Well-crafted approach to development and distribution of duties
Look, a smart approach to JavaScript development outsourcing also plays a role in saving time and money. While many CTOs and CIOs are stuck on the unsustainable path of spiraling costs, others rely on experienced vendors that run in processes and have perfected methodologies with dedicated development teams and full-cycle development. They just are able to work, having practiced it for years.
Distribution of responsibilities, risks, and tasks frees up resources.
Planning resources, time, people, and vendors know how to do it in the best way, as they have been doing it for many years, and they have worked out and polished practices that may seem simple and understandable to you, but in theory.
Tech leaders admit that when they relieve themselves of responsibilities related to the routine of organizing the process, micro-controlling the implementation of tasks, and managing the strengths and weaknesses of team members, they achieve the desired result faster and, accordingly, cheaper.
Three JavaScript developers instead of in-house staff turnover
High turnover and perpetual skills gaps are the most painful factors influencing development costs. Replacing an individual in-house employee can cost an organization up to two employees' annual salaries based on a conservative estimate. Even the average $114 000 doubled can be a colossal waste. While outsourcing can turn it into a benefit with Senior JavaScript development services for $70 000-90 000 per year, including taxes, benefits, and bonuses.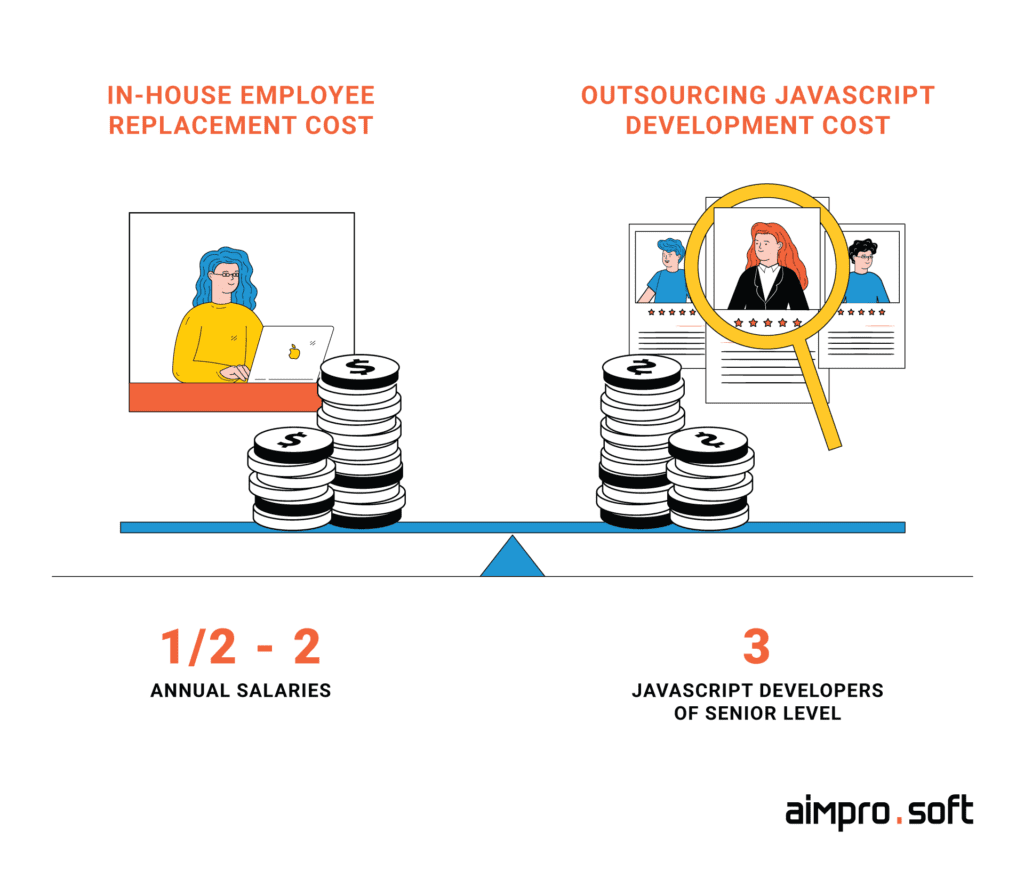 Furthermore, turnover causes losing your best talents. While outsourcing, you set the rhythm, and the vendor takes care of retaining employees.
Want to know the development cost of your project?
Provide us with project scope details and get a rough estimate for free.
CONTACT US
What you will gain by choosing Aimprosoft as your JavaScript outsourcing vendor
Reliable partner with over 17 years of experience;
Access to 350+ multi-disciplinary experts;
Proven record track of 600+ projects for over 100 clients globally;
Delivered solutions from early-stage startups to international brands;
Cost-quality balance of deliverables;
Customer-oriented approach in providing JavaScript services;
Getting benefits from STEM degrees of tech talents;
Adherence to Agile development cycle;
Winning in the marketplace with people sharing your values;
Similar mindset to North Americans and Europeans;
Innovativeness and extreme resilience;
Clear communication in English.
Factors about our reliability that speak for themselves:
Aimprosoft has contributed to the $3.1 billion in total revenue of the country's IT sector since the beginning of 2022, an increase from $2.5 billion a year earlier, despite the times full of struggle for freedom and victory in Ukraine.
Our entire IT infrastructure is cloud-based and located in Germany, so all client projects are protected.
We work at full capacity, adapting to the new force majeure circumstances related to the war in our office in safe Ivano-Frankivsk (Western Ukraine), within our large and beautiful country, and abroad.
We fulfill commitments before our clients and continue to be highly responsible.
Staying true to your principles, Amprosoft is proud of the 100% retention of our clients.
A month later, after the invasion, in April 2022, we renewed hiring to meet the demand for new contracts.
Despite everything, we signed a contract on the 24th of February, 2022, and cooperation still continues.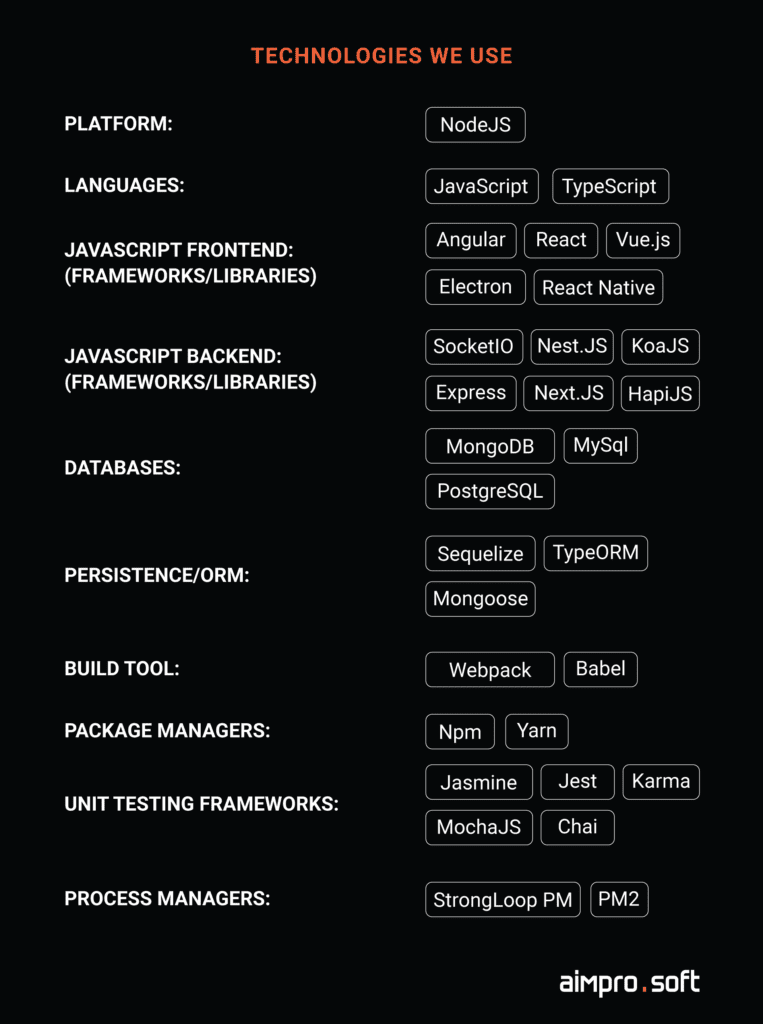 Conclusion
Luckily, if you want to go beyond just hiring software developers to start your project as soon as possible or expand the scope of an existing team, you need to switch to finding a vendor rather than selecting candidates based on their skills. In that case, you avoid searching for individual candidates and get a comprehensive package of services. Contact us to discuss your javascript needs, and we will see what range of works we can offer for your particular project.
Is JavaScript profitable and useful in 2023?

JavaScript will still be relevant even in 2023 and ahead because this programming language penetrates almost all websites and embedded systems. There is no intention to rewrite all of them in some other language. It is widely used in browsers as a scripting language for making web pages interactive. And the Internet, as you understand, will not leave the world stage, it is only getting stronger. And javascript can only find new areas of application for itself at a new stage of its development, adapting to the needs of society.
Does JavaScript fit large projects?

Due to the dedicated server hosting, JavaScript fits large projects. Both front-end and back-end can be used for the development of almost any software application type and cross-platform mobile applications. For example, RealiseMe, pr.business, and IoT-powered smart home solutions are a few of our portfolio JavaScript-backed systems.
Is it a good idea to hire Javascript Developers via Indeed, Glassdoor, or LinkedIn?

If you have enough resources (time and money), then yes, you can dive into self-recruitment. But please note that this venture is quite consuming. It is way better to outsource code JavaScript to a software development company and get complex consultation and development services from field specialists. Outsourcing is always more cost-effective than hiring one by one from different places, although, at first glance, it may seem otherwise.