Articles
11 November, 2021
Dedicated Software Development Team from Ukraine: the place of perfect matches
Key takeaways
Dedicated developers from Ukraine have been solving the challenge of tech talent shortage in your region for over 20 years.

Cross through the dedicated team model (DTM), its participants, and their interconnection.

The DTM can't be suitable for you. Or can exceed your expectations. Learn markers when this model will be the most suitable for you.

Five main tech Ukrainian hubs contain almost 90% of IT talent capacity. Check out the list of questions to interview candidates.

The dedicated development team at Aimprosoft: see how we differ.
While we're preparing this blog, GitLab is going public. A Ukrainian startup established by our inhabitant of Kharkiv Dmytro Zaporozhets grew to the DevOps giant size with a $2.75 billion post-money valuation. And the word is its valuation can fly up to $10 billion. Now, what does that indicate?
Ukraine was always rich for its minds, and with the development of technology, the inquisitive minds of this region began to actively dig into software development and conquer the hearts of technology giants worldwide. In addition to our own well-known products such as Firefly Aerospace, Reface, Grammarly (unicorn by valuation), Ugears (signed a partnership with Disney, btw), Depositphotos, PetCube, Ajax Systems, and many other Ukrainian teams are part of the core development teams of global technology companies rising in the global markets such as Reddit, Google, NetCracker, Samsung, Wargaming and others worth mentioning.
Want to hire a dedicated team from Ukraine?
Schedule an intro call with Aimprosoft.
Contact us
State of talent shortage: 82% of developer jobs stay unfilled
920,000 unfilled positions for software engineers versus 165,000 potential applicants that is a US market situation in 2021. Competition for IT high-skilled labor is taking place everywhere. Apart from the USA other most technologically advanced locations suffer as well. Getting into the list of hard-to-fill vacancies, IT jobs affect nation economiс development and digital transformation which prosperous rise is possible by backing new talent supply.
This state of affairs is deplorable for companies with the potential for innovation and an evident plus for software development services companies. But where to find talents to get what you expect?
Filling the gap: Ukraine IT potential
A fight tooth and nail for the best IT talents will get even more dramatic in some regions. Many companies have already tried relationships with software providers from Asian, Eastern European, and Latin America technological hubs. Every outsourcing destination has its advantages for a cultural match, time zones, or quality deliverables.
The number of open tech positions in Ukrainian job boards (DOU) surpassed 10,000 in 2021 proves that clients from areas with a tech talent shortage want to deal with the issue by onboarding application developers from Ukraine or are ready to hire a dedicated development team in Ukraine.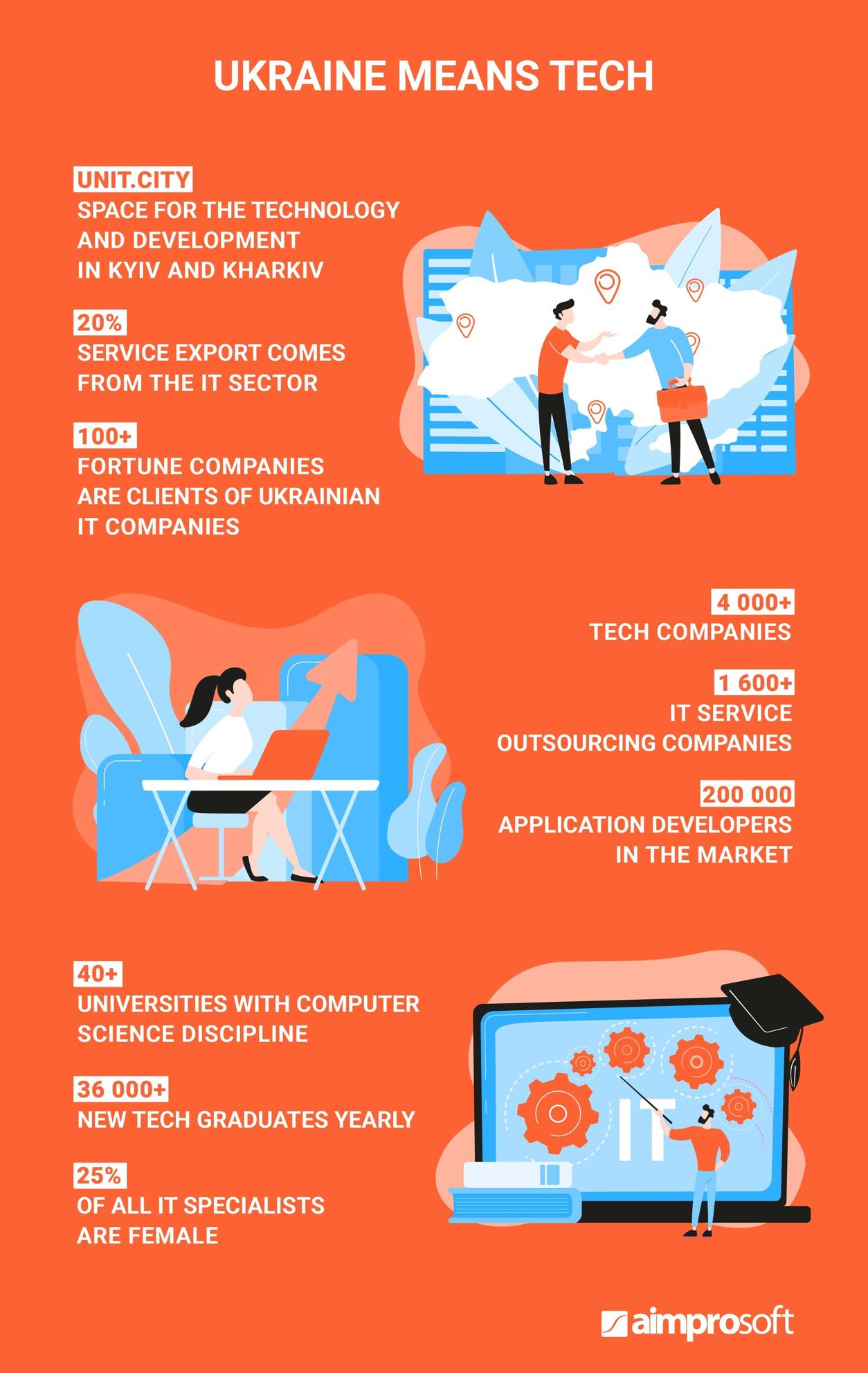 Ukrainian IT exports showed a 20.4% growth in 2020, the breakthrough year when everybody sought comforts through technology, and some seized the moment to take their business to the next level. Ukraine faced an unprecedented $5 billion of IT services annual export in 2020 for the first time, thanks to a large part to 200,000 app developers in the market.
It is a motherland of 36,000 new tech talents yearly graduated from over 40 universities that offer computer science discipline backed with the most demanded knowledge in Java, JavaScript, .Net, PHP, Node.js, etc. picking up trending more rarer Go, Scala, Kotlin, Swift, etc. Ukrainian students don't limit themselves with a university curriculum, improving skills with modern technologies that will be in high demand tomorrow from a business perspective.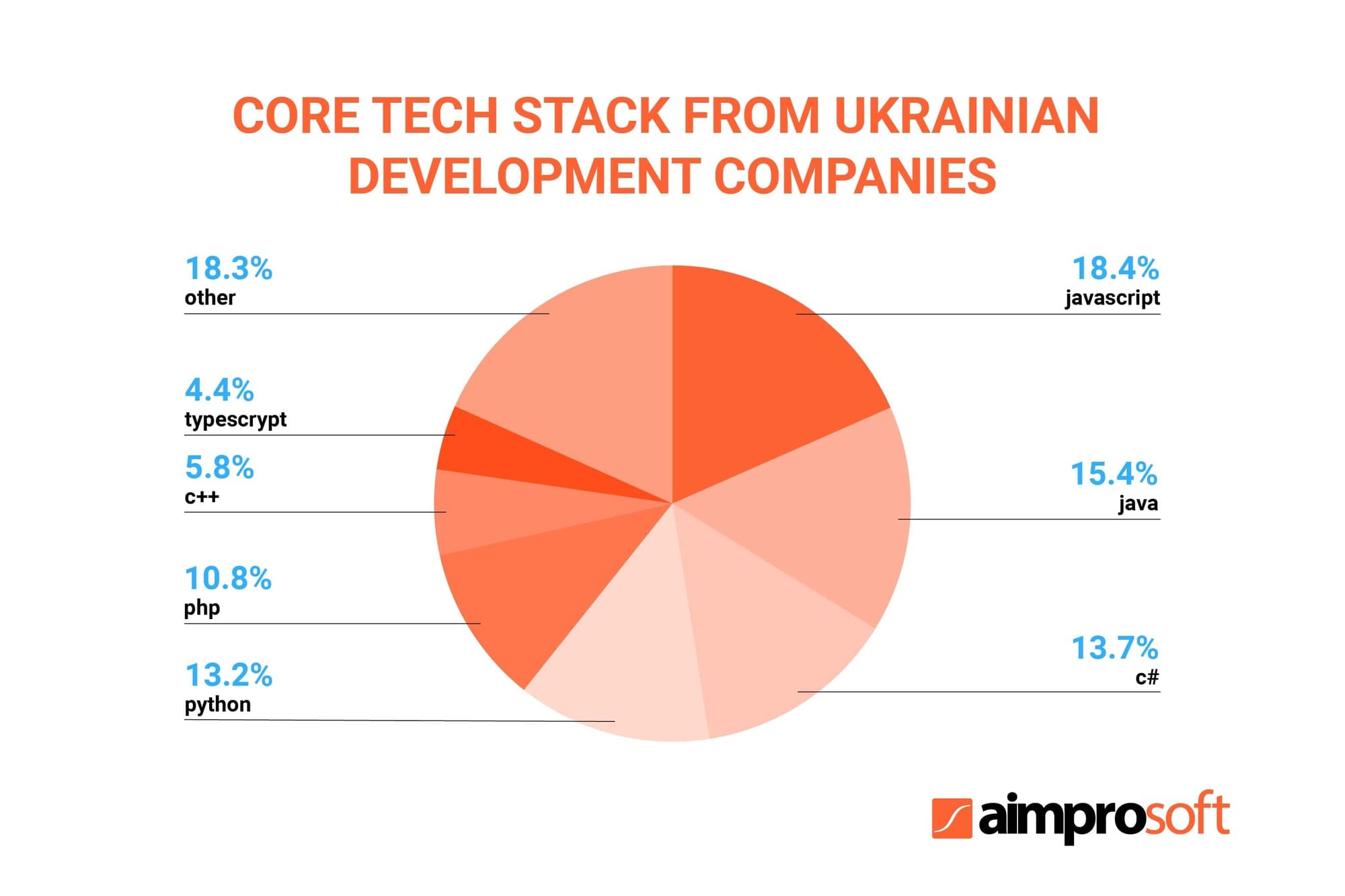 Moreover, the gender balance changes every year. In 2020 there were 79% more women in the IT industry than in 2015. Then, cumulatively, they accounted for only 14%, today 25% of all IT specialists are women.
Year over year, the IT industry attracts people from other sectors who enthusiastically change their preferences for new career prospects graduating from numerous private IT schools. According to the report of The Ministry of Justice in Ukraine, the average increase of IT specialists yearly by the form of a physical person – entrepreneur varies within 20-22% during 2019-2021. This proves once again that the potential of the region is enormous.
Talent level comes to the crunch without a doubt because it is a pledge of a long-term collaboration with shared values. Business resilience is achieved due to the transformation of integrity and human ingenuity. The president of the American Chamber of Commerce in Ukraine, Andy Hunder, comments on the Ukrainian IT industry ascent, underlining the professionalism of Ukraine's IT specialists along with government support.
As you can see, a remote dedicated development team from Ukraine can cover the lack of specialists in your region. There are many proofs that dedicated teams refer to the most viable, righteous approach to software development good to go for various scenarios.
Dedicated development team model
"I want to develop an application. I don't want to set up my own tech department in full for several reasons. Is there a cooperation model that fits me?"
A dedicated team is one of the most popular cooperation models for IT projects on a long-term basis applied between an outsourcer (from North America, Western Europe, or the Middle East region) and software service provider.
Dedicated offshore or nearshore development teams differ from diversified remote developers. A team is fully focused on the client's specific tasks and project strategy. Software development engineers are expected to be on a full-time engagement for a while starting from 6 months and over. Not rarely this cooperation evolves into a long-term relationship (Later in our story, we will tell you about some cases). Software providers assume technical responsibility, recruiting and retention of employees, guarantee productivity of the team.
Cases when you can gain the most from a dedicated team
The most frequent cases when hiring a dedicated software development in Ukraine are reasonable: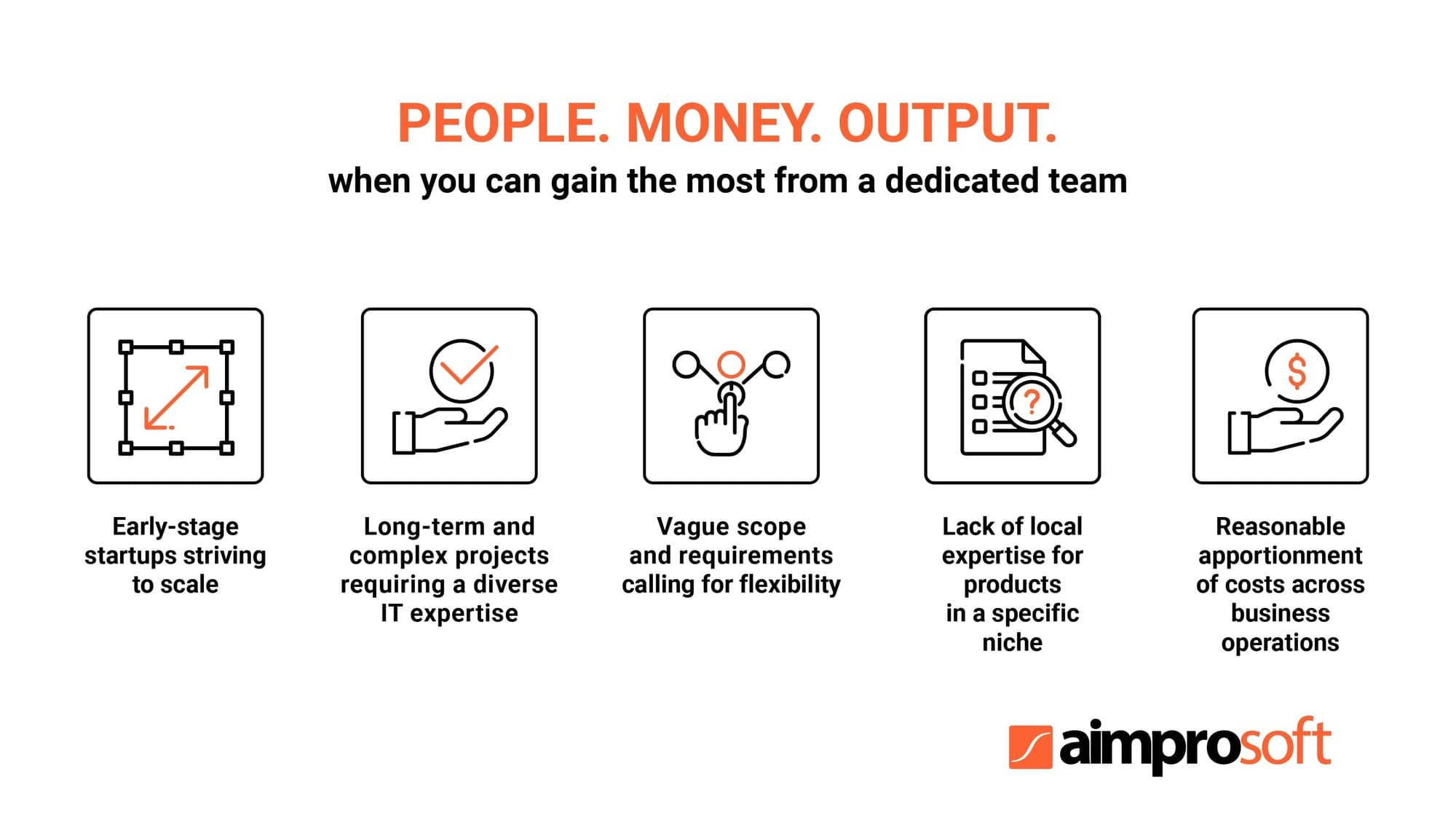 Early-stage startups
Early-stage startups in need of swift growth. When you hire a dedicated development team you solve the main challenges: get a solid squad of qualified developers with expertise in your niche quickly, save money on hiring when fighting in competition for talents, as a result, go to market with the product faster feeling MRR and ARR.
Long-term project
You have a long-term project with a delivery term of 6 months and more, with a potential for continuous updates and improvements, a quite fast scaling, and requires a swift team extension on-demand. Greater flexibility will be a plus when the team composition has to be adjusted to your business goals without delay.
Vague scope and requirements
You completed a discovery stage and got balanced records in your hands. The project scope and technical requirements are vague. Hiring an in-house team or freelance individuals may be unreasonable: overheads, time loss, and jeopardizing the planned implementation date.
Lack of local expertise
The attempts to find internal developers with relevant expertise failed. With a great idea and potential to make the project you lack expertise in your specific area and prefer to outsource carrying out the project to boutique dedicated development providers in narrower niches being able to do those particular things.
Tight budget for local hires
You estimated that staffing in place is not affordable for the roles you have available. It is overpriced for you to pay high domestic salaries, social packages, and rental fees. You're quite comfortable with remote collaboration if a team at a distance will fit your requirements to handle management and development processes.
A Motive Retail case is a great example of how a small go-to can grow into the industry transformation with dedicated offshoring.
Take me there
Have you identified yourselves? When a business has requirements in software development that exceed its in-house potential, outsourcing to qualified development teams with certain expertise is the most often natural way.
Yes, you need to understand how to build teamwork so that your challenge is solved.
Two-side coin: Are there concerns I should know about the dedicated teams?
Clients have mixed emotions when it comes to outsourcing software development. On the one hand, you can free yourself up to devote time to strategic business activities, but on the other, can the dedicated development output be trusted?
Inefficient for short-term
Besides a dedicated development team model being straightforward and transparent in pricing, it can be inefficient for short-term projects or projects with intermittent development. The usual practice goes with projects at scale when development time is forecasted to be over six months. The projects with constant evolution are of flexibility and frequent changes in nature. If you can't evaluate whether your project is short or long, we can help you there.
Hiring the best takes time
Also, the hiring process can be reasonably prolonged in the case your project is from a particular niche, so onboarding the best talents needs time to be done. Typically it's not a big deal for recruiters on the vendor side. They know the market and possess years worked techniques to find the perfect match. Also, the outsourcing vendor develops its employer brand to take the hiring issues on itself. It will take some of your time at the interviewing stage. Be ready to be involved completely there.
Involvement in project development
Clients are often ready to play as team members. If you prefer managing a dedicated software development team from Ukraine on your side, be ready it takes time. Such an involvement usually is manifested in providing a software vendor with a clear vision of the project, deliverable results, specifications or recorded expectations, timely informing about strategy pivots. In some cases, it is up to the client to outsource all processes on the product design, delivery, and maintenance except for the key directions on it.
Remote can be uncomfortable for some
Communication and distance biases are the most frequent among others. It is natural to have doubts and fears if the developers disappear with your code, still your idea, or be dishonest in their actions. Yes, we understand. That's why first we offer preventive measures such as signing an NDA, communicating via secure channels, inviting you to visit our place and coming to an agreement on working hours acceptable for both parties.
What if you nevertheless could build your own team of local employees in Eastern Europe? You know, despite warnings, a myriad of companies outsourced their software development to the leading tech hubs and have no regrets.
Dedicated team structure
Look at the picture. We reflected there how the interaction between dedicated team members and your core team could be looked like.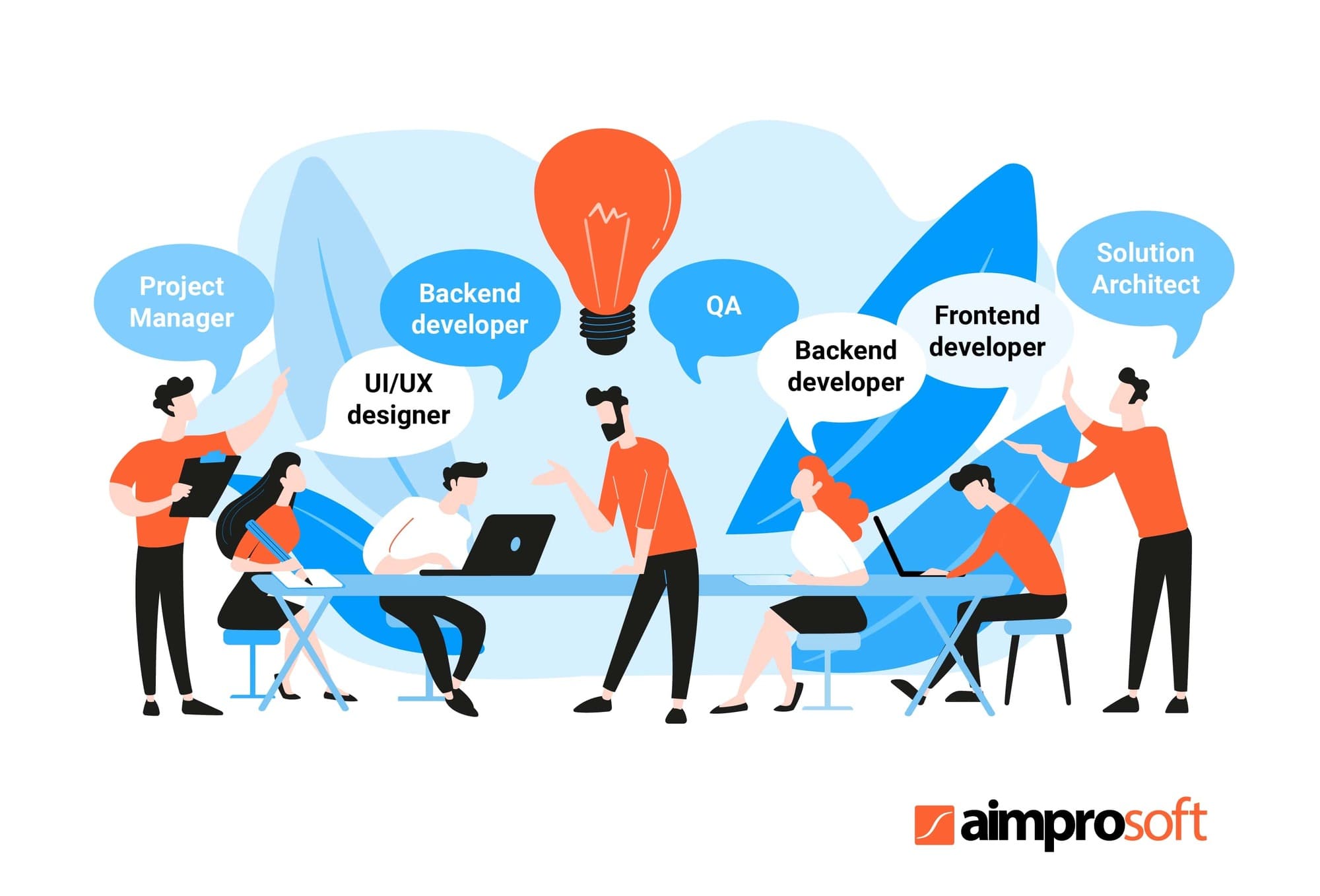 Key dedicated software application development team roles include:
Role
Responsibilities
Key members
Business Analyst (BA)
Conducts a thorough business analysis, documenting core processes, and outlining business problems
Project Manager (PM)
Plans and executes project progress, oversees all processes, gets information out to the client
UI/UX designer
Creates end-to-end user-centered experiences according to business requirements of the product development
Software developers
Build and maintain backend and frontend features of web/mobile applications with high-quality code
Quality Assurance (QA)
Ensures the high quality of delivered product according to the established requirements
DevOps Engineer
Ensures a balance of needs across the software development life cycle: coding, deployment, maintenance, updates
Nice-to-have team members
Solution Architect
Builds the overall vision followed by the rest of the project team and architectural solutions for successful product implementation
Tech Lead
Heads the development process and is behind the technical decisions affecting the delivery (aka CTO)
Team Lead
Focuses on management, training, setting strategy for the team while being a technical expert of a particular technology or set
Remote work could be done differently. We've overviewed the experience of pioneers of collaboration at a distance and our best practices.
READ MORE
In a twist, going to software development hubs in Ukraine
So having dispelled all doubts, where should you go for hiring dedicated software engineers in Ukraine?
The top five development hubs in Ukraine are Kyiv, Kharkiv, Lviv, Dnipro, and Odesa. It means targeting your search to the cities with the most intensive density of IT talents, you are close the most to meeting your development needs in one place. Their total weight of all IT specialists in Ukraine is 82% which counts around 164,000 professionals. The remaining 18% are on the periphery in Ivano-Frankivsk, Uzhhorod, Zaporizhzhya, Mykolaiv, Mariupol, Vinnytsia, Sumy, and others.
Take a closer look at each IT hub to evaluate all the charm and decide the dilemma between outsourcing destinations once and for all.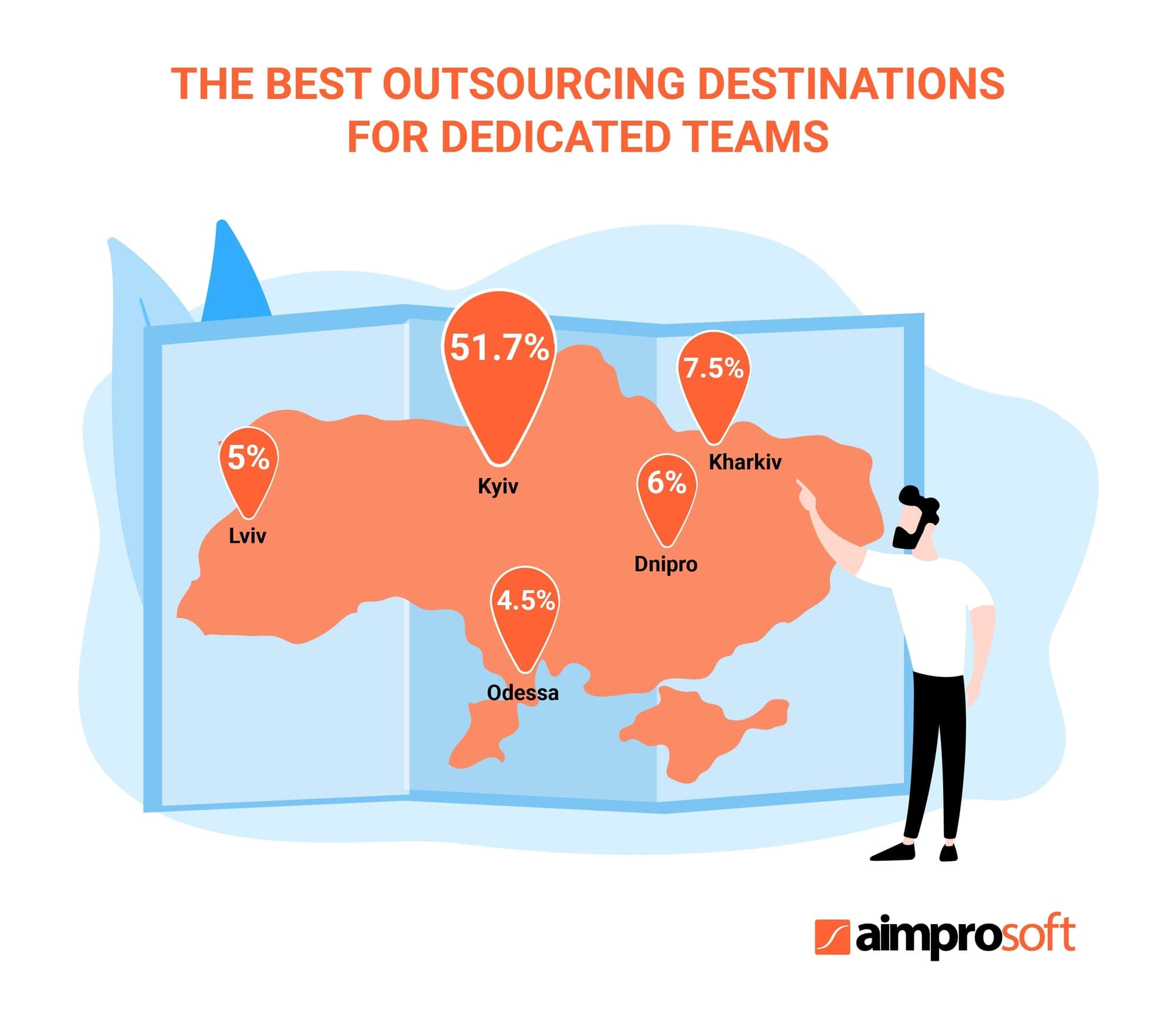 Kyiv: over 50% of Ukrainian IT potential
Kyiv is our capital. It has a favorable location with regular flights from and to all major international airports, setting a positive climate for long-term partnerships. Apart from its habitants, the city yearly attracts an influx of developers from all over the country with its unlimited opportunities for professional growth and comfort of living. As reported by IT Ukraine Association, it concentrates about 159,000 software engineers with a boost of the talent pool up to 19% yearly with an outgrowth. IT talents demonstrate a high level of foreign language skills with all diversity needed in the region. Habitants of Kyiv are motivated to stay locally to build their careers in the tech sector due to the local offering of computer science specialties in technical universities and the availability to be a part of the global business environment.
Companies that outsource development to Kyiv: Cloudmade, Elementum, DisclosureNet, Terrasoft, Lyft, Google.
Kharkiv: vibrant IT hub with high upskill rate
Kharkiv is the City of opportunities. The first capital in the past, it goes right after Kyiv on the software development offering. For a good reason, it is called a Ukrainian Silicon Valley behind the scenes for its bright local minds and a favorable environment for labor pool growth. A city of students yearly delivers over 2,000 tech graduates who are snapped up by 500 product and service companies. According to the QS World University Rankings 2022, there are five recognized universities from Ukraine, among which are two from Kharkiv: Kharkiv National University of Radio Electronics and Kharkiv Polytechnic Institute.
Over two-thirds of Aimprosoft's talents are graduates of these two high schools, including the company's founders.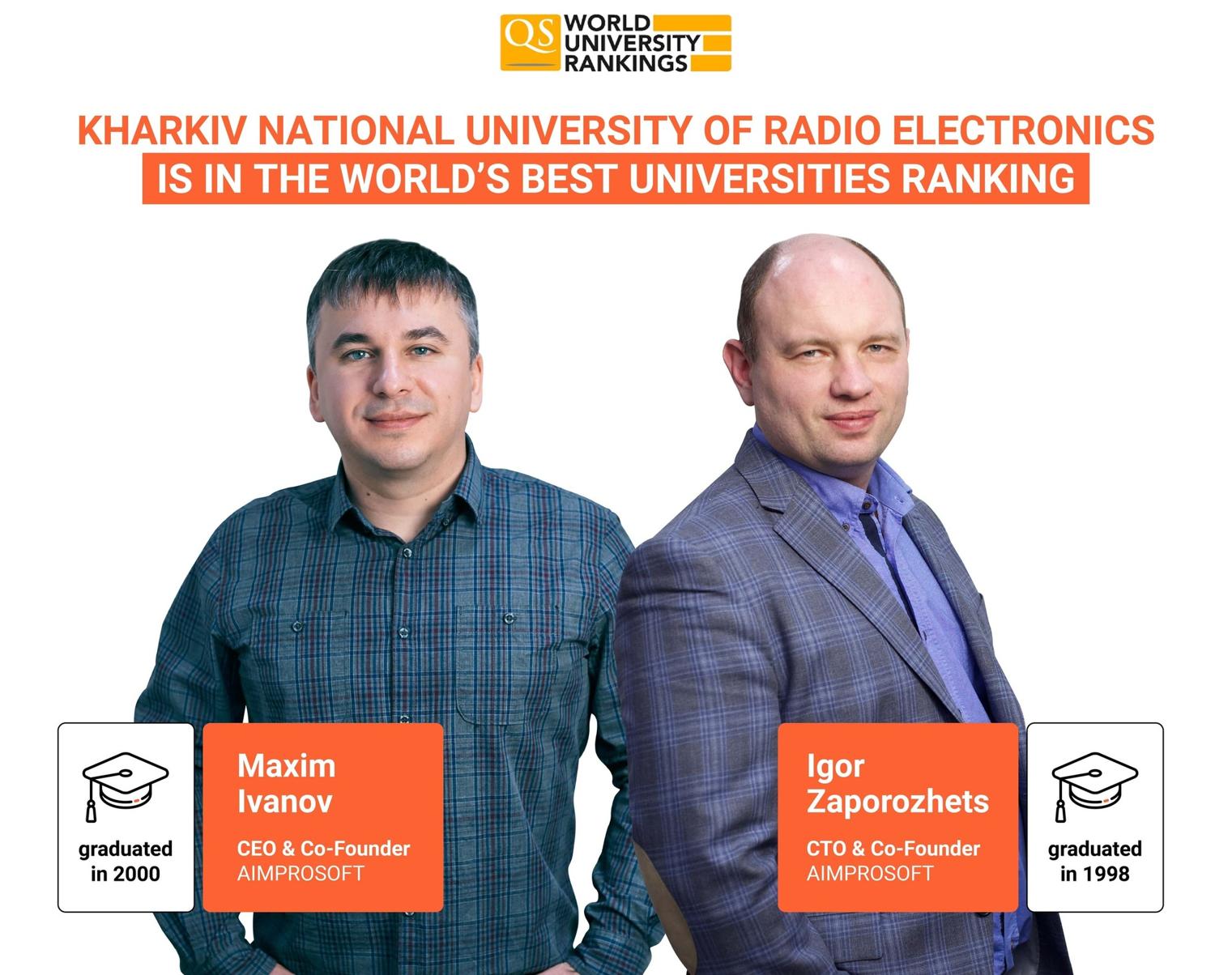 The total number of all IT specialists counted over 31,000 can meet a supply in industries such as eCommerce, fintech, edtech, IoT, healthcare, game dev, to name a few. According to a survey, 7,4 hours per week on average IT specialists from Kharkiv devote to self-education and upskilling in profession and languages. The main export markets for IT services for Kharkiv are the USA (74%) and the EU countries (19%), with a supply of both widely-demanded tech stack skills and narrow niche app development teams expertise.
Companies that outsource development to Kharkiv: Motive Retail, Oracle, Crop Trust, Fiverr, Virtual1, ProCC.
Kharkiv looks good for your dedicated team?
Let's see how Aimprosoft can help you.
Contact us
Lviv: 20,000+ IT professionals
Lviv appeals by its proximity to the European Union area, due to which it is prevalent among nearby customers from Western Europe (35% of all expertise distribution). With an international airport connecting to all EU capitals, it is a famous tourist center with people well-knowledgeable in English. Also, the close location to Europe played its part in forming a more western mindset among people from here. In 2017 software companies generated $919 million for Ukraine's exchequer, among which 90% occurred in the IT outsourcing sector. 20, 000 software specialists are employed by the head offices of market-leading companies with a wide country presence. Moreover, Lviv contributes with regular events devoted to improvements of educational level and even launched a new Data Science major.
Companies that outsource development to Lviv: Currencycloud, RateSetter, AdsWizz, TemplateMonster, Siemens.
Dnipro: famed for small niche IT companies
Like the capital, it is based on the river Dnipro and inspires around 13,200 IT professionals with its picturesque views. Ukraine's fourth-largest IT destination makes up 7,9% of all Ukrainian IT resources. Even though Dnipro is more minor in IT resource supply, it is second by the number of R&D centers in the country. It has less staff competition than in other cities with comfort for living, a community of associates, and infrastructure being equal. Most of the available 400 software companies are outsourcing and outstaffing service providers by specification, with 3% attributed to R&D centers for international technological companies. It features mainly small-sized companies of 50-100 employees from 11 higher eds with computer science and programming majors.
Companies that outsource development to Dnipro: Firefly Aerospace, Wix, Transferwise, KPMG, Playtika, Sitecore.
Odesa: tech hub with a sea breeze
Odesa, known as a 'pearl by the sea,' can't have gone completely unnoticed by the IT sector. It gave birth to over 150 IT companies in the city employing over 10,000 tech specialists. Odesa attracts an inflow of tourists to its Black Sea seashore as well as new talents into the sector. More relaxed and, respectively, even creative mindsets are the result of local climate affection. With a relatively smaller number of software engineer densities, the level of professionalism of individuals reaches the highest points. There are located digital marketing studios serving the global market, data analytics startups Ringostat, Netpeak Spider, and development centers of international companies.
Companies that outsource development to Odesa: Oracle, Kwambio (acquired by Snapchat) Readdle, Clickky, Augmented Pixels.
Each city has a very progressive IT cluster community that promotes its regional IT potential and cultivates global awareness about Ukraine as the most favorable spot for technological support. Cities host numerous events, meetups, conferences, and hackathons to upskill the level of software specialists that are not limited to developers.
I'm ready to set up a dedicated software development team in Ukraine. What's next?
That's great that you've favored our destination, our countrymen have rolled up their sleeves to get something innovative done. Well, having shortlisted preferable software vendors, you will proceed with a series of interviews. There are the most frequent questions that we are asked during the intro calls and answers to which help both sides to see if they fit each other:
How long have you been in business?
I'd like to check your expertise, can you show me your case studies or relevant portfolio?
How many projects do you deliver under the dedicated team model?
How do you handle confidential information?
I'd like to discuss my project specifics, can we sign an NDA first?
What technologies do you use to solve challenges like mine?
How much experience with [these] technologies does your team have?
Can you share some examples of past work? Are there ongoing projects similar to what I want?
How do you ensure quality control of the product?
How many people are available to take on my project and how quickly can you set up a team? Can I start interviews this week?
How do you handle the developer's replacement: 1) in case of retirement and 2) in case of dissatisfying work?
My project is from the scalable ones, how quickly can I get a team augmentation for my core team and capacity?
Have you ever contributed to open source?
You are expected to add your own questions to this list to make sure the team is not a hack. But even if you are not going to ask a potential partner in-depth questions, this list will come in handy as a reference point to avoid missing something important.
Left something missed you wanted to ask?
Talk to us to fill the gap.
Contact us
Ukraine. Kharkiv. The dedicated development team at Aimprosoft
A dedicated team looks like a small company, sometimes tiny of 5-7 persons. Hiring for startups is markedly distinctive: founders perceive every candidate as a tech gem willing to set up their business with the best. Small have less right to make a mistake.
Another matter is enterprise hiring. Big can spend months before making a deal. They have what's already working and want to scale it. This manner is defined by several drawn-up corporate onboarding scripts to ensure the best possible outcome. See the difference? We do too.
Not rarely starting from one outstaffed 2-3 developers, we've switched to a dedicated team model with direct access to each member of a team. If you have a task scope not fixed, we are tolerant to change requests. You get a software engineering team fully focused on one project only. We commit ourselves to the hiring process fully managed by Aimprosoft, provided by our in-house talents or local labor pool. You benefit from cost savings for team allocation compared to distributed independent developers.
Here is a list of our projects that grew under the dedicated team model or were set up initially as project teams.
| Project description | Client, Industry | Team composition, roles | In partnership with Aimprosoft |
| --- | --- | --- | --- |
| Integration automation platform (case study) | Motive Retail, Automotive | Backend Developer – 3-5 Frontend Developer – 1-2 PM – 1 | Since 2008 |
| Genesys: A global informational hub of the online exploration crop diversity on the Earth (case study) | Crop Trust, Environmental Services | Backend Developers – 2 Frontend Developer – 1 QA – 1 PM – 1 | Since 2013 |
| Web portal for wholesaling telecommunication services (case study) | Virtual1, Telecommunications | Full-stack Developer – 6 QA – 1-2 UI/UX Designer – 1 DevOps – 1 | Since 2010 |
| Mobile application for healthcare measuring devices | Sorry, an NDA is in force in this project. Healthcare, IoT | Backend Developer – 3-5 Frontend Developer – 3 Android Developer – 1-2 QA – 1 DevOps – 1 | Since 2011 |
| B2B-oriented local business directory aggregator | pr.business, Marketing and Advertising | Full-stack Developer – 5 UI\UX Designer – 1 | Since 2015 |
| Custom document management system | Sorry, an NDA is in force in this project. Pharmaceutical | React Native Developer – 7 UI/UX Designer – 1 PM – 1 | Since 2017 |
| SaaS solution for service inventory planning | Sorry, an NDA is in force in this project. Manufacturing industry | Backend Developer – 1 Full-stack Developer – 3 QA – 1 | Since 2019 |
| Web platform for do-it-yourself investors | TMI, Financial Services | Backend Developer – 5 Frontend Developer – 4 Business Analyst – 1 UI/UX Designer – 1 QA – 2 PM – 1 | Since 2020 |
| Educational portal for universities | Sorry, an NDA is in force in this project. Education | Full-stack Developer – 6-8 Team Lead – 1 | Since 2020 |
| Electronic catalog of diseases based on the collaboration web portal | Sorry, an NDA is in force in this project. Pharmaceutical | Solution Architect – 1 Backend Developer – 2 Frontend Developer – 1 Business Analyst – 1 UI/UX Designer – 2 QA – 1 PM – 1 | Since 2021 |
You might have noticed that in some projects there are 1-2 members in the same role. During development, the number of team members can vary according to their roles. It is a norm for the technological process. With the dedicated team, the client can easily upscale and downscale their team capacity.
After an introduction and being sure we fit each other, in each case, we passed the following stages:
The estimation stage outlines the scope of work and exact team makeup based on a client's predefined scope (prototypes, wireframes, design) or with the help of business analysts who define the project's requirements.
The staff selection stage refers to selecting talents with certain expertise and qualifications for successful delivery.
The presentation stage is devoted to introducing solutions, overviewing the prioritized scope of tasks, and planning sprints.
The take-off stage relates to starting collaboration after all points are approved.
This is the way we do it.
Feel here is missing something important for you?
Every project has its specificity. Let's discuss yours.
Contact us
Conclusion
You don't need to be technical to build a multimillion-dollar SaaS product or boost your business digitally. We care to share with you that by delegating a technical part, you can piece together the mosaic of your business. Yes, there are many talented people in the world. And a good portion of them is just a click away from you. Please email us to take the burden off your search and get technical support for your business.
FAQ
What is the main difference between a dedicated team and R&D?

If a dedicated development team is a team of tech specialists hired from one Ukrainian software outsourcing company to be entirely focused on the client's specific tasks, and can be quickly scaled up and down, then an R&D center is an entire tech company based overseas providing you software development services. Benefits are in both cases depending on your needs.
How can I get the guarantees that remote developers will live up to my expectations?

Many people used to collaborate remotely. However, if this can be new to you, check the guide on how to manage a remote development team. These tips may clear up your issues with communication, efficiency, and team operation. Or ask for consulting at Aimprosoft to share our practices with you.
What about the legal basis for cooperation with a Ukrainian dedicated development team?

Since 2014 Ukraine has made a significant leap towards EU integration and international service provision established by the global business community. IT service export regulations are simplified and more protected from bureaucracy and corruption. Ukraine proved to be a reliable companion following the paradigm of internationally accepted rules.