Software Development Outsourcing to Ukraine: 9 Reasons Why It's the Best Choice
If you are reading this article, most likely, you are well aware of the essence of IT outsourcing, its principles, and possible benefits for your company. Thus, we won't analyze the outsourcing process itself but will try to find a way to the best-fit place for it. Also, if you are reading it, most likely, you are considering development outsourcing in Ukraine but lack irrefutable arguments to make the final choice.
Luckily, we have prepared a plethora of proven facts and figures from independent resources that speak louder than any sophisticated words and conducted our own research to show you a full picture of the modern Ukrainian IT landscape. Let's get it started since we have plenty of topics to cover.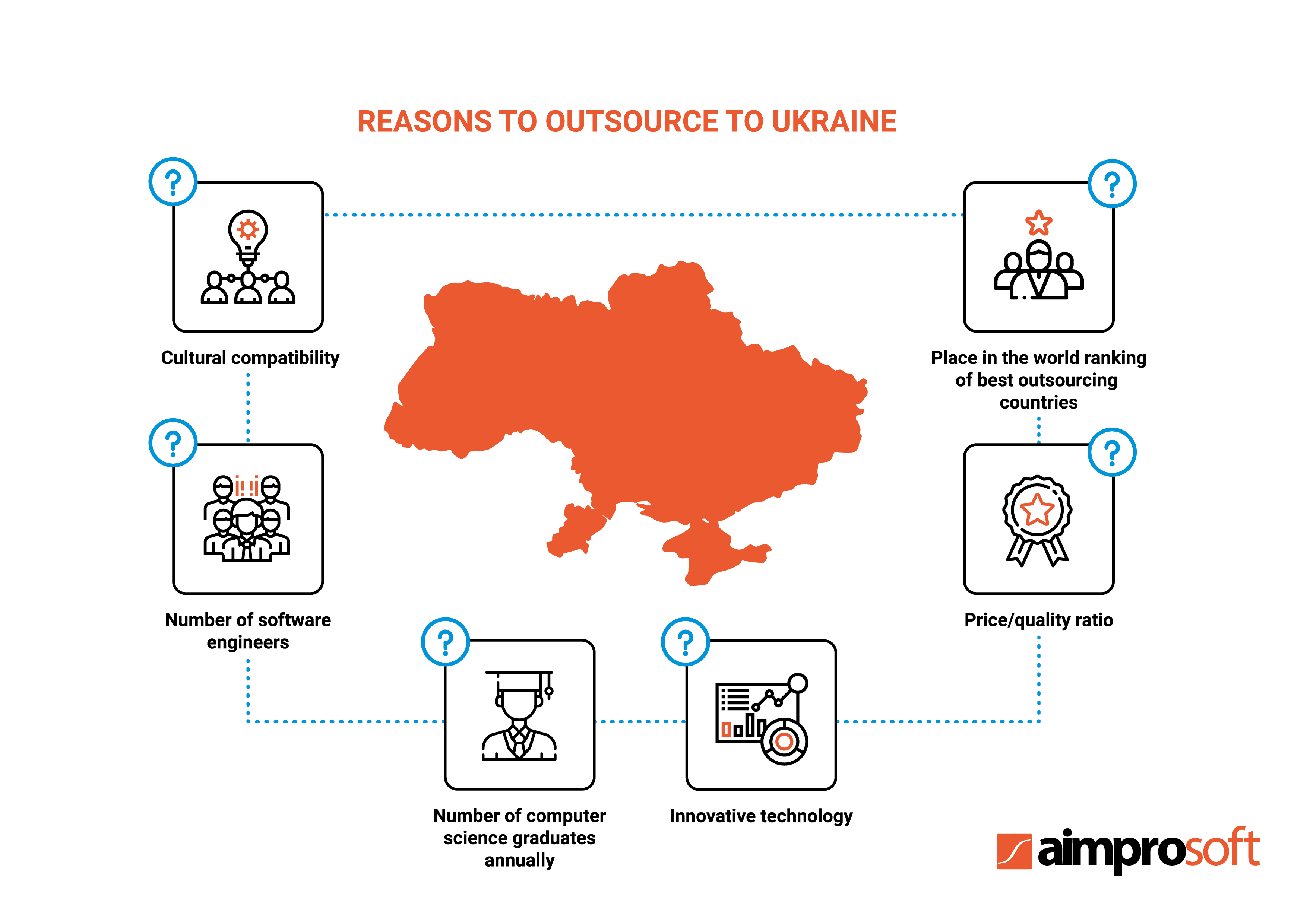 Proving credibility with awards and achievements
Why considering this aspect: Awards and achievements are those quality validators that can prove the real state of the IT landscape of a particular country. Ukrainian outsourcing companies have constantly been proving the quality of their services via their participation in numerous competitions for startups and already deep-rooted companies.
Facts & Figures:
In 2017 Ukraine was named the "Offshoring Destination of the Year" at the Global Sourcing Association (GSA) awards ceremony in London;

When the top 100 IT-service vendors were announced during the annual Outsourcing World Summit held in the USA in 2018, 18 Ukrainian IT-companies were included in this list. The list itself was formed based on different criteria, such as reviews left by the customers, previously received awards and certificates, number of personnel, quality of provided services, and internal dynamics;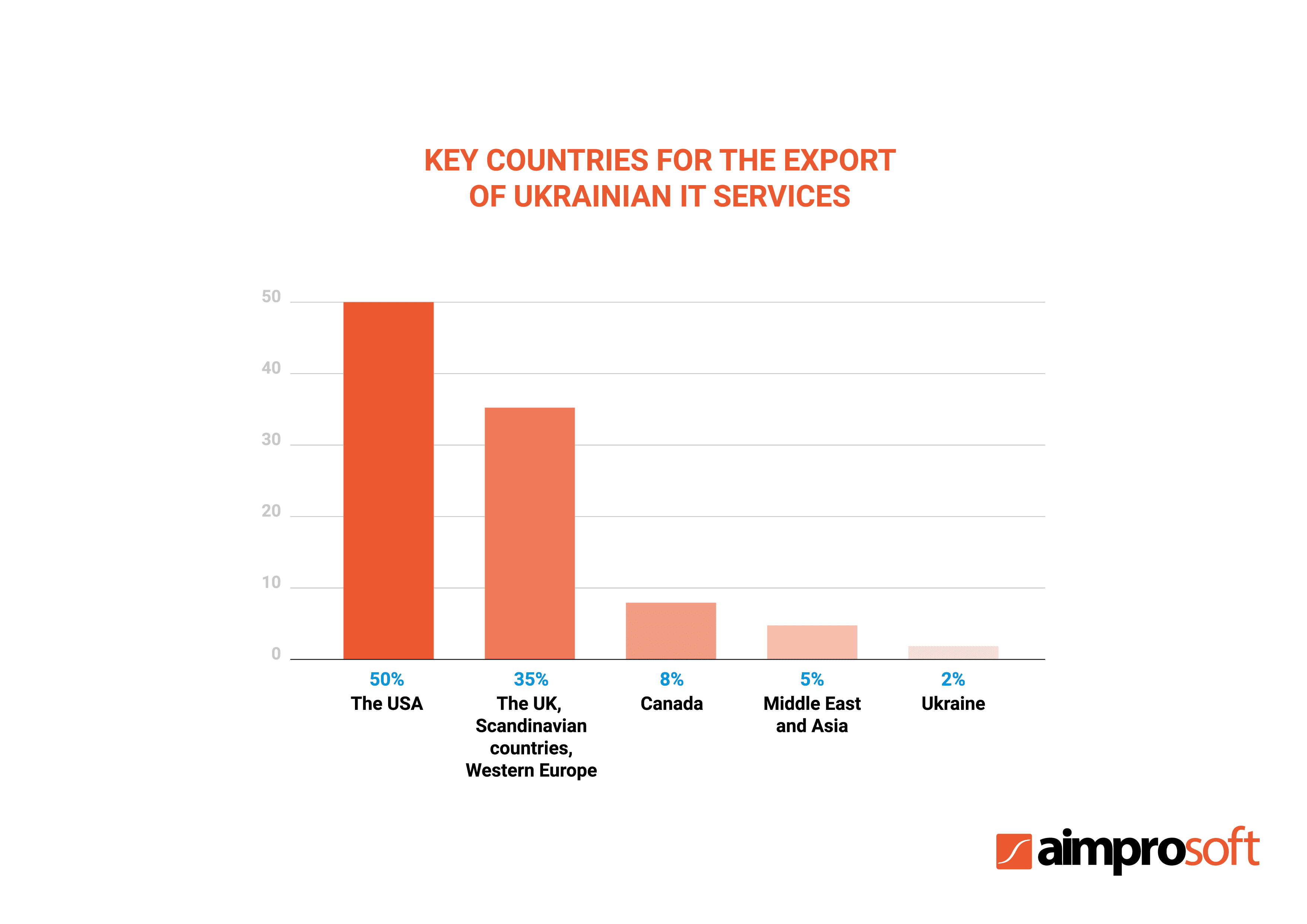 The Ukrainian IT-sector is famous for its cooperation with mid- and large-sized businesses. The research shows that more than 100 organizations from the Fortune 500 list are clients of Ukrainian software vendors;

The International Association of Outsourcing Professionals (IAOP) announced in 2020 the top 100 IT-vendors that provide outsourcing services. This top included 13 Ukrainian software companies and 8 companies with their offices in Ukraine.
EEE: Education, Experience, and Expertise
Why considering this aspect: The first significant reason for IT outsourcing to Ukraine is related to education since the quality of technical education and the number of students with computer science degrees impact the competitiveness and development of the country's IT industry.
Facts & Figures:
Ukraine is famous for the number of higher educational institutions (HEI), for instance, according to the report conducted in 2019, it was estimated that there are 652 HEIs in Ukraine with more than 1.5 million students.

The ranking conducted by QS EECA (Emerging Europe and Central Asia University Rankings) in 2019 placed three most popular Ukrainian universities in its top 300 best universities in developing countries. For example, Taras Shevchenko National University of Kyiv, V. N. Karazin Kharkiv National University, and the National Technical University of Ukraine "Igor Sikorsky Kyiv Polytechnic Institute" were included into the list holding 30, 60, and 62 places accordingly.

Among students that graduate each year, 36,000 obtain technical degrees in IT-related areas. Moreover, the number of new IT specialists is growing rapidly since the market is replenished by software engineers not only from higher educational institutions but also from offline certified IT schools and courses.

According to the CIA World Factbook, the literacy rate in Ukraine is 99,8%, which indicates how highly developed the population is in terms of education.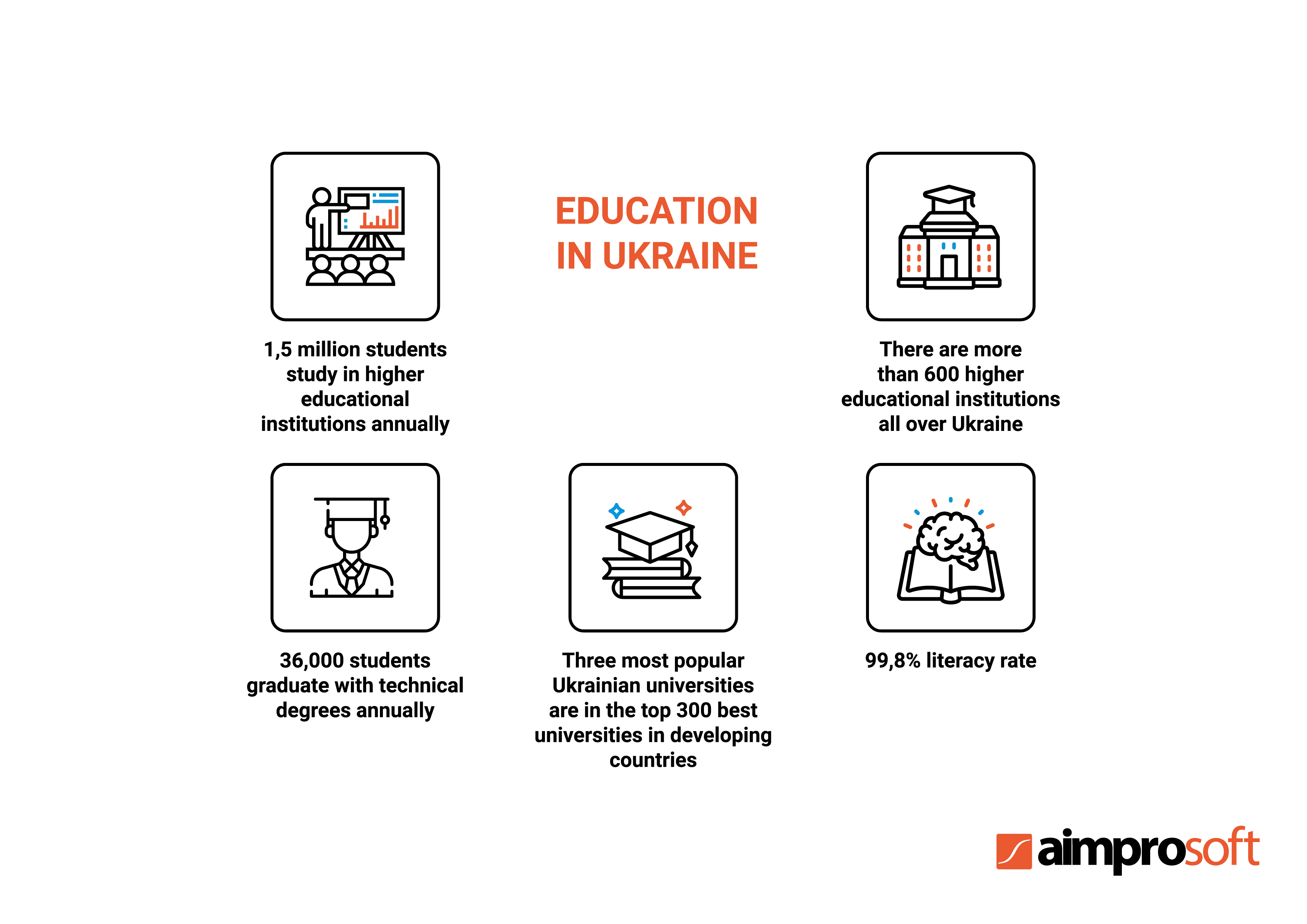 The larger the professional pool, the more successful you search is
Why considering this aspect: The search for a trustworthy IT vendor or an experienced software specialist may be a great challenge nowadays. However, the Ukrainian IT outsourcing industry is constantly evolving and expanding with new companies and rare software engineers, and such a problem is easily eliminated.
Facts & figures:
Software development in Ukraine has been gaining momentum for the past few years. It's explained by the growing number of developers on the market. According to the Tech Ecosystem Guide to Ukraine, there are currently 192,000+ developers in the Ukrainian IT industry.

The statistics also show that the IT sector keeps expanding by approximately 26% every year.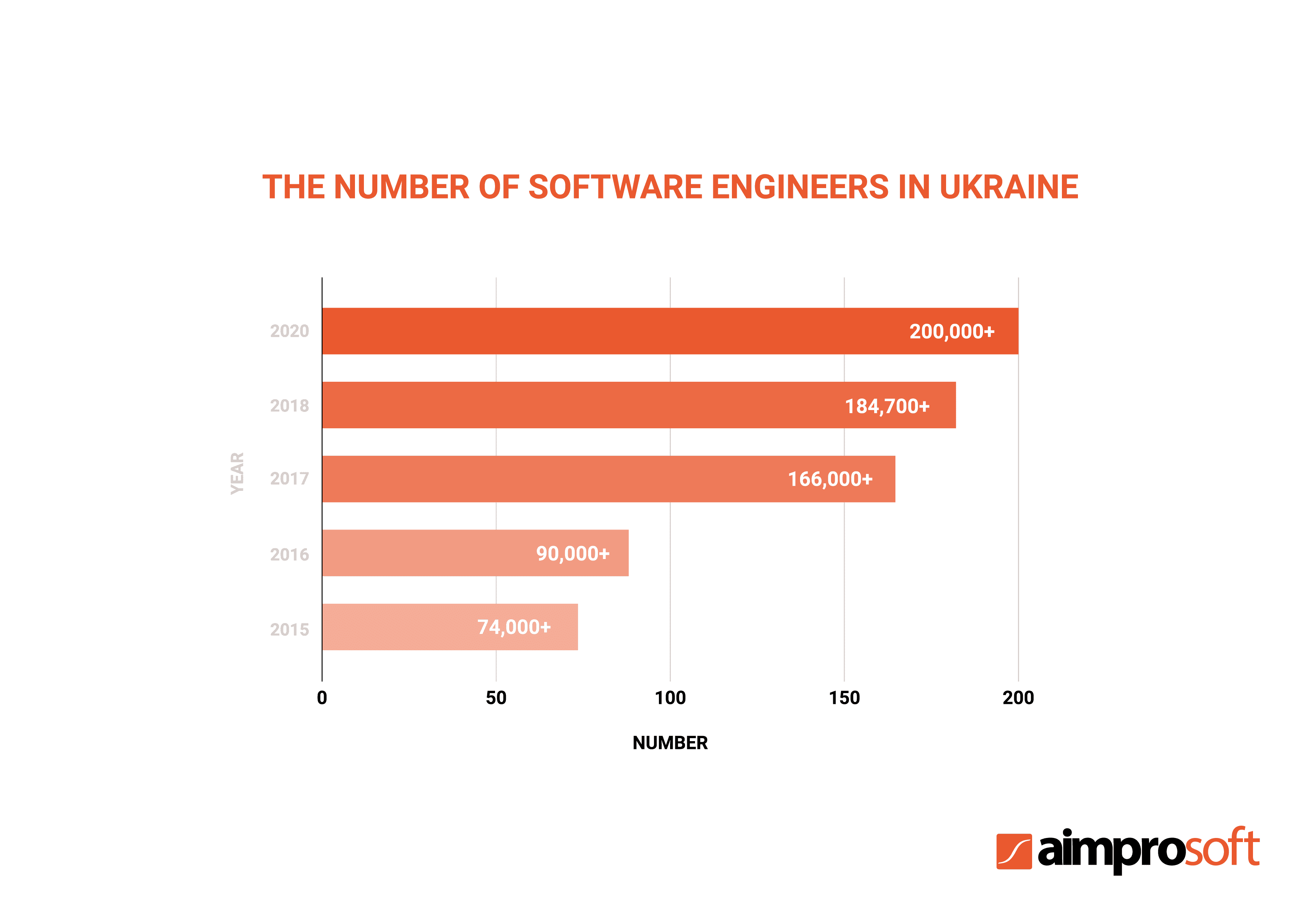 Another reason to choose IT outsourcing services in Ukraine is the plethora of diverse programming languages and technologies the country's software engineers are knowledgeable in. For instance, the recent research conducted by IT Ukraine Association showed that the most popular programming languages in Ukraine are JavaScript, Java, C#, PHP, and Python. Among less popular languages are C++, Ruby, and Go. To have a complete picture of the programming languages ratio on the Ukrainian market, let's take a look at the diagram below: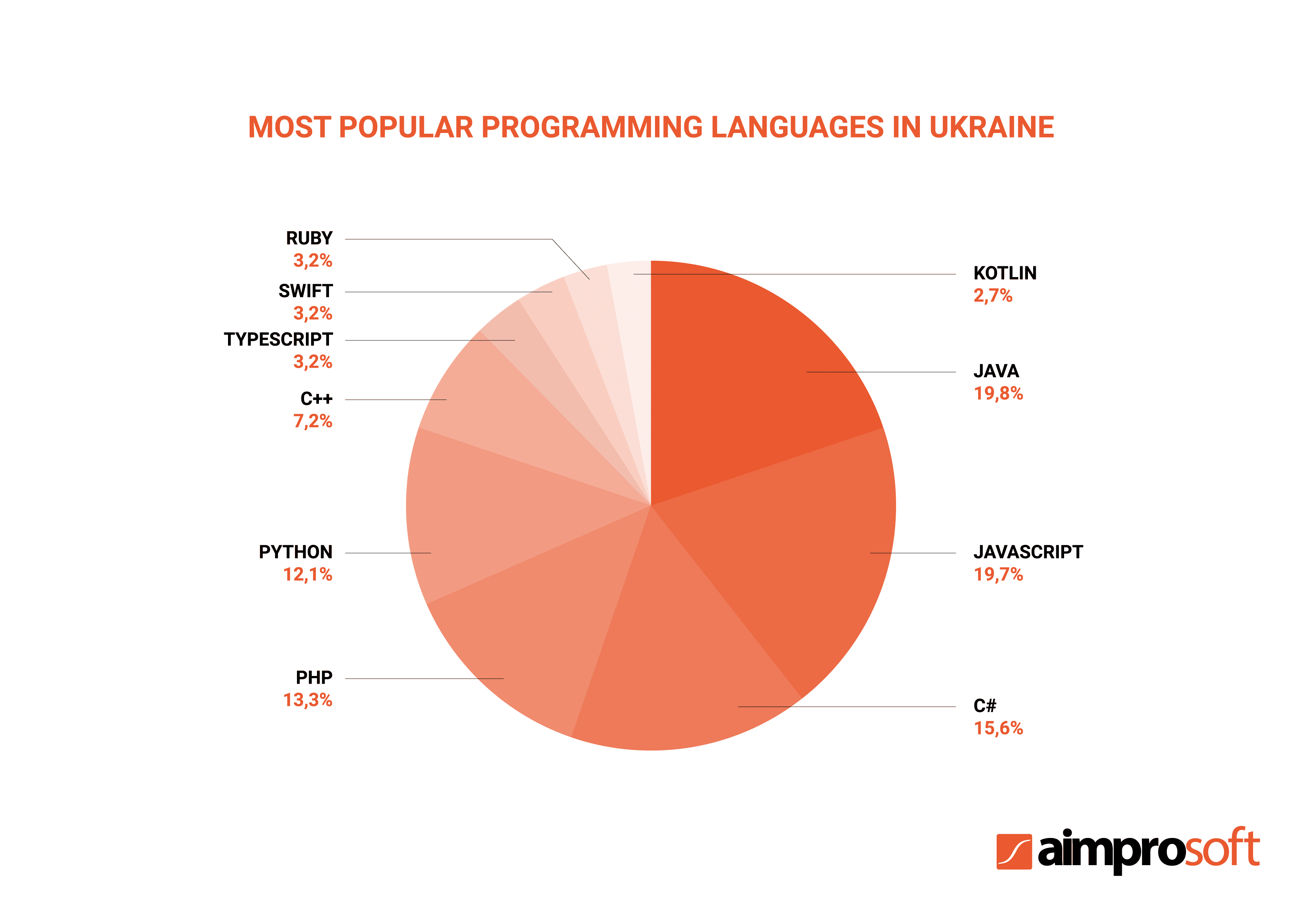 You may also be interested in our guide to PHP Development Outsourcing
According to one more impressive statistical fact, the Ukrainian IT market comprises more than 4,000 tech companies. The multi-dimensional scope of development agencies include mid- and large-sized companies, full-cycle development organizations and those oriented in particular software development services, such as software consulting, data analytics, business intelligence, market forecast, UX/UI design, and so much more.

The growing number of R&D centers is another beneficial factor to outsource IT to Ukraine. The research shows that there are currently 110+ R&D centers functioning all over the country. Among them, you can find a vast number of famous companies who trusted the Ukrainian IT industry and established their centers in Ukraine, such as:

Google;
Microsoft;
Apple;
Magento;
Skype;
Violin Memory.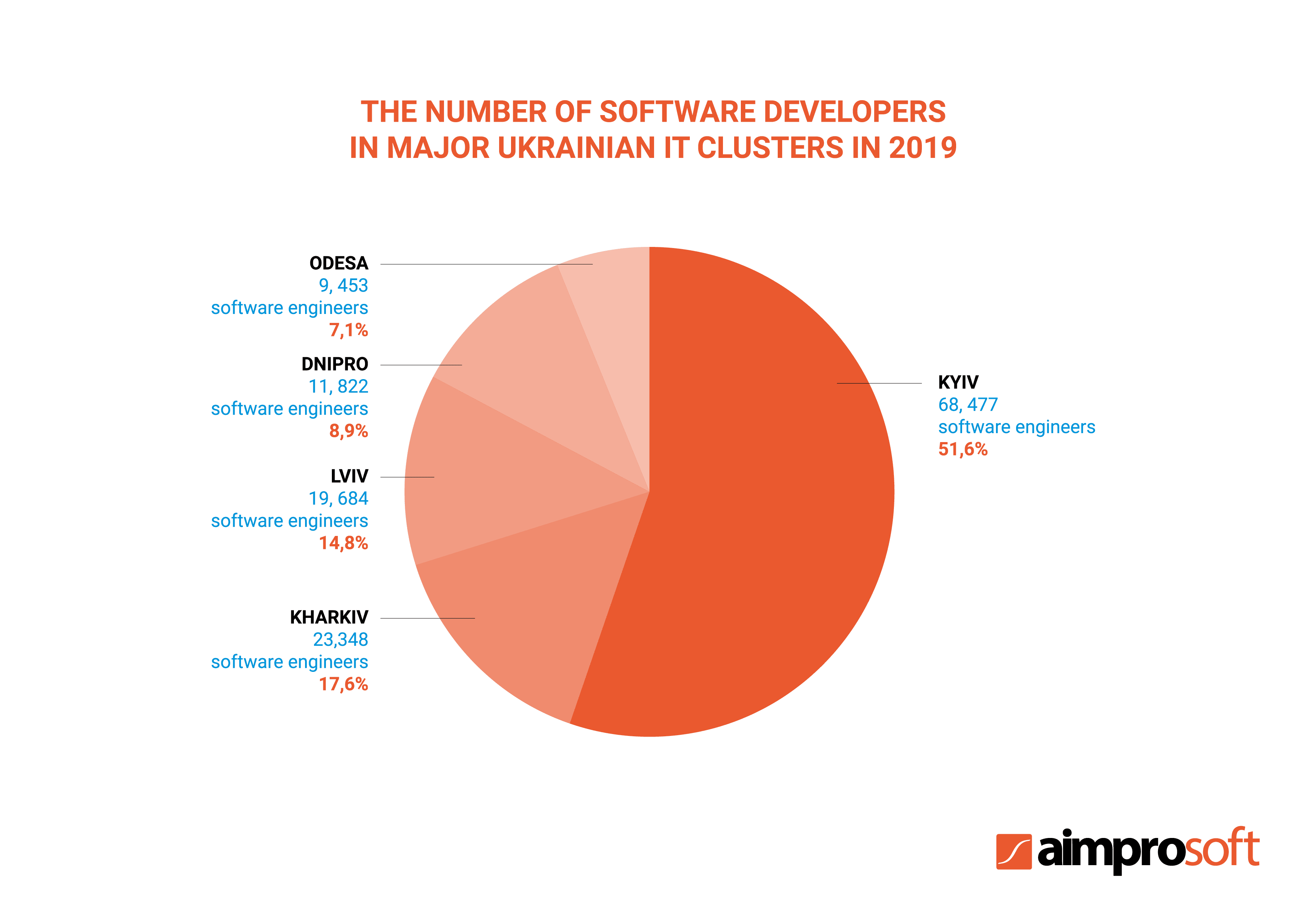 Startups dictate the future
Why considering this aspect: When choosing the best-fit place for the outsource, it's highly important to pay attention to the extent the startup sector is evolving since it's a great indicator of IT market progress in the country.
Facts & figures:
Another factor that makes IT outsourcing to Ukraine rather beneficial is that the country's IT arena is rich in the number of startups. Many of them have already proved their popularity abroad. For instance, Gitlab was evaluated at $2.7 billion, while the total amount of raised investments was about $426 million. Grammarly, another famous Ukrainian project, was valued by investors at $12 billion, becoming the most expensive Ukrainian startup that reached such a number.

Among other widely-known Ukrainian startups, there are many other prominent names, such as:

Competera is a comprehensive pricing platform that helps large retailers (obtained clients from 12 different countries);
Invisible.io famous provider of SaaS products that aim to improve enterprises' productivity and sales (raised $1.5 million in funding over 1 round);
Epom Ad Server is a SaaS solution to expand advertising capabilities of publishers, advertisers, and ad networks (partnered with 300+ clients and raised $7 million in one round).

The number of startups is not limited to the ones mentioned above. These are just a few examples of the most successful and internationally well-known. Overall, the Ukrainian startup sector is constantly developing and attracting numerous investors. For instance, the research conducted in 2018 showed that the number of Ukrainian startup investments reached $290 million in 2018.
When professional growth is everything
Why considering this aspect: The development of the IT industry in the country can also be estimated by the number of tech-related events. Most importantly, this factor indicates the educational and professional growth of IT specialists in the software community.
Facts & figures:
One of the reasons that made IT outsourcing services in Ukraine so beneficial is that numerous IT-events, conferences, workshops, and hackathons are held in the country annually. Top 10 Ukrainian tech-events impress with different factors, such as a number of attendees, speakers, diversity of sections, etc. The list of the most large-scale IT-events includes
iForum (13,000 attendees in 2019), IT Arena (3,800+ attendees in 2019), Games Gathering (3,000+ participants in 2019), Saas Nation (500+ attendees in 2019), and many others.

Another impressive Ukrainian tech-event is called Devoxx Ukraine. In 2019, more than 1,000 attendees gathered to exchange their knowledge about the software development in Ukraine and master new technologies. Every year participants can increase their professional competence by attending numerous sections presented at Devoxx Ukraine, such as Mobile & IoT, Machine Learning & AI, Big Data & Data Mining, Java & JVM, and Containers & DevOps.

Learn more about Aimprosoft and the industries we specialize in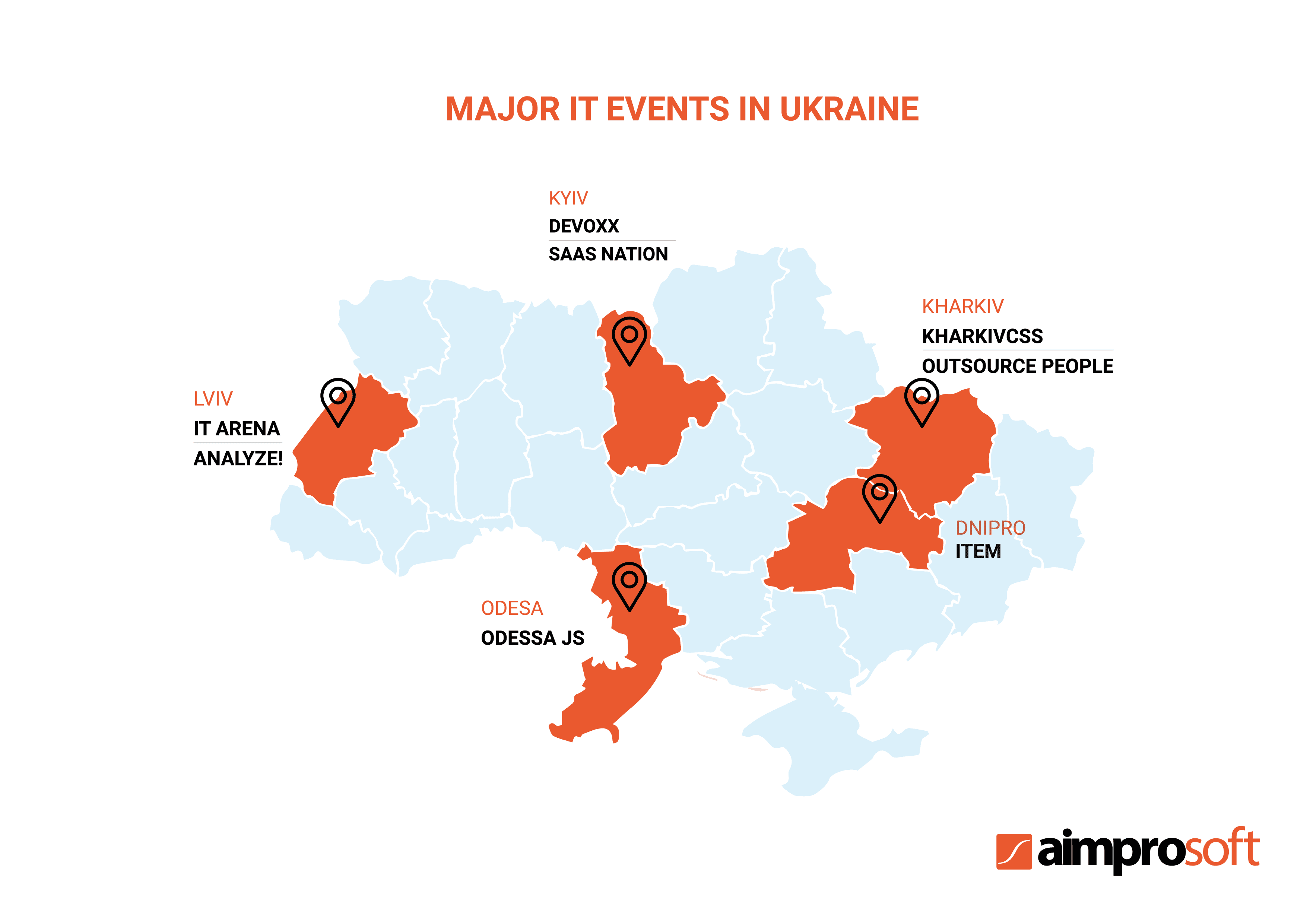 Proficiency isn't limited only to the development
Why considering this aspect: Seamless communication is the key to a fruitful cooperation. Thus, if you choose outsourcing software development in Ukraine, you can be sure that any lingual misunderstanding is excluded.
Facts & figures:
According to the research, almost 80% of Ukrainian IT-specialists have a high level of proficiency in English, 45% are fluent, 40% have an intermediate level, and the other 15% can freely communicate only within the professional sphere.

Another important factor is that almost all Ukrainian outsourcing companies have regular in-house English classes with certified local tutors or invite native speakers to improve speech practice.
Can the location be favourable?
Why considering this aspect: Being able to check on your IT-vendor not only online but also offline is highly important when it comes to software development. Therefore, the country's location and the time zone play an important role when choosing the right place for outsourcing.
Facts & figures:
Location is what makes software outsourcing to Ukraine rather lucrative. Since it's located in the heart of Eastern Europe, it takes Ukrainian software vendors only a few hours to visit the customer and discuss the project. The same rule applies to the customers from Europe that would like to check on their vendor.

The time zone in Ukraine is another beneficial factor. The country is 1 hour ahead of the majority of European countries, which means any related to the product development questions can be discussed without delays and inconveniences.

The country also has a convenient time difference with the USA, especially with such zones in it as Pacific Time Zone (PST), Mountain Time Zone (MST), Central Time Zone (CST), and Eastern Time Zone (EST). The average time difference of Ukraine with these zones is 7-8 hours, which means that once the working day in the USA starts, Ukrainian software vendors have a certain scope of tasks completed and have corresponding reports prepared.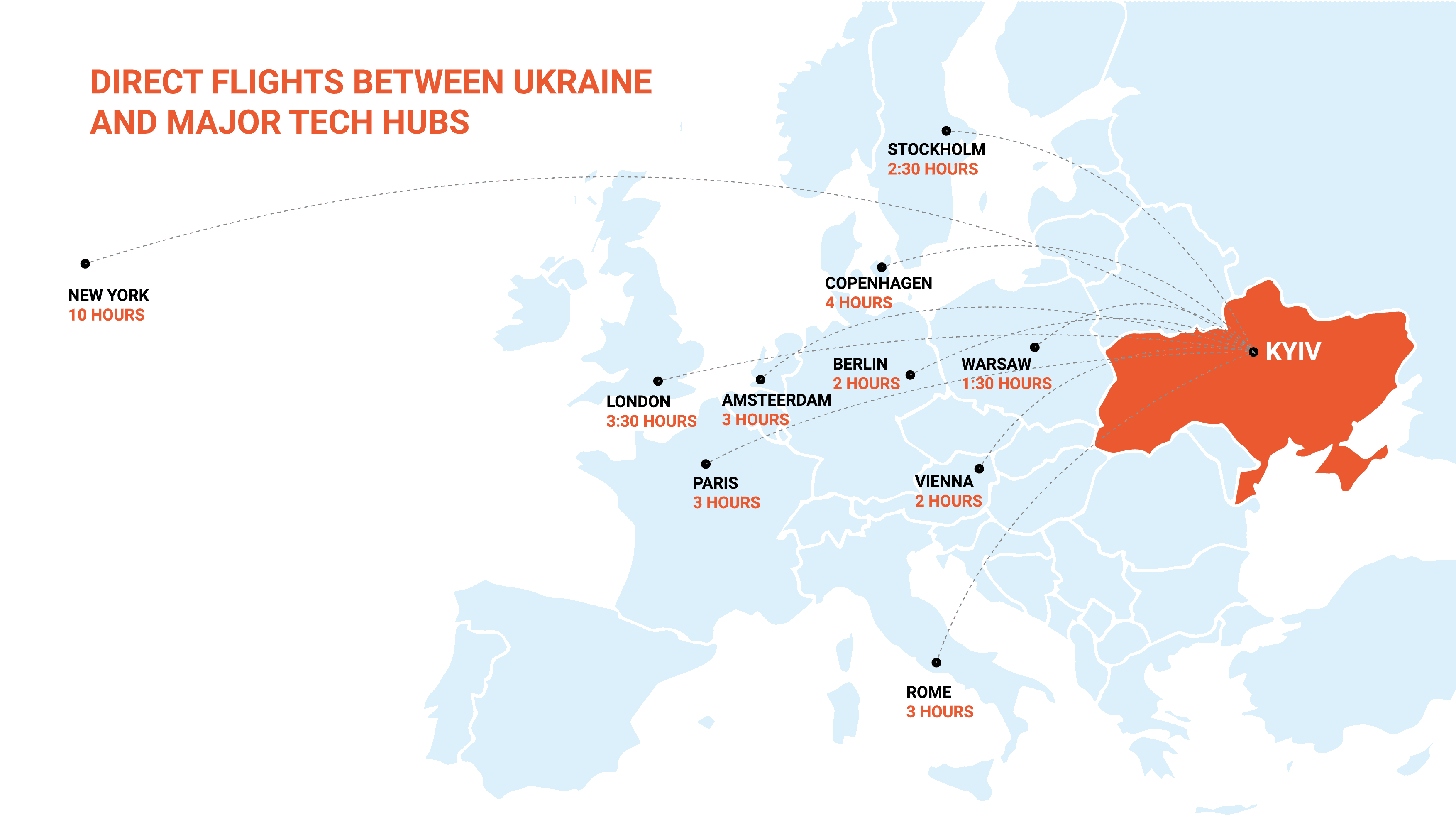 Visa-free outsourcing country sounds like a dream, doesn't it?
Why considering this aspect: Even if your software vendor has a convenient location for the project-related visits, the volume of the documents required to enter the country as the visitor is another crucial factor to bear in mind. In certain cases, the journey to obtain a standard visitor visa or tourist visa can be rather complicated and exhausting. That's why it's highly important to consider this aspect while choosing your IT-vendor.
Facts & figures:
Additional reason that makes outsource development to Ukraine quite beneficial is its famous lenient visa policy. Citizens that are from the list of visa-exempt countries (Armenia, Azerbaijan, Georgia, Moldova, and Uzbekistan) can come to Ukraine for the indefinite stay. Those citizens who hold passports of 60 jurisdictions can stay up to 90 days without a visa for tourism purposes/business trips. The list includes all European Union countries, the USA, Canada, the United Kingdom, Japan, and many others.

In 2018, Ukraine introduced e-visa, which is eligible for citizens from 52 countries, including Australia, New Zealand, China, the Dominican Republic. This type of visa is rather convenient since it doesn't require citizens from 52 countries to go to the embassy. On the contrary, they can complete a simple Ukrainian eVisa application online and wait for the approval. Once the eVisa is approved, visitors can stay in Ukraine up to 30 days from the day of arrival.
Cultural compatibility, progressive policy, and other significant factors for the business
Why considering this aspect: One of the most significant factors to consider while choosing an outsourcing country are business climate and cultural compatibility. The first aspect guarantees that the country is constantly developing its business and technical sphere and contributes to its growth by adopting innovative ideas and progressive views. The cultural factor, in turn, directly impacts the efficiency of your communication with the chosen software vendor.
Facts & figures:
Another reason to choose IT outsourcing to Ukraine is that the country is located in the center of Eastern Europe, thus, shares European values and mentality to a large extent. Moreover, due to its geographical location and historical circumstances, Ukraine absorbed numerous cultural aspects from different countries in addition to its own heritage. It made the nation rather flexible and adaptable to the new and progressive changes. All these factors signify that while opting for outsourcing in Ukraine, you obtain zero inconveniences in communication and a common view on product development.

For the past 5 years, the business environment in Ukraine has also been subjected to significant positive changes. Numerous reforms adopted in 2018 decreased regulatory on businesses, simplified tax administration, enhanced support of small and medium-sized enterprises, and remarkably increased Ukraine's investment attractiveness. Moreover, recent shifts in the business arena have led to a rather striking result, namely Ukraine held 71st position in the 'Doing Business' ranking in 2018, which means it has gone up 12 positions since 2016.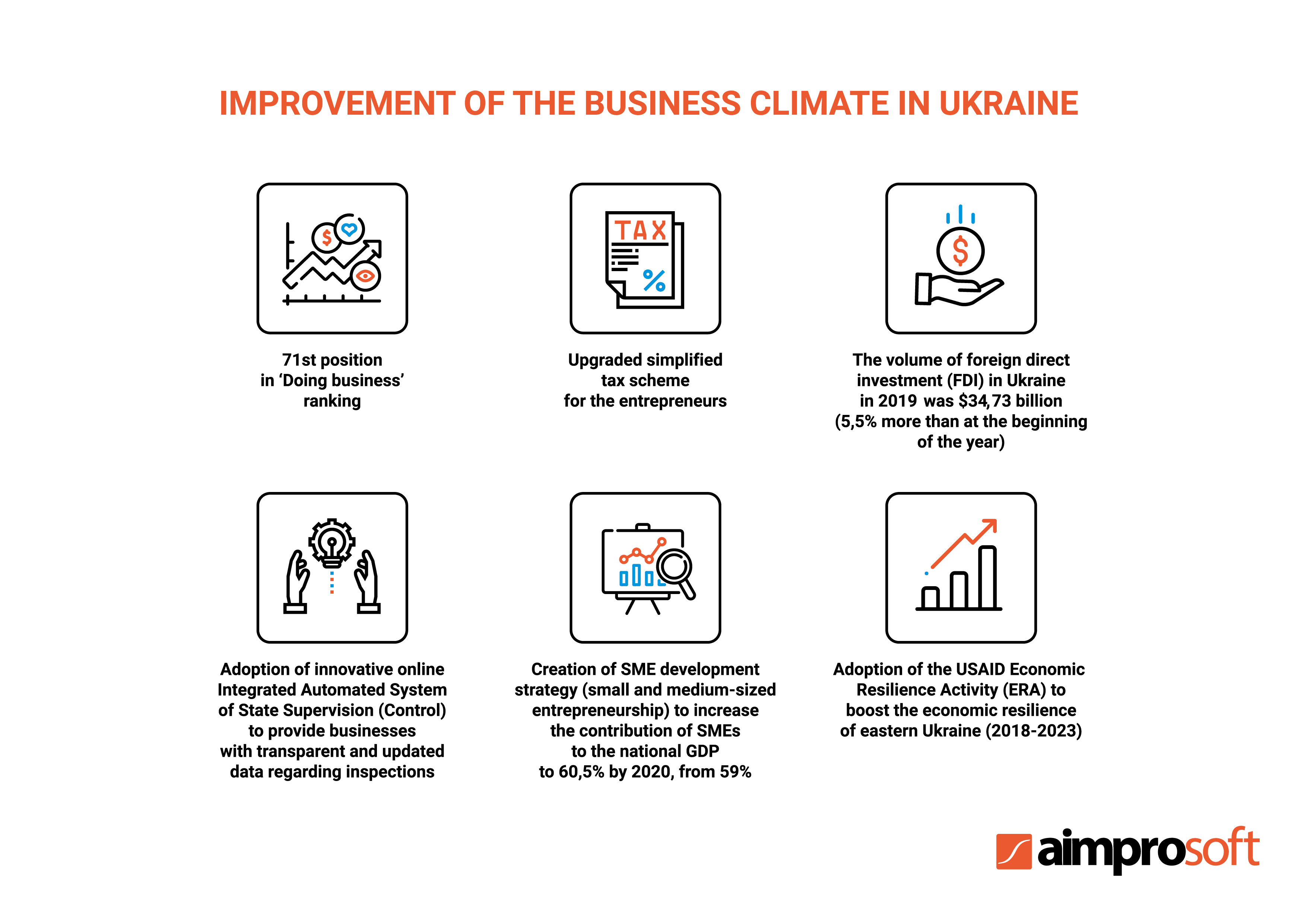 Comparison table of IT outsourcing in Ukraine with other countries
The thing is that only by comparing and contrasting things, you can find the required truth. Thus, if all the reasons for outsourcing to Ukraine that are mentioned above seem insufficient, we have prepared a comparative table for you in which we review one of the most famous IT-progressive countries.
Factors to compare
Eastern Europe (Ukraine)
The USA
Western Europe (Germany)
The United Kingdom
Hourly rate
$25-45
$70-120
$55-85
$60-100
Number of developers
184,700+
1,3 million
837,000+
386,900+
International quality ranking by tech skills

8th place in
the world ranking
91.26
points out of 100

26th place in the world ranking
84.46 points out of 100

10th place in the world ranking
90.70 points out of 100

17th place in the world ranking
87.94 points out of 100

Number of computer science graduates annually
20, 000+ students
65, 000+ students
40,000+ students
29,925+ students
As you can see, despite being a relatively new country in the software arena, Ukraine has managed to get ahead of other strong software-oriented competitors. All the factors that are compared were chosen based on their importance in terms of outsourcing.
The average price range was calculated taking into consideration numerous parameters, such as the years of experience in software development, developer's level (junior, middle, or senior), and programming language the software engineer is specialized in (Java, JavaScript, Python, C#, etc.).
Although Ukrainian software engineers cost less than those developers from other countries in the comparative table ($25-45/hour), it doesn't affect the quality of the performance. On the contrary, Ukrainian tech specialists hold one of the highest positions in the international ranking, and the country is considered one of the best ones for outsourcing in a plethora of world rankings.
What to pay attention to when choosing a company in Ukraine
Choosing the right country for outsourcing is not an easy task, but choosing the right software vendor is even more challenging. There are a number of parameters that should be taken into consideration when searching for the outsourcing company: the vendor's position on the market, the expertise of the personnel, education activities, and proof of the vendor's credibility. Let's take a closer look at each of them.
Number of years on the market
Always pay attention to the number of years the chosen outsourcing vendor has been present on the market. The higher the number, the bigger is the expertise in providing particular software services. It's better to opt for a development company with at least 5+ years of experience in the IT industry.
It is worth analyzing the software vendor's website, namely the section with completed projects. It should have similar cases to the one you are planning to develop so that you can examine the way it was implemented, technical decisions taken to deliver the product, and type of methodology chosen for the particular project. This will help you decide whether the overall approach meets your requirements or not.
Relevant technology
Another crucial aspect is the scope of technology the software vendor is knowledgeable in. The chosen company should have profound expertise in the tech stack that you are planning to use for the development of your product.
Testimonials and acknowledgments
Nothing speaks louder about the vendor's experience than awards from independent platforms and feedback left by previous customers. While analyzing the company's page, check whether the company provides the testimonials from its clients. If you can't find the required information, you can search for it on certain unbiased platforms, Clutch, for instance. Awards, in turn, are proof of the vendor's credibility and the quality of the provided services.
A considerable pool of employees
When choosing an outsourcing software vendor, it's highly important to pay attention to the number of personnel that works in the company. A big pool of employees may be rather helpful in case one of the team members working on your project will have to be replaced due to some circumstances. The company will easily find the appropriate substitution with necessary tech skills among other available employees, not causing any interruptions and inconveniences to the project.
Collaboration strategy
Seamless communication with the chosen vendor on project-related issues is one of the most vital aspects to consider. It's meaningful to figure out the collaboration strategy that the selected outsourcing company uses to provide the offered services. Such a strategy may include numerous parameters, namely, the type of software used for communication and project management, a methodology that will be applied to deliver your project, working hours, NDA, and many others.

Find out more about Aimprosoft and its approach to software development

Outsourcing with Aimprosoft
We have reviewed major reasons for outsourcing in Ukraine and the most crucial aspects to consider while choosing a software vendor. Thus, if you have an idea of building an application or require professional advice on software development, we can help you with it. Being on the market for more than 15 years, we managed to complete 500+ projects and gained a reputation of a trustworthy software vendor.

Take a look at the scope of projects completed by Aimprosoft developers

Our diversified specialization embraces web and mobile development, quality assurance, deep UX analysis, creation of responsive interfaces according to the major design principles, and many others.
Since there is a high demand for highly tailored Hybris, Alfresco, and Liferay development, the company started actively gaining expertise in this field. As a result, our specialization extended, and our product development services are now based on these three main technological pillars.
What foreign customers value is our approach to work and an efficient strategy of cooperation and communication. Namely, we've created the system of uninterrupted development so that if we can't solve any project-related issue with our customer due to the difference in time zone, we send them the report regarding the problem, and proceed with the rest of the tasks requiring efforts on our side (code refactoring, unit tests, etc.).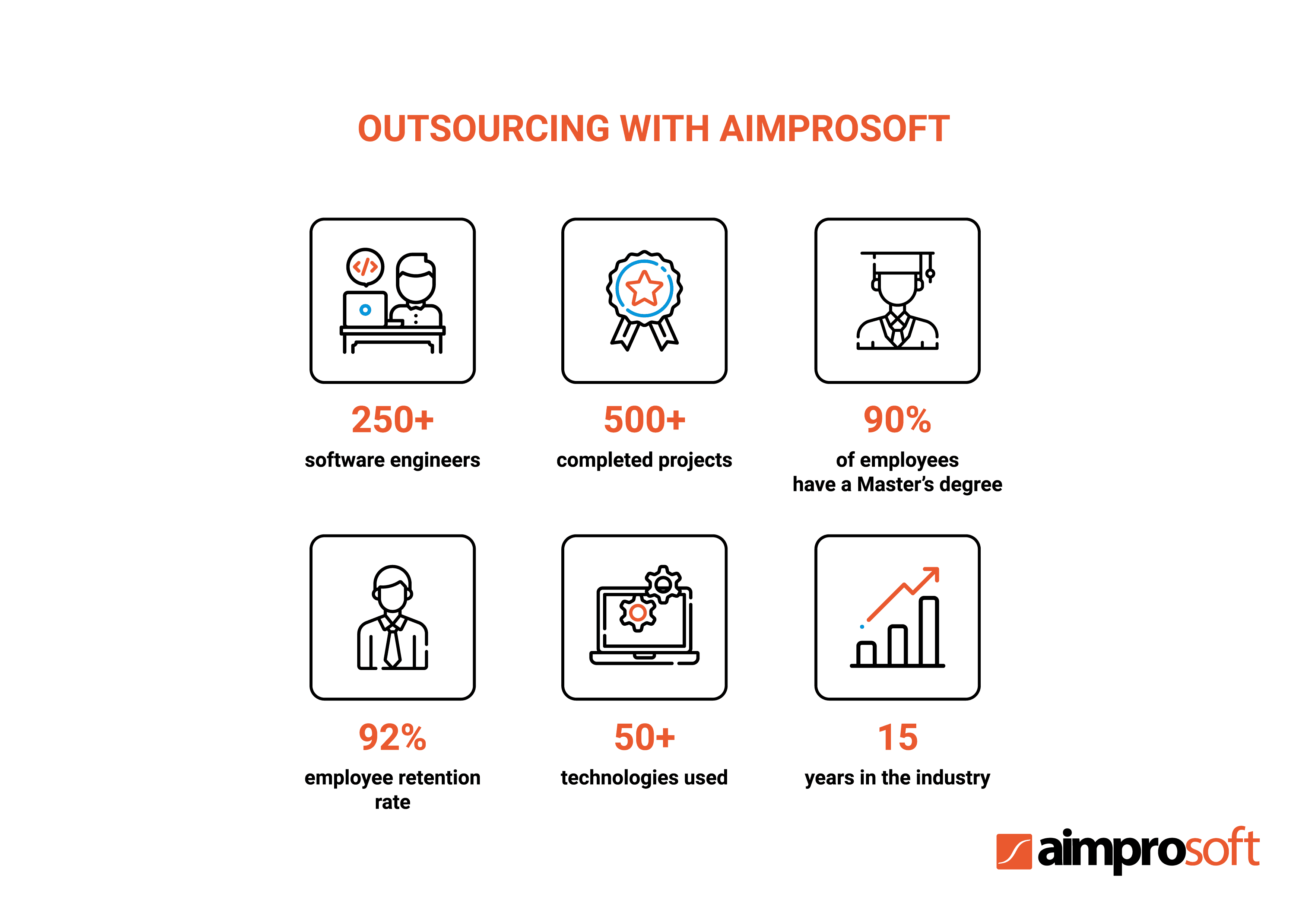 As you can see, choosing the right country for outsourcing and a trustworthy vendor that offers custom software development requires thorough research. We hope this article helped you form the vision regarding IT outsourcing to Ukraine, and now you can take a shortcut to your dream of creating a successful software product.
FAQ
What is the main reason why international companies outsource to Ukraine?


Apart from affordable rates, convenient country's location, and timezone, there are additional undeniable reasons that made outsourcing to Ukraine so popular. Firstly, the Ukrainian software market is one of the most highly developed ones in Eastern Europe. It's mainly due to the number of graduates with computer science degrees, the plethora of IT courses, and constantly held IT-related conferences, workshops, hackathons that contribute to the development of the IT community.

Secondly, there is a large pool of active specialists on the Ukrainian IT market (currently 192,000+) that ensures any international company can find the best fit specialists for their needs. Needless to say, numerous IT achievements and leading positions in global rankings that evaluate tech skills and the quality of outsourcing services make Ukraine a trustworthy IT outsourcing country.
How to make the right decision when choosing a software vendor from Ukraine?

There are several vital factors to consider when choosing the most suitable outsourcing software vendor. The first step is to check the vendor's credibility and testimonials on various independent platforms, for instance, Clutch. It will help you eliminate from your list those companies with a low rating, negative testimonials, etc. Secondly, examine the company's portfolio paying attention to those cases that are similar to your project. Besides, figure out the collaboration strategy and report system of the company to make sure the vendor uses convenient project management tools and can deliver high-quality services considering your requirements, timezone, and other vital parameters enabling fruitful collaboration.
What is the average rate for Ukrainian outsourcing software services?

The average cost of Ukrainian software services will vary from $25-45 per hour depending on the developer's experience, qualification, specialization, etc., which is one of the lowest rate ranges in Europe.
Does the low price for outsourcing services affect the quality of work provided by Ukrainian software vendors?

There is no direct correlation between the cost of IT outsourcing services in Ukraine and the quality of software development. The cost is formed on various factors such as job market changes, the country's economic landscape, etc., and it doesn't affect the quality of the provided services. On the contrary, the tech skills of the country's software engineers hold one of the highest positions in various worldwide famous rankings.