AllExpertisesBlogCategory
08 November, 2022
PHP Outsourcing Guide to Succeed In Your  Project Development

Key takeaways
You're not alone: many CEOs and tech leaders think about to outsource PHP development. Know the best benefits of each.
Read more about the PHP-based solutions that were widespread worldwide, making it necessary to address outsourcing providers experienced in such development.
Financial factors are of utter importance. We have cited some examples to show you visually in numbers, which are probably not obvious advantages.
Outsourcing is not as complicated as you might imagine. Follow our 5-step guide, and you will succeed.
Take a closer look at Aimprosoft's experience in PHP development. Study our cases and capabilities.
There is fierce competition for excellent specialists, where money loses rationality, and the ability to do incredible things comes first. Today anyone can outsource PHP software development to people from all over the world to complete or customize a CMS, a Magento-based online shop, or any website to assemble webpages from modules where appropriate.
According to W3Techs' data, PHP is used by 77.4% of all the websites whose server-side programming language we know. PHP supporters nowadays include giants such as WordPress, Magento, Behance, Slack, Wikipedia, Nvidia, Tumblr, and, in a way, Facebook. Read in our article how to keep costs low, get high quality with PHP development outsourcing, and avoid the complexities of that side of the business.
Why many C-levels prefer to outsource PHP development and maintenance
They say the following high-impact trends that will shape software development outsourcing in 2022 greatly bother leaders:
the chronic tech talent gap;
acceleration of digital transformation;
shoring up value and driving down costs;
renewing focus on risk management;
the closer collaboration between companies and a PHP projects outsourcing company.

Let's see the bright sides of software outsourcing for decision-makers.
What good PHP development outsourcing looks like in practice for CEOs
Gaining back control of your operating costs
Currently, the most costly workforce is made up of IT specialists. The average pay for software engineers in the U.S. is reportedly around $100,000, according to Talent. Although these numbers fluctuate from country to country, they often continue to be the highest compensation compared to other occupations. Nearly everywhere in the world, this tendency exists.
As a result, hiring a full-time in-house software engineer may be expensive. This is in addition to paying for their travel expenses, insurance, yearly bonuses, etc. You will be required to pay an outrageous amount. PHP developers outsourcing may not seem like a lousy notion at this time.
Faster time to market
You can outsource PHP programming and keep ahead of the competition by being supported by a team of IT professionals covering a broad range of service offerings rather than varied individual contractors. How? CEOs can take advantage of the many opportunities a software partner offers by hiring a partner just once. Your business will have a substantial competitive advantage thanks to technology solutions explicitly made to match your needs in one place.
Maintaining an edge over rivals
You can outsource PHP programming and keep ahead of the competition by being supported by a team of IT professionals covering a broad range of service offerings rather than varied individual contractors. How? By hiring a partner just once, CEOs can take advantage of the many opportunities that a software partner offers. Your business will have a substantial competitive advantage thanks to technology solutions made specifically to match your needs in one place.
Delegating recruitment and training procedures
As has always been the case, the outsourcing provider is in charge of adding new team members to your in-house team. You, the CEO, are permitted to periodically evaluate reports and deliverables following the achievement of predetermined milestones in this form of interaction. Additionally, the continual training of the development staff is one of the duties of your chosen partner (certifications, upskilling, mentoring). A software partner assists staff with skill development so that the best possible product may be produced.
Favorable legal conditions for outsourcing
Major IT hubs attract outsourcers due to more favorable legal conditions than local opportunities. Ukraine is not subject to EU regulations; for example, it has low taxes for IT services, whereby the rates for development are lower than in countries of high technical demand and tax complexities like the U.S. or European states. The Ukrainian government is aware that the information technology sector has largely supported the country's economy. This is evidenced by the fact that the record $3,74 mln of IT export services for the first half of 2022 amounts to 23% growth compared to the previous period.
Stop wasting your time on routine. You are a leader, and strategy and vision await you.
Delegate your development to Aimprosoft to get a completed turnkey solution.
CONTACT US
PHP outsourcing through the eyes of the CTOs and CIOs
A need for quite fast scaling
The common opinion that the reason for outsourcing software engineers by US companies is always a question of price is only sometimes justified because the availability of human resources is second place. The shortage of I.T. staff has become a serious problem for many companies. 72% of polled 1,200 IT workers in the US intended to quit their jobs in 2022, as stated in The Impact of Technology in 2022 and Beyond: an IEEE Global Study. Seeing that, CTOs look towards a PHP outsourcing company that can make arrangements for the supply of qualified staff in a short period.

The global talent pool is open for you
Many IT leaders frequently deal with a local tech shortage. They know from personal experience that there are better courses of action than making a hasty decision to fill a gap rapidly. Access to the broad tech talent pool is the most important deciding factor for CTOs and CIOs carrying out their duties and carefully picking the correct tech professionals that can assure proper product growth and development as well as adequate security enablement.

For example, according to LinkedIn, there are around 13 000 PHP developers in Ukraine as of November 2022, with 268 jobs available. A 48 times greater supply-than-demand gap is observed. With the annual 25–30% staff supply increase in the industry that keeps even growing during wartimes justified by the need for a programming language, a pool with a minimum of 16 250 newcomers in the field is ensured in 2023.
Fill a tech void in your team more quickly
Your recruiters can narrow down a list of outsourcing firms on your behalf, saving time from pitching to individuals on multiple talent source platforms. The only thing left to do is pick and engage PHP developers from a single talent pool, which can eventually become a source of numerous IT specialists. If there is a shortage of local workers or their compensation exceeds the planned budget, outsourcing, and remote employment will make it easier to fill gaps.
Close your PHP tech gap with Aimprosoft today.
Let's discuss your technical needs to find the best cooperation model.
CONTACT US
The duties of sourcing can be distributed
Spending half of your working time on candidate search is not normal for CTOs whose direct responsibilities are way more important. The degree of involvement in hiring a recruiter and a CTO is different. Being a part of the project team extension or setup is a complex remedy. Too immersed in the search for the best candidates, you catch yourself thinking: "Where has my time gone?" By cooperating with a software development PHP projects outsourcing company CTOs take the weight of their responsibilities related to sourcing, screening, and onboarding off their shoulders. The focus on the tech interviews, compounding and reviewing tech tasks to find the greatest fit, and paying attention to the criteria and qualifications of the candidates is what you're left with.
Maintaining high standards is in your competence
CTOs and CIOs are in a decision-making circle, so they are in charge of the services provided by the IT personnel to be of the required caliber. Tech leaders can try a service provider for a trial period before primary development, developing Proof of Concept projects, asking to make test tasks for applicants, making a code review on GitHub, etc. Also, please don't dismiss the idea of checking the company blog, asking for clients' reviews or suspending them on Clutch, and asking for portfolios and case studies. Web development services from a single partner are backed by years of experience accumulated from several clients.
World-known products that make you address outsourcing PHP developers
E-Commerce: Magento
166,740 is the number of currently live Magento websites, according to BuiltWith. It is one of the most well-liked eCommerce platforms in America. Adobe acquired Magento for $1.68 billion in 2018 to become stronger in competition with Salesforce. The platform was initially B2C-oriented, with a further shift to B2B, allowing small and mid-sized businesses to trade online. If it is more common to outsource PHP web development for enterprises is not so critical because these are usually internal development teams, then for SMBs, outsourcing helps launch a business or expand significantly for a reasonable investment.
Content management: WordPress
Two out of every five websites are powered by WordPress (43.1% of all websites). Almost 36 mln of websites. Bloomberg, The Guardian, Vimeo, Huawei, and NGINX, give their preference for this CMS. Since the popularity of WordPress growth year after year, the demand for PHP specialists who can develop and support websites has increased as well as the surge in salaries, which forces leadership to apply for outsourcing PHP development.
E-Learning: Moodle
200 million users from 242 countries use Moodle, one of the most popular course management systems, also known as a learning management system or virtual learning environment with PHP at its core. Apart from a rich functionality, it has certified integrations that enhance its capabilities. Since the pandemic splash in 2020, online learning has gained extreme popularity provoking the demand for specialists who can customize personalized environments. It has an open-source software package for wider distribution among educators.
Read also about the simple steps on how to build a Learning Management System (LMS).
Take Me There
PHP outsourcing financial benefits
Rates are half as much
Historically, outsourcing is about saving money, followed by closing tech gaps. The US and UK retain their positions as the main outsourcers being the most technologically advanced areas. The issue is that a labor shortage still affects the world economy. With PHP being the most in-demand technology in the global tech landscape, the cost is starting to soar. In 2023 and beyond, there will still be a high demand for technology, making it harder to engage and retain experienced IT staff on your own.
Annual salaries of onshore PHP developers in countries of high demand for tech talents
Country/Salary
USA
Canada
Sweden
UK
Finland
Germany
Average
$100 000
$82 000
$39 000
$77 000
$70 000
$60 000
Maximum
$130 000
$117 000
$55 000
$109 000
$104 000
$80 000
Data are provided by Talent, Indeed, Glassdoor, PayScale, and SalaryExpert.
$100 000-130 000 per annum is the salary of a PHP developer in the US. While for example, in Ukraine, the total cost for development services from an expert-level outsource PHP programmer starts from $67 000 per annum. The benefit is obvious when you can get two skilled developers for the price of one.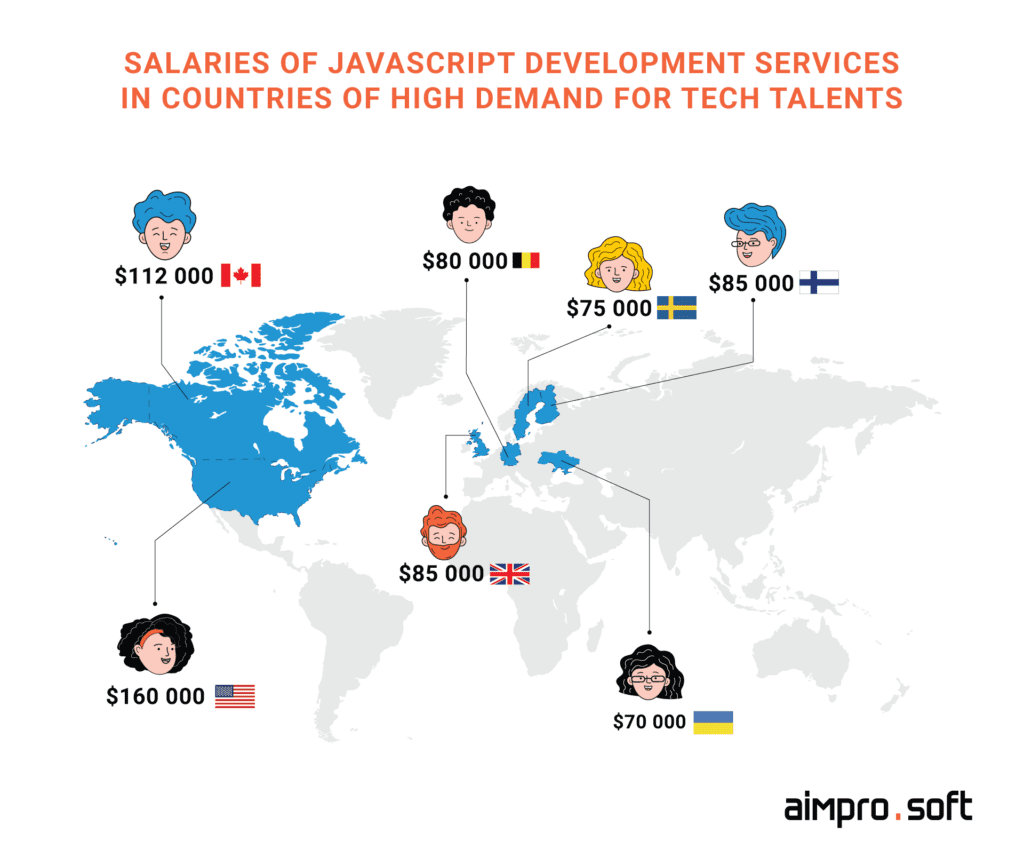 No taxes per employee
Every country has its taxation peculiarities, such as payroll tax, individual income tax for employees, social security costs, VAT, Social Security (or National insurance), Medicare tax, Employer's liability insurance, corporation tax, etc. It's affected by whether it is wage-based or federal, state, and local income taxes. Without going into detail, a US or UK employer has to pay taxes starting from 10% approximately per employee. If compared, the 10% $100 000 annual salary for a PHP developer is $10,000, which can be spent more rationally on outsourcing development. For $10 000, you can get two instead of one outsource PHP developer of senior level from Ukraine.
No payment on notice periods
Ensuring a smooth transition without damaging your current job and deterring other potential employers from looking for employees because the waiting time may cost many organizations 2 or 3 months in salaries. What happens with outsourcing? You enter into a contract that specifies the terms of the collaboration, a common practice of which your development partner, not you, handles that bench issue. Outsourcing to Eastern Europe removes a lot of headaches for customers because all care of recruitment, team setup, motivation, and retention, as well as providing payments to employees during the transition from one project to another, the so-called benches, are handled by the software development provider.
Constructive dismissal
Constructive dismissals are typically unpleasant experiences for both employers and employees. They can also result in expensive claims for constructive dismissal that harm a company's reputation. US employers, for example, have to pay between $ 5 000 and $80 000 in settlements in wrongful termination cases to employees who have been wrongfully terminated, including constructive discharge. Which, by the way, is a month's to year's salary for PHP development services in case of outsourcing to Ukraine.
No utilities and workstation spending
By outsourcing your tasks to competent specialists from technology hubs, you already get the benefit of removing the burden of organizing the workplace for the employee. For example, if you outsource to Ukraine, the employer in Ukraine pays for light, equipment, workplace, and perks, and prices, even in times of crisis, have always been and will be lower than in Europe and America. For example, the annual spending per worker is estimated at $10 000, which equals two monthly salaries of a Senior PHP developer from Ukraine provided the hire under the outsourcing cooperation.
Yes, with us, you can not only save money, but also get more benefits. Ready to try?
Let's schedule a call to discuss your business needs.
CONTACT US
5-step guide on PHP development outsourcing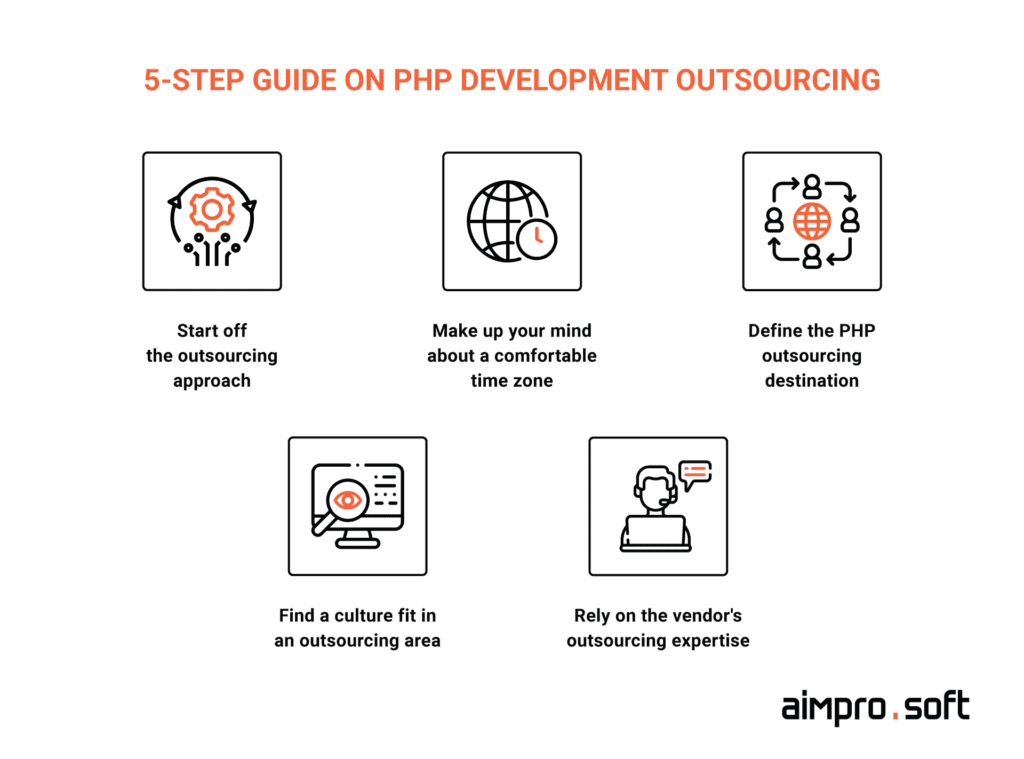 Step 1. Start off the outsourcing approach

It is obvious that a successful outsourcing plan is a desirable yet attainable aim. You are in charge of first defining business objectives. If you don't know where you're headed, very few projects succeed, isn't that right?

After splitting your objectives and discussing them with the various departments in your business, prepare for the discussion with the outsourcing software development company. A vendor will most likely ask you: 
– What are your business needs?
– What are your outsourcing goals (budget, deadlines, tech shortage)?
– How can you identify the finest way to get the results you want?

It is simpler to identify the ideal PHP outsourcing company once you have determined which duties you want to delegate.


Step 2. Make up your mind about a comfortable time zone

Do you find the two-hour gap to be unimportant? If not, you are one of many business executives in Europe who like Ukrainian developers because of their close proximity to you. The ideal delay for synchronizing and maintaining rhythms is two hours. Latin America, on the other hand, receives greater attention from North America and Canada because of its proximity. However, because Ukraine provides decent services at reasonable prices, American consumers esteem it as a digital center.


Step 3. Define the PHP outsourcing destination

For more than 20 years, an Eastern European tech supply has allowed Switzerland, Estonia, Finland, the Netherlands, Sweden, the United Kingdom, and other Western European nations to meet their technology needs. The regions have a history of being technologically advanced with a high rate of scaling and rivalry, as was previously indicated, which leads to a continual scarcity of skills. Many enterprises and startups have found the solution in Ukrainian outsourcing firms that offer personnel with the necessary years of expertise in software development.

It is equally vital to determine which country has skilled specialists who will uphold its standards for goods and services. The significant concerns you should have are a developed, low-cost IT sector supported by a top-notch educational infrastructure. It's also impressive that they can converse with you in English as the most common.

Being used at the server core of 80% of all websites, PHP is one of the five most common programming languages among 13,000 Ukrainian developers. According to the DOU winter survey, 10.6% of Ukrainian developers use PHP for commercial projects. Its popularity in early 2022 increased by 4.2% compared to 2021.


Step 4. Find a culture fit in an outsourcing area

Do you find the two-hour gap to be unimportant? If not, you are one of many business executives in Europe who like Ukrainian developers because of their close proximity to you. The ideal delay for synchronizing and maintaining rhythms is two hours. Latin America, on the other hand, receives greater attention from North America and Canada because of its proximity. However, because Ukraine provides decent services at reasonable prices, American consumers esteem it as a digital center.


Step 5. Rely on the vendor's outsourcing expertise

Setting up dedicated development teams with a high skill set of team members to complete the puzzle is a competence that companies from Eastern European tech hubs, particularly Ukraine, have mastered. For over 25 years, being one of the most demanded outsourcing destinations, Ukrainian outsourcing vendors can start off the development of your project from scratch in days instead of weeks. For Aimprosoft, for instance, the setup of the dev team takes up to 4 weeks, depending on the specificity of the skill set, domain, and project complexity.

Wrapping up, even though one may opt to remain silent, it would not be needless to mention that PHP outsourcing is especially tempting due to its lower hourly rates and distinctive perks. After the pandemic, the median pay jumped 30% across all categories making it more expensive to acquire a PHP specialist. But at first glance. Outsourcers, however, benefit from even higher income and the opportunity to complete the project with a full-fledged dedicated development team. 

Now that the vendors have been narrowed down, you can proceed with signing a contract to interview their top candidates. Pay attention to the synergy Since digital skills can be developed over time, unlike human attributes, it will be easier to assess an employee's productive fit if you pay more attention to them as a person and ask them personal questions.

Are you ready to let go of the burden of responsibility and get a finished product?
Let's sign NDA and discuss your business needs.
CONTACT US
Why outsource PHP programming to Aimprosoft?
Resilient vendor
17 years in the market
Located in Ivano-Frankivsk (Western Ukraine)
600+ completed projects for startups and companies
100+ clients from the U.S., Europe, Canada, and Asia
Signed contract on the 24th of February 2022
100% client retention in 2022
Renewed hiring a month after the invasion
Contribution to the total Ukrainian IT exports increase estimated at 20.44%
Choice of U.S. customers who appreciate the quality despite the temporary difficulties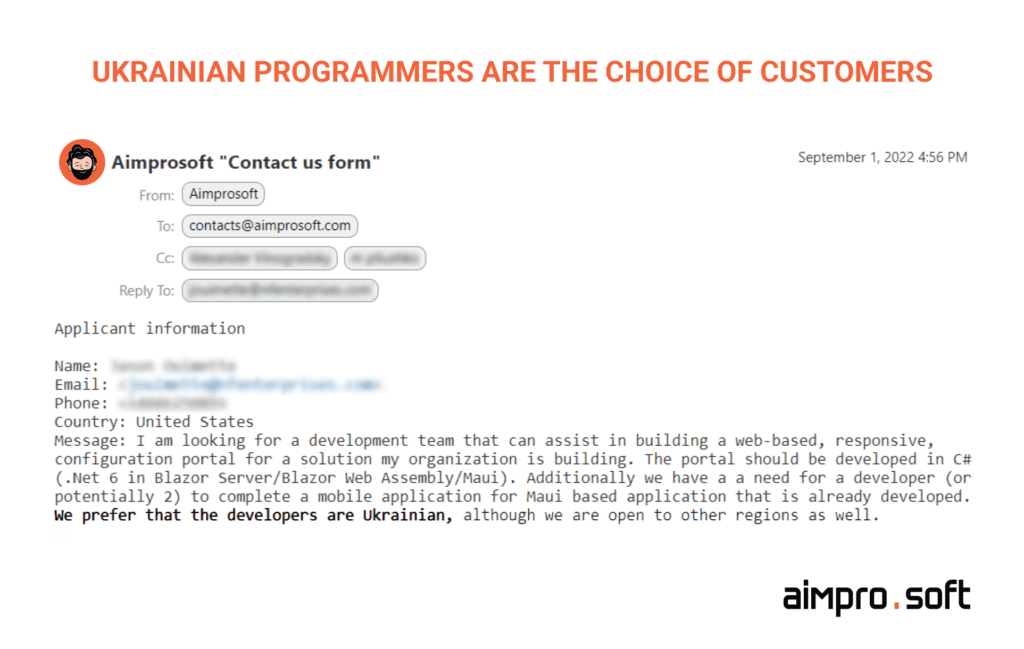 Energy independence
Our company had concerns in advance regarding the autonomy of employees' work because we knew how important it is for us to be powered 24 hours a day. Everything needed for continuous delivery is present in Aimprosoft's workplace, including Starlink internet sets and generators to maintain ongoing office operations. We can undoubtedly function independently and uninterruptedly for one week long, based on an evaluation of the office's technical setup. As a result, neither power outages nor rocket strikes will prohibit us from meeting our duties to clients.
Recognized software development partner
Aimprosoft is a trusted provider of backend and frontend development services.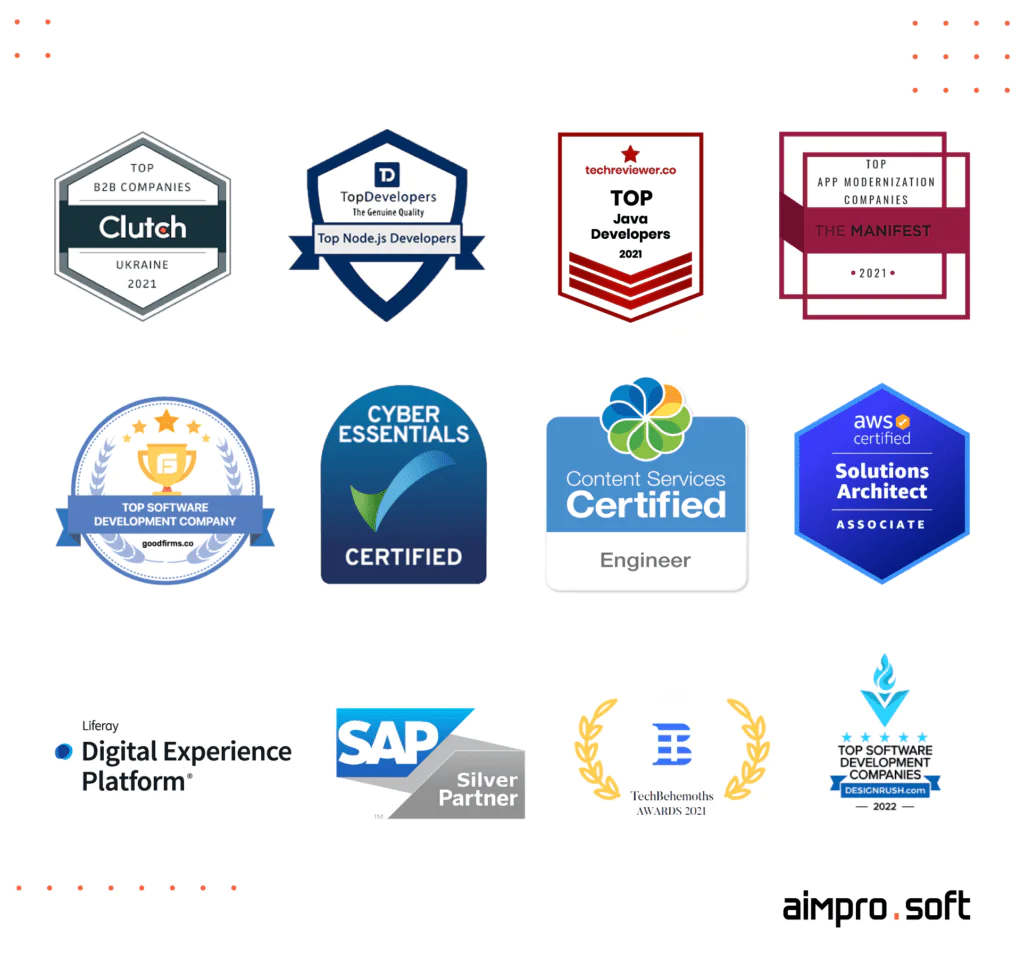 Security of our clients' PHP projects
Businesses may lower risks while also strengthening brand trust, assuring compliance, boosting productivity, and igniting innovation by choosing a software partner that prioritizes cyber security. Because our entire IT infrastructure is cloud-based and has its headquarters in Germany, all customer projects are secure. Aimprosoft can ensure the proper cyber security level for our clients against online threats being approved by Cyber Essentials, a UK Government-backed minimum standard scheme that protects against the most common cyber attacks.
Business models for PHP projects at Aimprosoft
| | | | |
| --- | --- | --- | --- |
| Model | Dedicated team | Full cycle development | Staff augmentation |
| Purpose | Tech talents work as a dedicated unit of your company to help you gain your business goals | A ready-made PHP-based team to turn your concept into a completed solution | Rented specialists with appropriate PHP expertise who join your core team |
| Best fits for | Long-term IT projects with a potential to rapid scale | When it is necessary to your development worries off your hands | Urgent business needs mostly with missing tech skills |
Payment models for PHP projects at Aimprosoft
Cooperation model
Fixed price
Time&Material
Assures a fixed budget for the project, regardless of its duration or cost

You cover the cost of the materials and time used by the development team
Best fits for

for PHP outsourcing projects with a strictly defined scope
clear understanding of the final result
for short-term projects with specific services

projects with precisely set goals
cases when a customer is ready to distributed management risks
determining the exact cost of the finished product is hard
PHP tech stack of Aimprosoft developers
Commonly, clients rely on our experience and empower us to choose a technology stack for a PHP program development. The following list of tools is proven by time and completed commercial projects.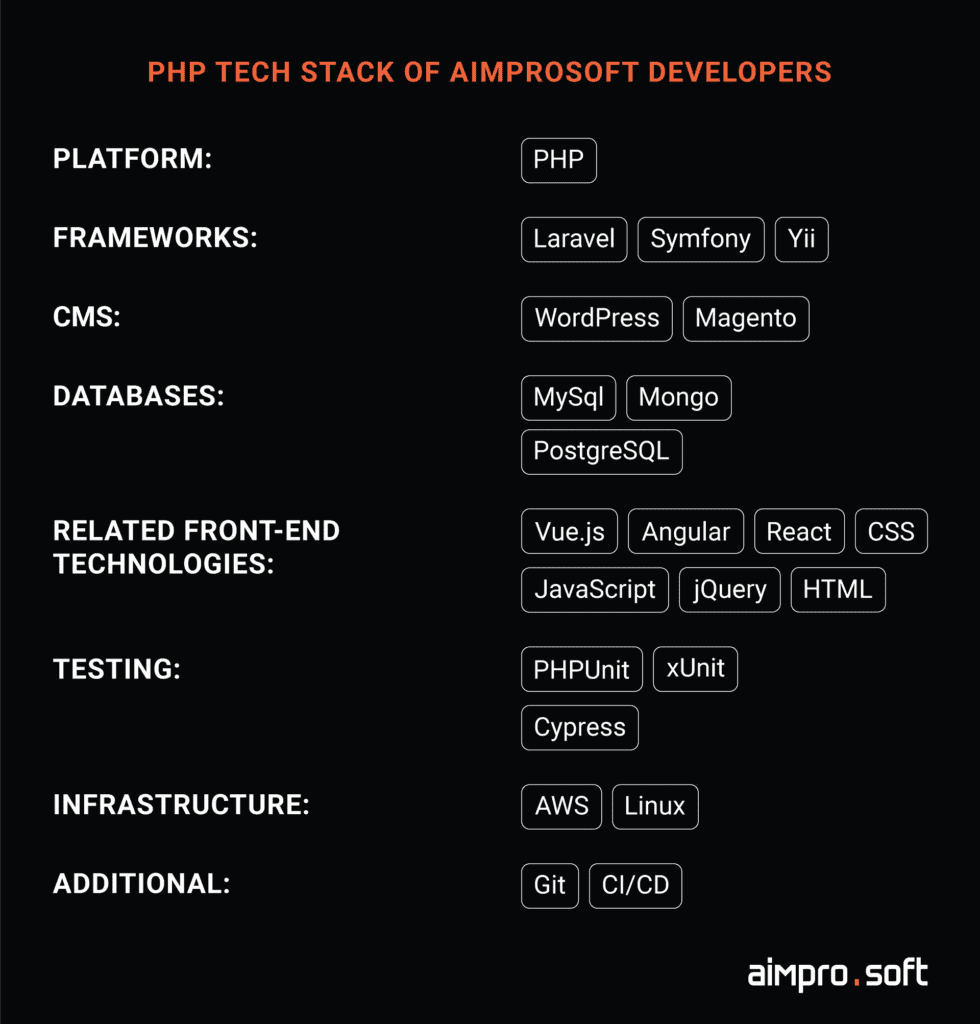 Our PHP projects
Ramtool: Magento-based online store for selling electronic tools and their spare parts
Stack: Magento e-Commerce platform.
Team size: 2 developers
Duration: Dec 2019 – Ongoing
About the project: Our client was looking for a partner to outsource PHP web development services in developing a B2B2C e-commerce store with Magento 2 Community Edition from scratch with customization of a certain part of OOTB functionality and add extensions. Sign-in, log-in, customer account, search bar, product categories and comparison, product description with details and reviews, image slider, shopping cart, payment options, wish list, email newsletters, etc., are those vital features implemented by our PHP developers for the successful launch of the store. It was required that only registered users could see prices and order goods, so the registration form was implemented from scratch. As a result, we helped the client to increase revenue by adding more eCommerce stores in the sale chain.
Service expansion: To support three existing Magento-based e-commerce stores.
TMI: a platform that helps spot emerging investment and trading opportunities for do-it-yourself investors
Team size: 10 developers
Duration: May 2020 – Ongoing
Case 1. TMI Hub: Marketing dashboard with reporting system and 3rd party integrations
Stack: Laravel+Vue.js
About the project: The US-backed platform was created from scratch under the full cycle development model by the Aimprosoft team. This is a marketing platform that allows gathering different types of data and statistical results of marketing activities. The data is covered by a documented API back-end and separated front-end. The app provides a set of tools and reports to help a marketing team get all data from different resources in one place. Also, the system allows managing access to the data for different user groups.
Case 2. TMI website rebuild
Stack: Laravel+Vue.js
About the project: A client wanted to migrate from WordPress to Contentful CMS, seeing the latter as more appropriate for existing website purposes, which is designed for financial and stock analytics in the United States. The end user accesses educational and analytical content, such as articles, webinars, and visual data on the state of stocks, the market, and exchange trading in the United States. The admin manages content, subscriptions, and users. The system also provides users with financial data analysis.
Online platform that rewards users for completing certain tasks
Stack: Laravel, WordPress
Team size: 3 – 5 developers
Duration: August 2021 – Ongoing
The service provides people the opportunity to earn money by answering various surveys, watching videos, and completing opinion polls. The client came to us with a request to continue the development of the existing project, perform functionality expansion, and conduct BA to identify weaknesses in the project, offer problem-solving options, and provide the team with the necessary documentation.
Learning Management System for healthcare organizations
Stack: Moodle open-source learning platform
About the project: The product is a learning management system that covers the training needs of companies in the healthcare sector. Based on Moodle's OOTB capabilities, the core of the learning platform was created with various customizations to adjust it to the industry's requirements. The LMS web application allows healthcare organization employees to access multiple training courses, company updates, protocols, and regulatory documentation. It also helps the company's leadership ensure personnel inspection readiness via compliance training programs. The system has a large group hierarchy that divides all employees into clusters based on their roles and responsibilities, such as learners, managers, admins, etc.
Key features:
Creation of training catalogs
Smart visual dashboard
Reminder notifications
Recurring courses
Permission settings
Progress tracking
Compliance plan builder
E-signature
Integration with JasperReports
Import and export of documents in PDF and XLS format
Ability to add certificates from external sources
Conclusion
PHP is really productive and relatively easier than other programming languages. It may not appeal to architects with big brains who tend to like pointlessly complicated things. But plenty of products are written in PHP, and the well-developed frameworks and libraries inspire developers. What's left to do is to get inspired people to their projects. Contact us, and we will help you set up your development process in the best way to remove unnecessary worries and leave time for business development.
FAQ
What are the technologies used by PHP developers?

PHP is a popular open-source general-purpose scripting language that is exceptionally well suited for web development and can be integrated into HTML. PHP developers, as usual, are proficient in PHP 7x-8, use Ajax, jQuery, and MySQL, work with APIs, Unix/Linux, and MVC Framework Architecture, and are hands-on with Laravel, Symfony, Yii, CakePHP, and PHPUnit. Slim frameworks.
Why should you outsource PHP development projects?

Let's say you have a product-based application or want to launch an online store from scratch on Magento; you can hire in-house developers and will have to arrange all that management and maintenance stuff. Is it about you? If not, delegating development to the provider experienced in it will relieve you from extra costs and headaches and give you a complete solution for your business.
What are the most popular PHP-based frameworks?

Among over 40 known PHP frameworks, the most popular are Laravel, Symfony, CodeIgniter, Zend, and Yii, which are more than others in demand among PHP outsourced development services.