Articles
16 September, 2021
How to Build a Learning Management System (LMS): Choosing The Right Way

Key takeaways
The global LMS market size is expected to grow up to $25.7 bln by 2025, showing great potential for SaaS LMS development.

Find out what features make an LMS a powerful and competitive product, as well as those ones that form its MVP.

Step by step, we'll go through the stages of creating a learning management system, so you'll learn how to build it from scratch.

Is it more profitable to develop your LMS with the help of an in-house team or outsourcing company? See comparison tables of both variants prepared by Aimprosoft.

Get to know how to complete such a project successfully despite any arisen challenges by the example of our real-world case.
Learning Management System (LMS) market overview
Nothing better than LMS can automate the learning process and make it comfortable, easy to access, and fast for a large number of people in any organization, be it a company or an educational institution.
Still, many confuse an LMS with an e-Learning platform, but there are differences: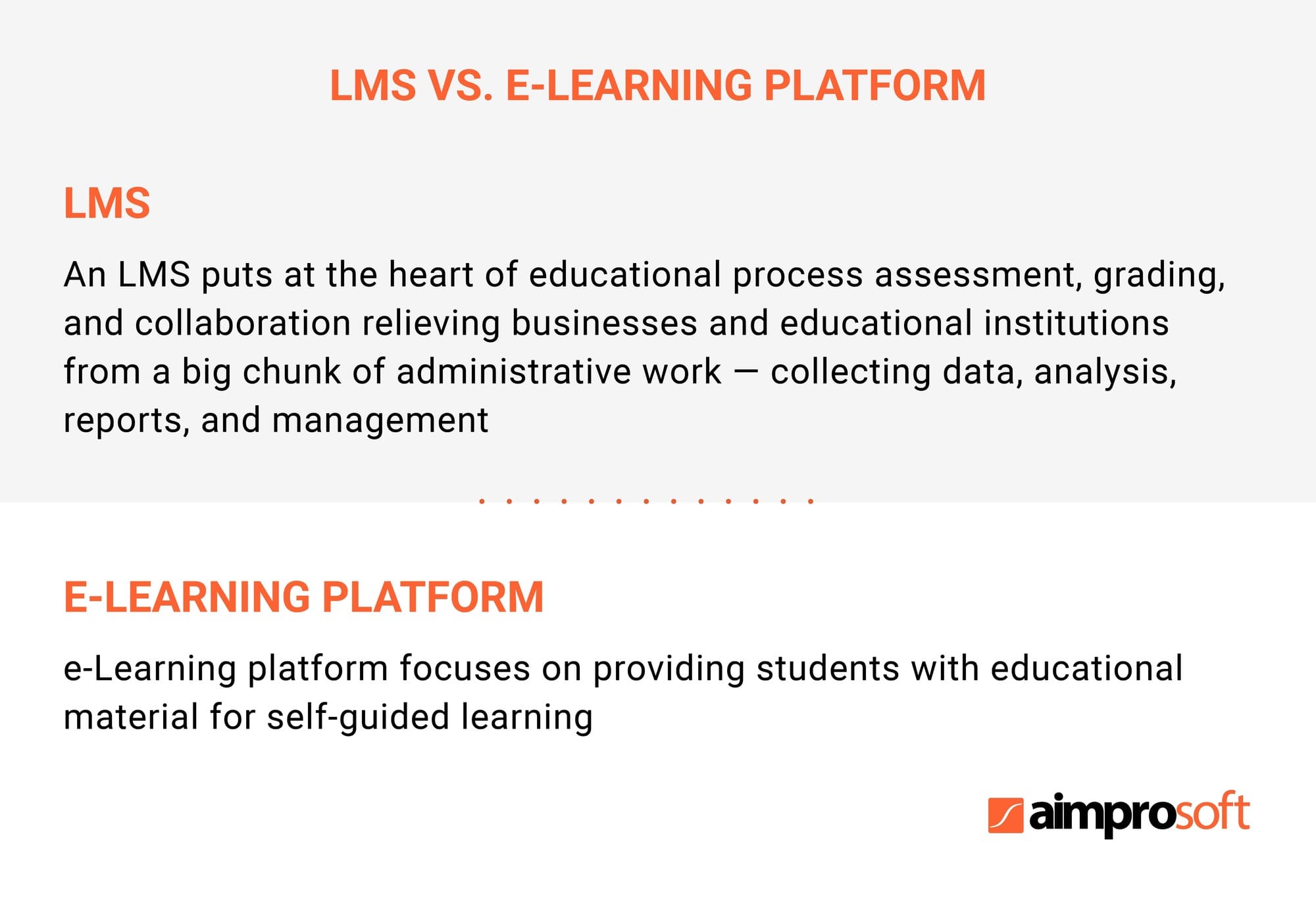 Using an LMS, organizations get:
improvement of employees'/students' training process;
their qualitative assessment;
more effective onboarding and team building;
24/7 accessibility to all educational information;
reduce of resources needed for employees'/students' education;
a cutdown in spending.
These significant benefits and the impact of COVID-19 made various types of organizations hurriedly utilize LMSs, which has been reflected in the constant growth of the global LMS market size. It is projected to rise from $13.38 billion in 2021 to $44.49 billion in 2028 at a CAGR of 18.7%.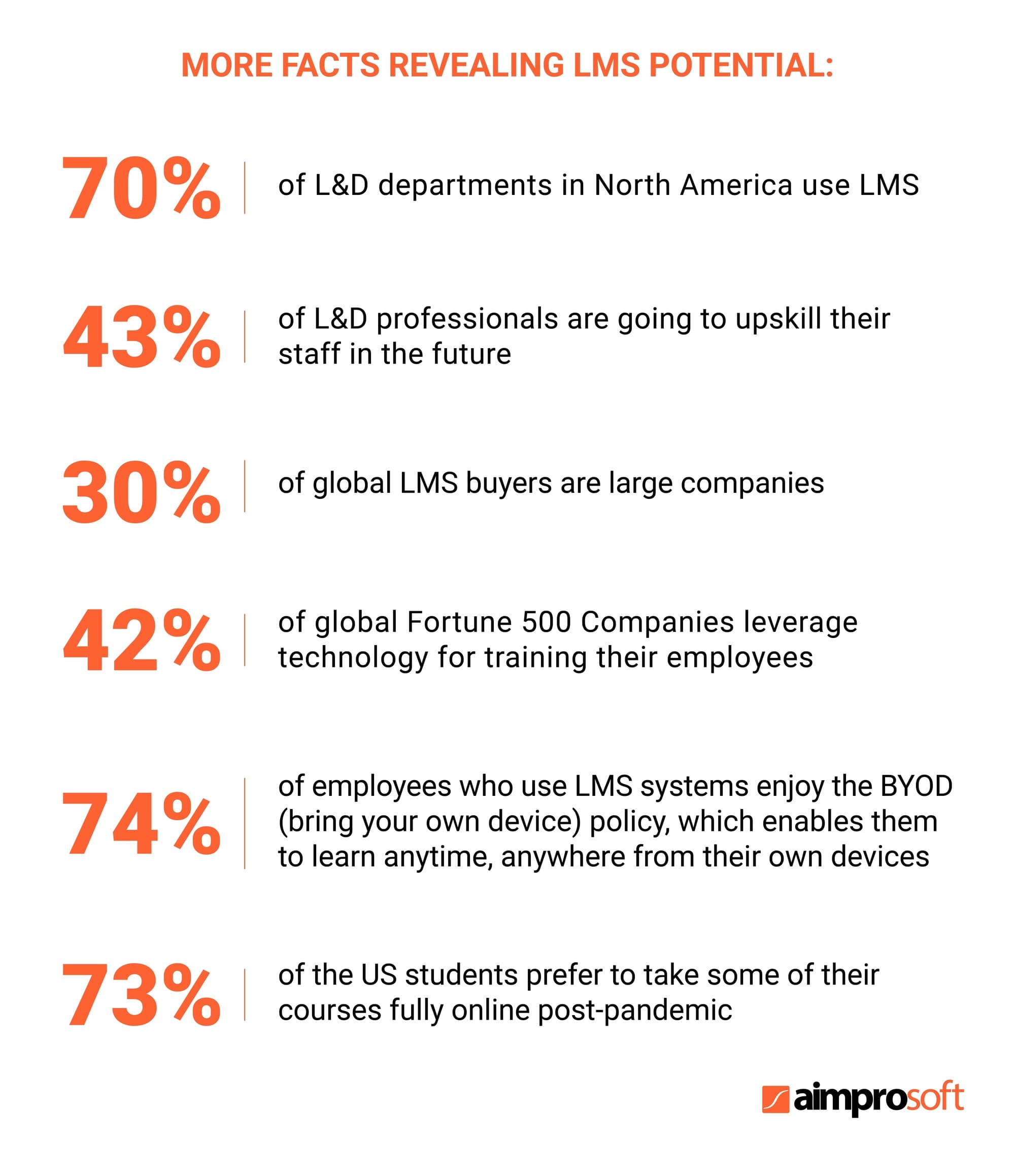 If you read this article, there is a big chance your organization requires such a product, or you cherish the idea of making your own LMS. To develop it, we need to define what LMS types exist and which one fits your purposes.
3 Types of Learning Management Systems
There are the following types of LMS:
Custom and ready-made LMS for organizations' internal use
There are companies that choose to build their own internal LMSs, consciously rejecting ready-made SaaS solutions.
The reasons behind are:
Limited customization.
Insufficient security.
Educational institutions are more reluctant to build custom LMSs because, largely, their content doesn't contain confidential information, and the cost of its creation may be rather unbearable for them. In this case, they utilize ready-made LMSs to get faster implementation and cost cut early on.
However, it's not a rule. For example, Southern New Hampshire US University designed the custom-made LMS around their competency-based education. Such a decision came after they experimented with Canvas ready-made LMS.
The cause of the change was they needed not only educational content delivery and administrative tools for running a course, but also they aimed to build a close relationship with the students and spin off their solution to the other educational institutions transforming their LMS into a profitable business. The outcome was the Motivis Learning Relationship Management (LRM) system built on top of Salesforce CRM.
To sum it up, schools or colleges may require a custom LMS if:
They have specific requirements for developing a learning management system functionality, i.e., integrations with third-party software, a custom design, etc.
The price they pay for an off-the-shelf system is equal, if not higher, than building their own LMS.
Pay attention that a ready-made LMS can be charged according to different pricing models (pay per course, pay per use, license fee, etc.) or the mix of them, which may not include implementation services, a training program, and other expenditures. So we advise you to ask detailed questions and evaluate carefully the proposal plans of the LMS vendors not to cross your organizations' budget.
LMS built from scratch for distribution
If you decide to develop a SaaS-based LMS for catering it to other organizations, there are two approaches to follow:
provide your users with access to the LMS functionality (basic or full) based on a subscription or perpetual license model;
SaaS LMS is cloud-based, so it may be located on your servers or the servers of a cloud provider chosen for data storage.
It's advisable to offer on-premises implementation as well because some organizations aim to achieve high protection of their learners and corporate data. Although there are many SaaS LMSs on the market and competition is stiff, there is always a chance to take a cut; just carefully identify your niche, target audience, and their needs, conduct business analysis and define the business model we talked about below.
Must-have features of an LMS
LMS consists of various features to enhance offline learning or completely substitute it. That's what we've seen when COVID-19 imposed limitations on the way we learn and live. However, despite all the feature variety, there are the core ones without which LMS can't be considered a workable solution. These features also form the foundation of a SaaS MVP that can be presented on the market.
Feature
Description
Course builder and content management
A fundamental feature without which you can't create courses, quizzes, etc., and manage them. You should integrate a convenient editor into the course builder that allows creating, dragging, dropping, and arranging content, hiding/adding courses. It will make course creation and management as simple and fast as possible.
Collaborative learning
91% of employees say collaboration is the most useful to help them learn. You can add a live chat or forum where users can discuss things, find solutions to the hot issues, ask questions and mentor each other when creating a learning management system. For businesses, such peer-to-peer interactions also enhance team building and loyalty among the employees.
User and group management
With this feature, a teacher or company organizes users into groups, assigns tasks to them, sets them notifications, and many more, which doesn't differ much from offline learning.
Learning path
Learning paths specify the order in which users access different materials to gradually prepare during the course. They are also combined in the way to offer a certain training course sequence to each learner. By introducing this feature, you boost user participation and, if you host SaaS LMS, increase their spending on your services.
Roles and permissions
Learning is never a chaotic process. And to make an LMS that works like clockwork, you should provide the course admin with the ability to assign roles to the course participants. It enables admins to control what users do within the system and what material they have access to. This is also a good means against losing business data and users' private information.
Intuitive user interface
This is not a physical classroom; therefore, the specificity of the LMS interface lies in clarity: course admins hardly want to be on-call answering users' questions on a confusing learning environment. The main requirement is that the learning content needs to be mobile-friendly and teach users how to learn by themselves. To reach it, take care that all interface elements are easy to access, understand, and lead a user towards reaching their goal.
Skills assessment and testing
This feature should contain the tools, which provide various kinds of:

assessments from different quiz types to essays, tasks, and assignments;
statistics: to see the number of quizzes, tasks, etc. a user has taken, how long it has taken to complete, etc.;
achievements: to monitor user progress and reward them for it;
surveys/polls: to find out how users evaluate the course for necessary improvements.

Reporting & analytics
You couldn't take your business to the next level without a thorough analysis that lets you see the gaps in your services. LMS offers analytics comprised of user- and associate-oriented dashboards. While users can monitor their educational progress, staff reporting tools bring information on learners, courses, and, if provisioned, revenue and sales. If you design a SaaS LMS, your system should offer a bunch of pre-built reporting features to respond to your customer needs.
Notifications
This feature improves the administration of courses by reminding learners about their uncompleted tasks, informing them about potentially interesting courses, etc. Push notifications are accessed in the LMS admin settings and can be sent to notify a particular user, all the users of the course, or targeted groups according to the course admin's purpose.
Payments
A payment gateway provides the ability for organizations/trainers/learners (educational process participants who pay depending on your business model) to make easy and secure deals by themselves.
We believe that you have something on your mind to extend this list, including more features inherent exclusively to your organization or LMS startup.
If you think about what features to add to your LMS that will make the platform stand apart on the market, read how our Dedicated Team can help you realize it
READ MORE
Best Learning Management Systems examples
The LMS market accounts for more than 500 different LMSs. All of them include the core features we mentioned above, without which a learning process would be simply impossible, so let's evaluate what LMS true differentiators are and what enabled them to gain the competitive advantage before we address the question of how to develop an LMS.
| LMS | TalentLMS | Moodle | Docebo | Schoology |
| --- | --- | --- | --- | --- |
| Niche (business vs. educational institutions) | Both | Offers separate solutions for each niche: – Moodle LMS – Moodle Workplace | Business | Educational institutions |
| LMS key differentiators | Easy & fast course creation, management & login; highly efficient admin control; branding; compliant with GDPR, SCORM, xAPI, cmi5. | Course creation and greater customization; enhanced data security; global reach. | Diversity of learning methods; multiple formats support; strong customization options; enhanced learning analytics; great integrations via APIs. | Collaboration environment; automation of teachers' administrative issues; socially engaging platform |
| Drawbacks pointed out by the users to make an LMS | Non-comprehensive reports; portal and certification templates are rather limited; non-exhaustive API documentation; around 10% of customers have experienced troubles with support. | Steep learning curve; outdated UI/UX; the codebase is hard to understand for a non-Moodle developer; not a user-friendly Gradebook. | limited features in the standard package; customer support requires improvement. | Software can go down from time to time; rather steep learning curve; limited file size: 512 MB per file. |
| Pricing model | – Free trial – Freemium – Subscription License: – Free – Paid | If you develop LMS by your own efforts: – No trial – Free download – Open Source under the GNU General Public License If you leverage MoodleCloud: – Free trial – Subscription-based. | – Free Trial – Subscription License: – Paid The vendor hasn't revealed the price. | – No free trial – Freemium License: – Free; – Paid – Starting Price: N/A |
If you have the ambition to make a learning management system that will win the hearts of users by enhancing their learning experience, as in the examples above, you should properly approach its development process.
The ways of creating an LMS
If you ask how to create an LMS, first, you should distinguish what LMS solution is most suitable for you:
customizable;
developed from scratch.
Customizable ready-made LMS needs adaptation and will be the best choice if:
your business requirements are not specific;
you want a quicker time to start;
you are cut on budget.
Custom LMS is developed from scratch by the organization's in-house development team or an outsourcing vendor. It will be the optimal decision if:
your idea of the solution has specific business requirements, thus needs unique design;
you have the ambition to build an AI-powered LMS;
full security is demanded over corporate and personal data.
If you think about how to build a learning management system, which is customizable, there is a possibility to adjust it by your own forces without outside help. For a higher degree of customization, the right choice may be an open-source solution as it is their strong point. However, it imposes on you the need to hire developers with the relevant expertise in a particular open-source LMS (i.e., Moodle, Open edX, Canvas, etc.) or contact their partners for first-hand assistance.
If you develop a learning management system from scratch, understanding how to build it right lets you foresee and escape the hidden pitfalls, so catch on the useful tips we share:
Build your own Learning Management System from scratch
It means you need to cover all the stages of building an LMS app from A to Z. The above process is the same whether you'll work with an outsource vendor or your in-house team. The only difference is if you cooperate with a third-party software company, you'll be relieved from going through all these stages and just have to keep track of the project milestones to reach the final goal on time:
Stage 1. Discovery
This stage clarifies if the investment in your idea will pay back, and as the result of getting through this stage, you will:
get the complete overview of the market;
define MVP core features and extended functionality;
select the right tech stack to build an LMS from scratch;
prepare a technical specification;
work out an LMS implementation plan if you are an educational organization;
define LMS deliverables: short-term for each implementation stage and strategic ones with measurable KPIs;
choose a suitable monetization mode;
identify the participation of work groups and move onto the detailed planning phase.
If you've got enough resources, the discovery stage can be conducted in-house. Otherwise, there are full-cycle development companies that are able to cover a complete spectrum of services at lower rates, from business analysis to LMS implementation and maintenance.
Do you want to map the current state of the outsourcing development market?
Find a complete overview in our blog article.
Get an overview
Stage 2. Planning

Without thorough planning, your project timing is dragged out, the cost increased, the development team frustrated as they don't see the clear, reachable goals during the product creation.
The planning stage to develop a learning management system rests upon 4 pillars:
scope of work;
schedule;
costs;
risk management.
After the scope of work evaluation, the steps to meet project objectives are defined. That allows thinking over a project schedule for the LMS project completion on time. To implement the plan in life, a Project Manager estimates the budget for each stage of LMS development, which forms the basis to control expenditures during the project realization.
A good plan is a plan when everything is calculated beforehand. To guarantee the successful completion of the project, "high-threat" potential problems are defined. The result comes as follows:
a PM lowers the probability of an issue occurrence;
he/she reduces the issue impact on the project.
Stage 3. Development
MVP creation and tech stack
The shortest way to make an LMS a working product and verify its economic viability is to start with an MVP creation.
The fact is not only a full-fledged product can solve users' problems, MVP involves a minimum of crucial features that meet the learners' pains; meanwhile, it doesn't require a massive investment of both time and money.
The sooner you complete developing a learning management system, and the product reaches end-users, the faster you receive their feedback and make changes to the MVP as its codebase is little in contrast to a full-fledged system.
There are some points to pay special attention to when developing an MVP solution.
Firstly, you should define the list of primary features that solve the fundamental needs of the LMS users. Every project is unique, but you can rely on the list of features we've described in the "Must-have features of an LMS" section.

The growing amount of content, heavy video files, and the increasing number of users require space. Therefore, to provide unlimited data storage, you should evaluate the cloud providers according to the bundle of services they provide, performance, and pricing to choose the best fit for your particular case. Be aware that although such a ready-to-use solution speeds up MVP development, it can be costly in the long run.

LMS availability on multiple platforms is better implemented from the MVP stage as well. Cross-platform development means the app will work across multiple types of platforms or operating environments. JavaScript and Python are the most frequently used programming languages for cross-platform applications with React Native, Angular or Vue.js frameworks.

Any LMS gathers confidential information about all the educational processes as well as authorized learning material. To strengthen security, a number of measures should be provided, such as:

If your organization requires full control of all the learning content, building the data centers is an expensive but workable way out.

Authorization can be provided by an IP blocker that prevents suspicious IP addresses from accessing your data. Another measure is domain-based registrations, through which you can ensure access to the LMS only to specified domains.

Authentication to provide access to your LMS users while preventing hackers from cracking the password. For example, you can limit the user's attempts to enter the course by {N} times, and after a while, require re-authentication.

Role-based access control (RBAC) allows users access to the necessary information to effectively perform their activities and be restricted from getting data that doesn't pertain to them.

Single Sign-On (SSO) centralizes authentication management across all your online entities.

The efficiency of learning processes depends on data integrity, which is protected via data replication in multiple places. By doing this, you also play for disaster recovery because, in case of security breaches or system errors, your data will be backed up.

Data encryption is needed for protecting data transmission between apps.

Phishing, malware, ransomware are distributed through spam, which LMS users receive via emails. Anti-spam can prevent spam spread that captures user data and compromise sensitive information.

Mobile security is a mandatory measure because modern learners prefer to study via smartphones, which is a great channel of data theft. Therefore, data encryption, anti-spam protection, and mobile user authentication are a must.

LMS is not an exception to a pirating content threat. It's not that easy to eliminate this violation, but there are some methods you can apply:

limit access options for different devices to prevent password distribution from one course use to another;

set Digital Rights Management (DRM) tools that include restrictive licensing agreements, encryption, the embedding of a tag designed to control access and reproduction of valuable information, adding watermarks to images and videos, etc.
Even if the users appreciate your LMS platform, the absence of offline mode can force them to select an LMS from the market rivals. To choose technologies for this feature, you should consider:
balanced frequency of data synchronization;
determine different synchronization cycles for data;
decide how to manage data changes.
To ease your LMS development, scalability, testing, and deployment, it makes sense to apply microservice architecture. It is an approach of decomposing the app into loosely coupled pieces that play for increased modularity. It not only ensures all the benefits mentioned above but, more importantly, lets you easily implement changes and maintain your system.
To make your own learning management system, you should choose a development toolkit, which depends upon:
project functionality;
timeline requirements;
budget;
tech stack ecosystem;
development team expertise;
maintenance cost.
The following table breaks down the most frequently used technologies for creating a learning management system:
| | |
| --- | --- |
| Frontend | Web languages: JavaScript, TypeScript Frameworks: Angular, React, Vue.js Mobile languages: Android: Java, Kotlin iOS: Swift Frameworks: React Native, Material UI, Amplify |
| Backend | Languages: Java, JavaScript (Node.js), Python, .Net, PHP Frameworks: Spring, Express, Play, Django, Flask. |
| Database | SQL: MySQL, Oracle Database, PostgreSQL, Microsoft SQL Server NoSQL: MongoDB, Apache Cassandra, AWS DynamoDB, Apache HBase, Google Cloud BigTable, AWS Timestream |
| Cloud storage | AWS, Microsoft Azure, Google Cloud Platform |
The Aimprosoft team will take into consideration all your project's determining factors to help you choose the tech stack that will fit your budget.
UI/UX design
The requirement for LMS is it should be intuitive for all the participants of a learning process, whether it is a learner, teacher, or administrator. It means navigation ease is a must-have LMS quality because users should reach their goals with a minimum number of clicks.
Design psychology requires here simplicity, excluding any unnecessary elements that can distract learners' attention.
The choice of the color scheme should be based on sufficient color contrast to highlight instructions, ensure a positive experience, avoid eye fatigue, and promote the appropriate mood for learning. A color palette must also reflect the organizational branding. Another trick — to know your TA. Choose colors according to the psychological effect you want to have on the audience.
We also recommend following the familiar patterns of design like Z-layout. It helps create some sort of organized visual hierarchy that people naturally like following. It adds simplicity to the page.
To make the design accessible to visually disabled people, follow WCAG (Web Content Accessibility Guidelines) to keep the contrast between text and background.
Finally, the entire system should look flawless on all existing browsers and all device screens if it is a cross-platform solution.
Quality Assurance
The high load on the LMS website due to the influx of users, payment transitions within the system, and vulnerability of LMS corporate and private data require a careful approach to LMS testing.
It should be performed according to an elaborated test strategy, which is implemented with the help of test artifacts such as:
test plan,
test cases,
traceability matrix,
checklist,
bug report,
test report.
To build an LMS from scratch is impossible without going through certain types of testing:
Usability testing during which QA specialists measure how much time users spend on completing an action, what obstacles they meet while trying to achieve their goals on site, and evaluating the user tasks completion rate.
Functional testing. It verifies if the LMS follows a set of business logic specifications. In other words, the functionality of a system behaves as expected.
Performance testing. Helps understand the behavior of the app under an expected load.
Security testing is used to uncover LMS vulnerabilities and detect possible security gaps in corporate and private data.
Not all learners and educators will have access to the desktop computer but will use smartphones and tablets at their convenience. So developing an LMS for mobile learning makes sense. Be it native mobile apps customized for iOS and Android OS or a cross-platform LMS that should incorporate responsive design across all mobile makes and models; mobile testing should be conducted to verify the LMS works correctly across all systems and screen resolutions.
Trial run
User Acceptance Testing (UAT) is performed after functional, integration, and system testing completion before the LMS rollout to the general public. Depending on your project, it can be done in-house with the help of the company's staff who will use the system, or if you intend to conquer the world with your LMS brainchild, an external audience should test it. All 3 groups of end users should be involved in the process: learners, educators, and administrators.
To make a learning management system, the vendor is also obliged to provide sample scripts and feedback forms for the testing process. It is prepared for your users to follow the script. Afterward, you'll be able to save their feedback with valuable suggestions for changes in functionality. All that ensures everything is under control, and you'll eventually celebrate a successful rollout.
Stage 4. LMS launch
First and foremost — plan. Yes, we are into planning. You must be prepared for the LMS launch in advance. Before the system is deployed in the environment, you should:
Take care your LMS feels like a natural extension of your existing software systems in the company: CRM, HRMS, intranet, etc. Thus, your LMS will be more accessible for the staff and provide for a more complete picture through skill tracking and reporting across the systems.

Prepare the comprehensive learning guides with information on how to use LMS, how to complete user profiles, etc., for all types of LMS audience: organization's internal or global external.

Hold a launch event. When the day comes, create some anticipation in the company by releasing teasers, polls, and email campaigns. If you prepare a launch for the world, then a whole marketing campaign should be held with the help of your Marketing Team or an Agency.

To reduce the time of LMS adoption and get benefits from the product implementation as soon as possible, provide LMS training. You can appoint a responsible team within the company, or if you collaborate with the software vendor, they usually work out training for their client's team. What's important — discuss in advance the details of duration, timing, and vendor's engagement in the training process.
From the technical point of view, before the code is moved to the production environment, it is frozen for 2 or 3 weeks while User Acceptance Testing takes place. During this period, the development team fixes bugs only. Finally, an LMS will be deployed on your servers and ready for launch.
Stage 5. Continuous improvement
Making your own LMS is not the end. Adoption of continuous improvement is the only way for a product owner to stay ahead of the competition. To achieve that:
Constantly gather feedback from the users and, on its basis, draw conclusions on how to improve.

Evaluate the products of your competitors. It will allow keeping an eye on trends and the mistakes to avoid.

Any improvement in business comes at a cost. It makes sense to measure it to get the maximum of it and if needed, to improve the processes.

You can analyze and count on the following measurements:

cost of each improvement;
number of courses completed;
number of LMS participants;
each course rating.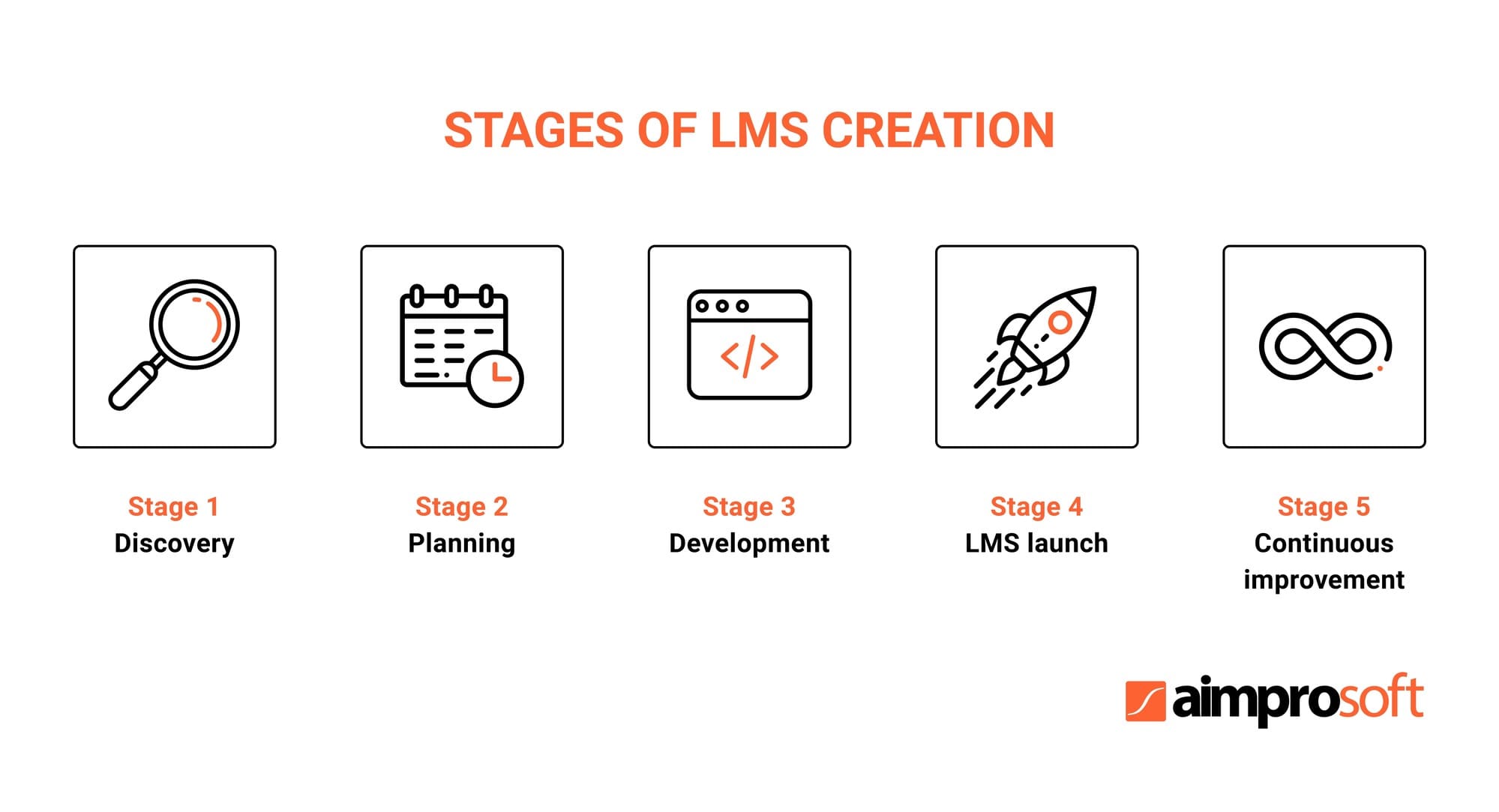 Developing an LMS by an in-house development team
We assume you are a middle or big enterprise if you can afford to create an LMS website from scratch. Of course, it has many advantages, but let's look at it from different angles to make the right decision — to develop it in-house or not:
Pros
Cons
More control over the development process: yes, you appoint a Project Manager and a Product Owner from your in-house team, thus monitor every milestone with its outcome right then and there. Moreover, it adds flexibility as you can introduce changes in a shorter time as you don't have to talk it over with the other side.
Building a devoted and professional team requires significant expenses on:

long hiring process;
salaries, sick leaves, vacations;
taxes;
office rent and maintenance;
providing equipment and licensed software.

High level of communication: the development team speaks your language, operates in the same time zone and obviously shares the same cultural patterns.
Access only to a local talent pool that can be limited in case of relevant education and experience in the field.
Lower risk of confidentiality breaches as you don't share information with third parties.
Management of a product development process requires skills: if you are not a software development company, big chances are you don't have the relevant expertise in managing product сreation and removing project impediments.
Trust and transparency: you know these people the whole eternity and presumably know what to expect from them.
How to turn cons into pros to make your own learning management system:
To save time, you can delegate the hiring process to a recruiting agency; however, it won't save you a penny. On the contrary, you will pay more.

When hiring, you can talk over that your employees work distantly; thus, you won't pay for the office space. In this case, it doesn't differ much if you hire a team abroad at a much lower rate but with the same level of technical background.

You can educate your specialists at your own expense and discuss that you'll deduct this sum in chunks from their salaries afterward. However, such issues are an anxious business because you can invest in specialists who won't stay at your company for long.

The only applicable solution here may be hiring the developers from a country where technical education is at a high level while the rates for their jobs are much lower compared to Europe and the USA.

If you don't outsource the entire product development to the software vendor, be prepared that you will learn as you go and may experience product release delay.
Creating an LMS website by an outsourcing company
Now let's compare the pros and cons of developing a learning management system if you delegate this task to an outsourcing company:
| Pros | Cons |
| --- | --- |
| Reduced expenses on building a professional team: hiring process, payment of salaries, sick leaves, vacations, taxes, office rent and maintenance, providing equipment and licensed software is all your vendor's responsibility. | Communication: you may experience difficulties because of different time zones, cultural backgrounds, and language barriers. |
| Tech-savvy engineers with lower rates for development services: the technical education level may be at the same level or higher in some foreign countries. For example, in Ukraine, there are 20 universities with a technical orientation, 60+ IT-schools, and 30+ special IT courses. The rates also differ from country to country. While in the USA, you pay $80 per hour, the fee for one hour of coding will be approximately $35 in Ukraine. | Challenges of selecting a suitable software partner that completely fits your needs as there is a diversity of outsourcing companies on the market. |
| Enhanced organizational efficiency and in-time product delivery as the vendor is a tried soldier and knows how to manage the team of developers, has established working processes, and brings the result on time. | Less control over the project when building an LMS app: even though you can't observe every nut a bolt on how the development process is going on, you don't need it as initially your purpose was to delegate the anxious business of making your own LMS to someone who could do it faster and cheaper than you. |
| The entire development process is provided by one partner instead of several third-party companies: the process of making your own LMS consists of different stages. Business analysis, writing a technical specification, development cost estimation, planning, development itself, constant product update, and improvement — these tasks are often held by different partners. If you turn to a full cycle software vendor, they will be able to run the whole development process for you. It means: – keeping all the information within one stakeholder; – it's cheaper when one business partner performs all the work; – time savings as you communicate with only one company. | Less confidential: data safety is more under threat as you have to share information about the product with a third party. |
| Fast project start if you have a technical specification on your hands. If not, it goes as said above — you need to start by accumulating your business requirements and go through the discovery stage. | |
| Your time is freed up for more important tasks because all you need to do is to monitor the project milestones. | |
How to turn cons into pros to make your own learning management system:
Different time zones: If you are located on different continents with your vendor, i.e., you are in California, and your vendor is in Ukraine, you'll have approximately a 7-10 hours difference. So when it's not your working hours, the vendor's development team is at work, and when your working day starts, they present you with the results, so they are always a little step ahead in the development process, which is a little benefit.

If you are located in Europe and cooperate with other European countries, the time gap will be just 1-2 hours, which makes no difference for the working process. Anyway, with the modern means of communication, you don't have to be presented in real time to discuss every little issue.

Different cultural backgrounds: All depends on the development team's country you work with. It's important that your partners share the same values and work ethics as you do. To prevent any problems in the future, talk over the questions of time accuracy, responsibility for the work done, diversity, ethics towards other colleagues when you have an interview with the team. If you have a firm attitude towards some of the things we mentioned above, it should be prescribed in the NDA agreement.

Language barriers: English proficiency is one of the requirements applicable to developers in any country. So low chance you'll face many difficulties with that. However, conduct an online interview in English with the LMS development team you are going to work with. Thus, you'll know whether you can communicate with them or not right away.

You can simplify the selection process by:

defining the criteria to orient on for team selection (proper tech knowledge, expertise, location, the budget you are ready to spend, suitable cooperation model (team extension vs. distributed team);
checking their portfolio with the record of delivered projects;
evaluating the vendor's tech skills by forcing them to complete a time-delayed or real-time test;
checking vendor's partnership and recognition;
making sure a vendor complies with the international security standards: GDPR, HIPAA, ISO, PCI DSS, etc.;
conducting an interview.

Actually, you don't get out of control as you will be informed about the outcome of every project milestone. Meetings with the team held by the assigned Project Manager also will contribute to keeping abreast of everything that is going on at the project.

Signing an NDA with the vendor protects you from any confidentiality breaches and non-compliance with the assigned deadlines.
As you can see, creating a learning management system has many advantages if it's held by a full cycle development partner. And even if objective difficulties get in the way, they could be overcome without much pain.
Discover how to choose the right software partner to develop an LMS and why Ukraine is an attractive destination for outsourcing.
Find out more
To get a clear understanding of how it works in practice, let's zoom into our company's experience of an LMS creation.
Our experience in making an LMS
Challenge
Our client nursed an idea of creating his own SaaS LMS that would provide trainers not simply with the necessary tools to upload and sell their courses worldwide but also significantly automate their administrative chunk of work and armed them with a profound marketing solution for running effective marketing campaigns. The learners, in turn, should've been provided with a convenient tool for social learning available 24/7, which offered an intuitive and simple interface.
Solution
To validate the idea at the very beginning, pinpoint areas for improvement and quickly fix them, we started with the development of an MVP version and defined core LMS features. The microservice architecture was chosen to ensure the flexibility and scalability of the system. The future solution consisted of the following modules and their interconnections: UI module, UI API, core business logic, admin module, statistics module, users module, database, payment gateway module, marketing integration module.
We provided simplified trainee management, ensuring trainers could focus on high-priority work. For better targeting of potential learners and scaling of the selling process, we introduced audience segmentation and funnels. Emailing, social media campaigns, as well as internal offerings were implemented with the help of the 3d party service — GetResponse.
Our LMS developers possessing years of experience, integrated this marketing automation tool and ensured its synchronization with other functionality, so the whole marketing module worked smoothly within the system.
System security was ensured by measures of a token-based API, cookie-based auth on the GUI side, SQL-injections protection, DDoS protection, secured access to the environment, secured DB, reliable payment gateway, user roles, and permissions.
To ensure trainees can pay for products online fast, easy, and stay protected, we integrated Stripe and PayPal payment systems. Authorization via Google and Facebook simplified the login process for the end users.
Highly intuitive and user-friendly UI was built with the help of React UI library that contained high-quality components for building a rich, interactive user interface.
Results
The creation of a workable MVP let us develop the project further into a full-fledged cross-platform SaaS LMS.
By developing a learning management system, we automated the course management process for trainers and enabled trainers to track trainees' individual/group performance thanks to effective analytics, distributed automatic notifications, and personalized paths. Moreover, with simplified social login, trainers got immediate access to online educational resources, which boosted sign-ups. The excellent user interface was one of the key components that has driven more course sales and, as a result, has increased trainers' profitability.
We at Aimprosoft seriously approach satisfaction of our customer's expectations and needs. As a result of our mutual work and engagement, within two years of its launching, the customer's LMS attracted 500 trainers and approximately 15,000 trainees.
Conclusion
Any business' main asset is its people because their engagement, skills, and expertise are what companies depend on. To upgrade your employees' professional level or retrain them with the help of an LMS is much cheaper than spending money on staff recruiting and rehiring. If you hesitate about what is right for your organization — pre-built LMS or developing a learning management system from scratch, contact our team of Aimprosoft developers who will advise you on the right choice possessing 5+ years of LMS development experience.
FAQ
What benefits will my organization get if we implement an LMS?

Efficient and time-saving education management is actually why LMS is implemented on a sheer scale by diverse organizations. It provides a fully interactive learning environment that surpasses time-expended and limited traditional capabilities of methods and what differs it from the e-Learning platforms; LMS helps easily track learner progress, performance and provide advanced reporting.

By creating a learning management system, organizations save money on trainer salaries, accommodation expenses, venue rental, printing materials, and travel costs.

Moreover, it develops better communication and users' loyalty because they can access online learning wherever they are and whenever they have time.
How much does it cost to create your own learning management system from scratch?

The creation of LMS MVP version that encompasses all the stages of the full-cycle development with the key features (see the "Must-have features for LMS" section) will take approximately from 1,600 hours and cost you $128,000 at $80 average hourly rate in the USA; $104,000 if you consider a Western European vendor who will charge its hour at $65, and $56,000 if you partner with an Eastern European LMS provider with the rate of $35 an hour delivering the same quality of work.
What challenges may I encounter when developing a learning management system?

Among main non-technical challenges are getting non-tech savvy employees to start using LMS, content creation and publishing in case you customize an off-the-shelf solution, checking validation and plagiarism of LMS courses and materials, selection of partnership models, and some others.

Technical challenges may include integrations with other organization's systems, ensuring high-speed loading, performance, security, and adherence to GDPR, SCORM, HIPAA, ISO, PCI DSS, AICC regulations.