Articles
21 September, 2021
6 Steps to a Successful Learning Management System Implementation

Key takeaways
There is a list of questions that will help you being constructive during the LMS implementation process.

Know how to piece together key team members and share responsibilities among them.

A content repository is worth pursuing. Discover ways of smart content management achievement with a portal structure.

Learning path, content, and teachers and their place in your training system.

Seamless training ecosystem. Find out what integrations can benefit there.

A word from a technical implementer: how Aimprosoft can help you.
Before 2020 corporate eLearning was considered as an additional option. Since the reboot of 2020, we had reached the point when digitization of learning became ordinary. Yet 77% of US companies have succeeded in LMS implementation to improve employee performance, as revealed by eLearning Industry.
Especially it sounds tempting with a 24% annual increase in profit margins shown by employees when employers invested in training.
Leadership has a clear vision on why they need to start an e-learning website. Nowadays, LMS combines the course catalog, management system, expert content sharing, collaboration platform, and other industry demanded options. However, striving to exceed the brand's high standards, educational initiators face new obstacles: it is unclear what it would take to implement an LMS. What workload should they expect while developing the system and at the adoption stage?
Do you wonder the same? Read on about switching on from expensive and tough-organized offline educational processes to seamless and affordable eLearning with these LMS implementation steps establishing a feasible corporate learning system.
Step #1 Define goals of your learning system
This task is predominantly on you.
KPIs are vital for all companies. They are the factors that trigger corporate education to advance awareness of company services, policy, sales and marketing strategy, etc. Either you want to improve the quality of your products or put in order educational material stored up over the years, the following questions will help you define your goals: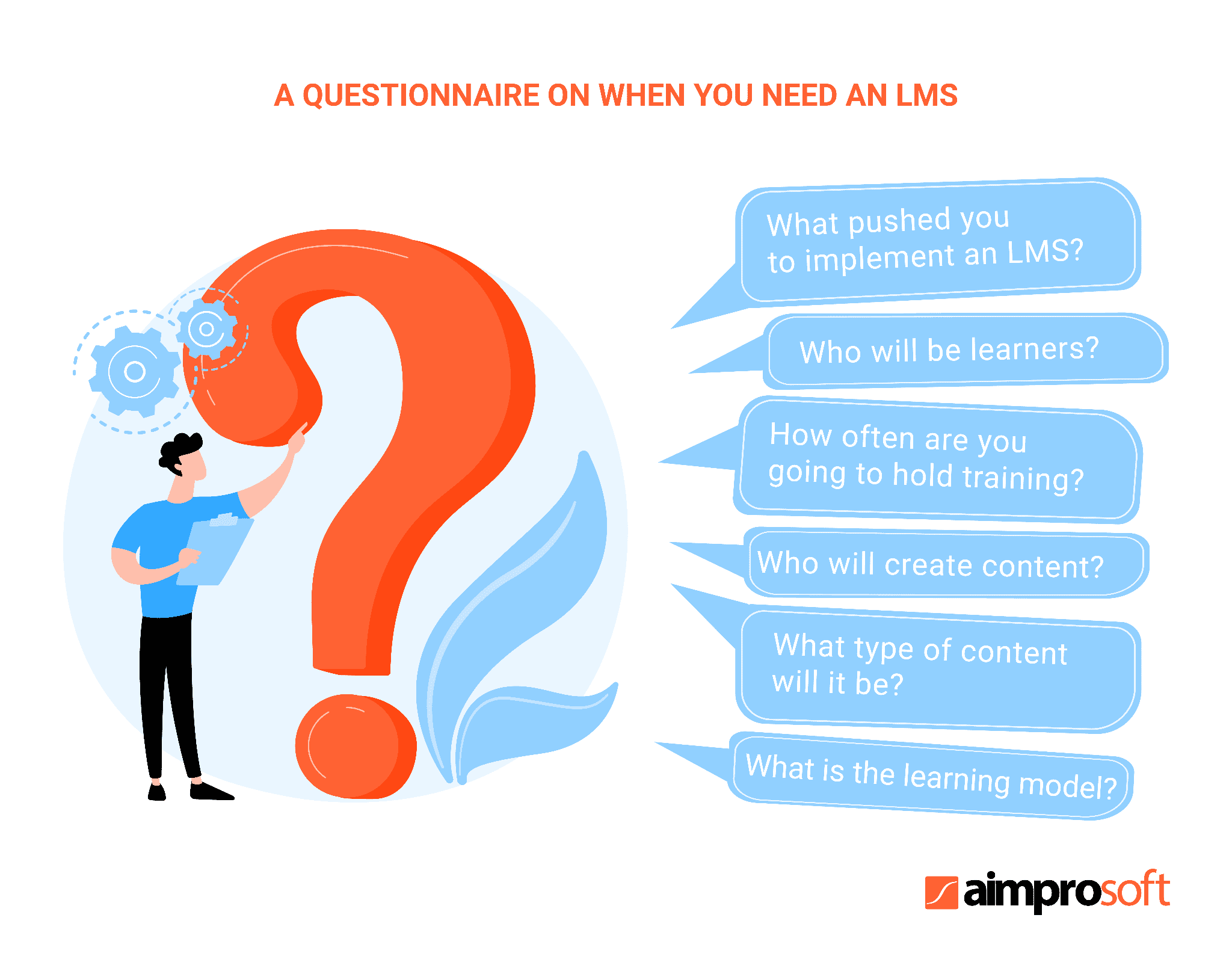 In 2001 BT (British Telecommunications) decided to launch a single eLearning solution with training courses for each line of business to keep pace with the market. The main goals were to arrange continuous training and reinforcement for 2,500 new staffers in the sales and retention departments. BT reached a 60% completion rate of custom training programs. The involvement rate of 67% of employees proved that people hit the spot with eLearning.
The most common corporate implementations of LMS:
Employee training
Onboarding and orientation. A quality entering program for new hires can lift up the productivity of employees by 54%. By completing the program, team members get a piece of basic knowledge and a clear understanding of company philosophy, vision, and position duties.

Certification training. Upskilling and reskilling is one of the top priority directions for companies in 2021, as the Workplace Learning Report admitted 59% of respondents. For example, Walmart uses VR headsets to train staff. As for the store with round-the-clock service, virtual reality allows for different scenarios that can't be realized on the trading floors.

Сompliance training. The Dow Chemical example showed the world that being compliant with corporate principles is vital for the company. Other businesses got to follow them by arranging compliance programs for their staff to educate on industry and job duties regulations and maintain personal dignity.
Partner training
Contributing to training partners, brands can build a solid distribution network. Having proper knowledge of your products or services helps sales representatives be more persuasive in closing deals. By implementing a learning management system, you can engage partners to complete educational workshops and courses on their own schedule at the spot. Thus, continue to operate without business trip overheads.
SKF, a century-old bearing manufacturer, provides certified maintenance programs for industrial distributors for more deep involvement in products and technology knowledge and maintenance and reliability services under the iLearnReliability e-learning courses. It includes the features, branding, and selling techniques understanding.
Customer training
During a pandemic hit, companies that rely on face-to-face distribution had to undergo a radical adaptation not to go bankrupt. For a company with 5 million beauty advisors and beauty entrepreneurs across 51 markets, it is no small feat. However, Avon created a peer-to-peer eLearning platform that grew into a vibrant, supportive community with user-generated content.
Imagine a community of the brand's most loyal advocates and customers predominantly of the female gender, who not only avidly consumes learning material but have a voice to be heard and be useful for colleagues. This attempt found its proper course to improve their sales increase 300% and scale the retention up to 20%. Now users generate 75% of the content.
Step #2 Elaborate on an LMS implementation strategy
A strategy implementation grounds on a team, milestones, and deliverables. Normally, at this step, entrepreneurs choose a software implementor for LMS development to kick things off by conducting a business analysis by efforts of the vendor's BA. It will significantly improve your strategy vector with findings tailored to your needs.
Partnering with a software development company, make up a Statement of Work (a detailed description of processes and requirements, and the outcome you expect) based on your request for proposal (RFP) with a list of important dates and deadlines.
If you launch an eLearning system for the first time, consider piloting an MVP version for a selected group of learners. It will give you feedback and prevent hasty decisions on functionality. Here a priority of content, user groups, and course frequency considerably streamline the task of implementation.
LMS team
As usual, a learning management system implementation engages team members from different departments who are a focus group both for creating a system and giving the first feedback. Picking up your LMS team, you may invite the following people to oversee the process:
Project Team Lead (sometimes Product Owner) is responsible for managing the overall LMS implementation to completion, representing your interests, and linking your internal LMS team with a vendor team. More responsible for concept realization and rarely for deadlines and milestones.

eLearning specialist or course curator helps put on track content creation, hardcopy content transformation, and existing courseware migration.

Learning and Development (L&D) department specialist, often someone from the HR department with duties on an employee's personal growth. This person is engaged to ensure the LMS matches goals.

External consultants may participate if their contribution is integral to your training programs.
We didn't mention tech specialists. The LMS core and interface software developers, quality assurance, and designers are set up as a dedicated development team on the vendor's side. The person who coordinates the team's phases progress and implementation plan, selects the best methodology, and tracks milestones to ensure the successful software launch project manager from the software provider's side.
Regarding the tech stack, there are many factors that affect the LMS's successful launch. It's highly specialized.
Step #3 Design a corporate eLearning framework
A traditional outdated LMS differs by its content presentation, consumption, and progress assessment, if any. If you go down the same path, your employees or partners could not be taking training seriously, being impatient to cut it off. So, how to implement an LMS system design once and for all?
With that in mind, these three parts are vital to make a valid online education:
learning path and objectives with assessment, progress monitoring, reports;
user role demarcation (teacher, student, manager-curator, administrator, etc.);
content production, update, and management.
Learning path
The very emergence of LMS provoked new learning habits and styles. Developing your courses, take into account the format and duration of education. Tailored structured learning programs with a series of milestone marks established themselves well for online training.
Implementing an LMS for your organization, you can be guided by three types of learning paths for self-paced online learning:
Successive is a series of mandatory courses with a learning difficulty increase.
Alternative means accelerated learning with a mandatory and optional courses mix when students can skip courses and back to them later on.
Level courses are a kind of choice-based learning that is good to enhance mastery.
With a custom LMS, you can arrange purpose-driven learning when individuals achieving goals influence global targets your organization is to attain.
A used-to-be manual assessment and progress monitoring can turn to automation with an LMS. You are free to make a feedback loop between learner and instructor interactive. Think over how to set up an assessment of taking courses once and then take time only for decision-making after getting test results.
Roles and responsibilities in an LMS
Users in online training may differ from familiar offline education. However, the core remains unchangeable: teacher and learner. Speaking about management, consider creating the user management role as admin. Perhaps, you will prefer to mix supervising and administering roles or split them into several minor roles according to your specific needs.
It happens, organizations invite instructors from outside to learn from the experience in a similar field during live streaming workshops, for instance. A guest user role can be assigned in this case. This will also influence the functionality, development time, and investments.
Learning content
It is trending that learners have a lesser attention span nowadays. Digitization makes us deconcentrated. A person of the 21st century can concentrate for only the first 8 seconds, according to studies. Microlearning is the way out. Whatever content you use, it is worth it to make it less than 3 minutes long—ideally, 1-minute videos or 3-minute audios.
Your eLearning model can contain educational information grouped by two types: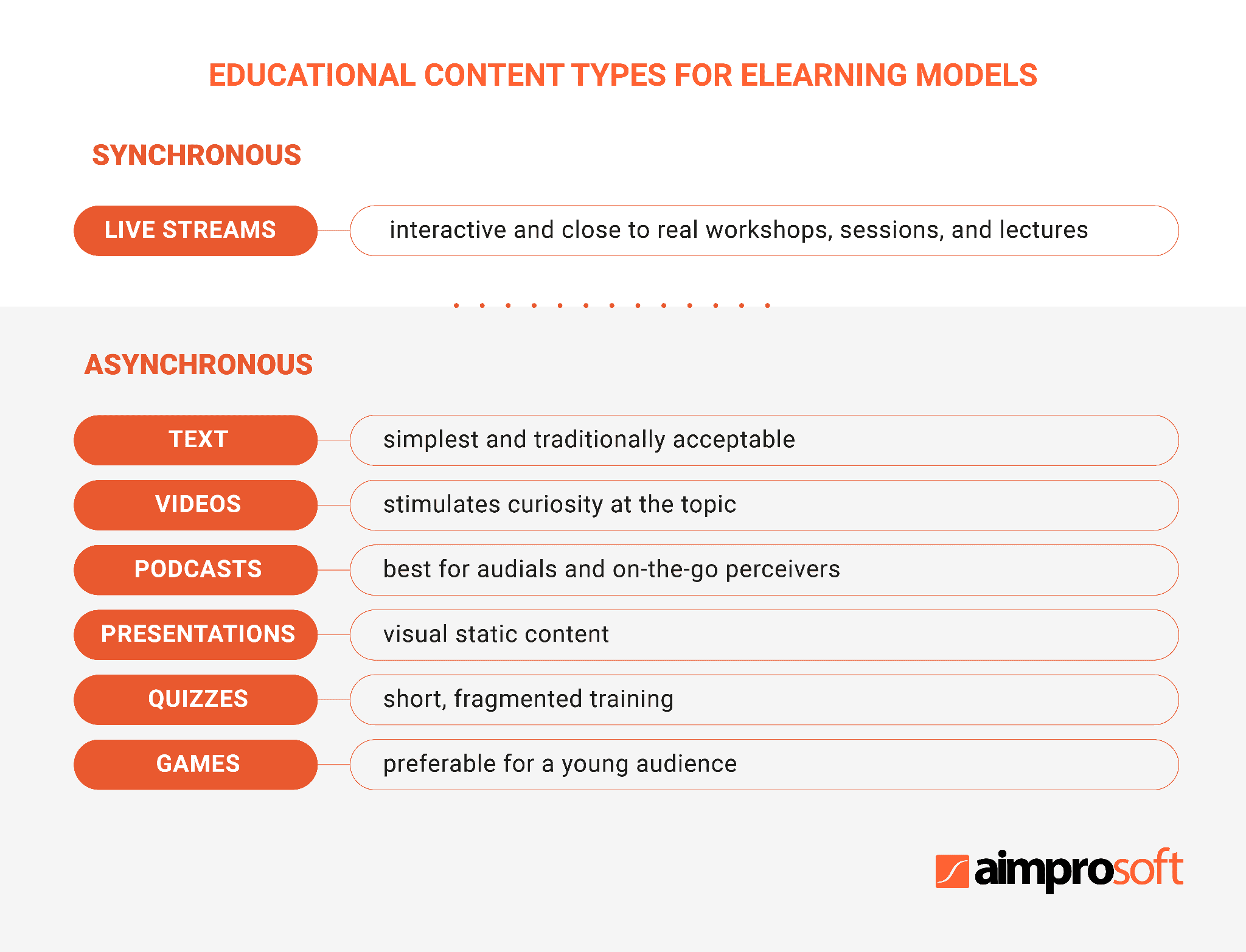 Great if you managed to adjust to TikTok or Instagram stories format, which is so habitual to young employees. Probably, features from social networks will remain in your nice-to-have list as well as AR and VR capabilities if only they are not critical for your employees' level up.
Meanwhile, Honeywell uses mixed AR-VR on-the-job training scenarios for new staffers to practice their competencies. The program resulted in a 100% skills retention rate and over 60% of training time cut-back.
Whether you prefer online-only or blended learning combining instructor-led online classrooms and face-to-face offline meetings, think about recording workshops to add them to the online knowledge base in your LMS. Or create new content by capturing video from the browser for better convenience.
Step #4 Create an LMS portal structure
Portal is an ecosystem (repository in a tech term) for all courses and tools. Planning your eLearning portal structure will help manage different user-defined content. One top-level portal can subject sub-portals under the umbrella structure. Each content portal can be branded and have its own administrators. Having in mind courses for employees, partners, and customers, you can set up role-based access for better training delivery and assessment results.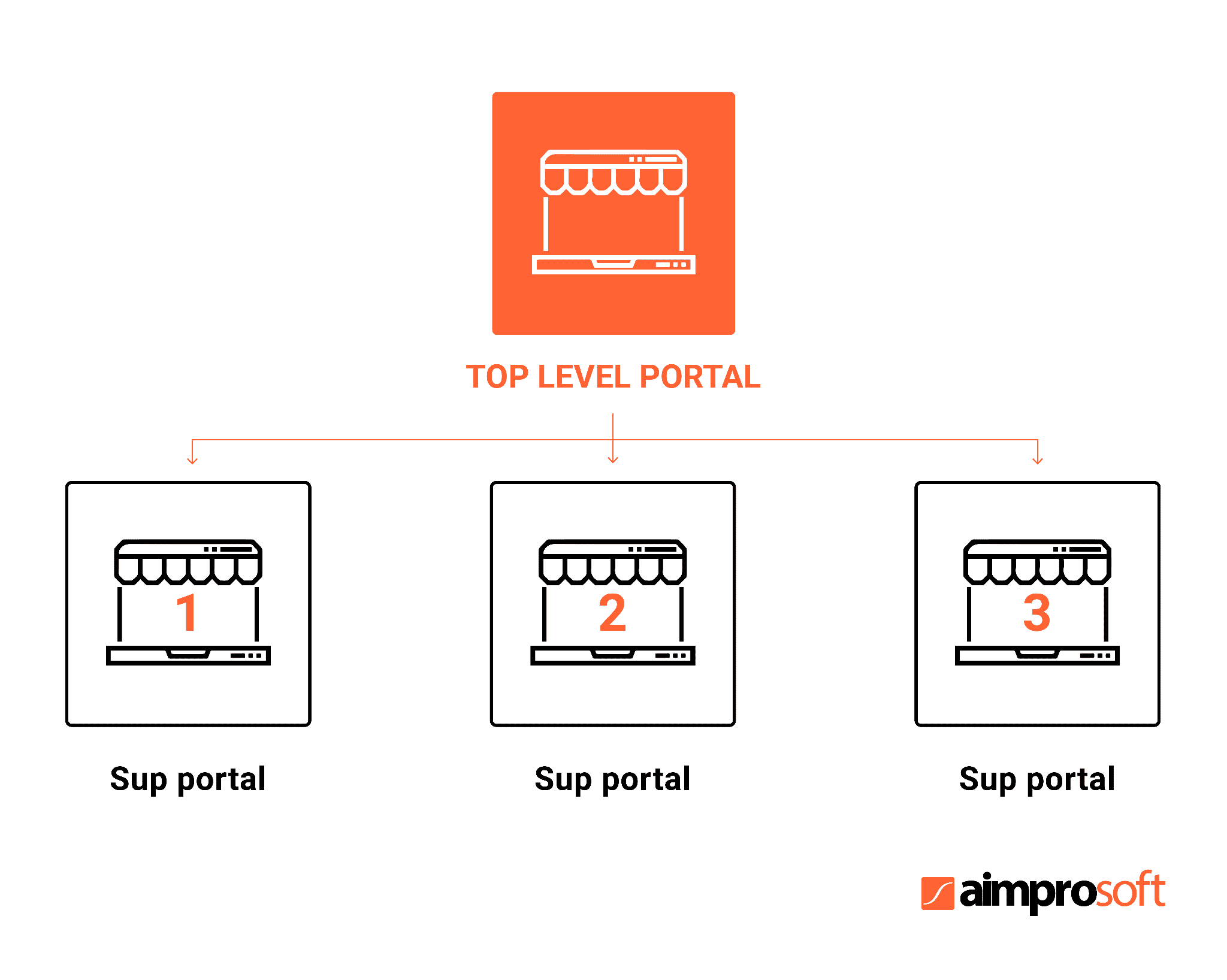 To be of the greatest value, a learning portal must:
allow authorized learners and instructors to the content effortlessly;
provide the best navigation for each type of user seamlessly;
store and structure content in a smart way.
Contemporary learning strategy expects the personalization of the learning journey. By chunking content into small pieces and keeping it within programs devoted to different objectives, you enable learners to consume it more effortlessly.
Pay special attention to search. Easily discoverable content falls into the right hands faster. Course suggestions and recommendations based on the user relevance or ratings can engage in learning.
It is worth thinking through the socializing tools to encourage communications between users. Season it with recognition badges, and you will trigger a competitive spirit and a sense of achievement among learners.
Step #5 Make a seamless learning ecosystem
LMS is going to be a part of your business environment. If so, integrations play a central role. Ponder to bridge the following systems that are typically become a part of the LMS ecosystem. From the beginning, lay the sequence of integrations depending on the priorities vital to track first.
LMS-HRIS
Human Resources Management System integration with LMS allows seeing a holistic performance appraisal of employees, how individual professional growth, promotions, and turnover correlate with training, etc.
LMS-ERP
Enterprise Resource Planning with LMS can be a unified management tool and database of your personnel. It helps track the effectiveness of investments in training regarding improved on-the-job productivity as well as ensure appropriate training for specific job positions.
LMS-CRM
Customer Relationship Management system combined with LMS is the guardian of reaching sales targets within the partner distributions network. It comes easy to track patterns of mastered instructions and performance sales rates.
Moreover, Single-Sign-On is in hand when you implement a learning management system. It considerably accelerates access to the corporate toolbox without iterative enter of diverse credentials. Collaboration tools, social networks, messengers can also enrich the user experience and help manage training.
Step #6 Cooperation with a software provider
Having chosen a software company, you would rely on figuring out the following points based on the LMS implementation project plan:
Reveal all essential solid facts about your expectations from your cooperation.
Together define project management methodology, milestones, and deliverables after each iteration to make teamwork comfortable and productive.
Make it clear on the tech stack of the LMS solution.
Think about storage for your content that will multiply. Your vendor can most likely suggest the best solution based on their experience.
Arrange a joint onboarding meeting to share your company's values and philosophy to set up the right collaboration vector.
Split development into pieces to move gradually and see first tangible results as soon as possible.
Plan with your software development company the preliminary LMS trial launch to test it with a group of handpicked users before the public run.
Schedule a joint webinar or instructor-led learning session on LMS utilization where your project lead and the vendor will present guidance on use.
Specify criteria to measure the technical performance of the LMS after deployment so that your software partner can put improvements.
Talk over a wishlist of features to enable it implemented when the time comes.
Remember that success is heavily dependant on respect, trust, and honoring commitments, though.
How Aimprosoft Can Help by an LMS Implementation
Having field experience both in platform-based implementations and creating LMS from the ground up, we saw a number of worthwhile peculiarities.
No matter how full-packaged SaaS LMS solution is, that wouldn't be enough to meet essential needs. This means continuous dependency on the vendor choice instead of the right to decide on your own.
Concerning custom LMS systems, they are what the client wants from the start, and customer satisfaction strives to the highest here. Here we have a broader spectrum of opportunities with real business scenarios for testing instead of relying only on test scripts.
Taking into account the changed content consumption style of modern learners, we would suggest a mobile-first or cross-device concept for LMS implementation. Thus, you can synchronize learning and management processes making your objectives more achievable.
Conclusion
We aimed to highlight several important clauses about LMS integration into your company's training process worth elaborating on more carefully, probably, and we will do it in our next blog posts. Now, let's conclude on the implementation of LMS.
It is cumbersome work you are going to do. Everything starts with clear objectives and strategy, a clear vision of deliverables, conscientious planning, and strict implementation. Sharing responsibilities with a reliable partner is able to gain fascinating results that will ricochet positively to far beyond your business ecosystem.
There might be questions stayed behind you'd like to clarify. Please, be dare to ask.
FAQ
How long does it take to implement a learning management system?

The longevity of LMS development depends on the functionality each single customer desire to get. So, the minimum span of time is ~500—650 and goes for MPV implementation. The most common feature set development will last give or take 1,050—1,450 hours. In detail, you can read in our blog post.
How much does it cost to develop an LMS?

LMS development costs are based on the core service set (business analysis, technical specification, backend and frontend development, UI/UX design, QA) and a software provider's location. Thus, an LMS MVP can cost you from $40,000 and lift in cost up to $100,000 for a full-fledged solution in the US. At the same time, you will pay $17,500 and over for services of Eastern Europe providers.
What is the LMS implementation template?

It is a step-by-step implementation guide that somebody calls a project plan. Usually, it contains commons directions. You can emulate somebody's path. However, for every company, it is individual.