Articles
28 September, 2021
Online Education Trends: eLearning Predictions for 2021-2022

Key takeaways
E-learning trends taking its place in 2021 starting from the 18th century. More about how it has been developed, formats, and predictions find below.

Technologies: well-proven and modern can contribute to the digitalized education process. It brings several perks. Find out which.

Content has been changed. The hardcopy format is not relevant anymore. Shows, entertainment, and immersive experience are what we have.

Education from screens demands and offers. Learn more about methods available with digital technology.

Aimprosoft can offer a thing. Let's see our common ground.
Back in 1728, an unprecedented announcement appeared in the newspaper "Boston Gazette": a professor proposed country citizens master a shorthand by having the several lessons sent weekly to them with instructions. With no great importance to a distance learning (dLearning) fact as it seemed then, Caleb Phillips became the father of what we now call eLearning.
This shows that people at all times tended to share knowledge no matter how far a teacher and student are from each other. In the 21st century, there is an immense amount of possibilities to come true aspirations. What are online education trends? Scroll down and read on.
In 2020 a global eLearning market size estimated $226 bln with optimistic expectations to reach $370 bln by 2026. What steers a new drift?
What drives the growth of e-Learning in 2021-2022?
Governmental fundraising in internet connectivity improvements.
Global digitization in public and private sectors.
Cloud infrastructure dawn as an enabler of flash-like information exchange.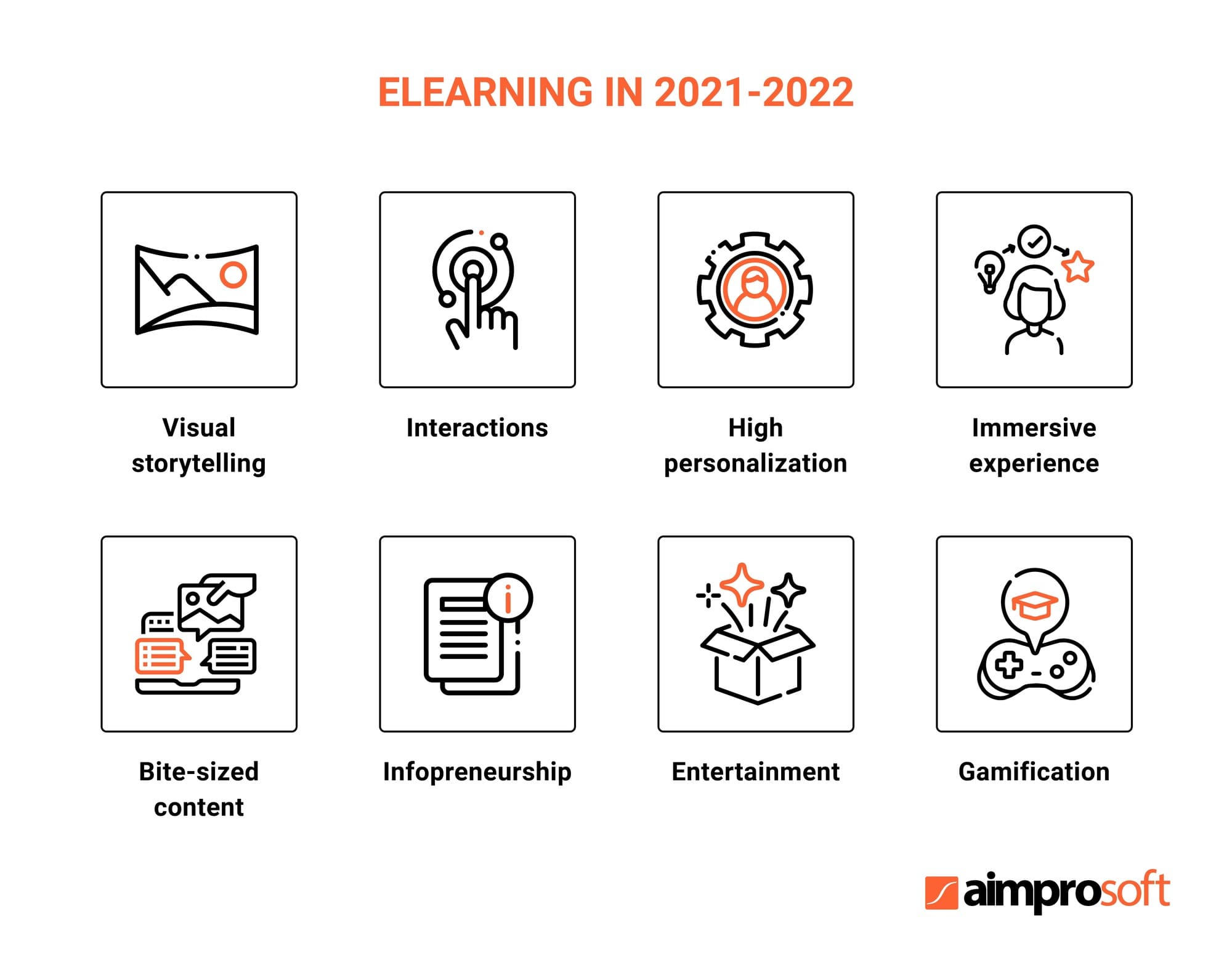 We shortlisted the most probable predictions about content types, delivery, and shifts that will set the pace of the industry in 2021-2022.
Humanistic education movements
Learning with a living feedback
Info-business stories are on the eve of extinction. It is no longer impressive to hear open-mouthed speakers sharing course information who doesn't care about whether they absorbed it productively. Feedback is crucial. It emerges in online learning trends if you create an educational app where a listener turns to the student gets the necessary educational experience and achieves results within the educational environment.
Feedback, if possible personal, detailed, from a living person (tutor, curator, expert) instead of a robot becomes an integral part of such training. Personal sessions were of high appreciation throughout time. After turning into virtual classrooms, sometimes even robotic, living feedback is going to be a privilege and with high learner value.
Emergency response readiness of schools and high-eds
40% of faculty and 48% of early-career educators considered leaving their jobs because of professional burnout they experienced during pandemic spring, as Corse Hero reported after the survey. These are the implications of the pitiless COVID-19 disaster.
Through the hard lockdown experience, institutions took up to develop emergency preparedness guides that regulate actions for schools and colleges in case of situation repeat in the future. Initiated back in 2020, emergency protocols are among the hottest trends in e-learning. They are going to be replenished with online or distance learning adoption measures to make it less stressful for faculty and students. According to the same survey, 34% of faculty pin their hopes on the new technology that can diminish stress.
Work-learning-life balance
Not only teachers, but learners stressed out during heavy times also. 44% of students expressed an educational disruption worry. That's why a resilient and stable online format looks attractive and continues to appeal in 2022.
Learning House survey revealed that around 65% of respondents expect to find a work-life balance by educating on distance. Choosing online education rewards people with free time for traveling they took previously to the out-of-home place, devoting more time for leisure due to flexibility too. Interestingly, over 92% of surveyed students expressed the will to come back to campus even if classes will continue being handled online. They see a college town as a comfortable living option to keep friendly ties in the community.
Top 7 eLearning technology trends in 2021-2022
Lifelong learning from world-class experts
Isolation in 2020 spurred us to put inside ourselves and discover what indeed we want. People retained within those four walls started to take courses they wished for a long time but had to postpone from industry best representatives. On this wave gained momentum, e-learning technology trends of learning from top creative experts.
Following MasterClass that offers celebrity-taught classes that feature is entertaining education, platforms like CLASS101 ($26 million Series B), Domestika opens doors for knowledge seekers with professionally produced online courses from top experts. This model is magnetic by bringing stable income and looks up-and-coming for the next couple of years.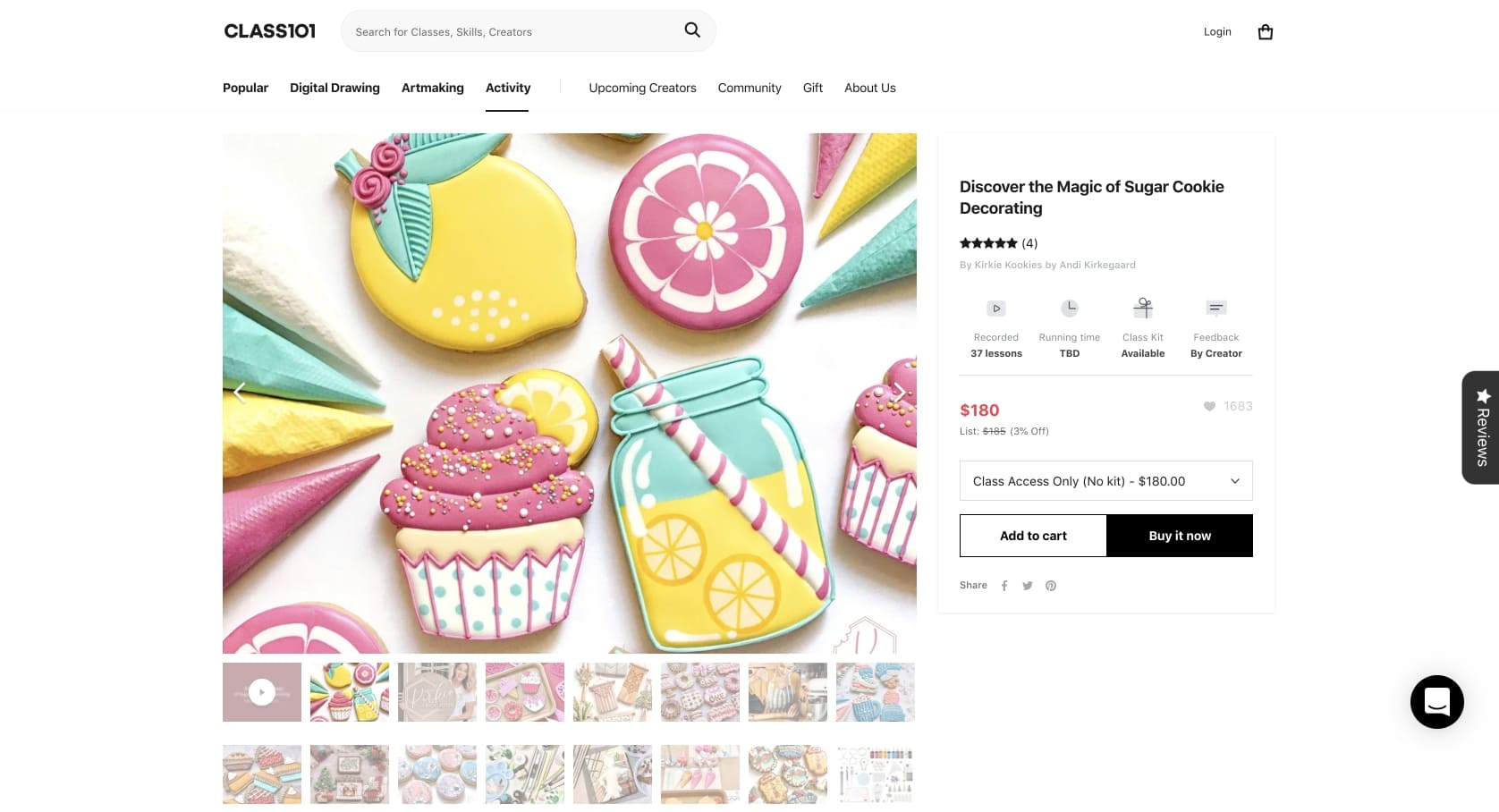 Immersive learning with extended reality (XR)
23 million jobs by 2030 will use virtual reality and augmented reality, according to the PWC report. The immersive technology being among e-learning future trends is globally adapted to enhance training and improve the way organizations operate, as stated by Jeremy Dalton, Head of VR and AR, PwC UK. Also, 5G integration into learning systems plays a significant role in replicating nearly any real situation.
The linchpin here is an XR technology as a transportation enabler to environments impossible to be seen in a physical world like the inside of a human heart or lungs, firefighting, historical events immerse, etc. In particular, VR medical simulation by SimX, native scenarios for emergency first responders by FLAME, and safe driving training from UPS Training Academy allow students to have a more vivid experience stimulating the highest engagement rates, retention, and practice performance.

Big Data and learning analytics
In spring 2020, Coursera witnessed a 644% spike in enrollments (10.3 million in 30 days) compared to 2019. Skyrocketing demand for online courses spurred a considerable amount of content consumption, creation, and achievements estimation, which leads to leveraging Big Data in learning analytics.
Definitely, not only MOOC (Massive Open Online Course) providers contain data for being gleaned through learning analytics. Big Data in eLearning is considered all user-produced content during interaction with a training module. Thus, all employee's actions become trackable and, with great interest, are perceived by companies to estimate user involvement and progress results. All together allows improving systems and user experience in case of leveraging it right when you create an eLearning website.
AI and ML are the "in thing" in EdTech
AI looks full of promise for the corporate learning segment associating first of all with the highest ever personalization. Artificial Intelligence Education (AIEd) software reveals the micro-steps during the learning journey. Due to machine learning algorithms based on learners' behavior, matching a student and a tutor achieves the highest accuracy. In staff training, companies are ready to apply it to detect skill gaps and select the best learning materials in the most appropriate format for every learner.
AI boom of 45% is expected through 2021 and will continue to be in the range of current trends in online education taking shape in adaptive learning environments in 2022. How does corporate training win? Enterprises can use short AI-based content, provide personal AI-tutors, track the programs' effectiveness faster and more precisely, and hook the digital workforce up, satisfying their current expectations on how the learning process should be.
Neuroeducation
The next more deep AI technology penetration is observed into neuroeducation as one of the online education industry trends for the nearest future. Brain-based learning is commonly referred to as education at the interface of neuroscience, which was tenable to make this leap with the surge of AI. By way of illustration, Carnegie Learning's "MATHiaU" software is based on cognitive and AI technologies to enable 1:1 personalized tutoring with real-time feedback for post-secondary education students.
What does that prove? Training becomes more technology dependant, and it is rather a plus than a minus. Because companies can accelerate and personalize the learning experience to reap more benefits from employees' productivity and ROI in educational programs.
"Netflix-style" learning with high personalization
Corporate learning solutions are not enough to be spread all for everybody. Intuitive learning experiences are the aim of many companies on the way to getting the absolute most from professional training. While LMSs provide preliminary catalog management tools, learning experience platforms (LXP or LEP) are related to content libraries that can be customized for individual cases within corporate learning.
The LXP and LMS together are a killing bullet. Imagine your employees get relevant content via adaptive learning paths across their devices to fill the skill gaps in areas needed knowledge improvements. Here personalization reaches the highest level when a person receives a defined type of content (articles, guides, videos, podcasts, blogs, etc.) based on their personal career progressions and interests. Shell trained their 86 000 dispersed marketers on the go with EdApp. Similar apps in the market are 360learning and Axonify, a choice for blending microlearning to pick up knowledge on the move.
OER for growing online learning programs in
higher-ed
Higher education schools would like but can't make a radical final shift to online learning. Meanwhile, we can witness significant steps towards it. The figures promise lucrative opportunities for online education solutions in the market in 2021-2022 and further predicting an absolute growth of about 110% by 2026.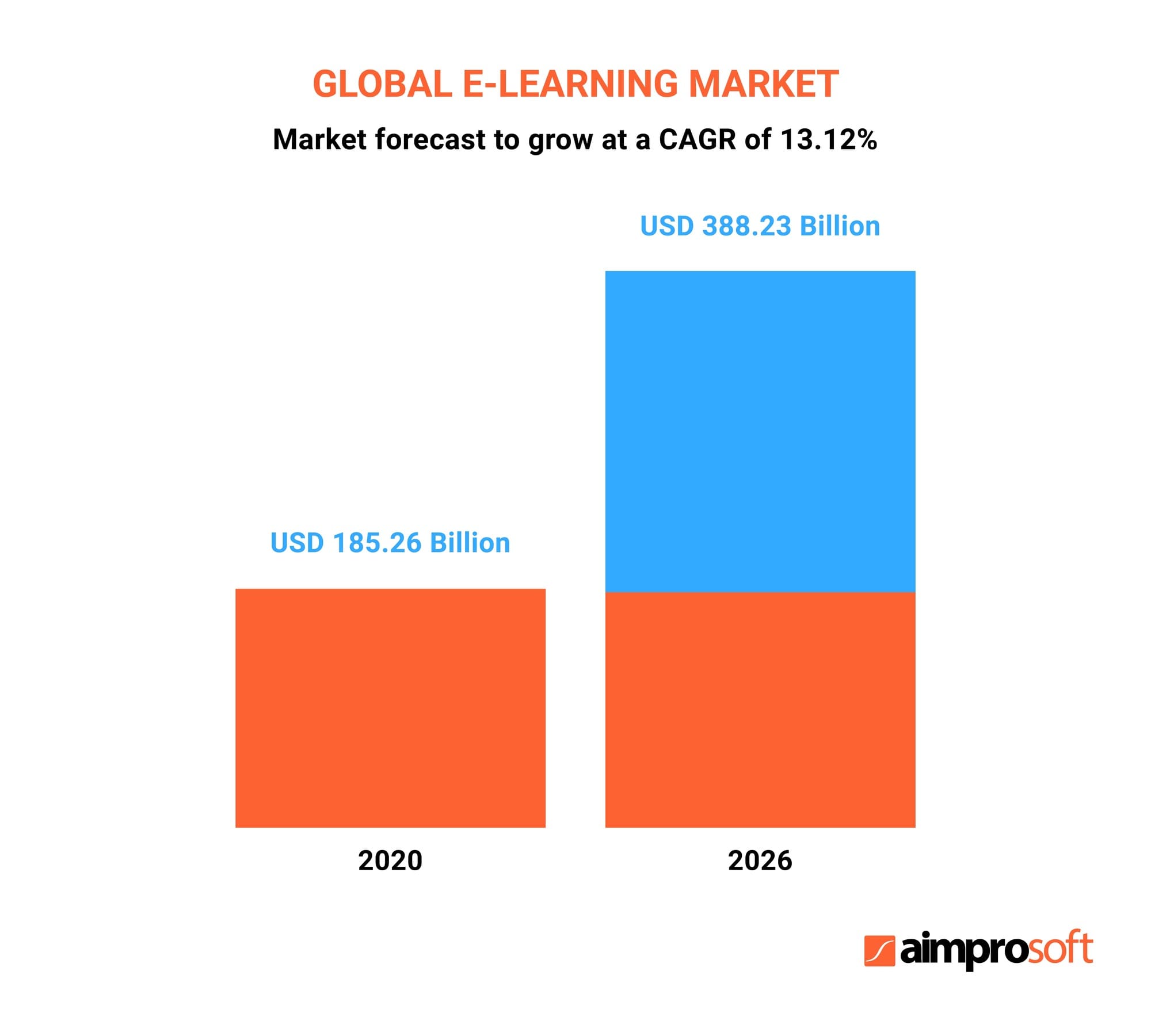 The sudden digitization of education caused the necessity to use Open Educational Resources (OER) like OpenStax. OERs' affordability left no one indifferent. Their relevance is going to open new opportunities for higher-ed schools to develop their own proprietary digital libraries or take a core from existing ready-mades.
Top 6 content trends of eLearning
Microlearning
In 30 days, you are likely won't remember 80% of what you've learned today, as uncovered by psychologist Hermann Ebbinghaus (eLearning Industry). But a long-term sustained training is not the way out there. Humankind hasn't had much luck сurbing the "Forgetting Curve". Instead, we bit content so that our chunking memory can retain it better.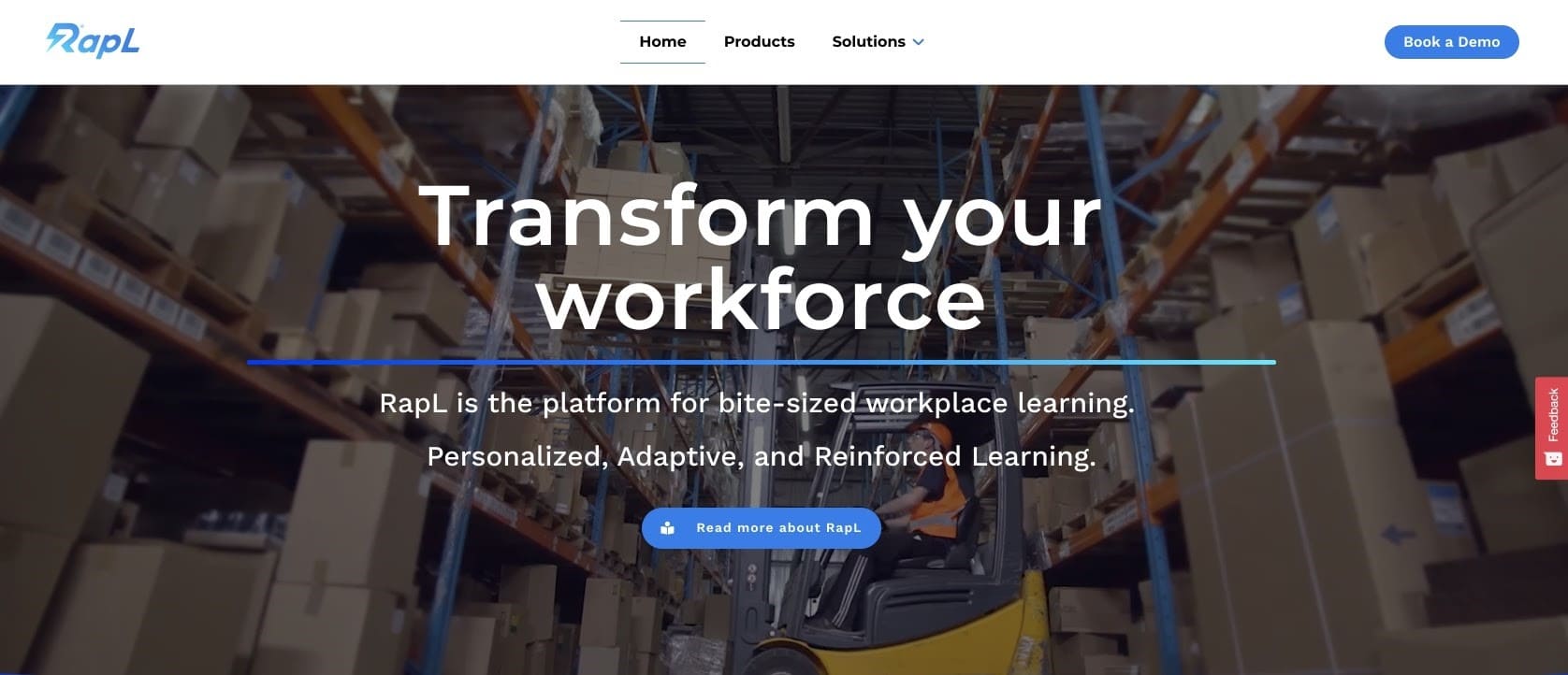 Microlearning as a part of mobile learning is going to bring fascinating results to the modern workforce. Toyota, Casio, Shell have already adapted a bite-sized method. It is constructive for organizations with continuous change in their operation and fast-paced runs. This tendency is escalating and provoking the rise of microlearning platforms like RapL, KREDO, and Qstream specialized in upskilling the workforce. Qstream showed by their own example how they reached 93% of proficiency in GDPR compliance on a company-wide level due to short training based on their app.
Gamification
Game-based learning retains learners' attention longer than a familiar one. 83% of employees became more motivated to do their tasks after gamified training. An education and entertainment combo is among current trends in online learning for its capability to capture interest and put in knowledge in a relaxed way. For adults, who are often stressed and used to take things too seriously, such skill-up brings faster mastering, and material is kept in the memory longer. It is proven in post-pandemic relaxation and ahead when creating a language learning app of an upskilling platform.
Also, companies will continue livening up remote work with interactive methods to decrease turnover that was in the plans of over half of North American employees in 2021. Game-like elements in things that aren't usually associated with entertainment bring such an adorable gratification. Be it a monetary prize or recognition badge, anything can add a rush among employees, resulting in higher company loyalty and personal productivity.
Video-based learning
Story-based training is yet a basic concept, but not for a long time. People can recall video-included presentations 9% easier in comparison to text only. Video content illustrates the elearning latest trends being widely applied by multitaskers, in microlearning, and as just-in-time learning aids in the workplace. Video-based onboarding, for example, can help convey the right key messages throughout the organization and form jointed brand thinking of new hires.

Deloitte, which we used to cite for their proven statistics, keeps a tendency on video-quizzed onboarding training. Their interactive recruiting experience, almost immersive, was created to try new hires honesty, attention to detail, readiness to give help which is among fundamental values of the company. It is genius and worth being followed by other brands, isn't it?
User-generated and social learning
A peer-to-peer eLearning can rescue a brand during heavy times, taking us off guard and unexpectedly increase sales by 300%. Avon, a multinational cosmetics company with a door-to-door distributions model, launched a platform where sales reps can ask for help and find support at the spot. The only thing they needed to do was to connect people and provide the opportunity to share content they produce by themselves: video guides on product usage, distribution hacks, etc.
Familiar social technologies implementation promise a nearly 25% of productivity increase, by McKinsey. Peer-to-peer learning from experienced colleagues, as Avon made a bet for, is going to be set as trends of e-learning on mastery improvement. Social and collaborative learning allows gaining valuable experience from others swiftly through virtual training programs, online sessions, or informal chats, which is vital during a period of uncertainty. One more example in the list is a community of 100 000+ product managers in Slack. Incredible!
Virtual classroom shows
Suitable for isolation circumstances, not fit for opponents of webcams. Jim Szafranski, CEO of Prezi, states for images and videos in teaching instead of long reads, with camera-off for students and audio-off for teachers. To hook students' attention, educators will have to create shows to provoke engagement and collaboration of mass. Teachers are expected to become like bloggers trying on a new different approach and skills for content production and delivery.

High-ed and K-12 students find online content consumption appealed by its flexibility, affordability, and entertainment aspect in spite of nuances many suffer inside home walls. Real-time data is going to be important in the context of managing tests at once or spread learning across locations simultaneously. Therefore, it is expected the education be led in a way familiar to the daily perception of reality.
Streamlined education infopreneurship
Launching personal courses with the purpose of sharing personal niche knowledge for a fee is not a novelty. Nevertheless, in 2021 and further, the trend is expected to continue. Making educational content will be easier due to platforms like Thinkific, Teachable, and Kajabi, allowing beginner bloggers and vloggers to create, manage, promote, and host courses without writing any piece of code.
Simplification is what everybody tends to do. Such platforms allow creators to enter the small business as a part of the global creator economy industry that counts 50 million people worldwide. The creator economy market size is estimated at around $104.2 billion in 2020 up to date. Add $500 million earned by instructors on Teachable there. The evidence is the growing demand for learning management systems (LMSs).
Learning methods
Followed by a shift in content creation and delivery, learning methods underwent changes as well. In the nearest future, mixed types of knowledge presentation will pick up a speed:
Self-directed learning. It is learning without any instructor, the best opportunity for self-paced lovers to practice at any convenient time.

Blended learning. This method of education is a part of self-education that is familiar to many, containing both the necessary support from the instructor and digital content to induce learners' efforts in grasping the material on their own.

Adaptive learning. The core here is personalization which is achieved due to algorithms, assessments, and competency mapping. The same confidence-based content is provided with a different approach.
How Aimprosoft helps with eLearning projects
The trend of online education is here, and businesses have a chance to take their place in it. Since 2020 we have got a series of inquires on education software development. Based on our survey among clients, the main drivers of LMS implementation were the desire to skill up employees for more productivity, retain the company's old-timers, and deepen policy compliance awareness.
Platform-based or custom manageable system for training, we always suggest starting with business analysis. Imagine, the reasons for IT project failure are the same in 2021 as Standish Group CHAOS reported in 1994. Determining solutions to business problems before development starts prevents the time and money loss.
BA would be followed by a thorough discussion of expected deliverables, documenting them, and agreement on other vital issues. Be it LMSs or LXPs for corporate training, or Coursera-like website, proprietary learning system, or even a single-focused mobile app for microlearning, or you plan to create a website like Udemy, Aimprosoft has enough field experience to accompany the client through the whole development path.
Conclusion
Summing up, let us go through major points. People eager to the training on the go and flexible, bite-sized to save the problem on the spot, and entertained to wish to address it again and again.
An overall trend states for customer-centricity achieved due to AI and ML personalization techniques. Continuous learning from pros caught up not only long-life learners but the rest population. Business education will be grounded on data-driven decision-making and cultural principles compliance.
You opt for what you need. We can support you from the technical side. Contact us today to enter your tomorrow more well-versed.
FAQ
Will online learning become a trend?

Its time has come. Due to affordability, flexibility, accessibility, a wide spectrum of training, and orientation on personal tastes of users, the increase of online learning will here to stay. It has strong positions and is irretrievable in the world going digital.
How to earn on eLearning?

The e-learning market is at $250 billion. The market of online education swarms with new courses from creators, top experts, niche instructors, and others. Everybody has a need of credible stage to share their skills. eLearning application, LMS, or educational web catalog can meet the need. Or any unicorn idea buzzing in your mind.
Are there education online learning trends in the manufacturing sector?

By way of illustration, Martin Engineering organized virtual classes of self-paced online conveyor training with eight 90-120 minute course modules to help study conveyors and their hazards. The initiative was highly accepted by the industry because this knowledge can be easily integrated into LMSs.