Articles
18 January, 2022
How to Develop a Doctor Appointment Booking App to Stop Losing Opportunities With No-Shows?
Key takeaways
You will know how to build an app for booking doctor appointments to exit the trap of medical consultation open slots and no-shows.

In 2022 and further it is reasonable to automate the booking of doctor visits with features that earlier were considered as extra. Know why.

We will highlight factors you should envisage before starting development. Read more about regulations, databases, security, tech stack, and monetization peculiarities of a feasible app.

You can take the best from market leaders to occupy your niche. Follow the story to grasp the healthcare product journey of the best.

And sure, we won't leave you without a word on what Aimprosoft can do for you in this case and the cost of the development.
Since 2017 the U.S. healthcare system has lost $150 billion annually because of missed appointments. One no-show costs an individual physician $200. Practices intent on reducing the number of canceled appointments, which can save them one doctor's annual salary loss.
From the patient's perspective, scheduling an appointment with a doctor has to be convenient, as 80% of respondents said. 67% of patients assess a wait-time experience as unfavorable. For many (77%), booking, changing, or canceling appointments online is the option they expect from healthcare providers in 2022.
The situation was complicated enough before the pandemic hit. COVID-19 exacerbated the situation of long patient waits in emergency rooms and provision of all kinds of healthcare services that dropped sharply because of missed appointments when people stayed home to avoid being infected.
This article will go through the key points and cover how and when the doctor appointment booking app development can make sense on the issue by leveraging opportunities from both sides.
Market demand and perspective for doctor appointment apps in times of the pandemic hit
According to the US Bureau of Labor Statistics (BLS), in 2020, there was 720,900 administrative staff with duties to schedule appointments in US hospitals with a median wage of $35,850 per year. The industry spends $26 billion on medical schedulers yearly.
A doctor booking app development refers to the Practice Management System sector that is expected to reach a CAGR of 8.3% by 2026 with North America as a dominant market. The estimated size of mobile medical apps is forecasted to reach $11 billion in 2025. It is related to the explosion of self-booking services through portals and mobile applications: patients appreciate the availability to make appointments 24/7 not waiting for open hours.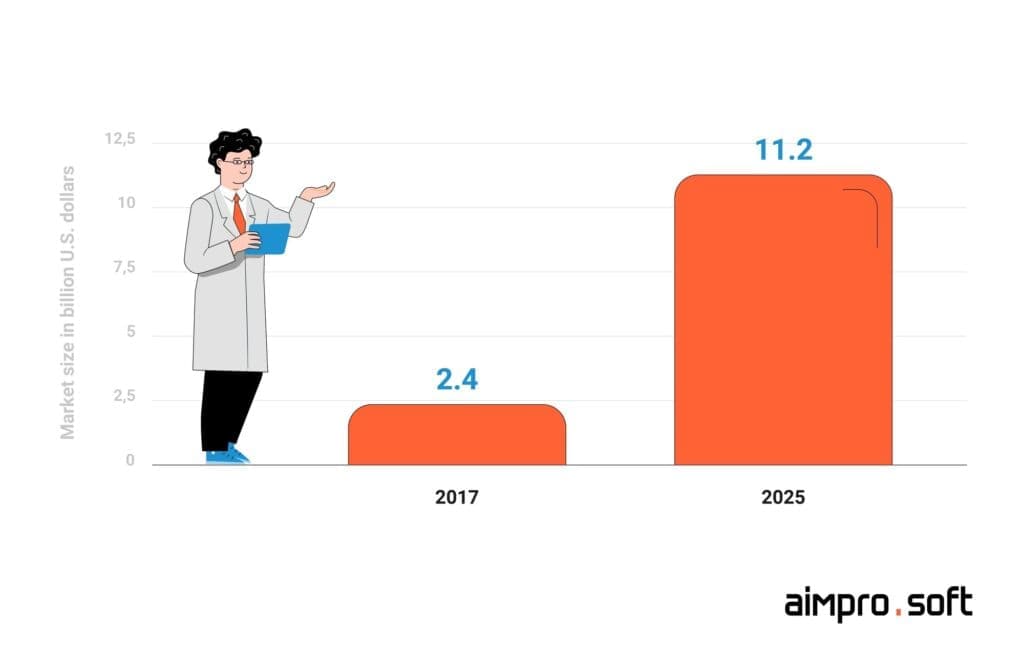 Before the pandemic, the crowded corridors were considered a place where people could exchange with microbes and didn't solve the issue of medical care delivery in time. During the pandemic, it is a matter of high necessity to put appointments in strict order. The misalignment of supply and demand frequently forces people to change healthcare providers.
The 154% increase in telemedicine visits in the early pandemic spring in 2020 demonstrates a shift to the online relationship between healthcare professionals and patients, where traditional appointment booking by phone is no longer in place.

Meanwhile, the quarantine measures easing didn't bring the state of affairs back: people used to reach for the hospitals via scheduling systems to make a doctor appointment.
And one more opportunity argument: the consumer demand is represented by the patients' will (80%) to choose a primary care specialist and physicians with an online scheduling option.
Statistics look persuasive to make a doctor booking app?
Let's take the course together.
Contact us
Doctor appointment booking app development: why it is a remedy for practices and patients
Many medical centers worldwide have already switched to employing virtual care technology triggered by social distancing. Scheduling outpatient appointments requires developing a doctor appointment app to manage them for many other reasons.
An online doctor scheduling app for healthcare practices can do the following:
Streamline routine tasks with automated text reminders
Predict, regulate, and reduce appointment no-shows
Reduce outpatient cancellations
Avoid unused time slots and overbooking
Regulate drop-in consultations to avoid overcrowding
Balance the workload among medical staff
Save time on administrative tasks
Analyse performance by the appointment history
Be a part of EMR/EHR systems
Influence productivity improvement positively
Improve brand reputation, get loyalty and trust
Doctor booking app development is decisive for patients because they:
Prefer to book a clinic appointment whenever they want
Appreciate their time instead of wasting it in lines
Have certainty in planning a day
Feel less stressed with exact appointment time
Want to access virtual care online
Can choose alternative doctors from listing
Love non-intrusive reminders
24/7 access to medical care is crucial
Thus, medical providers address their finance, operational, and motivational challenges. And patients are turning into loyal customers and healthcare brand advocates.
Top 3 examples of apps for booking doctor appointments and virtual visits
Appointments kept in order are not just updated calendars with an online booking option. It is a battle for patients with no-shows, rescheduling on short notice, schedule rearrangement, emergency bookings, plus people getting hysterical from the pandemic, the regulations which are always in a state of constant flux, remote, and isolation.
These challenges can be addressed in a comprehensive and rational way. Let's ascertain in it with these examples of doctor appointment booking applications.
ZocDoc bet it all on patients and it paid off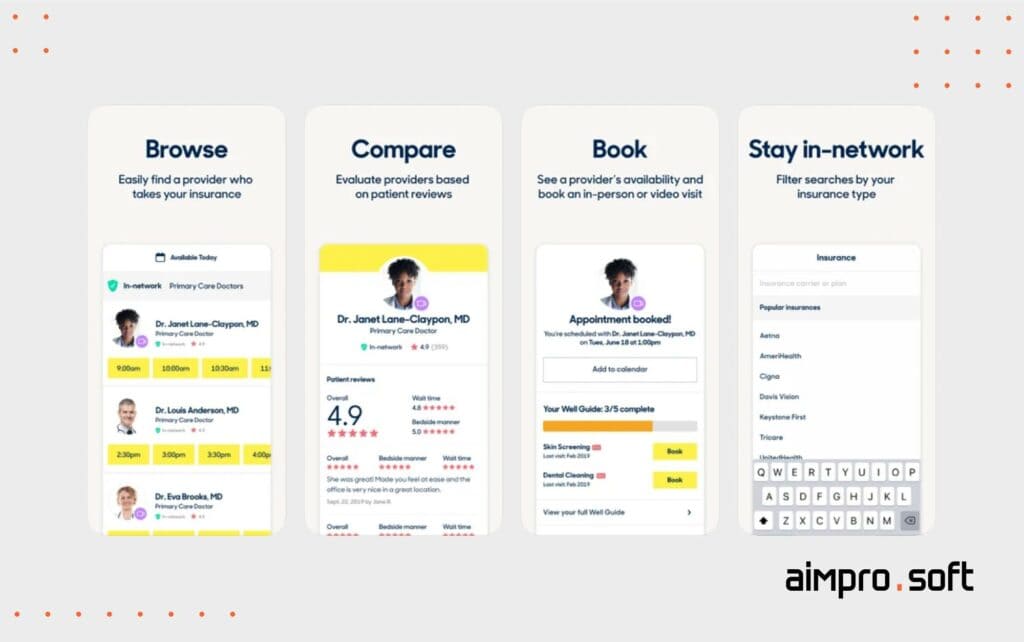 ZocDoc is one of the famous pioneers that has grown into a company valued at over $2B once backed by Jeff Bezos. It is a trendsetter today, inventing new revenue models following consumers.
With an initial goal of searching doctors and booking appointments online or via mobile apps, they grew up into a two-sided digital platform with overwhelming capabilities. A Yelp-like platform for doctors, it is called reasonably.
Doctors became accessible for patients free of charge so that ZocDoc's consumer base quickly reached over 6M patients. Since there were those who needed treatment, doctors had a natural will to pay for being available for patients. Success!
Solv Health 'solves' urgent need in a doctor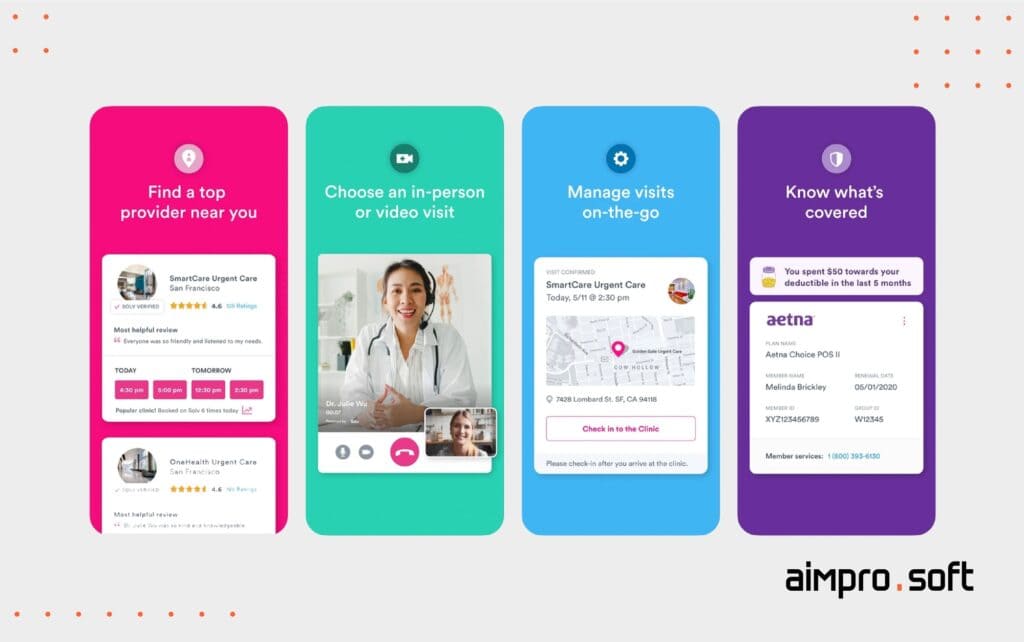 If you feel that no one can surpass ZocDoc, be calm. The market is full of opportunities. In 2016, nine years later, Solv emerged to please other target audience wants.
Offering software solutions for clinics of urgent care, they allow patients to book same-day and next-day health appointments with a local doctor on call or virtually.
Starting with simple issue solving, the San Francisco-based company went beyond online and via-app scheduling in search of care with AI-driven queuing, intake automation, essential reputation management, and telehealth visits.
With $45 million scored in the last round and $95 million in total, Solv actively generates revenue. It took 1.5 million telehealth bookings in early pandemic spring compared to a total of 9,500 in 2019.
HealthTap puts trust in the first place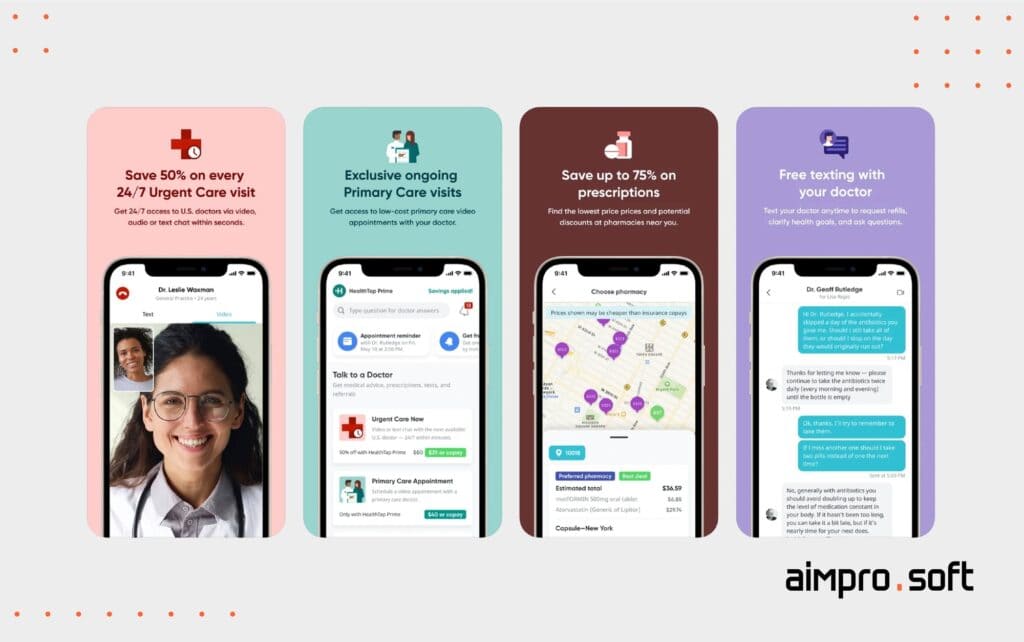 In HealthTap, founders came to the matter from the other angle. Apart from people's willingness to reach the doctor fast and conveniently, they have a pool of questions that can be answered only by qualified health care professionals.
Initially approaching pediatricians and obstetricians in the Palo Alto area, they made it possible to connect pregnant or delivered women with doctors they need the most in this period. The diversity of patient tools, primary care with or without insurance, and free-of-charge doctors' availability attracted a flux of patients who appreciated online booking and online doctor consultation.
A 'Quora for doctors,' HealthTap took advantage of the ubiquitous increase of mobile devices since 2008 by providing 48,000 licensed doctors to patients' smartphones in the form of an interactive health network 24/7. To date, it is affordable telehealth for Americans.
Thus, another business has grown based on a reputation built online from patient referrals totaling 38 million.
Want to make a Solv, HealthTap, or ZocDoc-like app?
Let's see how Aimprosoft can help you in your endeavor.
Contact us
Now we can proceed to development steps to follow the right lead.
Step 1. Things worths considering before you start to develop a doctor appointment booking app
Indeed, there are a few main obstacles that cause tardiness in the healthcare evolution witnessed across the globe:
the complexity of the healthcare systems;
lack of transparency in provided medical services;
siloed provider systems;
several privacy concerns;
opposition from staff in technology adoption.
Due to the pandemic crisis, doctor appointment booking apps came to the fore of the healthcare industry to connect doctors and patients for the required treatment.
This is not just about scheduling. Online doctor appointment app development touches upon a wide diversity of sides. Let's find out the peculiarities to plan software development ahead.
Databases
A booking option by itself means a minor part of the complex medical care service. At a minimum, you will need integration with a database of doctors and healthcare providers.
Developing a separate app without reference to any clinic or hospital, you are expected to provide a list of medical institutions or doctor listings to help patients select a certain specialist from a particular hospital. However, it is not enough though.
Large datasets require technical infrastructure to provide fast and seamless data flow. A San Francisco, California-based startup NexHealth achieved 5-sec synchronization with around 30 million patient records. If you develop a doctor appointment booking app, consider connecting such electronic health record systems to add data to your app.
Compliance
Healthcare is that kind of sector that is thoroughly inspected by regulatory bodies. Thus, entering the industry requires taking into account the proper policy execution within the confines of the law.
As doctor booking apps aren't limited by appointment management with the calendar and visit planning, including other app features described below, requires compliance of software products with regulatory norms. Thus, your vendor has to be aware or experienced, that is better, at least with the following regulations:
HIPAA — in case of developing an app for the entity or business associate;
GDPR — privacy data protection in force of the European Union territory;
PHI data encryption — in case of access, production, or storing protected health data in the medical app;
Food and Drug Administration (FDA) — in case of integration with pharmacy provided e-prescribed medicine;
Children's Health Insurance Program (CHIP) — for children health care cases with government Medicaid coverage;
Personal Information Protection and Electronic Documents Act (PIPEDA) regulates the handling of personal info by private-sector organizations in Canada.
Security
Your core team developers or a vendor's dedicated developers engaged in the doctor appointment mobile app development have to be able to provide the following security measures:
SQLite Database Encryption Modules to prevent vulnerabilities in the sandbox;
SSL protection of encrypted connection for data transmission;
File-level encryption of sensitive information in case of multiple platforms;
AES with 512-bit encryption, SHA-256, 256-bit encryption for app's secure hashing;
VPN protocol prevents leaks and theft during data transition.
Read in our article how to take precautions right to keep personal information HIPAA compliant.
Read more
To allay concerns about an infringement of client's data, there is a common practice at Aimprosoft to develop apps with limited access to the storing data. In case we can't avoid the usage of local memory storage, encrypted data containers are here to protect the privacy of information. Also, keychains or auto-delete are applied to limit access to data.
Step 2. Features of an app for booking doctor appointments
Since the main purpose of doctor on-demand apps is a virtual connection between healthcare providers and patients, it can also contain a scope of valuable functionality apart from the booking option.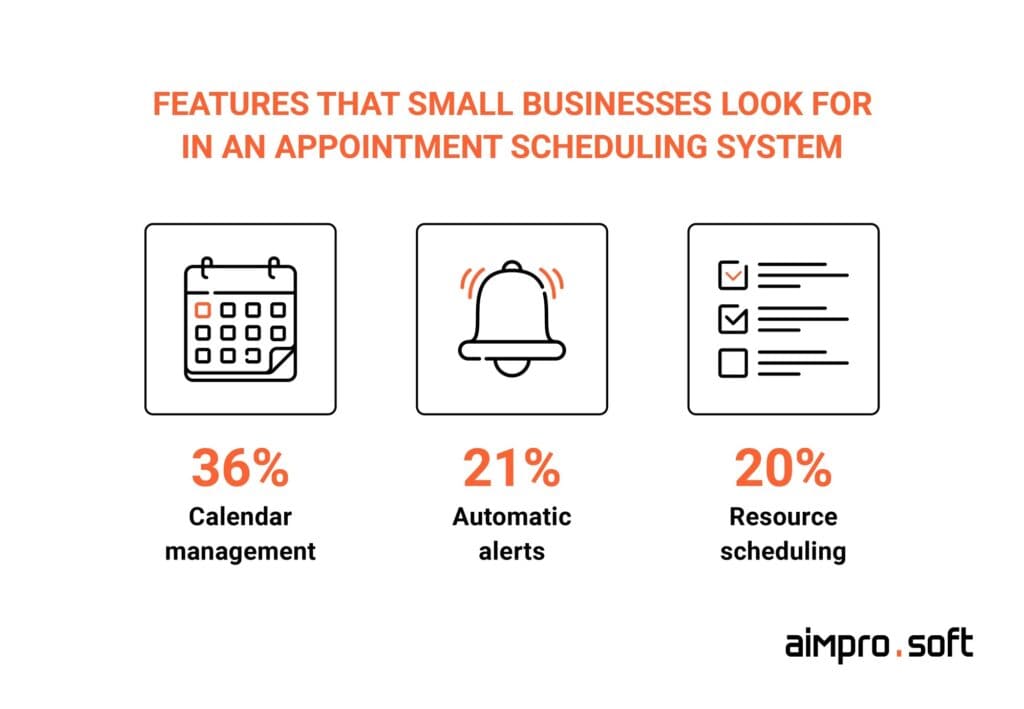 Essential features
The application by itself isn't about scheduling alone. As usual, it is cluttered with health related-features. Based on consumer demand, the must-have feature set of an app to book doctor's appointment is expected to cover the following:
| Patient features | Doctor features | Web admin panel |
| --- | --- | --- |
| Secure login | Secure login | Secure login |
| Patient profile | Doctor profiles | User records management |
| Appointment booking | Appointment status | Doctor management |
| Medical intake form filling | Medical intake form management | No-shows tracking |
| Treatment history | Treatment history | Faculty/Staff management |
| Doctor search | E-Prescriptions | Billing/Invoicing |
| Appointment management | Appointment management | Appointment management |
| Notifications, reminders | Notifications, reminders | Notifications, reminders |
| – | – | Chatbots |
| Video meetings | Video meetings | – |
How to create a doctor appointment app for patients and clinics in a clear and secure way with Aimprosoft?
Know how
Features beyond the essentials
Additional features are those necessary to enhance your business by following your consumer demands. They are reasonable to scale up your app's functionality after launching the MVP once you've solved the main challenge of the practice — getting a more convenient doctor appointment booking management both for clinics and patients.
Features that support the essentials:
Appointment booking acceleration tool can fill canceled appointments for end-to-end scheduling automatically.
Real-time doctor chat works well for patient-doctor preliminary communication or customer support issues.
Medication tracker is an extra feature of high appreciation by patients who need outside reminders to take medications and refill prescriptions.
Customizable forms and templates streamline filling intake forms and increase the efficiency of clinical documentation.
On-call scheduling may be helpful for the minor category of users who adhere to a habitual way of reaching or are not good with technologies still.
Care plan management makes sense for maintaining one's health during treatment and after regaining.
Payments in booking apps simplify reimbursement for health care for patients via a payment gateway, a phone number may be required for authorization. Clients prefer a multiple payment option with a credit card or payment provider.
EMR/EHR integration allows accessing the patient's details at the time of booking and more efficiently filling appointment slots.
Insurance management and eligibility verification help ensure accurate and timely receipt of insurance coverage details.
One thing worth mentioning. Striving to connect patients and doctors, avoid reducing to on-demand doctor app development. Your feature set has to allow for all engaged sides and their needs.
Ready to scale with extra features?
Let's see how we can help you.
Contact us
Step 3. Peculiarities of tech stack for a doctor appointment booking system development
Design and development of an online doctor appointment system has a number of features that we are going to highlight in this chapter.
The software stack is a mix of technology products among which scheduling engine APIs, backend language, mobile platforms, etc.
| Development area | Technology |
| --- | --- |
| Backend | Java, Node.js, PHP, Python and other languages relevant to your strategy |
| Frontend | Vue.js, Angular, React |
| Mobile platform and language | iOS: Objective C, Swift Android: Java, Kotlin Hybrid: React Native, Flutter, Ionic |
| Database | MySQL, Oracle Database, PostgreSQL, Microsoft SQL Server, MongoDB |
| Storage | Amazon S3 |
| Cloud infrastructure | AWS, Microsoft Azure, Google Cloud |
| Frameworks | Express, Material UI, Amplify |
| Payment gateways | PayPal, Stripe, Braintree |
| Geo and location | Google Maps API, MapKit, CoreLocation |
| Scheduling engine | APIs: Gantt, Acuity, TimeKit, OnSched |
| Search | Elasticsearch |
Technology stack is closely linked to your market strategy, initial funding, and ambitions.
Assume, you take convenience as a central element of your app, so native platforms will be a better choice than hybrid development despite its affordability. Just as well for mobile-first solutions.
In case you make a medical app with free access to suppliers and consumers and you expect a rapid scale, Node.js will come in handy to support real-time features like online consultation via video and chats. Moreover, developing in Node.js is noticeably faster than in Java, .Net, or PHP.
A live chat and video call bring a patient and doctor on-demand closer. Node.js can be the perfect enabler of that real-time connection.
Know how
Sure, lots of software solutions can be integrated, which will allow avoiding a time-consuming development process from scratch. Scheduling engines, payment processing providers, search, push notifications and reminders, messaging solutions are third-party tools that can be of different combinations to make your app novel.
Need help with the tech stack?
Let's look into it together for your particular case.
Contact us
Step 4. Monetization models that generate revenue streams and not frighten users off
Since healthcare providers, as is common, augment their practice management systems with booking solutions, application monetization is especially relevant to single appointment schedulers.
Suppose you're planning to take on a doctor appointment booking system development to offer a solution for application in any health care practice. In that case, you'd better think about the monetization model in advance because products without understandable revenue streams may not be taken seriously or be disbelieved among business clients. In particular, concerns arise around security issues because data security methods are expensive.
Revenue streams for your doctor booking app may be as follows:
Subscription is a model under which doctors are charged to be shown in a search list.
Commission fees can be paid by patients or doctors on each doctor appointment booking.
Listing fees are similar to Google Ads on top of the list when doctors can be featured in paid listings.
Prime membership implies paid features for patients while getting health care help.
Advertising, one of the traditional ways in freemium models, generates revenue by showing ads relevant to users.
How much does it cost to create a doctor appointment app?
A doctor on-demand app development centers around the remote connection between healthcare professionals and patients. However, the price depends on the diversity of services you order from the vendor, MVP features, maturity of the development team, and tech stack.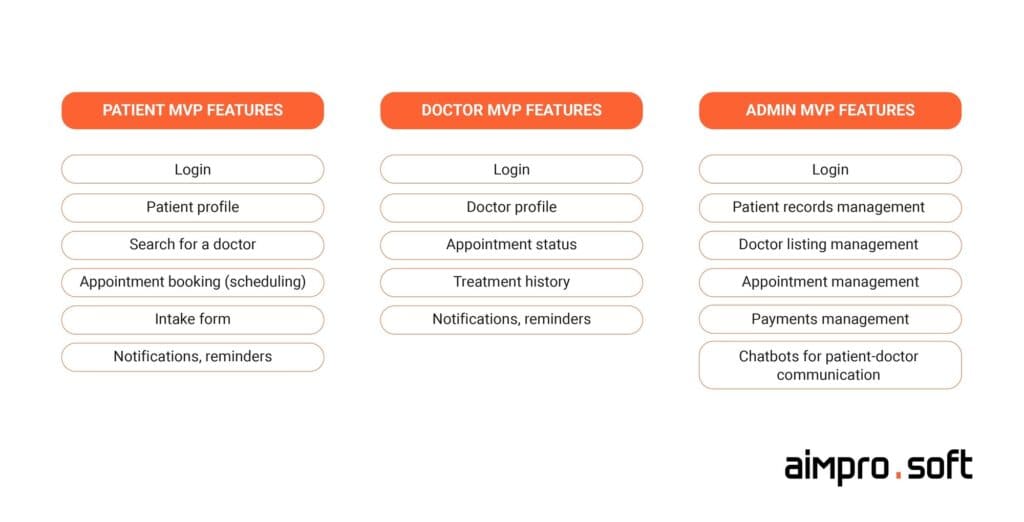 We do not consider here permanent sudden shakes like pandemics or tsunami but try to be objective and rely on our field experience that, by the way, we got while experiencing those shakes.

Keep it in mind when planning to take it all.
| MVP features | Hours |
| --- | --- |
| MVP backend (web, patient, and doctor features) | 706 |
| Frontend (Web admin panel) | 800 |
| Android (patient and doctor features) | 250 |
| iOS (patient and doctor features) | 231 |
| UI/UX design (web, patient, and doctor features) | 504 |
| Total design and development | 2491 |
| QA | 25% |
| PM | 20% |
| DevOps | 15% |
| Total turnkey development | 3980 |
The average hourly rate in the Eastern Europe region, and in Ukraine in particular, is $40.
Proceeding from the minimal set of features your app needs to be competitive and sought-after in the market, the cost to develop a mobile app on two native platforms with a web admin panel for management can be $159 200 roughly.
We estimated a single app for two main roles of consumers and suppliers. However, it's better to separate it into two different apps for patients and doctors. Such fundamental separation of two different functionalities will only help not get confused, not spend a lot of time-solving the problem of a different interface and routing for patients and doctors, etc.
Cross-platform app development can cost 80% less. Still, saving money, you lose the possibility of building smooth and native UX, a more secure data exchange critical for the medical sector operating with PHI. Performance at full possible pace is also under question here.
However, if you look towards multiple platform compatibility and faster time-to-market due to code reusability mostly, hybrid app development is a win-win solution.
There are no right or wrong tech solutions. It comes about the best in case one.
Estimate your doctor appointment booking app now.
Contact us
Doctor booking app development with Aimprosoft
Actually, there are two underlying things in a doctor appointment application development: experience with medical staff scheduling software and domain expertise.
It's more than just awkward to waste time waiting in lines, having broken day plans, receiving another dose of stress, and spoiling the mood. It would be nice if people really knew what time they would get care.
Aimprosoft has an app in its portfolio that aims to notify patients in advance about changes in their appointment in the clinic. Patients appreciate the service. And hospitals and healthcare providers have an opportunity to be well-intentioned in their eyes.
The application was founded to end unnecessary and uninformed waiting doctors, community nurses, etc. It helps inform scheduled appointment time, delays, and other changes, which improves clinic-patient relationships.
Besides scheduling solutions, we've been delivering a wide range of solutions for personal use, enhancing the product line of our healthcare clients. We can make an electronic health records system to replace your interim record keeping that doesn't meet regulatory standards. Consciousness in health issues is a thing we have in common with our customers. That helps bear state-of-the-art outcomes.
A healthcare appointment app development with us looks like this: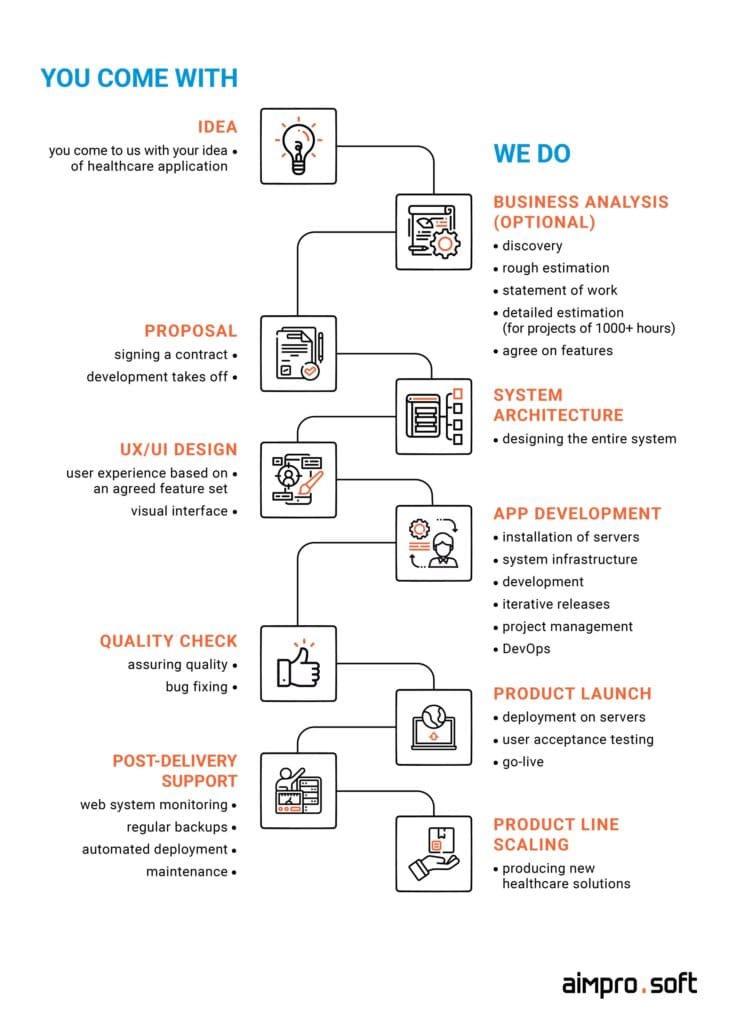 Conclusion
Summing up, let's go through the major points.
It's definitely high time to build a doctor appointment app taking into account the market demand. At the same time, it wouldn't be right to stop there. Telemedicine is in full swing.
The healthcare sector reached nearly $40B in total funding in 2021 YTD according to CB Insights.
ZocDoc, Solv Health, and HealthTap were unknown startups hesitating to be or not to be. Any endeavor is worth it if you take market trends seriously, implement features that correlate with burning consumer pains, take the best of technology, form revenue streams, and do everything staying ready to pivot.
Development is not just coding. If we're in agreement, let's discuss how we can lead your project to success. Contact us to focus on the meeting, not the scheduling by automating your appointment booking.
FAQ
Can I integrate the app Aimprosoft will develop for us in our CRM system?

A CRM in healthcare follows the same purpose as the rest of CRMs: improving collaboration with clients and quality of service. Yes, we can connect your medical appointment app with the existing CRM or developed by our efforts.
Whom do I need for my development team to deliver a doctor scheduling app?

A classic dev team includes 1 Backend developer, 1 Frontend developer to implement an admin web interface, 2 iOS and Android developers, 1 UI/UX Designer, 1 QA, 1 PM. A Business Analyst is advisable to be engaged to formalize product requirements for developers as they investigate problems and find the best-fit solutions.
How long does it take to create a doctor scheduling app?

It takes 8-9 months going through all full-cycle development stages from design to go-live with a customer-ready product.