Articles
16 February, 2021
Medical CRM Software for the Healthcare Industry in 2021

Modern healthcare organizations often make a common mistake: in the pursuit of expensive equipment and staff investment, clinics forget about improving their collaboration with clients and quality of service. This misstep can be remedied by preventing the loss of analysis results, administrative errors, and data breaches. The solution to all these issues is the Custom Relationship Management (CRM) system.
In this article, we will examine the specificities of the healthcare CRM software, highlight its key features, and also tell you what considerations to follow when choosing between ready-made and custom CRM?
What is healthcare CRM software?
Healthcare CRM is a customer relationship management system developed specifically for healthcare organizations to attract new customers, retain existing ones, and manage referral communications between physicians, medical specialists, departments, and various facilities. By combining data gathered from call centers with patient demographic location and financial statistics, medical CRM software creates comprehensive patient profiles where staff can find any information in a split second. Thanks to in-depth data analytics, the system can notify which patient is missing appointments and which needs certain services.
The system also eliminates the issue of administrative errors by reducing the lost charts by 30%. For these reasons, more and more healthcare organizations are adopting hospital CRM software. According to preliminary forecasts, by 2025, the average annual growth rate of the healthcare CRM market is expected to reach $21,462 million.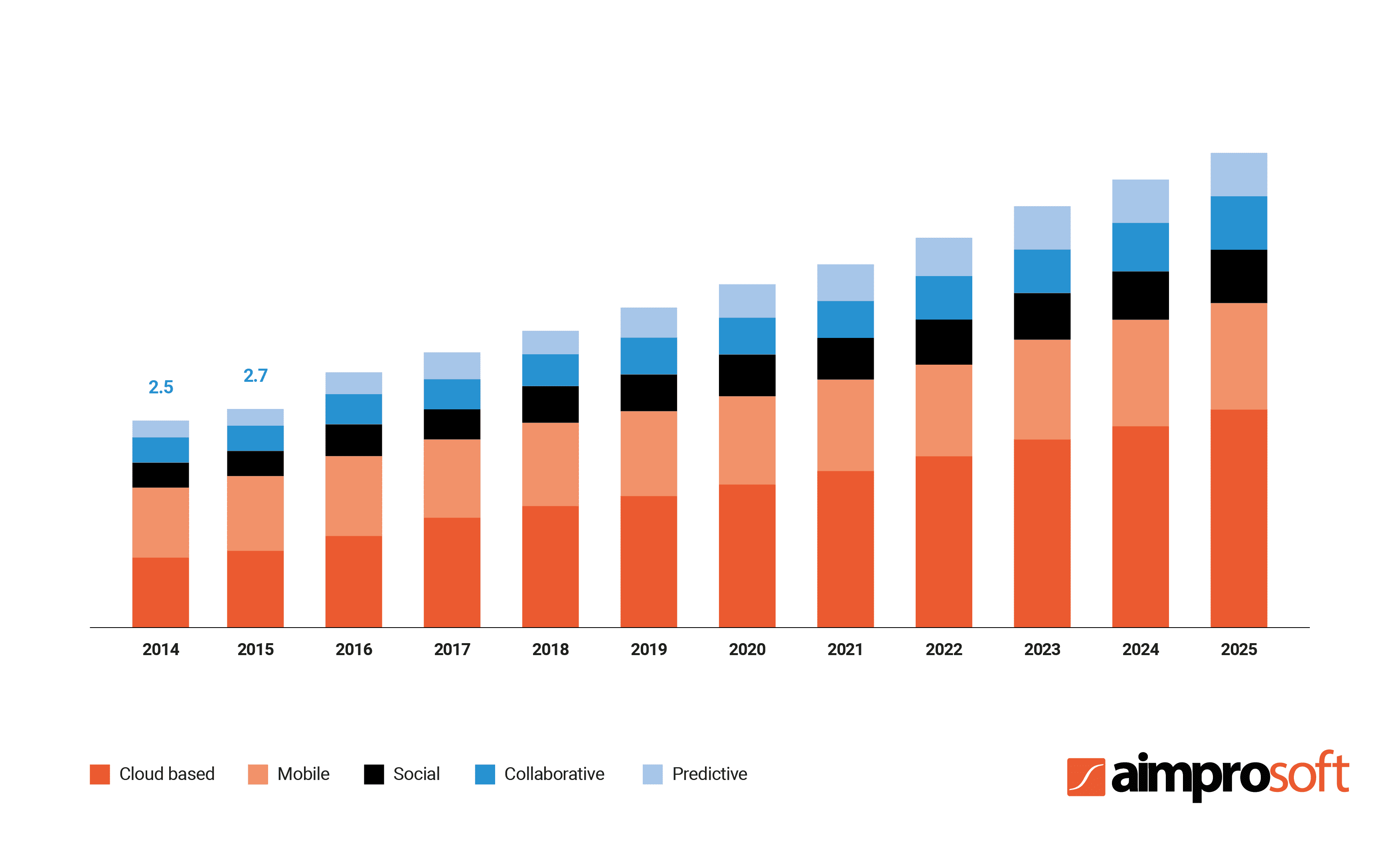 Speaking of features, let's look at the basic functionality that is a must-have for any robust CRM in the medical industry.
Features of healthcare CRM platforms
Like any other hospital CRM software, the healthcare type has a number of modules that define its functionality:
Communication module creates space for prolific communication with patients. It includes scheduling, tracking, sending reminders, and appointment confirmation features.
Task management module allows you to create tasks, assign employees to them, prioritize, update, and track their execution.
Report module allows you to generate and customize various types of reports, such as patients' attendance or ROI campaigns.
Patient management module is designed specifically for healthcare CRM software to add and update patient records, segment patients into groups depending on the health condition, and support effective communication with them.
With all that in mind, let's take a closer look at what features CRM in the healthcare industry should have.
| Feature | Definition |
| --- | --- |
| Patient management | A core feature, which automates a number of processes associated with patient care. Automated form filling and the ability to create and maintain a comprehensive patient profile greatly simplify healthcare employees' administrative burden. |
| Patient segmentation | Medical CRM systems support patient segmentation based on location, disease, and psychographic data to identify potentially profitable patient groups and conduct targeted marketing campaigns. |
| Referral management | Helps control and optimize referrals to specialists depending on institutions, departments, and specialties. For example, the system can track the referrals prescribed by the doctor and notify if the patient has not made an appointment. |
| Direct mail campaigns | This feature is a powerful direct mailing tool for both patients and staff. CRM supports various mail campaigns, including different types of reminders, referrals to doctors, and recruitment mailings |
| Reporting | CRM for doctors supports various types of reports, including patient complaints or faulty equipment reports, review of marketing efforts, ROI tracking and maintenance. |
| Interoperability with existing software | This feature helps avoid the necessity of entering the same information twice. Its infrastructure includes such tools as EHR (electronic health records), radiology information systems, HR management, PM applications, and medical billing. |
| Regulatory compliance | The CRM in the medical industry is created considering the basic legal security requirements of both the American HIPAA and the European GDPR. |
| Recruiting management | The built-in toolkit allows you to create recruiting campaigns, automate follow-ups, and analyze the efficiency of recruiting approach. |
Learn how to make an electronic health records system and find out why Alfresco is the best tool for such a purpose
How to choose a medical CRM system?
Now let's look at the points that will help you decide on the system suitable for your business needs:
Integration
Since your new CRM platform will become a part of the existing infrastructure, you need to make sure that it will intelligently interact with other solutions such as a website, a payroll system, or an email system. We advise you to think in advance about how exactly you integrate it and make a list of necessary internal integrations. At Aimprosoft, we always build such CRM architecture that easily synergizes with other organization's solutions — this is one of the key principles of our work.
If you have doubts about how to integrate CRM for a hospital management into existing systems, ask us — we are always in touch
Automation
One of CRM's main advantages is that it can save employees time in a number of processes. Therefore, you need to decide beforehand what exactly to automate with CRM. The breadth of automation options starts from the appointment reminders to loading patient data to the HIPAA complimentary cloud storage and depends on the CRM you choose.
Learning curve
The possibilities of customer relationship management in healthcare are vast. Still, it will be useless without an accessible learning curve because employees will not be able to use it to the best of their ability. Thus, firstly, you will need third-party experts to customize the CRM to the organization's needs. After that, your IT team should undergo a few training sessions practicing with CRM, after which doctors and nurses need to learn to use the system.
Security and compliance
The healthcare industry has extremely high safety standards. Your CRM must meet at least basic security measures such as sensitive data encryption, multi-level security, and regular backups in the case of malicious attacks. Your CRM's safety requirements may differ from state to state, so we recommend carefully studying state laws before purchasing a system.
Do you want to know more about healthcare security? Check out our material, which describes IoT safety standards, risks, and best practices
Feature list
CRM software for the healthcare industry can significantly differ in terms of functionality. While one product may support a huge list of staff and account management features, the other may be a slightly more sophisticated version of an answering machine. Therefore, carefully study the functional capabilities of each CRM before purchasing.
Please pay attention that ready-made options have certain limitations, which may encourage some companies to create their own custom healthcare CRM solutions. Let's take a closer look at the issue of choosing between custom and ready-made systems.
Custom vs. ready-made solution
Both options have their own pros and cons based on which each organization can make an informed choice.
| Specifics | Ready-made solution | Custom solution |
| --- | --- | --- |
| Architecture & Scalability | Scalability depends on the type of application and has limited options | Architecture and degree of scalability can be customized according to your business needs |
| Functionality | Basic functionality consisting of a set of features outlined by the vendor | Advanced functionality, designed according to your business specificity |
| Simplicity | The relative ease of installation and configuration, since everything is done according to a single formula | Increased difficulty due to tailor-made approach for every aspect of CRM |
| Customization options | Any modification is not included in the range of standard services for CRM installation and configuration and requires a separate fee | It can be customized and modified to any degree you need |
| Security | Standard security package. Ready-made apps are a more attractive target for hackers. There is a risk of sensitive data leaks | Additional security for your corporate data. More reliable than ready-made CRM in terms of sensitive data leaks |
| Total time spent | Minimum time spent on setup and configuration | Prolonged time, which is spent on working out the CRM from the very beginning and also on installation and configuration |
| Overall cost | Usually considerably lower in comparison with custom solutions | Pretty high price due to the development from scratch. At the same time, it is a cost-effective investment as you do not have to pay for the license and monthly/annual fees |
| Maintenance | Ongoing maintenance may or may not be included | Maintenance and support for custom CRM depends on the conditions occurred and does not incur constant expenditures |
As you can see, the choice between ready-made and custom CRM depends on your capabilities and product requirements. For small organizations with limited financial resources, it is worth buying an out-of-the-box platform, while for customers who have enough financial muscle, custom healthcare software development services will be the best choice in terms of quality and capabilities.
If you need professional advice on what solution will be better for your clinic or require assistance in CRM integration, contact our specialists
Top 5 CRM for healthcare providers
1. Salesforce Health Cloud
Salesforce Health Cloud is one of the best CRM for healthcare providers. This system combines classic features such as patient registration, scheduling, and reminders with built-in predictive AI to retrieve data about patients and delivered services. Product benefits include high consistency, ease of use, and attractive visual design, but the high cost may alienate many customers. Salesforce Health Cloud comes in 2 packages: "Health Cloud Enterprise" for $300 per user per month, and "Health Cloud Enterprise Unlimited" for $450, but with free support and extended storage.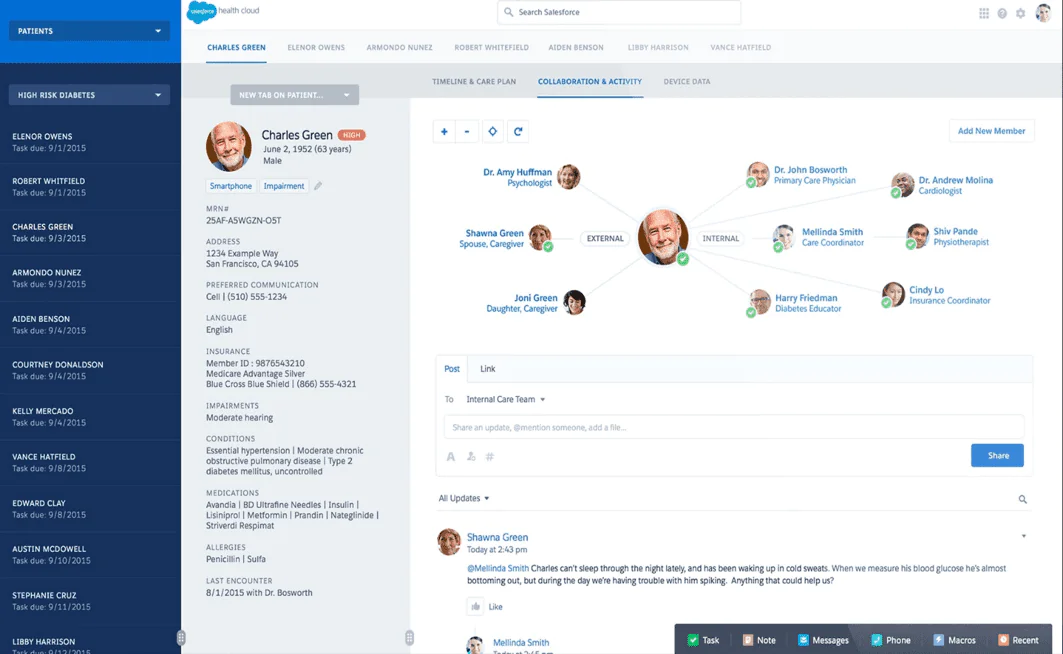 2. HC1 Healthcare CRM
This product is designed specifically for medical laboratories that need to manage both the analytical and patient sides. With automatic notifications and a powerful dashboard with real-time reporting, HC1 is one of the best CRM for medical practices that helps organizations become more efficient in daily tasks by providing instant access to its data. The vendor doesn't provide the price of this CRM on the website, so you should contact them directly to calculate how much it will cost you.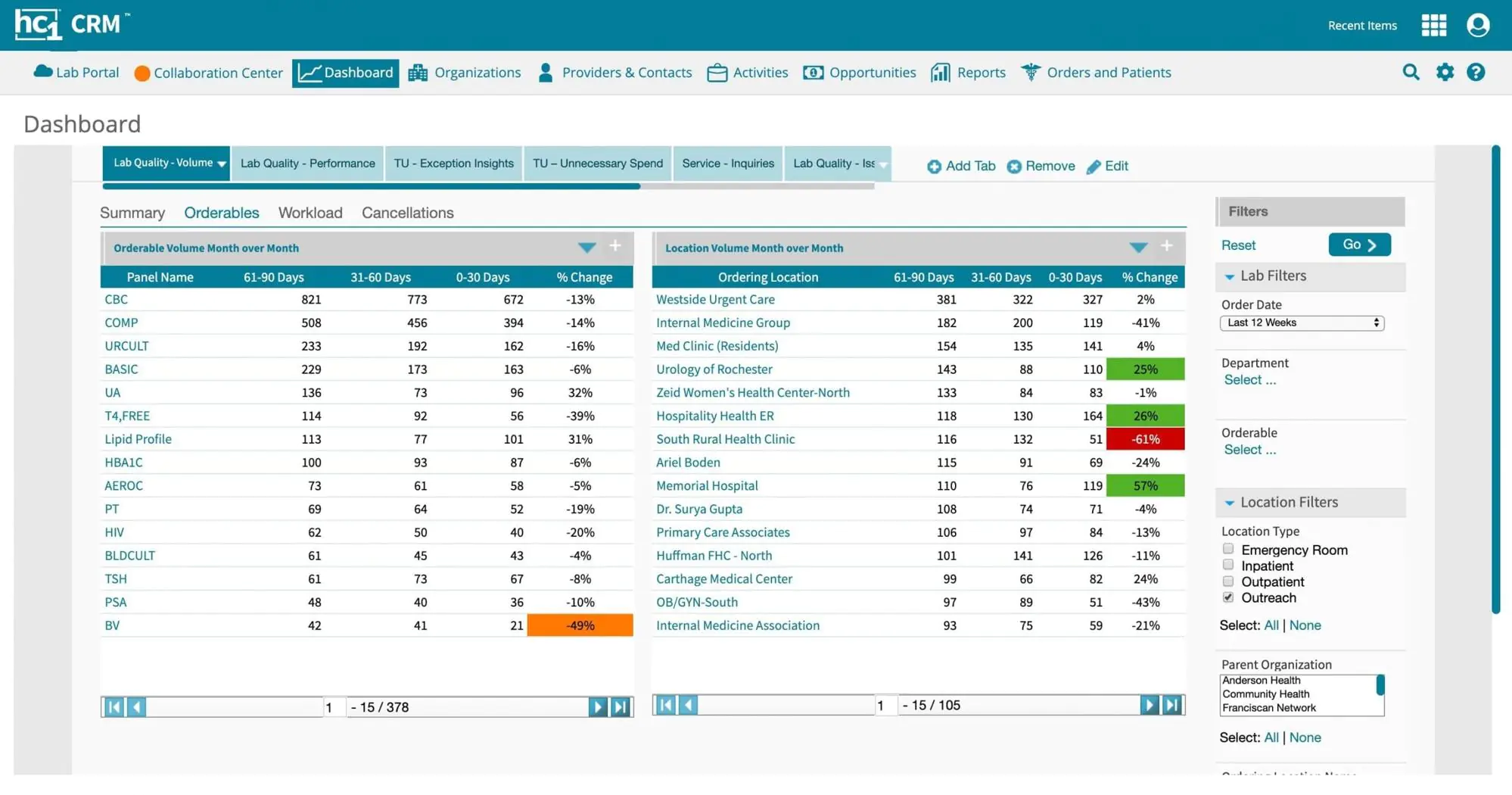 3. Kapture Healthcare CRM
Kapture CRM is a perfect choice for patients and physicians management across all centers on a single platform. With its help, you can take appointment requests from multiple channels and automate a number of processes associated with appointments assignment and communication with patients. You can easily integrate Kapture CRM with your existing mobile app, where all your data will automatically synchronize. This system has three fixed price plans ranging from $35 to $90 per month and a custom one for organizations with more than 100 users.
Read our guide to learn more about GDPR compliance, including its special terms, principles, and checklist to prepare for GDPR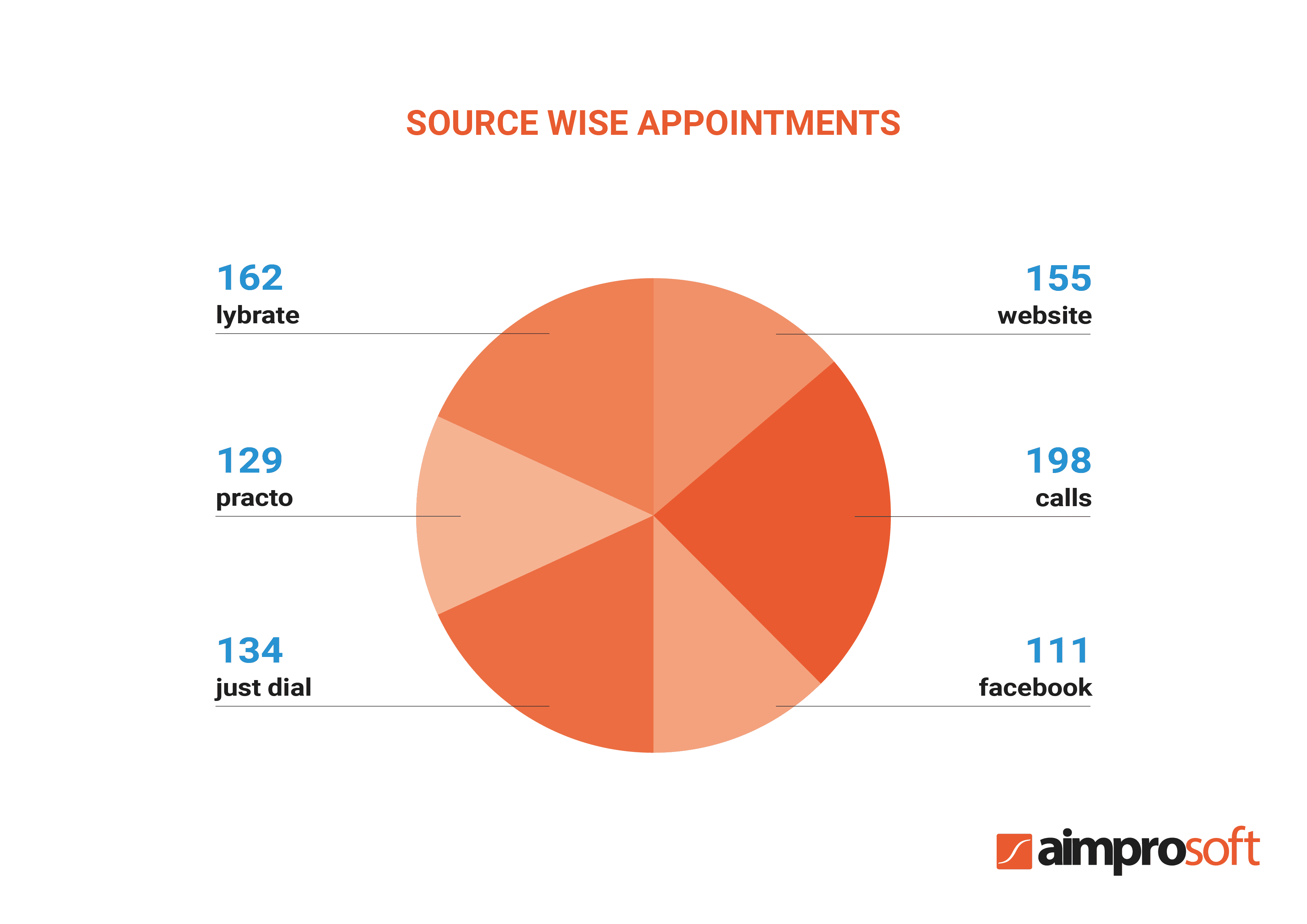 4. InfluxMD
InfluxMD brings a wide range of tools for secure communication, marketing, online learning, and EHR integration. The system provides dashboards with intuitive interfaces to quickly prioritize tasks and a precise lead tracking tool for controlling lead movement. InfluxMD has HIPAA compliant forms, integration with social networks, and email management in one place. The product's pricing structure is suitable for both small and large companies: the monthly plan varies from $150 to $450, and the yearly plan has a range of prices from $128 to $383.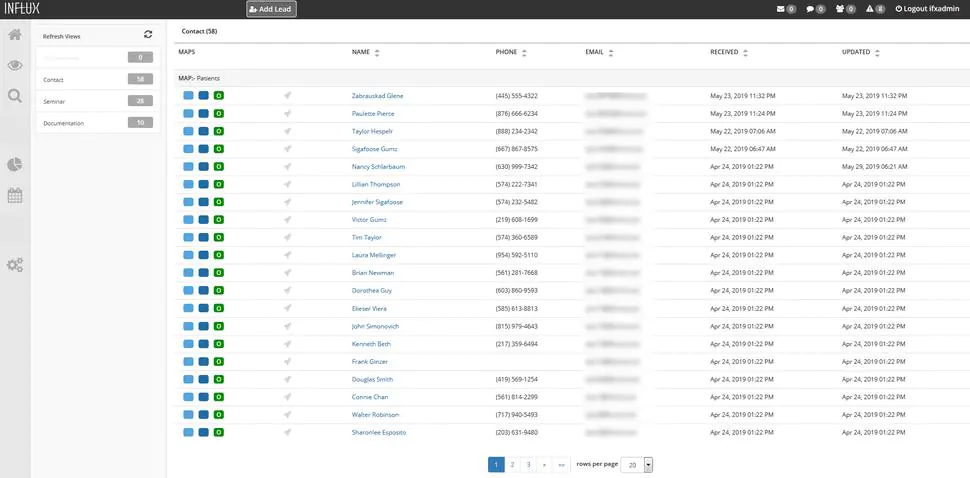 5. Healthgrades CRM
Last but not least, Healthgrades CRM is based on the first healthcare CRM in the world, delivering services to organizations of all sizes for 23 years. Having more than 500 predictive models and relying on the largest dataset in the industry according to the creators' assurances, it allows you to determine the target audience 3-5 times more accurately than usual.
At every step of the patient's path to recovery, Healthgrades helps analyze, predict, and engage the user with healthcare data science and analytics tools. The system is suitable for organizations that need to expand their marketing potential and have informational control over patients. There are no free versions or free trials of this product.
How much would it cost to implement a ready-made medical CRM?
Considering how blurred the topic of the ready-made CRM cost is and how many particularities it contains, we will analyze its average price based on two examples — InfluxMD and Kapture Healthcare CRM.
The basic InfluxMD module for up to 5,000 contacts for $150 per month includes only the most standard functionality with restrictions on the number of users and emails. But even with the purchase of an Enterprise plan for $450 per month that allows expanding your contact base, premium modules such as business intelligence, social media engagement, or call tracking should be bought additionally for a fee.
Kapture Healthcare CRM offers three price plans that operate on a per user per month model: Essential can be bought for $35, Professional for $50, and Enterprise for $90. These plans do not include advanced functionality, which can be purchased with separate modules for services, operations, and medical sales.
The price of the CRM system, which is based on your billing plan, and its implementation has a ratio of 1:0.5 or 1:2.5, which means that the more expensive CRM will cost, the more expensive it will be to implement, configure and train the staff. Please be aware that the implementation process is not a one-time action and can continue for a year and more.
However, if you engage your system administrators instead of vendor ones, the implementation may be cheaper. In case you do not have your own IT specialist, you can hire specialists available in the market. System administrators in the United States receive an average of $35 per hour, while their colleagues from Western Europe (Germany) receive $32.
Please note that when implementing a CRM, you need to take into account the additional costs for staff training. The price can vary significantly depending on the number of employees.
How to develop a custom healthcare CRM solution?
The essence of CRM development is not much different from the development of any other CRM. The creation of a medical one begins with defining the business requirements and moving step by step to its launch. But let's talk about everything in the right order.
1. Defining business requirements
Particularities of BA for the healthcare industry lie in defining special safety requirements. For example, for the United States, this is HIPAA and FDA compliance. Based on the business analysis results, you will determine the definitive requirements for the CRM. The next step is to find someone who will implement these requirements into reality.
2. Choosing a vendor
To choose a worthy vendor for creating your system, you should look for a company that already has experience in healthcare CRM development with a portfolio that confirms its high expertise. A competent approach would be to use BA throughout all the cycles of the CRM creation.
Please note that vendor services will vary in cost depending on the region. In today's marketplace, US developers' services are the most expensive at $70 an hour, while Eastern European specialists offer the most economical rates of $30 per hour.
If you are thinking about engaging remote developers in your CRM project but have troubles with finding and managing them, read our exhaustive material to find out
3. Designing your CRM
There is nothing worse for the CRM than the tiresome user experience, so the main design emphasis should be on the UX part. Accordingly, you should apply user research as early as possible to reduce design risks.
There are a number of user research methods, such as focus groups, surveys, A/B testing that should be conducted in the course of the UX strategy to obtain high-quality results in the end. However, if not possible to go through all of them, apply a method based on your intended purpose. For example, such a method as a survey is the right choice for collecting opinion-based data. But keep in mind that an incorrectly conducted method will lead to erroneous conclusions.
Try to achieve a user-friendly design by implementing a convenient search function with prioritization of page titles, headings, and names for intuitive navigation. Designers should make sure they use terminology that is actually used within the organization for which the system is developed rather than following the common standard. Finally, we advise you to evaluate the quality of UX with the help of analysts for decoding custom behavior and user journey, based on which you can introduce further improvements.
4. Healthcare CRM development
Defining a tech stack will be your first step in the development phase of a custom CRM. Because you create a system from scratch, you have the advantage of choosing its components at your discretion. Our experts recommend the following tech stack for creating medical CRM software:
| Stage | Technologies |
| --- | --- |
| Frontend | CSS3, JavaScript. |
| Backend | Node.js |
| Framework | Angular.js/React.js |
| Database | MySQL/MongoDB |
| Cloud | AWS/Microsoft Azure |
| Search Engine | Google Scholar |
A microservice or service-oriented approach is best suited for a CRM architecture to optimize scaling and system management under high loads. Developing the project under a Single Page Application (SPA) principle will allow you to create highly functional user interfaces and significantly reduce response waiting time. In addition, SPA products can work offline with real-time events and do not require reloads when updating data. Frameworks like React and Angular are perfect for writing interfaces due to their wide functionality and high speed.
When developing medical CRM, special attention is paid to software certification. Institutions like the FDA (Food and Drug Administration) check every line of code for safety, so you should conduct a series of tests to ensure that your code is safe. Design your CRM so that the data cannot fall into the possession of third parties by creating access levels for different user groups.
5. CRM launch and monitoring
Deploying a new CRM takes time to integrate with a database and install software on all devices in an organization. During deployment, you need to answer the following questions:
Deploy to a new or existing instance?
Do you need to run some systems at the same time?
Do you need to migrate any legacy data?
The answers to these questions will help you customize your app deployment to your needs. It would be best if your QA engineers run a certain number of regression tests to verify that the CRM is working properly.
Find out more about software testing and Quality Assurance services we provide, including the list of our projects and technologies
After starting the system, you should carefully monitor user feedback and data on their behavior when they are working with CRM. Functions that are not particularly used by employees can be removed during the next iterations, and their feedback will tell you which ones need to be added.
Our experience
A customer from Italy, who had previously worked with our company, came to us in order to create a CRM system for a healthcare startup.
Our specialists created portals for doctors and patients with all the necessary functionality: various reports generation, automatic appointments, invitations, detailed patient profiles, and billing options. A separate CRM block called ECG provides analyses and reminders for patients and appointments for doctors.
A feature that we introduced during the COVID-19 pandemic deserves special attention: based on temperature, blood pressure, and ECG data collected using IoT devices, the system generates scores from 0 to 5, which indicate the degree of need to visit the clinic. This is intended not to ignore the disease and turn to medical assistance in time while making life easier for doctors in terms of consultation with patients.
The main challenge for our developers was the performance issues that suffered due to the microservice architecture. The solution was to move infrastructure to Kubernetes, and thanks to its automatic deployment, we have resolved the problem. One more challenge lay in compliance with safety standards. For example, user data had to be stored in different territories, making it difficult to aggregate and summarise data.
Do you want to check Aimprosoft case studies to understand our capabilities better? You can examine them here
As a result, the customer received a modern CRM system for his healthcare startup, which fully complied with all security standards. In the first six months after the launch of CRM, the client's startup received a burst in attracting new customers by 4%, resulting in the growth of its profits by more than 30%.
Conclusion
CRM in the healthcare sector can solve problems concerning relations with patients and their satisfaction with your services. But in order to choose the right ready-made system or create it from scratch, the support of specialists is required. If you desire to develop a solution for customer relationship management in healthcare, contact us, so we provide efficient and experienced assistance.
Frequently Asked Questions
What should you consider before implementing a healthcare CRM?

Based on your business goals, ask yourself what functionality should the CRM support? For example, if your goal is content personalization and marketing automation, it makes sense to create a solution supporting API integration with major marketing systems. For more technical details, contact the vendor for further clarification of your needs.
How to create a custom CRM?

Define the goals of CRM implementation, make a list of features based on them, and only after you have a clear idea of the capabilities of a potential CRM look for a software vendor with suitable experience for your project.
What is the role of CRM in hospitals' ROI increase?

Healthcare CRM solutions monitor your campaign's marketing progress in real-time while generating reports on the ratio of earnings of your campaign. Thanks to this, marketers can see which campaigns attract new customers, patients and enhance medical system growth.