Articles
24 January, 2022
How to Create an Online Marketplace Platform Right And Save Your Money & Time
Key takeaways
Online store vs marketplace: know which to choose for your eCommerce strategy to bite a pie from the $ 609 bln gross merchandise value of the market leader.

You'll definitely be surprised by types among online marketplaces, especially platforms providing services.

Know about revenue generation models marketplaces use to earn fabulous amounts. You may find some that fit you.

Read about resources, steps, and motivation to create an online marketplace.

An implementation strategy may vary depending on the monetization model, niche, successful business strategy, and tech stack features. Learn more about software vendor approaches.

Discover what marketplace you can get in 2000 development hours and how much you should invest in it.

Get acquainted with our style: we tell you how to develop a marketplace platform with Aimprosoft
The earliest marketplace is believed to have Asian roots and is named "bazaar", which originated in Persia in 3,000 BCE. The marketplaces arose when humans started trading, bringing together supply and demand in one place.
Marketplaces go online in the digital age, replacing open-air commercial quarters and streets in cities for online peer-to-peer platforms. This has been so successful that global revenues from ecommerce marketplace platform providers are expected to be $40.1 billion in the near future by 2022, with only an American spending contribution of almost 60%. Statista estimated $609 bln of gross merchandise value shown by Chinese Taobao in 2020, making it the most popular online platform globally.
Cyber Monday in the US roused up an unprecedented $7.9 billion spending by Americans across the country. It's not hard to guess that Amazon, eBay, Best Buy, and Bonanza topped up their corporate accounts well.
Is this not a cause to think about how to make an online marketplace like Etsy or like eBay and join the caste of world-famous merchants?
How a marketplace is different from an online store
Marketplace and online store are both e-Commerce platforms but differ in functionality.
Well, an online store is a retail outlet with its unique domain name, a single storefront for selling goods of one seller. Platforms for building online stores on everybody's A-list are Shopify, Magento, BigCommerce, and others. Individual online stores can be large, with hundreds of positions and small, retailing goods of one or two brands only.
A marketplace is an electronic commerce two-sided platform; indeed, it is a market website, a meeting point for many buyers and many sellers where they chat and make daily deals through one website. It can be a website (AliExpress) or a mobile app (Uber, Lyft). In the case of the marketplace, the platform on its own is a mediator for those who sell and those who buy products or services. Buyers can select products from different retailers and purchase them, remaining in one app or website like Amazon.
Not to confuse with price aggregators that differ by their primary goal to aggregate and show prices from different commercial websites for fees, while multi stores allow creating your virtual store in general and regulate the prices and products at the store.
Whichever you favor, a single store or marketplace, it's going to influence your ecommerce business model, development stack, marketing, and cost. Among other reasons, a type of marketplace defines the business model. Keep reading to learn about the types of online platforms with examples.
Types of online marketplaces
A marketplace appeals to consumers by its ability to offer a broader range of goods than a single store. Depending on the type of purchase demand, retail or wholesale, there are types of marketplaces meeting the needs of all.
Marketplaces by types of participants: C2C, B2C, and B2B
B2B: business marketplaces
A large, captivated audience attracts B2B sellers to marketplaces generating 30% of all B2B sales fixed online globally, as expected to reach by 2024. The pandemic heated transformation to the B2B2C model, which is possible only with B2B initially.
The Business-to-Business model assumes an equal relationship between the stakeholders, but they are formal, i.e., tightly regulated through contracts.
In the B2B segment, a business sells something to another business on favorable terms. This is a commercial activity in which clients are other companies and entrepreneurs, including the notorious "production of capital goods," services for business, and outsourcing services.
B2b companies can be of any size. For example, very small bakeries can consume products from a large conveyor belt production of backing equipment and similar products. And a firm consisting of ten programmers can supply entire corporations with exclusive software. A good example is Alibaba's marketplace, which allows businesses to make bulk purchases. Other players are Amazon, Rakuten, Mercateo.
B2C: entrepreneurs and customers
The Business-to-Consumer model assumes direct involvement of business and unequal relationships between the stakeholders. That means, sellers, solely at the request of customers, will not make discounts or organize promotions and donations of their goods. The legal regulation of relationships on the site is carried out with the help of a public offer or other documents left by the seller.
With B2C, entrepreneurs and their clients interact with each other. Users prefer to stay at BedandBreakfast or Booking.com hostels and hotels. Build an online marketplace platform with a B2C focus and get the advantage of a large selection of commercial offers on one website. This is a "one-stop-shop" for all tastes.
Teachable, Airbnb, Cameo, and Fiverr are well-known market players.
C2C: communication as equals
A C2C marketplace platform means that all participants are equal. Therefore, it is also called the P2P marketplace platform. The people registered on the platform are not entrepreneurs. They are similar in interests, wealth, age, and come to the website to share something.
Users can negotiate on favorable terms to save on deals, have similar interests, change roles – who buys today can sell tomorrow at the same place.
Examples are eBay, Etsy, Craigslist.
Differences in sales areas between models are as follows:
| Features | B2B | B2C | C2C |
| --- | --- | --- | --- |
| Purpose of purchase | Business needs | Personal needs | Personal needs |
| Average purchase budget | Large | Low | Low |
| Order volume | Huge | Small | Small |
| Number of clients | Limited | Unlimited | Unlimited |
| Marketing and advertising | Customer-specific | Focused on an unlimited number of clients | Focused on an unlimited number of clients |
E-commerce can be horizontal with goods of a common characteristic (ASOS, Poshmark), vertical when multiple vendors sell products of one niche (Chegg, Zillow), and mixed (Alibaba, Amazon). Let's see some examples of existing websites regarding their types to know how to build a marketplace platform that makes money.
PHYSICAL PRODUCTS
American Newegg is a sort of horizontal global electronics marketplace that allows registered users to sell their own products of different categories. Its B2B and B2C model of selling attracts over 42 mln users monthly since the beginning of 2019. Sellers can trade via Newegg Seller Portal, an online business management tool, upload in bulk FTP or API, drive customer engagement with marketing and promotional programs, fulfillment services of shipping, and many more.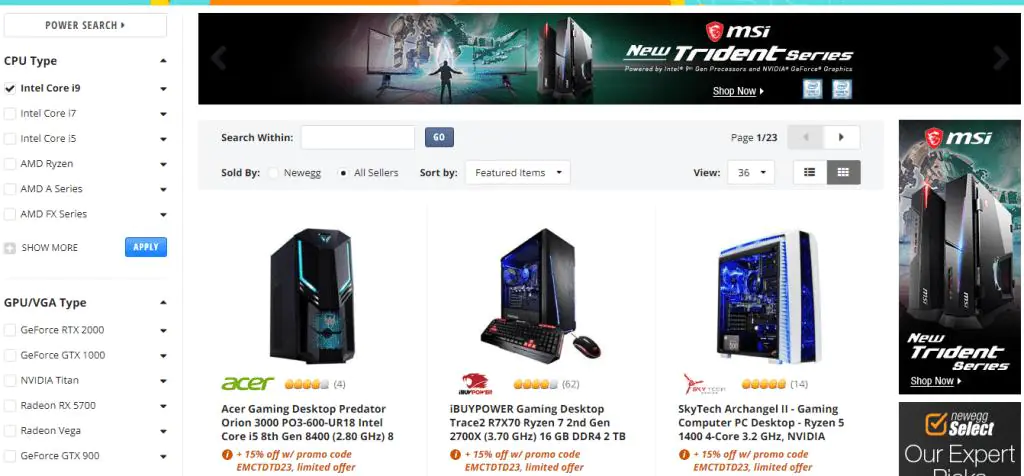 Another example is ASOS, a U.K-based fashion multi-vendor platform for small business. Targeting young people up to 30 years, ASOS counts over 80,000 items of product listings covering the global market with 52 mln users monthly. Being in the fashion industry, ASOS induces its clients to open an online boutique having their own blog besides basic features, thus engaging customers to buy. You should really consider this feature when you make up your mind to create a marketplace website.
Marketplaces of physical products like ASOS, Real, and Zalando are horizontal, offering consumers fashion, electronics, home products, and others. Besides, customer-centric marketplaces partner with delivery providers, giving an extra option of delivery estimation without leaving the resource (a seller has to specify weight and dimensions of selling goods in a product card).
Digital products
Selling digital goods has definite flaws. You can't touch and smell them. You can see them on your monitor, digital wallet, listen to them on your earphones or watch on a smart TV. That's why this kind of platform provides download libraries, online streaming, links, and audio/video processing.
Custom marketplaces Spotify and Apple iTunes Store are the leaders among digital marketplaces selling unique media content of high demand. There are no classical deals as if you buy clothes online. The popularity of music giants is due to their immediate response, and often creating demand first, for such secular trends as a paid subscription option.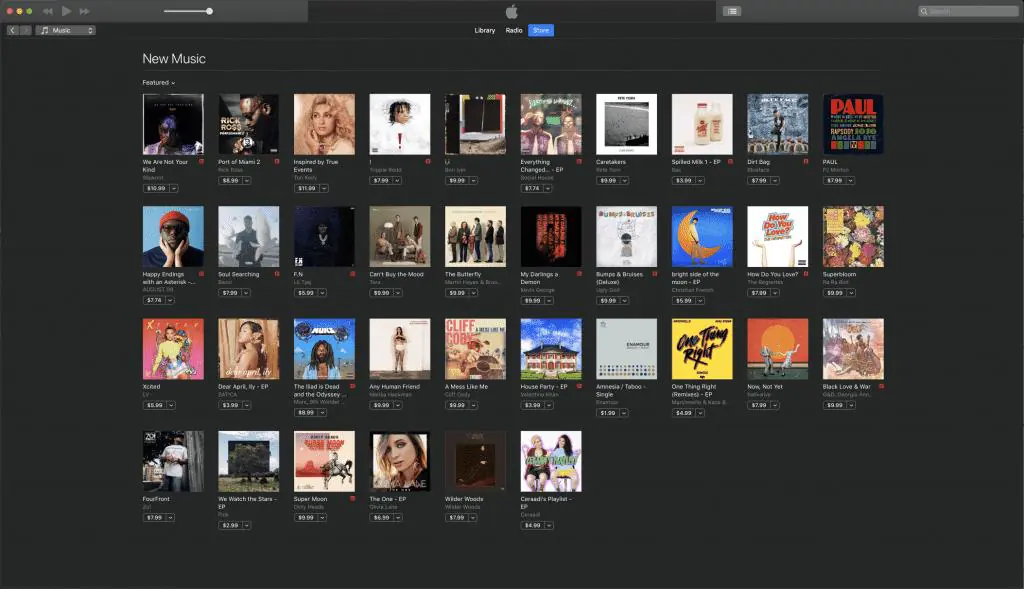 The Spotify marketplace is adorable for the user-specific playlists generated based on the history of music lovers. The digital marketplace platform pays a per-stream royalty rate to musicians who are sellers of their high-quality music products. The rate there is still a controversial issue, which gives great scope for actions for entrepreneurs willing to create a digital marketplace. They can make a weakness into a strength.
Speaking about Apple, iPhone owners are avid shoppers in the Apple Store due to the well-thought customer-centric UX and features. Sellers get direct access to any admirer of iPhones, iPads, or any with audio and video content, books, and many more. That is an appreciation of retailing here.
Udemy is an example of a vertical online educational hub where one can reach a knowledge base with the click of a button. Being a C2C marketplace, the platform allows an expert to download video courses in a particular field for sale exciting online learning. It is quite a good way of passive income for knowledge possessors, isn't it?
Are you going to create your own marketplace like Udemy? Here is a guide on building an e-Learning website.
Read more
Property and spaces
Renting services are not yet transformed by digital technology totally. It's probably why marketplaces of property and spaces for sale and rent are coming onto the market.
Airbnb attracts travelers outmaneuvering with its cultural ideology. A short-range renting platform and hospitality service invented by two fellows Chesky and Gebbia allows offering homestays for cash rewards to owners. Number 2 in the world Travel and Tourism category rank after the B2C marketplace Booking.com, it receives over 86 mln users monthly providing around 4 million property listings worldwide.
The company has neither property nor listings and earns commissions from each booking doing it competitively. Taking up how to create an online marketplace website in the tourism niche that is so attractive for investors ($6 bln for 13 years!), you still have an opportunity to take your place there.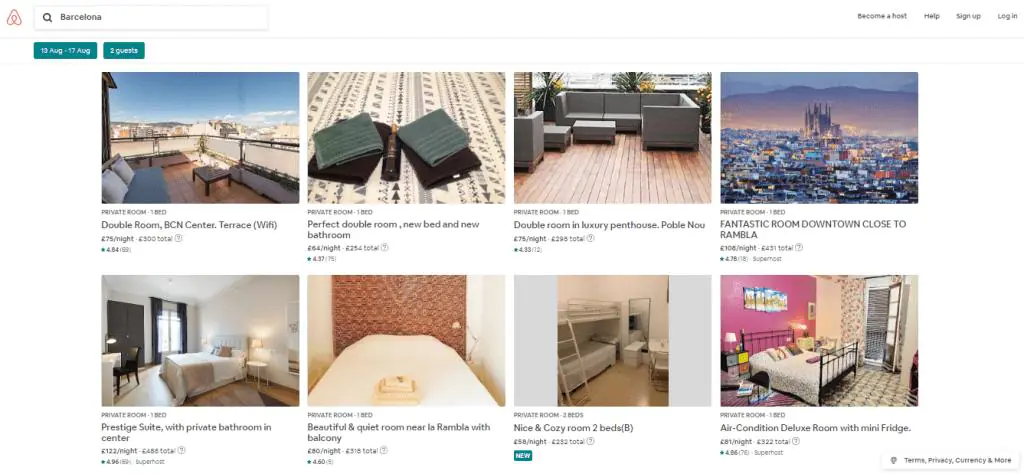 Image 3. Vertical rental services presentation by Airbnb
Also, HomeAway is worth a look when thinking of starting a marketplace business. It is the most popular vacation rental platform in the US. You could say it is a vertical marketplace meeting the needs of people providing services through one category.
The list of 2 mln rentals goes beyond beach houses, condos, villas, castles with cabins, barns, and even farmhouses highlighting area peculiarities. They bet on tenants letting them take over the search on their rules. It helps out renters to earn by asking for descriptions, photos, unique details about the property, and price only.
Build a marketplace platform for the travel sector. Facts, figures, and steps to go to are in our article
Find out
Marketplaces for space sharing can't be failed to leave out. Splacer offers creative spaces and venues in New York, San Francisco, Los Angeles, Miami, and Chicago for arranging events. Hosters put spaces for rental on Splacer with descriptions, photos, amenities, services, rules of conduct, and cost details in the profile. Websites like this contain local rentals primarily for occasions on the spot.
Services
The most popular marketplaces of services that are in the public eye are 2 sided marketplaces of lean entrepreneurship models like Fiverr and Upwork where one can order digital services like writing, translating, content editing, programming, design, animating and others. There are two sign-in options as a service provider (seller) and a service consumer (customer).
Both are horizontal B2B marketplaces; however, a two-sided marketplace Upwork advances servicing from individual experts to individuals rather than business to business as it was before Elance and oDesk merged. Platforms provide a safe space for cooperation with payment monitoring and charging service providers.
Science Exchange changed the market with a platform for ordering and managing outsourced R&D services. Both individual scientists and enterprise research institutes can order experiments online.
Once, we helped clinical trial companies experience a new approach with document management. Nothing is impossible.
Know how
DogVacay, acquired by its rival Rover, is a marketplace where any pet owner can find a pet sitter or dog walker to leave their pet for a stay during their family or business trip. California-backed startup attracted $47 mln of total investments to develop the idea of pet caring. Inspirational, isn't it? This unicorn cuts 15-20% from booking. Dog lovers across the US perceive it as a relief and are ready to pay for solving this vital problem.
Not less appealing is a C2C marketplace of carpooling with French roots BlaBlaCar. In times of the sharing economy, it had a successful launch in Europe with 70 million users in 2019 and a presence in 22 countries. It connects drivers on personal cars with passengers to share the travel cost. Both can chat on the platform and negotiate the details of the journey. Payment for a ride is made on the spot directly to the driver by cash.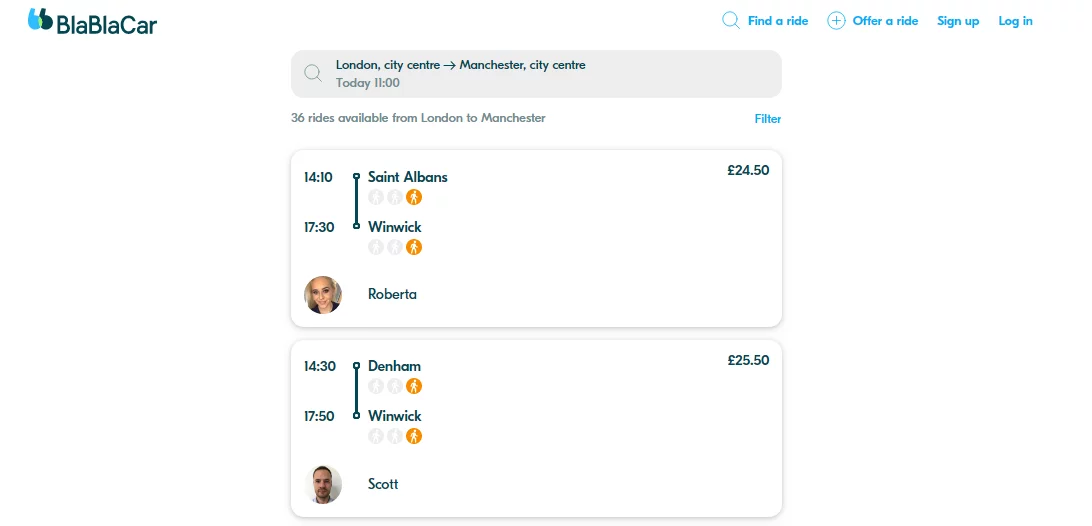 People tend to economize; thus, the ridesharing online marketplace business keeps growing. Concerning custom marketplace development cost, it will go below. We want to reveal to you all the possibilities, and you will see how to take a bite of this cake.
One more example for your inspiration. Look at Collabary and Trend.io. These marketplaces sell marketing tools and a place for advertising collaboration. To be exact, platforms introduce content creators from popular social networks (Instagram, YouTube, Facebook) and brands. This business model guarantees more viral effect than stock images without a story behind.
Almost a half of Earth's population became addicted to Facebook. Want to develop a social media network like Facebook?
Know how
Summing up, marketplaces by customers can be B2B, B2C, or C2C. Vertical or horizontal marketplaces are characterized by the sold type of products or services from single or different sources.
Create an online marketplace website that makes money
Marketplaces have to generate revenue. To do that helps features that will keep sellers and buyers on the platform. Then any monetization is possible because the deal will be closed on the platform, and the transaction will happen within the platform.
Let's see how to develop an online marketplace that earns.
Vendor-charged fee models
Creating a marketplace platform, you can choose a monetization model adopted from a competitor or create its own. Take into account the legal aspects and laws of the countries you target.
Subscription fee/membership
SaaS matters. For the last decade selling goods and services shifted towards offering them by subscription. Pros for buyers are they can pay less than buying a full product, reject it for the upcoming period, or upgrade to special access. Marketplaces benefit from the subscription fee as recurring revenue.
See, you may be interested in how to develop a SaaS platform. We made an ultimate guide.
Read more
That's exactly what powers the sharing economy on a global scale. It's a slam dunk as a monetization strategy for marketplaces of services. Sellers can split payments into small parts, which is affordable, and start trading on your platform, thereby earning a repeated subscription fee.
Sign up fee
It is a feasible and simple strategy to get payment from your sellers in the early stages of online marketplace development. Applying sellers are charged once to get access to their online store based on your platform. Later you can charge sellers with a monthly or yearly fee, up to you.
Sign up fee lets you receive some money at the start. It would help if you showed your customers exclusive rights to being early adopters of your platform, stimulating them to invest here.
Listing fee
A listing fee is a payment from the vendor per product listing on the marketplace. It can be a flat amount, price-based amount N% of the product's listing price, category-based for listing a product in a particular category, and a feature-based placing a product in the additional category.
Set up an online marketplace of one-of-a-kind products such as antiques, handmade makes, artworks, etc. with a listing fee.
Selling fee
It is a revenue strategy when you bite a fixed interest of each sale when a transaction goes from buyer to distributor. You can invoice vendors after they get direct payments from buyers every time a transaction happens or do it monthly, for example. With the payouts model, you can collect payments from buyers and distribute them among sellers retaining your selling fee.
One more convenient option is parallel payments when the fee separates at checkout automatically. That is more complicated technically but easier to track the balance.
Lead fee
It's a model for vendors to pay for seeing buyers' lists. It might come in handy for customer-centric marketplaces where customers show their request for a particular product or service and vendors fight to complete the order. The platform earns as a mediator providing the perfect place for it. Upwork and Fiverr come up with it again.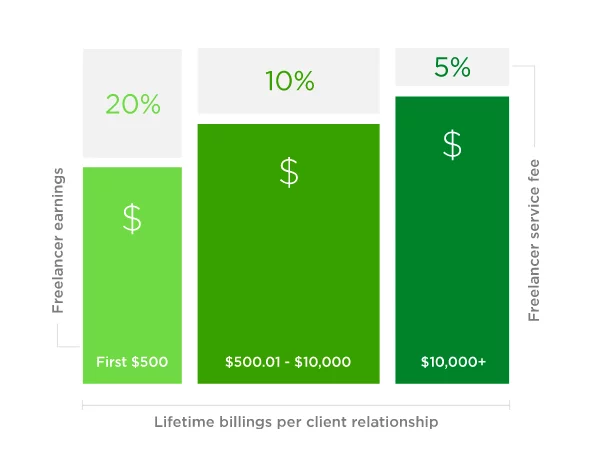 When you have already been running a marketplace for some time, you get things with regular charges stabilized; it's high time to scale up. You can upgrade your platform with new features and generate extra revenues. Here is what we mean.
Sponsored single products, pages, categories, stores
Dedicated promotions are a viable revenue strategy. By showing sponsored content, you help sellers to fuel their sales, engaging buyers to increase total spending volume. You can place promotions of the same products and featured items at checkout with prominent CTAs, show seller store profiles on the main page or category page. Promoting this kind across your marketplace, you can earn charging based on time, location, the number of showings.
It's up to you to toy with sponsored packages for your vendors. Perhaps, you'll make promo sets at different prices enabling vendors to deal with them up to their wish. As long as you offer feasible options that help earn both.
Advertising and affiliate programs
They are treated as an extra revenue stream besides the existing ones. You can offer, like Couchsurfing does, spaces on your website for rent displaying ads with relevant products or services from outside advertisers. Provide for website design and work up tariff plans to make it possible. Also, you can engage affiliate networks to collaborate with other affiliate partners.
CUSTOMER-CHARGED FEE MODELS
Bidding fees
Bidding fees work only for auction marketplaces like sliBuy. Customers pay a small flat fee to bid on the product. Also, you can add a paid premium rights to customers showing them items similar to those in a wishlist or offer new lots to them first.
Maintenance fees
The maintenance fees are quite a daring charge, but doing business is a venture in itself. So, you can include an affordable extra fee at the payment for the bid item, proving it for the costs of maintaining the website. Note, give clear explanations to buyers it won't be a surprise and improve your features to engage buyers and different sellers to your marketplace.
There can be heaps of revenue models. We know you will invent your own, keeping pace with trends in the market. Well, now the cherry on the cake: let's see how to build your own marketplace.
Referral fees
Marketplaces bring customers straight to sellers, for which they take referral fees (finder's fees) that vary between 2-15% in general. It is a deduction charge of sellers for every completed (paid off) order on the marketplace. Walmart deducts 15% as a standard and 20% for the Jewelry category; for example, Amazon keeps back from 8% (for personal computers) to 45% (for Amazon Device Accessories).
Escrow payments
Escrow payments are very popular in the US and are regulated by the government. It is a model under which customers pay for goods or services, and the amount is transferred to the third-party provider (marketplace, in this case) in escrow until the order is completed to guarantee a financial relationship. After that, the marketplace deducts its commission and transfers money to the supplier.
Freemium
Both consumers and sellers can utilize marketplace features free of charge. The platform invests in future laying ground for trust and habit of use. When both parts get hooked on the service, the marketplace can offer extra functionality for a fee or charge for upgrades. Unsplash, for example, allows accessing a subset of photos persuading to pay for access to all available stock.
How to create your own marketplace website like eBay, Etsy, Amazon
Multi-vendor marketplaces have skyrocketed since the 2000s. Being pioneers, the B2C/C2C Amazon and the P2P marketplace eBay took chances in 1995 seriously. Whether Bezos or Omidyar faced challenges? They did. Also, be sure those challenges were much more complicated than today's; at least because e-Commerce technology development was in its infancy and had limited possibilities.
The Challenges of Starting
In spite of the market experiencing a glut of online stores, e-Commerce is on an upward trajectory. Millions of entrepreneurs face challenges every day. What these challenges are and how to start your online marketplace read below.
Niche research
If the idea of building a modern marketplace is buzzing around your head, you might be on the way to niche research by yourself or engaging a business analyst. At the time Jeff Bezos got into bibliophiles, making Amazon a mediator between publishers and readers. In good time Bezos understood to be the first he should expand opportunities going into a multi-niche and multi-vendor online store.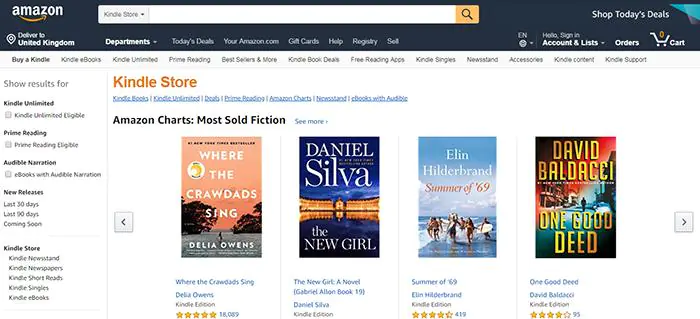 Now the situation has changed. The appearance of marketplaces covering highly specific needs of consumers in the international arena should also be recognized. Go the other way around, consider a blue ocean strategy, and create a marketplace site to impose demand.
However, if you tend to follow a general way on how to start an online marketplace, then analyze keyword searches for growing trends. The chosen niche will influence your business model and feature set to meet supply and demand profitably. However, if you tend to follow a general way on how to start an online marketplace, then analyze keyword searches for growing trends. Chosen niche will influence your business model and feature set to meet supply and demand profitably.
Target audience
Speaking about the target audience, such a category as handmade goods stayed in the shadows for a long time. There was no online platform in the USA for lots of people to start a retail business using their skills and creative approach before Etsy appeared, having held thorough market research before.
Etsy's value proposition makes it possible for crafters to sell their products to earn a living doing what they love and at the same time satisfy the ambitions of keen admirers to have one-of-kind products. Benefits for each audience is a handy tool to sell and buy. Targeting creators, the peer-to-peer marketplace Etsy thereby helped a lot of those who lost their jobs and had to earn handmading. Imagine how they feel beholden toward Etsy and even can do their small business.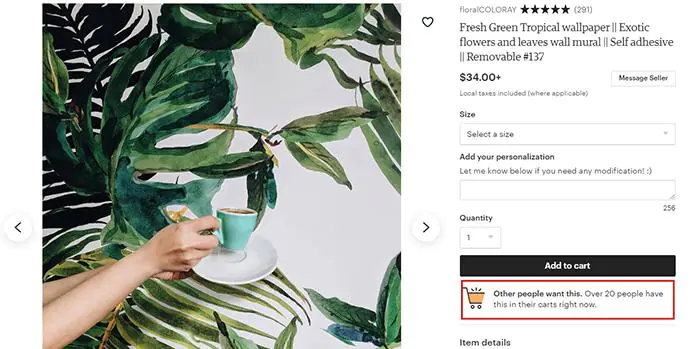 Working on the target audience of your marketplace, you should look outwards and find unrevealed fears and pain points of prospects that will help to discover an unexpected group of your buyer personas. Do not forget to rich your platform with ratings and testimonials, rewards for adherent consumers, and true vivid stories about sellers, service providers and consumers.
Business model
A powerful force of any business is a strategy of earning money. How to develop an online marketplace where any business model will be feasible? It is possible if a marketplace provides enough traction for vendors.
We have already gone over monetization ways thoroughly above. It would be best if you took up your business model while the idea of creating a marketplace website came to your mind. You can follow the old path and use commission as a revenue option for consumer-based marketplaces or change the rules and provoke unexpected charging models
Start a marketplace website by hooking both sides of users of your platform with free services. Then introduce a fee for one of the sides, alternatively, for both like Airbnb. Continuing to improve the services of the platform to a higher level, you will discover new opportunities to earn.
Living proof of step-by-step confident business development is BlaBlaCar. Engaging 5 mln users in Ukraine, the company hasn't yet come up with revenue models. Such things have happened. Nevertheless, that didn't stop them from rising investments round by round.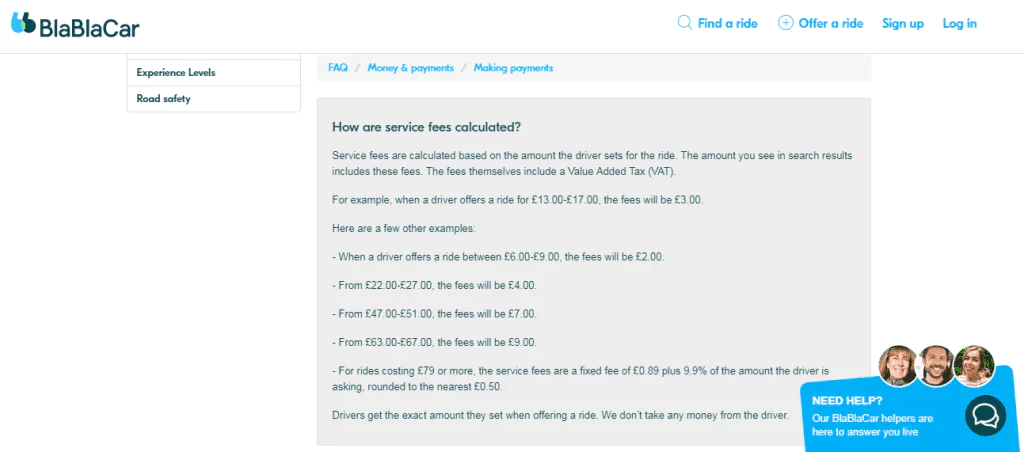 It has been testing ways of monetization slaving to each country of presence. In most countries where BlaBlaCar is operating for a long term, it takes a 12% fee deducted from the ride cost. That is happening due to the transaction within the platform whose importance we emphasized above.
Marketing
The main problem here is that buyers won't use your marketplace without sellers, and sellers won't sell without buyers. Suppliers and customers should come to the platform simultaneously. How to do that?
You should be ready to spend some money. In 2019 Q2 eBay sales and marketing expenses count $817 mln with a breaking peak of $945 mln in 2018 Q4. Don't fail; these figures are of large scale platforms. Starting, you will need much less.

Definitely, eBay spends a lot to attract customers via online and offline marketing. Sellers go where buyers go. You should grow your loyal customer base long before you launch a site like Amazon inviting bloggers, for example, to become your platform's brand ambassadors, or try a user-generated content strategy. There is no shame in offering to join your marketplace for a contractor placed on your competitors.
However, the first right step towards getting a considerable consumer base building a marketplace platform was to allow opening an account and start a business out of nowhere for anyone; and it costs nothing comparatively. A marketing ruse was that both sides could be sellers and buyers.
eBay always was a leader in targeted shopping. A model when a shopper comes to the online store looking for some particular thing allows benefiting from it with content marketing. A rarity entails exciting news stories which you can use to satisfy buyers' curiosity.
One more hint. You can sync prices with other platforms to control pricing and to show your consumers the full picture.
Buyers, in their turn, want to go shopping in a safe place. That is what Amazon secured for its users by the 2000s. Taking care of buyers is also a big deal. Today you have more options with technologies like fast and secure transactions than Omidyar in the 90s.
After all, we advise you to engage marketers in the marketplace portal development process who understand the target audience of the successful online marketplace.
Designing process
Planning bones of your platform you should keep in mind a real problem your marketplace solves that will earn money for you. The right choice of software technology for development from scratch, framework, or turnkey SaaS e-Commerce platform defines whether your virtual mall will not fail during Black Friday-esque sale day. You've got every right to start with
Have a simplified model of your marketplace idea or a paper sketch?
We can consult. No problems.
CONTACT US
Choosing the suitable programming language and software technology
From scratch on JS frameworks
Developers are excited to use Node.js for high performance, easy code, and API creation. It can't be too hard to engage them in building an online marketplace from scratch.
The asynchronous nature of Node.js allows sustaining high loads in the peak modes of highly scalable web applications. And its lightweight and simplicity of API creation make it better to any significant extent.
Perhaps, some will say Java or Scala rule due to JVM, reliable, and enterprise-proven, others will argue on PHP, said, Facebook and YouTube are running pretty well being highly loaded.
For any real-time web app, an event-driven non-blocking input/output model of Node.js is what you need for prime sales days. That's it.
JS frameworks suit perfectly for mobile-first marketplaces like Facebook Marketplace (React Native), Uber (React Native + Express.js), or mobile apps of retailing giants like WalMart. It allows avoiding double development time for both popular mobile platforms, iOS, and Android and implements the native code easier.
Native vs Hybrid — a detailed overview of mobile development approaches from Aimprosoft's experts.
READ MORE
Black Friday, Cyber Monday, Amazon Prime Day and other one-day sales are often overloaded for retailers' servers. To deal with that, WalMart, for example, distributed shopping traffic between web and mobile, putting all their mobile-based purchases through a backend developed on Node.js. It saved their servers from being down and saved the proceeds. Nice move, isn't it?
AWS, Google cloud, Heroku, and Digitalocean are cloud platforms covering different tech purposes that prove useful for eCommerce platforms development.
If you tend to affordable m-commerce, the tech pull has React Native, Cordova, Flutter, Nativescript, and Ionic solutions for Hybrid mobile development on multiple operating systems.
SaaS e-Commerce platforms
Building a marketplace as a SaaS multi-vendor platform is quite another matter.
They captivate sellers with quick and simple onboarding. It's kind of a ready-to-use MVP with a basic feature set and the least amount of effort on your part to start your business. Expanded features to scale up are offered at an extra fee in different packages. Salesforce Commerce Cloud (Demandware), Oracle Commerce Cloud, SAP Commerce Cloud (Hybris) are proven B2B platforms found in favor most to create an e-Commerce marketplace.
However, in the last few years, a range of new platforms emerged in the market created to tailor new demands. With the rapid development of the sharing economy, peer-to-peer platforms like Sharetribe and Cocorico have become very popular for non-developers.
Overview of platform-based marketplaces
Marketplacer
Marketplacer, a pretty new player, is listed on Crunchbase with $21 mln investments. It appeals to prospects with the slogan 'Think beyond eCommerce' powering over 50 marketplaces around the world.
It seems the creators worked out everything. Here you have Seller Management with onboarding, CRM, and reporting. Advert Management includes a promo option not only for expected products, services, listings or categories but also for holidays and events.
Order management and Returns allow creating an e-Commerce marketplace site that is trusted by buyers. Logistics tools support a variety of basic and complex shipping options.
With Marketing toolbox and Reporting owners of marketplaces have unlimited opportunities for engaging and keeping clients for their sellers. Automated charging is available with the most popular ways like PayPal, Credit card, direct debit, or prepaid. Moreover, such a usual thing like APIs is offered for custom integrations.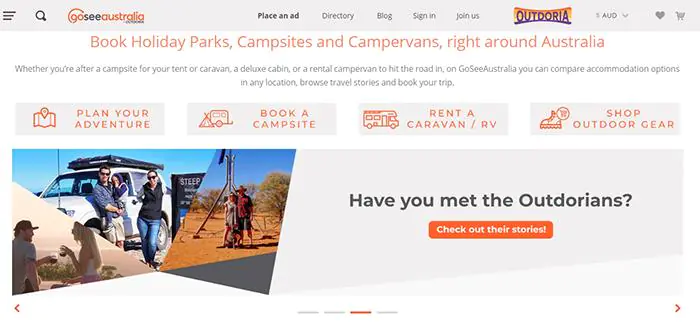 In short, Marketplacer is a universal e-Commerce platform both for a retailing (BikeExchange) and booking (CamperMate) website.
Near Me
Near Me, a P2P software platform is designed for marketplaces operating in the sharing economy. It is aimed to help enterprise brands to reach a crowd with related management tools. Developers of the platform bet on the community facet. The platform doesn't promise over 25 000 users, but for $2000 per month marketplace owners will get a franchising option, a free SSL certificate for the domain, multi-language, and priority support.
Near Me has powerful built-in SEO support. That is one of their best assets for a marketplace store. The interface is available in several languages. Be ready to integrate third-parties of shipment providers additionally because the platform has already had only payment gateways Stripe, Balanced, and PayPal.
Backed on the Silicon Valley investment fields, Near Me offers tools for emerging brands knowing at first hand about their needs. The system is believed to handle huge B2C and C2C traffic with custom integrations promised by enterprise service partners of the software company.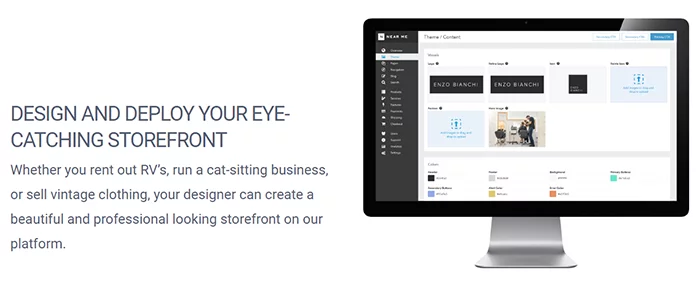 SAP Commerce Cloud
It is an excellent SaaS platform to build a marketplace to earn on a sharing economy concept.
SAP Commerce Cloud (former SAP Hybris) fascinates with its B2B2C possibilities. This multivendor e-Commerce software can please any skeptic with the omnichannel approach. SAP Commerce Cloud is designed to make retailing and wholesaling happen across all exploded customer touchpoints.
This e-Commerce software with a user-focused, not device or channel, approach to analytics is perfect for buyer-centric B2C or B2B marketplaces. It attaches great importance to Search and Navigation as a means of higher conversion and larger order volumes. A subscription module enables one to manage subscription attributes like pricing, terms, and conditions, etc. of subscription-based marketplaces.
SAP Hybris is a leader in B2C commerce. What makes us say that?
Find out
A kind of a heart of this marketplace platform is a Payment module that can coordinate the flow of transactions between a large number of vendors, consumers, and banks. On top of that, this platform supports sales management of physical and digital goods with Bundling. Sellers of digital products will especially enjoy in-app purchases and up-selling possibilities if they decide to create an e-Commerce marketplace.
A Rule Engine module is used for bundle rules, order management, warehouse and sourcing rules, and others. It allows managing business objects under rules. For example, sellers can create and manage dynamic and personalized promotions in the marketplace portal and keep track of results across the customer journey with the Promotion engine.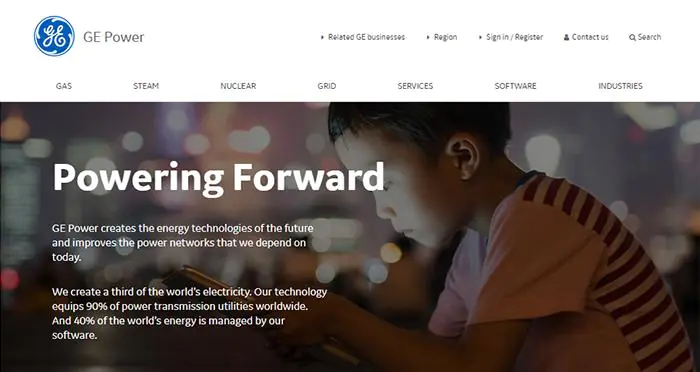 Summing up, SAP Commerce Cloud is designed to run both B2B and B2C online marketplaces providing even Commerce infrastructure services as a part of core commerce functionality responsible for seamless connection of third-party services.
Every eCommerce system has its peculiarities. We overviewed three of the most popular.
Compare
Of course, such platforms like Shopify can be used as a basis with Multivendor Marketplace for free during the 15-day trial and White Labeled option in PRO package. A Magento e-Commerce vendor offers extensions to upgrade your general online store up to the marketplace. The platform itself is not intended for building a multi-vendor virtual mall based on its basic functionality but strives to get a piece of the market share segment.
MUST-HAVE FEATURES FOR A MINIMUM VIABLE PRODUCT FROM SCRATCH
Now you have to start with something. The best way to test the market within your target audience is by launching a product with an essential scope of features. An MVP (minimum viable product) of a marketplace shows a vision of the product and allows trying to run it for visioners.
Ready-to-use marketplace software platforms already have basic functionality in their lite plans. In case you decide to run a custom-tailored marketplace, you'll need to have all the features developed from scratch.
There are the following features in terms of Seller-Platform-Buyer concept that are necessary to start and do a product validation:
| Sellers | Platform | Buyers |
| --- | --- | --- |
| Onboarding | Marketplace management tools | Product search |
| Seller's profile | Responsive design | Buyer's profile |
| Product management | Reporting and analytics | Searching and ordering history |
| Order processing | Payment and delivery | Checkout |
| Sales boosting tools | Communication tools | Ratings and reviews |
Homepage
The first interaction of all users with your marketplace starts from the homepage on-default that may be a landing page receiving leads. A user-friendly get-going is characterized by straightforward navigation, proper product filters, and relevant product suggestions.
Onboarding
Do onboarding like Etsy offers. Clicking on the call-to-action button a seller can sign and set up shop preferences, name a shop, add listings, know how you'll get paid, and set up billing. These are five simple steps that can be passed in less than an hour to start your own marketplace.
Seller's profile
A seller's profile should be as full as possible to make sure buyers that a shop is credible including company name, phone numbers, registration address, tax information, etc. For the buyer's profile, it is enough to request a name, password, email, shipping address and desirably easy-to-check wishlist. Typically, you need to provide payment and/or payout options as well as scans of documents.
Checkout
Making your checkout, consider the location of the initial marketplace launch. PayPal or Stripe won't work in areas where cash on delivery is preferable.
Ratings and reviews
With Airbnb in the market, ratings and reviews cease to be something extra. People's opinions are a common thing for any e-Commerce platform. That's why you should allow buyers to assess interaction with sellers when launching a marketplace MVP. By adding an IP address check, you can ensure reviews authenticity, which enhances the credibility and popularity of your ecommerce website.
Search and filtering
People should browse products with a simple, intuitive search and filtering to have a positive experience towards completing a purchase. Link consumer searches with the most relevant products like Amazon did with its A9 algorithm to enable sellers to get revenue from one click.
Responsive design
The responsive design will allow buyers to make purchases on the go at the early start of your business and put off to launch your marketplace app development for mobile devices.
Sales boosting tools
Sales boosting tools are about promotion for products, discount programs, and marketing activities to drive sales. Which tools to implement depends on the type of your marketplace. To start for a multi-vendor marketplace like Amazon in its modest version listing promotion will be quite enough.
Searching history
Searching history helps buyers to go to the desired product faster while repeatedly visiting, and sellers are able to set popular goods to regulate the order of item showings based on a customer's behavior. Order history helps buyers keep track of the order processing status and current and past orders.
Order processing
Make a marketplace website with order processing. Sellers do not need to miss new orders and arrange labels for dispatched, canceling orders, and what's even more important — order return/refund.
Product management
Your sellers need simple product management with easy-to-fill product listing forms, including text and media content fields, warranty fields, the ability to create product variations and organize non-active items. Make a marketplace website with autocomplete forms and error corrections to streamline filling details by sellers.
Management tools
Marketplace management tools with Reporting and Analytics modules will be useful both for the seller and admin dashboard to keep the pace of online sales and revenue numbers. Provide your website administrator with a multifunctional dashboard to configure and manage a lot of actions. Pay attention to getting your marketplace integrated with ERP to automate a routine with product feed import/export and a product status update.
Payment methods
Take care of yourself as the owner of the marketplace with payment methods to charge a transaction fee as your earnings. Also, building an online marketplace, provide your sellers with direct money fuel, and buyers with comfortable payment options, be it a credit card or online payment system like PayPal, Payoneer, Skrill, a no-sign-up payment.
Delivery methods
Offering delivery methods, take into account a location and consumer preferences to set up a shipping strategy. Launching a marketplace, you can provide delivery with Shipment providers on buyers as usual everybody does it. Then offer special terms on delivery with insurance, for example. Pay your attention to a Fulfillment by Amazon (FBA) option, when an e-marketplace can commit to shipping the goods of the seller.
Communication tools
Communication tools are of utter importance in cases of resolving order issues with buyers, supporting buyers during their shopping journey. That can be live chats, various communication forms on touchpoints, feedback section or review field, etc. it's better to have something integrated than developed from scratch.
We advise you to lean on these features for your MVP. However, you can add any other ones to fly up if the specificity of your marketplace requires it.
OTHER FEATURES TO MAKE YOUR CUSTOM MARKETPLACE SUCCESSFUL
After having passed the early stages, your marketplace will be a stable and growing business unit. It will come the time to scale with new advanced features that attract more users from both providers and consumers.
Product images and videos
If you find a marketplace like Amazon the right example to follow, pay great attention to a high-quality goods overview. Set up optimization standards for a product image format (JPEG, PNG, GIF, TIFF), add a photo slider to display multiple images, enable product videos to show products from all angles. Visual content is a proven lead generation technique your vendors will definitely appreciate for their impact on sales.
Payment reconciliation
A multi vendor marketplace should allow sellers cross-checking of bank records and payment records so that they match. This streamlines finance monitoring, which is attractive for doing business on your platform.
Notifications
Switched-up alerts help sellers keep control over orders, payments, shipments, refunds, reports, and the rest of critical metrics. Making settings configurable allows fitting preferences of being notified in time about valuable insights.
One-click ordering
One of the most lovely buyers' options is a "1-click" button, an express purchase with a single click. By adding this one-button buying capability, marketplaces show their intensive customer care and user-friendliness. Familiar Buy Now works provided that billing, shipping, and payment details are filled in the user account.
Customizations
For individual sellers on marketplaces like Etsy and eBay, it is vital to stand out from the heap of stores with a personal colorful storefront and logo. Add an option for sellers to tailor a store on their own.
Third-party integrations
Integrations with third parties as shipping and payment providers will help to automate manual efforts of your sellers. Automation, by the way, can be the next step of scaling your marketplace regarding any manual effort.
Mobile presence
Mobile apps are a quite expensive pleasure but can lift you to the next level of entrepreneurship. First, you can make a mobile app for buyers because they pay money through your marketplace. Then appreciate sellers with convenient management tools in their smartphone.
Get a clear picture of creating a mobile eCommerce app with costs, tech stack, and market strategy.
Explore
Vendor performance rewards
Vendor performance rewards could serve as an additional incentive for sellers, mostly for multi-vendor marketplaces, to grow their business. Labeling attracts extra consumers to flow to the store.
Social login
The social login is a type of quick authorization. Logging in with a single sign-on, end-users will willingly use the platform. It's well-known that everybody is permanently logged in to at least one social network.
Product comparison
The product comparison is quite a common thing for spoiled buyers. So make an online marketplace giving this opportunity to shoppers, and you will benefit from it.
Wishlists
A wishlist will be a reminder for buyers of what they want to buy. It works well, especially in the sales period, when avid shoppers try to buy up desired products for a great deal.
Deal of the day
A 'deal of the day' feature works perfectly both on daily deals websites like Groupon and B2B2C giant Amazon. Offering an option of deals updates every 24 hours only, you can generate consumer traffic to up sales and earn your commission as a result.
Social network sharing
Social network sharing is necessary for buyers to share with friends or relatives a product they want to buy quickly through popular messengers and thereby to increase brand awareness of the store.
Sophisticated analytics and reporting
Sophisticated analytics and reportingwith third-party providers can meet large-scale stores' needs. Aiming at enterprise-level, you should set it in your strategic growth plan.
Bulk migration
Bulk migration of listings from accounts of Amazon, eBay, or Rakuten global markets will allow large stores to onboard on your marketplace and transact in your favor.
We highlighted the most desirable features. Sure, there are a lot of those you can think of and bring them to life to encourage sellers and consumers. Now let's see who's behind this.
THE TEAM YOU NEED TO HIRE
Marketplace development requires professionals with field expertise to create it from scratch or with a background in ready-made platform-based e-Commerce development. Whom do you need (profile specialists or full-stack) and how many deft people should be engaged in your project?
Let's see, if we are talking about MVP development, a dedicated outsourced team of 5 key people will help you launch a software part of your business.
UI/UX designer is here so that you will avoid messing up. At the time of eBay's rise, user experience and user interface design weren't a big thing to be a competitive advantage. However, now, if you offer poor and hasty designs of your website, your business can fail actually at the beginning. They aim to design an online marketplace to address users' needs.
Backend developer works on the core side of your marketplace, developing logic and business processes. We can't leave this team member out.
Frontend developer makes your website look pleasant for users based on the backend processes.
QA Engineer tests your marketplace on passing a user flow. Sure, you can experiment with your early adopters at the MVP stage, but QA can try the system with quality assurance techniques and leaving the ideas validation to users. In the case of inconsistency, programmers will do bug fixing.
Project manager is a person responsible for team and tasks management. It happens business owners do it on their own, but you should know that it is quite a time assuming the task. So, delegating is a better way.
All team members can be multiplied depending on the project scope. Backend developers can be doubled as well as frontend developers. DevOps can join the team to oversee the system operation while setting up an online marketplace.
Usually, software development companies like Aimprosoft set up a team with all members on its side to facilitate the process for a client or extend the client's in-house team. How much it costs to hire developers and build a marketplace read below.
Managing remote teams can't be harder than biting an apple.
Know how
How much does it cost to build a marketplace website from scratch
As a rule, it takes a couple of days for a senior specialist to estimate roughly the budget to build a custom marketplace with suggestions on tools and technologies. But business speaks figures. Therefore, we made a rough min-max estimate of a general platform-based marketplace for a quick start, excluding architecture design.
| Stages | Min hours based on the platform | Max hours based on the platform |
| --- | --- | --- |
| Frontend development | 200 | 300 |
| Backend development | 300 | 500 |
| From ERP and/or external source | 32 | 160 |
| AWS Setup | 8 | 24 |
| Collaboration loss | 155 | 240 |
| Quality Assurance | 190 | 290 |
| Project management | 95 | 150 |
| Total | 980 | 1664 |
Frontend development includes:
project setup and login;
registration;
homepage;
listing page;
product page;
shopping cart page;
thanks page.
Backend development includes:
project setup;
pricing algorithm implementation;
products ETL common setup;
shipping provider integration;
e-Commerce platform (e.g. Hybris, CommerceTools, Shopify Plus etc.) integration.
Development testing and deployment requires ~30% of the main development in both stages. ~15% of development time goes to project management. The team collaboration implies to allow for ~25% of total development time having working discussions, inactivity timeout from both sides, delays in getting feedback or call to action, etc.
This approximate evaluation describes a cost-effective ecommerce marketplace website development based on an online platform like Shopify Plus. In the case of the nonstandard web system, be ready to see higher figures. An online marketplace from scratch will cost you 2000 hours more and money depending on the software provider region.
| Country | Average hourly rate | Min ~ hours | Max ~ hours |
| --- | --- | --- | --- |
| USA | $80 | $78 400 | $133 120 |
| Western Europe (Germany) | €60 | €58 800 | €99 840 |
| UK | £55 | £53 900 | £91 520 |
| Eastern Europe (Ukraine) | $40 | $39 200 | $66 560 |
Would you like to get a rough estimate of a full-featured marketplace development?
Let's sign an NDA and kick things off.
CONTACT US
Post-development actions
Your marketplace is running. The marketing campaign works for engaging users. Everything is going ok. The next stage refers to a post-development production that your development agency is in charge of as usual.
UPDATES
Any software needs to be updated for correct running. Developers who create a marketplace website can handle it the best way in time. The quantity of hours is considered separately from the total development time as usual.
SUPPORT
You will want to create a marketplace platform to run it in normal mode 24/7. Regular backups and system monitoring are usually outsourced at the early stages to the development provider. It is an affordable way to solve issues that keep businesses running. Support hour rates don't differ from development rates in the normal way.
HOSTING SPENDINGS
To run your website, you will need to host it. Amazon Cloud Services made a good showing there. Our clients prefer this hosting provider for reliability and a reasonable price. To estimate expected monthly costs you can with Simple Monthly Calculator. Note, SaaS e-Commerce platforms include hosting costs at least partly.
DEVELOPMENT ASSISTANCE
Launching an MVP, you have a list of features left for later. We discuss with the client the plan of building up. We send clients an agreed monthly quota with man hours needed to deliver upgrades based on the change request paper.
Amazon sellers aren't going to be content with only one platform as figures show below. They consider other online marketplaces for their merchandise expansion these days.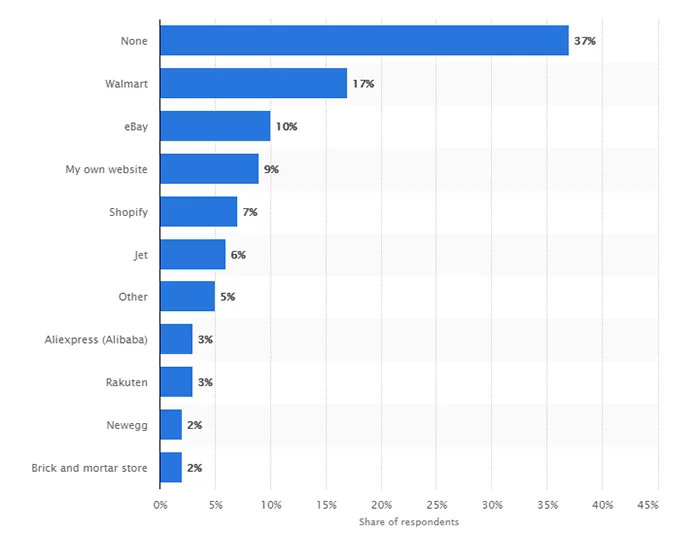 That's one more reason why multi-vendor marketplaces are on-demand among sellers attracting consumers with their price offering. Below, we are going to show you stages in the process of how to build an online marketplace website with Aimprosoft.
Develop a Marketplace Platform with Aimprosoft
BUSINESS ANALYSIS
When you come to us with a question about how to build a marketplace website, we will start with a business analysis clarifying a business model and features able to implement it. Both sides should understand processes to design website logic. We find out business and project goals during the pre-estimation discussion. The first helps set up a development process to meet business requirements. The second is necessary to measure success. The initial details of the project will be the entry point to the estimation to create your own online marketplace.
ROUGH ESTIMATION
Proceeding from the goals and desired functionality we prepare a rough estimation to have greater clarity of money and time investment to get a marketplace done.
STATEMENT OF WORK
We both need a Statement of Work to start a marketplace. It is a documented findings resulting from a business domain research and ground discussion with a client and stakeholders to outline the project completion points. The SoW is a common practice in software development being a part of project documentation for a clear roadmap.
DETAILED ESTIMATION
A detailed estimation follows next with a demo feature set (Proof of Concept) to validate the idea in building a marketplace website. The testing stage shows if the project is feasible to go to market. The entire list of the technology stack and all as to the technical part of the project is given in a technical functional specification with website UI mockups. Note, the testing stage can be skipped up on a client's wish.
DEVELOPMENT
Marketplace development stage goes under the rules of the chosen methodology. After the development environment is set up by our DevOps we proceed to the development of the first stage of MVP in the case of the marketplace from scratch. The quality check of intermediate releases follows the next meeting acceptance criteria.
MAINTENANCE AND SUPPORT
Maintenance and support complete ecommerce marketplace development process to provide a normal mode operation for your system 24/7. We make regular backups, implement automated deployment tools, and notify a client about emerging issues. Timely maintenance measures save your web system from failing and your business from downtime. It is appropriate here to document advanced updates in a change request paper. A little proactivity may be in order.
Conclusion
To stay in a prosperous business, you have to be inventive and strive in the conditions of intense competition among selling platforms. Don't worry about being anything but. There is always something left behind worth mentioning.Storage Market took the chance and allowed millions of people to rent out extra space to neighbors. No matter whom you are going to connect babysitters and employees or parents and co-founders. If you are thinking about making money on transactions through the web platform for a long time, contact us to have a talk about how to create a multi-vendor marketplace.
FAQ
Can I start with an MVP of the marketplace?

Yes, you can. A small-scale website with minimum functionality is a good option to try your ideas. There is an opportunity to launch a SPA (single-page application) or MVP with the main feature set. To start, you can use website templates (rent a cloud-based solution for a subscription fee) or order a turnkey-solution from a software development company if you are more ambitious.
How can I start a marketplace startup?

Definitely, you should choose an affordable technology for you to try. If you fail in marketplace web development, you won't lose much. As you're going to acquire two different types of users (buyers and sellers), attract buyers first during pre-launch. The ratio of marketing, business analysis, and technology realization efforts is 70/20/10% at the beginning.
Main reasons why marketplace startups fail

The typical fail-related issues are lack of funding, limited data of target audience, incorrect market evaluation, over-attention to minor achievements and little attention to planning (strategy, finance, marketing), wrong cost estimates without regard to the reasons of force majeure, choosing non-professionals for the core startup team.
What to choose: B2B or B2C marketplace to launch?

If you plan to make a multi-vendor marketplace platform for rental, you can start with a B2C model and then scale with functionality for B2B selling as Amazon did. However, favoring separate models, take into account that B2B marketplaces are served for distribution products by large scale enterprises under terms of agreements they signed. More traditional marketplaces and almost daily used by ordinary people are B2C, where sellers sell products directly to the consumers.
Which software to choose to code a marketplace website?

You can create a marketplace platform from scratch using any technology you want or rent a cloud-based CMS when you subscribe for a fee (cloud or on-premise). Ready-made solutions for marketplaces are SAP Commerce Cloud, Salesforce Commerce Cloud, Magento Commerce, Shopify, BigCommerce, etc.