How to Create a Travel and Tourism Website in 2023
Key takeaways
Traveling appeals to everybody. Know how to establish a travel business based on the experience of the seasoned.
Learn more about tourism website types, feature sets, and business models.
Find a 10-step guide on how to create a travel website in 2023 and the role of a software provider there.
Explore the pros and cons of online business in travel and tourism to be prepared for unexpectedness.
And sure, you may be definitely interested in calculating the cost of developing a travel website.
Ray Bradbury once said that we travel for romance, we travel for architecture, and we travel to be lost. Whatever the reason you pack your bags and set on a new journey, the rule remains the same: always prepare for the next trip.
In the world recovering from COVID-19, companies related to travel & leisure tend to invest more money in travel website development, knowing that people prefer booking tours, hotels, and activities via the Internet. In spite of the online travel agent market has dropped by 20% in 2020, it is expected to capture a growth of up to $820bln yet in 2023.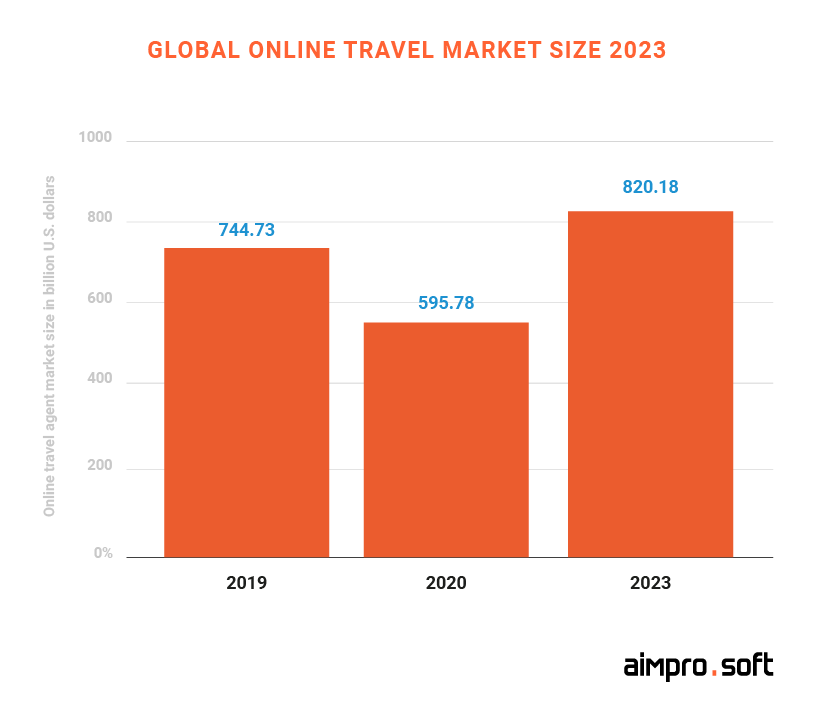 Among world online agencies, Expedia and Booking Holding dominate in the travel agency business. Popular Orbitz, HomeAway, Trivago, and CheapTickets belong to Expedia Group. In 2017 the last with its subsidiaries generated $10.06 billion in global revenue. Booking Holdings, which owns Kayak, Momondo, Cheapflights, OpenTable, suppressed its rival that year with global revenue of $12.68 billion.
This business is very versatile with tourism niches that can bring a stunning user experience for even the most sophisticated travelers. There is medical travel for people who need to improve their health. Town tourism and reunion family trips are trending in circumstances of closed borders. The energetic and active, who can't imagine their life without sport, didn't give up on the rejected movement addressing travel agents for new sports tourism opportunities in their country.
Today continually changing needs provoke to appear even in the most exotic niches like travel for people with special needs or with pets services.
Keep reading to learn our insights into travel website development, the proven business models by the cases of the most significant players in the market, an MVP, and its business value in travel website development. Finally, you will know how much it costs to create a lucrative business.
What is a travel website?
Imagine you can build a travel website as a gateway to endless adventures for people from all over the world. A travel site is an online platform that helps entrepreneurs create a space for travel seekers and can work as an additional or primary earning channel.
A travel site can be a treasure trove of helpful information and resources. It can be a digital repository of destinations, hotels, flights, itineraries, and invaluable travel tips, carefully organized to make travel planning easy.
Types of travel websites
The number of employees in the global travel agency sector reached 1,2 mln in the 2020 pandemic year. The travel industry was forced to adapt and saw new horizons in the circumstances. Today on the agenda for many entrepreneurs is a question about how to start an online travel website, making it a web sales channel to get a piece of the industry pie.
In a broad sense, a travel website is dedicated to booking offerings, and trip fare comparison, and contains cognitive and entertaining content for people as articles, guides, visuals, and virtual tours.
You may wonder, where to start your online travel agency website development, how to find a unique market niche, and what features to use to reach the level. First things first, let's discuss the most popular types of travel websites.
Today's online travel market has various solutions aimed to help tourists on each step of their journey, starting from the search for a place to stay to booking an exotic sightseeing tour with a travel planner to organize your activities. Depending on the needs of people preparing for a journey or on arrival, each travel website is dedicated to its specific mission.
Transfer
The journey begins when a human has chosen a destination and searches for the most convenient way to get there.
Transport search engines are resources where every traveler can compare options of several routes depending on the mode of transport, fares, connection flights, or intermodal connections.
Ex-Microsoft software engineers Bernhard Tschirner and Dr. Michael Cameron launched rome2rio.com in 2011 to make up for the absence of a fast and easy multi-modal travel search engine with global coverage, and they were right. Vast long-distance and local journey planning possibilities make a local tourism website popular far beyond home Australia.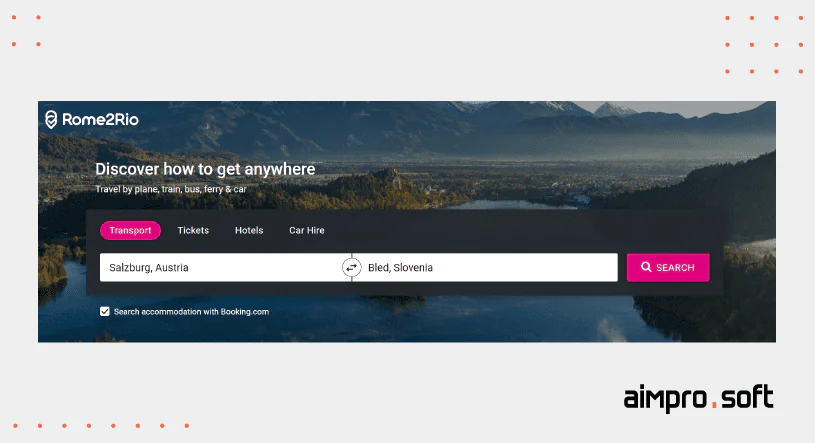 The highest value of flight search engines like Skyscanner, ClearTrip and Momondo is their comprehensive fare comparison by date, time, price, and class from thousands of airlines worldwide. Since air travel remains the most in-demand type of traveling, consider about to make a tourism website related to the air transport search.
Accommodation
Online travel providers understand tourists' need to find a good hotel. They bring together travelers and hotels through hotel booking websites. Such services allow choosing accommodation for any taste starting from cheap and modest hotel rooms to the most luxurious apartments, and getting the best hotel booking deal possible.
Booking.com was launched in Amsterdam in far 1996 and was taken over by Booking Holdings in 2005 is an excellent example to be followed when considering how to make a travel booking website. It is a world leader in the market with over 29 mln listings worldwide with 94% of total Booking Holdings' turnover. The customers value its affordable pricing, exclusive offers, broad geographical coverage, and the support of safe staying for a family vacation.
A good way to stand out from the competitors and win the market share is to innovate a new approach to hotel booking, which Brian Chesky and Nathan Blecharczyk did in 2013. Airbnb disrupted the industry turning hospitality into a new way with sharing economy at its core.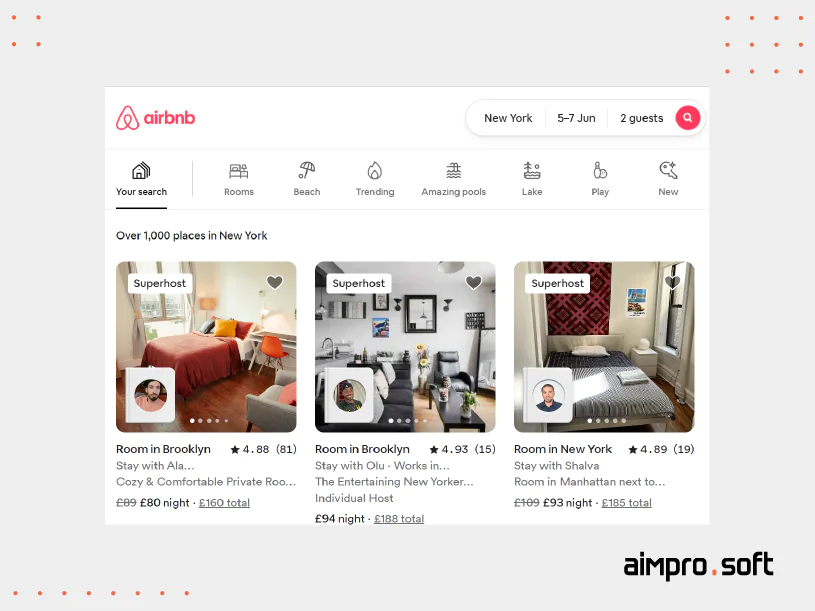 Couchsurfing, in its turn, enables people to kill two birds with one stone. With home exchange websites, they can save on hotels by choosing a homestay and get a unique experience diving into locals' cultural life. As you can see, everybody can build a travel booking website and find their way to do business.
Food
Aspiring to compete for a place in the sun, it is worth looking for some other niches rather than certainly striving to develop a website for a travel agency.
Food is the stuff everybody absolutely needs. Restaurant booking websites work for travelers and public catering providers as an online network connecting reservation-taking restaurants and people who want to dine there. Tourists can make a reservation in advance even if they are on the other side of the world. What is more, with the onset of the lockdown, dishes fancied by the locals are available for delivery at a good discount.
OpenTable surely can be called a monopolist among online restaurant reservation services. Its owners see its mission in enabling people to find and book for free the perfect table for every occasion. Launched in San Francisco way back in 1998, the service was available in the United States only, however, for the last 20 years, it has extended its geography to Europe, Latin America, and Australia. OpenTable earns for a seat booked via it and software reservation tools.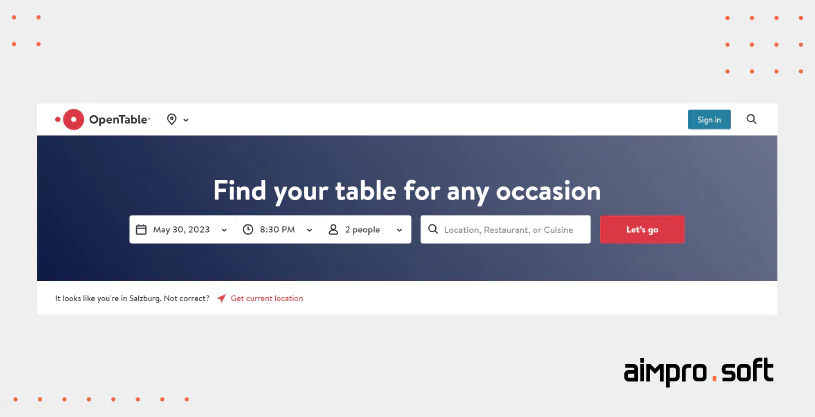 Aggregators
Searching for flights, hotels, cruises, and package holidays on separate websites take too much time. With travel metasearch engines, travelers can see and compare all possible options in one place. Such engines gather information from hundreds of other websites and show travelers the best offering of plane tickets, hotels, car renting services, and activities.
One of the most popular travel metasearch engines is Kayak. It was founded in 2004 in the United States and acquired by Booking Holding in 2013, making money on the companies that travelers find on it. An information-only business model enriches a company with distribution and advertising revenue. It compares hundreds of airlines and travel websites in one single search remaining free for travelers and charging a cost-per-click fee for every lead to OTAs. Its business model highly appeals to entrepreneurs who want to create tours and travels website with an aggregation focus.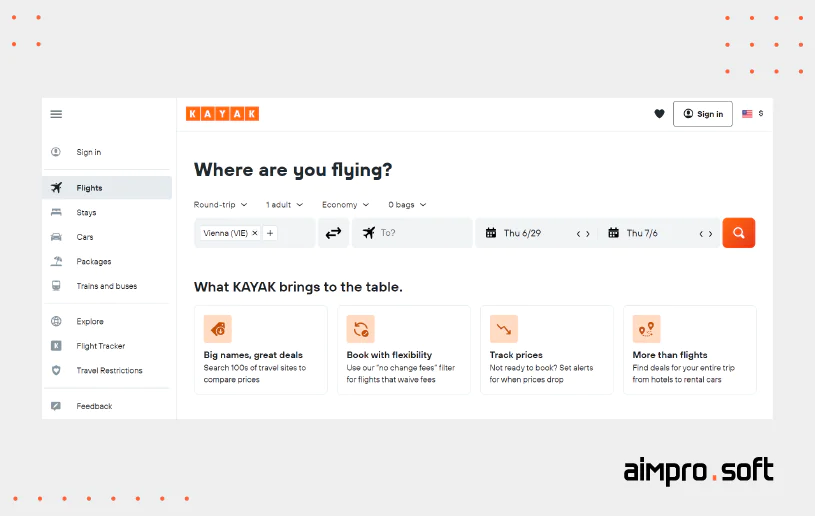 Entertainment
Trips to historical landmarks attract those who want to raise their cultural awareness by getting the best price, skipping the line, and getting a spot on the tour. Tours and activities websites help time-bound tourists find specific excursions or day trips and relieve them from being exhausted while looking over the search amount. Travelers find value in a great variety of options, from traditional sightseeing tours to unique VIP experiences, and entrepreneurs are inspired by their success in making a tour and travel website in the niche.
Viator is the most well-known tour website in this category. A global online marketplace that provides thousands of curated tours and activities available for booking was launched in 1995 in San Francisco with a further acquisition by TripAdvisor in 2014. Now it is the largest ready-made global retailer of local tours and activities.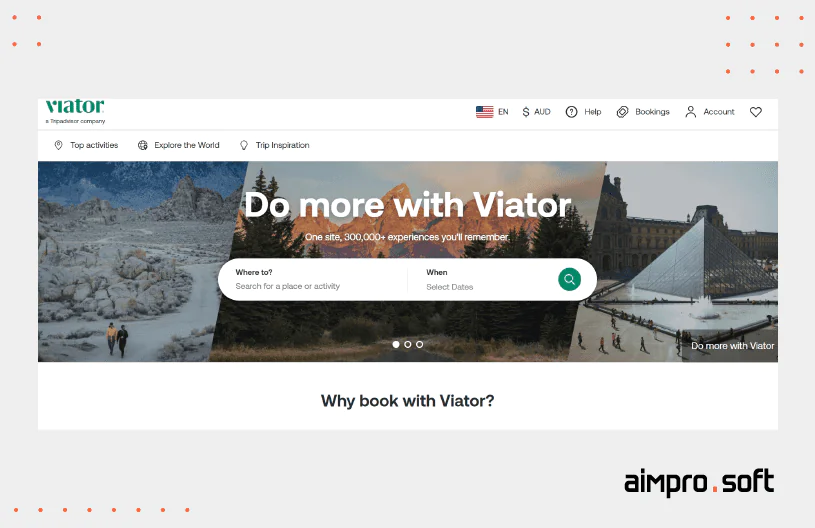 The basic feature set to succeed with your travel business
We at Aimprosoft are aimed to help businesses be top tomorrow as well as today. Below is a shortlisted basic feature set we recommend including in your development plan when planning how to make a travel website. Let's see how to succeed with your travel website development now and later.
Easy search filters
Travel decision-making strongly depends on search. The more filtering options are available on your website, the easier it gets for a searcher to find a desirable option effortlessly.
When a user visits the website Trip and chooses a hotel, an advanced search allows filtering results based on star rating, price range, booking policy, location, payment, available amenities, and others. So, when doing a travel portal development, don't forget to include these parameters to make the online booking experience pleasant and humanized.
Predictive search
Predictive search is a simple drop-and-down menu that pops up immediately as soon as a user starts typing the name of the place or airport. With its help, website visitors do not have to look through an endless list of irrelevant options. They quickly find a required item. Mobile users of a travel website would love this feature.
The standard predictive search option on Kayak totally responds to searchers being an example of how to create a travel website focused on direct consumers.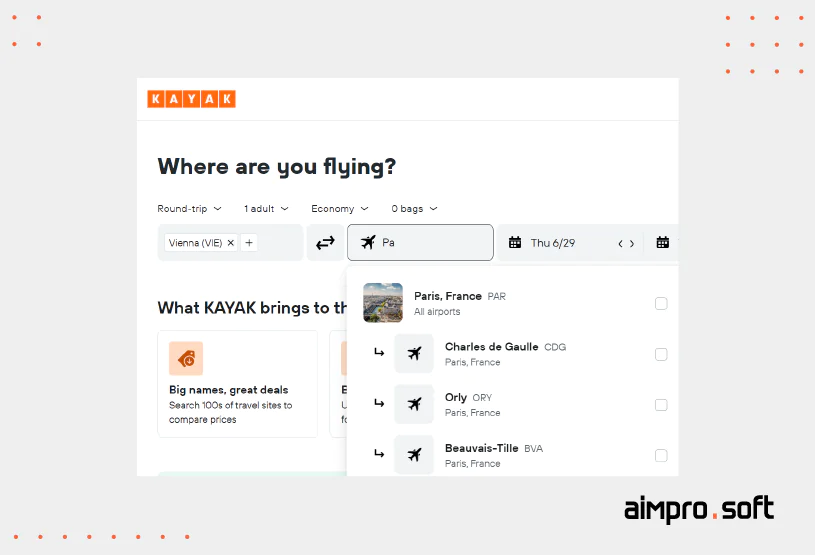 Images that message
Social networks with lots of visual content, like Instagram or Pinterest, are popular for a reason. People love watching beautiful photos. They inspire and enable a more precise message conveyed via a travel blog. Visual content will appeal to your travel website right with a great copy and good deals to win your visitors over.
It is needless to say that for home-sharing websites, high-quality photos serve as an excellent means of boosting their brand's credibility. At the same time, the evocative, compelling, and keyword-rich copy that perfectly matches the travel agents' website design helps to win the audience. Carefully-crafted content and expert opinion will drive a steady stream of new customers to your online travel agency or booking service.
The leadership of Locke hit the core issue with a travel booking site. See how perfectly the brand manages to combine big, high-quality photos with compelling copy.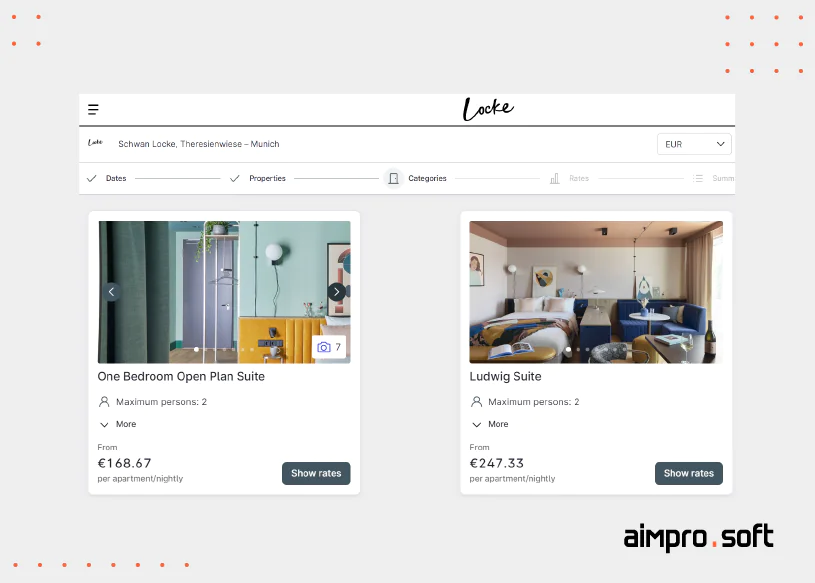 Customer reviews
When tourists are going to share someone's couch, they need to get as much information about their host as they can. Testimonials always enhance credibility, be it a home-sharing service or a tour agency.
Turning over in your mind how to build a travel website, look how excited reviews from happy couch surfers encourage people to follow their example and give Couchsurfing a try.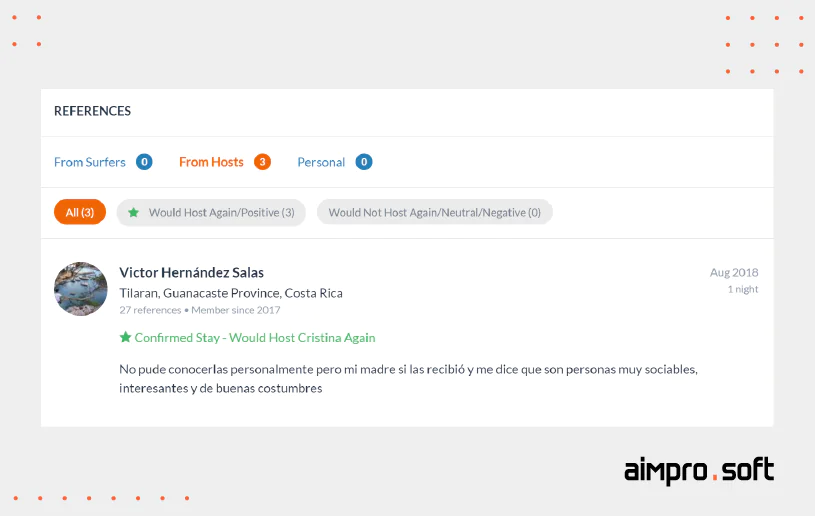 Favorites list
The chances are that your clients have a list of preferred hotels or places they visit most often. In this case, the favorites list becomes a basic tool. With its help, users can save their time and do not need to start their search from the very beginning. Any tested flight, hotel, or holiday package will be found in a blink.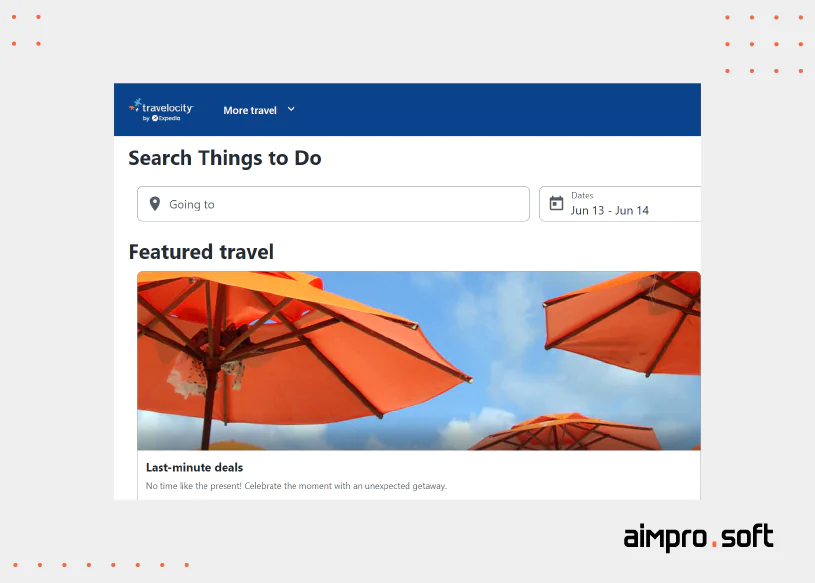 Pricing
When users compare similar packages, they want to see the clear difference between them and how they influence the price. Display of confusing or outdated prices, hidden charges or taxes is a sure way of losing potential customers.
On Travelocity, when any traveler selects a vacation package, for example, a flight+hotel, they see what services are included in the price. That is a truly fair practice to convert leads into customers by adopting a common practice of a travel deals website.
Personalization
Google's VP of engineering and shopping Oliver Heckmann notes that for modern travelers, fast access to information is not enough. What they need is a better, more personalized experience.
The study conducted by Google and Phocuswright in 2017 shows that 57% of US tourists agree that online travel providers should tailor the travel website content on their websites according to past behavior or personal preferences of their clients. Furthermore, 36% encourage brands to use this initiative by showing readiness to pay more for their services.
Kayak, for example, offers visitors personalized price alerts and promo codes in exchange for their emails.
Call-to-action
Call-to-action (CTA) is a magic button or a link that serves as an instruction encouraging visitors to buy your product or to order your service at the right moment. The most popular CTAs are Book Now, Reserve, or Check Availability. The straightforward CTA increases the chances of turning a website visitor into a booked customer.
Expedia offers website visitors to book a hotel room with a clear call-to-action button reserve that can be a good addition to any travel booking site.
Analytics
Online travel agencies commit a common mistake when they focus only on booking services and forget about those who have not chosen their destination yet, and need a bit of inspiration and encouragement in this matter. The analysis of search queries will help make a relevant offer to doubtful users. Besides, you will also understand what website functionality should be included in the product when planning to create a travel agency website upgrade for a new season.
Booking.com analyzes what places tourists have been searching for the most often and offers various tours to any taste, from the UK's best destinations to Australia's most captivating islands. It shows how you should care about an analytical module or third-party add-on to be a part of your website.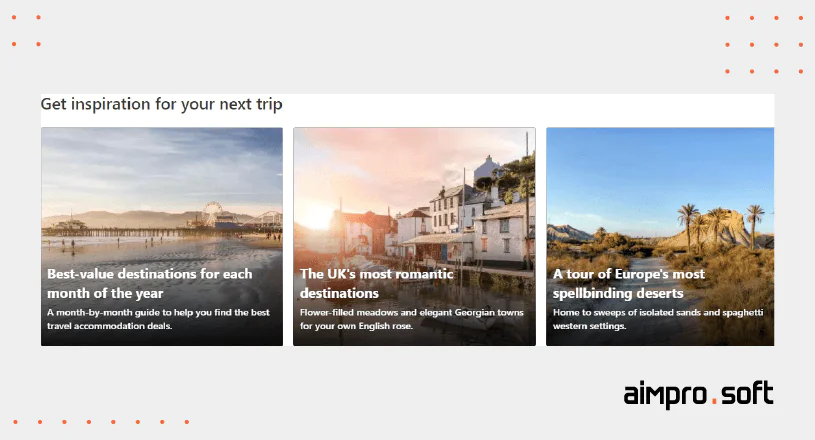 Customer care
Customer care supposes any kind of help people may need at any step of their customer journey. It is focused on making the customer's experience seamless and effortless. It may not be limited only by a traditional help section with the FAQ page in travel booking website development. Customer care is about giving a user what he needs where he needs it.
Booking.com offers a long list of available currencies to pay native for users from different countries.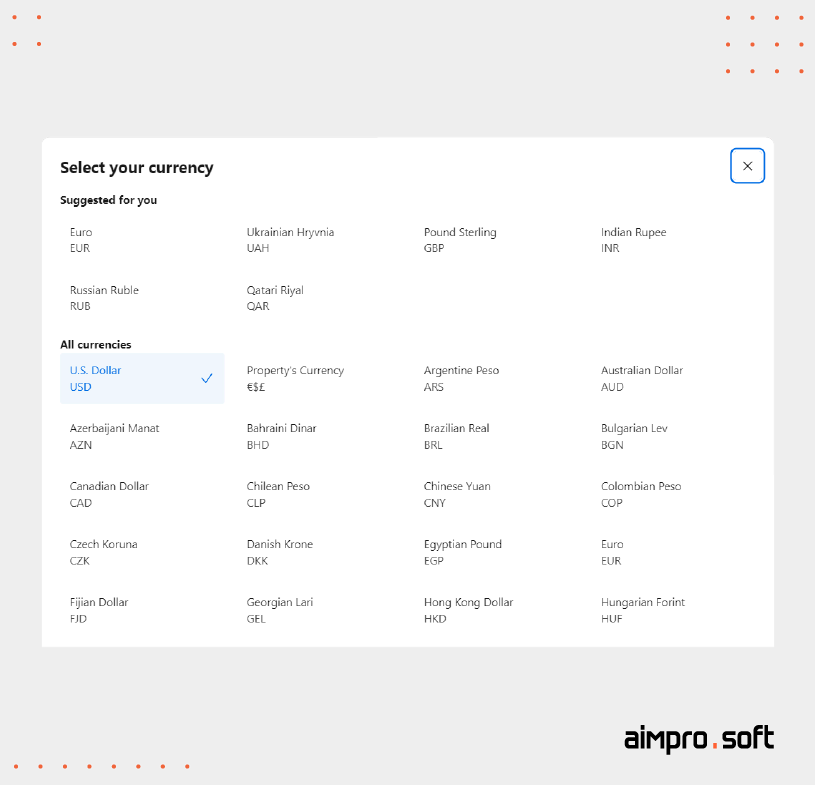 Blog
Travel blogs encourage going on adventures. You have no right to ignore it as a feature if you take your travel portal development seriously.
When it comes to content, there are two types of articles that perform best: listicles and educational content. Articles like "5 things you should know before going to…" or "10 places to visit in Europe this spring…" always get lots of shares. Just make sure that the items you listed are unique and were not mentioned by other travel bloggers. Asking an expert on a relevant topic to write a guest post for your blog and share their experience with readers will work well for your business as well.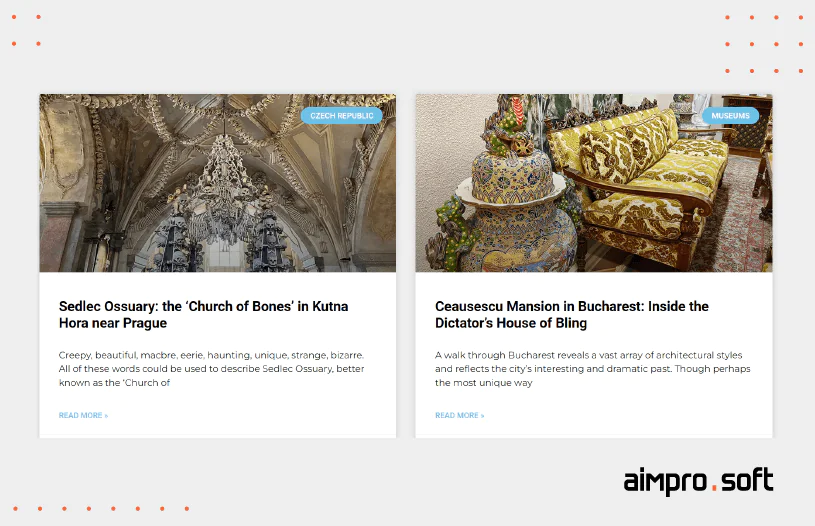 Education content does not fall behind listicles. People always search for manuals, guides, and tips.
Therefore, such evergreen content as "How to find cheap flights to…" or "How to stay organized while traveling" should become must-have publications. Make a travel agency website and dive your users into adventures with short videos for the best-performing posts as a travel guide website practices.
In addition to engaging content, there are several key features that should be integrated into your travel blog to improve the user experience and increase conversions:
Responsive design
The way your site adapts to different extensions of user devices is critical to ensuring a seamless viewing experience on desktops, tablets, and cell phones. Responsive tour website design ensures that your blog and other portal sections are visually appealing and easy to navigate, regardless of screen size. This means more time on the site and more actions taken.
Attractive visuals
Captivating images, videos, and interactive elements can greatly enhance the overall appeal of your blog section. Visual content not only entices readers to spend more time on your site but also allows them to visualize their travel experiences, which promotes a thirst for wanderlust.
Google Maps integration
Google Maps have become commonplace everywhere, and for your travel portal, it's a necessity. They allow users to explore destinations, plan itineraries, and visualize the geographic context of places mentioned in your blog articles. This feature adds practical value because it helps users better understand the locations being discussed.
Real-time online booking
What could be more convenient for users than real-time online booking capabilities? Let them do it directly through your travel portal. The convenience of easily booking flights, lodging, tours, and other travel services increases user satisfaction and encourages them to act while their interest is high.
Easy & quick checkout
A simplified and intuitive checkout process is critical to increasing conversions on your site. Implementing a user-friendly booking and payment system ensures that readers can buy services without too much hassle.
Access to customer help
Providing reliable customer help and support channels such as chat with a virtual assistant, chatbots, callbacks, or emails is essential to resolving any problems or questions your users may have. This establishes trust, increases customer satisfaction, and encourages repeat visits to your travel portal.
5 winning business models
We are all for profit in business. When it comes to the online travel market, there are the five most popular business models.
Click-based advertising
A company that uses this model charges advertisers a cost-per-impression or-cost per-click rate. Let's see how this model works on the example of Kayak.com. People use this resource to compare different flights, hotels, and holiday packages before booking them on other websites. They choose the required location, then Hotels and Kayak display a long list of the most suitable accommodations. When a user finds something to his taste, he clicks on "View details" and is redirected from Kayak to the advertiser's page and books a hotel room there. At this point, Kayak will get money for each click even if it does not end up with a booking.
Transaction revenue
Owners of travel websites get transaction revenue when a traveler books a hotel or flight directly on their pages. This revenue is preferable since the commission on the booking price is several times higher than the pay-per-click rate. When users visit TripAdvisor, they repeat the previous actions (enter a location, choose a hotel, etc.). On the page with a preferred hotel, below the similar search results, there is a subcategory called "Rooms". These hotels are partners of TripAdvisor and can be booked via the website. If a traveler books a hotel in this way, TripAdvisor gets transaction revenue.
Display-based advertising
This modern term supposes displaying traditional banner ads. Hotels, cruises, airlines, and tour operators pay for such ads. The pricing model there is cost-per-impression or the cost per 1000 impressions, to be more precise.
Subscription model
The subscription model means that people get access to exclusive deals only after subscribing. For example, on Couchsurfing, free users have only three options. They can host international travelers, attend free events and stay with local hosts. However, the subscription gives them additional opportunities, for example, receiving SMS with an address verified or the ability to use the free-ad website or mobile app.
Commission
An industry leader Booking.com successfully adopts a business model previously used by brick-and-mortar travel agencies. The company signs a contract with hotels on its list and gets a commission varying between 10% and 30%. The hotel size and its rank on the pages of Booking.com define the scope of the commission.
Cooperating with a web development company
Business analysis
Before the travel website or portal development starts, it is necessary to conduct your own market research and business analysis. You can take these tasks upon yourself, but it is much easier to ask business analysts of a software company to do that.
Well-advanced development companies know their job in travel agency website development. You will get online travel market insights, uncover some hidden perspectives and understand how to get an advantage of upcoming trends like m-commerce resources, web and mobile apps adorable by millennials, or ways to leverage the impact of social networks on travel.
Domain research clears up a basic scope of the project and helps find your niche corresponding to the goals that your online resource should achieve. Fixed functional, operational, and technical factors are a part of business requirements that will be a ground for developers working on your website. We at Aimprosoft use a Statement of Work for this purpose.
The launch of an MVP
A minimum viable product uncovers the true value of your business concept for users. The MVP of a travel website has basic features for a quick go-to-market. It is launched to test the demand for your online travel agency, booking, or car rental service instead of releasing a long-delivering full-fledged product.
With the MVP, you can gather the user base of the first adopters and get insight into the preferences and behavior of your target audience. You will understand better their wants and be able to build up features according to their demand, for example, a date drop-down or more convenient booking with additional payment options.
The advantages of making MVP are apparent, but they are not as advanced as avoiding large capital losses and reducing costs for website development for a travel agency.
Design
When dealing with web design, UI and UX concepts are equally important for the success of the development of your travel website or booking service.
The UI design is about the visual appeal of a website to book travel. High-quality images, carefully chosen fonts, and overall design style — all these user interface elements will catch the eye of visitors to the exquisite interior design of the hotels and call to buy a tour via your website.
UX defines how to create a tourism website convenient for users. It shows how easily they can pick a flight or choose the next holiday destination on your online resource. A visible, simple call-to-action button with striking text in the right place, a good site navigation system, a natural booking process, and complete tourist information create a positive user experience and showcase the services your website has to offer.
The tourism website design is more convenient than colors. We recommend focussing on offer-related design in the process of online travel website development to make users take the action you want them to take.
10 Steps to make a travel website
Creating a travel website involves several steps to ensure a functional and attractive online platform. Here's a general outline of the process of how to create a travel website:
Site purpose and target audience
Determine your site's purpose and target audience. Start not by looking for developers but by determining your travel site's specific niche or focus. Who will be your target audience: budget travelers, adventurers, luxury vacationers, or fans of a particular region? Your goals will help you determine your target audience, and then you can tailor your content and features accordingly.
Monetization
Determine how you will monetize your travel site. Things to look out for are affiliate programs with travel service providers, advertising platforms such as Google AdSense, premium memberships, and sponsored content. Implement tracking and analytics tools to monitor user behavior and engagement.
Domain name and web hosting
Choose a domain name that is relevant, memorable, and consistent with your travel brand. Register the domain with a trusted provider and choose a reliable web hosting service to ensure your site is accessible and secure.
Site's structure and content
Create a clear site structure with intuitive navigation so visitors can easily find information. Identify key sections such as destinations, accommodations, flights, itineraries, and travel tips. Plan a content strategy, including engaging articles, compelling visuals, and practical resources that add value to the travel planning experience for your audience.
Design
A travel website design is all about choosing the style and layout of your site. You need to choose a convenient content management system (CMS) or create a custom website, develop or select a travel theme, or use one of the ready-made ones for your branding. The site must be responsive; otherwise, all efforts will be in vain. Pay attention to adaptation for mobile devices and evaluate the speed of loading. The must-have of digital products today is SEO-friendly. It can make your product one of the best tourism websites.
Development and core feature integration
Work out the specification, tech stack, and project management methodology. It may sound strange to you, but with an experienced software partner, things don't seem so strange. At this stage, your development team will implement the agreed-upon functionality in the Statement of Work, a document where all expected outcomes are fixed. It may include a feature allowing users to find destinations, flights, hotels, or packages according to their preferences. Implement search engines so users can book directly on the other website. Integrate your social media apps to post users across different social media platforms.
Integration of booking and reservation systems
If you plan to offer booking services directly on your site, integrate reliable booking and reservation systems. This can be done using APIs. Your software provider will help you find the right APIs or plugins that will allow visitors to easily book flights, accommodations, car rentals, and other travel services.
QA, testing, and debugging
Thoroughly test your travel website across different browsers, devices, and screen sizes to ensure it works correctly. As usual, a development company provides quality assurance and testing to check a software product for errors or bugs and fix them before launch. Particular attention should be paid to testing booking and payment systems to ensure a smooth user experience while your monetization depends heavily on these features. Do not hesitate to get feedback from your first adopters to identify areas that need improvement.
Launch your travel website
When you are satisfied with the functionality and design of your website, it is time to launch it. Be sure to set up your website analytics to track user behavior, traffic sources, and conversions. It's time to promote your website through social media channels, online travel communities, and related partnerships to reach users and increase visibility. Some improvements and fixes may be needed here, do not be afraid of this, as this is the natural course of things, and with qualified specialists in the team, the correction process may require minimal effort.
Track, update, and improve
Monitor your website performance, user engagement, and conversion rates regularly. Analyze your website analytics data and make the necessary updates and improvements. Keep your content fresh and relevant, add new destinations or travel guides, and respond to user feedback to ensure a positive user experience. The launch is not the end story. Now it is time for maintenance and improvements to respond to your users and market needs.
Pros and cons of building a travel website
Building a travel website can be rewarding, but like any business venture, it has pros and cons. Let's go through the obvious benefits:
Pros of building a travel website
Reach a global audience
Creating a travel website allows you to reach a broad audience worldwide. It allows you to connect with travelers from different regions, providing them with valuable information, inspiration, and booking services.
Possibilities of monetization
A well-established travel website can generate revenue through the monetization mentioned above strategies. This may include affiliate marketing, advertising, sponsored content, hotel and airline partnerships, and the sale of travel-related products or services.
Flexibility and scalability
With a travel website, you have the ability to update and expand your content and offerings as your business grows. You can add new destinations, enable new features, and adapt to changing travel trends. During the pandemic, enterprising businessmen made virtual tours on their websites, which allowed them to keep customers interested in traveling as well as expand the customer base.
Network and collaboration
Building a travel website opens the door to networking and collaboration opportunities. You can partner with other travel companies, influencers, and celebrities to increase your website's reach and credibility.
Cons of building a travel website
High competition
The travel industry is highly competitive, and there are already many reputable travel websites that you will have to compete against. Standing out from the crowd and getting visitors to your site can take time and effort. In addition to a unique selling proposition, it requires unique content, strong branding, and effective marketing strategies.
Technical expertise and service
Developing and maintaining a travel website require technical skills or hiring professionals. This includes regular updates, security measures, server maintenance, and troubleshooting that may occur. Getting a reliable software partner will significantly simplify your task.
Dependence on external factors
The success of a travel website can be affected by external factors such as economic conditions, a pandemic, political instability, natural disasters, or changes in travel regulations. These factors can significantly affect travel demand and website traffic, and revenues. But nevertheless, the presence in the digital space opens up great opportunities.
Continuous content creation
Consistent content creation is essential to keep your travel website attractive and relevant. This includes creating travel guides, destination updates, blog posts, and recommendations. It takes time, effort, and creativity to follow trends and deliver valuable content to your audience.
Customer service and support
Managing a travel website often includes handling customer inquiries, providing support with bookings or travel-related issues, and managing user reviews. Providing fast and satisfactory customer service can be challenging, especially during the peak travel season or when technical support is scarce.
Understanding the pros and cons of starting a travel website can help you make informed decisions and deal effectively with possible challenges. Do not take this list as exhaustive or mandatory. Remember that a travel website can become a successful and satisfying venture with careful planning, perseverance, and a commitment to delivering value to your audience.
How much does it cost to make a travel website?
The functionality you will add has a significant impact on travel website development costs and time for deployment. When you get down to website development for your travel agency define the scope of your future project.
The basic feature set of a full-fledged website includes search filters, predictive search, images, customer travel reviews, a favorites list, pricing, personalization, call-to-action, analytics, customer care, list of hotels, extra services, and blog.
The project will engage the following dedicated development team of 7-10 members skilled at the development of travel websites:
1 Tech Lead
2-3 Backend developers;
2-3 Frontend developers;
1-2 QAs;
1 Project manager;
1 Data Scientist, if you are going to extract data from search queries.
When it comes to costs, a travel booking website development of full-fledged product within 6 months will cost you approximately $400 000 in the USA, £275 000 in the United Kingdom, €300 000 in Western European countries like Germany and around $150 000 in Eastern Europe (for example, in Ukrainian companies). Planning development, you surely can agree on the development time comfortable for you and take it slow.
The launch of an MVP with starting functionality that includes search filters, booking capabilities, and tools for a small amount of content, one backend and one frontend developer plus a data scientist would be more than enough to create the project within a month. It will cost you $83 000 to hire US specialists, £57 000 to turn to the British developers, and €62 000 to use the services of the Western European experts. Eastern European developers will bill $31 000 and over for their services.
Lastly, concerning a programming language, Scala is a good option for travel agency website development. Such popular brands as Expedia and Airbnb have chosen it for their websites. This choice stems from its scalability and high functionality. Besides, this language is perfect for Data Analytics. Kayak is built on Java, which is a good option due to JVM as well.
The best travel websites 2023
Sure, there are a lot of worth mentioning websites for traveling in the world dedicated to tourism. Let's look through the top tourism websites in the rating according to SimilarWeb.
Booking
Booking.com know everybody. It is ranked #1 as the most popular website in the Travel & Tourism category as of April 2023. It offers information about over 2 million properties in over 225 countries worldwide. Travelers can easily find and book a place at the right price. See all. The average time users spend on the site is 8:39 minutes, and they view an average of about 9 pages per visit, indicating a high user engagement. This site has a fairly low bounce rate of 33%.
Tripadvisor
tripadvisor.com comes in second on the list. The site helps you plan your next trip based on reviews and get travel advice from the community on where to stay and what to do. Find savings on hotels, book the perfect tour or attraction, and reserve a table at the best restaurants. In terms of user engagement, it has an average visit duration of 3 minutes, an average number of pages per visit of 4, and a fairly high bounce rate of 58%. Although that doesn't stop it from being a leader among recommendation sites as they claim "Over a billion reviews and contributions for Hotels, Attractions, Restaurants, and more."
Airbnb
Airbnb, about vacation homes and condo rentals, takes third place in the rating of the best travel websites in 2023. Airbnb has an average visit duration of 8:14 minutes, an average page count per visit of 18.85, and a bounce rate of 31.81%. Pretty good, don't you think? The site has a great design, cleverly puts emphasis on the CTA, and is easy to navigate.
Expedia
Expedia is the Top travel and tourism site, ranked #4. Visitors stay on the site for an average of 5:51 minutes, and only 37% of them leave after viewing just one page. In addition, the average number of pages viewed per visit is 6.58. Many may find this site as one of the go-betweens or third-party booking sites suspicious. Still, Expedia is a legitimate, well-known online travel agency that Microsoft launched in 1996. As stated in AJOT, Expedia's operating performance will continue to grow over the next 24 months thanks to solid travel demand, despite expected macroeconomic risk factors.
Agoda
Number five on our list is Agoda, the best travel and tourism site. Agoda mainly focuses on hotels and resorts. In April, the website received 79M visits with an average session duration of 10:35. Visitors browse 5.33 pages per visit and spend an average of 6:20 minutes on the site. The bounce rate for Agoda is 38.31%. Website ranking helps evaluate the value of a business. It is #1 in the category Travel and Tourism, Accommodation and Hotels in Thailand.
Conclusion
Now you have got a better understanding of the online travel market, its major players, and their business models. You have seen our comprehensive view of the travel website development and got a rough estimate concerning the cost of a similar project. If you need help in getting your travel website up and running, feel free to contact us, and we will gladly share our professional expertise in helping you make an online travel agency website.
Frequently Asked Questions