How to Create Mobile Ecommerce App: Costs, Tech Stack, and Market Strategy
The success and rapid growth of m-commerce attract more and more enthusiasts that are hoping to touch this new century gold vein. If you also want to create your own mobile ecommerce app, then you should possess a vision of the current market situation and specific technical knowledge of e-commerce mobile app building.
In this article, we will consider the particularities of the m-commerce market, define such an app's essential features, give examples of its most successful representatives, and tell you how to develop an eCommerce application.
Top 6 advantages of eCommerce app and why your business needs it
The advantages of m-commerce cannot be described in two words, but they are all united by the idea of taking the best approach to each client individually. This goal is achieved by the following:
Faster operation
Applications allow performing operations one and a half times quicker than mobile sites since they store information locally and use frameworks much faster than JavaScript on the part of sites. The best e-commerce apps allow users to view products and add to the shopping cart offline, which makes them handier than e-commerce websites and thus more attractive for buyers.
Availability of use
By enabling customers to access your application from any device, the business will receive a significant boost in conversion, as purchases will be made anywhere and anytime. Mobile features such as one-click buying, push-notifications, and easy payment squeeze the most out of every chance of a purchase.
Personalization
M-commerce can collect more personal data compared to sites, which increases the number of opportunities for providing personalized content. Using data about the client's location, age, and interests, you will improve the quality of the individual approach and CX growth. So, a client who was looking for red shirts in the next session will see an advertisement of exactly red shirts on the main page, which leads to more purchases, and accordingly rise of your profits.
Synergy with the device hardware
What the websites are deprived of — scanning the QR codes with a camera, searching for nearby stores by GPS, and making purchases with a microphone, — applications can do directly in the interests of business. Device hardware can be used for thousands of purposes, while the site's ability to interact with hardware is strictly limited.
High demand
According to Statista, the share of m-commerce in the USA will be more than 53% of e-commerce sales by 2021. Considering that more than 60% of American customers use mobile phones while shopping, we can confidently state the higher demand for mobile apps than for websites.
Saving opportunities
If you start an ecommerce app, you will be able to save on things that could not be saved in other cases significantly. Depending on your business model, you may not spend money on a physical point for the store, but only have a warehouse with goods.
In other business models, you can have neither a physical point nor a warehouse, but cooperate with suppliers and distribute goods by a delivery service from their warehouses. The same thing happens in the case of a marketplace, where a digital platform is enough for doing business. Besides, the mobile application's scale is much smaller than the website's because of functional and technical characteristics, which will also affect the cost of development.
Together, these advantages let you contact customers directly and form a high interest through a personalized approach. But they alone do not guarantee success. You require a strategy.
Mobile eCommerce market review
Dry statistics are convincing: by 2020, US m-commerce sales reached 49.2% of total retail e-commerce sales. Experts predict that the transaction value of m-commerce apps will have grown up to 53.9% by 2021.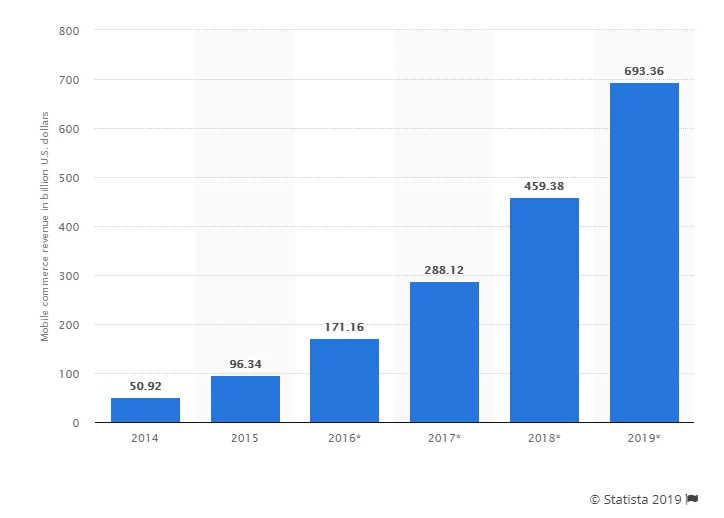 If we turn to retail e-commerce sales, the mobile retail sector is already ahead, showing 67.2% of the total percentage worldwide. This rapid growth will reach the level of 72.9% by 2021, which is explained by the expansion of the e-commerce market in regions with widespread mobile communications.
Retail is directly affected by the fact that every year consumers spend more time with mobile devices than with PCs. Keeping in mind that in 2019 the number of mobile Internet users has overtaken users of the desktop Internet, the incredible growth of m-commerce becomes obvious.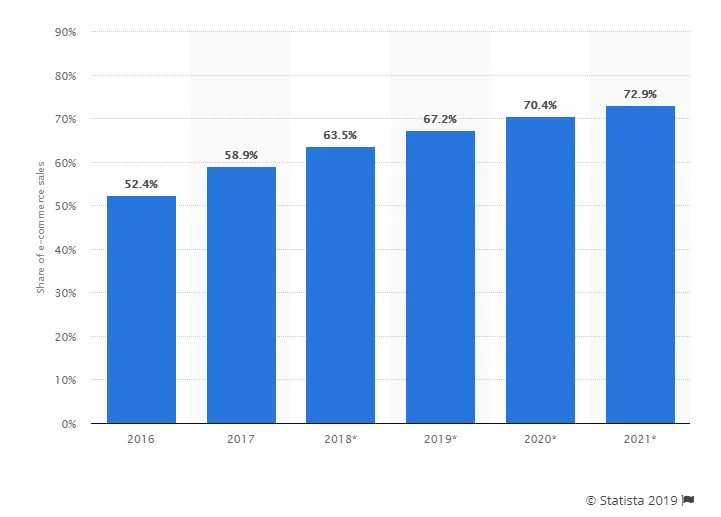 The most popular eCommerce mobile apps on the market
Amazon
Amazon shopping mobile app was first launched in 2009 in the UK for iOS, spreading from then on around the world. One-click purchase, advanced clients support, wishlist, and other features have won the hearts and minds of the audience. Using all the advantages of a mobile device in its work (voice and visual search, barcode scanning, order tracking), Amazon has provided a new level of user experience to customers and became one of the best apps for ecommerce, as shown in more than 100 million downloads on Google Play. The company does not complain about the lack of customers, having had more than 206 million visitors in a month and overtaken the nearest competitor Walmart by 75 million.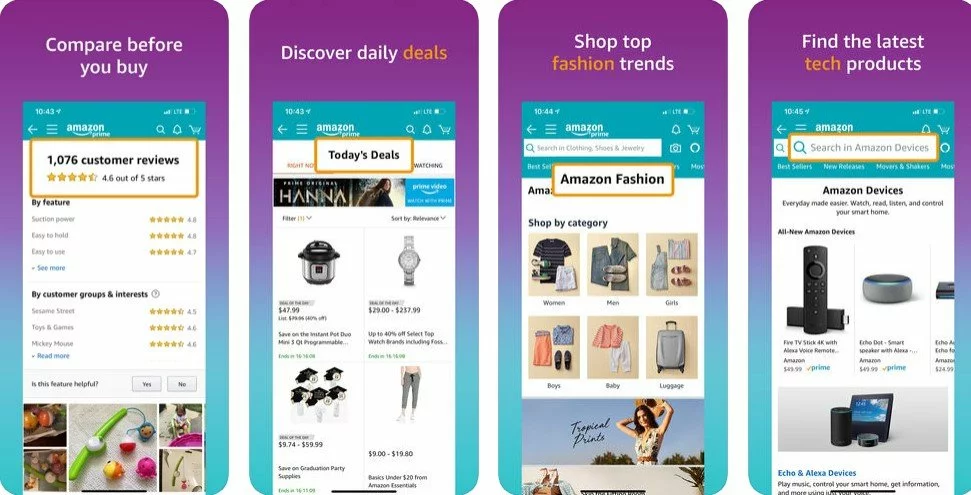 eBay
eBay, following Amazon, is also among the best apps for ecommerce business but with the different commercial model. When Amazon itself delivers products directly, eBay is B2C and C2C marketplace, which allows users to organize auction sales for any goods. eBay was not only the first e-commerce app but the first company to launch the app in AppStore in 2008. This application can boast the quick and easy buying process, an advanced system of selected products/shops, as well as a flexible search and price comparison mechanism using barcode scanning. The mobile app quality is indicated by a rating of 4.8 out of 5 in AppStore based on more than a million votes. For Q1 2019, eBay earned $2.6 billion with a total of 180 million buyers.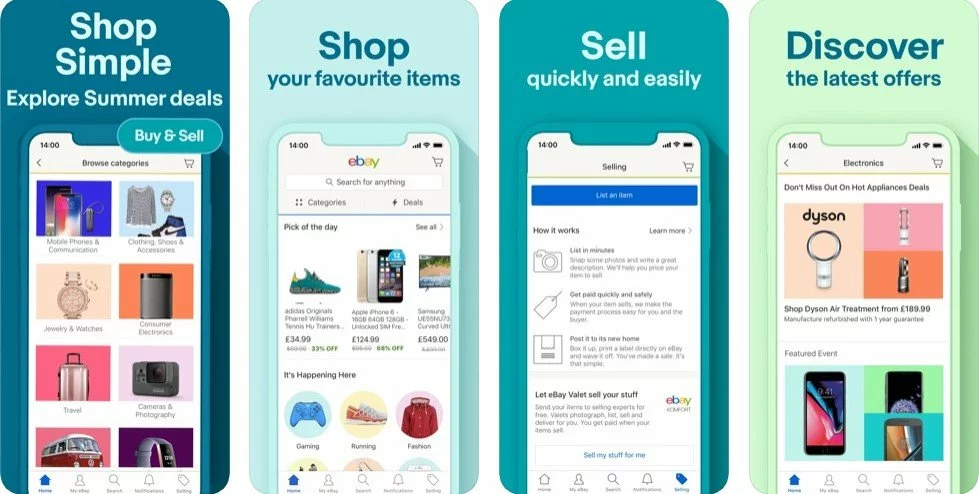 Groupon
Starting as a discount service, Groupon grew to a trading platform for local business. The application differs from the site in the fact that it allows users to collect even more discounts through the push-notification system, which reports about all the best offers and sends promo codes from the nearest places. Groupon's mobile client allows sharing discounts with friends and is also equipped with ApplePay for one-click purchases. At the time of June 2019, more than 75% of purchases in Groupon were made via smartphones or tablets, and the mobile application itself was downloaded more than 200 million times.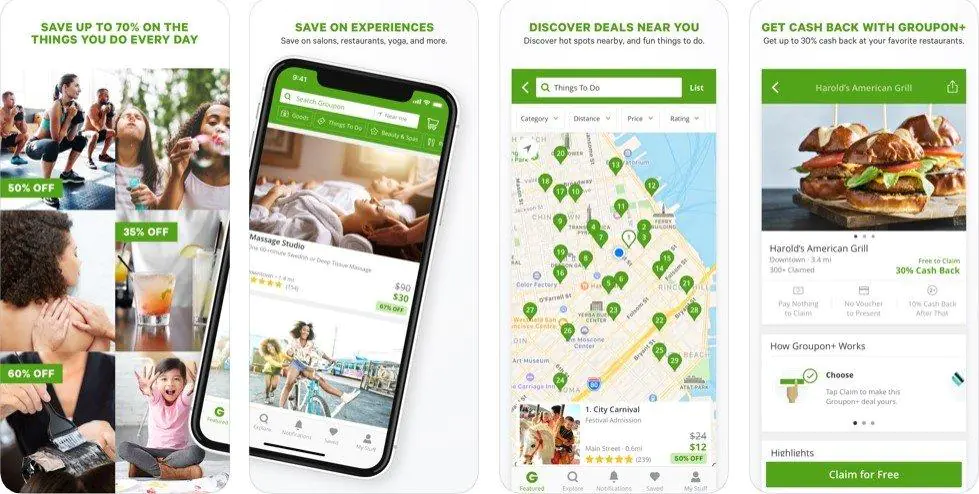 As you can see, the functionality of the apps described above is one of the main reasons for their success among the audience. Let's take a look at the list of features without which your e-commerce application will not be complete.
Must-have features that app needs
The list of features for the m-commerce app is clearly defined because they are focused, in the first place, on the sale and everything related to it: search, addition, purchase, and much more.
Easy registration. The first impression of a client
depends on sign-up simplicity. Enable your customers with the
possibility to sign-up via email, phone number, and social networks. It
is crucial that the registration takes place in a couple of taps and
does not test the user's patience, as studies show people are reluctant
to create accounts.





Image 6. Sign-in process in e-commerce app

Search and Filter. Search is the first step of
customers to purchase — if they use it, they already know what they
want. What you need is to give a quick and accurate tool for this. The
filter by various categories (price, size, delivery time) will improve
the service quality and will more likely lead to a purchase.

The search options you can add to an e-commerce app can be:

Filtered directs customers using a gradual
narrowing of the search.

Limited search consists of clearly defined
categories that cannot be crossed.

Predictive automatically completes user words for
faster and more accurate search.

Smart embodies the most relevant search based on
the product name, frequently used queries, and supports the features
of the above choices.

The most common search options in the e-commerce field are Smart,
Predictive, and Limited. Do not use Simple search if you do not want the
reputation of an inconvenient one for your app.





Image 7. Search and Filter features in e-commerce app. Source: Shopify

Cart and Wishlist. Although they pursue similar goals,
they are different features. If a shopping cart is a fundamental element
of any m-commerce app, then wishlist's presence can make a huge
difference. It not only allows users to put off their favorite products
for later but also stimulates impulsive purchases. Competent
implementation of this component will enable you to connect the search
stage and checkout smoothly.





Image 8. Shopping cart in e-commerce app. Source:
Bashooka

Checkout and payment. This stage is the last step
before buying, so it is necessary to prevent fatigue from the client.
According to Baymard's survey,
35% of buyers
cancel a purchase if they need to enter data about gender or age. That's
why Checkout should be simple and fast, which contributes to the
preservation of customer payment data and the provision of different
payment options. For their convenience, your Checkout must have logistic
integrations that allow you to determine the delivery distance and
automatically adjust the order price.





Image 9. Checkout feature in e-commerce app. Source:
Appsamurai

Marketing-oriented integrations. In ecommerce
applications, some features primarily fulfill marketing goals and
required to attract new customers.

Push-notifications inform about discounts and
promotions in a personalized way, as well as remind customers of the
non-purchased assortment of their carts.

Social media not only simplifies registration but
also has a strong marketing effect. You can track customer data and
better personalize your offers, while customers share good purchases
and worthwhile promotions with friends.

Analytics track and examine user behavior when
visiting a site/application, giving you access to session times,
products interest, CTR (click-through rates), and other commercially
valuable information.





Image 10. Push-notification feature in e-commerce. Source:
Web3canvas

Review & ratings. By allowing customers to review
products, you get a boost in conversion, which reveals itself through
the psychological mechanism of trust in the store based on reviews —
both positive and negative. Any feedback from clients towards the
company gives users an impression that they are not being manipulated
and this will increase their loyalty.





Image 11. Rating feature in e-commerce app. Source:
Noon

Single access to the account. Multichannel and
flexibility access from different devices give a huge advantage over
competitors who do not have it.

It is beneficial to support the duo of the mobile app and website, as
their synergy will improve the search ranking on the network. Also, it
will provide clients user-friendliness, whether they are at home near a
PC or on the street with a smartphone, which increases customer's
engagement.
These are must-have features without which your e-commerce app cannot succeed. The next important question on the list is which approach to development to choose — custom one or use app builders?
eCommerce app builders vs. custom development
In recent years, the application development field has been enriched with a new approach that has won many fans in a short time. Its name is app builder. Even a person without technical knowledge can create their application quickly and in the desired form — from external design to functionality. With app builders, you can develop an ecommerce application on both web and mobile platforms. So what is the essence of this approach, what are its pros and cons compared to traditional custom development? Let's find out.
App builder is a tool that helps anyone build a mobile ecommerce app in a much simpler way. It can be no-code development, which does not require absolutely any coding skills and is performed by using special editors. With their help, you can customize the look of your digital product, choose marketing and analytics settings, and features. In their turn, low-code platforms for app development are frameworks that help you design an ecommerce app using ready-made wireframes, plugins, and minimal coding knowledge.
So what are the main advantages of such approaches?
With app builders, you simply connect the components that suit your needs and get the result — a finished application.
Given the lack of development as such, you can imagine how much cheaper it will cost you to create an ecommerce mobile application compared to the traditional way of development. However, be prepared that further app's expansion will require significant investments.
Simple setup and ease of use
If your app's idea is simple and doesn't require complex functionality, app builders are your best choice. The features they offer are not particularly sophisticated, but they are easy to add and do not cause any implementation problems.
Extensive community support
Most of the issues that arise while working with app builders are described on the forums along with their correct solution. In this case, builders' popularity plays into their users' hands since a large community deals with emerging problems and errors really fast. But there are times when the prevalence of app builders becomes a disadvantage for users.
Let's look at the main app builders drawbacks in more detail:
Strict customization limit
Because most of the components in no-code tools are pre-build, your choice of customization options is limited to a set of ready-made themes and plugins in the App Builder editor. As a consequence, your application will look and feel like hundreds of others.
Scalability and security problems
No-code app builders always contain the risk of all sorts of complications due to working with pre-written code. A range of possible problems can vary from the fact that the tool does not adapt to specific business requirements to the possibility of your vendor leaving the market, which will mean the termination of your application's work.
Inability to use native features
As with hybrid apps, no-code tools face the challenge of leveraging native device functionality. A universal approach is to create an eCommerce app that focuses on the maximum number of platforms and devices, making it impossible to implement functions for microphones, cameras, or GPS without interfering with the code.
Unlike the no-code approach, custom development means creating a product that is as synchronized as possible with your business needs. To build a mobile ecommerce app that meets these conditions, you need to clearly define the set of requirements for the future application, hire a development team, and invest a significant amount of time and money in the project. This approach will give you the following benefits:
Unique customization for your business needs
The name speaks for itself: you get a unique application with the functionality you choose. As your industry trends or needs change, developers can modify your product and improve it as needed.
Improved security and scalability
When writing custom code, your business' need for constant growth is taken into account, so the app is created with a reserve for the increased load handling in the future. Custom software is also more secure against external threats, as it is developed specifically for your organization and is not used anywhere else.
Professional technical expertise and services from the vendor
By engaging a development team on your project, you will get specialists who work with your code directly and will be able to solve any technical challenges as the app creation progresses.
There is no perfection in the world, and even such a high-quality approach has its drawbacks:
A complex custom development process will require spending on business analysis, tools, development, testing, and post-release maintenance from the vendor, for which you should allocate a budget in advance.
Prolonged and more complex development
Compared to app builders, the custom approach requires a full development cycle, reflected in a much more time-consuming process.
Having considered the pros and cons of both approaches, you have most likely decided for yourself what works best for you. But we'd say there is no universal option, and when making a choice you should proceed from the needs of your business. App builders will come to the fore when you need to make an eCommerce app quickly with a limited budget. Custom development is the best choice for creating a unique and high-quality product in all respects.
Another pitfall you should pay attention to is the differences between iOS and Android ecommerce app development.
Technology stack and the differences between Android and iOS
iOS and Android have divided the digital space of the mobile world among themselves. Each has its own benefits and disadvantages, so you should be aware of differences in development to be able to build an eCommerce app quickly. We have identified the main ones:
Programming Languages

The fundamental difference between iOS and Android lies in the coding terms. If you aim to make an ecommerce Android app, use Java or Kotlin. If you are interested in ecommerce iPhone app development, choose Swift. These bundles of programming languages have a rich ecosystem and an active community of developers. It takes a lot of time to polish the skills in language comprehension for a developer, so usually, two different teams are hired to develop an eСommerce application in two different versions.

There are still a limited number of mobile languages and a broad spectrum of languages for server-side that can be used for m-commerce app, so depending on the project requirements, you can build an e-commerce app using any of them. For small or low-functional projects, hybrid development may be suitable, since it implies using the framework to compile one code for both platforms.

Development speed and complexity

The prevalence among devices makes the difference in speed and development complexity between iOS and Android. While iOS is content with the trio of iPhone/iPad/iPod, Android has a vast number of supported devices, which means you will need more time to create an eCommerce Android app. It is enough for iOS developers to build an e-commerce app for three devices with a narrow OS range, while their colleagues from the Android camp need to spend much more time on OS fragmentation. This results in dedicating significant time to build an ecommerce Android app, even despite the relative ease of programming languages ​​Java and Kotlin.

Deployment process

In contrast to the development speed, Android apps are much easier and faster to publish on Google Play than Apple counterparts. The reasons for this are the verification principles of both platforms: Google Play automatically tests apps for a couple of hours, when the AppStore review team looks for errors more thoroughly, which usually take a week to resolve. Android testing tools are richer than what Apple Xcode offers. In general, the deployment process on AppStore is labor-intensive, takes more time and money.

Along with a large number of technical, there are many commercial differences between iOS and Android. Demographically, Android is leading, covering 2/3 of the entire market. At the same time, iOS has more in-app purchases income, overtaking Google Play by as much as 80% because of the predominantly wealthy iOS audience and the monetization model, which focuses on paid applications.
6 steps to make an eCommerce app
By choosing app builders we talked over above, you will hardly have any difficulties in creating an app, but the custom development approach consists of precise steps that must be followed. We invite you to take a look at them if you want to create a mobile eCommerce app.
Contact vendor and conduct business analysis
Your first step is always preparatory. So, you come up with an idea to start an eCommerce app and choose a vendor to discuss its implementation. For a comprehensive definition of your business needs and problems, the vendor can conduct a business analysis, during which your target audience and preferred distribution model are determined.
Choose platform
Whether you want to develop an e-commerce Android app or iOS app, it is necessary to decide upon a platform in advance, as this will directly affect the choice of technologies and development course. Of course, the best solution would be to release an application on both iOS and Android platforms, but if your budget is limited, you need to consider the pros and cons of each platform to make the right choice. Above, we have already examined the differences between iOS and Android, so let's go straight to the next step.
Create application's UI/UX design
Qualitative UI/UX design is indispensable because the visual information will drive your sales. These design principles prove effective if you are eager to create an eCommerce mobile app for realizing its full visual potential:
Simplicity

By the simplicity of the UI/UX design, we mean the content optimization
for mobile screens and such a structural model that provides the
simplest shopping opportunity.

It is possible by simplifying the main screen, where
only the most profitable offers and popular products should be located,
and the menu, where users should intuitively navigate.
It must be performed under the principles of the visual hierarchy so
that an important object immediately attracted the user's attention.

The minimalistic interface of the catalogs will allow
avoiding problems with overloaded customer perception. It will reduce
the time for making purchase decisions because there will be less reason
to compare similar goods.

Increase the size of the selected products and demonstrate them one at a
time, persuading the buyer to Checkout.





Image 12. Top Checkout abandonment reasons. Source:
Baymard Institute

Convenience

To maximize sales, you need to provide the most user-friendly interface,
which will not distract but encourage purchases. A quality
navigation bar should have easily recognizable icons,
from 2 to 5. Properly designed filter settings will
help customers quickly and accurately find what they need. Marketplaces,
due to the vast dataset, can often use Filter Forms as a separate page.
These search options will enable people to quickly and accurately find
what they want.

Design solutions that speed up the purchase, from product search
(auto-suggestions) to the process of ordering (address lookup and payment card autodetection), will be able to increase conversion considerably.

By integrating the guest checkout feature with a
visual indicator, you will avoid a lengthy registration
and payment process.

Sales focus

This principle applies to the type of m-commerce apps, which is focused
primarily on selling products within the application, not through
communication and brand expansion. Such apps are a replacement for the
physical store, and their design is focused on indirect methods of
pushing users to sales.

The search panel is the key by which the customer
starts the shopping process, so it should be visible, providing search
by various criteria and query auto-completion.

Be sure to integrate the "add to cart" or "buy immediately" button so that it can help in solving the urgent problem of incomplete
purchases and the user does not lose a minute when the desired product
is found.

A good m-commerce design should be an attentive and punctual guide, leading the user by the hand to a checkout. By combining a high-speed and performance-oriented architecture with a design that is subordinate to the sales focus, you get an m-commerce app that meets the highest standards. After the main elements of UX/UI design are ready and you shape the vision of how the app will look like, let's move to the most critical aspect of its development.
Whether you intend to build an ecommerce app for the online store or marketplace, it is almost the same in terms of time and task issues.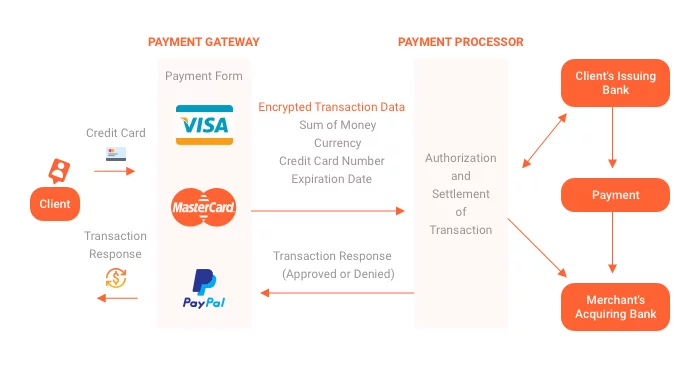 To deliver the product within a shorter period of time, off-the-shelf software is applied for the backend. Depending on the platform's choice, the development speed and available functional capabilities will differ: Shopify and WordPress make it possible to create a site many times faster than competitors, but at the same time, you may encounter problems with extension and clustering. Hybris and Liferay provide more tools for creating a high-quality website, but deployment time will increase several times. Another option is writing your own solution, but it will be a long-time process, especially for a full-fledged engine, so we don't recommend writing it from scratch.
There are three aspects vital for the effective operation of any e-commerce software solution. Therefore, we'd like to address them in detail and keep you armed at all points.
Payment aspect

You create an eCommerce app to make a profit, so it is critical to establish the optimal operation of the payment mechanism. The standard procedure for payment occurs through the interaction between the payment gateway and the payment processor.

Payment gateway looks like an interface for entering
payment information, but behind the scenes, it provides a safe way for
the customer's funds by encrypting data and connecting to the payment
processor.

The payment processor is responsible for handling and
making the payment — an authorization request is sent about the details
of the transaction. As a result, it is completed or canceled. The list
of the most popular payment systems, which are
responsible for money operations settlement, includes Paypal, Stripe,
Braintree.

The differences between the store and the marketplace are manifested in
the architecture. Marketplaces work with a large number
of suppliers with different internal business models, which requires
flexible and individual settings of the payment system for each account.
In this case, the money will permeate the same way as in the online
store but will be distributed differently — to vendors between different
bank accounts and currencies.


Related article: How to Build an Online Marketplace


Online stores are much easier structurally and
traditionally have a B2C business model with a less complicated payment
system, as they have only one vendor. Because of this, the entire line
of payment mechanisms is becoming less demanding on developers, while
conditional internal processes at marketplaces will consider the
commission of the site and profit for vendors.

At the same time, both of them should provide a wide choice of payment
mechanisms:

credit cards;

cryptocurrencies;

cash-on-delivery;

E-wallets;

bank transfers.

Security aspect

In the digital age, the largest thefts occur in digital space, so if
your customers face a loss of money or personal data, it will result in
reputation damage and losses for your company.

Security issues of ecommerce apps can be conditionally divided into
local and network. On the local level, it is meaningful to include:

Gaps in cryptography. The development of algorithms
for end-to-end protection of the cryptosystem closes one of the main
loopholes in your app for hackers.

Binary protection. Essential to the safety of your
code, this security method ensures the integrity and environment
checks and also offers biometric authentication.

Code encryption. Encrypting the code will help you
protect it even if it leaks into the hands of hackers.

Constant support. The emergence of new threats and
patches to counter them resembles the paradox of chicken and eggs.
So you cannot stop working on protecting the application because new
threats may appear at any time.

In terms of network security measures, you should pay attention to:

Reliable authentication. It will be reasonable to
use time-limited authentication tokens and keep them in encrypted
storage, as well as discard all user input to prevent data leakage.

Anti-fraud measures. Among the ways to protect
online payments are 3D security (creating a PIN
code to confirm the identity of the client),
Address Verification Service (checking the payment
account and zip code), as well as
checking the CVV code.

Switch to HTTPS. It is already proven that changing
the obsolete HTTP protocol to HTTPS, in addition to confidential
data, protects information that users submit at the time of visiting
the site thanks to SSL certificates. Besides, this will be an extra
rating factor for Google and other search engines.

When the app is released, do not stop reinforcing its security measures
by filtering user data and input, as well as force authentication during
special user actions in the profile. Besides, you can follow the usual
security measures:

use authorized APIs;
adhere to the principle of least privileges;
regularly test the updated code.

Having achieved reliable protection, not only you will feel safe, but
also your users.

Performance aspect

Every extra second of app load frightens users off, which is especially relevant for the e-commerce sector, where traffic is huge. Data optimization and scalability influences load speed. To build an e-commerce app with an architecture that embraces these two components, you should deal with:

Application optimization. During peak times, you
may face a lack of a benchmark for code scalability and problems
with the resource allocation in the architecture, which leads to
crashes. App optimization (especially such techniques like
minification and file concatenation) will allow you to speed up the
loading and performance of the application.

Scaling. The backend must be designed with the
capability of processing scalability modules called through REST
API. It will give flexibility to your system since scaling will
occur pointwise and where appropriate.

Domain Driven Design. One of the solutions of this
approach, focused on creating optimal systems of objects, are
relevant components that are delimited from each other. Your team
can convert server code into many of them, that will help to
discover new ways of improving scalability for each component.

Native approach. Native mobile applications
optimally use the capabilities of the phone, and despite the higher
cost in comparison with hybrid ones, they significantly increase
productivity and user experience.

Slow hosting. In the traditional hosting structure,
a certain number of servers are allocated for your website/app and stop
during peak loads. To prevent crashes, you need to plan the capacity
of the servers carefully and have reliable hosting. An alternative
is cloud hosting that dynamically adjusts server resources, loading
pages equally quickly during loads and without them.

Datastore configuration. Pay particular attention
to the datastore, as it is often responsible for performance issues.
When setting up and using your datastore, take care of optimal fault
tolerance and replication.

Unoptimized images. One of the most underrated
causes of performance problems is images since their
insufficient optimization can slow down the app by up to 20%. For their optimization, use compression tools and avoid adding
images with more than 50 KB weight. Also, sprites will help you by
combining several images into one and reducing the number of queries
to them, which speeds up the page load.

Marketplace will require more scalability and performance challenges
than online stores, due to the wider range of products, categories, and
data synchronization within the system, for example, price updates and
site's weight facilitation.
The Quality Assurance department is responsible for product quality control, which is especially important for the mobile app industry, where the most common reason why users remove an application is the presence of bugs and crashes. QA specialists should be engaged in the earliest stages of a project to minimize future errors.
While the developers are writing the application code, the QA engineer in parallel creates automated tests and reviews the code. The number of QA tests depends on the product's complexity, but the main ones are always the following:
Smoke testing. A set of basic tests, which is the foundation for more complex tests.
Retesting. Carried out to fix various errors and improve the quality of the code.
Regression tests. A selection of tests that have already been performed, which is re-engineered to check the application's operation after making changes to the code.
Performance tests. Full-scale tests for the app's "endurance", including rebooting, switching between offline and online mods, and other internal operations.
After performing each test and receiving feedback, the QA Engineer makes product improvements, which takes most of the testing phase time.
Deployment phase
Before the release of the application, the final phase is its deployment to your corporate website and app markets — App Store and/or Google Play. Please note that the platform review will take some time, and if vulnerabilities are found in your product, you will have little time to fix them — merely 2 days in the App Store.
From the moment of successful deployment, your marketing strategy will get fully implemented: you will be able to collect and analyze user opinions, respond to their requests, plan new functionality depending on the feedback.
Now that we have figured out the basic steps of how to design an ecommerce app, let's figure out how much it will cost.
How much does it cost to make an eCommerce app
To determine the ecommerce mobile app development cost, you need to take account of the functionality and hours spent on its implementation. In the case of e-commerce mobile apps like Shopfounder, the most necessary features will be:
Registration;

Search;

Filter;

List of favorites;

Checkout;

Shopping Cart;

Payment system;

Ratings;

Data synchronization.
This list is suitable for both MVP and full project — they almost do not differ in basic function sets. In order to develop an ecommerce application that not only works well and performs the main task but meets the high standards of the industry, you should add features such as social media integration, push-notifications, wishlist, and related products.
Regardless of whether you want to create a mobile ecommerce app from scratch, build a website or continue developing at any stage, Aimprosoft team will help you out in any of the situations since our full-cycle development approach is flexible and can be arranged according to the individual requirements of each customer.
Business analysis is the most critical stage of work and starts from 40
hours, but can be shorter if the customer has a precise understanding of the
product. The technical specification is relentlessly following it, taking
10+ hours. UI/UX specialists are responsible for the design, one of the most
critical parts of any e-commerce app, which directly affects the conversion
by forming timelines of 100+ hours for each platform. The amount of hours
spent on the QA depends on the written code quality and takes about 25-50 hours regardless of whether you make an e-commerce Android app or iOS app MVP.
Stages
MVP hours

~800—1100

Full feature hours

~1400—1800

Business analysis + UX
40—80
100—140
Technical Specification
10—20
40—60
UI/UX
100—150 for each platform
200—250 for each platform
iOS/Android development
250—300 for each platform
350—450 for each platform
QA
25—50 for each platform
80—100 for each platform
If you do not have a server and a website, add at least 800 hours to the
backend development for a basic product engine creation. The backend
estimation will grow even more if you write it from scratch.
To find out how much it will cost to create an ecommerce mobile app, we suggest taking a look at the rough estimate table showing the average prices for each region:
Country
Average hourly rate
MVP

~800—1100

Full feature set

~1400—1800 hours

USA
$80
$64 000—88 000
$112 000—144 000
Western Europe (Germany)
€60
€48 000—66 000
€84 000—108 000
UK
£55
£44 000—60 500
£77 000—99 000
Eastern Europe (Ukraine)
$30
$24 000—33 000
$42 000—54 000
So, armed with an understanding of the e-commerce product creation process, we can take a look at how to build a mobile ecommerce app in practice.
Our experience in eCommerce application development
Now let's turn to real-life examples of how to create an ecommerce app. One of our customers, an Italian private entrepreneur, cherished the original idea of ​​creating an ecommerce project: the concept was a marketplace with products divided into categories, an admin panel, and mobile clients (iOS/Android).
According to the customer's idea, this project had to serve as the basis for the development of custom native ecommerce apps for retailers at competitive prices. Our task was not only to integrate a stable working marketplace with mobile clients but also to write the code as versatile as possible for the maximum app customization.
Aimprosoft mobile department has fully built two mobile applications with
UI, navigation, connection to the server, data storage, and other integral
parts. We managed to display the content of the site using the REST API,
which interacted with the server and freely received all the necessary
information. For the successful operation of the app and compliance with
customer requirements, we have introduced:
Free Native Mobile Apps for iOS and Android that every
client will get with themes;

Simple Registration with a possibility to sign-in via
social networks;

Product Filter for selective and narrowing search;

One-click buying for quick and convenient purchase
using predefined address and credit card number;

Related items feature with cross-scaling and up-scaling
options;

Customized APIs that suit for customer's
infrastructure;

Integration of Bulk Import feature allowed to transfer
CSV files from the desktop to the mobile version and vice versa;

The possibility to pay for purchases was implemented by the
integration of Stripe system, which supports all
popular payment providers;

Mail and transport delivery was guaranteed by using
transportation APIs.
The ecommerce application development process has not proceeded without
difficulties: setting up and systematizing the site's content meant
mastering the SKU (Stock Keeping Unit) identifier, whose logic debugging and
parsing with a lot of data arrays cost many efforts for the developers.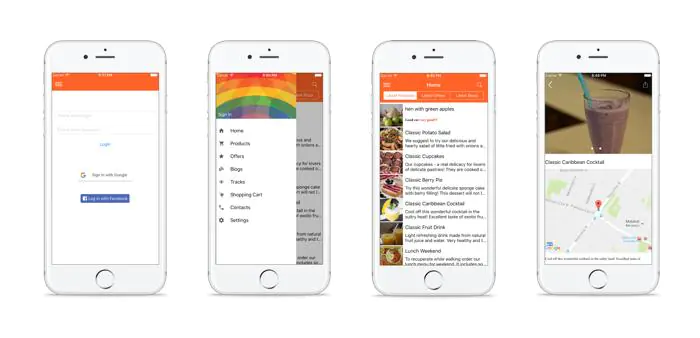 As a result, we created an MVP under the working name Shopfounder. It took
three months and did not differ much from a full-fledged work product: a
user could sign-up, checkout, look through catalogs, and rate products. Our
team developed a server, and we could customize the address, icons,
background, as well as any other details of the app for any brand.
The application we created became the key to success for the customer, based
on which he built a prosperous business. The right choice of partner has
become essential in his personal story: for many years, Aimprosoft has been
specializing in the implementation of the customer's ideas, which we were
happy to confirm once again.
Development team
If you want to create an ecommerce app of this kind, you will need the following specialists:
1 Project manager;

1-2 Android developers;

1-2 iOS developers;

1 UI/UX designer;

1 QA engineer.
Depending on the complexity and requirements of the project, the number of
developers may vary.
Conclusion
Statistics indicate that m-commerce is ready to permanently change our approach to shopping, as it was with e-commerce sites. It is important not to miss your chance to jump on the hype train and enter the top e-commerce companies in the first row. You can put your trust in Aimprosoft on this matter because we have all the necessary knowledge and experience to build an eCommerce app. Do not hesitate to contact us, so as not to postpone your success and get down to business immediately.
FAQ
Why should e-commerce businesses go mobile in the first place?

Firstly, by opting for e-commerce mobile app development, companies can attract larger audiences and easier spread brand awareness due to the rapid growth of smartphone users and time spent on them. Secondly, the development of an e-commerce app can help businesses enhance their marketing strategy. For instance, the app can help retailers monitor users' interactions with the product, including time spent searching for the necessary item and purchasing it, product preferences, etc. It ensures more thorough analytics, a better understanding of the users' needs, and, as a result, it provides the ability to tailor a marketing approach correspondingly and increase ROI.

Finally, e-commerce apps allow businesses to increase engagement with their audience. It can be done via push notifications containing information about sales, feedback gathering, personal coupons, and discounts.
What are must-have features for such an app to make it thrive?

There are two aspects that should be considered while developing a feature set for an e-commerce mobile app. The first one is to include the most vital features for such a type of app. In this case, the functionality should include a seamless registration process, advanced search, push notifications, product ratings and reviews, cart, wishlist, simple checkout process, and several payment options. The second aspect to consider is the implementation of those features that will help you stand out on the market of similar products. For instance, you may want to implement geofencing, a feedback system, etc. On the one hand, such features are optional. On the other hand, they will increase the uniqueness of your product and its competitiveness.
How much time will take to develop a full-fledged version of an e-commerce app both for iOS and Android platform?

The estimation of time required to develop such a type of app is usually based on several factors: the desired functionality, deadline, and budget. It may also depend on the stages that you conduct during the product creation. Let's consider the scenario in which all of the following stages that are necessary to create an e-commerce app are conducted: Business Analysis (BA), technical specification gathering, UI/UX design, the actual functionality implementation, and Quality Assurance. For instance, Business Analysis is the first stage that should be conducted to start product development, and it will require approximately 100—140 hours. The technical specification that follows BA will take about 40—60 hours. In turn, the implementation of the design stage will require more than 200—250 hours for each platform.

The time for the development of the product will significantly vary depending on the chosen functionality. The implementation of the most vital for such a type of app features will take 350—450 hours for each platform. Overall, it will take you approximately 1,400—1,800 hours to create a mobile ecommerce app for both iOS and Android.