How to Hire Offshore Java Developers

Key takeaways
After all this time? — Always. Learn what makes Java one of the top technologies that businesses still choose after more than two decades of market presence.
Shift to hiring remote employees, increased attention to security, outsourcing to offshore IT vendors, and cost-quality balance are those outsourcing trends in 2022 that you should learn more about to ensure your business success.
Freelancers vs. outsourced specialists from an offshore java development company? How to make the right decision? Pros, cons, rates everything you need to know is explored in our article.
A large talent pool, reasonable Java developers' rates, the rapid growth of the country's IT sector, and impressive number of IT vendors on the market are just a few reasons why you should hire Java dedicated development team from Ukraine.
One of the most demanded programming languages in the world, 45 billion active Java virtual machines globally, and more than 9 million Java developers in the world, all these facts sound too tempting not to choose Java as the key technology behind your product. However, the problem that the majority of businesses face is where to hire Java developers if the employment of full-time in-house specialists is not a choice and how to hire them, avoiding major challenges on your way.
Being an outsourcing software development company for more than 17 years gave us solid expertise in this area, which we are more than willing to share in this article. So, buckle up since we are going to rush through such points as why to choose an offshore company over other options, what aspects to consider to find Java developers offshore who will fit your project, and tips to follow not to fail when hiring such specialists from the outsourcing IT vendor.
Java programming language overview
In case you may still be in doubt about whether Java is the right language for your application, we have prepared some interesting facts about this technology to dispel all possible doubts. Once you are assured that the tool is just what the doctor ordered and reinforce your intention to engage Java specialists in your project, we'll reveal all the tips on how to find Java developers that will meet your needs in terms of both budget and quality.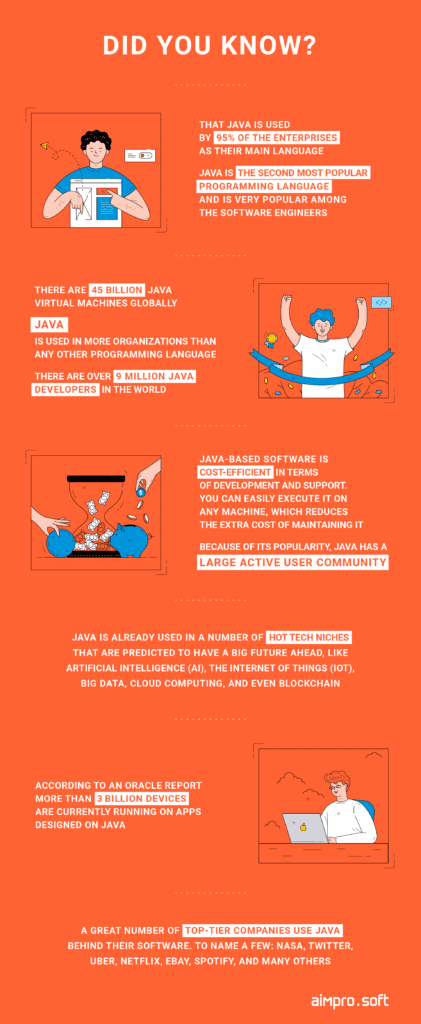 Benefits of Java programming language
The overview above is just the tip of the iceberg that proves that despite its maturity, Java is still a top technology that is chosen by a huge variety of businesses, from big data software to inventory management systems. The range of products that can be built with this technology is rather broad. Now, let's examine what benefits Java offers that make businesses opt for it.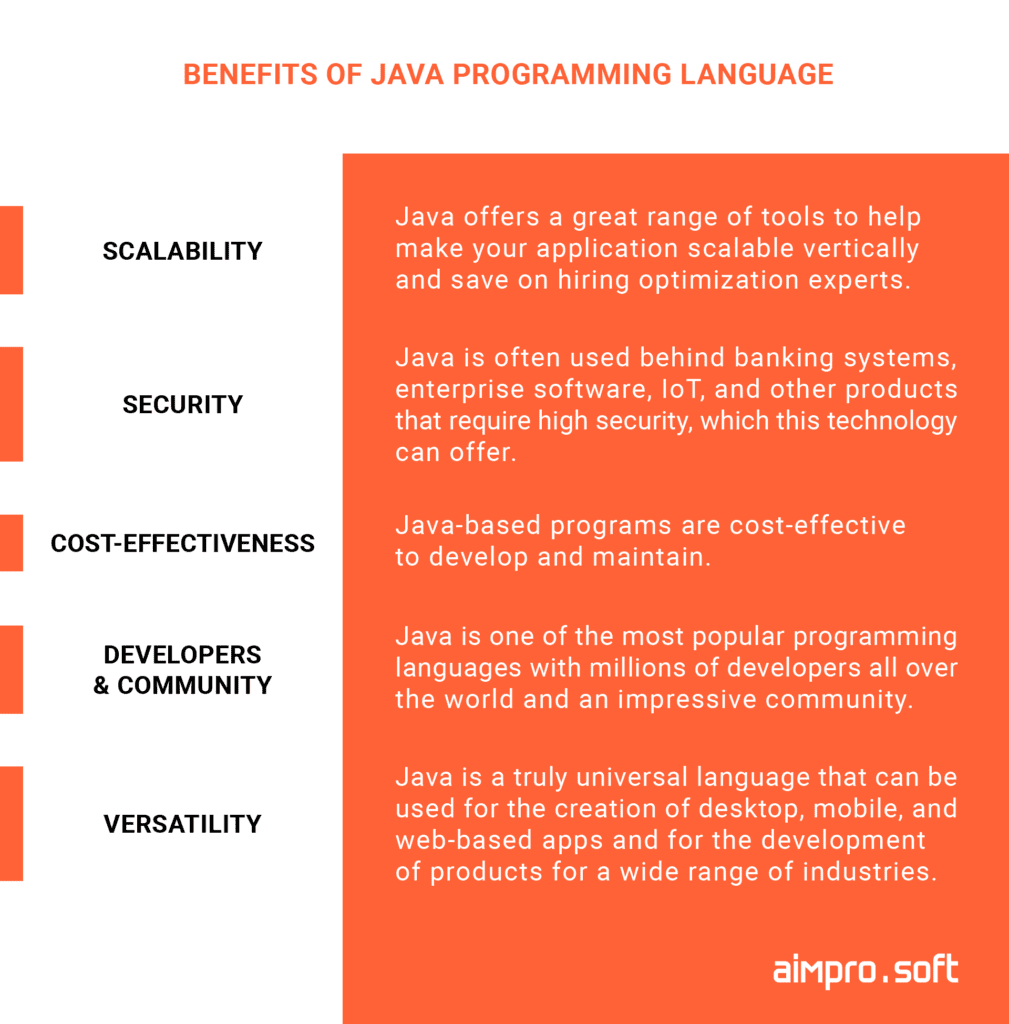 Scalability. Java offers a great range of tools to help make your application scalable vertically, which means you can extend storage capacity, add a new server, etc., and save on hiring optimization experts. Moreover, with hundreds of available libraries that enhance scaling, developers can build a Java-based solution that will easily withstand a high load on the system, providing great performance in turn.
Security. Java is often used behind banking systems, enterprise software, IoT, and other products that require high security. Firstly, JVM plays a huge role in the overall security and checks the byte-code every time a new code is getting executed and prevents the program from completing unsafe operations. Also, Java security is enabled thanks to its error detection, garbage collection mechanism, library-level security, security APIs, and much more.
Cost-effectiveness. Java-based programs are cost-effective to develop and maintain. Why so? The first reason is that they can run on any JVM, which means that you don't need a specific hardware infrastructure to execute the program, hence, freeing yourself from extra costs. Secondly, Java offers a great variety of reliable open-source libraries and other tools, which means it can significantly save development costs and expedite the implementation of the product.
Number of developers. Java is one of the most popular programming languages with millions of developers all over the world. It means that you will always be able to find the developer with the expertise necessary for your project with ease and at a fair rate. Secondly, the Java community is also quite impressive, which is quite helpful for developers if they are stuck with a certain issue.
Versatility. Java is a truly universal language. It can be used for the development of desktop, mobile, and web applications. Another bonus is that it is used to create products for quite an impressive number of industries, such as e-commerce, IoT, finance, entertainment, etc. Finally, Java is platform-independent, meaning that you can run the same program on various systems, which supports its motto "write once, run anywhere."
As you can see, Java can bring significant benefits to businesses that decide to create a project with this technology in its stack. Proceed to the next section to figure out what's new in the outsourcing market landscape and learn why hiring offshore Java developers is more than just a trend; it's a cost-efficient option.
Software development outsourcing in 2022: what's new and why you should choose offshore?
Software development outsourcing has completed a long path of changes and shifts, and it only continues to evolve as a business practice. Globalization gave a boost to outsourcing, digital transformation, in turn, helped this phenomenon gain momentum, while the pandemic made its own adjustments recently. Let's review several software development outsourcing trends that have been booming for the last few years.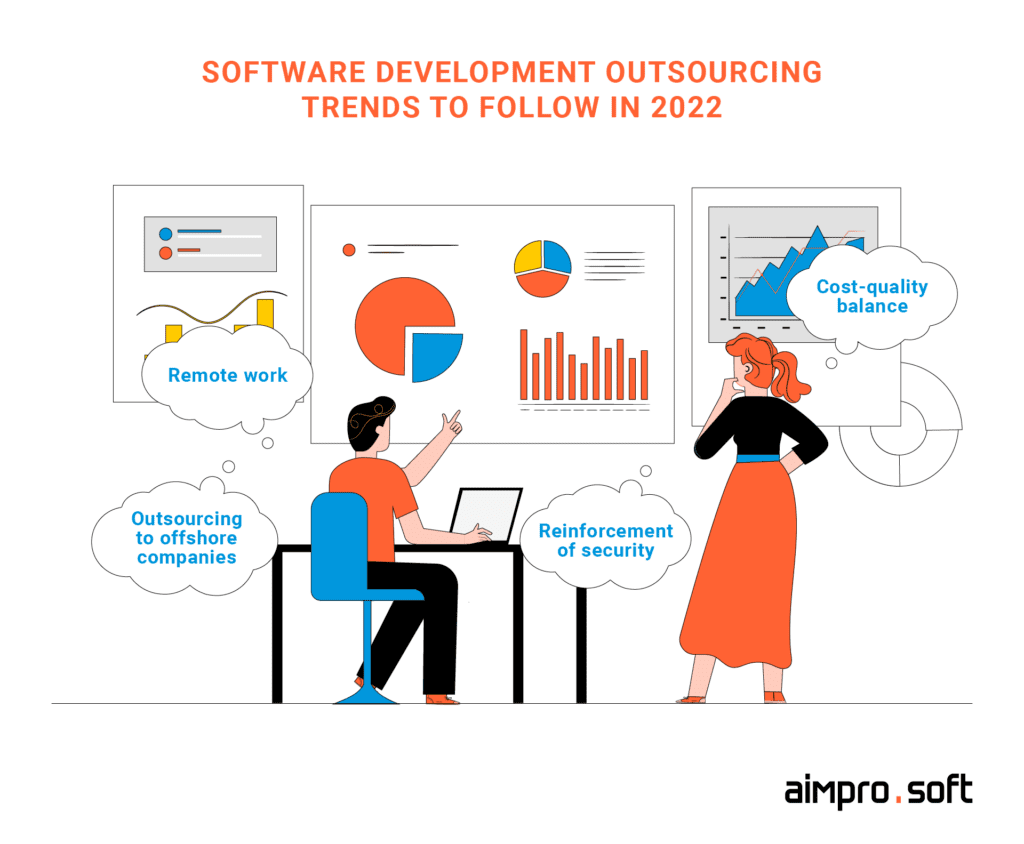 Shift to remote work
Mainly due to the COVID-19 pandemic, numerous organizations changed their workflows and adjusted to remote work. The new normal made companies accept the fact that productivity and work results of in-house remote workers can remain on the same level, if not higher. For instance, 77% of remote workers claim they're more productive when they're working from home compared to the office. In turn, when it comes to a financial aspect, nearly 3 in 4 CFOs plan to shift at least 5% of in-house employees to permanently remote positions since it enables significant cost savings. Such changes made companies shift not only towards a remote regime but also towards hiring external remote workers.
Offshore development is gaining popularity
The growth of outsourcing popularity extended the limitations of location from onshore software vendors to offshore ones. According to Statista, IT outsourcing is expected to reach $396 billion by the end of 2022, with an annual growth rate of 8.26%. Lower rates, larger talent pool than in the local market, ability to reduce operational costs, accelerated time-to-market, better use of internal resources, and other benefits are there for you when you choose offshore vendors from one of the popular outsourcing destinations, such as Ukraine, Poland, Brazil, China, Philippines, etc.
Even more attention to the security aspect
The pandemic period was truly "fruitful" in terms of cyberattacks and cybersecurity issues. According to the research, "81% of global organizations experienced increased cyber threats during COVID-19". Another report shows that there were nearly 800,000 complaints of cybercrime in 2020 compared to 300,000 in 2019. Security gaps due to shifting to remote work (i.e., insufficiently secured home equipment, vulnerabilities in collaboration tools, etc.), malicious fake coronavirus-related websites, and breaches in video conferencing services are just a few reasons that put security even at a bigger stake than it was before.
Therefore, companies started paying significant attention to strengthening the security aspect of their businesses. As a result, it has given rise to the trend related to outsourcing cybersecurity to BPO (business process outsourcing) companies that reinforce the safety of the software by implementing multiple levels of security, designing secure architecture, protecting the solution against security risks outlined by OWASP, etc.
Cost-quality balance
Undoubtedly, one of the key reasons why companies choose outsourcing to offshore countries is because it offers a significant reduction in spending on software development. However, the report shows that this core benefit has become less significant, and businesses are looking for those IT vendors that can deliver the great quality of the developed product for a reasonable price as a result and provide increased security.
As you can see, outsourcing software development is becoming a silver bullet for businesses that require a cost-efficient solution. As a business practice, it doesn't stand still, responding to world changes with new trends that we highly recommend catching up with if you want to stay afloat in this turbulent time.
Freelancers vs. Outsourced Java developers: pros, cons, and rates to compare and decide
In the section above, we have explored the recent changes in the outsourcing market and once again figured out those benefits that this business practice can offer. However, it is not the only cost-efficient option that you have. So, what to choose when it comes to hiring Java developers: hire freelancers or opt for an outsourcing software partner?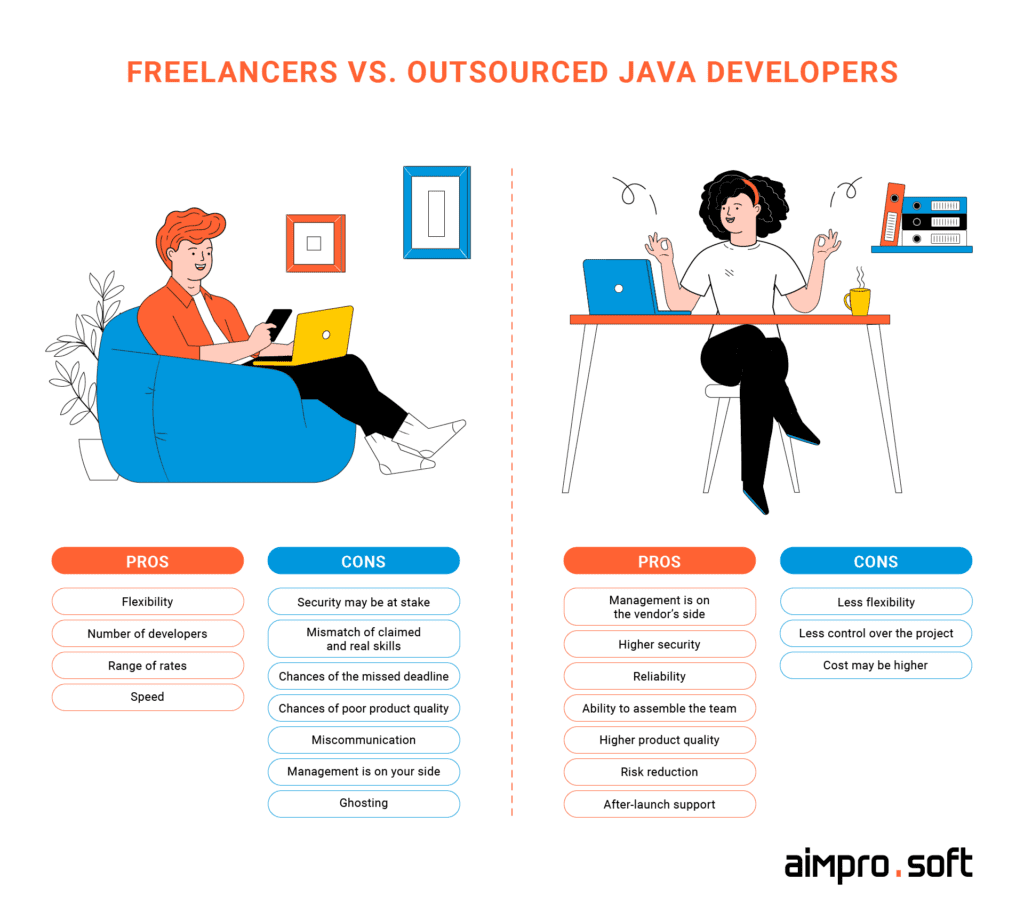 Freelancers
A freelancer is a self-employed person whom you can hire for the completion of a particular task via a freelance platform. Usually, freelance offshore Java developers work on several projects at a time. The most popular and trusted platforms to hire offshore java programmers are Upwork, Arc.dev, Toptal, Fiverr, Guru, and Upstack.
Pros. High flexibility, large talent pool, and the range of rates is so extensive that it's impossible not to find a developer that will match the allocated budget.
Cons. Security may be at stake, the claimed experience may not match the real one, possible code quality issues, as a result, chances of the missed deadline, absence of in-depth immersion into your project, management is on the client's side, and miscommunication.
Average hourly rates.
Best hired for. We recommend hiring a Java developer from a freelance platform in case you have a short-time, simple project or even a one-time task.
Outsourced developers
As a business practice, outsourcing offers numerous benefits to business owners who want to obtain a high-quality product for a reasonable rate. Such companies have a well-established process of collaboration with clients, offer a range of engagement models, and can assemble the entire offshore Java development team if necessary.
Pros. Higher chances of better product quality, adherence to security and compliance standards, the project management is completed on the vendor's site, ability to assemble the entire team that will include not only Java developers but also other specialists necessary for your project, higher chances of better industry and tech expertise.
Cons. The costs may be higher than hiring freelancers; however, cheaper compared to employing in-house Java developers, less control over the project, and there are chances of choosing an unreliable software vendor.
Hourly rates.

| Country | Average hourly rate |
| --- | --- |
| USA | $60—80 |
| UK | $60—70 |
| Western Europe (Germany) | $50—65 |
| Eastern Europe (Ukraine) | $35—55 |

Best hired for. Software outsourcing is a great option in different scenarios. For instance, you may have vague project requirements and only a mere product idea. In this case, the chosen vendor will offer to conduct a discovery phase and document everything to start the development properly. The other case can be if you have a long-term, complex project that will require maintenance. Finally, you may need to delegate the entire product development from scratch to a company that has such expertise.
Wrapping up. The choice highly depends on the scale of your scope of work. Freelance Java developers can be an option if your project is small and short-term, doesn't need a detailed immersion in it, and you can easily devote time to project management. Outsourcing your Java-based product is an option if you may require long-term collaboration with the vendor, you want to delegate project management completely, you need to assemble a team, or the requirements for your project are unclear or not documented.
Reasons to hire offshore Java developers from Ukraine
Before hopping into the arguments why Ukraine is one of the top destinations to hire offshore developers, let's examine why businesses initially opt for offshore software vendors.
There is a lack of necessary specialists in the local market.
It's expensive to hire in-house onshore specialists and spend the budget on recruiting, onboarding, and maintaining. Thus, it's decided to hire offshore specialists for the time of the development with the same expertise but for a cheaper rate.
The offshore vendor's expertise in the niche that the product owner is planning to enter is more solid than the onshore companies have.
So, since in this section we're planning to review the reasons why it's reasonable to hire offshore Java developer's from Ukraine, let us say in all modesty that this destination unites all these benefits of outsourcing to an offshore country.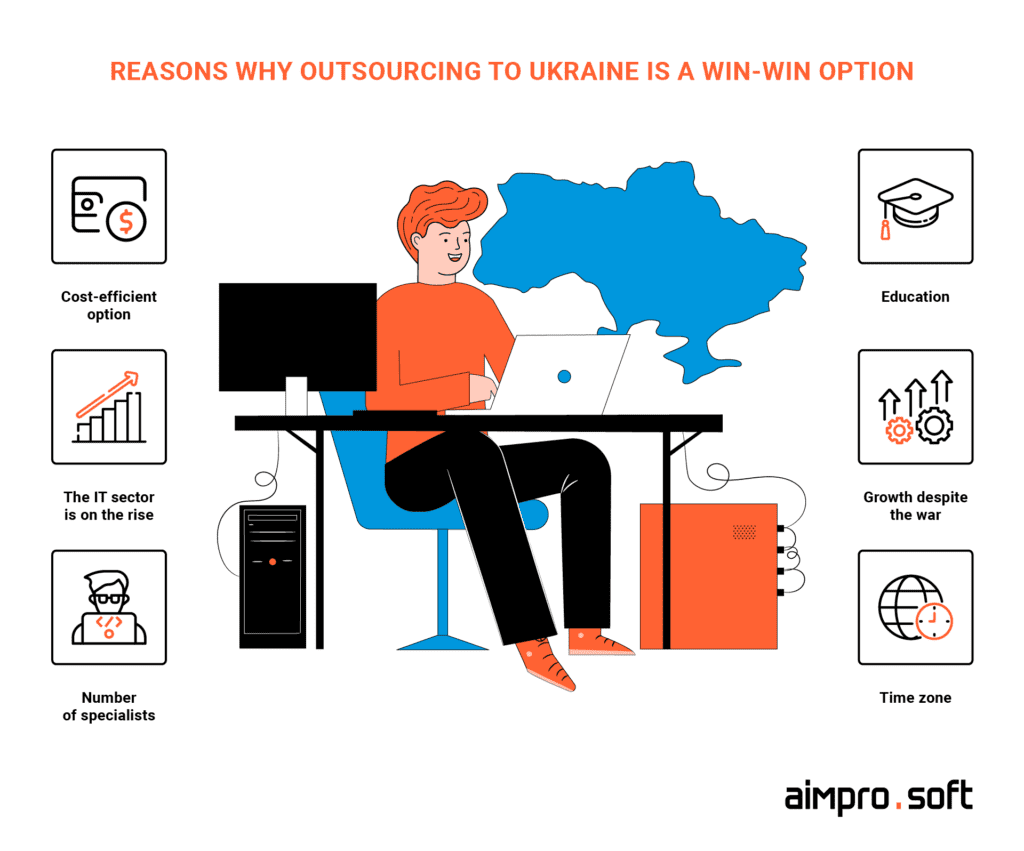 The cost is very alluring
Thousands of companies prefer to outsource product creation to Ukraine for the reasonable development costs and software engineers' rates, and high quality of the provided services. For instance, the average rate of the Java developer from Ukraine is $40, while the hourly rate of the very same specialist from the USA is $80 and higher, $75 for the developer from Canada, and $70 for the Java specialists from the UK. So, why overpay for the very same quality that you can obtain as a result?
Such a cost-quality balance helped Ukraine become one of the largest exporters of IT services in Europe, which is increasing on average by 27% annually. The same report shows that the export of IT services is growing faster than the export of any other service. Not only is Ukraine attractive as an outsourcing destination but also as an investment one. According to the IT Ukraine Association survey, every year, on average, deals are concluded in the total amount of 300—700 million dollars.
The IT market is flourishing
Due to the fact that the Ukrainian IT sector is considered a prestigious niche to enter, every year, thousands of newbies are enetring it. According to the report, 54% of Ukrainian high school students want to work in IT. As of 2021, the Ukrainian talent pool counted 285,000+ specialists and more than 5,000 IT companies. 60% of these specialists have 3+ tech experience. In turn, 80% of them have intermediate and higher English proficiency, which significantly reduces the risks of miscommunication in the course of product development.
What does it mean for businesses that need to hire offshore specialists? Such a vast talent pool and the fact that it's growing at a rapid rate means that you will also find the best-fit specialists for your project with the necessary skillset and sufficient level of domain knowledge.
No crisis can break down the Ukrainian IT sector
For the past few years, Ukraine has been struck by several major crises. At first, it was a pandemic, and now war. However, what would have weakened the IT market of one country, made ours even stronger. According to the IT Ukraine Association report, "Despite the crisis of 2020, the volume of Ukrainian IT exports exceeded $5 billion for the first time and showed an increase of 20.44% compared to 2019." And this happened during the first year of the COVID-19 pandemic, a rather turbulent year, when the companies had to reorganize their processes significantly to stay afloat.
In turn, we can understand those businesses who may fear hiring Java developers from Ukraine when there is a war going on in the country. Geopolitical unrest isn't an alluring factor for outsourcing. However, we can provide a compelling argument even in this case and support it with numbers. Konstantin Vasyuk, executive director of the IT Ukraine Association, stated in an interview with EURACTIV that despite the ongoing situation, the IT industry is in good shape. He also added that "We have data that IT companies are currently operating at around 80% of their pre-war levels."
The reasons why businesses can safely outsource to Ukraine even now are the following: the majority of the companies have offices and hubs in safe regions of Ukraine (Lviv, Ivano-Frankivsk, Kyiv, Dnipro, etc.) and even in other countries, which enables flexibility and normal functioning of the companies. Secondly, the country has been in a war-like state since 2014, which made numerous companies adapt to the new reality and take precautions.
Finally, there is a very powerful resilience movement going on in the country, which not only united people but also served as a driving force for IT companies to create campaigns, donate and raise money, search for new clients, etc., and most importantly stay dedicated to their job understanding how important it is for the country and its economics.
Quite a convenient location
Ukraine is located in the very heart of Eastern Europe, making it rather convenient both for clients from Europe and Ukrainian IT vendors to travel since it takes only a few hours to visit each other if necessary. The time zone is also convenient for clients from Europe. In case you are from the US, Canada, or any other country where the time difference with Ukraine is approximately 7—8 hours, the time difference is also not an issue. Since by the time your working day starts, the chosen vendor will provide you with updates on the project's progress and completed tasks.
6 tips for hiring offshore Java developers who will deliver your product successfully
Once you have chosen the offshore country to hire Java developers from, we highly recommend paying attention to certain aspects to hire the developer from the right vendor and avoid the most common obstacles on your way.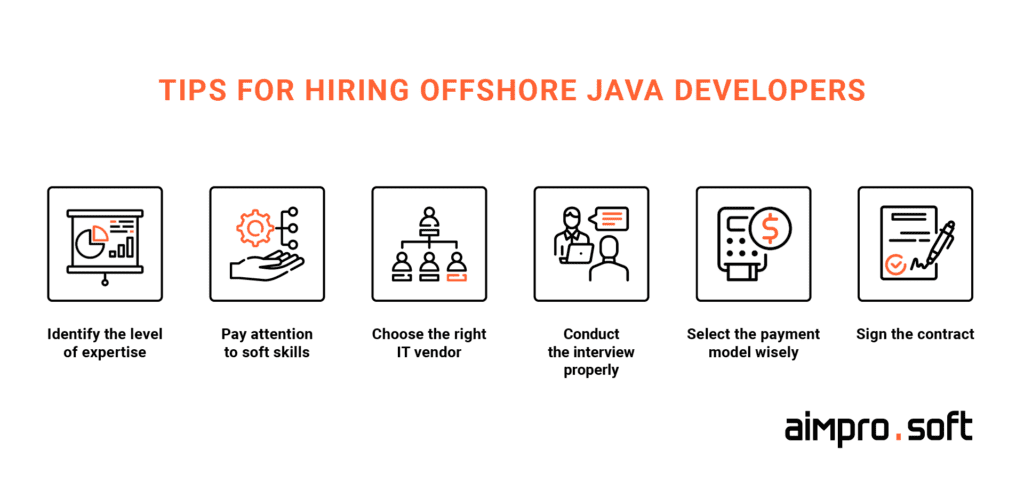 Determine the level of expertise you need
Before turning to a software provider to hire offshore Java developers, it's necessary to figure out what category of specialists you need. Use these descriptions of their skills and responsibilities to identify which ones you need to hire for your project.
Junior Java developers
Such specialists are perfect for simple, routine tasks and fixing minor issues. Compared to more skilled Java developers, junior specialists are cheaper; however, they require supervision from more experienced developers and aren't a perfect option for complex projects or those that have to be developed from scratch.
Years of experience: 1—1,5
Must-have knowledge: Java Core, Spring (Core, MVC, Security, Data), Jdbc/Hibernate, SQL (MySQL/PostgreSQL)
Level of English proficiency: intermediate and higher
Middle Java developers
Such Java developers have already required practical experience in developing Java software and don't require supervision from senior developers. They can be hired together with a senior specialist who can design the product's architecture and enable the correct completion of complicated features' implementation. This way, you will have a perfect price-quality ratio.
Years of experience: 2+
Must-have knowledge: Java Core, Spring (Core, Boot, MVC, Security, Data, Cloud, Integration), Jdbc/Hibernate/JPA, SQL (MySQL/PostgreSQL), Message Brokers, Docker
Level of English proficiency: intermediate and higher
Senior Java developers
Senior developers have a solid experience in development projects that are Java-based. Some of them may have already led the projects or served as software architects. Perfect for startups that presuppose development from scratch, completion of complicated projects, or transformation of legacy systems.
Years of experience: 4+
Must-have knowledge: Java Core, Patterns, Spring (Core, Boot, MVC, Security, Data, Cloud, Integration), Jdbc/Hibernate/JPA, SQL (MySQL/PostgreSQL/Oracle), NoSQL, Message Brokers, Docker, AWS, Multithreading, Microservices, CI/CD
Level of English proficiency: advanced
Don't underestimate the importance of soft skills
If you think that Java developer is all about hard skills, we can reassure you that such an opinion is misleading and that such skills are as critical as hard ones. When hiring offshore Java developers, pay attention to their communication skills and ability to work as a part of the team. It's important since the developers cooperate not only with tech specialists but also with a BA, PM, stakeholders, etc., and it's important for them to be able to translate tech language into a business one and get along well with other team members. Also, pay attention to the level of enthusiasm and responsibility, and organizational skills.
Validate the reliability of the offshore IT vendor
When you decide to hire Java developers offshore, it's a must to check the vendor's reputation and reliability to hire the best-fit developers. We highly recommend checking the company's reviews on independent platforms, like Clutch, GoodFirms, Techreviewer, etc., Java portfolio, development approach, and security strategy. All these elements will help you identify a trustworthy software vendor that is capable of offering skilled specialists for your project and collaborating with you in a challenge-free way.
Interview: the questions you should ask
When hiring offshore developers from a software company, you may wish to conduct a tech interview yourself or with the help of an experienced Java specialist on your side. Such interviews are normally conducted by the client if the engagement model is outstaffing. Apart from the standard questions that are usually asked during such interviews, our senior Java developer recommends including the question below in your list as well:
Why is String an immutable and final class?

Expected answer: security and String pool are the main reasons for String immutability in Java. The security of the object of the immutable String class is due to the transmission of strings between the streams, the absence of problems with synchronization, and the ability to cash hash code. String pool allows saving memory and not creating new objects for each recurring string.

Name normal forms.

Expected answer: let the developer answer in their own words what rules describe the first three normal forms.

How does DI work in Spring Framework?

Expected answer: its implementation in Spring is based on two core Java concepts: interfaces and JavaBean components. When using Spring as a provider of DI, a developer obtains flexibility in determining the configuration of dependencies within the apps in several ways, namely, externally in XML files, via configured Java classes of Spring, and with the help of Java annotations in code.

How much additional memory is needed when calling ArrayList.add()?

Expected answer: when the quantity of additional elements equals the current size of the array, the size is increased by 50%.

What are the ways to manage transactions in Spring?

Expected answer: you have to create a bean implementation of the interface, namely, TransactionManager (JpaTransactionManager/HibernateTransactionManager), and add annotation @EnableTransactionManagement into the configuration file. After this, you can use annotation @Transactional with methods/classes where the transaction is necessary.
Hourly vs. fixed price: what does a startup gain more with?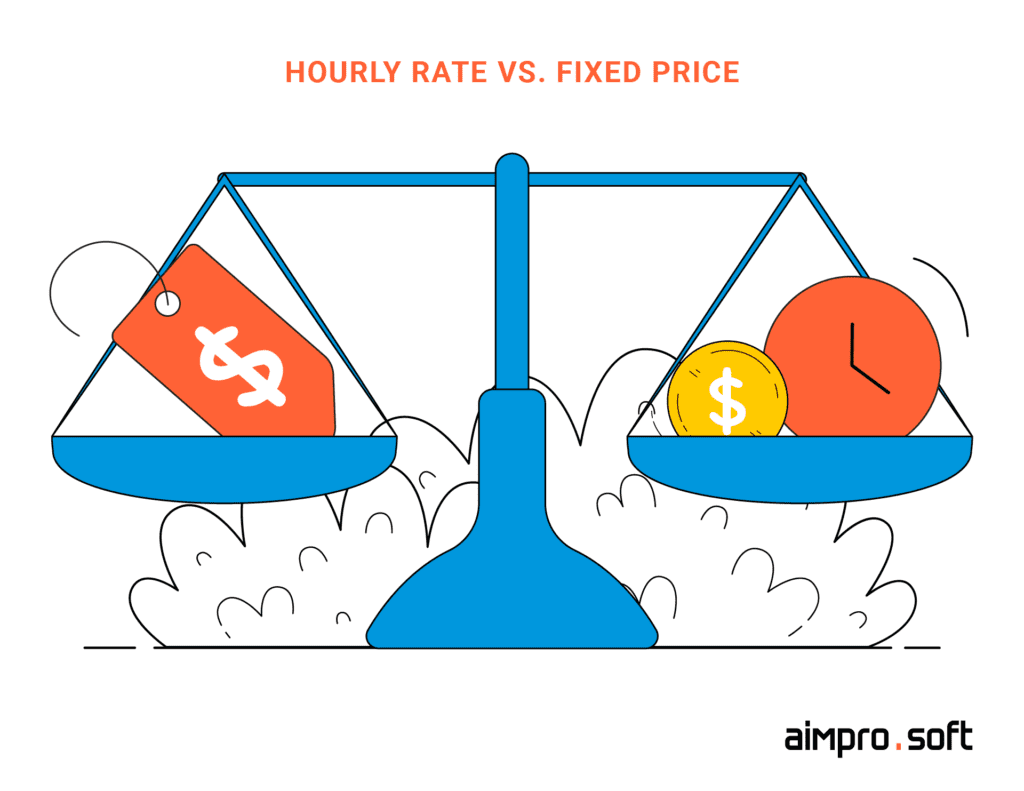 One of the key factors that affect the product's successful launch is the correctly chosen pricing model that can ensure a proper allocation of available resources. Let's review the two most popular options so that you can figure out which one works for startups better.
Hourly rate. This model is more flexible than the fixed price option. The vendor charges you the payment that is counted by multiplying the developer's rate by the number of hours worked. Among the benefits that such a model offers are: flexibility in terms of possible amendments, a clearer vision of the allocation of your resources, and the ability to decide in which direction your project should go as it progresses.

Best for. Such a pricing model is great for projects with vague requirements, where the amount of time to complete the project may vary due to possible changes, and the scope is not fully defined. Such projects are usually long-term and complex.

Fixed price. In turn, fixed price is the pricing model according to which you as a customer have to pay the predefined flat fee for the development. The benefits of such a model are: a clear understanding of the budget upfront, the ability to stay within the allocated resources, and predictability.

Best for. Such a model is more suitable for projects with a clear scope of work and vision of the desired outcome, strict deadlines, and budget limitations that are not flexible. For startups that have such limitations, a fixed price can be a better option than an hourly rate model, especially if such a startup has an MVP version of the product that needs to be tested to attract investments for further development of a full-fledged product.
Sign the contract considering all key aspects
Once you decide which vendor can complete your request, choose and interview the best-fit Java developers, and figure out the engagement model, it's time to sign the contract. A seemingly simple action should be approached carefully to ensure that the results of the development process meet your expectations. Make sure that the contract includes all NDA conditions, expected deliverables, failure-related penalties, payment requirements, termination terms, and other key aspects that ensure your requirements are clearly defined, all expected deliverables are well-documented, and you are protected from the unforeseen outcome.
How can Aimprosoft be helpful for startups and innovative products
The brochure below was created to show in a concise yet convincing way why Aimprosoft is the software vendor that you should choose to hire Java developers from. Industry expertise, large talent pool, and solid Java portfolio; check out all the reasons to make up your mind and opt for a truly reliable partner.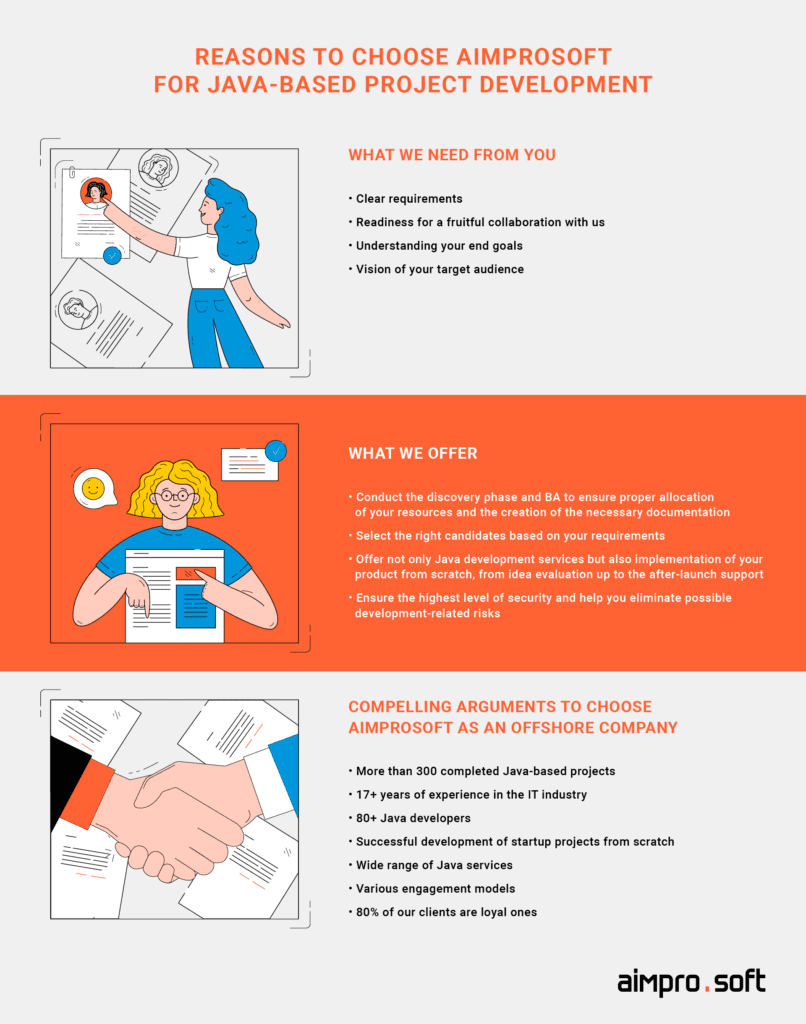 Apart from the reasons stated above, there are a few other arguments for choosing Aimprosoft offshore Java development company for the development of your startup. One of which is the examples of successfully completed Java projects that you can check out to explore our implementation of software using this technology. Our brightest Java cases that we can openly share are Avora — a robust analytics platform, Virtual1 — a web portal for the UK's leading telecom service provider, an auto dealer integration platform called Motive Retail, and a web platform for crop diversity exploration GenesysPGR.
The other reason to hire Aimprosoft dedicated Java developers is the wide range of offshore Java development services we provide. To name a few: platform-based development, web development, design of Java architecture, migration to Java, Java server-side development, native mobile application development, and many others.
Wrapping up
By choosing to create a project using such a proven technology as Java, you are already halfway to success. The only thing left to implement your ambitious plan is to hire experienced offshore Java coders, considering all the tips we provided in the article. If you are ready to choose a software vendor with almost two decades of experience in software development and 300 completed Java-based projects, contact us, and we'll go through this software journey together, avoiding major development-related pitfalls on the way.
FAQ
What countries are the best Java developers?

The bigger concentration of Java developers is in China, South Korea, India, Germany, Spain, and Brazil. However, if we are talking about the best outsourcing destinations that would cover the most important aspects, such as reasonable cost, convenient location, and decent quality of the developed product, we recommend considering the following destinations: Eastern Europe (Ukraine, Poland), Latin America (Brazil), and China.
Does Java work only for Android apps?

Apart from being cost-efficient, scalable, and secure, Java is a truly versatile programming language that can be used not only for the development of Android apps (e.g., Spotify, Uber) but also for web-based (e.g., Netflix, Linkedin), games (e.g., Minecraft), tools for big data processing (Apache Hadoop), and many others.
How fast can I find offshore Java developers?

There are numerous factors that influence the speed of finding the right Java specialists. The first thing to do is to find an offshore destination. The research that you will have to conduct may take up to several days to weigh all the pros and cons of the top regions. Hopefully, our article can significantly reduce this time. Once you choose the destination, you can start looking for the right vendor. Check independent review platforms, like Clutch, to examine the reviews, descriptions, rates, and other important aspects. It may take up to several days more.

Then, once you find your perfect vendor, the process of hiring starts. After the requirements discussion, there are two possible scenarios in terms of time. If there are available developers matching your request, the vendor can provide them for hiring instantly. However, if there are no available developers, it will take from several weeks up to one month to either recruit the developers or check the availability of those who are currently engaged on other projects. Overall, the entire process may take from one week (if you choose to hire freelancers) up to one month if you decide to collaborate with an IT vendor.
What are Java full-stack developer skills?

Let's consider skills that are required for junior, middle, and senior Java full-stack developers. Junior developer's must-have skills are: Java Core, Spring (Core, MVC, Security, Data), Jdbc/Hibernate, SQL (MySQL/PostgreSQL). In turn, mid-level Java developer's skills are the following ones: Java Core, Spring (Core, Boot, MVC, Security, Data, Cloud, Integration), Jdbc/Hibernate/JPA, SQL (MySQL/PostgreSQL), Message Brokers, Docker.

Finally, senior full-stack Java developer's must-have skills include knowledge of Java Core, Patterns, Spring (Core, Boot, MVC, Security, Data, Cloud, Integration), Jdbc/Hibernate/JPA, SQL (MySQL/PostgreSQL/Oracle), NoSQL, Message Brokers, Docker, AWS, Multithreading, Microservices, CI/CD, JavaScript ES5/ES6, React+Redux/Angular.