Startup Java Development Outsourcing Guide
Key takeaways
Learn the main reasons why you should outsource Java development to international companies.
Well, no risk, no reward. Learn how to overcome all the challenges of outsourcing and reduce the risks to almost zero.
Discover outsourcing to which countries will provide you with more opportunities and benefits.
Get valuable tips on how not to make fatal mistakes when choosing an IT vendor.
Learn the key steps to Java development outsourcing to save budget and succeed.
Why is Aimprosoft the right provider of Java services for your project? Let's find out together in our article.
People have been exchanging goods and services worldwide since prehistoric times. The Silk Road has influenced globalization and the ability to grow many businesses worldwide. In today's world, the modern version of Silk Road is the outsourcing of various activities, which opens the door to a wide range of talent and different IT services. In 2021, the market for outsourcing business processes was estimated to be worth $245.9 billion. In turn, the revenue in the IT outsourcing segment is expected to reach $395 billion by the end of 2022. So, if you want to develop a Java-based product in a cost-saving way, outsourcing will be an excellent choice. Let's make sure of it together further in our article.

Why outsource Java development of your project to an external partner?
Undoubtedly, outsourcing to a company far away from you is, first and foremost, a profitable financial decision. It also helps save time on recruiting because you delegate hiring, onboarding, and retaining employees to an outsourced company, which, as a result, speeds up the product launch. But today, we'll talk about the less obvious reasons why you should outsource Java programming.
1. Reduce the burden related to project management
When you outsource a specific scope of jobs, such as Java software development outsourcing, your software provider is responsible for the quality of your product and an excellent final result. So you will get more time to concentrate on your core business activities if you have a team of professionals focused on the development of your product.
2. Support from the IT community
You may often hear the term "huge community" in an IT environment. You can find a country for outsourcing that has a large IT community. An impressive IT community in a particular region means you will always have a huge choice of companies you can turn to hire Java specialists. Also, in case you need additional developers for your project or some rare specialists apart from Java software engineers, it will be easy for you to fulfill this need. This way, your project won't have significant delays in development.
3. Enjoy flexibility
Flexibility is the second most popular reason why people turn to outsourcing. Outsourcing Java application development allows you to use Java developers, infrastructure, and other services following your demands, much as the Java language itself enables excellent flexibility. Suppose you resort to outsourcing the development to an IT vendor. In that case, you obtain the opportunities for staff augmentation, meaning you can scale up and down your team easily, the ability to hire other specialists necessary for successful product completion (PM, QA, DevOps, BA, etc.), choose an engagement model, etc.
We've seen in this section that Java outsourcing has significant benefits, which make companies of different sizes, from startups to well-established enterprises, choose this engagement model. Once we've learned about all the positives, let's also look at the risks you may face when Java-based product is being outsourced.
Outsourcing Java programming risks
Clients' most frequent worries when applying to outsourcing are usually the first doubts that come to mind, such as the difference in time zones and culture and the language barrier. But today, we will look at the question of risks from the other side and will also find out how you can minimize them to zero.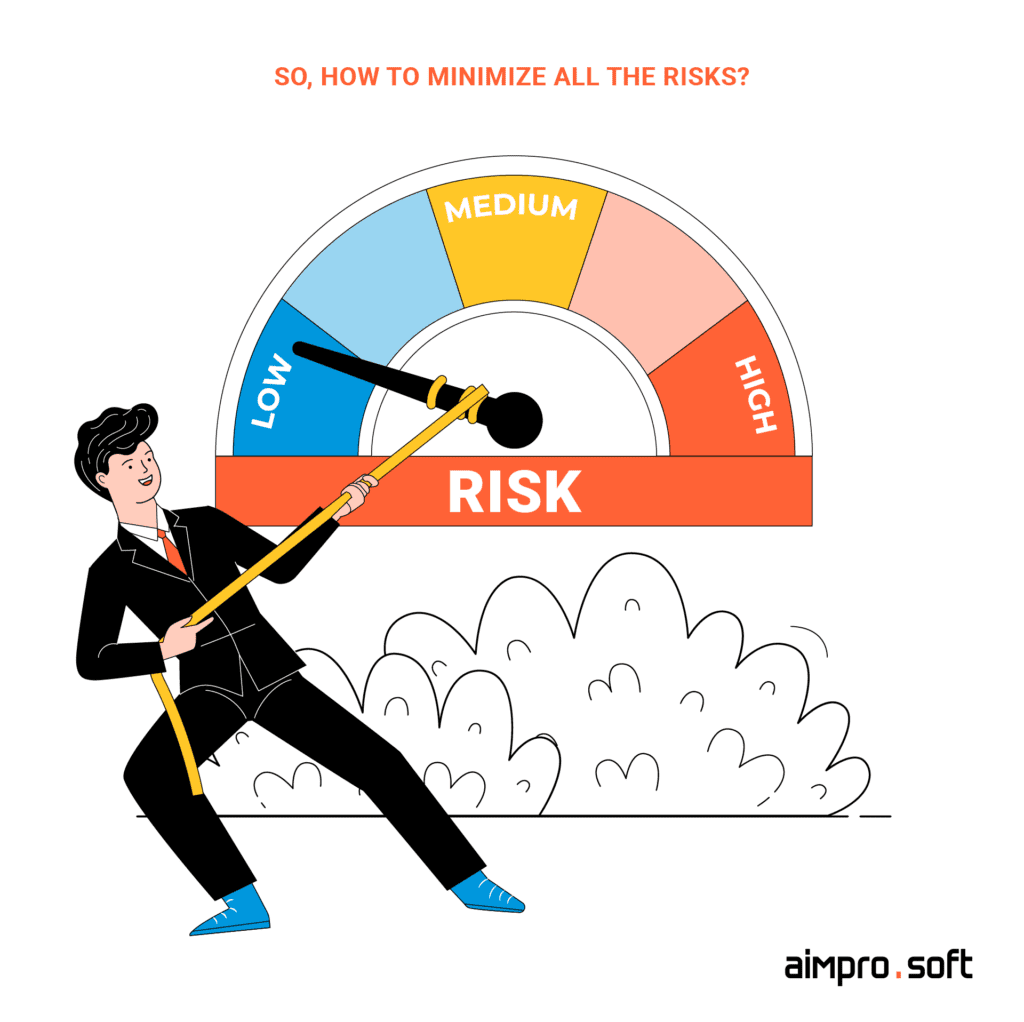 The risk of choosing the wrong IT vendor
Making the wrong vendor selection for your project can have a negative impact on many aspects when building your product, including missed deadlines, incorrect resource allocation, dissatisfied customers, security issues, etc. There is a risk of running into an unreliable company with a bad reputation, which may overestimate its experience, provide insufficiently qualified developers, miss the deadline for product release, etc. But you can always protect yourself and reduce the chances of stumbling on an unreliable company.
How to minimize this risk?
Identifying objectives, requirements, and technology stack are essential before choosing a Java software outsourcing provider to identify whether the vendor will be able to handle your request. It's also necessary to evaluate the external company's case studies and assess its maturity level. You can check it on independent review platforms like Clutch.
Also, some outsourcing companies provide a trial period, it's paid, but it helps to understand whether you and your IT vendor are a good match at an early stage. At Aimprosoft, a trial period is a full-fledged contract for work, but its period is shortened to one month or three months, depending on the scale of the project. After a successful trial period, the client signs a long-term contract.
Unsatisfactory communication
Business owners often doubt whether communication between them and the selected outsourcing company can be without misunderstanding. Of course, such difficulties may arise because of different time zones or cultural barriers. You may also overestimate expectations that do not correspond to the chosen company. But is it an unsolvable problem?
How to minimize this risk?
You can always make a clear communication plan that will cover the time when you need to receive reports, methods by which you can be in touch at almost any time, etc. Many IT service providers also assign a project manager to your project, who will ensure that the work is done to a high standard and close any communication gaps. Also, pay attention to the vendor's mindset since it can significantly affect the quality of your communication. For instance, the chances of miscommunication with the vendors from Eastern Europe are almost down to zero since the mindset and approach towards software development are similar to other European countries, the UK, Canada, and the US.
The security of your project
Whether it is fear for your intellectual property or leakage of the source code, it is all a legitimate risk. It's always hard to put your brainchild in the wrong hands. But you can protect yourself as much as possible, and here is how.
How to minimize this risk?
For a start, your vendor must meet all compliance requirements depending on the specifics of your product (e.g., HIPAA, GDPR, PCI DSS, etc.). Data protection, by default, must be designed and implemented in all systems and practices used by businesses handling users' personal data. Your vendor can use cloud databases like GCP, Azure, or AWS to ensure there is no source code leakage. You must also sign a non-disclosure agreement (NDA) with your vendor. The information that you, as the customer, want to keep private must be specified in this agreement, along with the implications of disclosing it.
Well, no risk, no reward. So put all your doubts to rest, and feel free to outsource your Java development to a trusted vendor. Hopefully, we have dispelled all your doubts, and you are ready to move on to the section where you will learn the best regions for outsourcing.
Where to outsource Java development
Let's take a look at the most popular regions for software outsourcing around the world. We all know about Asian countries like India, China, and the Philippines, but recently these regions have started giving up their positions. New outsourcing destinations are gaining popularity, and today we will talk about them. In this part, we will compare all these regions' strengths and weaknesses so that you can choose the most suitable destination and, as a result, an IT vendor for you.
Eastern Europe
In recent years, outsourcing to Eastern Europe has been gaining popularity for some convincing reasons. Eastern Europe's software development industry is known for its superior education systems, affordable costs, strong communication norms, fluency in English, and comfortable time zone.
Top countries from this region: Ukraine, Poland, Romania, and the Czech Republic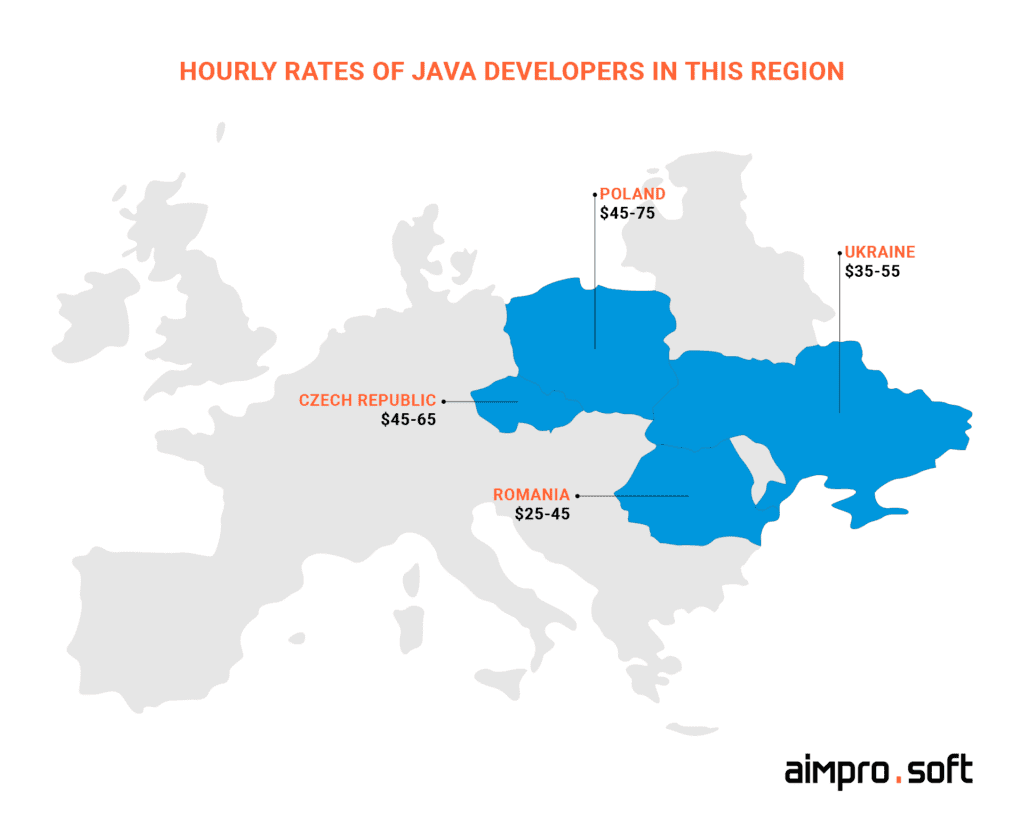 Key advantages of these countries
A high level of education among the population

The majority of people in Europe hold advanced degrees. For example, Ukraine has consistently outperformed EU nations regarding the share of GDP spent on education for those aged 20 to 24. (from 2009 to 2016). Also, 30 of the top 369 universities in Europe are situated in Eastern Europe, according to the QS World University Rankings.

A great field of talent

A significant talent pool of software developers has grown as a result of numerous factors: a high literacy rate, the rapid growth of the IT market, the ability to enter the industry being a self-made gem, the prestige of the profession, etc. In Europe, there are 6.1 million experienced developers, according to the State of European Tech report. Therefore, selecting qualified specialists to complete the project won't be challenging for you — outsourcing companies in Eastern Europe make it clear.

And for instance, the information technology sector in Ukraine is gaining up to 30,000 specialists every year. So outsourcing in Ukraine can be a good choice because you can always find suitable developers.

Want to learn more about all the benefits of outsourcing to Ukraine?

Take me there

High level of data protection

We've already talked about how important the security of your personal data is while Java developers' outsourcing. You can prevent stressing about safety by contracting with Eastern European companies. Countries in Eastern Europe comply with copyright laws, nondisclosure agreements, and regulations like the General Data Protection Regulation (GDPR).

For instance, if we take a look at the approach to security in our company, apart from all must-have security precautions, such as hard drive encryption, strong passwords, VPN for external users, and network segmentation, our entire IT infrastructure is cloud-based and located in Germany which reduces security risks for our clients down to zero.
Weaknesses of the region
Time Gap
Yes, the time gap with countries from this region can be frightening at first. Europe and, for instance, America or Canada are in different time zones. However, there is an advantage to such a seemingly significant reason; when you wake up, your offshore team can provide you with updates on the work and outcome of the completed tasks.
Latin America
Recently, Latin American countries are becoming more and more popular with outsourcing. This is a new direction, and it is just beginning to develop, but it has good prospects. For example, the world's outsourcing market saw its highest revenue of the decade in 2019, with the Americas doubling as the region with the largest outsourcing market. Moreover, Brazil's outsourcing sector employed about 500,000 software engineers in 2021.
Top countries from this region: Brazil, Mexico, Colombia, Chile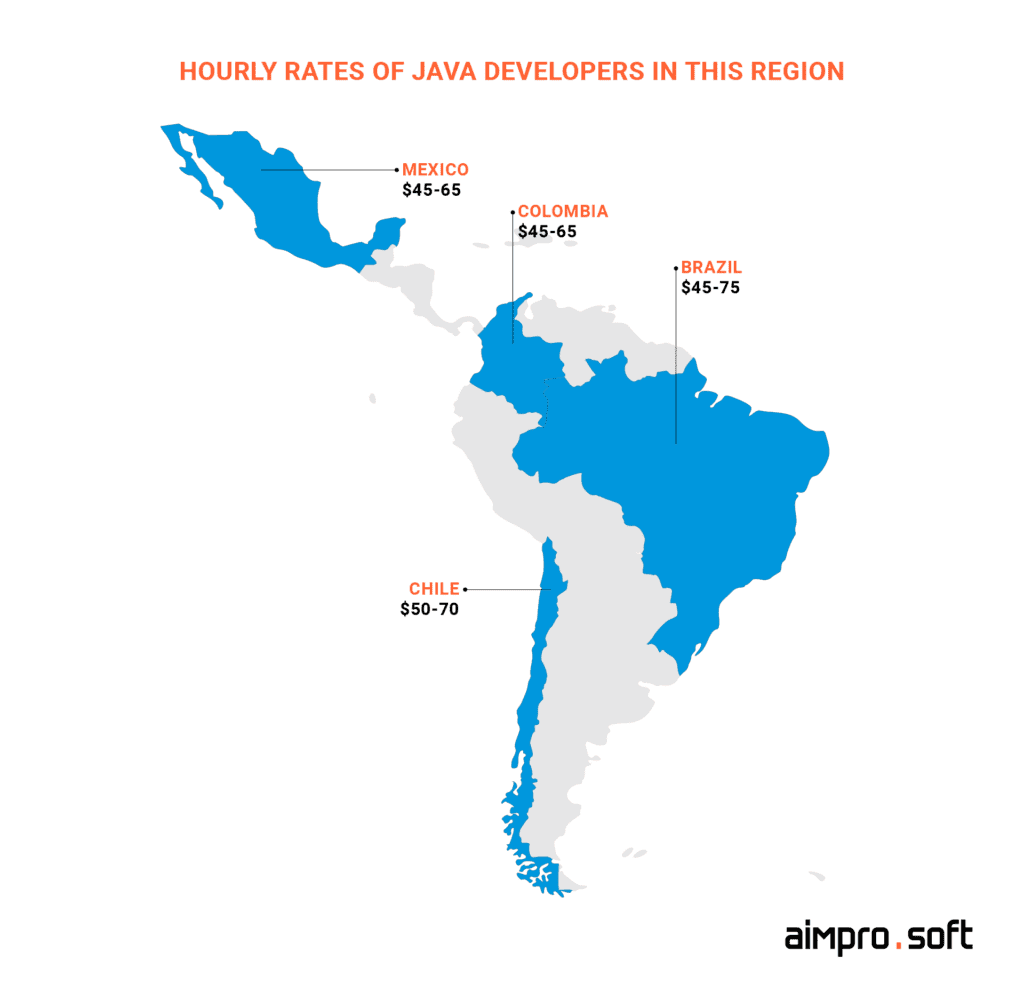 Key advantages of these countries
Number of IT specialists

For instance, Mexico's more than 120 technical universities annually graduate a large number of engineering students. To stay up to date, these software professionals take part in a variety of forums and conferences. Over 100,000 software engineers worked in Argentina as of 2021, compared to over 225,000 in Mexico.

High level of English proficiency

You don't face a significant language barrier when you outsource to Latin America. Since most Latin American developers are often fluent in both Spanish and English, they can serve a wider range of customers. The highest levels of English competence in the region are found in countries like Chile, Costa Rica, and Argentina.
Weaknesses of the region
Low data security

Protecting your data is incredibly important, but unfortunately, Latin America, as the only emerging area for outsourcing, has problems with it. Latin American nations generally do not adhere to international data protection laws, such as the General Data Protection Regulation (GDPR). But many countries, including Brazil and Mexico, and others, have created their own data protection laws.

A little pricey

The level of developer rates in Latin America is quite high compared to other outsourcing regions. And since outsourcing in this region is just beginning to grow and gain popularity, such prices may be a bit unjustified.

Lack of domain expertise and well-established approach

Undoubtedly, Latin America as an outsourcing destination is growing rapidly. However, the region is still considered relatively immature, and you may face the problems of the absence of an established approach to software development and not well-thought-out workflow. As a result, it may cause communication problems and delay product delivery.
In general, every country and every region has its pros and cons, so when choosing the destination, consider those aspects that you think are most important for your seamless communication with the vendor and successful delivery of the project, such as language proficiency, time zone, security strategy, cultural nuances, etc. Let's also take a closer look at the tips to help you find not only the perfect destination but also an ideal Java development vendor.
How to choose the right outsourcing partner to get Java development done
In this section, we will discuss the most important aspects to pay attention to when choosing an IT vendor. We will look at the most reliable methods, including those recommended by Forbes.
Reputation
The company's reputation is probably the most vital aspect to pay attention to when choosing a vendor. If a company leaves behind dissatisfied customers, provides substandard services, or has judicial problems with former customers, you shouldn't consider dealing with such a provider. Fortunately, finding out about an outsourcing provider is now elementary. You can google, search social networks, the company's blog, or independent reviews platforms like Clutch, GoodFirms, etc. After assessing the firm's reputation, you can quickly choose the right vendor.
Business savvy of the vendor
In the Forbes article, Jacob William advises, "you should go beyond understanding what they can do to understanding their outlook toward business." When considering long-term cooperation with an IT outsourcing company, it's essential to consider both the company's technical aspects and business savvy, how the provider conducts business and treats clients. Does the company have enough expertise to overcome all the difficulties of the development process, be ready to make compromises, and offer top-notch service? If the answers to these questions are positive, you should consider this vendor.

How great is the experience that they have with Java?
Once you've narrowed down your list of vendors, you should thoroughly analyze the specific skill sets and types of expertise each vendor brings to the table. Having experience with Java and related technologies is incredibly important. The company must have a solid portfolio with Java-based products, plenty of Java-savvy developers, and years of expertise with this technology. For example, at Aimprosoft, 300+ projects in our portfolio are Java-based. All these aspects are worth considering, and we highly recommend basing your choice on them.
Use proven places to find a vendor
Looking for an outsourced Java team in trusted places is always a good idea. One of the most time-tested ways is through feedback from previous customers. Your business partners may know reliable offshore providers and recommend them to you. But also special digital platforms to search for outsourcing software companies are rather helpful. For example, LinkedIn since many companies have a profile on this social network. You can also find a vendor on Clutch or Techreviewer.
Considering all these valuable tips, you can find a reliable and right vendor for your project. And now, let's move on to one equally important aspect you should pay attention to when choosing an offshore company. Of course, this is the cost. In the next section, we will look at the rates of Java developers worldwide.
Cost of outsourcing Java development
Salaries of Java developers in different parts of the world can vary dramatically. This is influenced by many factors, such as the standards of living, salaries in the country as a whole, demand, and much more. And do not forget that the most popular outsourcing directions are attractive because they always offer reasonable prices, which do not compromise the quality in any way.
| Country | Average hourly rate |
| --- | --- |
| USA | 60—80$ |
| Latin America (Brazil) | 40—65$ |
| UK | 60—70$ |
| Western Europe (Germany) | 50—65$ |
| Eastern Europe (Ukraine) | 35—55$ |
Main steps to outsource Java development to save budget and succeed
So what happens when you decide to outsource Java programmers to develop your project? Let's look at each step. You can see the full cycle of development in the illustration below.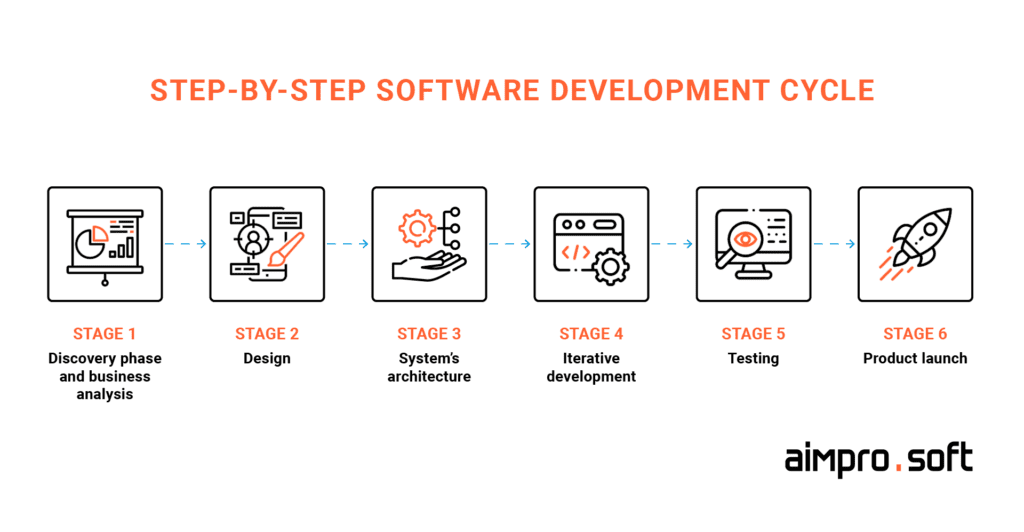 Now, when you have a basic understanding of how the development of an IT product happens, let's focus on those steps that can help you stay within budget, reduce the risk of misunderstandings between you and the outsourced Java developers, and increase the chances of success.
Stage №1 Evaluate your vendor
Choosing the right IT service provider is the first and most important step you should conduct with the utmost care. Before contacting an outsourcing company, check its portfolio, the level of experience with Java technologies, and how well the company adheres to all security measures. You can check these points on platforms like Clutch, GoodFirms, TechBehemoths, etc.
Stage №2 Share your development plan
So you found the right IT vendor; let's imagine it is Aimprosoft. When you turn with the request to help with the development of the Java-based project to our company, we ask you to provide the technical requirements, primary business objectives, and project development strategy. However, it frequently occurs that the client does not provide sufficient requirements for the project, making it impossible to deliver a detailed estimate. Then we need to perform the next step, the discovery stage.
Stage №3 Conduct the discovery stage
This stage takes place before the solution implementation begins and aids in identifying the project's main objectives, compiling all the requirements, etc. At the discovery stage, a business analyst is engaged in the project. A business analyst creates a detailed project plan, analyzes the target audience, identifies potential risks, and creates all the necessary documents to start the project properly. This step is worthwhile if it is almost impossible to go beyond the budget. And for startups, it is crucial to reduce development costs and all risks to nearly zero.
Want to know more why discovery stage is crucial for the project's success and how it can help eliminate major development-related risks?
Find out
Stage №4 Hire a project manager for satisfactory communication
As soon as the contract is signed and the development process begins, the project manager is engaged in the project. To maintain communication between you and the Java development team members, it is unquestionably worthwhile to hire a project manager. The project manager will update you on the work completed and offer a new viewpoint on the project.
Mind that you can outsource project management services as well, which can be rather favorable for the development team if the PM works together with them on the same project and from the same IT vendor. It will take significantly less time for the entire team to find a common language.
Stage №5 Sign a contract
You and our company must now sign a contract that clearly outlines payment requirements, deliverables, deadlines, and failure-related penalties, among other things. Once this is finished, you can sign and begin the development process.
By following this sequence and not excluding any of the above steps, you can save your budget, reduce the risk of misunderstandings with your hired team, and bring the chances of your product to success. Continue reading the article to figure out how cooperation with Aimprosoft can benefit you.
Do you want to hire Java developers for your upcoming project?
Contact Aimprosoft, and we will discuss with you all the details
CONTACT US
Why choose Aimprosoft as your Java outsourcing partner?
In this article, we discussed the pros and cons of outsourcing Java development for your project. We have given you great tips on choosing a reliable offshore IT service provider. Aimprosoft meets all criteria for a reliable Java software vendor. Want to be sure? Explore some compelling arguments that confirm our previous statement.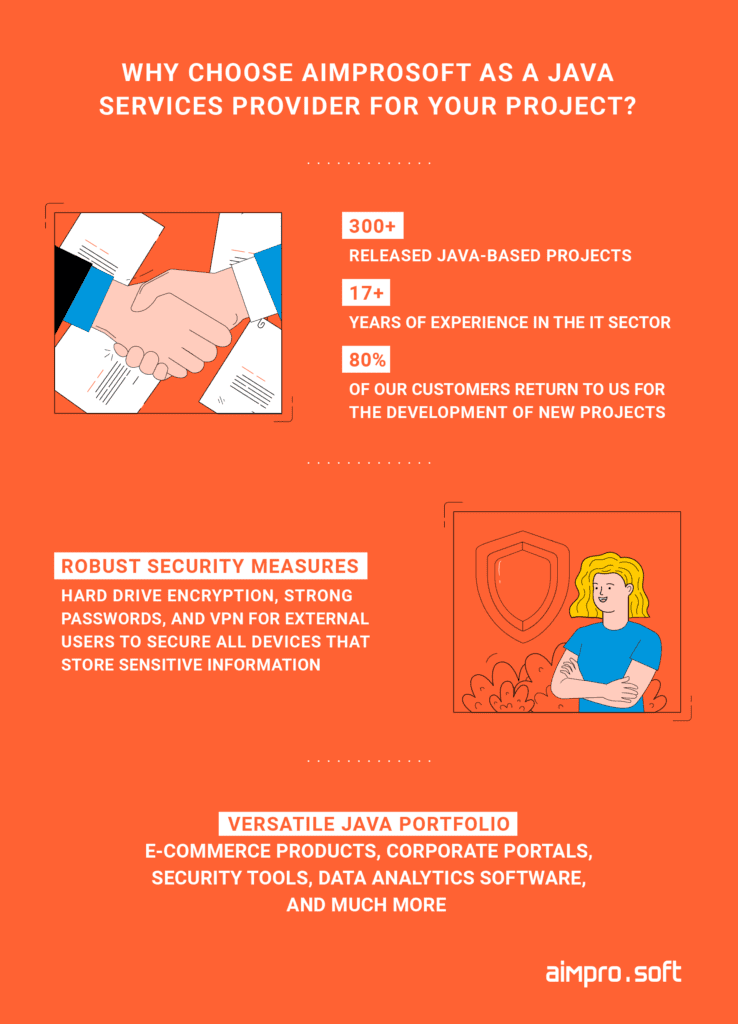 Our experience with Java

We have a great experience with Java, as we've been working with this technology since 2005 and have released 300+ Java-based projects. The most striking of them are Virtual1, Motive Retail , and GenesysPGR. Our company currently employs 80+ Java developers, so we can find you the most suitable developer with the ideal skill set for your project. We provide a wide range of Java services, such as platform-based Java development, cloud-based Java applications, Java server-side development, migration to Java, Java mobile development, and others.

We are a reliable software partner

With more than 17 years of experience in the IT sector, we have a very high degree of professionalism. We constantly strive to create the greatest quality results because we value our reputation. 80% of our customers return to us for development. We carefully consider our customers' needs, scrupulously adhere to all established standards, and are constantly prepared to determine how to implement your product effectively.

Robust security measures

Our internal security compliance strategy includes network segmentation, hard drive encryption, strong passwords, and VPN for external users to secure all devices that store sensitive information. Other security steps include launching malicious application detection systems for virtual infrastructure nodes, installing the most recent security updates, using intrusion detection and prevention systems, and more. We also use cloud services, where your source code is held and access restricted.
Conclusion
As you can see from our article, outsourcing Java development can be a win-win strategy for your startup. It brings a lot of advantages like flexibility, budget-saving, access to a wide talent pool, and so on. Considering all the risks of outsourcing, the ways to minimize them, and tips on choosing the right outsourcing software vendor, you are more than prepared to outsource and breathe life into your startup. And, of course, if our arguments are convincing enough, you can turn to us for Java development, and we will assemble the best-fit team for your project.
FAQ
What is the difference between Java coders and Java architects?

Architects are responsible for outlining every step of a project, including what to accomplish and how to do it. Developers are the ones who put the architect's plans into action. The architect design the application, along with details like how each module will be built and integrated.
What developers, besides Java, can require Java projects?

Typically Java developer works with frontend developers who know HTML/JS/CSS. Also, Java developers may need DevOps specialists. But the beauty of Java is that JVM runs it, so you can collaborate with any JVM programming language (JavaScript, Scala, Kotlin, Clojure, etc.), hence, corresponding specialists.
Is a dedicated team profitable for a startup?

There are often cases when startups are limited by budget and time, and getting over the deadline can sometimes have fatal consequences for the whole project. Such a decision as hiring a dedicated team brings benefits that will be profitable for the startup, like cost-effectiveness, fast development cycle, and scalability. So, the answer is definitely yes. If you want more information about the benefits of hiring a dedicated team, you can always read our article on the topic.
What are the issues in Java developers' recruitment?

When hiring a Java developer, the main problem is that such an engineer needs to know not only Java, even the latest version, but also databases, frameworks, and libraries such as Spring, Hibernate, etc. And as we know, people usually focus on something specific and narrow, which is understandable because that's what their projects require. So it can be hard to find a highly qualified developer.