Articles
14 October, 2022
Outsourcing Vue.js Development Guide for Ongoing Partnership
Key takeaways
600 000 of the Top 1 mln websites are Vue-based, and the number is growing. Learn more about how to outsource Vue.js developers' tasks to have time to complete your project.
Can Vue.js outsourcing make you competitive? Yes. Check the stories of businesses and startups that already have had.
The yearly Vue.js development cost in Latin America and India equals the monthly US developer compensation per year. But there is no rush to outsource. Know why.
Explore the Vuejs development services outsourcing from Aimprosoft that goes beyond classical web and mobile presence with real cases.
Best regions for outsourcing and costs of services for any taste and wallet.
28 000+ is not the number of stars on GitLab for Vue.js (they are actually 200 000), it's the number of open positions for developers in the U.S., Canada, and Europe (excl. Eastern regions).
Over 600K of the Top 1 mln websites use Vue in their core. With almost 19%, Vue.js takes 6th place among the most popular frameworks and technologies. 3.4 million weekly downloads on NPM reflect the large market coverage. Not surprisingly, there is a great demand for specialists with knowledge of Vue to complete the development process.
In this article, our goal is to give you a taste of the outsourcing destinations and costs of Vue outsourcing so that your efforts to close your emerged tech gap ASAP and in the most effective way.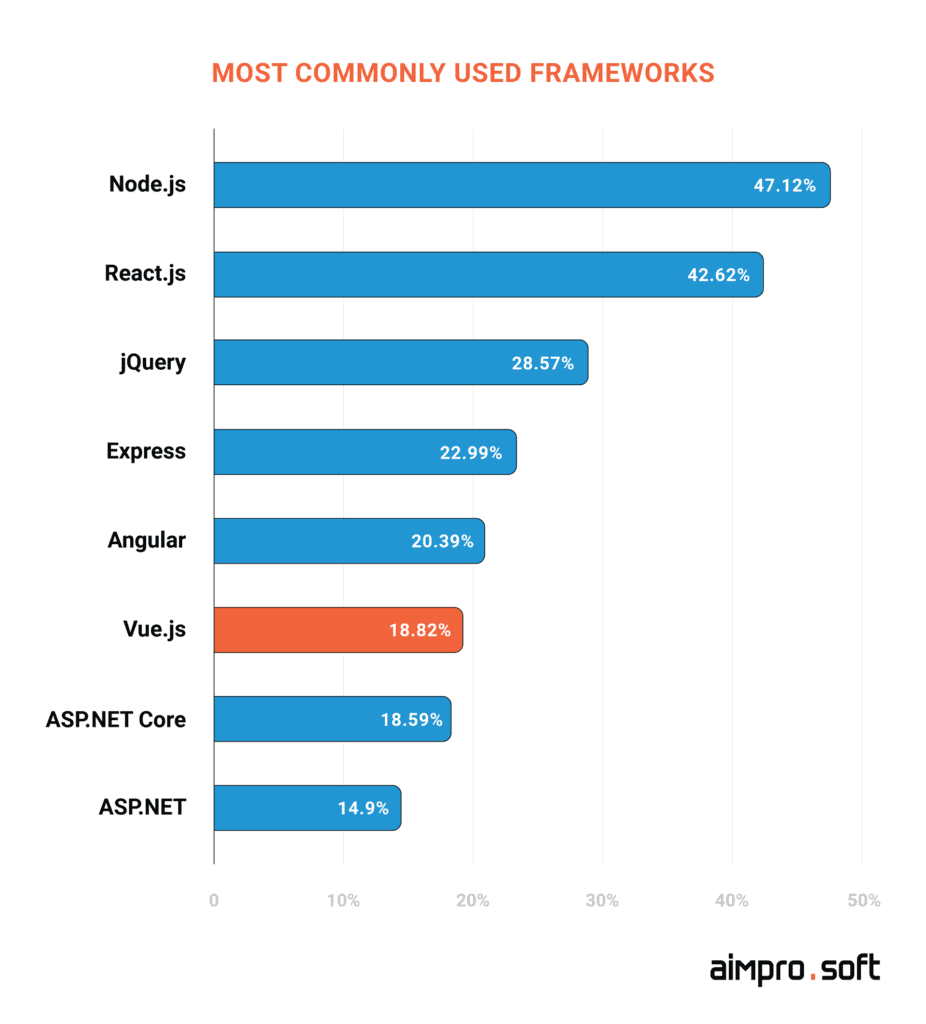 Why you will benefit from outsourcing Vue.js development
The increasing supply-demand gap for software developers, the growing gig economy, and a shift to remote work gives rise to a tech talent demand and simultaneously an opportunity to outsource Vue development talent rapidly.
Not only do startups see it worth it, but also Facebook, Netflix, Grammarly, and many other world-known companies benefit from Vue.js, which has already cemented its place as one of the most widely used JavaScript frameworks and does not shy away from delegating tasks to contractors. Let's go through the main benefits followed by implementing the right outsourcing strategy.
What means outsourcing for CEOs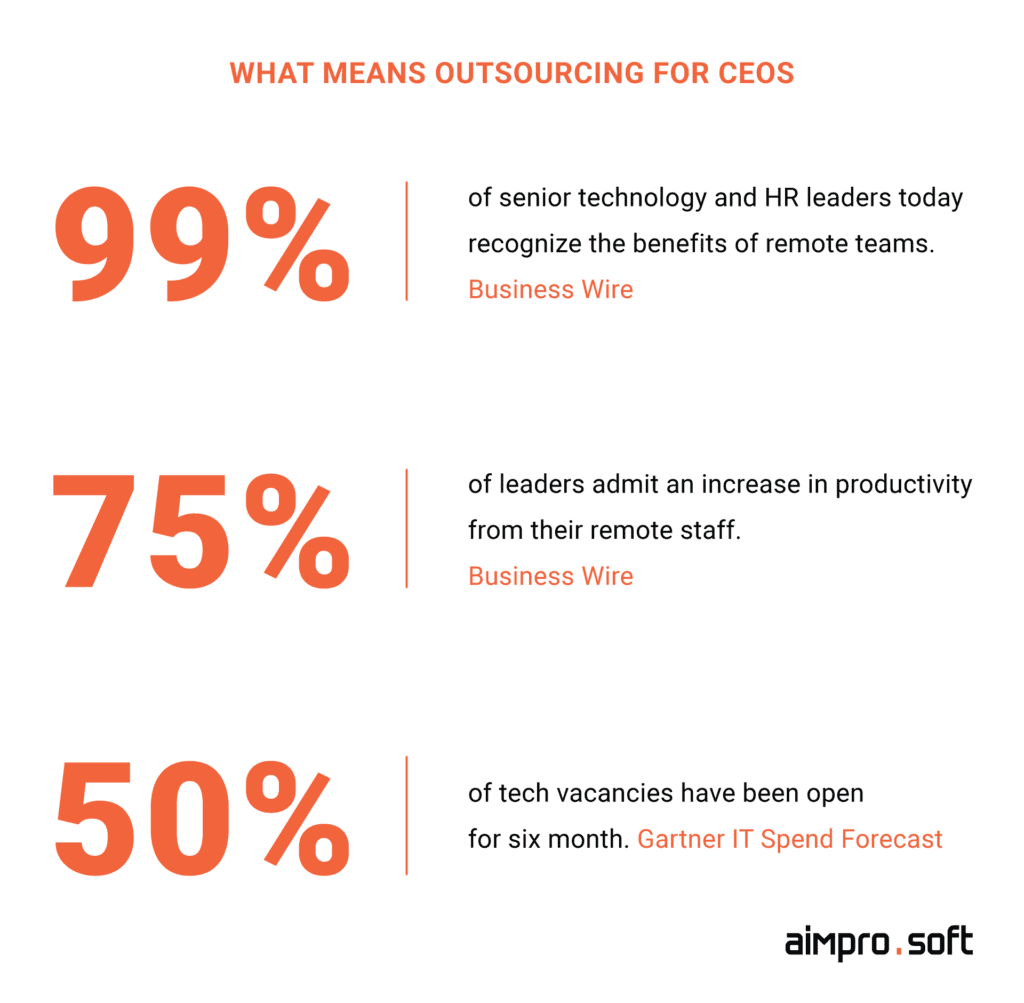 Planning out your budget cleverly
Cost-effectiveness emerges as a top issue. Outsourcing Vue.js development means you simply pay for the required skills, giving you the advantage of predictable budgeting. In contrast, in-house developers need additional perks, sick days, and training costs.
For example, 70% of organizations admit that finding qualified applicants takes at least a month. Because time to market is one of the determining criteria, scaling the product is practically impossible for startups where speed is a goal.
Outsourcing companies stay in the way of the swift onboarding of competent engineers. Another advantage is that it shields businesses from additional expenses associated with staff replacement (as a survey says, one in five new recruits are usually replaced).
On top of that, by partnering with an outsourcing company, you may avoid the hidden costs of drawn-out hiring procedures.
Take advantage of improved legal conditions
Due to more favorable legal conditions than local opportunities, major IT centers draw outsourcers. Let's take Ukraine as an example, which is not subject to EU regulations. It is easier to outsource Vue.js development services in this area, thus.
Focusing on vision as other CEOs do
The wrong approach for a CEO is being ubiquitous, not sleeping a wink trying to manage everything, when you are the heart of the company, the inspirer, and the leader, who has a more significant role to play. When the employment of technical employees and technology administration is under the control of the responsible teammate or a company, it is possible to concentrate on future visions, strategy, and strengthening leadership skills.
Increasing team productivity
The worry that remote teams perform poorly is almost entirely gone. 9 of 10 full-time employees win over; they are more than comfortable working remotely after the widespread shift to remote work. Employees of software development firms are experts with remote communication tools and agile development methodologies. Additionally, the roles and obligations of the vendor are always stated together with the expected results. Consequently, you get enthusiastic, satisfied performers with the inspiration of those working.
Staying above the competition
By being backed by a team of IT professionals covering a comprehensive service portfolio instead of diversified individual contractors, you can outsource Vue.js development services and stay ahead of the competition. How? CEOs can access plenty of openings a software partner offers by finding a partner just once. Technology solutions created to meet your unique demands give your company a significant competitive advantage.
Leaving hiring and training processes
It's just the way it's always been; the outsourcing vendor is in charge of engaging new employees to your development team. After reaching predetermined milestones, you, the CEO, are able to review reports and deliverables periodically. Your chosen partner's responsibilities also include the development team's ongoing training (certifications, upskilling, mentoring). A software partner supports personnel skill development to deliver services in order to deliver the highest quality product.
Want to achieve financial and technical benefits by outsourcing Vue.js development?
It's possible with Aimprosoft's front-end development services.
CONTACT US
Outsourcing-as-a-service for CTOs and CIOs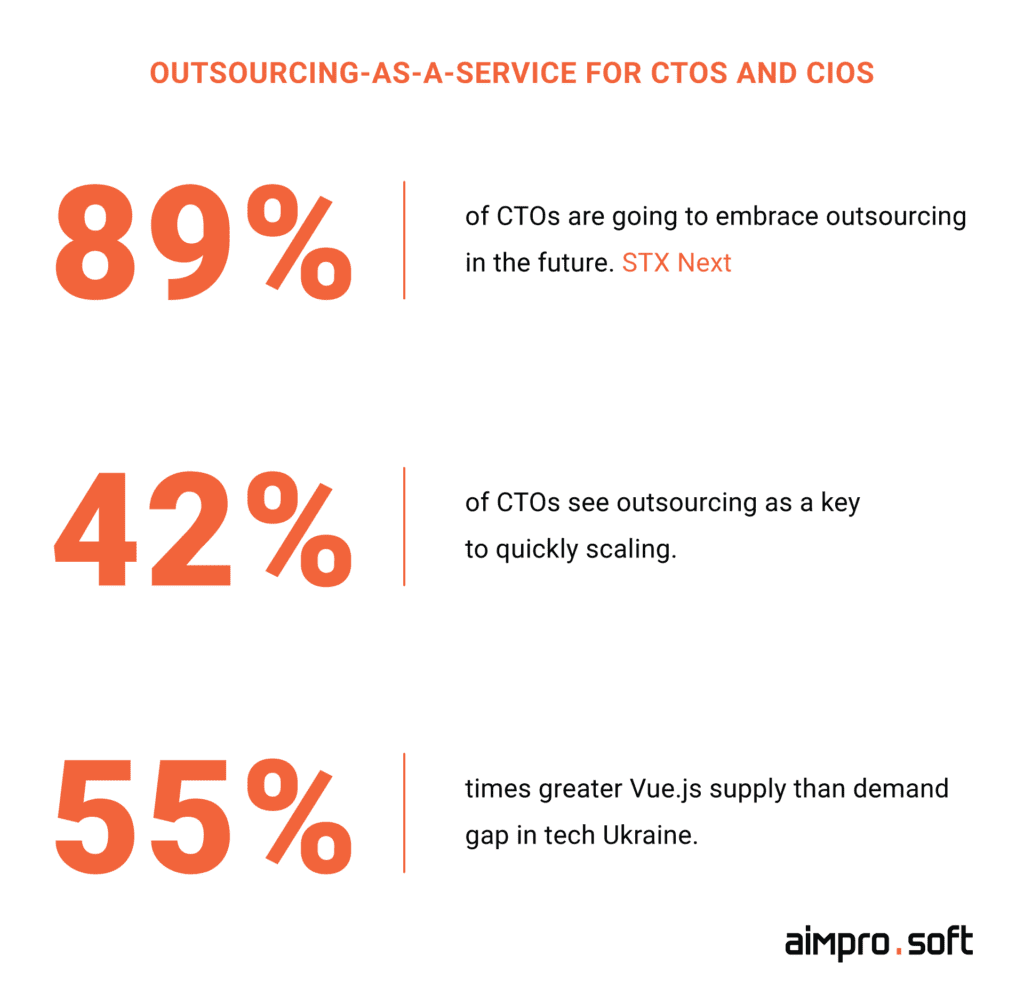 Access the world pool of tech talents
Many tech leaders repeatedly face a local tech shortage and know firsthand that deciding in haste to close a gap urgently is not the best way forward. For CTOs and CIOs carrying out their responsibilities and are in charge of thoroughly selecting the right tech specialists who can ensure proper product growth and development, as well as effective security enablement, access to the diverse tech talent pool is the most crucial deciding element.
For example, there are 12 000 Vue.js specialists in Ukraine as of October 2022, with 218 jobs available. We can observe a 55 times greater supply-than-demand gap, which can be, by the way, swiftly closed. Take into account the 25–30% per annum increase in the industry and technology's growing popularity, and you'll get an excellent pool with minimum 15 000 new development experts in 2023 who can guarantee the advancement of your product.
Close a tech gap in your team faster
Instead of wasting time pitching to individuals on various talent source platforms, your recruiters can narrow down a list of outsourcing companies on your behalf. Then all you have to do is choose and hire offshore frontend developers from a single talent pool that can become a supplier of many IT experts. Outsourcing and remote employment will simplify filling gaps if the local workforce is in low supply or if their pay exceeds the predetermined budget.
Close your tech gap with Aimprosoft today.
Let's discuss your technical needs to find the best fit among our developers.
CONTACT US
Share the responsibilities of sourcing
Hiring for a recruiter and CTO differs by the level of involvement. It is not a quick fix to complement the project team. "Where do I spend my time?" It happens a CTO spends up to 50% of their working hours on search, though. The main tasks are not going anywhere. Delegating sourcing, screening, and onboarding is a normal strategy for busy tech leaders. While caring about the requirements of the candidates, their qualifications, tech interviews, and asking the tough questions to identify the best fit is on your side.
Stand up for your quality standards
CTOs and CIOs must guarantee the employees' services are of the appropriate quality. It is clearly because they are in a decision-making circle. When outsourcing, experienced leaders can perform a quality control check by means of a trial period prior to main development, Proof of Concept projects, test tasks for candidates, and GitHub code review (if possible). Do not neglect to go through the portfolio, clients' reviews, blog posts, etc. The technical expertise heaped from years of experience with different clients will bring you added value in collaboration with a front-end development outsourcing partner.
The nature of IT infrastructure, the security compliance strategy to secure data privacy, and related procedures make it simple to navigate regulatory challenges (cloud-based as usual).
Lastly, outsourcing time-consuming tasks not directly related to your scope of duties (agree, you haven't considered a career as a bloodhound) can release a long-awaited time for career planning and reflection.
Read also about the JavaScript outsourcing trends for 2023 and how to hire overseas development partners.
I'm Interested
Businesses that leave competitors far behind by choosing to outsource Vue.js development
Delivery: Glovo
Glovo, food and beyond delivery Barcelona-based startup, occupied the delivery niche in Europe, Western Asia, and Africa. Its aim is to deliver any product within the city at any time of day. Frontend at Glovo includes Python, Node.js, CSS, Vue.js, and others. They use the latter for every project, as their Software Engineer Neciu Dan shared on Glovo tech talks. At Glovo, they deploy 6 times per day and have 7 mln users monthly. They are staffed with 53 Vue.js developers and are open to remote collaboration in their full-stack positions.
Crypto: Bitpanda
Austria's first unicorn, Bitpanda, is a trading and crypto exchange platform valued at $4.1 billion. Being a promising startup, they are always scaling and have to think ahead for the next big step in tech strategy to cope with high traffic, loads, and upcoming data. Frontend with Vue gives a lighter weight for their page loading. There are 18 people skilled with Vue.js in their team responsible for delivering responsive user interfaces to serve 3 million users. Also, their frontend stack includes Vuex, Vuetify, Jest, REST, Websockets, ES6, Stylus, and HTML5.
Retail: AliExpress
A world giant in international trading, AliExpress (Alibaba Group) also relies on this JavaScript framework serving 450 million users monthly. The 73rd in-line website in the global ranking, the technology allows software engineers to save on overheads, whopping amounts taking into consideration the project scope. Alibaba Group appreciates its good documentation and all the good things incorporated from Angular and React.
Media: Euronews
Euronews is a multilingual news media service headquartered in Lyon, France. Vue.js infrastructure allowed them to create feature-rich digital products with an SEO-friendly core that is crucial for a news portal. The adoption went perfectly. The media resource holds the leadership in the industry with 30 mln users monthly.
Technology: Adobe
Portfolio is a bespoke website builder offered by Adobe that enables designers to display their creative work, similar to Behance and Dribble. Adobe switched its existing frontend codebase to Vue.js, which resulted in greater performance for over 2 mln monthly traffic. Now they can maintain an exceptional user experience more effortless after the smooth codebase migration.
Want to succeed like Glovo, Adobe, or Bitpanda?
Outsource your frontend tasks to us, and we will complete them according to your standards.
CONTACT US
Vue.js development services our developers provide
Developers are a driving force of changes one way or another. Being in the constant flow of solving business problems with the help of technology, they adjust technology to themselves, changing it and creating new forms to tame the emerging complexities. The developers of Aimprosoft are no exception. The picture below visually shows the main advantages of the framework, which delight frontend specialists and therefore solve the business problems of customers.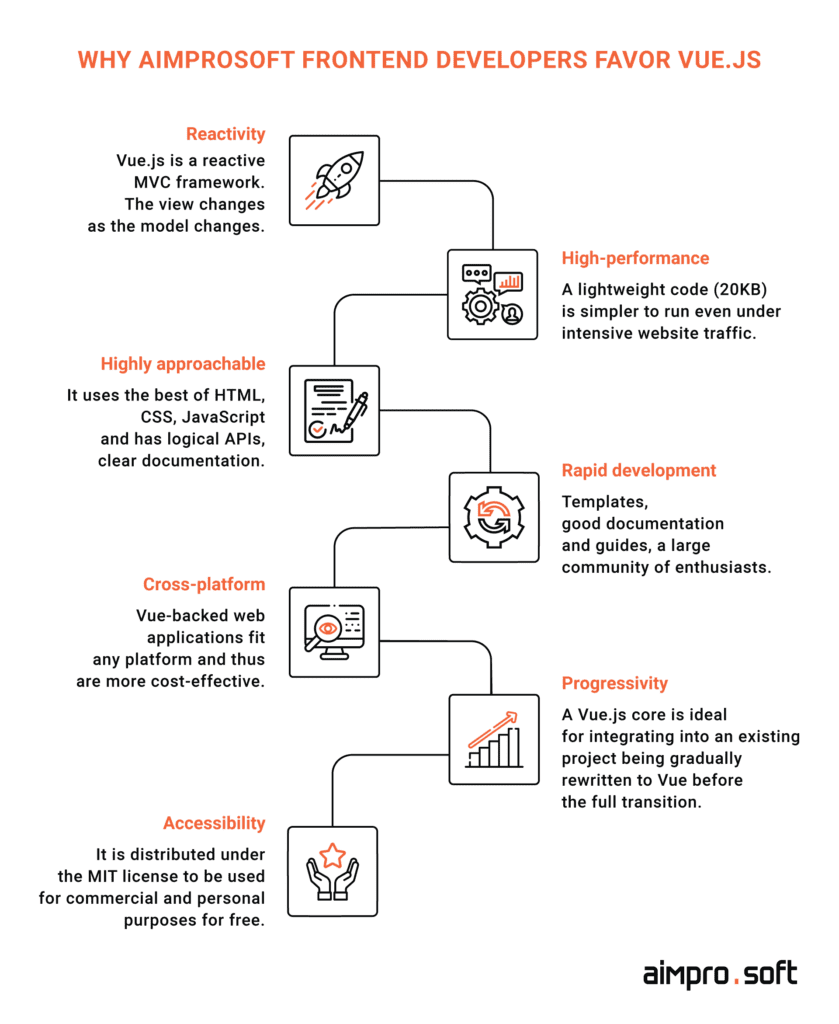 The Vue.js framework is used in the development of:
speedy websites and scalable applications;
websites with high load (online stores, information portals);
Single Page (SPA) applications (social networks, microblogging services, CMS, etc.);
adaptive interfaces;
user accounts and user pages;
functional interfaces like authorization, online chats, application forms, etc.
Migration from jQuery to Vue.js
Many jQuery users have repeatedly looked beyond it toward more progressive alternatives. Vue can be the one. If you're completely new to Vue, it is not a big deal. Frontend developers at Aimprosoft know firsthand it allows keeping the simplicity of jQuery without attempting to keep up with extensive jQuery code bases. We can help you transfer from query-based development to reactive user interfaces.
Single-Page Applications (SPA) based on Vue.js
SPAs stand for faster response time and increased performance, contrary to a traditional server-centric development model. We recommend developing interfaces with Vue.js when an application has to gain:
higher speed;
exceptional UX;
control over the markup;
rich interactivity;
deep session depth;
non-trivial stateful logic.
We will help you create an architecture where Vue controls the entire page. Processing data updates and navigation is done without having to reload the page.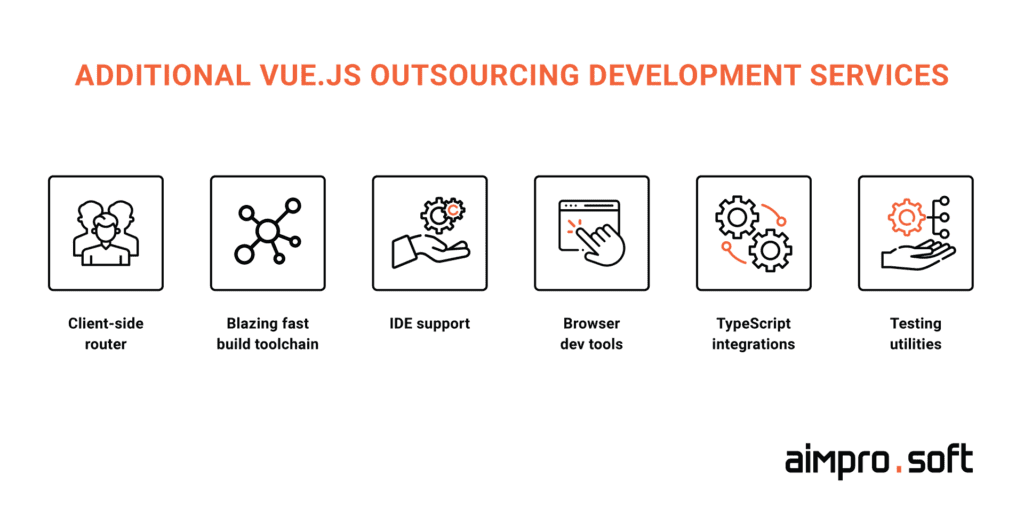 Mastered orchestration with core libraries and tools are what you can expect from Vue.js outsourcing with Aimprosoft.
Vue.js integration in existing applications
It happens that you need to integrate individual components into the user interface without having to rewrite the complete code base. We can build standard web components in Vue and embed them into any HTML page in your project. It does not matter how they are displayed. This way, your legacy applications and applications created with other frameworks can get a fresh look and meet the needs of demanding users.
A UK web platform for short-supply talent acquisition, was created as an alternative to job websites that offer all-or-nothing employment. Since 2008, we have been developing a web application for RealiseMe with Vue.js as a tool for UI implementation. The advantage of this project is that it already includes a lot of functionality out of the box, which you need to add to react with the help of libraries. It's easier to use and has a pretty interesting, convenient approach to file structure, so development is faster. Project developers note certain ease when starting a new project using Vue.js.
Upgrade platform-based solutions with Vue.js
Many platform-based development solutions have been on the market for over 10 years. For example, Hybris, Alfresco, and Liferay use outdated technologies on the frontend. There is a need to adapt heavyweight systems to the requirements of modern users. With a rich history of providing software development for those platform-based projects, we've created niche teams of experts who can help you significantly accelerate your commercial web systems with the modern tools on one, a Vue.js framework.
Case: User-friendly storefront for a Hybris-based online B2B shop
A US manufacturer of power tools addressed to Aimprosoft with a business goal to make an attractive and dynamic storefront to respond to end-user needs. An SAP Hybris-based store got a new look by implementing numerous endpoints, backend adaptations based on customer needs, and new UI features and designs. The website has got improved in usability and clarity for tool marketplace customers.
SEO-friendly info web portals
Pure client-side SPAs are problematic if the application is SEO-sensitive. However, a lot of single-page applications are ranking high on Google. With Vue, we can help you create top-notch SPAs that give an excellent visibility effect and a high conversion rate in search engines. You'll get landing pages that are easy to find and fast to load useful information to users, prompting them to take specific actions. You'll get more visitors who convert into customers.
Desktop and mobile applications
Definitely, Vue.js is web focused, but not limited to. We can help you benefit from it by means of additional tools. For example:
The Electron or Tauri frameworks are good for building desktop apps;
Ionic Vue or Vue Native is used for creating mobile apps;
Quasar employs the same codebase by building desktop and mobile apps.
Ready to outsource your frontend tasks?
Let's do it. Aimprosoft has broad experience in providing Vue.js services.
CONTACT US
Comparing the best regions to outsource Vue.js development
The world ended 2021 more globalized than ever before, largely due to seamless access to workforce resources.
You have two options to outsource Vue.js app development:
Nearshore outsourcing means delegating your Vue.js development tasks to the vendor from the country with a one-two time difference. For example, when a company from the U.K. outsources to Poland or Ukraine while offshore outsourcing refers to cooperation between the U.S. and Ukraine when the distance between partners stretches the thousand of kilometers across a 7-8 hours difference.
Outsourcing destination matters when you choose based on the time zone, prices for services, or expertise. Factors you should pay attention to are:
the richness of people skills and availability;
cultural compatibility;
comprehension while communicating;
language ability (as usual, English);
the similarity in a business mindset.
The determining factor of service-delivery model location is the concentration of digital-savvy talents. Let's overview the best outsourcing destinations.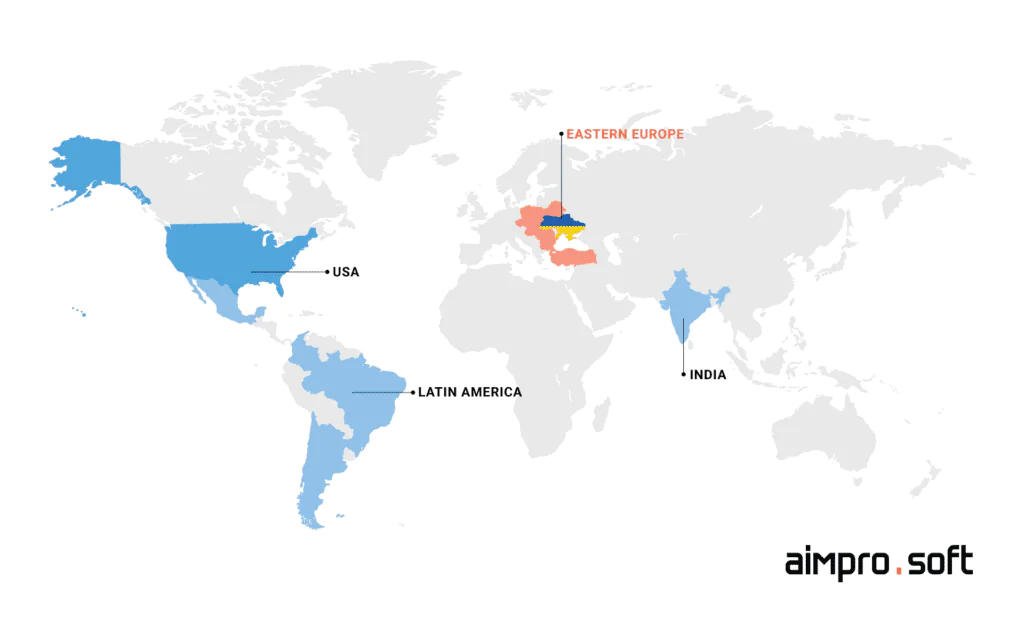 United States
The United States holds the lead among the technologically advanced hubs constantly requiring replenishment of personnel reserves. It suffers from overheating, and the country is home to 27 mln software developers who do not meet the rapidly growing demand. The salary of a Vue.js software developer can reach $140,000 annually or $70/hour, according to Talent.
Features of the region:
trend-setters and drivers in tech innovations;
intensive evolution of local digitization;
startups boom;
tech shortage caused by a stuck market supply;
high salary expectations caused by growing competition;
high financial compensation caused by constructive dismissal.
What does that tell you?
On the one hand, the region is technologically advanced, with a large number of jobs. On the other hand, the supply of personnel to the market (slow growth of graduates in computer professions and legal issues) does not correlate with the speed of development and application of technological innovation. Contracting out tasks to the nearshore and offshore regions is necessary. Historically, India, Eastern Europe, and Latin America met the demand of the US for tech talents in both backend and frontend development.
India
Asia gained a status historically as one of the most popular offshore outsourcing destinations for their lower rates than developers from American and European regions. By experiencing heavy startup activity and, as a result, colossal technology investments, there were employed over 4,5 mln techies to the IT-BPM sector in FY22, according to the Nasscom Strategic Review. It would seem that a huge number of employees have entered the market, but their purpose is primarily to cover internal needs.
The well-known peculiarity of this tech hub is meager salaries. For example, PayScale reports that a Vue.js developer can earn only $8 000-9 000 yearly, which normally a US developer gets per month. But behind the low-cost screen, it can be a result of a quality that does not meet the customer's expectations.
Features of the region:
super cost-effective;
hardworking type of employees;
favorable outsourcing climate;
non-compromising outsourcing output quality;
time-difference uncomfortable for many customers;
the difference in mindset with western contractors.
Latin America
Latin America observed a 75% increase in outsourcing during the pandemic, being quite a popular destination for North American businesses due to its proximity. The region has been thriving in building its reputation in the IT sector and rising to the top of the list as a destination for software development outsourcing as an alternative to Asia. If you outsource, Vuejs developers' yearly salaries, for example, vary between $8 000-10 000 with bonuses.
The region counts 900 thousand of developers in Brazil, Mexico, Colombia, Argentina, and Chile, according to Statista. Microsoft and Hewlett-Packard have started educational initiatives to help people in Latin America advance their IT skill sets and begin careers.
Features of the region:
low compensation rates;
time zone alignment to the US;
language proficiency;
growing IT hub;
price keeps rising fast;
suboptimal output quality;
unfavorable tax policies;
slow development process.
Eastern Europe
The region of Eastern Europe is renowned for having a sizable pool of IT experts to outsource VueJS app development. The nations with the highest importance are Ukraine, Poland, the Czech Republic, and Romania. One of them, Ukraine, is overflowing with programmers and has served US and European SME companies from various industries for over a quarter-century. You may hire offshore frontend developers to work on your Vue.js project there. 285 000 software developers with a promising staff supply of 20-25% per annum of graduates from university and actively developed corporate training. Vue.js development services can cost you $35-55 per hour, which is almost half as much as in the US for the same level of quality.
Hiring a Vue.js development company from Ukraine will guarantee that the professionals have a Master's degree because more than 50% of IT employees hold STEM degrees. According to the current surge in orders from Western European clients over the past 25 years, Ukrainian developers' lifestyles and mindsets align with European norms. This talent hub draws clients with a client-centered philosophy, innovation, and inexpensive costs with high-quality solutions that help clients save money. Everyone working in the information technology industry is fluent in English.
The pandemic hardened us. We added a 20.44% increase to the total amount of Ukrainian IT exports exceeding $5 billion. The IT sector added $3.1 billion to the public treasure as a total income of the nation's IT sector in the first half of 2022, surpassing a year earlier.
Features of the region:
wins the favor of the US and EU customers;
affordable prices without compromising the quality;
high adaptability to changing environments;
recognized software vendors;
rich pool of tech talents;
wide domain expertise;
resilient and motivated people;
fluent English speakers.
Ukrainian businesses showed their tenacity in facing severe challenges, turning even war into their strength. Ukrainian IT companies continue operating at full capacity despite the force majeure, remaining incredibly united and adjusting to the new situation.
Want to outsource frontend development?
Start it with our assistance today!
CONTACT US
How to outsource Vue development and raise your business efficiency?
Major evolutions in service-delivery models reflected notable shifts: from offshoring to outsourcing non-core operations to delegating core business processes along with the automation of high-volume routines (which automation, by the way, is also outsourced).
This step-by-step guide will help you to stay for a minute on the main stop points before you start outsourcing.
Step 1. Shortlisting reputable vendors 

Online B2B directories
There are a lot of ways to find a vendor online. You can address, for instance, online B2B websites with listings of software vendors such as Clutch, DesignRush, TechBehemoths, TopDevelopers, TechReviewer, TheManifest, G2, and GoodFirms, to name a few. The platforms are the B2B online directories allowing to check vendors' services, feedback from clients, ratings (national and world) among similar ones, completed projects information, and contacts. 

References from current clients
You can ask for recommendations from current or former customers having been served by the company you are interested in. A little proof received from the first person can clarify the opportunities for you. As usual, the clients; names are fixed on the vendor's website.



Also, it may be helpful to ask for the references of at least two software applications clients have launched with a vendor successfully. Avoid chasing after service agreements with alluringly low budgets. A balance between budget and results must be maintained because the success of your business depends on the quality of the service to your clients.

Step 2. Matching expectations with reality

Each of us lives in our own world and paints our own pictures of reality. That's the human brain; it likes to embellish. However, your business is not a toy for mind games, right? Responsibilities to your investors, partners, and employees necessitate being highly clear in your goals. 
Proven IT vendors, as usual, operate with a number of specifications to interpret your expectations into deliverables. For example, we at Aimprosoft rely on the Statement of Work, wireframes, user stories, and full-fledged business analysis to clarify what you want and what you will get.

Step 3. Accentuating security issues

The values and ethics of business are well-known and, fortunately, a priority for software providers. Businesses may lower risks while also strengthening brand trust, assuring compliance, boosting productivity, and igniting innovation by choosing a software partner that prioritizes cyber security. As is customary, the IT infrastructure of software vendors is cloud-based to ensure the security of customer projects. We take pride in providing the highest degree of cyber security to our clients, which is confirmed by Cyber Essentials, a certification program endorsed by both the UK government and the private sector. 



Step 4. Ensuring quality, budget, and team control

The right approach to managing these three interrelated areas is the key to getting what you expect and maybe even more. While choosing a Vue.js development company, find out how the quality control process contributes to getting top-grade deliverables. 20% is savings of a budget you may get in case implementing the right Quality Assurance strategy.

Quality control:
– ISTQB certification availability
– Participation of QA engineers in all steps of the Software Development Life Cycle 
– Using bug tracking systems such as Redmine, Jira, Trac, Mantis, HP QC, TestLink, Microsoft Test – Manager, Rally, etc.
– Sequential functionality verification and testing according to the development process
– Performing User Acceptance testing

Team control
Trustworthy collaboration technologies come in handy to maintain transparency when leading remote development teams. Project performance, task tracking, and backlog prioritization are managed through Jira and Redmine. Confluence is helpful for maintaining a shared knowledge base. Zoom, Skype, and Webex are the audio and video conferencing options that our clients favor. Email, Slack, and Google Hangouts are the most outstanding options for asynchronous communication there. Zeplin facilitates team communication by collaborating with clients on prototypes.



Budget control
Normally, the arrangements between the customer and the vendor are recorded as follows. In a tracking system, such as Redmine, the time spent by the development team on the agreed services is recorded. The client can easily track the amount of work and the time spent on its implementation. Before the start of development, the rates for development, quality control, DevOps services, and others (Business analysis, UI/UX design, etc.) are agreed upon. When budgeting projects in outsourcing services, budget planning and actual results (sometimes there are overtimes, which also are agreed upon with the client). Reports are sent by agreement, for example, 1-2 times a week or monthly.

Step 5. Finding an approach-to-business fit

It's similar to looking for your ideal date: you go online and seek every specific information about the individual to confirm that they are a good fit. Even more than personal relationships, business partnerships depend on reputation and compatibility in mindsets. There, gathered comments and word-of-mouth can be helpful in order to form a correct opinion about the potential partner. Sure, a face-to-face meeting, even online, can contribute to understanding the perspectives. Communicate your values honestly and openly to the shortlisted vendor.
Finding a trustworthy software partner could seem tricky. However, your efforts will be worthwhile in the long term.

No doubts, and you want to try Vue.js outsourcing right now?
Let's talk about your needs and book some of our developers.
CONTACT US
How much does it cost to outsource Vue.js development
The labor shortage is still a problem for the global economy, and wages are starting to rise for the most in-demand jobs. The technology industry is experiencing one of the most serious skill shortages.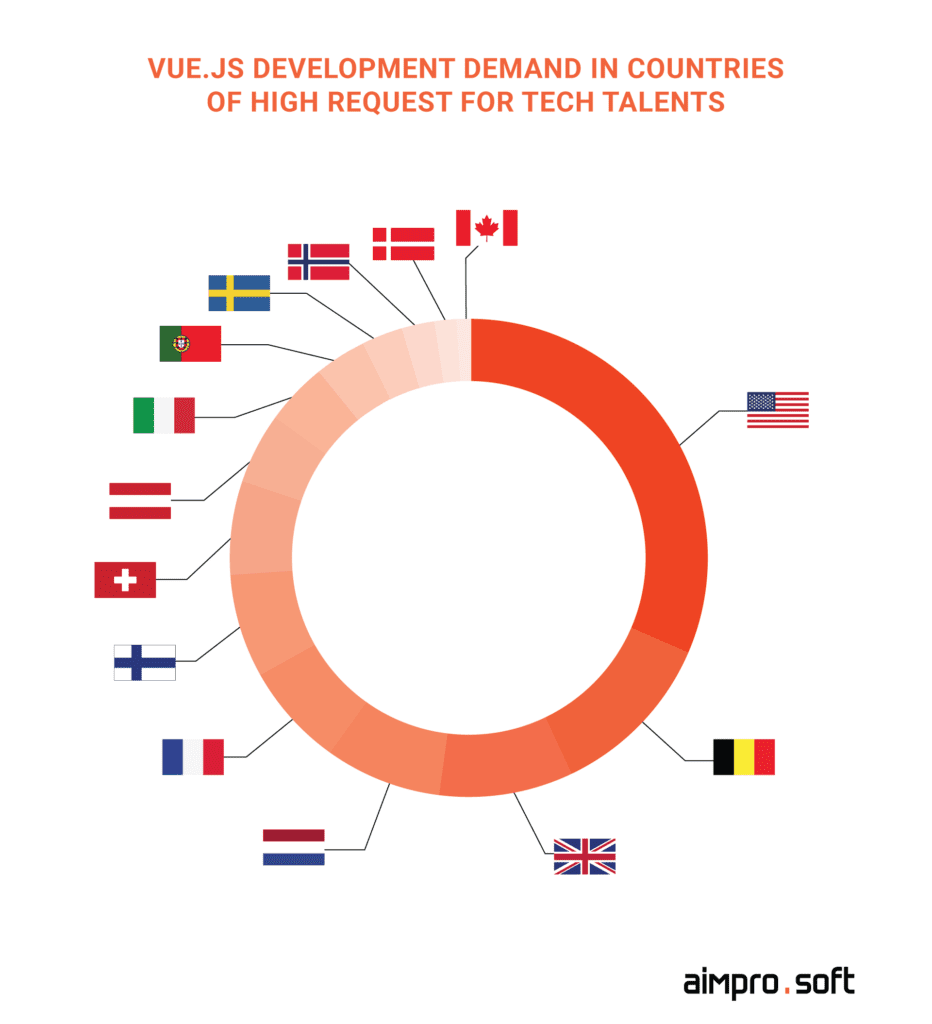 The US and Canada require over 15 600 Vue.js developers now, and job openings in Western Europe surpassed 7 300 vacancies in total (LinkedIn). The technology is on trend, and developers are choosing it more and more, but there is still a significant shortage of personnel in the market. And this, in its turn, provokes the growth of salaries.
Vue.js has been moving up the list of the most well-known frameworks over the past few years. Additionally, engineers who have mastered this framework often get a 6.3% increase in pay (in comparison to the global average). It becomes clear that Vue.js development services are among the most frequently demanded experts.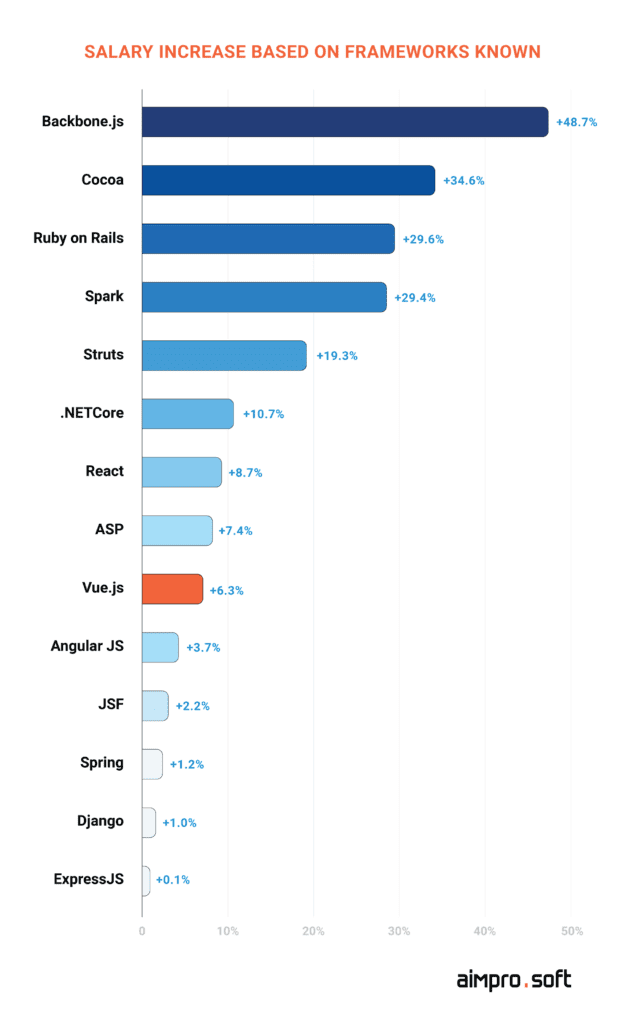 Let's go through the comparison of salaries across the globe.
Salaries of Vue.js development services in countries of high demand for tech talents
Country/ Salary
USA
UK
Switzerland
Canada
France
Sweden
Average
$117 000
$58 000
$98 000
$115 000
$75 000
$60 000
Maximum
$140 000
$80 000
$125 000
$143 000
$93 000
$74 000
Based on Talent, Swissdevjobs, and SalaryExpert.
The quantity of open positions is one thing, while the price of development services is another. The largest increase in demand, as indicated by the $143 000 annual salary, is seen in Canada. The US and Switzerland are next, with yearly earnings of $140 000 and $125 000, respectively.
Cost-effectiveness has, in fact, always been the main trigger for IT outsourcing. The startling numbers of outsourcing from technologically advanced nations are due to this. According to new Statista research, European companies' revenue from outsourcing software development is anticipated to reach $126.50 billion in 2022, compared to $144.80 billion for the US.
A technology service provider from a place with a lot of accessible IT talent can remedy this unfortunate situation.
For instance, Ukraine has 12 000 JavaScript experts skilled in Vue.js and has a growth potential of 25–30% yearly. This is because the country has a more favorable tax system than many European nations, computer science education is of a very high standard, and the IT sector is one of the most lucrative in the nation.
With taxes, benefits, and other costs included, Ukrainian outsourcing companies charge between $35 and $55 per hour for JS software development services, which equates to $70 000 in annual gross spending for each person.
Additionally, outsourcing eliminates the need for office space, equipment, and specialized software, to name a few requirements for establishing a dedicated development team.
Your frontend is the face of your business. Offshore JavaScript development services can be really can be a lifeline for startups and R&Ds.
Know How
What to expect from Aimprosoft as your Vue.js outsourcing partner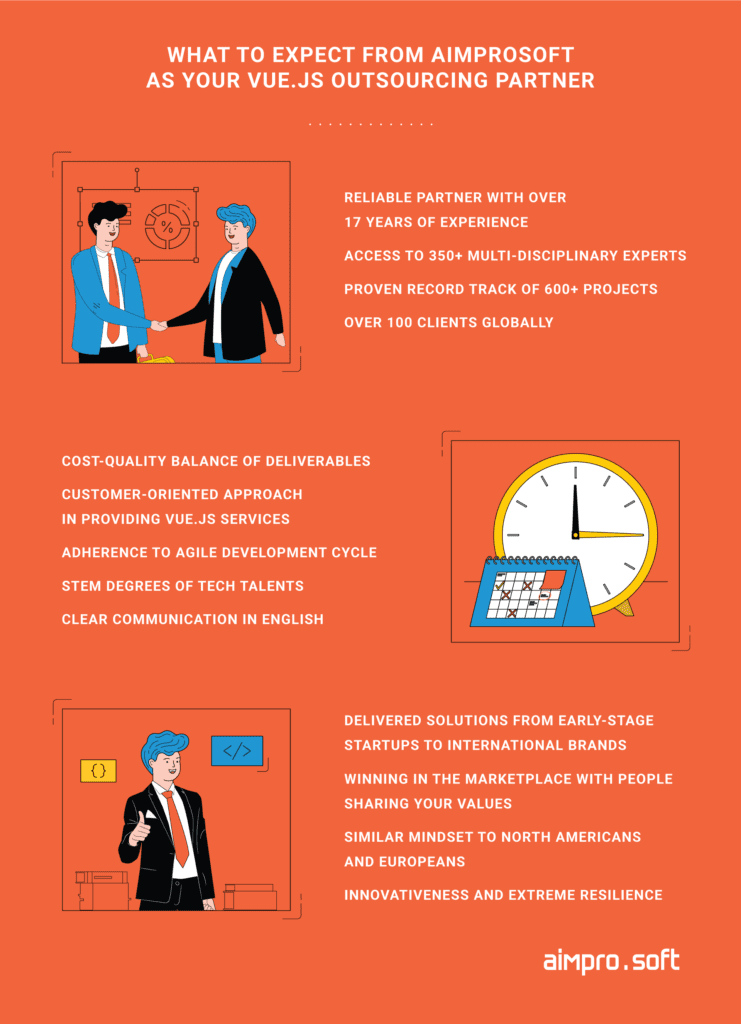 Concept discussion is the first step in outsourcing your development to an outside team. Next comes the discovery phase, and finally a scope estimation to specify the staff's stack.
Under a specified business model, an estimate serves as the foundation for a proposal.
Available business models for Vue.js outsourcing are:
Staff augmentation
Dedicated team
Full cycle development
We can agree on the following payment ways:
Fixed price
Time & Material
Software development can begin after a contract has been signed.
Our area of duty includes management and delivery. UI/UX design, DevOps, QA, and user acceptance testing are a few of the services that can help a project be completed successfully in one place. The fact that we also offer maintenance and post-launch support to our clients shows how our business connections are getting stronger.
42% of startups name the reason for failing the misreading market demand. Discovery in business analysis predicts you from collapse.
Read More
As shown, high adaptivity to force-majeure was not in our words but our in deeds.
The war tweaked our plans and also tested our resilience to hardship. We held up a test of our strength. After the Russian invasion, we quickly resumed work, and within a month, we were continuing deliveries, creating new partnerships, and hiring personnel.
In our office in the safe city of Ivano-Frankivsk (Western Ukraine), we work at full capacity while adapting to the new war-related force majeure circumstances within the country and outside. All customer projects are secure because our complete cloud-based IT infrastructure is in Germany.
Despite periods full of battles for freedom and victory in Ukraine, Aimprosoft's contribution to the nation's overall IT revenue since 2022 was $3.1 billion, up from $2.5 billion a year earlier.
At a time when some people break up relationships, others create them. Despite many seemingly insurmountable difficulties, on February 24, 2022, Aimprosoft signed a contract, and our cooperation with a client is still ongoing.
Aimprosoft can help you create visually appealing user interfaces.
Let's talk about your project requirements.
CONTACT US
Conclusion
The boundaries between business and user are dissolved by frontend technology. Modern web development professionals are increasingly needed. Behind it all, managing the development process overseas is more dependable since software suppliers value their reputation and, unlike freelance engineers, always refine their processes. Even with their affordable rates and relatively quick engagement, freelancers could end up being more expensive if there are any contentious issues. Contact us today, and things will fall together.
FAQ
Is VueJS free for commercial use?

Vue.js is released under the MIT license. The open-source and free software license developed by the Massachusetts Institute of Technology is the most popular license for open-source software. It is safe for commercial use. 
What are Vue.js's advantages and disadvantages for a Startup?

In recent years, Vue.js has established itself as a cutting-edge framework you need to know. Vue is flexible and lightweight. This means that the framework is more like a library than anything else. It's easier to start a new project with it than React, for example. So for startups, it's definitely a great option when it comes to the speed of starting a project, which in addition, will not have to be rewritten for something newer in the foreseeable future.
Which big companies use VueJS?

Glovo, EuroNews, Bitpanda, Adobe, Alibaba Group, Facebook, Netflix, Xiaomi, Grammarly, Gitlab, and many other large and well-known companies and startups rely on Vue.js in their tech stacks. Many of them do not neglect to resort to Vuejs outsourcing to save on development costs.